An Easy Tomato & Basil Sauce Recipe From Stuff You Have In Your Kitchen
With social distancing guidelines and shelter in place laws in effect at least through the end of the month, it's time to start taking this seriously and not leaving your house unless it's absolutely necessary. Part of that means not going to the grocery store for one loaf of bread or because you ran out of LaCroix, and instead, learning to get creative with the items you already have in your kitchen.
When the instructions for social distancing and self-isolation came from Governor Newsom here in California, one thing I didn't have to worry about was being able to eat from my pantry. It's not that I'm a canned food fan. In fact, I much prefer the type of foods that live in the refrigerator: fresh vegetables, juicy fruits and select organic proteins. It's more that I'm a fundamentally lazy person. Yes, I may have written a 500-hundred page cookbook, BUT if given the choice to go into my car and drive in L.A. traffic to go to the supermarket, where I then have to find parking before grocery shopping, versus sit on my couch and watch an episode of Silicon Valley until I fall into an hour-long slumber, I choose the latter. I really love a good nap.
So, because I am lazy, at times, I find myself hungry without fresh food in the house. I don't like ordering in, and so it is in these moments that I get the most creative in my kitchen. Fueled by hunger for a proper meal, I play with the ingredients I find buried in my pantry, a skill that's become especially useful now that we are supposed to be limiting trips to the supermarket.
Since everyone is making pasta like never before, I thought I'd start off with a simple sauce recipe that even the laziest of us can accomplish.
Recommendation: Read through recipes outside the kitchen, like on the couch or even when you're in bed. Get a feel for how each one works. That way if you're missing some ingredients, you can come up with alternatives before you find yourself in the throes of cooking. For example, if you read through this recipe thinking "I don't have red pepper flakes for the sauce," take an inventory of your pantry to see what else you might have—maybe you've got some cayenne sitting around. Or maybe you'll think, "I have a jalapeño I can chop up." The point is to not go running out for spices or other ingredients, and figure out how to make do with what you've got. And by the way, if you have none of those heat-adding touches on hand, just make it without the spiciness (it will still taste fine, I promise). The purpose is to use these recipes as a template for you to get creative in your pantry, which is a lesson that will serve you well past the end of quarantining.
So without further ado, let's make a simple tomato and basil sauce from the ingredients that have probably been sitting in your pantry for months.
Simple Tomato and Basil Sauce
I like canned tomatoes for certain sauces, because they're just as good in the winter as they are in the summer—unlike fresh tomatoes, which are only good in summer—and they lend themselves to a richer sauce, with very little work.
This sauce doesn't have many ingredients. It's the opposite of Emeril Lagasse's "BAM, BAM BAM!" explosions of flavor. This sauce is about harmony, about letting the garlic and whole basil leaves gently infuse their flavors into the tomatoes. The carrots add sweetness to the tomatoes naturally, without sugar, and lend a mildly earthy flavor.
Ingredients
⭐︎ 1 (28-ounce) can whole peeled tomatoes
⭐︎ ¼ cup extra-virgin olive oil
⭐︎ 3 large garlic cloves
⭐︎ ½ teaspoon red pepper flakes
⭐︎ 1 to 2 carrots, cut into matchstick pieces
⭐︎ 1 to 1 ½ teaspoons kosher salt
⭐︎ 10 to 15 fresh basil leaves, left on stems
Makes: 2 cups sauce for a box or a box and half of pasta
Place a medium heavy pan over a medium flame for a couple minutes.

Add the tomatoes and their juices to a food processor or blender and pulse into a thick pulp.  You can also squeeze the tomatoes by hand, but be careful of the splattering!

Add the olive oil to the hot pan, followed by the garlic, red pepper flakes, and carrots. Watch as the bubbles emanate from garlic; that is the garlic infusing its flavor into the oil. Don't let the garlic burn or even brown—you want it to stay translucent.

After several minutes, add the tomato

purée

. You will see olive oil coming up on the sides of the tomatoes; this is ok, the olive oil helps to transform the flavor of the tomatoes.  

Add a good sprinkling of salt, about 1 teaspoon, and a large handful of basil leaves. Stir occasionally. It will be done when it is no longer watery and the sauce has thickened, 20 to 25 minutes, 

Taste for salt and add more if necessary. If you aren't sure if there is enough salt, there isn't. Add more.

Remove the carrots and use them as a side dish for another meal (see Variation).  It's up to you if you want to remove the garlic and basil leaves or keep them in for a rustic feel.
Variation: If you'd like a sweeter, more nutritious sauce, remove the garlic and basil and puree the tomato sauce with about half of the carrots in a blender or food processor. It will be delicious (and a good way to hide vegetables from your kids).
Enjoy with a box and a half of your favorite pasta (now you finally know how much to make).
Born to parents who defrosted, Elana Horwich began cooking as a young child because the kitchen was the only place in the house her mother couldn't find her. In her 20s she had an epiphany which took her to Italy for 5 years. There, she worked in bars, fell in and out of love, ate her way through the peninsula, and garnered life experiences that she would one day write about. While devouring every aspect of the local culture, she learned to cook from an Italian mamma in a Tuscan villa.
In 2010, back in her hometown of Los Angeles, Elana founded the Meal and a Spiel cooking school out of her parents' kitchen, and now travels the country teaching people how to make phenomenal food, easily.
Elana holds a B.A. from Brown University and a M.A. from Middlebury College in Florence, both in Italian Studies. She has written and performed stand-up comedy to Los Angeles audiences, spent 4 years teaching high school World History and has led experiential culinary vacations throughout the boot of Italy.
Elana has appeared on Good Day LA, KCAL, KNBC, and KTLA  as an expert on healthy holiday cooking. She is a regular contributing writer for the Jewish Journal and her recipes have appeared in the Huffington Post, Tablet Magazine, The Daily Meal, and in newspapers throughout the country. She is the consulting chef for the UCLA Women's Cardiovascular Center.
Her ultimate dream is to live in a world where everyone shares love with one another through cooking.
For a limited time only, you can now order a signed copy of MEAL AND A SPIEL from www.elanahorwich.com to receive an additional 20% off!  Just enter the code KITCHENBADASS20 at checkout. 
How To Detox From Your Labor Day Weekend Bender
Did you have an awesome time over Labor Day? Did you eat awesome hot dogs and shotgun awesome beers and sit around and soak up all your betchy friends' awesomeness before dry heaving into someone's purse around a bonfire?
Sounds like you went all out over the three day weekend. We aren't judging, but your body probs definitely feels like it is. If the spins haven't stopped, you have the DADS (Day After Drinking Shits), and the mere thought of anything other than dry romaine leaves is making you gag, it may be time for a detox tea. And we promise it doesn't taste like asshole.
Ingredients
· 6 cups of water
· 1 5-inch knob of fresh ginger, peeled and diced
· 5 cinnamon sticks
· 2 tsps ground fresh turmeric
· 1 tsps cayenne pepper
· Fresh lemon juice
· 2 tbsps honey
In a large saucepan over high heat, combine the water and ginger—bring that shit to a boil, then reduce heat to low and simmer for about 10 minutes.
Add the cinnamon sticks, turmeric, and cayenne and continue simmering on low heat for another 10 minutes, stirring when you feel like it. Remove from the heat, strain into a pitcher, and cool.
Combine about 1/3 cup of the cooled mixture with ½ cup fresh lemon juice and the honey with 2/3 cup hot water. Stir to combine and chug until you feel like you're ready to destroy your body with alcohol and drugs once more. God bless America.
5 Ways To Cook Kale
Ugh, kale. Like starting our 401k, getting yearly physicals, and reading CNN, we know deep down that it's good for us, but actually getting to it sucks. It's bland, it's blah, and whoever eats it plain and steamed is seriously disturbed. Kale crept into our psyche several years ago, and since then it's been assaulting us with its dark green leafy-ness and ability to be in everything from our smoothies to our salads. It probably has something to do with the insane amount of nutrients in this shit—one cup contains about 33 calories, 3 grams of protein, 2.5 grams of fiber, vitamins A, C, and K, folate, omega-3 fatty acids, and several nutrients that are proven to protect against macular degeneration and cataracts. Plus it has calcium, zinc, potassium, and phosphorus, so it's a fucking nerd overachiever all around.
In the interest of being responsible (told you, mom) we rounded up five easy ways to cook kale this shit without driving yourself insane—so embrace the kale in all its rubbery goodness and be healthy for like, at least this afternoon.
1. Add It To Your Smoothie
If you aren't already doing this, fucking duh. Blend together ½ banana, ½ cup chopped kale, ½ cup blueberries. ½ cup plain Greek yogurt, and ½ tsp cinnamon. You can like, add protein powder if you're that kind of person, too.

2. Make An Egg And Kale Scramble
In a bowl, whisk 2 eggs, salt, pepper, and ½ tbsp. of water. In a medium skillet sprayed with nonstick, add half a chopped shallot and stir until golden, then throw in about 1 ¾ cup chopped kale leaves and cook until it's wilty and shit. Add in the whisked egg mixture and ¼ cup cheddar cheese, then mix until the eggs have set. I assume you've made fucking scrambled eggs before.
3. Make It Into A Healthier Pesto
Grab your handy-dandy food processor and combine 1 ½ cups packed torn kale leaves, ¼ cup walnuts, ¼ cup shredded parmesan cheese, 1 tbsp fresh lemon juice, and 2 garlic cloves. Process until totally smooth, then season with salt and pepper. Use this shit on pasta, as a pizza base, on garlic bread, drizzled over a salad—the possibilities are fucking endless.

4. Use It Instead Of Rice For Your Stir Fry
Yes, you can. Just steam or sauté the kale in a skillet with salt, pepper, and possibly a bit of broth and seasoning, and spoon whatever stir fry you were planning to make over top. This also works with stews and curries. Look at you, bein' all low carb. Plus, you don't have to worry about the kale being bland, because the taste is literally going to be covered up by whatever delicious dish you're making.
5. Make Chips
Sigh, I know. But it really is stupid easy and healthier for you. Preheat the oven to 350F. Wash a bunch of kale and pat it dry, then break the leaves into bite sized pieces. Toss with about 2 tbsps olive oil, salt, and parmesan cheese then spread on a baking sheet in a single layer. Bake for about 10 minutes or until kale is crispy and slightly brown.

The Best Long Island Iced Tea Recipe For A Guaranteed Blackout
In keeping with all things warm, sunny, tan, and refreshing, we need dranks! But when you're sitting around trying to get as blackout as possible, not just any drink will do. Sure, we could knock back million calorie piña coladas or try to chug rosé (and like, we know we'll fail) to try and beat the heat, but it just wouldn't get the job done.
We all know that a true, straight long island iced tea will get you fucked up faster than you can say "more ice, bitch." And it's time you, as an adult, learned to make one on your own.

Ingredients:
· ½ oz Triple Sec
· ½ oz white rum
· ½ oz gin (don't use anything blue, homie)
· ½ oz vodka
· ½ oz white tequila (um so like, not Jose)
· 1 oz sour mix
· Cola (shit, you could even use diet if you want)
· Lemon wedges
Grab a cocktail shaker and fill it with ice. Mix together everything except the cola. Strain into a highball or Collins glass filled with ice and top that shit off with the cola. Garnish with a lemon and enjoy your trip, betch. Just make sure you have at least one person in your crew who didn't drink one of these. They'll be responsible for remember what happens later.
A Frosé (Frozen Rosé) Recipe For When You Want To Dage But It's Hot AF
If somehow in the course of your Facebook/Snapchat/Pinterest/Instagram travels you've missed a metric fuck-ton of frosé recipes, consider yourself a homeschooled jungle freak. Literally every food mag, blogger, and celebrity takes a pic of some popular betches sippin' on frosé either next to a pool or on the patio of some trendy restaurant you've never heard of.
If you want to be popular on social media enjoy this frozen alcoholic summertime treat AND have an excuse to take a pic of yourself being cool, it's time you learned to make your very own frosé. We scoured the interwebs and went with betchy mag Bon Appetit's recipe, which we've adapted for your viewing pleasure below.
Ingredients:
· 1 750-mL bottle Merlot rosé
· ½ cup white granulated sugar
· 8 oz strawberries or raspberries, chopped (for strawberries, remove the tops)
· 2 ½ oz lemon juice
Instructions:
Grab a 13×9 pan (the kind you use for brownies lol) and pour rosé in. Freeze that shit until it's almost a solid block of delicious wine ice, which should take like 5-6 hours.
While that shit transforms, grab a saucepan and boil the sugar and ½ cup of water together until the sugar dissolves which should take less than 5 minutes so pay attention. Add the berries and remove from the heat. Let the concoction sit for about 40 minutes so that everything can hang out, then strain the mixture through a mesh sieve unto a small bowl. Chill that shit in the fridge for about a half hour.

Is your rosé frozen-ish? Good. Scrape into a blender with 3 ½ oz of the berry syrup and the lemon juice. Add in about 1 cup of ice and blend until everything is smooth. Put in the freezer so everything can solidify a bit for like 35 minutes.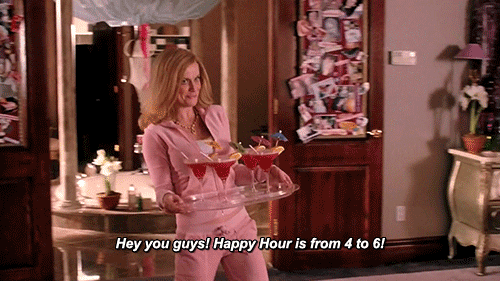 At this point you can blend it one more time then serve or like just eat from the freezer. Really, you do you.
The Best Bloody Mary Mixers For When You're Too Broke To Get Brunch
Are you tired of detoxing after long celebrations which claim not only your sanity but your super flat belly and flawless skin? Do you want to continue the party and just barely ease out of your four day alcoholism? Time for a Bloody Mary.
Though fairly nuanced, a Bloody Mary is only as good as its mixer. It can be complex; it can be simple; but it needs to be a combination of fucking delicious ingredients to help wash down and dull the taste of alcohol until you're ready to be friends with it again.
To help in your quest for a delicious breakfast drink, here are our top ten betch approved Bloody Mary mixers in no particular order

If you're looking for a solid base to doctor up yourself, grab this shit on your next trip to battle the soccer moms at Trader Joe's. It isn't spicy, so you can add all the Tabasco and Cholula your heart desires.

This is the easiest mix to probably find, provides an easy base, and is easy to be friends with. It has a lot of celery salt to balance the tomato, but, overall, isn't crazy in any way. Add some lemon and Worcestershire plus plenty of vodka, though, and you'll have a GREAT morning.

Are you new to Bloody Marys and trying not to be a pussy? Here's a bottle of mix for you. Tomatoes plus salt, Worcestershire, hot sauce, and spices equal a tame but yummy mix. Also, this shit isn't vegetarian—so feel free to garnish with extra bacon.

Do you crave heat and frequently order things Indian or Thai hot? Grab a bottle of this shit to blow your hangover out of your body. This mix combines a thick, sweet tomato base (think the pizza sauce from Papa John's) with a kick of heat. You may need to doctor with more citrus, but, overall, it's nommy.

Are you weirdly into pickles and all things that are pickled or could potentially be pickled? Grab this shit, weirdo. There's a LOT of vinegar in here which tones down the tomato. So, if you're into spice, salt, sour, and feeling oddly powerful after drinking a lot of apple cider vinegar, this is the mix for you.

There's a mild version of this mix for pussies those who aren't into spice, but trust us when we say this shit is a fav. Along with the nearly blinding heat, you'll get a hint of sweetness in the thick mix. Make sure to add lots of ice and booze to thin it out.

Crave Worcestershire and pepper in your morning drank? Grab this shit. It has a great blend of spice, salt, horseradish, and vinegar to combat the sweetness from the tomato. This one will impress your friends and is good enough to convince them you made it yourself.

Like peppers and veggies more than tomatoes? Cool, grab this. You'll get lots of bell and chipotle peppers up front which combat the whole tomato thing. It's got some lingering heat, though, so beware of that shit.

Ignore the really stupid bottle and just buy this on impulse. You'll get a great blend of a more savory mix with plenty of hot sauce and umami flavor. Oh, and don't serve this shit to your vegan friends—it has beef broth in it.

If you're a Whole Foods jungle freak frequenter, this is the Bloody Mary mix for you. It combines the usual suspects like tomatoes and celery with salt and spice for a crowd-pleasing mix.
How To Make Fourth Of July Cocktails That Will Get You Triple Digit Instagram Likes
Ah, July 4th—a holiday created so that Americans can fondly remember the time they threw off the yoke of tyranny and oppression so they could do whatever the fuck they wanted including ditching British accents, eating hot dogs, and electing a president not at all qualified to do his job.
If you've ever been on the internet during or around an American holiday, you've seen patriotic cocktails, i.e., red and white and/or blue cocktails making the rounds.
This shit would make an eagle cry tears of joy and George Washington jizz his pants. With July 4th a few days away, and you likely without anything to make for your guests at this year's fireworks fucktacular, you better get your shit together and make these tributes to those dudes who signed the declaration. We appropriately adapted the following recipes from the American woman's bible, Cosmopolitan.
The American

-1 ½ oz. berry flavored vodka
-1 oz. sliced strawberries
-3 oz. spiked seltzer
-2 oz. coconut water
Put the strawberries in the bottom of a tall glass. Add ice, vodka, spiked seltzer, and the coconut water. Float some blueberries on top and fuck, it's America in a glass.

Explosion For America

-¾ oz grenadine
-1 ¼ oz blue curaçao
-1 ½ oz vodka
-1 oz spiked lemonade (like Mike's or some shit)
Grab a tall-ass glass and pour the grenadine into the bottom. Add ice on top. Super fucking gently pour the curaçao over the grenadine so it lays on top but doesn't really mix. In a cocktail shaker filled with more ice, combine the vodka and spiked lemonade, then gently strain that mixture over the curacao. If you did it right, you have some really patriotic shit going on.
This Blackberry Gin Spritzer Will Keep You Skinny While Getting You Drunk
So, like, summer is officially here, and somehow I don't have the bikini body of Gigi Hadid despite working super hard on not eating and only drinking vodka sodas. Rude. Since I'm all about giving up and giving in to temptation these days (lol yolo), I figured we skip the low-cal vodka drinks and questionable hard seltzers (we've hit a new low as a society) and go right for the drink of psychopaths—gin. Weirdly, this liquor reminiscent of cleaning solution goes beautifully with things like fresh berries and mint aka the prime farm-to-table crops of summer. To get in the spirit, we mashed 'em all up together and made an alcoholic bev that'll keep us cool and happy when we're getting our tan on.
Ingredients
1 6-oz container of blackberries OR raspberries … or a combination of the two. IDGAF, it's your life.
½ cup white sugar
2 cups gin
1 cup fresh lime juice
1-2 bottles of that hard seltzer shit—we used Spiked Seltzer
Mint
1. Grab your Vitamix or poor people blender and combine the blackberries and sugar. Once you're done blending, stir the concoction until the sugar looks dissolved, which honestly may take a while. You can also put it on the stove in a small saucepan and heat the mixture until the sugar is alllllll gone.
2. Once you've got that where you need it, strain the mixture through a fine sieve into a pitcher so you can throw out the seeds. Ain't nobody want those.
3. Grab your gin and lime and pour into the pitcher with the blackberry stuff. Then divide among glasses and top with the hard seltzer and sprigs of fresh mint.
It's like totally healthy because there's fruit in it, fucking duh!