This Handheld Device Will Save Your Couch From Your Pets
Contrary to some people's beliefs, I like to think that pet parents are real parents. (Well, my dog is just as messy as a toddler—so that counts, okay!?) As much as I love my little fur baby, he can wreak havoc on my couch—getting an all-white one was a *big* mistake—bed sheets, and literally any corner of my apartment. He sheds like crazy on some days, beats me to his bed before I can clean his paws on others, loves to leave trails of crumbs when he gets his good boy treats, or makes a mess in my car. And, let me tell you, cleaning up after a dog, no matter how big or small, is quite the trip.
I've tried so many different products, whether it's cleaning solutions like sprays, shedding brushes for grabbing excess hair, and of course, regular vacuums and mops. But, thanks to my Instagram feed and TikTok FYP, the Bissell Little Green Multi-Purpose Portable Carpet and Upholstery Cleaner caught my attention. Pet parents on both apps have filmed themselves cleaning even the toughest-looking stains in just a few minutes. It looked like a miracle device and I just knew I had to get my hands on it.
It's small, but mighty, and has a top handle that allows you to bring it along to clean pretty much everywhere. Unlike most portable vacuums, this one has a spray *and* suction feature, so you apply a cleaning solution to whatever surface you're targeting and it just scoops/sucks it right up. And its suction is powerful, like lift-carpet-stains-right-off powerful.
But, I have to say I was the most impressed with how well it cleaned the upholstery on my couch. As I mentioned before, my couch is white. My dog's fur, on the other hand, is dark and super noticeable. There have been days when he hops on there when I'm not looking, rolls around, and has a field day leaving spots and marks across the entire thing. Let's just say it's a less-than-ideal situation for a couch of this color that also wasn't cheap to begin with.
So to say I'm thankful for this Bissell is an understatement. And it's super easy to use. All you have to do is mix the cleaning solution with some water in the tank that comes attached to the device. Once that's settled, you click the spray button on the attached brush to disperse the product, turn on the Little Green, and then get to work. You'll instantly notice results, but it really works the more you pass the brush along the surface. Within minutes stains, spills, and debris are just completely gone.
Each device comes with a travel-sized option of the Bissell Spot & Stain solution, but you can purchase larger-sized bottles for the future on Amazon, too. And if you needed any more convincing, each purchase saves other fur babies through the Bissell Pet Foundation which helps rescue homeless pets. Now, that's a win-win situation.

Shop It: Bissell Little Green Multi-Purpose Portable Carpet and Upholstery Cleaner, $109.59, Amazon

Shop It: Bissell Pet Pro OXY Spot & Stain Formula, $12.98, Amazon
10 Boujee Instagram Dogs That Are More Fun To Follow Than People
When we say we genuinely envy the lives of Instagram's betchiest dogs, we're not even joking. They have intimidating squads, regularly get blowouts, summer in the Hamptons, wear cool outfits and generally weigh under ten pounds. It's extremely unfair TBH, and I don't care if they set unrealistic standards for women, I still aspire to be one someday. As we've discussed on this site many times, a betch's pet is called a petch, and Instagram is full of petches. These tiny furry creatures have the uncanny ability to make you go "awww!" and "omg!" even when you spend most of the day wearing black and being dead inside. While you may spend all day hating on people, most of us are physically incapable of hating dogs, especially impeccably groomed dogs being photographed in good lighting. Following these majestic creatures will increase your happiness level while scrolling through Instagram, instead of just side-eyeing all the THOTs you're still not sure why you follow. In all their glory, here are our favorite petches of Instagram:
Samson is a Goldendoodle and the unofficial leader of the Dogs of NYC (those other puppies are just his little workers.) Despite living in Brooklyn, practically every important canine event in Manhattan revolves around his schedule, which includes everything from pool parties to socializing at local bars. Whether he's out on the town or relaxing in his iconic robe, you'll want to keep an eye on him. Wherever Samson goes, other trendy dogs will follow.
Speaking of Samson, he's been known to lunch with Marnie the Dog, who has a casual 2.1 million Instagram followers. Marnie is slightly older at age 15, but that doesn't stop her from upholding her status as one of the top dogs on the Internet. According to her bio, "I walking & parties. H8 being alone. I'm a lady!" Does it get any betchier? I don't think so.
Ella Bean is a fellow NYC dog who, in typical fashion, recently decided to spend a summer in Paris. Like every study abroad girl, Ella has been posting photos non-stop of her eating French pastries and posing outside of the Louvre. She's truly living her best life, and how could she not be in those fabulous custom aviators?
Norbert is a West Coast petch who will easily put your sorority's philanthropy events and entire social media presence to shame. As a therapy dog who donates most of his time to volunteering at Children's Hospital LA, he knows the importance of giving back to the community. He also knows how to rack up the likes, because if you didn't post about it did you even volunteer?
Meet Agador, AKA Pooch of NYC, who has the best hair out of anyone ever I've seen, human or animal. Everything about his aesthetic is extremely on brand, from his bed,to his blowouts and the glass of wine that's never too far out of reach. If only he would respond to my DM's, *sigh*, I really think we could be great friends.
Perry calls himself a dog model, and for good reason. He's got a natural chemistry with the camera and tends to be more minimalist than some of the other dogs on this list (while still being extremely extra compared to any other normal animal). There are a lot of Pom's out there trying to make it big, but Perry's just got that "it" factor that makes him stand out from the rest.
The only thing better than one betchy dog is a pair of betchy dog siblings. The Morkies of NYC, Cleo and Jack, are a power duo currently taking the city by storm with their adventurous spirit and matching OOTD's. Catch their photos in the city or by the beach, just make sure you catch them somewhere. We heard the Olsen twins are extremely jealous.
No one has perfected the "I literally can't even," face quite like Sprout. Another seasoned New Yorker, Sprout takes bullshit from no one and has a jam-packed schedule filled with Equinox sessions, walks through Central Park and photo shoots in his living room. It's not easy but someone's gotta do it.
Doug the Pug is arguably one of the most important voices of our generation, and I find him more relatable than most people I know. Powered by iced coffee and social media attention, Doug brings a fresh look to some of the most basic of Instagram concepts to make them completely new again. Check out his 4th of July pics and thank us later.
Saving our personal favorite for last, we present to you Bruce Springsteen, the official petch of Betches. Whether he's keeping us company at the office or hanging by the pool, he's constantly serving up RBF and absolutely never TTH. His only request: stop trying to make fetch happen. Duh.
A Frozen Frisbee Treat Recipe To Show Your Doggo He's A Good Boy
Summer is a time when you and your furry friends are feeling the struggle. You want to enjoy the bitchin' weather, but Spot or Rover may get a lil too warm/drooly/fucking rancid if he or she stays outside more than 15 minutes in 85+ degree heat. Obviously, keeping your doggo cool is right up there with chugging frozen summer dranks and making sure you look hella skinny in your bathing suit. Why not let Fido enjoy his or her own special frozen pupper treat?
Yes, you can make special frozen desserts to please your doggo on the hottest summer days. So grab a beach chair, toss your pup this treat, and relax. He should be entertained with this shit we adapted from Rover.com for at least 5 minutes.

Ingredients:
– 1 cup peanut butter
– 1 cup water
– ¼ cup flax seeds
– ¼ cup frozen sliced strawberries
Grab a silicon bundt cake pan and spray with a bit of nonstick spray. In a blender, combine the peanut butter and water. Pour the mixture into the bundt pan, then sprinkle in the flax seeds and berries.
Freeze this shit for about 2 hours or until it's totally set. Remove from the bundt pan and throw to your doggo for minutes of fun. It depends how fast they eat it/when they ignore it/if it melts in the heat.
Science Says Dogs Are Better Friends Than People
Dogs are the purest beings in this world, and yes, I'm including Beyoncé so don't ask. They're our confidantes, our companions, and most importantly, they listen to all our problems without judgment because they don't have a very good grasp on English beyond "no," "stay," "seriously, no, I mean it," and "pizza." Every living being understands pizza.
So is it any wonder, I ask you, that kids have been scientifically proven to have better relationships with their pet than with their siblings? The correct answer is no. If you ask literally anyone on this planet if they'd rather hang out with their pet or another human being, they're obviously going to pick Colonel Fluffington.

In a study published in the Journal of Applied Developmental Psychology, researchers from the University of Cambridge surveyed 77 12-year-old children about their family relationships. Each household included at least one other child and a family pet. When researchers looked for trends in their results, they found that the kids reported stronger relationships with their pets than their siblings. Considering pets like to snuggle and/or purr while siblings like to punch each other in the stomach and/or steal each other's clothes, I think we can safely agree that science is on to something here.

Dogs apparently made the best pets; kids reported less conflict and more satisfaction with them than any other kind of pet. I repeat: Dogs are the purest beings in the universe. The study also found that compared to boys, girls had more tumultuous relationships with their pets, reporting both more companionship and more conflict. Maybe they're practicing for appearing on The Bachelor one day?

Anyway, the researchers were stoked about their findings because it shows that non-humans can serve as social support, and prior research says the same thing. One 2015 study even found that having a pet can help you make friends with actual humans, mostly because you wind up talking to all the people who want to pet your dog. It's a win-win, except for the part about having to talk to people.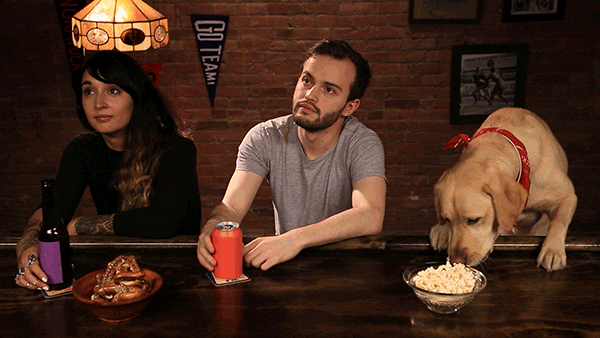 P.S. If you were wondering whether this entire article was an excuse for dog GIFs, you're absolutely right.