Why Paris Hilton Is Coming Under Fire For Talking About IVF
Infertility is a problem many people struggle with, and although it is often considered only a woman's condition, both men and women can contribute to it. While the topic has long been considered hush-hush, in recent years, conversations about fertility struggles are becoming more normalized, with even celebrities opening up about their difficulties. Typically, you'd expect that when a celebrity publicly discusses issues related to infertility, they would be met with an outpouring of support. Not so for Paris Hilton, whose recent comments about her decision to undergo IVF are causing outrage.
On a recent episode of a podcast called The Trend Reporter With Mara, Hilton opened up about her decision to start a family, remarking that she and her boyfriend Carter Reum had decided to try IVF. She explained that her friend Kim Kardashian was the one who recommended IVF in the first place, saying that before Kardashian's recommendation, "I didn't even know anything about it."
The CDC reports that 1 to 2 percent of all U.S. births annually happen via IVF, and according to WebMD, only about 5% of couples with infertility seek out IVF, so Hilton's decision to speak publicly about her decision to undergo the process is significant. Although infertility is a fairly common struggle that couples go through, with about 1 in 8 couples having trouble getting pregnant or sustaining a pregnancy, the stigma of it persists, and women may be on the receiving end of the worst of that stigma. According to a 2019 survey conducted by Modern Fertility, about 1 in 5 women reported that they experienced discrimination or prejudice because of their infertility, which led to them feeling guilt and shame. In addition, 59% of the women who participated in the survey felt that women who are infertile are unfairly treated.
So while Hilton being open about her decision to undergo IVF is commendable and can help lessen the stigma for other women and couples going through the same process, her reasons for going that route are coming under fire. Hilton explains on the podcast, "We wanna have twins first, and then I don't know, like either 3 or 4 children." When host Mara Schiavocampo asks if she's considered surrogacy, because it's kind of hard to plan twins, Hilton reveals, "we have been doing the IVF so I can pick twins if I like." Later on, when Schiavocampo asks Hilton what made her decide to undergo IVF, Hilton explains, "I think it's just something that most women should do just to have, and then you can pick if you want boys or girls … I want to have twins that are a boy and a girl, so the only way to 100% get that is by making it happen that way."
Hilton's comments quickly earned backlash and were called "insensitive". First, there's the casual remark that every woman should just undergo IVF just to be able to have the option of it, which completely leaves out the fact that for many people, IVF is prohibitively expensive. The average IVF cycle can cost anywhere from $12,000 to $17,000 before medication and not including genetic testing, and it may or may not be covered by insurance. Furthermore, it usually requires more than one round. Most people are not Paris Hilton with net worths of $300 million, and doing IVF is a huge financial undertaking.
And that's saying nothing of the intense emotional and physical side-effects. Felice Gersh, M.D., an award-winning OB/GYN and founder/director of the Integrative Medical Group of Irvine, in Irvine, CA and the author of PCOS SOS Fertility Fast Track, tells Betches that with IVF, there is a risk of "tubal pregnancy and hyperstimulation of ovaries leading to very enlarged ovaries and illness from too much estrogen produced." This is on top of "all the issues of any pregnancy", plus the risks of any procedures, such as infections and bleeding. Most common? The "risk of failure and disappointment and emotional toll is great," she says.
There's also the fact that having twins, even through IVF, is risky for both the mother and babies. According to the Fertility Institute, IVF multiple birth risks include the babies being born preterm (almost 60% of twins and 90% of triplets are delivered preterm), which can in turn result in low birth weight and increased risk of long-term issues such as cerebral palsy, vision loss, and hearing loss. There are also serious risks to the mother; complications such as gestational diabetes and preeclampsia are more common in twin pregnancies. (Kim Kardashian suffered from preeclampsia during her pregnancies, which is why she ultimately decided to use a surrogate after the birth of her second child). Twin pregnancy is also associated with greater life-threatening maternal complications. Also, age is one of the most common risk factors for high-risk pregnancies, with women over 35 being at greater risk. Hilton is 39. The point is, having twins through IVF at any age should not be taken lightly. Dr. Gersh emphasizes that undergoing IVF with the express purpose of having twins "should never be the goal, as multiple gestational increase risks to the mom and babies."
And while Dr. Gersh says that "male and female factors for infertility are the usual reasons" for choosing IVF, couples sometimes go this route "to choose gender due to sex linked disease." Gender selection can happen during IVF if parents choose to have their embryos screened for genetic abnormalities. During that process, the doctors can also look at the sex of the embryo, at which point, parents can choose the embryo. Chrissy Teigen did this when she was pregnant with her daughter Luna. She subsequently was criticized for choosing her child's sex, forcing her to explain that it was only one part of the process, writing on Twitter, "I think I made a mistake in thinking people understood the process better than they do." Dr. Gersh says that choosing the sex "would be a personal decision between all concerned" and "is not an issue in the vast majority of cases."
That said, there are couples who specifically undergo IVF so they can choose the sex of their baby, a practice which is controversial, and Hilton's comments seem to imply that she may fall into the latter camp.
Shannon M. Clark, MD, MMS, FACOG and creator of the Instagram accounts @babiesafter35, responded to Hilton's comments in a number of IGTV videos. She asserts, "The idea of being able to 'pick twins if I like' is not only incorrect, it's dangerous and it's irresponsible to put out there as a choice that anyone could have—because it's not a choice that anyone could have." She adds, "IVF is not available to everyone, and twins are a high-risk pregnancy."
That said, we do not know precisely Hilton's reasons for undergoing IVF, and given that she is 39 years old, she may very well have been struggling with infertility. Gender selection may have been a plus side of, but not the entire reason for, undergoing IVF. Still, the way she expressed it was flippant, and that could potentially have adverse consequences (though I kind of doubt anyone is seriously looking to Paris Hilton for family planning advice). We may never know exactly why Hilton is undergoing IVF unless she tells us, and the backlash to these comments might make her less inclined  to open up any further. Her comments were out-of-touch and IVF is not feasible for everyone (for a multitude of reasons), and just because Hilton did not seem to experience serious side-effects does not mean it is an easy process. That said, there is a way to correct and provide context for her statements without coming for her personally, and unless we are told otherwise, we should give her the benefit of the doubt in assuming that she made the best decision for herself and her family under the guidance of medical professionals.
Images: Andrea Raffin / Shutterstock.com;
Celebs You Didn't Know (Or Forgot) Have Their Own Companies
You'd think being an A-list celeb in a major box office movie or being a best-selling platinum artist would get you a satisfying amount of press, wealth, and Instagram followers… but apparently not. Many of the most successful pop-culture icons—popularity and net worth speaking—have decided to start their own businesses for what you would assume is the clout, extra dollars, and *maybe* because they actually have some business sense.  
And let's get real. Some celeb businesses have blessed our lives in a major way by becoming the makeup we swear by or the clothing we've spent WAY too much on, while others fly under the radar. Seriously, there are a sh*t ton of celeb-founded businesses that are better kept secrets than the Ellen scandal pre-2020… So sit back, relax, and get ready to be surprised about the business ventures certain celebs have, and nod your head as you remember some of the star-started companies you totally forgot existed. 
Gwen Stefani
Founder, L.A.M.B., gx by Gwen Stefani, and Zuma Rock 
Despite being a fashion icon since the day No Doubt blew up, Gwen Stefani's current businesses and brands are all in the… optical industry? 
As random as being in the optical space seems, her brands L.A.M.B., gx by Gwen Stefani, and Zuma Rock seem to be doing pretty well, and can be found at retailers including Lord & Taylor and Nordstrom across the U.S. Cue Rich Girl.
View this post on Instagram
L.A.M.B. was actually launched in 2003, and you may remember it as an edgy yet chic fashion brand that had clothing, handbags, and accessories. And if you're a true Gwen stan, you know the L.A.M.B. collection shares a name with her studio album Love, Angel, Music, Baby.  
The brand did its last apparel showing at fashion week in 2015, and has since pivoted to focus on eyewear only. And similar to the original early 2000s L.A.M.B. apparel collections, Gwen says her current eyewear products "still have that edgy, weird 'Where did you get those?' vibe." 
Robert De Niro
Co-Founder, first Nobu restaurant
We all know that Nobu is famous for being the restaurant chain that A-list celebs frequent and up-and-coming influencers take IG pics at to seem relevant. Seriously, the Kardashians have likely had as many meals at Nobu Malibu as Trump has had at KFC. 
What most people don't know, however, is that the first Nobu location was co-founded by one of Hollywood's greatest: Robert De Niro. 
How this came about is that De Niro had met chef and to-be Nobu co-founder Nobuyuki Matsuhisa at one of Matsuhisa's LA restaurants in 1987. After being wowed AF by the food, De Niro connected with Matsuhisa to extend help in launching a New York restaurant if Matsuhisa ever planned on doing so. From there, Nobu's first location was opened in Tribeca in 1994. 
Steve Carell
Owner, Marshfield Hills General Store
View this post on Instagram
If you thought being the star of a hit nine-season TV show like The Office and lead in multiple major motion pictures would keep you busy enough, think again. At least in Steve Carell's case, there's apparently enough time and hustle left over to start a side venture. 
Carell and his wife Nancy own a historic general store in Marshfield Hills, Massachusetts, where the couple grew up. Marshfield Hills General Store was founded in 1969, but was purchased by the Carells in 2009 after the previous owners had put the quaint landmark shop up for sale.
And even though you'd think one Hollywood's leading comedic actors gets enough press, the general store website doesn't sleep on doing its part to promote Carell. Seriously, the site has a menu option called "Where's Steve?" that links to a page with trailers and clips from movies and shows he's been in. At this point, who's working harder: the website or Carell's PR agent?! 
Jessica Simpson
Founder, The Jessica Simpson Collection
Jessica Simpson is iconic, and so is her fashion line, The Jessica Simpson Collection. It was a simpler time, but remember when the perfect Saturday night outfit was Jessica Simpson heels and a bandage dress, accessorized with side bangs and lip gloss?
Thankfully, but not surprisingly, The Jessica Simpson Collection still exists, and has expanded from being just a shoe line to including jewelry, clothing, luggage… and literally everything in-between. Seriously, your entire wardrobe could be purchased solely from her site – and I promise, you'll feel no regrets if you do.  
In 2016, Forbes reported that the company was bringing in $1 billion in revenue yearly (holy sh*t! Who knew The Dukes of Hazzard wouldn't be Simpson's biggest money maker?), and Simpson credits part of its success over the years to being inclusive. She told WWD in 2015 "People buy my clothes because I'm good at listening to what they want and need… The Jessica Simpson Collection is not geared toward one person."
Charlize Theron
Founder, Denver & Delilah Films
It turns out you have more to thank Charlize Theron for than inspiring you to cut your hair short (even though you literally looked nothing like her when you did)… you also have to thank her for producing some of your favorite movies and TV shows.  
Theron launched her production company, Denver & Delilah Films, in 2003. Since then, it's produced shows like Girlboss, and movies including Bombshell, Atomic Blonde, The Addams Family, and Monster. That's right—her company not only produced those, but she also starred in most of them… double income on a single project? Who TF would say no to that! 
And if you're wondering where the inspiration for the company's name came from, Theron named it after her two dogs. Ugh, SO cute! 
Venus Williams
Founder, V Starr Interiors
Talk about a hidden talent—did you know Venus Williams founded an interior design company?! 
According to an interview she did with Elle in 2019, her passion for design was developed as a teen, and from there, she explored that by designing rooms in their family house, including her bedroom. As a teen, I was personally only passionate about Jacob from Twilight, so kudos to Williams for being productive AF. 
View this post on Instagram
Eventually, at the height of William's tennis career in 2002, she started her own professional interior design company called V Starr Interiors. And maybe, if it weren't for constant media coverage on Olympic, Wimbledon, US Open, etc. etc. wins, we'd actually know Williams publicly as a renowned interior designer. After all, popular hotels, sports clubs, colleges, and professional athletes have hired V Starr to do their interiors… and from the V Starr Interiors website, these designs are truly chef's kiss. 
Paris Hilton
Founder, Paris Hilton Fragrances 
In case you forgot, here's a PSA that Paris Hilton is pretty much the celeb fragrance queen. You're welcome for the reminder. 
Since 2005, Paris has released 25 fragrances across the globe and has over $3 billion in sales according to her recent documentary, This Is Paris. Oh, and that number probably only factors in some of the sales of her latest fragrance, Electrify, which was released this year. And apparently, the Electrify scent was inspired by Paris' DJ career and her "true passion for music, dancing and living in the moment."
At this point, I seriously think we need a full on presidential-format debate on who works harder: Paris Hilton or Kris Jenner. I mean, between Paris' fragrances, DJ'ing, makeup line, clothing line, and more, this girl knows how to work and has a serious chance against the Momager herself.  
Fergie
Co-Owner and Partner, Voli Vodka
View this post on Instagram
Fergie and Bethenny Frankel have plenty in common—lots of money, a divorce, a sh*t ton of Instagram followers, experience leaving a band/show that made them famous but ultimately returning… and a low-cal alcohol brand. 
Although the brand Voli Vodka was launched in 2008, Fergie was brought on as a partner and part owner in 2012 alongside Pitbull. Apparently, having global status is a prerequisite for joining Voli Vodka… Pitbull = Mr. Worldwide… Fergie = London Bridge. 
Similar to Skinny Girl, Voli Vodka is low-cal, and that seemingly makes it the perfect addition to Fergie's healthy lifestyle, according to a quote she gave Food & Wine magazine in 2017.
Don't miss out on any pop culture or entertainment news. Subscribe to our weekly newsletter here. 
Images: lamb, marshfieldhillsgeneral, vstarrdesign, 
The Best & Worst 2000s Trends Making A Comeback
2020 fashion seems to be one big mashup of years past, and I mean, who can really blame us? This year is nightmare fuel, to put it nicely, and I for one am here for the return of most of the 2000s trends that have come creeping back into our lives. The 2000s were an easier time, you know? Where your biggest stress was which CD you were going to purchase from FYE (My Chemical Romance for me, always) or if the cute salesperson model in front of Abercrombie was going to notice you. Like I said, easier times.
So let me take you down memory lane, 2020 reboot style, with the best and worst 2000s trends to return this year.
The Best
Velour
I'm just going to start here with velour, because it feels really relevant to current times, and I am absolutely on board with this comeback. Obviously, we're in a time where comfy clothes have never been more relevant, and it feels like the perfect opportunity for velour tracksuits to be a thing again. If you haven't been on social media in the past few weeks, Kim Kardashian's SKIMS dropped a collaboration with the president of velour sets, none other than Paris Hilton. That's hot. I'm going to be honest, I bought a set myself after telling everyone around me how I couldn't wait for the affordable Target knock-off to launch. I simply had no self control, and I am not even sure why. Let us pray that $80 sweatpants are in fact worth it.

Juicy Couture's Limited-Edition 25th Anniversary Collection in partnership with New York City Alliance
On the topic of overpriced velour sets, we also have the comeback of the absolute OG velour sweatsuit brand, Juicy Couture. Personally, I am not ready to see "JUICY" slapped across the behind of my peers, but like, I'm still glad the brand is back and thriving. The brand is actually now celebrating its 25th year, to make you feel super f*cking old, and announced a bunch of new collabs, so it's going to feel like middle school all over again with everyone you know sporting a Juicy tracksuit. That being said, Juicy obviously has a place in the best comebacks category, because I dare not disrespect a brand that influenced a generation of fabulous middle schoolers.
Tie-Dye
View this post on Instagram
At this point, there's not much to say about tie-dye, except that it was the biggest trend of 2020. It was like a summer camp in every person on the planet's living room, tie-dying anything we could get our hands on. Eventually we all gave up and brands like BrownDyedGirl (who I found from Hannah B. Who even am I anymore?) came to our rescue bringing tie-dye sets to our doorsteps without the hassle of actually hand-dying pieces. I'm putting this in the best category for a few reasons. It hits all the Cs: cute, comfortable, cozy, casual, classic. If I'm being real, I'm not sure how long this trend will actually last, but for 2020 it has served its purpose.
Color-Tinted Sunglasses

Everyone who was someone rocked color-tinted sunglasses in the 2000s, and when they came back to life I was all in. Now, disclaimer, I literally look like Mrs. Potato Head in ALL sunglasses, but that simply did not stop me from hopping on the bandwagon. The pastel colors hit different and make me feel like a pop star. I shamelessly bought a pair from Vogue Eyewear (taking Watermelon Sugar to new levels here). I hope to see this trend live on for a few years, but if not, I'm glad it had its comeback moment.
Press-On Nails

I mean… come on. These things are so convenient. When I was younger I freakin' LOVED press-on nails and my mom thought I was pure trash. Now we've upgraded from the CVS claws to brands that actually are custom printed to fit your nail, and I really think this is the hack that we all need. I personally have been using ManiMe as my go-to, but there are multiple brands with similar concepts that are doing it right. This is great for my people who are feeling lazy, and also great for those not comfortable and ready to go back to a nail salon.
Glasses Chains
In 2020, glasses chains DID make a comeback, and it was a chic one at that. Early 2000s glasses chains were strictly for grandmothers who lost their reading glasses if they weren't literally tied around their neck, but 2020 glasses chains were a cute accessory just because. It also influenced a much bigger and more important trend, the mask chain. The first time I saw a mask chain was on Lara Eurdolian's Instagram (@prettyconnected), and then I blinked and everyone had one. They're convenient for the same reason a glasses chain would be, but also spruce up your mask in the most needed way. If you told me in January that this would be the best accessory of 2020 I'd laugh, but here we are… and that's on pandemic fashion.
Vests

ASOS Neon Rose relaxed sweater vest in marble knit
2000s vest fashion consisted of diamond checkered sweater vests that could only be rocked by Avril Lavigne. If said vests returned in the same style, this would be at the top of my "worst" list, but now they've come back in a cute and fun way, and I'm obsessed. The oversized sweater vest and button-up shirt dress combo is currently the vibe I'm enjoying, and if there wasn't a pandemic, you bet I'd be seeking fall activities weekly to rock this look. Instead, I'll be ordering this outfit and asking my mom to snap a pic of me in the yard, because that's 2020 in a nutshell.
Flavored Lip Balm

If you didn't have EVERY flavored Lip Smacker balm, were you even alive in the 2000s? I don't even recall if these actually hydrated your lips or just made them more chapped, but I do know that the sweeter the smell, the happier I was. While I would not opt for an actual Lip Smacker in 2020, I have noticed the rise of candy flavored lip products returning. My personal favorite is the Laneige Lip Mask, because it makes my lips feel super hydrated for long periods of time and the flavors are real good. Sweet Candy, Gummy Bear, and Vanilla are my top three, but really they're all delicious. As someone whose lips are literally always chapped (no amount of water can save me, I've tried), this is a trend I am here for today and every day.
Furry Sweaters

Tobi Dream of Me Fuzzy Lavender Sweater
#WinterIsComing and as someone who is ALWAYS cold, this is the type of sweater that never left my closet. That being said, I am well aware that a furry fluffy sweater hasn't always remained on trend, but this year, they're back. I picture a young Mary-Kate and/or Ashley rocking this with some pigtails, and that is the energy I am trying to bring back this winter. This sweater in particular is from Tobi (calling all my sorority girls), but it's safe to assume you can find this staple at any store.
G-Shock

Honorable Mention goes to G-Shock. I NEVER saw this comeback coming, but given the fact that these watches fashionable now must be acknowledged. What's next, Etnies?
The Worst
Visible G String
I don't think I have to go too deep into an explanation as to why this trend is falling under my worst comebacks. The first time this trend existed, I was seven years old, so I didn't really understand it. Now, I am 27 years old and still don't really understand it. The wedgie-but-make-it-fashion look is not for me, and while it might be done tastefully by Hailey Bieber and Kim Kardashian, it most certainly does not suit the average human.
Butterfly Clips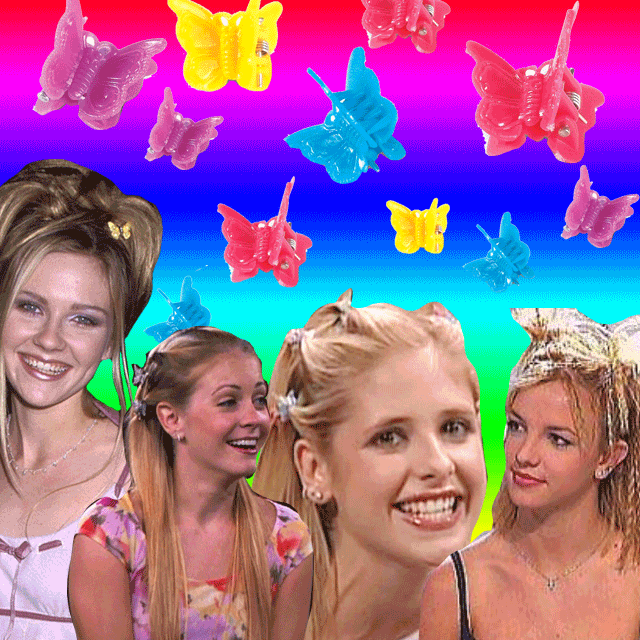 I'm kind of torn on this one, so don't hate me for putting it in the worst comeback category. That being said, I need to be a little realistic here. Butterfly clips were cute AF when we were young, but they were never practical. They never actually held my hair back (granted I have frizzy, curly hair that pre-heat iron days could literally not be tamed) but even worse, the fancy ones would get tangled and lost in my lion's mane and hurt. Now, seeing adults wear them in 2020, I am just wondering… why? Is it for the looks? Is it to test your detangling skills? Again, I see this trend fizzling out quickly, but if you can rock it and make them look as chic as above—all the power to you.
Low Rise Jeans
View this post on Instagram
Not much to say here. I thought low rise jeans were dead and gone, and I was happy about that. Low rise jeans flatter no one, and I thought we all accepted that we just don't need our jeans to expose our pubic bones? I'm just not here for it. So yeah, let's keep these bad boys in the past, please and thank you.
Money Piece
View this post on Instagram
So let me start this bit by saying I myself currently am rocking a money piece, and a thick one at that. But, I am well aware that this trend will be over in no time, and I'll look back and wonder wtf I was thinking. I have physical reactions to how strongly I dislike chunky highlights, so I assume my views will be similar in a few months. I do think they are cute and fun at the moment (when done correctly), but the upkeep sucks, and when the roots start creeping in it goes from funky to disaster real quick. Let's mark this under "worst comebacks that I am currently enjoying but can still acknowledge are the worst."
And there you have it sk8er bois and girls. 2020 has been a fun blast from the past (even the roaring 20s are making an appearance!!!) but the trends remain sharper than ever.
Betches may receive a portion of revenue if you click a link and purchase a product or service. The links are independently placed and do not influence editorial content. 
Images: Jun Sato/ WireImage; Provided by Tobi; GIPHY; SKIMS, Juicy Couture, BrownDyedGirl, DoYouLoveThe2000s, ManiMe.Co, PrettyConnected, TheFrankieShop, Laneige, G Shock, NewBalanceLifestyle, Bella Hadid, Brittany Xavier / Instagram
What We Learned From Paris Hilton's Shocking New Documentary 'This Is Paris'
Paris Hilton is an icon whom we've followed since the early 2000s, but how much do we really know about her? Over the last 20 years, the heiress-turned-socialite-turned business mogul has carefully crafted an identity built on glitter, selfies, and the idea that life is one never-ending party. From The Simple Life until now, she's rarely strayed from this bubbly public image, but this week, that changed in a major way. In the new YouTube Originals documentary This Is Paris, we get an unprecedented look behind the façade of Paris Hilton, delving into her personality, her relationships, and the traumatic experiences that shaped her. Here's what we learned from This Is Paris.
The Character

Right off the bat, we're confronted with the jarring reality that Paris Hilton's voice is not actually Paris Hilton's voice. The iconic "that's hot" baby voice pops up here and there throughout the documentary, but most of the time, Paris speaks in a deep, slightly raspy tone. She may be one of the most famous dumb blondes, but underneath the bleached roots, she's actually a shrewd businesswoman who doesn't put up with bullsh*t. Basically, she knew exactly what she was doing on The Simple Life, and it worked like a charm. In the documentary, we see her seamlessly shift into her on-camera persona. In one scene, she frolics in a ball pit to capture content for a skin care event in South Korea, and then totally deflates when she's informed that she needs to be in full hair and makeup for the next day in just seven hours. When asked at the end of the film if she could divorce her real self from the character, Paris shakes her head, saying that it would be "an expensive divorce."
The Money
It's no secret that Paris Hilton is rich, but due to her rise to fame as an heiress, I don't think people realize just how massive her own businesses are. She has over a dozen different product lines including skin care, makeup, clothing, and and accessories, and she says in the documentary that her fragrance line has done nearly $3 billion in sales worldwide. She is also the world's highest-paid female DJ, reportedly earning $1 million for each appearance. Throughout the doc, she discusses her life goal of earning a billion dollars, citing this as the reason she can't slow down her packed schedule of traveling and appearances. Similar to someone like Kylie Jenner, it would be a stretch to call Paris Hilton self-made, but she has certainly done an excellent job of using what she was given to create something even bigger.
The Relationships
Paris, who turns 40 next year, has never been married, and This Is Paris gives us an inside look into how difficult it is for her to find relationships that work. She has major trust issues (stemming from some stuff we'll talk about in a minute), and given her hectic schedule and worldwide notoriety, Mr. Paris Hilton can't just be any random guy. There's a scene where Paris discusses this with her sister, Nicky, saying that if she dates an equal, she never gets to see him, but if she dates a guy who will be her "bitch boy" and follow her around the world, she quickly loses respect for him.
In the first half of the documentary, we meet Paris' boyfriend at the time, Aleks. After meeting at Ultra Music Festival in Miami (a red flag to begin with), they began dating long distance, and we see him visiting her for the first time in LA. But one of the film's most shocking scenes is at the Tomorrowland Music Festival in Belgium, where Paris is set to perform the biggest DJ set of her career. After doing a slate of interviews before her set, Aleks complains that Paris isn't giving him enough attention, despite the fact that her performance is just minutes away. As he continues to whine to her, she blows up, and ultimately demands that his festival wristbands be cut off. As Paris takes the stage, Aleks is escorted away by security, and we never see him again.
The scene with Aleks is concerning, and Paris admits she has a history of dating toxic men. She estimates that she's been in relationships with five different men that have become physically abusive, going all the way back to her teens. In one scene, we see a pile of discarded MacBooks, and Paris says that each time she dates someone new, she has to get a new computer, because guys always try to go through her stuff. It's not hard to see why she's had trouble finding the right person to settle down with.
The Past
The most shocking parts of This Is Paris deal with Paris' teenage years, when her parents sent her to numerous schools and programs for troubled teens. Paris went through a rebellious phase as a high schooler in New York City, and her parents were concerned that she would tarnish the family legacy. First, they sent her to a wilderness program in New England. She attempted to run away from the program, and when she was caught, she says she was beaten by the staff. After that, Paris went to several "emotional growth schools" in the northeast, but she ran away each time, so her parents decided on something even more drastic.
Paris recalls that when she was 17, in the middle of the night, she was woken up by two men, and taken kicking and screaming from her family's New York apartment. She says that she believed she was being kidnapped, until she saw her parents watching her be carried out the door. Her sister Nicky recounts how she woke up to the sound of Paris screaming, and then the next morning, her parents acted as if nothing was wrong.
After the horrifying abduction, Paris was taken to Provo Canyon School in Utah, which looks more like a prison than a high school. There, she says that students were physically and emotionally abused, and were forced to take unidentified pills. Paris recalls that, after she was caught throwing her pills in the trash, she was placed in solitary confinement, spending 20 hours a day in complete isolation. In an interview in the film, Hilton's mother Kathy is asked about the use of solitary confinement, and it is clear that she is hearing about it for the first time, live on camera.
In the last part of the documentary, Paris meets with several women with whom she attended Provo Canyon School, and they bond over the strength that their shared experience has brought them. Paris helps organize a campaign called Breaking Code Silence to spread awareness of Provo and the "troubled teen industry" as a whole, and with the publicity surrounding the documentary in the last couple weeks, the campaign is generating traction.
Whether you have always loved Paris Hilton, or have always rolled your eyes at the thought of her, This Is Paris is a fascinating look behind the curtain at one of the most famous people in the world. At the very least, Paris is bringing attention to important issues, and hopefully this awareness can create some real change. I don't know if we'll ever truly know the real Paris Hilton, but we're a lot closer than we've ever been before.
Don't miss out on any pop culture or entertainment news. Subscribe to our weekly newsletter here. 
Images: Andrea Raffin / Shutterstock.com; Paris Hilton / YouTube
5 Celebs Who Missed The Point Of Earth Day
If you checked Instagram at all on Wednesday, you probably know that it was Earth Day. Established in 1970, the whole idea of Earth Day is to show support for environmental protection, and acknowledge the importance of protecting our planet. Pretty simple, right? Well, for most of us, this translates to an excuse to repost old travel photos, and write some caption about how much we love the planet. And that's fine! Especially now that coronavirus has forced all of us to cancel our travel plans for the foreseeable future, it's good to remind ourselves how great our planet is.
But, as with most things, celebrities love to put their own spin on the meaning of Earth Day, which often means missing the point completely. Here are some celebs who might need a little refresher on what Earth Day is supposed to be.
Paris Hilton
View this post on Instagram
I love Paris Hilton deeply, but her Instagram is pretty deranged. She exclusively posts videos, most of which are just photos with like, glittery backgrounds. For Earth Day, she posted a few times, but my favorite is this one of her holding a dog (I think?) in front of a picture of Earth. In one of Paris' other posts, she said that "we have to take care of our world together," but in this one, she just asks her followers "Which city on Earth do you live in?" I'm not sure exactly what's wrong with the wording of this question, but something feels off. Either way, Paris is great, and I'm glad she loves Earth.
Kameron Westcott

When it comes to Earth Day on Instagram, posting your coolest travel photos is par for the course. The thing is, most of us could do a lot more to make our trips as sustainable as possible. But while we can all do little things to help the planet while traveling, you know what big thing rich people could do? Stop flying private! Private jets are horrible for the environment, which is why it's so wild that Real Housewives of Dallas star Kameron Westcott thought she should include a PJ pic in her Earth Day carousel. Kam, no!! I'm not naive enough to think that most of these celebs aren't flying private, but at least don't post the jet on Earth Day! It's just not that hard.
Scott Disick
View this post on Instagram
Most of the Kardashian Krew didn't even post about Earth Day, which might be for the best. God knows we don't need to see Kylie Jenner posting environmental thirst traps. But Scott Disick didn't forget about Earth Day! To mark the occasion, he shared a pic of him riding an electric bike on the beach. On the one hand, I guess an electric bike isn't bad for the planet, but maybe keep it on the sidewalk? Idk, celebrating Earth Day by riding your $2,000 motorbike in nature just feels off to me. Also, is this post sponsored? Because it kind of feels sponsored.
Vanessa Hudgens
Our sometimes-problematic Coachella queen Vanessa Hudgens obviously had to celebrate Earth Day, which she did… indoors. What's going on with her? This caption and look are giving me seriously weird vibes, and I need to know if Vanessa is okay. I feel like she's going to come out of this quarantine as one of those women in Union Square who claims they can read your palm and predict when you're going to die. Big Professor Trelawney energy, and it's freaking me out.
Nick Viall
Is this what comedy has come to in 2020? I'm supposed to laugh at Nick Viall's Earth Day post of him running around on a beach with dinosaur arms? Nah, I'm good. I really need to stop following all these Bachelor people on Instagram, because I'm just giving myself a headache at this point.
Among the celebs I stalked, there were lots more Earth Day thirst traps, but whatever, I'm not the bikini pic police. We're all losing our minds right now, so if you want to post a pic of you looking hot and pretend it's about the planet, go for it. But don't forget to like, actually be good to the planet, okay?
Images: Featureflash Photo Agency / Shutterstock.com; parishilton, kameronwestcott, letthelordbewithyou, vanessahudgens, nickviall / Instagram
This Twitter Thread Explaining The Iconic Photo Of Britney, Lindsay, & Paris Is Epic
In these trying times, it's important to find things that still bring us joy. For some people, that might be deep cleaning their kitchen or watching inspirational videos, but those things just don't do it for me. But you know what does? Reliving the minutiae of celebrity drama from 2006. On Sunday night, Twitter 2000s expert popculturediedin2009 posted one of the most important threads ever, and we must talk about it. This is the story of the iconic photo of Britney Spears, Paris Hilton, and Lindsay Lohan in the car together, and (no pun intended) you better buckle up.
Responding to another tweet thread purportedly explaining the photo, pcd2009 decided it was time to really get into the facts. What follows is an absolute treasure trove of 2000s relationships, feuds, and tabloid videos—truly a feast for any pop culture addict.
alright so i'm seeing too many of these threads detailing mid-aughts it-girl drama with few facts in sight so it's about time i dusted off a history textbook (my extensive tabloid collection) and relayed the REAL gossip for you all https://t.co/rq1N78LkGl

— popculturediedin2009 (@pcd2009) April 6, 2020
For the most part, this story revolves around the complex relationship between Paris Hilton and Lindsay Lohan. Britney Spears is important too, but she'll come in later. In 2006, Lindsay and Paris were both at the height of their tabloid fame, and they were both out partying like, every night. Lindsay was also only 19 years old, which is insane, but that's a whole different issue.
Here are some other key players who you'll need to know:
Stavros Niarchos: A hot Greek shipping heir who originally dated Mary-Kate Olsen, before dumping her for Paris Hilton.
Brandon Davis: A less-hot oil heir who hung out with the same crowd. He had formerly dated Mischa Barton, and had publicly called out Paris for using racial slurs.
Elliot Mintz: Paris Hilton's publicist, who literally looks like an Oompa Loompa. In 2006, it was basically his job to follow her around to clubs and fix whatever messes she caused. Like Olivia Pope, but sleazier.
In the thread pcd2009 cuts to the chase, saying that the inciting incident that led to the iconic photo was in the spring of 2006, when Paris and Stavros broke up for the first time. Soon after that, he was spotted out with Lindsay, and was caught leaving her hotel room in the morning.
while they'd had their share of drama beforehand, the key stretch that leads up to the aforementioned 'britney, lindsay, paris' photo begins in the spring of 2006, as paris and stavros suffer their first (of many) breakups. pic.twitter.com/FP9KABHIIh

— popculturediedin2009 (@pcd2009) April 6, 2020
According to the thread, Paris and Lindsay already had their issues (partially involving Nicole Richie), and Lindsay hooking up with Stavros obviously didn't help. A few nights after that, Paris and Brandon Davis were caught by the paparazzi leaving the club, and Brandon went off on Lindsay. In this infamous video, he calls her "firecrotch" over and over again, and also says she's "really poor" because she's only worth 7 million. Paris is smart and doesn't say anything, but she's laughing the whole time.
nights later, leaving janet jackson's birthday party, paris – joined by elliot, her sister nicky and pal caroline d'amore – cackles maniacally as brandon unleashes a tirade on lindsay, dubbing her "firecrotch" and saying "she's worth about 7 million" so "she's really poor" pic.twitter.com/3VMnmiyMaB

— popculturediedin2009 (@pcd2009) April 6, 2020
My favorite part of this video is Elliot Mintz. He's right there in a suit and tie, looking like he'd rather die than have to deal with this. At one point, Brandon pulls him by the tie, and I really thought Elliot was going to slap him. I hope this guy was getting paid a lot off money to put up with this bullsh*t every night.
The video went viral by 2006 standards, and Brandon ended up going to rehab because his family was so pissed. That is, after he was spotted wearing a "Team Firecrotch" T-shirt. Classy! After getting out of rehab, he allegedly recorded a song called "Firecrotch," but it was never played in public, and sadly, there is no trace of it on the internet. This seems wrong. Like, shouldn't the Library of Congress be preserving these important historical documents? I'm upset.
So that was the spring of 2006. Over the summer, things mostly just simmered. Paris and Lindsay occasionally ran into each other or made shady comments, but nothing really blew up. Then came fall. Paris reignited the feud by hooking up with Lindsay's ex Harry Morton, and LiLo didn't appreciate it. In what might be my favorite paparazzi video of all time, Lindsay clearly says "Paris is a c*nt," then denies saying it just SECONDS later. God, I would literally give anything to go back to 2006 right now.
come fall, paris strikes again by getting cozy with lindsay's ex, hard rock scion & pink taco founder harry morton (RIP), fueling lindsay's now-infamous "paris is a cunt" comment as she made an exit from a party at the roosevelt hotel in early november. pic.twitter.com/RVkAZTKgZp

— popculturediedin2009 (@pcd2009) April 6, 2020
Around this time, Paris Hilton started getting close with our third major player, Britney Spears. And by getting close, I mean that they were getting wasted with each other every night, and were also clearly buying their fried blonde hair extensions from the same place. Looking back, it's actually kind of wild how rough they look in these photos. Now, every celebrity has a glam team at the ready, but there's not a hairstylist in sight here.
by then, paris had also acquired a new pet for her menagerie: britney spears, newly single after kicking k-fed to the curb and now partaking in nightly crotch-flashings with paris, to both our devastation and morbid fascination. pic.twitter.com/78C9UC424V

— popculturediedin2009 (@pcd2009) April 6, 2020
And now, we've finally arrived at the historic night. November 27th, 2006. The night when it all went down. At around midnight, Lindsay Lohan talked to the paparazzi in a parking garage. In the video, she eagerly shows them a bruise on her arm, saying that Paris Hilton "hit me last night, for no reason apparently," and also that Paris poured a drink on her.
after a party in late november, a distraught lindsay approaches paparazzi to show a bruised arm, alleging paris had hit her. pic.twitter.com/6iyQkF3VCU

— popculturediedin2009 (@pcd2009) April 6, 2020
So that was midnight. Fast forward a few hours, and it was a very different story. Lindsay was hanging out at Brandon Davis' bungalow at the Beverly Hills Hotel (I guess she got over the firecrotch thing?), and Elliot Mintz quickly arranged for Paris and Britney to get their asses over there. Later, Paris, Britney, and Lindsay all left the party together—you guessed it—crammed into Paris' car.
In the paparazzi video, Lindsay tries to clarify her statement (from earlier that night) about Paris hitting her. With Elliot Mintz grabbing her arm, she says that Paris is "a nice person," and that "everyone lies about everything." Soooo she means that she was lying? Or that Elliot Mintz sent her a strongly worded text? Either way, this timeline is truly wild. Basically, the iconic photo of our three hot mess musketeers was a publicity stunt to defuse Lindsay's claims about Paris, and I guess it worked? Everyone remembers the photo, but all of these paparazzi videos are actually blowing my mind. In a leaked email with Shanna Moakler from a couple weeks later, Lindsay says that the whole thing was "more of a photo-op," and that Paris and Britney are "overrated."
in a leaked e-mail exchange with shanna moakler (ex-wife of blink-182's travis barker, whom paris hooked up with after their split, causing shanna to allegedly punch paris in the face at a club) lindsay reiterated the three musketeers act was a publicity stunt: pic.twitter.com/AhHddUxpxD

— popculturediedin2009 (@pcd2009) April 6, 2020
So what happened after that fateful night? Paris, Brittany, and Lindsay were never photographed all together again, and as we know, they all had their own separate issues going on. Lindsay and Paris both served short jail sentences in 2007, and I think we all know that 2007 wasn't a great year for Britney Spears, either.
All in all, this thread is a wild ride, and I can't get over these paparazzi videos. Of course, it's fun to see Lindsay call Paris Hilton the C-word, but living like this looks like an actual nightmare. I would have a panic attack if there were photographers swarming my car at all times, so I can't imagine what it's like. But also, why were these people always driving themselves home from the club? I know Uber didn't exist back then, but I'm pretty sure Paris Hilton could afford a driver. I digress. Thank you, pcd2009, for this incredible feud, which made me forget about coronavirus for a solid two hours. It's the little things.
Images: Michael Caulfield Archive / Contributor / Getty Images; pcd2009 / Twitter
Celebrity Paparazzi Pics That Are Just Thinly Veiled Sponsored Content
At this point, we're all pretty accustomed to celebrities doing sponsored posts on Instagram. At first, it seemed random and desperate for A-listers to be earning their paychecks over Instagram, but things have changed a lot. These days, even the biggest names are doing ads for everything from food products to lube, so not much throws me off anymore. But one #spon trend that's always fascinating to me is the use of paparazzi photos as an advertising tool. If that phrase just shocked you, I'm sorry I disillusioned you, but it's time to grow up. Paparazzi photos are not just random photos photographers capture of celebs in their natural habitat—they can often be used as promo.
I really feel like in 2019, paparazzi photos don't get enough love. They were everywhere in the 2000s (think of all those classic Britney Spears photos), but the rise of social media changed the way we get our images of celebrities. Now, so many of them post their own photos that we don't have to wait for them to go to the gas station barefoot to get a glimpse of what they're up to. But paparazzi photos are still alive and well, and in the age of #spon, they often have deeper context than it first appears.
Now, both famous people and major brands have figured out how to take the standard paparazzi photo, and make it work for them. Rather than stars getting caught unaware without underwear on, we've entered an era of paparazzi pics as marketing gold. Whether by calling the paparazzi on themselves, carefully placing products in the photos, or fully staging fake pap pics, it's all a complicated game to sell product. Nothing in life is really a coincidence, so let's dive into the world of paparazzi photos as sponsored content.
What really got me thinking about all of this was this photo of Bella Hadid that JustJared posted on Instagram last week. At first glance, it's just Bella, walking down the street in a typical '90s throwback outfit. But look at how she's holding the bag. That's not how normal people hold bags. It's important here to note that it's very obviously a Michael Kors bag, and Bella is the star of this season's Michael Kors ad campaign. Her face is literally plastered on the windows of every Michael Kors boutique in the world. Coincidence? No, I just told you there are no coincidences.
By itself, I might have seen this photo and just kept scrolling, but then I remembered something Bella Hadid had posted on her own Instagram. Here she is, in the exact same outfit, with the exact same bag. In her post, she name drops the bag, uses #ad, and uses the paid partnership tool. It's very obvious that this is an ad for Michael Kors, and she's checking all the boxes to make sure she's not breaking any rules about disclosing a partnership.
But normally when you do a photoshoot for an ad, you would change back into your own clothes at the end, and just go about your day. Instead, Bella Hadid obviously brought the bag out on the streets of New York with her, and got photographed by the paparazzi while she was at it. This photo looks like an actual paparazzi photo, but I have a feeling they were tipped off about where Bella would be, and she made sure that the bag was clearly visible.
I'm not saying it's not a cute bag, because sure, it's not fugly, but I doubt a $298 bag plastered with the Michael Kors logo is what Bella Hadid would reach for on a normal night out.
While Bella Hadid's paparazzi photo wasn't fake, it definitely constitutes some careful product placement, and we know for a fact that she's getting paid to be the face of Michael Kors. Another potential example of this kind of product placement was Ariana Grande with Starbucks last year. This was never confirmed as a paid partnership, but for months, basically every time she stepped out in public, Ariana was walking around with a Starbucks cup.
Again, I don't know if Ariana was being paid for her iced coffee obsession, but I do know that homegirl made sure the logo was facing the camera at all times. That, along with the iconic green straw, makes it pretty tough to miss the fact that Ari just couldn't get enough of her Starbucks. Does she not know about good coffee??
And also, just last week, Bella Thorne's team tipped off the paparazzi on where she would be before her book signing, and she was very subtly holding the new book while being photographed. Mad respect, honestly.
Whether you realize it or not, it's not super uncommon for celebrities to call the paparazzi on themselves. While someone like Beyoncé doesn't need any help getting press coverage, there are lots of lower-level famous people who would kill to get their photos on TMZ. Exposure is valuable! For top stars, it can be annoying to have photographers around them everywhere they go; someone like Bella Thorne isn't mad about the paparazzi helping her sell a few more books.
Moving on from the tasteful product placement, my actual favorite thing is when companies fully stage paparazzi-style photos. Sometimes it's less obvious than others, but it's always hilarious.
Case in point: this photo of Jenny McCarthy chilling by the pool with her Uncle Bud's CBD skin care products.
How fun! How casual! How natural! It's hilarious to imagine a paparazzi photographer taking these hi-res photos of Jenny McCarthy at her backyard pool, but that's definitely not what happened here. These photos were written up in numerous tabloids, including The Daily Mail and Radar Online, so I'm a little suspicious. Jenny was obviously being paid for these very staged photos, and it wouldn't surprise me if Uncle Bud's also paid some of the tabloids to write about it. Not to be rude, but no one cares about Jenny McCarthy or CBD skin care, so I doubt all these publications would be clamoring to publish articles about this.
But whatever, Jenny McCarthy, get that check, and hopefully the CBD makes up for all those vaccinations you're not getting.
Probably the most prolific example of fake paparazzi photos as #spon is Kim Kardashian, and specifically the ad campaigns for Kanye West's Yeezy collection. Some of them feel more staged than others, but they're more about a general aesthetic than actually fooling people. Take notes, Jenny McCarthy. Here's Kim wearing a very weather-appropriate outfit on a 100-degree day in Calabasas.
Why is she walking past a gravel pit? Are there gravel pits in Calabasas? Does Kim know what gravel is? Many questions.
The best photo of the bunch is this one of Kim and a couple of her groupies just casually "running" on the beach. Barefoot. In matching outfits. And full hair and makeup. As we all do!
But without a doubt, the most iconic use of fake paparazzi photos was in January 2018, when the Yeezy Season 6 campaign featured  numerous influencers and celebrities dressed up as "Kim Clones." Nothing has ever brought me more pure joy as a gay man than seeing Paris Hilton dressed up in full Kim Kardashian drag. It's glorious.
This is actually an incredible look for Paris, and if she ever decides to tone down her over-the-top outfits, this vibe would totally work for her.
Another set of Kim Clones were the Clermont Twins, who are some of my favorite people in the world. They first got famous by appearing on The Bad Girls Club, where they basically just yelled the whole time about how rich they are. Their Instagram is almost exclusively wild thirst traps in matching outfits, so they were a perfect choice for this campaign.
I could talk about the Clermont twins for days, but I'll just say that currently Shannade is in prison for continuing to use her sugar daddy's credit card for months after he died. Fully iconic.
What are your thoughts on celebrities calling the paparazzi on themselves? Is it desperate, or just a good tool for promotion? Personally, I don't really mind it, and I think it's a great opportunity for unintended comedy.
Images: Shutterstock; justjared, bellahadid, arianagrande, maikeeb_kills, unclebuds_hemp, kimkardashian (2), parishilton, clermonttwins / Instagram
Paris Hilton Just Reignited Her Feud With Lindsay Lohan
It doesn't get more iconic than Paris Hilton and Lindsay Lohan. Just from saying those two names together, I'm instantly transported back to a time of low-rise jeans, tragic hair extensions, and passed-out starlets in the back of cars. Things were simpler back then. While we've moved on from the era of Von Dutch trucker hats, not all of the drama has been left in the past. There's clearly still some bad blood between Paris Hilton and Lindsay Lohan, and Paris has recently reignited their decade-long feud. I'm obsessed.
On Tuesday night, Paris Hilton was a guest on Watch What Happens Live, and lucky for us, Andy Cohen got her to play Plead the Fifth. If you're unfamiliar, Andy asks three uncomfortable questions, and you only get to skip one of them. Like a true icon, Paris answered all three of her questions, and the first one nearly made me fall out of my chair. Noting that Paris Hilton recently said she never wants her name spoken in the same sentence as Lindsay Lohan's (oops, I've already done it three times), Andy asked Paris to say three nice things about Lindsay.
Watch what she had to say:
Are you dead? Because I'm dead. In case you didn't watch, Paris first says that Lindsay is "beyond," which is probably actually a compliment coming from her. Like, if Paris Hilton tells you that your outfit is "beyond," you wear that outfit every single day until you die. It's just the rules. After her first (probably) nice thing, Paris is truly out of good things to say, so she just ditches the assignment and goes with "lame and embarrassing." You guys! You guys. This is the kind of legendary shade that I live for.
It's safe to say that things are still pretty rough between Paris Hilton and Lindsay Lohan (oops, I said their names together again). We were reminded of their feud last summer, when Comments By Celebs found another absolute shady gem from Paris. One of those accounts who posts stuff from 2000s pop culture found a video (most likely from 2006) of Lindsay Lohan speaking to the paparazzi. She first says that Paris just hit her and poured a drink on her at a party, but then she tells the reporters that it never happened, and calls Paris a friend. After that, Lindsay calls Paris a c*nt straight to the camera, and then again insists that she didn't say it. Lindsay might have changed a lot of things about her life in the last decade, but she has always been delusional.
Paris, always ready to throw the shade, commented "#PathologicalLiar" on the video. Think about that. This account paris2000s resurfaced this video of Lindsay Lohan from more than 10 years prior, and Paris Hilton still made a point to talk sh*t about Lindsay. Honestly, her commitment is inspirational.
In response, Lindsay's dad Michael Lohan tweeted that Paris should grow up, while also calling her "SAVAGE" and a liar. The Lohan family is so messy that honestly it's just funny Michael feels he has any room to talk, but I will never turn down a good celebrity feud. Paris Hilton probably never even saw this tweet, because Michael Lohan hasn't been relevant since…ever?
Please. Grow up. If anyone is a liar it's you Paris
The hotel heiress is SAVAGE. https://t.co/QrfVhwhk8Q via @HuffPostEnt

— Michael Lohan (@MichaelJLohan) July 18, 2018
There's one more important instance of shade that Paris Hilton has thrown Lindsay's way. In 2017, she explained to MTV Australia that iconic photos of her going out with Lindsay and Britney Spears aren't exactly an accurate depiction of what happened. "Actually, it was just Brit and I  out, and then Lindsay chased us to the car and got in. She wasn't invited." Paris Hilton is channeling the kind of pettiness that I aspire to, and it's honestly beautiful.
While I love a good petty moment, it's actually starting to feel like this feud is a little one-sided. Like, Lindsay Lohan is just chilling in Dubai, and unless she's doing something we don't know about, like post a cryptic and weird Instagram, maybe Paris should give it a rest? It's never a good look to be obsessed with your enemy, and Paris Hilton looks a little obsessed right now.
Images: Shutterstock; Watch What Happens Live / YouTube; @commentsbycelebs / Instagram; @michaeljlohan / Twitter