8 Women-Owned Brands We Love That You Can Shop On Amazon
Today is International Women's Day—so that obviously means we should make purchases from women-owned brands, right? Right. And, to no one's surprise, Amazon is fully stocked with a bunch of brands owned by none other than iconic women. 
From clean beauty brands to home essentials (think humidifiers just in time for allergy season!), mocktail drinks, snacks, and more—Amazon makes it easy to put your money where your mouth is and support women in biz. Check out eight brands from the e-tailer that are worth the hype and your cash.
Cindy Kang co-founded Hey Dewy in 2019 with her husband and bestie, Eugene. It's a health and wellness brand that offers shoppers chic, portable, and effective (!) humidifiers to use at home or on-the-go. The products deliver mist to keep sinuses clear, combat dry skin, alleviate allergies, and allow for more quality sleep—basically a recipe to keep you super healthy. It also doesn't hurt that they're *so cute.* Who wouldn't want one on their nightstand?

Another health and wellness-focused brand on Amazon is Beekeeper's Naturals, which was founded by Carly Stein.  After years of battling on-and-off tonsillitis, she finally found relief in an ingredient called propolis. It's a combination of tree and plant resin created by bees to protect the hive. We know what you're thinking—bees!? You heard right. The brand's throat spray is a best-seller and tends to be out of stock, so hurry to grab yours.

Allergy-friendly snacks are hard to come by, but Partake Foods founder and CEO Denise Woodard wants to put an end to that stigma. In 2016, she set out to create a selection of delicious, allergen-free snacks after her daughter was diagnosed with multiple food allergies. Today, Partake offers  certified gluten-free, non-GMO, and vegan cookies that are free of the top nine allergens (wheat, tree nuts, peanuts, milk, eggs, soy, fish, sesame and shellfish).
As a Black & Asian American woman, Denise is also passionate about raising awareness of Black and female entrepreneurship and increasing opportunities for underrepresented people seeking careers in the food and beverage industry. In 2020, Denise founded Black Futures in Food & Beverage, an annual fellowship program that mentors HBCU students and helps them secure internships and jobs at the program's end.

You've likely seen these adorable hair accessories all over your Instagram feed and TikTok FYP. Cassandra Thurswell founded the brand at the age of 25, and today Kitsch is a global beauty powerhouse. Kitsch offers easy, chic, and affordable beauty solutions like silk scrunchies, pillowcases, heatless curlers, and so much more.

Versed was founded by serial entrepreneur, Katherine Power, (founder of WhoWhatWear and Merit Beauty). It's quickly become one of the few affordable clean skincare brands on the market. It has the essentials for your face and body skin routines like cleansing balms, body acne sprays, and cult-favorite moisturizers that won't burn a hole in your wallet.

Shop It: Versed Dew Point Moisturizing Gel-Cream, $14.97, Amazon
Belly Bandit was founded by three sisters, Lori, Jodi, and Kari Caden to offer skin-smoothing solutions for everyone. The purpose behind the brand is for women to feel and look their best before, during, and after pregnancy. You can find everything from sculpting bike shorts to leak-proof underwear, because, let's face it, you may need a little extra coverage as a mom.

Shop It: Belly Bandit Mother Tucker Shortie, $49.95, Amazon
Kosas has been disrupting the beauty industry since Sheena Yaitanes launched this chic and minimalistic brand. This is clean-first makeup with everything from lip gloss to tinted moisturizers, concealers, and mascaras on deck. But its other products deserve some clout too. Kosas has one of the top-selling clean deodorants in the game, and a fan-favorite plumping serum.

Shop It: Kosas Wet Lip Oil Gloss, $22, Amazon
Feeling sober-curious? (Or just had one too many vodka sodas last night?) No problem. Mocktail Club is a BIPOC-founded apertif brand with zero-proof drinks that are crisp and delicious. You can get drinks infused with lemon, cucumber, and mint to keep you hydrated and hangover-free.

Voting Isn't Business. It's Personal.
It's been almost five decades since the United Nations first celebrated International Women's Day, but in the current political climate, it's taken on new energy and a heightened sense of importance. Every year on March 8th, thought pieces are written, vague assurances are offered, and observance is given to issues that ought to command daily attention, not just a day of attention. At its core, International Women's Day is an occasion to highlight issues important to women of all backgrounds, across the globe, and, to remind women that if we do no stand up and speak out for our own self-interest, the momentum of the movement for global gender equality will come to a screeching halt.
When Betches was founded almost 10 years ago, our brand was intentionally apolitical and capitalized satirically on being unapologetically unaware of our privilege; ironically, the second post we ever wrote was called "Not Keeping Up With The News." We were half-kidding, but as 21-year-old college students, we didn't fully understand how politics had already invisibly impacted our lives by giving us the privilege to not care. And of course, the ability to vote felt like an obvious guarantee we were entitled to as Americans and we did not know – nor were we taught – otherwise. It is this sense of unnoticed, or more often, reenforced, naiveté that has plagued communities of women around the globe and slowed the progress of achieving true gender equality.
Ignorance is not always bliss
Five years after launching Betches, during the contentious and (at the time) comical 2016 election cycle, politics, for us and many other women, started to feel much more personally relevant than it had previously and in ways that could no longer be swept under the rug.
Since then, we've watched events unfold such as #MeToo, limits to abortion access, voter suppression, and the crisis at the border; all of which threw into clear focus what the results of an election can really mean for the individual, and who it can adversely affect.
We started The Betches Sup newsletter for our audience members who, like so many of us, need a funnier and more candid take on what has felt like a relentlessly bad news cycle. As The Sup has expanded, we've actively sought to understand and become conscious of the advantages we have that enabled three young women to start a business in the first place. Inside of this reflection, it has become extremely clear that politics and policies impact all of us, and it's neither cute nor acceptable to use ignorance as a shield, most especially when the stakes are so high. It's also become just as clear that we need to work for all women to have the same opportunities as we do, and shed light on the disparity of access to basic rights among the communities of which women are a part.
We chose to mark International Women's Day 2020 – a day in service of women's rights and empowerment – by launching a campaign focused on voter activation and registration. It has become abundantly clear that voting, while enshrined as a right, remains a privilege for too many. As people who have not faced systemic or structural barriers to our right to vote, but whose quality of life increasingly relies on election outcomes, this right has become personal to us and one we want our company to stand for.
Of course, we can't mark this occasion without acknowledging that for women of color, the right to vote has always felt personal, and the fight for equality at the ballot box has never stopped. From the onset of the gender equality movement, white women were openly hostile towards incorporating racial equality into the narrative — a practice we now know as intersectionality — even when black suffragists raised the irony of excluding the most vulnerable in society from decisions that could offer them any degree of real protection.
As leading abolitionist and suffragist Frances Ellen Watkins Harper said in her remarks to the 1873 American Woman Suffrage Association, "much as white women need the ballot, colored women need it more." For decades, intimidation, racist literacy tests, poll taxes and violence of Jim Crow kept many black men and women from accessing their right to vote.
After the Supreme Court gutted the Voting Rights Act in 2013, states across the country imposed restrictions and requirements that disproportionately impact minority voters. Just last week, voters in Texas waited seven hours in line after the state slashed its number of polling stations, eliminating many that primarily served communities of color. These egregious attempts to stop people from voting make it an especially important issue to fight for this year. Thus, the #Keepit100 campaign was born.
#KeepIt💯
In 2020, Betches Media is proud to honor International Women's Day by working with UN Women to launch our Keep It 100 campaign. Keep It 100 refers to the 100th anniversary of women's suffrage and the passing of the 19th Amendment, which gave (some) women the right to vote. The campaign is a multi-faceted voting initiative aimed at registering, educating, and activating our audience throughout the election cycle.
For the IWD launch, we are partnering with a like-minded feminist brand Lingua Franca on a sweater collection, with $100 of each purchase going to UN Women's efforts to pursue equality for women globally. On both a business and a personal level, this marks a significant milestone and embodies an evolution for us as a company.
This first phase of the Keep it 100 campaign features videos and pledges from influencers, celebrities, and Betches fans alike who are committed to showing the importance of exercising their right to vote. We are asking members of our audience to share what inspires them to vote and why voting personally matters to them – why they are "keeping it 100". The Keep it 100 responses are shared to Betches' 7M Instagram followers with the goal of driving home the true importance of voting in your best interest and the interests of those around you.
In addition to social sharing, we are launching a voter portal in partnership with Headcount, where our audience can register online or via text, check their registration status, and pledge to get their friends to vote.
No woman left behind
Activating our community to combat voter suppression efforts across the country is central for us. We encourage everyone, from all corners of the country, to register to vote and show how they are #keepingit100 in 2020. The stakes are high and the action must be great.
Throughout 2020, we will have a limited edition Keep It 100 collection by Shop Betches, with 20% of the purchase price of each sale (excluding taxes or shipping) of Keep It 100 collection merch donated to the ACLU's Voting Rights Project.
Just like they say every election, this is the most important election of our lifetimes. If you're not already taking it personally, now's the time.
TV Shows From Your Childhood You Didn't Realize Were Empowering
From one betch to all the betches out there, happy International Women's Day! May we take no sh*t from men neither today nor any day! According to the UN, "International Women's Day is celebrated in many countries around the world. It is a day when women are recognized for their achievements without regard to divisions, whether national, ethnic, linguistic, cultural, economic, or political." So basically, it is a day that women are actually acknowledged for being badass bosses, regardless of extenuating traits like race or politics. Recognition of women's existence and achievements seems like it should be an everyday thing, but whatever, I'm not here to complain. On the contrary, I'm about to make y'all really happy with some flashback Friday feminist empowerment from our favorite television shows circa the '90s and early 2000s.
That's right, some of our favorite childhood shows made a legit and impactful effort to instill feminism in our young and impressionable minds so that we would be prepared to enter young adulthood with the betchy confidence of Angelica Pickles circa the early years. Let's get to it.
 'Rugrats'
I'm going to start with Rugrats because it is the freshest in my memory. A few weeks ago, my roommate and I were watching that Friends episode guest starring Elizabeth Daily, AKA the voice of Tommy Pickles. (For those of you who are wondering, her actual real life voice is the literal same as that of Tommy Pickles.) So, like any sober 25-year-olds, we got nostalgic and wanted to relive the joy of a Rugrats episode, but because cartoon quality has gotten significantly more legit since the '90s, Rugrats no longer graces our television screens via cable. It is, however, on available for purchase. So without hesitation, we threw our hard-earned dolla dolla bills at the entire first season of this show, and literally watched the entire thing within a week. I am not impressed with us, but I am impressed with the astute level of feminism in this gift to humanity.
For those of you who may have forgotten, Angelica is low-key the star of the show because she was bossy as hell, and I am here for it! How could she not be when her boss bitch mom actually uttered the words, "Angelica will make it in a male-dominated power structure." Um, YES. Let's not forget about DiDi Pickles, who was the glue that held her weird little fam together. Let's face it, her hubs was a toy inventor with the mental capacity of a stale cracker, and Tommy is a textbook case of ADHD's early symptoms. She was progressive af and we aren't mad about it. Betty Deville is another top contender for most feminist queen of Rugrats. She was always donning her athleisure because she gotta #werk, raise a family, and crush souls of judgmental trolls all day everyday. Last but not least, Charlotte Pickles, who was gloriously terrifying and got whatever the f*ck she wanted. This human form of a power stance knew how to command a room and didn't have time to deal with your sh*t. Claps for you, Charlotte.
'The Amanda Show'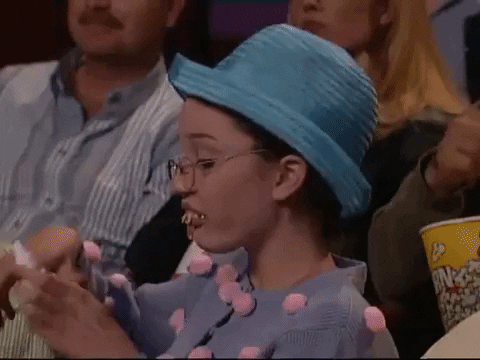 The Amanda Show was SNL for '90s babies. She was Kristen Wiig, Kate McKinnon, Maya Rudolph, Leslie Jones and Tina Fey all rolled into one sassy betch. Because Amanda played upwards of 800 different characters in countless sketches on this blessing of a television show (#MoodysPoint), I just don't have the time to go into all of them, and I refuse to focus on only a few because they all deserve recognition. So instead, I'm going to focus on the show in general. The Amanda Show made humor accessible. I know what you're thinking, "What?" But think about it, The Amanda Show was just an endless sea of hilarious jokes from a group of really attractive kids who were not afraid to don heinously ugly wigs, outfits, or fake teeth for a laugh. I feel pretty confident in myself, but idk if I could have thrown on a pair of fugly overalls, a bucket hat and dentures in front of a 1) live studio audience and 2) millions of viewers at home. Kudos to you, Amanda. We love you!
'The Powerpuff Girls'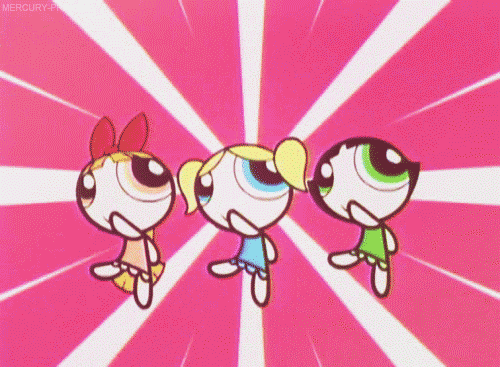 I watched this show a looong time ago, so I'm going to keep this brief. If there is another definition of girl power that isn't "Sugar, spice, and everything nice," I don't want to hear it. These were the ingredients chosen to create the perfect little girls, but Professor Utonium accidentally added an extra ingredient to the concoction: chemical X. Thus, the Powerpuff Girls were born using their ultra-superpowers. Blossom, Bubbles, and Buttercup have dedicated their lives to fighting crime and the forces of evil, and I'm impressed. These sister were like, what, seven years old and fighting crime? I can't even find a dude who washes his hair, and these girls were out here making the world a safer place. Good for them.
'The Fresh Prince Of Bel Air'
Each of the three main women in this amazing show were absolute queens in their own right, but I am just going to focus on one, the matriarch and feminist icon, the OG Vivian Banks. (Not her replacement who looked literally nothing like her in any way, and I need an explanation from the producers for this abomination). Anyway, Vivian 1.0 showed all of us plebeians how to rock a mint green power suit and raise a family, both of which are impressive. So in like, basically every episode, Aunt Viv stood up to sexism, ageism, racism and a slew of other -isms, because she's a hero who's too stylish to wear a cape. Her education about cultural references was truly unparalleled. Let's not forget her absolutely schooling Will when he acted like he was an expert in black history because he read Malcolm X's autobiography. The exact quote was: "You can read that book, you can wear the t-shirt, you can put the posters up and shout the slogans, but unless you know all of the history behind it, you're trivializing the entire struggle." YAS, AUNT VIV, YAS. The bottom line is Vivian was a woman who was unabashed to speak her mind, especially when dealing with her moronic male counterparts. Sorry, Carlton, we love your mom and her dance moves more.
'Sex and the City'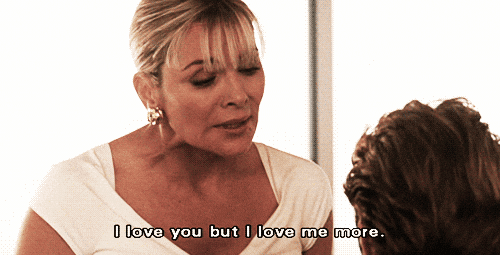 Ok, before everyone judges my mom for letting me watch this show, she didn't know I binged harder on SATC than I did on Halloween candy. Skip your eye rolls and scoffs for calling this show feminist, but what would you call a squad of women who subconsciously discussed the bs behind the coveted fairytale ending and openly shut down slut-shaming? This group of revolutionary women (I'm a total Carrie) made it okay to engage in sex with guys you aren't Facebook official with, to have fun without worrying about the haters and, of course, to prioritize Manolos over all else. Idk if this was intentional or not, but these four women make up one perfect betch: Charlotte is romantic, Miranda is brilliant, Carrie is funny, and Samantha is Samantha. Of course, no one woman is actually perfect, which is why all of these traits are separated into four individual women, but they are all great and I love them. On a side note: it truly breaks my heart that SJP and Kim Cattrall aren't actually friends IRL, because their characters were the most likable on the show. Truly, no one could pull off jewel tones and feathered accessories like they could. I'm hoping that somewhere in lower Manhattan, Carrie and Samantha are getting afternoon cocktails rn.
'Lizzie McGuire'
This show was my life, and I have no shame in my game. Lizzie was a cultural icon who struggled between staying true to herself and wanting to fit in, but then she realized how much the popular kids sucked and got over it. Snaps. Lizzie's main feminist feat is that she was not afraid to go through all of the same struggles all teenage girls go through: heartbreak, annoying siblings, eating issues, and, most iconically, bra shopping with your mom. Lizzie facing all of these preteen issues made all of us realize that these are just normal parts of life, and we shouldn't feel embarrassed to be experiencing them. Lizzie came into her true feminist self in the final scene of the movie, though, when she chose herself and her hair extensions over a guy. Nevermind that he lied, cheated, and tried to pass Lizzie off as Brunette Lizzie Isabella, but he tried to play her for a fool, which just isn't how you save your career, sweetie. Lizzie's too smart for that sh*t, you Italian meatball!
Images: Nickelodeon; @stephdelucaaa, @freshprince.ig; @wearemitu / Instagram; Giphy (3)
8 Female Musicians You Need To Know About
It's no secret that the music industry (like most industries) has historically been dominated by men. In our largely misogynistic and patriarchal society, it's easy to completely overlook female musicians, or even worse—to compliment them with the tired old adage, "she's good for a girl!" I personally have had enough of that bullsh*t. There are so many immensely talented instrumentalists who have inspired me that deserve recognition—not only as songwriters and artists, but as guitar players in their own right. So, here is my (admittedly hipster) insight into some sick female artists you should be listening to RIGHT NOW.
Annie Clark (St. Vincent)–Alternative Rock
St. Vincent (Annie Clark) is my personal hero. She is the first woman to design her own signature model of an electric guitar for the mass market. In terms of technical ability, she is nearly unmatched amongst her peers. St. Vincent just won the Grammy for Best Rock Song for "MASSEDUCTION," the leading and eponymous single from her most recent album, co-written and co-produced by the sensational Jack Antonoff (who famously also co-writes and produces for Taylor Swift and Lorde.) This video is a really cool interview in which she explains the process of designing her signature guitar with the Ernie Ball / Music Man team, and touches on the marginalization she felt as a young guitar player. 
Nai Palm (Hiatus Kaiyote)–Alternative/R&B
Nai Palm, from one of Australia's hippest bands Hiatus Kaiyote, is one of my favorite technicians. She has an innate ability to effortlessly float over her guitar strings while simultaneously executing complex vocal melodies, especially in live performance. The first time I heard Hiatus Kaiyote's 2015 album Choose Your Weapon, I spent nearly a month trying to learn all of the songs note for note. It's a masterpiece. In this live and stripped down performance for Paste Magazine, Nai Palm's guitar prowess really shines as she plays "Atari," a trippy song inspired by the legendary video game. Nai Palm also recently graced the cover of She Shreds Magazine, a publication devoted to showcasing female instrumentalists.
Mitski–Alternative
Ah, Queen Mitski. If you've been sleeping on her, you better wake up fast… Mitski is one of the most lyrically prolific and sonically unique artists of the last few years. She is also a multi-instrumentalist and plays both bass and guitar on her records—though her live shows have evolved into very choreographed stage performances complete with manic pacing and disconcerting arm movements. Her most recent album, Be The Cowboy, is a highly stylized piece of art with songs that clock in under three minutes and feature esoteric titles such as "A Horse Named Cold Air." In this video from 2016, Mitski and her band perform the song that put her on the map (thanks to mad love from NPR), "Your Best American Girl."
The Japanese House–Indie Pop
The Japanese House, the indie/electronic solo project of English singer/songwriter Amber Bain, just released one of the coolest albums of 2019 – Good At Falling. Featuring her signature auto-tuned/vocoded vocals, clean guitar tones, and rhythmically complex percussion, listening to Good At Falling is like sinking in to 40 straight minutes of gut-wrenching pop bangers. "Nothing feels good, I can't fix it, it's not right." The dichotomy in her use of both colloquial and obscure language adds a complexity to the album not often found in music by her contemporaries. This stripped down video, however, is from a live performance of her song "Still" for BBC Radio, in which Amber has the opportunity to showcase her solid guitar playing abilities.
Brittany Howard (Alabama Shakes)–Rock/Blues
Brittany Howard is an absolute powerhouse. I remember seeing Alabama Shakes live for the first time at Bonnaroo Music Festival in Tennessee back in 2015, and literally losing my mind while watching this woman shred on guitar. The authority with which she plays her instrument is like that of a stern school teacher—both loving and tender, but still cheekily disciplinary. Alabama Shakes' debut album Sound + Color, produced by Blake Mills, won them a Grammy right off the bat. Brittany uses some nasty distortion and can solo with the best of them, which are elements I try to incorporate into my own music.
Brandi Carlile–Folk/Singer-Songwriter
Brandi Carlile was the most nominated female artist at the 2019 Grammy Awards, and a three-time winner. She has been releasing music for over a decade, but is finally now receiving broader recognition for her art. Her playing isn't flashy. However, in its understated nature, it is the perfect companion to her profound lyricism and vocal mastery. I also straddle the line between rock and folk, and as a songwriter, Brandi has been a huge inspiration to me. She is a powerfully soft force to be reckoned with. This video is from her recent performance of her nominated song, "The Joke," at the 61st annual Grammy Awards.
Phoebe Bridgers–Indie Rock
The last eighteen months have been busy for industry sweetheart Phoebe Bridgers. She has toured all over the world in support of her 2017 LP Stranger in the Alps, she released an EP and toured with her trio boygenius (comprised of Phoebe and her two friends Julien Baker and Lucy Dacus,) and she most recently released a self-titled album as Better Oblivion Community Center with fellow indie rocker Conor Oberst (Bright Eyes,) for which they are currently on tour. Known for her confessional songwriting and understated production, Phoebe is quickly becoming a household name in the folk and indie rock spheres. This video is from a dope live session done on KEXP and features my favorite song from her record, "Motion Sickness."
Liza Anne–Indie Rock
Fresh off of touring with Grammy Winner Kacey Musgraves, indie rocker Liza Anne is one of my favorite artists right now. Her 2018 album Fine But Dying was my soundtrack last summer, with gritty emo-bangers such as "Paranoia" and "I Love You, But I Need Another Year." The whole album is drenched in distorted guitar tones and introspective lyrics. This video is from a live session recorded for Paste Magazine and features a lovely stripped down performance of one of my favorite songs by Liza, "Take It Back."
Leah Capelle is a pop/rock singer-songwriter from Chicago and is currently based in Los Angeles pursuing a B.S. in Music Business at USC Thornton School of Music. Earlier this year, Capelle released a visual for "Settle Down," a dauntless feminist ballad exploring identity, acceptance, and empowerment. Watch it below.
What This Female Entrepreneur Wants You To Know About Starting A Business
It's International Women's Day, so we're taking a moment away from our regularly scheduled programming to highlight bad-ass female entrepreneurs. We spoke to Dara Levy, a leader in the beauty space. Dara is the founder of DERMAFLASH, a groundbreaking treatment that brings in-spa dermaplaning to the privacy of your home. Since Dara started DERMAFLASH in 2016, it's appeared on shelves at Nordstrom and on QVC, and over 100,000 DERMAFLASH devices were sold in 2018 after the relaunch. DERMAFLASH aims to empower women to look and feel better in their own skin, and so far, they've helped tens of thousands of women.
Dara started out in corporate finance, but after losing her first husband to cancer, she decided to take her career in a totally new direction by opening a med spa. It was there that she trademarked her in-office dermaplaning treatment. Soon after, she realized women want to be able to get smooth, radiant skin in the comfort of their own homes, so she invented DERMAFLASH, and it took off. We sat down with Dara to ask about how she got started with DERMAFLASH, what obstacles she faced as a female entrepreneur, other advice she has for women looking to start their own business, and more.
What made you want to start DERMAFLASH?
I owned a high-end med spa where we specialized in dermaplaning. We sold over 6,000 treatments in 5 years. Women would walk in looking tired and stressed, and walk out smiling, glowing, standing taller, and feeling more confident in their own skin immediately after treatment. One day I had an epiphany and realized ALL women desire smooth, radiant, fuzz-free skin; however, most do not have access to a spa that offers the treatment, and the cost of a single dermaplaning treatment is prohibitive to most and that an at-home dermaplaning solution did not exist. So… I sold my spa and got to work. In 2016, DERMAFLASH was born!
What were the biggest obstacles you faced when starting your business?
DERMAFLASH truly represents a new paradigm in beauty. This is not another red lipstick. There is education involved and debunking of old myths. NO, your hair will NOT come in thicker, darker, or fuller after using this device. First and foremost, DERMAFLASH is an exfoliating tool that is clinically proven to improve the appearance of your skin while also removing pesky peach fuzz. There are many exfoliating methods and tools on the market. Many have the potential of causing inflammation, and none of them address the hair on a woman's face. There is also a myriad of facial hair removal options such as waxing, threading, and lasers, all of which come with pain and risk of downsides like folliculitis, hyperpigmentation, etc. and yet do absolutely nothing for the quality of your skin. DERMAFLASH is truly a magic wand that addresses both issues with no pain, no downtime, and no inflammation. The results are instant, and skin continues to improve every time you use the device.

Why do you swear by dermaplaning?
I have been an avid dermaplaner for over 20 years, and at 58, I am sure that is why the quality of my skin is as good as it is. When we are young, our skin cells turn over every 28 days and then they slow down as we age. Dermaplaning and now DERMAFLASH actually removes the oldest layer of dead skin cells and built-up debris and encourages cellular turnover and microcirculation. Also, dead skin cells and peach fuzz act as a barrier to product penetration, therefore, removing them allows your skincare to do its job more effectively. When we remove the peach fuzz, light is actually is able to bounce off the planes of your skin, giving you that lit from within glow. Peach fuzz also gets in the way of makeup; DERMAFLASH creates a flawless canvas for makeup. Many women report feeling so great about their skin after using DERMAFLASH that they wear far less makeup or none at all!

DERMAFLASH LUXE Dermaplaning Device
Are there certain people who should not try it?
DERMAFLASH was created for ALL women, regardless of age, skin tone, type or color. It is appropriate for even the most sensitive skin. The only exception is acneic skin. Those with active acne or open sores should not use the device until the pimples or elevated marks have calmed down.
What was the most important thing you learned in the process of creating DERMAFLASH?
If it can go wrong, it will. That which does not kill you makes you stronger.
What was the best piece of advice you received when starting your business?
Focus, have your "one thing" that sets you apart from everyone else out there. Be genuine, because passion sells.  My passion for DERMAFLASH has never wavered.
What advice would you give to other women looking to start a business?
Get out there and do it.  You can always find a million reasons (excuses) why it won't fly. If someone tells you why it will not work, go find someone who tells you why it will! Network, find people who believe in your vision…Think it's real!
Do you think we need more female entrepreneurs?
Absolutely! Women bring a different dimension to business. We hold ourselves to a higher standard, which is a blessing and a curse. There is nothing a man can do that a woman cannot, and that is what we must instill in all young women. If you say you can, you will! If you say you can't, you most certainly will not.
What's next for DERMAFLASH? any new products in the works?
We have recently launched an amazing all in one multi-tasking SPF 50 tinted primer that acts as a primer, sunblock or light makeup. This product leaves the most beautiful satiny finish and a remarkable universal tint that suits ALL skin tones. This summer we have an incredible new and exciting launch that will add to our robust pipeline of innovative multitasking solutions. We are all about empowering women to feel good about themselves in their own skin, with or without makeup.  We prime the canvas: she decides how or if to paint it. DERMAFLASH products perfect the skin and get you camera-ready….no filter required.

DERMAFLASH DERMAPROTECT Daily Defense Broad Spectrum SPF 50+
Images: DERMAFLASH (3)
20 Ways To Celebrate Women That Could Actually Help Us
Alright ladies, today is International Women's Day! Great, so they'll give us a day, but won't give us the salary of a man in the exact same position as us. Love that. The gals have 24 hours where we can all post vague memes about equality, so I think it's safe to say that we solved sexism! Everyone pack up your things, our job here is done. Don't let the door grab you by the pussy on the way out LOL.
In all seriousness, International Women's Day is rad, but there is still so much work to be done. Well guess what, my good betch, you can get started on that work today! 'Tis the season day, after all. In case you need some guidance when it comes to figuring out how to help women, we've gone ahead and put together a comprehensive list for you. We really do have to do like, everything, don't we? Anyway, try celebrating women by checking off some of the things on this list, or die a sexist monster. Your call!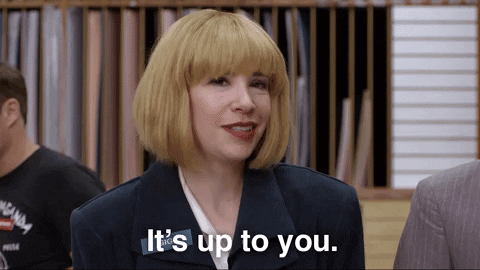 1.Push For Equal Pay
Seriously, how are we still talking about this? As of 2018, female full-time workers made only 80.5 cents for every dollar earned by men. It's important to note that the numbers get even worse when factoring in race, because everything is trash. What are these men getting paid more for? Sexually harassing us? Help put this bullshit to rest, and demand that your female colleagues get paid the same as their male peers. And if you're a person in charge of deciding women's salaries, make sure you give them the same amount you give the men. Simply put: pay us, bitch!!!
2. Teach Men (And Everyone) Not To Rape
It's 2019 and rape culture has got to go! Stop perpetuating the idea that women are responsible for making sure they don't get raped. Stop telling women to shove their keys between their fingers Wolverine-style, and start teaching men the definition, nuances, and importance of consent from a young age. When someone makes a joke that condones rape/date rape, go off on their ass! That sh*t isn't funny, dude. 
3. End The War On Pockets In Femme Clothing
All of my dresses need pockets and that's just all there is to it. Somebody please go talk to management about this, thank you.
4. Make Oprah President
I firmly believe that if Oprah was president everything would be FINE. Make it happen, people.
5. But Seriously, Elect Women
A society run by men is a society made for men. We need women making decisions in our governments, and that means electing women who run for public office. Representation matters, and so does voting. Women have the power to make change, so go out there and put women in positions of power. 
6. Stand Up For Women, And Stand Up To Your Friends Who Don't
If you see your buddy being a class-A creep, call him on that sh*t! Don't let misogynistic behavior fly. If you're a man, doing this bare minimum thing will make everyone around you think you're a f*cking hero, so if doing the right thing isn't inspiration enough, there is always that.
7. Compliment Our Minds, Bitch
Women are told from a young age that our looks are what we should value most. I remember family friends telling me how pretty I was at the age of like, ten. It's weird and gross and it needs to stop. Try telling young girls and grown women how intelligent, creative, original, etc. they are. And then you can feel free to compliment our perfect cheekbones, hair, makeup, clothes, etc. Thanks!
8. Idk, Believe Us?!
Believing us when we recount the specific realities we have experienced as women is an option, just saying.
9. Pass A Law That Laura Dern Must Be In Every Film And TV Show
Representation matters.
10. Say "Bye Bitch" To White Feminism
Pushing a non-inclusive feminism is bad for feminism. Feminism that adopts exclusion is not about equality and that's hypocritical af. Check your feminism as you check your privilege, and make sure everything is in line with intersectional feminism standards. 
11. Stop Telling Us To Smile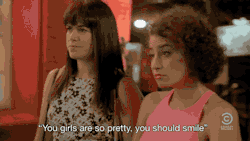 Literally we will kill you.
12. Listen To Our Ideas. No But Like, R
eally
 Listen
People have a way of dismissing women, sometimes explicitly and sometimes more subtly. Simply shutting the f*ck up when women talk is a start, but the work doesn't end there. Make sure you're actually hearing what they are saying, as opposed to just coming up with a response/refute to what they just said. Take time to process what women are saying. Take the time to reevaluate values and ideals that you have learned from a patriarchal society. Women have insight that you might not have considered, so take the time to understand it. Okay, thanks!
13. Stop Referring To Grown-Ass Women As Girls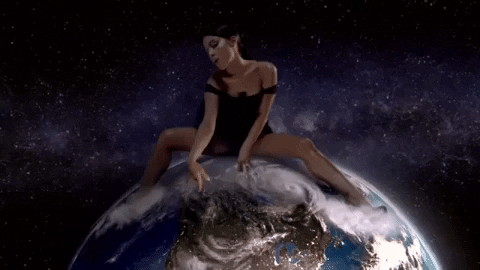 Calling a full-grown woman is belittling, and yet so common. If she can't order off of the children's menu she is a woman. Also God is a woman, final answer!!!
14. Ban Khakis
Please, for the love of God, put us out of our misery and burn all the khakis. Save our eyes, save men's humility, save the world.
15. Prioritize Women's Safety
The world likes to put on a front of believing it's protocol to "save the women and children first," but the reality is that women's safety is often disregarded. Did you know that car crash dummies are usually male, meaning cars can pass safety regulations without really being safe for women? This makes it so they don't have to go the "extra mile" of making cars that are safer for female body types. Cool! And that's only the tip of the iceberg. Shit is f*cked up, and time's up (as the kids say). Women's safety needs to be prioritized like, yesterday.
16. Buy Us All A Fenty Beauty Kit

I cannot stress this enough. Legally every single woman should be gifted a Fenty Beauty Kit.
17. Stop Slut-Shaming
Seriously, slut-shaming is so 2009. And it shouldn't have even been a thing back then. Sluts are amazing. Sluts make the world go round cum hard. Fuck the double standard. Viva la slüt.
18. Don't Leave Sex Workers Out Of Your Feminism
If you think you are a feminist, but go around talking shit about women who sell sex for a living, think again bitch!!! Sex workers are people too, and just because they've found a way to monetize their own bodies doesn't mean you get to talk down to them. They receive no protection from the law and government, and their rights are constantly under fire. Stop calling people "hookers" or "prostitutes," or anything of that nature as an insult. Making money off of what your mama gave you shouldn't be a crime, and certainly shouldn't exclude you from human and equal rights. And even if you don't think sex work should be legalized…just try not to be a bitch about it, k?
19. Men: Consider Getting A Vasectomy As A Form Of Birth Control
Listen, it's not an invasive surgery, whereas getting your tubes tied very much is. Also, pregnancies only happen when y'all jizz all up in our sh*t, so technically they are your "fault." Take some responsibility, and snip that shit if you don't want kids. It can even be reversed! I'm going to receive so much hate mail for this lololol!
20. Vote Donald Trump Out Of Office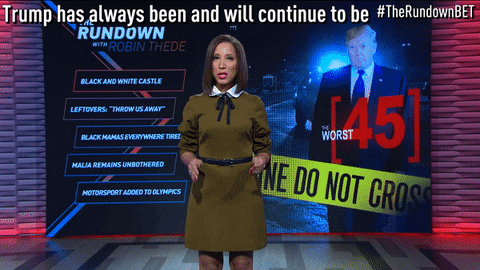 I don't need to explain myself here. See you at the polls in November 2020 or see you in hell.
Heads up, you need to keep up with the news. It's not cute anymore. That's why we've created a 5x weekly newsletter called The 'Sup that will explain all the news of the week in a hilarious af way. Because if we weren't laughing, we'd be crying. Sign up for The 'Sup now!
Images: Giphy (7)
Is Khloé Kardashian's 'Revenge Body' Empowering Or Nah?
Another week, another episode of The Sup Live Podcast. Give it a listen and digest the news the right way: with lots of shit talking.
This week Alise and Sami riff about the week's events including Frances McDormand's stolen Oscar, billboards disparaging The Bachelor's Arie, and the shocking illiteracy of NASA scientists toward the female body. Needless to say, the chaotic (and rapidly emptying) White House and Stormy Daniels are also highlighted. It's a great episode fit for International Women's Day, and bookended by a great interview with Beauty & Fashion Features Editor at Bustle, Amanda Richards. She and Sami talk about feminism, body positivity, and debate Khloé Kardashian's Revenge Body.  
Don't forget to tune into The Sup Live every Thursday at 1:30pm on Facebook and Insta Story. Or just listen to the podcast here. Cry about the news with us!
Heads up, you need to keep up with the news. It's not cute anymore. That's why we've created a 5x weekly newsletter called The 'Sup that will explain all the news of the week in a hilarious af way. Because if we weren't laughing, we'd be crying. Sign up for The 'Sup now!
6 Woman Activists Who Actually Make Twitter Bearable
As a wise prophet once rhetorically asked and then promptly answered: "Who run the world? Girls." Women are the best. This is scientifically proven. The science I am referring to is, of course, my personal opinion, which is highly regarded by scholars and scientists alike. 
Today is International Women's Day, and to celebrate we have compiled a list of badass women who are changing the world. The world, it needs changing. As per fucking usual, women are the ones who can make things better. These ladies are activists working to make the world a better place. Follow them on Twitter and get inspired. Or whatever.
Janet Mock is an author, TV personality, and transgender rights activist. I barely find the time in a day to wake up, but this woman somehow has multiple careers.
Iconic and true story. #Oscars https://t.co/nwSh4sWnF4

— Janet Mock (@janetmock) March 5, 2018
Another co-chair of the Women's March, Carmen Perez is a strong advocate for criminal justice reform. She also speaks out against gender the mistreatment of immigrants because she is a legit angel.
I believe that we will win.
I believe that we will win.
I believe that we will win.
I believe that we will win.
I believe that we will win.#DACA #DreamersAREamericans

— Carmen Perez (@msladyjustice1) February 14, 2018
The queen. You probably know Laverne from, well, everywhere. She made a name for herself as a star on Orange is the New Black, and naturally we all fell in love with her. She's an activist and role model for trans women, and all women. Her confidence and beauty are truly inspiring. Not to be dramatic, but I would do anything for her.
#NewProfilePic pic.twitter.com/tcNN596XCs

— Laverne Cox (@Lavernecox) January 22, 2018
Margari Aziza is the c0-founder and director of the Muslim Anti-Racism Collaborative. Again, would like to point out that the most I will do today is write this listicle, and then go take a nap to try to cure my hangover. This woman inspires me to be better. But I'm still going to take that nap.
See I stay dropping some gems on here for folks to be more culturally competent free of charge. You're welcome.

— Margari Aziza (@Margari_Aziza) March 7, 2018
Gloria Steinem is a goddamn icon. She's been fighting in the name of feminism since the 1960's, and she's still going strong. Bow down, bitches.
Just heard that I have an asteroid named after me, thanks to @AmyMainzer! What a fun way to start the week.

— Gloria Steinem (@GloriaSteinem) September 25, 2017
Shehla Rashid Shora is a Student activist who is vocal about the human rights situation in Kashmir, India. I cannot drive this home enough, when I was a student I was vocal about the lack of salad toppings situation in the dining hall. Shehla Rashid Shora is a hero.
400 replies!! My trolls keep me entertained ????????

— Shehla Rashid (@Shehla_Rashid) February 21, 2018
Heads up, you need to keep up with the news. It's not cute anymore. That's why we've created a 5x weekly newsletter called The 'Sup that will explain all the news of the week in a hilarious af way. Because if we weren't laughing, we'd be crying. Sign up for The 'Sup now!