It's Time To Cancel 'Vanderpump Rules'
Amidst the canceling of Karens everywhere, Vanderpump Rules' Stassi Schroeder, Kristen Doute, Max Boyens and Brett Caprioni were all fired from Bravo's hit show after racist words and actions from their past came back under public scrutiny. Lisa Vanderpump put out a statement, loosely condemning their actions, but not calling out any employees by name. Andy Cohen said he supported the decision to fire them. And it's good that as we as a nation are finally reckoning with racism, Bravo is also taking some action. But let's be honest: Vanderpump Rules has been trash for years, and it's not just Stassi, Kristen, Max, and Brett who are problematic. Let's not put a Band-aid over this gaping wound of insensitivity. Instead, they need to just cancel the show. Burn it to the ground, because it cannot be redeemed. 
Stassi Schroeder was arguably the biggest star to come out of Vanderpump Rules. Before she lost it all, she had a well-known podcast and subsequent live tour, a NYT bestselling book, and a reported net worth of $2 million. Still, her 2020 cancellation was a long time coming. In 2018, she came under fire for posting a picture in which she described her outfit as "Nazi chic". After Twitter came for her, she posted a meme that called everyone too sensitive, before eventually backing off. Before that, in November 2017, she lost podcast sponsors for posing the question that the #MeToo movement is a "Male Witch Hunt". Though, for all the times she'd get herself into hot water off-screen, for the most part, she was able to keep her problematic beliefs from showing up on camera. Maybe that's a reason she stayed so long after so many repeated offenses.
But there was one episode in season 6 where the mask slipped. Billie Lee, VPR's first (and only) transgender woman, was filmed appearing as a guest on Stassi's podcast. In an emotional post on her website, Billie wrote, "My first big scene with Stassi was her podcast interview. I thought that the focus would be about my trans experience. However, it quickly turned into a dramatic meltdown about Stassi being accused of being racist." In the scene, Billie brought up to Stassi that Ariana had warned her about Stassi's previous comments about race and #OscarsSoWhite on her podcast. Stassi's immediate reaction was to call Ariana's comments "a whole other level of vindictiveness". Predictably, the scene ended with Stassi crying and Billie having to console her and reassure her, "that's not my perception of you".
And then, of course, there was Stassi and Kristen's attempt to call the police on Faith for a crime she didn't commit, although they weren't the only cast members to treat her horribly. Lala Kent, who believes the spirit of Tupac lives inside her, would plant things in her apartment to see if Faith would steal them, according to Stassi in the now-deleted Bitch Bible episode. Faith has also alleged Brittany Cartwright made racists comments towards her, which Brittany vehemently denied. There's also just the general observation that despite Faith and Lala emerging on the show at the same time, and Lala being pretty outwardly not liked by the rest of the group (Katie hated her for going topless in front of Tom, Brittany didn't like that she flirted with Jax), it was Faith who ultimately got pushed out. Why?
But the problems continued. As season 8 premiered, Vanderpump Rules ended up in the news once again for all the wrong reasons when newbies Max Boyens and Brett Caprioni were exposed for racist tweets from their past. They both apologized at the time, and Lisa Vanderpump said to Us Weekly, "I do not condone any of the heinous comments made in the past by Max and Brett and I am glad they understand the severity of their offenses and have shown utmost remorse and contrition. I embrace a community of diversity and do not tolerate bigotry of any form within my workplace." Still, neither Max nor Brett were edited out of Vanderpump Rules that season—or even in the episodes that were released right after the tweets surfaced. Bravo knew that Max and Brett had skeletons of racist tweets in their closets—if not during casting, then shortly after the show started airing—but only chose to act months later. At this season's reunion, the tweets were brought up, but briefly. Max and Brett apologized again, and everyone moved on.
It's good, I guess, that Bravo decided to finally take a stance of some sort, after clearly trying to skirt the issue for as long as they possibly could. But only firing four of the cast members feels like that meme of trying to plug a hole by slapping some duct tape over it. Because, actually, the Vanderpump Rules cast have long been problematic and insensitive towards marginalized communities. It's not limited to these four cast members, and while racism is a big issue among the show's stars, it is not the only one. Did we all forget that Billie Lee, a trans woman, was bullied so badly that she abruptly stopped filming midway through the season? 
Following Stassi and Kristen's dismissal, Billie Lee spoke out about Jax Taylor, the Number One Guy In The Group show's own version of Donald Trump, for transphobic behavior, and now, finally, people are starting to clamor for Jax to be fired as well. Billie Lee wrote on Twitter and in a post on her site that Jax refused to film with her because she is trans. She wrote, "His exact words were, 'I'm not gonna lose all I have worked hard for something stupid I may say or do to offend her. Are we all supposed to tip toe around her because she's trans?'" 
@BravoTV what about Jax Taylor? He refused to film with me because I was trans and called him out on his white cis privilege. Stop celebrating his disgusting actions. #canceljaxtaylor

— Billie Lee (@ItsMeBillieLee) June 10, 2020
And even though he hides behind his friendship with Lance Bass (which looks like it's on the outs now anyway), Jax has shown he's really only an ally to the LGBTQ community when faced with immense pressure, from the public and those close to him. I don't need to rehash the pastor drama with you all, because we watched it, and we saw how Jax was more angry at the fact that he had to actually do something about his pastor than he was at his pastor for posting homophobic remarks.
He's not the only one, though—Lala also mocked the concept of cis privilege on camera in an episode and literally silenced Billie when she tried to explain how Lala's actions made her feel as a trans woman, saying, "you're dismissed". The whole Girl's Night debacle in general was a complete mess, and what could have served as a teaching moment about cis privilege devolved into the people who have cis privilege denying it exists.
Throughout all this, the only semblance of a moral compass the show had came in moments that were few and far between that had little to no effect on the people called out. Things like Ariana side-eyeing her cast members when they'd say something problematic, or calling it out in her confessionals, or (in the case with Stassi's podcasts) bringing up issues that are only shown through brief flashbacks, not direct confrontations. Things like Sandoval challenging Jax's decision to only fire the pastor days before the wedding on camera and then getting dog piled by the rest of the cast at the roller rink, or Katie objecting to an insensitive prank involving the police and then getting publicly berated by her own husband. 
From the small issues like being friends with Scheana and choosing not to ostracize Lala for supposedly dating a married man in season 5, to the big issues like understanding cis privilege and not being cool with an openly homophobic pastor officiating a televised wedding at which multiple LGBTQ people would be present, the show operated on a toxic hive mind that pushed out people who disagreed. Faith was cast out and dragged for being "the other woman" while Jax, the actual cheater, came out unscathed; Billie Lee was bullied off the show; Ariana and Tom got trashed by Jax in season 8 for being "on their high horse". And everyone involved with the show let this happen.
There's something to the show being called Vanderpump Rules, too. Its namesake, Lisa Vanderpump, is more vocal about dogs being abused in other countries than she is about Black humans being murdered in the U.S. We all have our causes that we're passionate about, sure, but in both words and in actions, Lisa makes her priorities clear. For instance, in her most recent statement, the strongest she gets to condemning Stassi, Kristen, Brett and Max's actions is to say, "I love and adore our employees and I am deeply saddened by some of the lack of judgment that has been displayed" (this is her "freely speak from the heart").
Lisa has said she "does not tolerate bigotry of any form" within her workplace, but the show is, to an extent, her workplace. She, along with Bravo, allowed Max and Brett to keep their jobs. And even if Lisa truly was "previously unaware" of Stassi and Kristen's vendetta against Faith, we can presume she knew about Stassi's racially insensitive comments from season 6, since it was used in a scene, but she did nothing then. She definitely knew about Jax and Brittany's history with homophobia, since she had to personally intervene days before their wedding, on camera, to get them to finally do something other than hem and haw. But most importantly, her employees from marginalized communities—Faith and Billie Lee—are saying that they were treated poorly by other staff members, and it went unchecked, which is all the evidence we need. Billie Lee even claimed Lisa threatened her when Billie spoke publicly about problems she was facing on the show. 
I've said it before, but Vanderpump Rules was fun in its beginning seasons when we were watching young people behave badly and really only fucking up their own relationships. But then we gave them a platform, and a ton of money, and now we're realizing they're not just terrible to each other—they're terrible in a deep-seated and decidedly not fun way.
In that scene with Billie Lee, Stassi says of being called a racist, "It's a really serious thing to say about someone, it's not just like 'oh she's a bitch', it's like a really fucked up thing to say about someone." What's also serious? Endangering someone's life, or at the very least their livelihood, because you had a bone to pick with the girl who slept with your friend's boyfriend and wanted to play armchair detective—but that doesn't cross Stassi's mind when she's worried about being called racist. Similarly, Jax's alleged comments about not filming with Billie Lee boil down to him not wanting to do so so he doesn't have to worry about getting caught saying something transphobic on camera. And in those heated discussions about Girl's Night, the ladies seemed more angry that Billie would publicly insinuate that they were transphobic, rather than being upset with themselves that they did something that a trans person deemed transphobic (which means it's transphobic). It's fascinating, because they possess just enough awareness to know that what they are doing can be perceived as wrong by the audience, but not enough to want to actually get to the root of why it is wrong so they can stop doing it.
It's not just the cast members as individuals—it's producers who gave Stassi, Kristen, and Jax more screen time; continued to make Max and Brett's dumb love triangle a cornerstone of season 8 even after their racist tweets came to light; didn't make moves to diversify the show aside from throwing in one Black and trans person and throwing up their hands when they didn't last. It's the editors who were instructed to give Stassi a special hero edit this season. Despite what they claim, Bravo is willing to continue to give problematic people a platform until we, the viewers, raise such hell that they can't in good faith do it anymore. And by "in good faith" I mean "for their pockets and image". So for that reason, it's ultimately on us as viewers, me as a recapper, because we continued to tune in week after week, season after season, even as the show got harder and harder to watch and the cast got harder to support without a whole lot of cognitive dissonance. And maybe before we could try to divorce the cast members on-screen personas from their public opinions, but now, as social movements urge us to think critically about where we spend our money and devote our time, it doesn't feel right to continue doing these mental gymnastic justifications anymore. Perhaps we all drank a little too much of the Pumptini. Well, I don't know about you all, but I'll take a pinot grigio I'm starting to feel sick.
For obvious reasons, the idiom "a bad apple spoils the bunch" has been making its way around the internet right now (we all like to forget the second half of that phrase, which exists for a reason), but even if apologists want to dismiss these individual bad apples, the fact remains that at least half the apples on this show are bad. That's a lot! I'm sorry, but Tom and Ariana being well-adjusted people does not a TV show make. Give the decent people a spin-off, maybe, but the whole tree is poisonous, so let's root it out. Plus, we don't need the ghosts of these problematic people casting a weird shadow on subsequent seasons (Beau is threatening not to film without Stassi, which like, good luck with that campaign). And, be honest: What are we losing if we get rid of the show anyway? Peter's pirate mustache? Raquel struggling to blink? Dayna telling a stand-up joke or two? The Maloney-Schwartzes saying "bubba" every other word? We all complained that Vanderpump Rules is a shadow of its former glory, so let's just let it go. Cancel that shit entirely. It's not worth saving. 
Images: Tommy Garcia/Bravo; ItsMeBillieLee / Twitter
Lisa Rinna Is Dragging LVP For A Good Reason
I don't watch The Real Housewives of Beverly Hills (or any of the Real Housewives shows, for that matter), but I still consider myself somewhat of an authority on all things LVP. Okay, not all things. Most things. Some things? Whatever. In any case, I know enough to feel like I can write about her with some degree of credibility. (I set a very high bar for myself.) If you read my Vanderpump Rules recaps, you'll know that in the second part of the season 7 reunion, I came at Lisa for being a fake ally to the LGBTQ community, with an emphasis on the T. The reason? She all but strong-armed Billie Lee into admitting on camera that the Vanderpump Rules gang was supportive of her being trans. Sure, nobody openly made fun of her for being trans, but they did refuse to listen to her when she wanted to talk about her experience. And they still refuse to acknowledge that they have cis privilege. In fact, they'd rather rail about how "damaging" it is to be called transphobic than do some actual listening or understanding to figure out why their actions could be transphobic in the first place!
Me, in my best Killmonger voice: Are these your allies?
Well, adding fuel to the fire is a joke Lisa Vanderpump made on last night's episode of The Real Housewives of Beverly Hills. For some reason (again, don't watch the show), Lisa was taking a lie detector test. And everything seemed to be going fine, until the confessional, when she said: "Just don't ask me if Erika's tucking or something like that because there are some things I can't lie about," and then she proceeded to laugh so hard she almost fell over in her chair. If you don't believe me, watch the clip for yourself:
Oh come on @lisavanderpump joking about @erikajayne "tucking" Ugly Trans jokes marginalizing our community are not acceptable. Being an ally doesn't give you a free pass
To make transphobic remarks. Do better pic.twitter.com/bkJoWxNkLO

— Candis Cayne (@candiscayne) May 22, 2019
Ugh, gross! Full disclosure, I'm a straight cis woman, but even I can acknowledge that this is a bad joke. Why? Any way you slice it, she's basically saying that being trans is funny and/or deserving of ridicule. That's not something an ally should or would say.
And I'm not the only one who thinks this. Enter, Queen Lisa Rinna, who is dragging LVP for this joke.
Who knew Lvp was transphobic? Well, we know NOW! #LBGTQ

— lisa rinna (@lisarinna) May 22, 2019
Do I think that Lisa Vanderpump hates trans people? No, I wouldn't go that far. I'm not even necessarily calling her transphobic, but I'm just saying that this is a bad joke that reeks of transphobia. I feel like this is more of a case of "Oh, well I have friends, so I'm totally cool to say this." When, in reality, you're not. The thing is, even if your intentions are not to cause harm, it matters who is saying a joke. If it's a joke within a marginalized community, that's different than when it comes from someone outside that community, because the former is self-deprecation and the latter is a microaggression. At least, that's how I see it. Especially when you're doing something in the public eye—on camera, no less—it's probably best to err on the side of caution.
Oof. Making transphobic jokes is soooo not cool, even if you are someone who does a lot for the LGBTQ+ community. Know better. Be better. #RHOBH

— Dave Quinn (@NineDaves) May 22, 2019

Lisa Vanderpump hasn't responded to the controversy, and I kind of doubt she will, because as much as people are coming for her over this, there are just as many LVP stans who are defending her. (And also, because Lisa Vanderpump seems to almost exclusively post about Vanderpump Dogs on her Twitter account, and also because she barely knows how to use Twitter in the first place.) We'll just have to see how and if this plays out on camera. If Lisa comes back. Is she coming back??
Images: Bravo Media; lisarinna, NineDaves, candiscayne / Twitter
Did Kristen Just Reveal Who's Not Invited To Jax & Brittany's Wedding?
When Kristen Doute's nose isn't deep in a mountain of Raquel's pasta, it's deeper in other people's business. Since she finally settled down with a normal guy who doesn't share a hair straightener with her, her only storyline on Vanderpump Rules is that she meddles in the lives of others. So it should come as no surprise to us that Kristen is on Twitter trumpeting who isn't invited to Jax and Brittany's wedding.
Okay, so:

James, Raquel, and Billie Lee are ? not invited to Brittany & Jax's wedding.

Kisses,
Kristen #PumpRules

— kristen doute ??? (@kristendoute) February 5, 2019
I saw this tweet and was immediately dubious that anyone, least of all Jax and Brittany, would ever tell Kristen anything confidential. However, there might be some truth to what she is claiming, if the Vanderpump Rules stars' social media habits mean anything. Yes, I keep tabs on this. No, I don't have a life. No further personal questions, please. As of a week or two ago, Kristen actually was following Billie Lee, but she unfollowed her since. (I know this because I had researched it for another article that never came to fruition.) Given that this cast has the emotional maturity of 15-year-olds, Kristen deciding to unfollow Billie Lee likely means something happened between the two of them. Billie Lee still follows Kristen, though, which could mean that she has no idea Kristen has beef. Or it could mean Billie doesn't keep an obsessive list of who from the VPR cast follows whom. (She's not better than me!)
What's perhaps more significant is that Jax also unfollowed Billie Lee recently. We all know Jax is real quick with the unfollow, so presumably something sparked him to do this, even if it was something insignificant and dumb. But Brittany and Billie Lee still follow each other, which I think means that either they are cool, or if they're not, Brittany is not as petty as Jax. Even if Jax does have an issue with Billie, Brittany's the bride, so she probably has more of a say in who gets invited to the wedding. Then again, Jax controls Brittany's every move, sooo… Billie might be excluded from this narrative.
Let's move on to Raquel and James. Not so surprisingly, Raquel and James don't follow anyone from the cast and the cast doesn't follow them back. Last night on WWHL, James admitted that he doesn't expect to be invited to either Brittany or Lala's wedding. Makes sense, given everything we've seen on the show so far, and I've got to respect James for being self-aware and not trying to pull a Kristen.
What is shocking is he said there's a bigger chance that he'd be invited to Brittany and Jax's wedding than to Lala's. According to James, he and Jax tend to bounce back after ripping on each other and screwing each other over. Credit to James for being the only person in this cast ever to notice that this is literally what eventually happens with every cast member ever. It's called the Circle of Life.
Jax and Brittany have yet to make a formal announcement about who's invited to their wedding. However, I think Kristen making the announcement makes more sense. Jax saying who isn't invited to the wedding would just devolve into him going on another tangent about how he has changed SO MUCH and NO ONE ELSE HAS before hawking protein powder or an electronic toothbrush. And Brittany is too nice to say anything until she's left with absolutely no choice. So who better than Kristen to insert herself into drama that doesn't concern her and f*ck up people's lives? Nobody, that's who.
We'll have to keep watching and following on social media for more wedding developments, but one thing we can be sure of is there's going to be plenty of drama.
Images: kristendoute / Twitter; itsjameskennedy / Instagram
Raquel Leviss Is Shading Her 'Vanderpump Rules' Co-Stars Online
Dear, sweet Raquel Leviss. When James Kennedy's pageant girlfriend officially joined the Vanderpump Rules cast this year, no one was sure what to expect. We knew her as soft-spoken, college-aged, and possibly delusional about James' alleged cheating. This season, as the rest of the cast turns against James, Raquel has decided to show her personality. This is happening both on-camera and off, as Raquel has decided to talk sh*t online about James' former friends. This is the kind of drama I live for.
Exhibit A: Today, Raquel posted this tweet sharing an article discussing the feud between Lala and Billie Lee. Her caption? "Lala Kent Joins The Mean Girls Club And Never Looks Back."
Lala Kent Joins the Mean Girls Club and Never Looks Back https://t.co/FOZaoOtenQ

— Raquel Leviss (@RaquelLeviss) January 22, 2019
Okay Raquel! Given your interactions with Lala last year, in which you asked her to please stop sitting on your boyfriend's lap quite so much, I guess it's not totally shocking that you're going after her now. But if you're hating on her for hanging out less with your boyfriend, that does seem a little counter-intuitive to me! (Yeah, I will not for a second pretend Raquel's real stake in this is somehow about Billie Lee.)
In Exhibit B of Raquel's (admittedly pretty tame) shade, we have her comment on this Instagram from Tom Sandoval. He's announcing a "Spicy Tequila Tuesday" that he's hosting at SUR (guess Girl's Night In was not a huge success after all).
Raquel responds to this news (screenshotted below) with the following comment: "You've got me thinking about what I would call my Tuesday night." Innocent enough, but in my opinion, this is a dig that pretty much anyone can have their own Tuesday night now that James' super-successful event is out of the mix.
Lest you think that Raquel Leviss is taking over James Kennedy's title as Queen of Internet Shade, James was quick to get in on the action here too. On Tom's Tuesday night post, he responded to a comment saying, "We Want C YOU NEXT TUESDAY!" by tagging Lisa Vanderpump herself and Guillermo Zapata, the other owner of SUR whose last name you probably never knew. (Did anyone else read that comment in a "Pump-ti-ni!!" voice btw?)
Honestly, James and Lisa better be on good enough terms that this reads as something of a joke. Otherwise he is literally just sad at home tagging his ex-boss on Instagram to say "SEE YOU SHOULD NEVER HAVE FIRED ME!" If possible, it is even sadder than drunk-tagging an ex.

Honestly, I'm always up for a new girl stirring the pot. Raquel, I may find your home decor Instagram stories insufferable, bur I am here for any and all petty fights you'd like to start.
The 'Pump Rules' Cast Are Trashing Each Other Over Last Night's Episode
Because Vanderpump Rules is more dramatic than any soap opera on TV these days, it's easy to forget that the whole SUR crew are real people living in the same world as us. I don't know if I would be friends with them in real life, but I am glad that all of these psychos have access to Twitter. After last night's episode, in which some major sh*t went down during Pride, we got some delightful reactions from the cast on Twitter, and it's big drama.
First out of the gate, we got Katie, responding to James body shaming her on the episode. This is a classic move for drunk James, going back to season four, when he and Lala told the other girls that they needed to work on their summer bodies. Last night, he told Katie that her shorts weren't flattering, which is f*cked up and also pretty untrue. Someone on Twitter called James out for his behavior, and Katie quickly responded by calling James "human filth." Damn, I wonder how she really feels.
He's human filth. https://t.co/U2R6P48Mim

— Katie Maloney (@MusicKillsKate) December 11, 2018
Whether or not James deserves to be the major villain on this season, I'm glad Katie is calling him out for this behavior. We can all agree that body shaming is totally uncool, and he needs to stop.
The more wild moment in last night's episode came when Kristen came to SUR during Pride to stir up some major sh*t. Honestly, what else is new. She brought Hope, who allegedly slept with James, to confront both him and Raquel about his cheating. Cheating is a messed up thing to do, but Kristen, read the f*cking room. Pride is not the time to do this, use your brain. Billie Lee clearly feels the same way, and she ripped into Kristen for trying to ruin the day instead of celebrating the LGBTQ community.
Really @kristendoute Pride is a day to celebrate the lgbtq community instead you ambush @itsjameskennedy about something two years ago! No regard for the truth or Raquel's feelings. Also let's pray for Hope like who brags about sleeping w/ a guy while his GF's in the other room.

— Billie Lee (@ItsMeBillieLee) December 11, 2018
Crazy Kristen definitely deserves this, but I'm also loving Billie's prayers for Hope. Seriously, it's very weird how happy she was about throwing these cheating allegations in Raquel's face, and I have some questions for her. It's also important to note that James liked this tweet, so I don't imagine he and Kristen will be patching things up anytime soon. I am shocked!!
We're still only on the second week of the new season of Vanderpump Rules, so all of this drama won't be ending any time soon. With enough Pumptinis (and maybe a little *pasta*), these morons are sure to get into many more heated arguments about absolutely nothing, and I personally can't wait.
Images: @MusicKillsKate / Instagram; @ItsMeBillieLee / Instagram
The Juiciest 'Vanderpump Rules' Social Media Drama From This Summer
On a scale of 1 to Jennifer Aniston's nipples in every episode of Friends, how excited are you for season 7 of Vanderpump Rules? The show hasn't even aired a trailer for the upcoming season, but they're clearly filming their juiciest episodes yet. How do we know this? Their social media drama, of course! Social media is an echo chamber of narcissism, debauchery, and bullsh*t, so obviously it's where attention whores who have no other creative outlet or means to find contentment or validation reign king. Here's the lowdown on the juiciest Vanderpump Rules social media drama this summer.
Lala Kent's Following List
Lala Kent is the realest b*tch on the show. Well, not externally, because she's pumped full of silicone and fillers. But as your middle school guidance counselor said, "It's what's on the inside that counts." Not that you listened to her, because she wore adult braces and bought clothes from Talbots, but it totally applies here. Anyway, Lala is very selective with who she follows, so her following list on Instagram is always a good go-to to see what's up. Who is she following? Logan Noh, who spread rumors that he had a gay affair with James Kennedy, with whom Lala is not on good terms at the moment. The enemy of your enemy is your ride-or-die, right?
But who isn't she following? First off, her own fiancé. And he doesn't follow her back. How very Justin Bieber of him. But she legit did that to keep him under wraps and the cat's kinda out of the bag because he proposed to her and gave her an engagement ring so big you can see it from the 405. Even more interesting, though? She's not following Billie Lee anymore, who she was buddy-buddy with last season. We'll get to that in a moment.
Chrissy Teigen's Tweets
Chrissy Teigen is known for being pretty candid on Twitter as much as she's known for being obsessed with Vanderpump Rules, so it was juicy AF when she told all 10 million of her followers that there's a couple of "Vanderpumpers" she does NOT like.
For the record, any interaction I've had with kim or nene has been delightful. And hilarious. All the housewives, really. There was only one vanderpumper that needed a good push back down to earth

— christine teigen (@chrissyteigen) April 24, 2018
Who could that "Vanderpumper" be? My money's on Scheana because…well, I'm mature enough to admit I'm immature enough to be biased and I just do not like her. But whatever. No personal questions, please.
Jax Taylor's Instagram Freakout
Jax Taylor is prone to a lot of social media hate, and he is quicker with the block button than Jonathan Cheban is. But he rarely goes on social media rants. For example, he could've easily stuck up for his now-fiancée Brittany when she was being body-shamed, but he didn't. He could've stuck up for James Kennedy after he threw James under the bus and made up a rumor that he cheated on Raquel with Kristen, but he didn't. So he decided to pick a really weird hill to die on: when someone told him that they hoped his dog gets run over by a car. Whoa. Way harsh, Tai.
Look, as any sorority girl would tweet, "I honestly love dogs more than boys," and that's true. Dogs being better than humans is an incontrovertible truth. But Jax throwing a sorority girl level fit on social media is just kinda weird. Like, you'll let people insult you and your friends on the regular, but this is where you draw the line? I guess Lisa's Vanderpump Dogs foundation has been really making an impact on Jax.
Billie Lee's Feud With The Entire 'VPR' Cast
Okay, so last season was one big competition to see who could be the most vocal about how inspiring and wonderful Billie Lee is. And it's true—her journey is incredible. But this summer the claws finally came out on social media. And it's about damn time, because science shows that the amount of inspirational quotes you post on social media is directly proportional to how ridiculous you are in real life. Okay, that study hasn't happened yet, but I'm currently crowdsourcing the funding for it, so hit me up in the comments. But for real, science has already proven that those gym selfies you take may make you a narcissist, so it's only a matter of time before Harvard gets on studying inspirational quotes too.
Anyway, Billie Lee first caught our eye on Instagram when she called everyone out about being excluded in the planning of SUR ladies' night, and wasn't tagged in a picture promoting the event. Stassi and Tom called her melodramatic, and since it's Vanderpump Rules, this was only the beginning.  A few weeks later, Billie posted an Instagram about hosting a brunch with James Kennedy and threw some shade at some of her SUR family, most of whom were off partying in Mexico.
Billie Lee and the whole gang still follow each other after the tiff over ladies' night, but interestingly enough, she and Lala don't follow each other. Could she be the rotten egg Billie Lee was throwing shade at?
Kristen Doute Calling Corinne Olympios Satanic
Look, in terms of star quality, Doute's gone downhill. She's no longer Crazy Kristen, and she doesn't deliver when it comes to quotes that I can use in reaction gifs, my Hinge bio, or on my tombstone. And Corinne hasn't really been delivering either in those departments since her Bachelor days. A Doute vs. Olympios brawl is very interesting me to me, and also very necessary for their careers. So it was deliciously dramatic when Kristen dropped this gem on her Instagram story:

Corinne has yet to respond, but I have been waiting with bated breath for the story behind this. Kristen, please deliver!
Adam Firing Shots At "Haters"
Okay, so we were wrong: Scheana and Robby Hayes weren't dating. It was probably just a publicity stunt. But we were right about Adam and Scheana hooking up! Looks like Scheana has a type: guys that are so vain that they probably FaceTune their own d*ck pics. Much like Billie Lee, Adam really didn't deliver on the drama last season. He was literally used as a prop. So Adam followed in Billie Lee's footsteps and decided to start sh*t on Instagram. And he decided to do it with a pic of Scheana with a caption that was a sophomoric attempt at shade.
Adam is really taking a page out of Taylor Swift's playbook here, thinking that acknowledging that you know the criticisms people are leveling at you amounts to any sort of real response or ownership of your actions. It doesn't, so take your fingers off the caps lock, k?
Shay Firing Shots At Scheana
Finally! Some fire from Shay! It's always fun to get some new blood in the mix. You probably remember Shay from the first few seasons of Pump Rules. If you don't remember him, I forgive you because he was pretty forgettable. His silent demeanor was often eclipsed by Scheana being…well, Scheana. During the reunion, Scheana was weirdly singing Shay's praises after airing him and his personal problems out for ratings (and attention). She said Rob was quick to break up with her because of the show, while Shay stuck by her. Aww, so sweet. Does that mean they've kissed and made up?

Oops, guess not.
Long story short, this season is going to be amazing. Buckle up, betches.
All The Drugs The 'Vanderpump Rules' Cast Has Admitted To Using
It's no secret that sobriety plays a small role in Vanderpump Rules. But while the Vanderpump Rules cast is open about their drinking, we've never seen so much as a bong on camera. (We know they're smoking weed. They've all admitted to smoking weed.) This isn't exactly surprising. But it was a pretty refreshing change when the Vanderpump Rules cast finally opened up a little bit about their use of drugs this season. Too many impressionable youths are watching this show for the cast not to disclose that their 72-hour benders, impossibly tiny figures, and frequent meltdowns are fueled by a little something extra. They're open about the damage alcohol has caused—I'm glad they're being open about this too. Here are all the drugs the Vanderpump Rules cast has admitted to taking, not counting drugs they are prescribed, because I don't want to get my ass in trouble with HIPAA.
Kristen Doute/Stassi Schroeder
Drugs: Adderall, Xanax, marijuana
Kristen and Stassi both made this pretty easy for me. They've openly discussed their Adderall and Xanax use—Stassi on camera as well as off. Quick highlight reel of Stassi's on-screen season 6 drug references: blackout on tequila and Adderall at her birthday party, Xanax and alcohol during the finale. For Kristen, we have her "Xanax and edibles" refrain about her travel anxiety in Mexico, plus some pretty explicit IG stories of late including her smoking a bowl and a collection of her beside prescription bottles. Side note: The Xanax may very well be prescribed. But mixing it with alcohol/other sedatives means they're def not taking it AS prescribed.
We've discussed Stassi's super scary mixing of alcohol and Xanax at some length. But in case you need a refresher: Side effects of mixing Xanax and alcohol may include: siding with your douchehat boyfriend, inappropriate smiling because you don't know WTF is going on, and literally dying. Do not do this.
As for the Adderall use, Stassi admits to abusing it to get through long shooting days, keep her weight down, and drink the required amount of alcohol for a reality star without passing out. Ugh. Bravo, take better care of your people.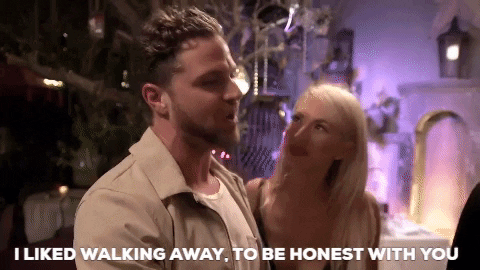 Scheana Marie
Drug: Marijuana
We all knew that Scheana was a "craaazy pothead", hence repeating herself every single episode of this season. What I didn't know is that Scheana was actually sued in 2016 for pot smoke pouring out of her apartment. Yikes. So ya girl does, in fact, smoke. But just in case we weren't clear enough at this point, she's also been IG storying what seems to be a weed tour through Hawaii. I guess once the entire internet roasted the use of weed as her excuse for her Robsession, she decided she needed to develop some receipts in a hurry. Which, yeah, if you're going to claim weed gave you the level of foresight and mental acuity of the cast of Pineapple Express, I'm gonna demand you back that up.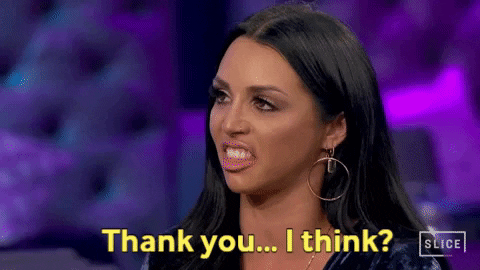 Lala Kent
Drug: Marijuana
Like Scheana, Lala too has referenced her own weed smoking at some length. Less than you'd expect for someone who claims that Tupac's "spirit lives inside her," but some. (I love a good stoner girl, but I can't help calling Scheana and Lala out here. They've always been in that weird guy's-girl, wannabe-hood zone that aligns itself with exclusively taking two hits for the 'Gram.) On her horrifying episode of Juicy Scoop with Heather McDonald, Lala says she's quit smoking, and switched to natural remedies. You know, like sucking on a "baba," or on a dick. Starting to think we disagree on what "natural remedy" means.
Lala, after one hit off a blunt:

Everyone Else
Drug: Marijuana
Katie and Tom both seem like they've been hitting the edibles fairly heavily this season, which Katie admitted to taking before her wedding. Katie specifically mentions going to dispensaries because "they have lots of candies and chocolates and I like to eat the edibles." And while Schwartz never admits to indulging himself, can we at least agree that he really, really seems like a die-hard stoner? (See: always wearing sandals, no real ambition to speak of, etc.)
Here's one of my fave Schwartz-HAS-to-be-stoned-here GIFs: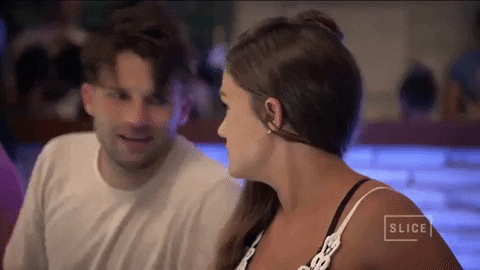 As for the rest of them, James Kennedy talks about having been "first in line" at "all the clubs and clinics" since they let you in when you're 18. (We get it James, you're young.)  Jax and Brittany have video evidence of them lighting up in an airport bathroom, and Jax mentions that he picked the habit up from Brittany's parents. Possibly the cutest fact about this couple. We know Ariana smokes as well from the time she referenced "hiding the bong" from Sandoval's mother. (God, I pay way too much attention to this show.) I don't have specific evidence for anyone else, but I'd assume Raquel at least needs some kind of memory-reducing drug to have not yet dumped James.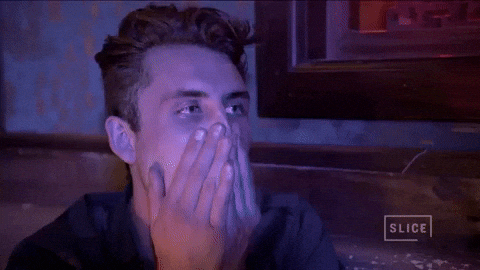 As for the burning question I'm sure you all had: We have no concrete evidence that anyone is doing coke. Plenty of people (Sandoval included) have suggested that Jax has a serious coke problem, but we don't have any evidence other than his six nose jobs and everything he says and does on camera. All around, it seems like we're dealing with a group of semi-stoners, a lot of anxiety disorders (don't act like you wouldn't develop one too), and a hopefully waning Adderall problem from the early years. Basically, your sorority pledge class. Celebs, they're just like us!
Images: Giphy (5)