Gizelle Bryant Is The Real Housewife Who Does It All
If you've been watching this season of The Real Housewives of Potomac, you know that these women don't mess around. They always bring the drama, the laughs, and the iconic looks (along with a few bad wigs). None of the RHOP ladies mess around, but there's no argument that Gizelle Bryant is the OG queen of Potomac. The RHOP reunion has been heating up, and earlier this week, Gizelle stopped by Betches HQ to talk about the show, and some of the other exciting projects she has going on.
Note: if you've never met Gizelle in person, you have to know that she is just as stunning in person as she is on TV. She likes to get messy when it comes to the drama in Potomac, but her face is never, ever a mess. It makes perfect sense that she decided to start a makeup line, because looking like her would be the literal dream. She looked perfect, despite being up late the night before on Watch What Happens Live, where she hung out with KeKe Palmer. Casual.

We played some games with Gizelle, starting with quizzing her on quotes by her fellow housewives. She didn't get a perfect score, but you better believe she remembered who called her face "repulsive." I died a little when she repeated her famous quote: "THIS FACE REPULSES NO ONE." She's not wrong. And she died a little when we surprised her with a quote from her novel My Word, which is based on her past experiences as the wife of a prominent pastor. (You can get it now on Amazon, btw.) But luckily, Gizelle recognized her own writing, no problem.
We then put her in the Housewives Hot Seat, asking her some rapid fire questions about the Brav0 universe. Here's a quick rundown of what we learned:
— Gizelle is definitely not a fan of Ramona Singer (probably because of that time she ignored her in the Hamptons).
— She would rather have Kandi Burruss plan her birthday party than Sonja Morgan, mostly because Kandi has major coins.
— If she had to join another Housewives, it would be Beverly Hills. If she could choose any Bravo show to join, it would be Shahs of Sunset, so she could hang out with Reza.
— Cynthia Bailey would be her dream housewife to have as an EveryHue Beauty model, because duh.
— She would gladly have both J.Lo and Queen Latifah join the RHOP cast. And now I need to see it.

This season of The Real Housewives of Potomac is sadly coming to an end, but luckily we still have two more parts of the reunion to get through. Michael Darby is going to be in the hot seat, and I'm sure our messy queen Gizelle will have plenty more to say about this seasons's insane drama. In the off season, Gizelle will have plenty to keep her busy. Season five is rumored to already be filming, and of course she has her EveryHue Beauty makeup company, available at Target. Gizelle Bryant really does it all, and makes it look easy.
Images: Shutterstock; Giphy (2)
PSA: Stop Sleeping On 'The Real Housewives Of Potomac'
The first season for any show can be difficult, especially when you have the fanbase Bravo has. We are passionate, outspoken veterans of reality television, so it's hard to watch new shows try to find their way. We have grown accustomed to the Bethennys, the Nenes, and the Teresas, who know the game and play it well. So when Bravo announced Potomac and Dallas were going to be added under the Real Housewives umbrella in 2016, I was hesitant. But I did what any devoted fan does, and watched both franchises when they first aired. And I wasn't impressed. Dallas was all about the charity scene, and Potomac was constantly talking about etiquette. I just didn't connect with either city, because there wasn't anything I could sink my teeth into.
But for the past year or so, my best friend Steve who runs the Instagram account @FacesbyBravo (follow him, he's hilarious) has been begging me to start The Real Housewives of Potomac. Since I was jaded by the first season, I kept pushing it off. And guys, I WAS A DAMN FOOL. Giving Potomac a second chance was the best decision I have made in a long time. That, and deciding to get eyelash extensions.

The fourth season is airing currently, so I started by dipping my toe into the third season. This is what I recommend for anyone who wants to give this franchise a chance. Season three gives you a lot of flashbacks into the second season, so you're caught up fairly quickly. And let me tell you, it does not disappoint.
First, let me break down the women of Potomac. Karen and Gizelle are already Bravo royalty. They are some of the most iconic housewives I have ever seen, and have done so much in such a short amount of time. Truly, everything that makes you a great housewife. Monique is an amazing addition, she gave us the umbrella moment in season three, and she is one of the most beautiful people to ever be on television. Ashley is one of the messiest housewives I have ever seen, while simultaneously getting her yoga certification. I love a contradiction. We get introduced to Candiace in season three, but wait till you get to season four, because Candiace really shines. I don't want to spoil anything, but I will say one thing: butter knife. And to finish out the cast, we have Robyn. Some may say "oh she is boring", or "what does she bring to the show?" And sure, on the surface Robyn might seem boring, but she is the glue that grounds these women in reality, and she is BEYOND gorgeous. Also, America is always rooting for her and Juan to get back together.
These women offer us something so many cities have failed to do in recent years, and that is giving us vulnerability while having fun. That is it. They are having fun. They don't feel tired, or played out. They aren't afraid of confrontation, and are always ready to meet for lunch and have a sit down to "work it out". Their families play a large role in the show as well: Candiace has an emotionally abusive, codependent relationship with her mother, Ashley confronts her father, who abandoned her at a young age, this season, and Gizelle tries to balance being a single mother to three teenage daughters. It is a lot, and they do it flawlessly. OH, and did I mention they are hilarious? Ashley has some of the best one-liners, and you can always look to Karen to give a GIF worthy reaction.

The Real Housewives of Potomac has quietly become the second-best city in the Real Housewives franchise. Obviously, RHONY is forever my number one (and if anyone from Bravo is reading this, let me tell you, if you so much as touch a hair on Ramona Singer's head, there will be a riot in these streets. We already lost Bethenny, so this isn't up for discussion). The women of Potomac deliver in ways we haven't seen in a long time from a lot of our OG cities. They are breathing new life into the franchise, and the other cities should be taking notes.
As someone who has been watching The Real Housewives and all of their spinoffs since 2008, I will admit it is hard to welcome the new girl. We have tried over the years with DC or Miami, which both flopped (don't get me started, DC was iconic and deserved a second season). These women are hilarious and snarky. They are messy, but also very forgiving. I give The Real Housewives of Potomac five stars, and urge all of you to begin watching ASAP.
Images: Bravo; Giphy (2)
Paris Hilton Just Reignited Her Feud With Lindsay Lohan
It doesn't get more iconic than Paris Hilton and Lindsay Lohan. Just from saying those two names together, I'm instantly transported back to a time of low-rise jeans, tragic hair extensions, and passed-out starlets in the back of cars. Things were simpler back then. While we've moved on from the era of Von Dutch trucker hats, not all of the drama has been left in the past. There's clearly still some bad blood between Paris Hilton and Lindsay Lohan, and Paris has recently reignited their decade-long feud. I'm obsessed.
On Tuesday night, Paris Hilton was a guest on Watch What Happens Live, and lucky for us, Andy Cohen got her to play Plead the Fifth. If you're unfamiliar, Andy asks three uncomfortable questions, and you only get to skip one of them. Like a true icon, Paris answered all three of her questions, and the first one nearly made me fall out of my chair. Noting that Paris Hilton recently said she never wants her name spoken in the same sentence as Lindsay Lohan's (oops, I've already done it three times), Andy asked Paris to say three nice things about Lindsay.
Watch what she had to say:
Are you dead? Because I'm dead. In case you didn't watch, Paris first says that Lindsay is "beyond," which is probably actually a compliment coming from her. Like, if Paris Hilton tells you that your outfit is "beyond," you wear that outfit every single day until you die. It's just the rules. After her first (probably) nice thing, Paris is truly out of good things to say, so she just ditches the assignment and goes with "lame and embarrassing." You guys! You guys. This is the kind of legendary shade that I live for.
It's safe to say that things are still pretty rough between Paris Hilton and Lindsay Lohan (oops, I said their names together again). We were reminded of their feud last summer, when Comments By Celebs found another absolute shady gem from Paris. One of those accounts who posts stuff from 2000s pop culture found a video (most likely from 2006) of Lindsay Lohan speaking to the paparazzi. She first says that Paris just hit her and poured a drink on her at a party, but then she tells the reporters that it never happened, and calls Paris a friend. After that, Lindsay calls Paris a c*nt straight to the camera, and then again insists that she didn't say it. Lindsay might have changed a lot of things about her life in the last decade, but she has always been delusional.
Paris, always ready to throw the shade, commented "#PathologicalLiar" on the video. Think about that. This account paris2000s resurfaced this video of Lindsay Lohan from more than 10 years prior, and Paris Hilton still made a point to talk sh*t about Lindsay. Honestly, her commitment is inspirational.
In response, Lindsay's dad Michael Lohan tweeted that Paris should grow up, while also calling her "SAVAGE" and a liar. The Lohan family is so messy that honestly it's just funny Michael feels he has any room to talk, but I will never turn down a good celebrity feud. Paris Hilton probably never even saw this tweet, because Michael Lohan hasn't been relevant since…ever?
Please. Grow up. If anyone is a liar it's you Paris
The hotel heiress is SAVAGE. https://t.co/QrfVhwhk8Q via @HuffPostEnt

— Michael Lohan (@MichaelJLohan) July 18, 2018
There's one more important instance of shade that Paris Hilton has thrown Lindsay's way. In 2017, she explained to MTV Australia that iconic photos of her going out with Lindsay and Britney Spears aren't exactly an accurate depiction of what happened. "Actually, it was just Brit and I  out, and then Lindsay chased us to the car and got in. She wasn't invited." Paris Hilton is channeling the kind of pettiness that I aspire to, and it's honestly beautiful.
While I love a good petty moment, it's actually starting to feel like this feud is a little one-sided. Like, Lindsay Lohan is just chilling in Dubai, and unless she's doing something we don't know about, like post a cryptic and weird Instagram, maybe Paris should give it a rest? It's never a good look to be obsessed with your enemy, and Paris Hilton looks a little obsessed right now.
Images: Shutterstock; Watch What Happens Live / YouTube; @commentsbycelebs / Instagram; @michaeljlohan / Twitter
Did Kristen And Carter From 'Vanderpump Rules' Break Up?
It was only a matter of time. The relationships on this season of Vanderpump Rules all seemed a little too stable. No one cheated on anyone else in front of an elderly patient. No one got a stripper pregnant in Vegas. Sure, Ariana and Lala had a drunken "moment" in the back of a car, but Sandoval seemed more turned on by that than anything else. High fives all around for girl-on-girl action! It truly seemed like these nearly middle-aged degenerates may have gotten their act together. Enter Kristen and Carter.
On Monday night's episode of Vanderpump Rules, we were treated to some Crazy Kristen moments, the likes of which we have rarely seen since she screamed at her boss to "walk the f*ck away, now." Ah, the good old days. And this week we must have hopped in our DeLorean because Kristen got blackout drunk and had a meltdown, 2015 style. While on a girls trip to Solvang (P.S. I am officially accepting rides here on a PJ, rich dudes where you at?) Kristen got wasted at a wine tasting, tripped over a table, ran away, yada, yada, yada, you read the recap, you know the drill. The girls were convinced Kristen was acting this way because her relationship with Carter is circling the drain. And now there are rumors flying that Kristen and Carter have broken up, but she claims they're working on it. SO WHAT IS THE TRUTH?! My spidey senses say they've broken up, but let's take a look at the evidence.
Kristen appeared on Watch What Happens Live! after Monday night's Vanderpump Rules, and a viewer doing the Lord's work asked her about the status of her and Carter's relationship. Kristen replied, "I bleed out for this show. I show every single second of everything for this show, so for this I'm just going to say we're…figuring it out." Yes, you do bleed for this show, Kristen. The audience thanks you for your donation. And for that blood you are rewarded with lucrative Instagram sponsorships and a T-shirt line that looks like it came from the Walmart bargain bin. You're welcome! You may have also noticed that Kristen used her classic "poor me" routine to avoid giving an answer to the question.
Andy and I remain skeptical:

I'm convinced that by "figuring it out," Kristen means that they're figuring out how to lie about their breakup for the next few months until they are contractually permitted to reveal what we've all already known for a long time.
It's also notable that Tuesday, February 19th was Kristen's birthday. Happy Birthday, Kristen! I hope you finally receive the validation you've been searching for your entire life! Carter is still acting like they are together, posting this on her birthday:
Does anyone else get a "methinks the lady doth protest too much" vibe from this post? Like, c'mon Carter, you even love the crazy?! Like the crazy that punched James in the face at a wedding kind of crazy? I DON'T BELIEVE YOU. No one likes a black eye. And oh yeah, Kristen couldn't even be bothered to like this post. Lolz Carter, looks like your last-ditch attempt to cling to relevancy is coming to an end. You might have to get a job like the rest of us peasants.
When I started writing this article, I thought that outlets were reporting that Kristen and Carter broke up because when I googled it, OK! Magazine popped up claiming "Kristen Doute & Brian Carter Call It Quits." This is alarming for two reasons. First, if you click the link, the story is actually called "Have Kristen Doute & Brian Carter Called It Quits?" and literally just quotes Kristen's WWHL appearance. Fake news! Second, Carter's first name is Brian?! Did everyone else know this and I had no idea? It's like that time I called a half-updo a zipback to my friends in college and they laughed in my face. My mom told me that was its name! The shame is still fresh.
So let's be real. We all know that Kristen can take a relationship and beat it to within an inch of its life, so she and Carter very well could still be together. But based on her indifference to BRIAN and his gushy posts and the fact that she probably signed an NDA saying she couldn't reveal major plot points on the show, I'm betting it's over. Time to find a new sugar mama, Carter. I think I know someone, how fast can you hang a TV?
Images: NBCU; Giphy, Bravo, itsarealbeard/Instagram
The Most Interesting 'Pump Rules' Plot Points You Didn't Know Were Lies
If you took a sip of a PUMP-TI-NI every time someone lied on Vanderpump Rules, you'd be drunker than James Kennedy while he's doing a DJ set. And if you took a taste of Raquel's "pasta" every time a cast member says in a sinister tone, "The truth always reveals itself," we'd have to check you into rehab. In other words, telling the truth is not exactly this cast's forte. And what a tangled web of lies and tacky hair extensions this band of pretend-waiters weaves, because they can't even fit in all the huge lies they tell into 20 episodes. So, we're here to tell you some of the biggest lies these degenerates have been caught in. At least, the ones that we know of.
1. James Kennedy's Real Name
James Kennedy is truly an enigma because we can't decide if we love to hate him or hate to love him. Another mystifying thing about James? His real name isn't even James Kennedy, it's actually James Georgiu. Neither of his parents have changed their last names, BTW. He used to never shut up about how his dad was huge in the music industry, so why wouldn't he want to share the same last name as someone that is that prominent? If I had to guess why James chose Kennedy as his last name, I think he just wanted to sound like he was the member of the elite and so he chose the surname of the second most obvious royal family in America (after the Kardashians, obvi). James Kardashian just wouldn't work. Vanderpump Rules clearly occupies my headspace at least 90% of the day, and it's suddenly dawning on me now that no one there goes by their real names. Lala's real name is Lauryn, and I've never heard of a Lauren going by a nickname that sounds like a Teletubby. We all know Jax's real name is Jason Cauchi. Scheana went by Scheana Marie and still goes by Scheana Shay even though she literally had a countdown app for her divorce to be finalized. I'm guessing she uses a fake name because Scheana Jancan doesn't sound as appealing. If these cast members are all using fake names, what else could they possibly be hiding?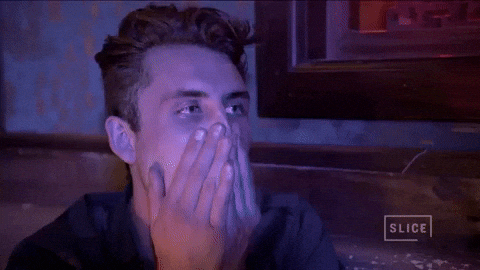 2. Brittany Not Knowing Anything About Jax's Past Before Moving To L.A.
Pretty much all of the Vanderpump Rules stars dream of "making it" as an actor, but Brittany might be the biggest contender for an Academy Award for playing the naive ingénue role her entire life. By now, she has to know that Jax is never going to change, and she's probably just in it for a role on the hottest reality show, and to get sponsored by detox teas. On Watch What Happens Live, Brittany's mom was in the audience when Brittany and Jax were being interviewed and told Andy she was a fan of Pump Rules before Brittany started dating Jax. In fact, when Brittany met Jax that fateful night in Vegas (while he was on a date with another woman, BTW), she took a picture with him and sent it to her mom, who told her who he was.
So, here's where it gets interesting: Brittany played innocent the entire time and claimed she's never seen the show and she knew nothing about Jax before moving out to L.A. two months after meeting him in Vegas. But her mom clearly watched the show and had reservations about Jax, so it seems unlikely that Sherry didn't tell her own daughter what a scumbag Jax could be. So Brittany playing the wide-eyed innocent who moved out to L.A. because she loved Jax and thought he was such a great guy from the get-go doesn't really add up.
3. Jax's Emotional Affair With His Reiki Instructor
Remember Kelsey? Of course you do! Her "emotional affair" with Jax was one of the major storylines of last season. But it turns out that that "emotional affair" was bullsh*t because Kelsey is happily married and she maintains that she has love and affection for all of her clients. Also, having an emotional affair with a guy who is a total sociopath and incapable of emotion is impossible anyway. But more concretely, Kelsey has a podcast called Break Up With Your BS, and she addressed what happened with Jax in one episode. She said she had no idea how things were being edited and the producers didn't let her know her storyline at all. In fact, Jax and Kelsey's one-on-one sessions got started because after Jax's group session with the Tom's and Peter, Kelsey pulled aside a producer and said she was seriously worried about Jax. If you go to Kelsey's Instagram, there's a saved story called "F*ck Vanderpump Rules" where she further defends herself. It's pretty f*cked that the one time a genuinely good-hearted, selfless person that isn't seeking fame comes on Vanderpump Rules, she ends up being edited to look like a home-wrecker.
4. The Timeline Of Kristen And Tom's Breakup
When season 2 wrapped up filming, and before the reunion had been taped, Kristen and Tom hadn't *actually* called it quits. Well, not publicly anyway. Kristen maintains that they broke up in November because he cheated—yet again—and she failed to mention in the below tweet that she cheated on him, like, all the time. Before the reunion, Stassi was very ostentatious about moving all the way to New York City for Patrick, thus spoiling the finale and the reunion. Meanwhile, Tom and Kristen actually took the high road (for once) and publicly pretended to be in a relationship for the sake of the show. They even sucked it up and did Watch What Happens Live together three months after their breakup.
@kristendoute funny how ur past never got brought up the whole season #Editing #beingagentleman in November I broke up with u

— Tom Sandoval (@TomSandoval1) February 11, 2014
@mspocahonta @kristendoute we kept the truth from the public @BravoWWHL 2 not spoil the reunion. We chose to be professional unlike Stassi

— Tom Sandoval (@TomSandoval1) February 11, 2014
First off, this is probably the first (and only) time that the words "Kristen Doute" and "professional" have been used in the same sentence, so props to her. But while she was being professional for once, she at least got to witness her so-called boyfriend get insulted on national television by someone who called in.
You couldn't pay me enough to fake being in a relationship with any of my ex-boyfriends—unless I got to sit next to them as they get shamed in front of a  national television audience. So everything you know about the timeline of their relationship is probably wrong.
As far as lies the Vanderpump Rules cast has told, I'm sure this barely scratches the surface. Still, I need to go rewatch all of seasons 2 and 6 now that I'm armed with this new knowledge. If you need me, I'll be unavailable for the next two weeks.
Images: Shutterstock; Giphy; @TomSandoval1 / Twitter (2); YouTube
Who Is Lala Kent's Man And How Much Money Is He Spending On Her?
As a newbie to the reunion episode game, the past two weeks of Vanderpump Rules have been thrilling for me. Andy Cohen is out here asking questions that therapists usually wait six months to get into, and the cast, as usual, is holding very little back. This past week, for example, we finally heard Lala open up a bit about her "man." Specifically, she listed the many, many things he buys her, a list I then aggressively relayed to my less-than-thrilled boyfriend. I know, I'm almost as petty as Scheana. (She also mentioned that her man watches VPR with superfan Martin Scorsese, but meh. At most, Randall was once like "look at this show that my girlfriend's on" and Scorsese was like "that's nice.") Anyway, somewhere between the footage of Lala getting out of her BMW i8 and all her recent Instagrams decked out in designer gear at Cannes, I suddenly got a lot more curious about who exactly Lala's man is. These aren't just established middle-aged man gifts—this is serious money. So, who TF is this guy, and what exactly is he buying Lala? Let's dive in.
Who Is Lala's Man?
Lala's man is named Randall Emmett, and he's a producer of some pretty legit films. His most recent big movie was Scorsese's Silence, which lends some credence to the whole Scorsese watching VPR lie theory. He's also currently debuting a film at Cannes called Gotti, which I was convinced until about three minutes ago starred 50 Cent. (It doesn't, and the score is composed by Pitbull, which is…disappointing.) Nonetheless, Randall is at Cannes, works with big actors and directors alike, and is undisputedly legit. (If you don't believe me, scan through Randall's Instagram. It's basically the picture version of his IMDb.) In other words, he absolutely has the Hollywood power and money to take Lala's life to another level.
On a personal level, he was previously married to Ambyr Childers, who is 17 years younger than him. (For reference, Lala is 19 years younger. I'm not loving the pattern.) I'm not going to discuss the state of his marriage when he met Lala, but you're welcome to read about it here. Lala stated on Monday that he was legally separated when they met, FWIW, which our independently conducted research seems to support. He has two children, also heavily featured on his Instagram. He also regularly posts motivational "Torpedo Tuesday" videos, in which he screams at his followers to GET UP GET OUT THERE AND MAKE THAT MONEY. All of which really make me wonder who would win in a screaming match between James and Randall.
What Is Lala's Man Buying Her?
Let's start with the list Lala rattled off on Monday night. She mentioned purses, jewelry, cars, rent, and rides on his private jet. For the cars: he pays for the lease, she pays for insurance. For rent, he pays up to an agreed-upon cap, which Lala said she is "well over." I can't imagine how big and nice of a place she has if it's well over what I'm sure is a generous cap, but it definitely made a sad contrast with the footage they showed of James sleeping on the floor of a slightly too-interested middle-aged dude. Bleak. And for the record, a BMW i8 starts at $147,500, so excuse me while I cry into my coffee for a minute.
Now let's talk about the other stuff. Since beginning her relationship with Randall, Lala has landed a starring role in a movie (produced by Randall), produced the hit song "Boy," and launched the makeup line #Give Them Lala Beauty. While she insists that her music and beauty pursuits are exclusively funded with her own money, the movie is literally her boyfriend's movie, so we can add that onto Randall's tab with a small degree of confidence. BRB, gonna go ask my boyfriend why he hasn't given me a lucrative job yet. "Give a man a fish… teach a man to fish…" and all that, ya know?
So, how are we supposed to feel about all this? Well, if you're like me, lightly devastated. For one, Lala is three years older than me but looks like she's three years younger. And the amount of money I've described in this article alone seems like more than I'll earn in my lifetime. On the other hand, Lala reportedly was already getting her breasts done when she was 20, so she's been hustling and betting on her appearance to get her places for a long-ass time. And I have to show some admiration for Lauryn Kent from Salt Lake City getting to where she is now. You can find their relationship cute or disgusting, I don't really care, but you can't deny that you'd enjoy certain aspects of her life.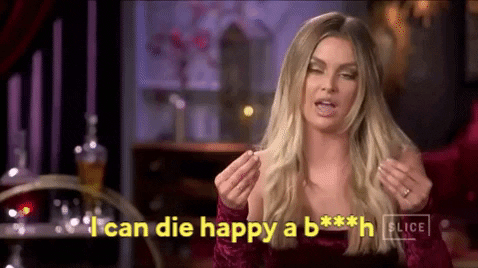 As a final note, I do wish that Lala would stop personally victimizing me saying the only reason other girls can't ride on private jets, etc. is because they're not hot enough. Lala herself admits she's gotten injections and plastic surgery to enhance her appearance, so what are the rest of us supposed to do if we get paid hostess' salaries and we don't have rich boyfriends covering our rent? It feels like when you have to have 5 years' job experience to get an entry-level position. Lala took a very specific route to get what she wanted, and she has a right to feel pride in it. But I imagine she put in a lot of effort for many years to get to this place, and that's something I'd really like to hear more about in step-by-step detail. You know, for a friend.
Images: Instagram (2); Giphy (1)
All The Reality TV Guys Scheana Has Tried To Date For Attention
As I reflect on Monday's Vanderpump Rules finale, I'm grateful for a few things. 1) Lisa's face as she gleefully bankrupts the two Toms, 2) Human fedora Patrick is out of Stassi's life, 3) Scheana's airtime was limited to five minutes. Bless. Of course, it took Scheana exactly zero days to get herself back in the news. This time, it's for hosting a "viewing party" of the VPR finale with Ronnie Ortiz-Magro of Jersey Shore. Hmm, Scheana hanging out with a male reality star for attention? Where have we heard that before? I guess I'd be pretty desperate to distract from that season 6 performance too. But hitting up a Jersey Shore reboot cast member in the midst of his v public, v messy baby-mama feud? Has to be a new low. Here are the other D-list celebs Scheana's tried to pretend she's dating on Instagram been linked to this year.
Scheana, when even your mom is roasting you like this, you know it's bad:
Scheana Marie's mom told her she looked 'crazy' on #PumpRules due to obsession with Rob https://t.co/4aetrkdAXp

— Vanderpump Rules (@VanderpumpRules) April 30, 2018
Carl Radke
Around January, Bravo gossip started circulating that Scheana had hooked up with Summer House cast member Carl Radke. This wasn't explicitly Scheana's doing, to be fair. Kristen and Stassi were the first to spread this rumor, expanding on their favorite hobby of ruining lives via podcast. But Scheana then immediately took to Twitter,  making a huge deal out of how totally not true these rumors were. If she was actually trying to shut these rumors down, she was about as effective as with the Toca Madera rumors. But I'm more inclined to think she was just thrilled to hear her name coming out of Andy Cohen's mouth.
For what it's worth, Carl ended up confirming that he hooked up with Scheana twice on Watch What Happens Live. His ex-girlfriend Lauren Wirkus specified that he meant making out, not sex, which Scheana of course also immediately responded to on Twitter. Honestly, thank God WWHL doesn't have a call-in feature—Scheana would never leave the house again.
Scheana: *makes a bad joke about Kristen being thirsty*
Last thing I will say about this BS. In the words of Stassi, @kristendoute idk what I've done to you, but I'll GET you a Pinot Grigio. Looking pretty thirsty over there… ????????‍♀️

— ????️‍????Scheana (@scheana) January 30, 2018
Scheana's mom: (*furiously types even worse joke about Stephen being thirsty*) You're doing amazing sweetie!!!!
So @stephenmcgeeee Because Scheana knew where "cups" were at his apt that means they had sex? So lame…Maybe she can get you a cup…you sound a little thirsty! ???? https://t.co/AvnunCob3Q

— Erika van Olphen (@erikavanolphen) January 30, 2018
Robby Hayes
Next, Scheana briefly tried to convince everyone she was dating Bachelor Nation's Robby Hayes. (Quick background: Robby was first on JoJo's season, then went on Bachelor in Paradise, met Amanda Stanton, cheated on her, and weirdly Tweeted a bunch of their emails a few weeks ago. Actually, he could be a perfect match for Scheana.) On February 28, Scheana posted an Instagram of herself with this charmer. And of course, she captioned it with the classic "please start rumors about us" . (I guess that caption has since been changed?)
When asked about their relationship, Scheana has maintained that they're just "good friends" who "get each other" and live in "similar worlds" (aka fake reality TV worlds). Beyond the fact that this sounds like code for "we bang sometimes and the conversation in between doesn't make me want to kill myself," I fail to see how Scheana would have just naturally stumbled upon this "friendship." Scheana Someone DM'ed Robby someone to make this connection, and it's probably the person posting sus Instas about it later. In other words, it's notable that Robby has never posted anything of Scheana. (Though maybe he just doesn't have his iPhone welded to his hand like Scheana does.)
Either way, in a classic Carl "please keep paying me please care about me" Radke fashion, Robby couldn't resist giving US Weekly this final quote: "Whether we have moved on from our unsuccessful love stories on television to our own is still up in the air." Barf. These two really should date.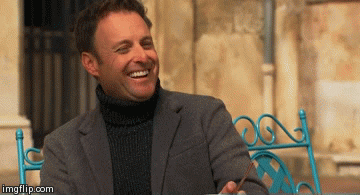 Ronnie Ortiz-Magro
Finally, we get to last night's encounter. Apparently, Ronnie had a rough Monday: in the midst of an argument over whether (now-ex) girlfriend Jen Harley had "sex videos" with an ex, the couple decides to livestream this shit. Highlights include Jen's packed boxes in the background, Ronnie screaming "put your fucking hands on me again I dare you," and, presumably, the quiet sound of their one-month old baby being scarred for life.
So, how does a Jersey Shore cast member unwind from a day like that? Apparently, drives directly over to Scheana's house so she can film the entire evening and upload it to Instagram. Jesus. Guess there's really no scandal too private or dark for Scheana not to want to get in on the 15 minutes of fame. I mean, it's a little too much of a coincidence that the first time they're hanging out is the day Ronnie's name is exploding in the news, right? And if you needed any further evidence that Scheana is desperate for more attention, she says the following in her story. "I mean, while watching the Vanderpump Rules finale, we have our own reality show in my condo."
No Scheana, you do not. In order for something to become a reality show, there has to be an audience for it. And—please believe me—people do not want to see more of you right now.
I'd yell at Scheana a little for not looking out for other women here (any footage of Ronnie other than him quietly weeping was probably rough for Jen to watch), but let's not pretend she's ever cared about that. At this point, I'm just getting genuinely concerned about her need to Instagram all moments of her life. (New theory: maybe she fakes crying on the reunion next week and runs out just to be with her iPhone?)

If we've learned anything from Rob/Scheana + Stassi/Patrick this season, it's that if you're the only one talking about the "relationship," you're probably the only one who thinks it exists. So until a guy comes forward and says "I'm dating Scheana," I'm going to have to start disregarding this nonsense.
That concludes today's round-up of Scheana's extreme thirst. Stay tuned for the day when Scheana posts her next "look at my reality boyfriend" Insta and "accidentally" tags Rob on her tit. I personally can't wait.
UPDATE: Maybe five seconds before we were about to publish this, Scheana opened her mouth again. I literally cannot keep up with this manic episode endless stream of thirst. In an E!News article, Scheana "speaks out" about Ronnie's relationship, sharing the kind words that "not everyone can work, not everyone is compatible." Welp, I guess she'd know.
She also snidely mentions that "they weren't together very long before she got pregnant," as evidence that the couple was beyond repair. All pretty rich coming from someone who made the comment "I know a family is something I want one day whether it's with Rob or Joe from down the street." So yeah. Maybe don't be taking shots at women for their sub-par family planning. All in all, this is the Scheana commentary no one asked for, on a situation she has nothing to do with, in the latest of her many sad attempts to have people give a shit. I think I speak for everyone when I say she should pull a T-Swift and cleanse from social media ASAP. Just please god don't follow it up with an "edgy" new album.
Images: Twitter (3); Instagram (1); Giphy (2)
Jennifer Lawrence And Lala Kent Are Feuding, And It's Dramatic
It's International Women's Day, which means it's the perfect time for celebrating great women, fighting the patriarchy, and calling each other cunts on national TV. This week, Jennifer Lawrence and Lala Kent are feuding, and it's one of the best new celebrity feuds in a while. I honestly never thought I would be talking about these two in the same sentence, but anything can happen in the messy dumpster fire that is 2018.
It all started when J-Law appeared on Watch What Happens Live and talked shit with Andy Cohen about everything from the Real Housewives to the Kardashians. In case you weren't aware, Jen is a huge fan of reality TV, and she especially loves all things Bravo. So basically I'm Jennifer Lawrence. As the discussion shifted into Vanderpump Rules territory (was this interview specifically planned for me?), Andy asked Jen about her thoughts on our fave feminist reality star Lala Kent. Jennifer criticized Lala for her apparent personality shifts over the past couple seasons, doing a pretty spot-on impression of Lala in the process.
She says, "I'm sorry, but in the season before, we see Lala trying so hard to be nice, and then she's like crying to her mom, and then she's like a total bitch. And then she's trying like really, really hard to be nice, and then she comes back this season and she's like, 'Hi, honey. Hi, sweetie.'"
Okay, yes. None of this is false. But then Jennifer just had to cross the line, saying "bitch, you's a cunt." Oops. Much like my addiction to literally every Bravo show, that shit escalated quickly. Jennifer probably thinks it makes her look cool and edgy to drop the c-word, but it's really just unnecessary in this context.

Andy seemed unfazed by Jen's choice of words, which makes sense because Andy Cohen is here for the drama and nothing else. Lala, however, wasn't so cool with being called a cunt. Imagine that! She tweeted her reaction, before later deleting the tweets because we can't have nice things:
"Did Jennifer Lawrence really call me a 'c*nt' on @bravowwhl? Annnnnd talk about my mama? Bitch, you better pray I don't see you in the streets. You're one of the highest paid actresses on the planet … you claim you are pro-women and you call another woman a cunt? You're gross."
Following the epic tweet-and-delete, Lala went on the SiriusXM show Reality Checked to discuss her, um, feelings toward Jennifer. She said that she used to be a big fan of hers, and just expected a little more out of such an acclaimed actress. She also came up with a sick burn which she probably only spent like two hours coming up with: "Congratulations on two bombed movies in a row." Hear that sound? It's Jennifer Lawrence's Oscar shattering into a million pieces. RIP to her career, seriously Lala ended that shit.
And because Lala is a good reality TV star, she made sure to own her own drama just a little bit: "You know, let's leave the trash to people like me who do reality TV. Don't try to steal my thunder, girlfriend!" Say what you want about Lala, but at least she's sort of self-aware.

And to Jennifer Lawrence, we love you, but come on. Your whole thing of being a chill girl who says whatever you're thinking is fun sometimes, but you should really know better than to call someone you don't even know a cunt on TV. Also, you're literally an Academy Award winner, you don't need to act like you're on the same level as Lala. Can't we all just get watch Bravo and get along?
Images: Giphy (3)