8 Celebrity Couple Predictions For 2021
We're barely a week into 2021, and already we've gotten multiple high-profile celebrity relationship developments. Remember back in the early pandemic days, when it felt like no one was doing anything worth talking about? Yeah, not anymore. Over the weekend, we learned that Zoë Kravitz is divorcing Karl Glusman after just 18 months of marriage, and rumors that she is now dating Channing Tatum were swiftly debunked.
Then on Monday, the internet lit up with the news that Harry Styles and Olivia Wilde are likely together. Styles is currently starring in Wilde's upcoming movie Don't Worry Darling, and new photos show them holding hands at the wedding of Jeff Azoff, Harry's agent. These two stories, coupled with the New Year's Eve bombshell that Pilot Pete and Kelley called it quits, have given us quite the pile of celebrity couple headlines to sift through in the first week of the year. But where do we go from here? We've still got 361 days to go, and there are sure to be many more celebrity breakups, new couples, engagements, and divorces before the year is done. Here are some of our very early celebrity couple predictions for 2021.
Break Up: Scott Disick & Amelia Gray Hamlin
My first order of business for 2021 is channeling all my thoughts and prayers into the hope that Scott Disick will leave Lisa Rinna's 19-year-old daughter alone. These two were first seen together on Halloween, and we hoped it was a one-time thing, but they've still been spending time together, and they marked the beginning of 2021 with a trip to Cabo. You know it's bad when the pandemic vacation isn't even the most cringeworthy part of the situation.
Stay Together: Ben Affleck & Ana de Armas
View this post on Instagram
Throughout quarantine, Ben Affleck and Ana de Armas have been providing us with more content than 90% of celebrities, mostly thanks to their daily Dunkin' walks and the paparazzi being permanently camped outside the gate to Ben's house. In case you missed the backstory, these two met pre-pandemic while filming their upcoming movie Deep Water. The movie is scheduled to come out this August, so I definitely don't think they'll call it quits before then, and despite my natural cynical tendencies, I actually think Ben and Ana might be in it for the long haul. It wouldn't shock me if we see an engagement ring at some point this year, but I'm not expecting a breakup any time soon.
Break Up: Braunwyn & Sean Windham-Burke
View this post on Instagram
If you don't watch The Real Housewives of Orange County, you probably don't know who these people are, but stay with me, because this is some genuine mess. Braunwyn and her husband, who have seven children together, went on a relationship roller coaster in 2020, which included announcing a separation, sharing that their marriage is open and that Braunwyn is dating a woman, and Braunwyn ultimately coming out as a lesbian. Though she told GLAAD, "I'm not attracted to men, and I never have been," she and her husband are currently planning on staying together. To each their own, but this week even more eyebrows were raised when Braunwyn (who currently has a girlfriend) said that Sean is allowed to date other people, but she would be "heartbroken" if he fell in love with someone else. While her fellow RHOC castmates have been pretty judgmental, I'll just say that I don't see this current arrangement lasting the year.
Get Engaged: Leonardo DiCaprio & Camila Morrone
I'm really going out on a limb with this one, but I just have a strange feeling that Leo is finally ready to settle down. After years of keeping his sights set on the sub-25 crowd, he's spent the last three years with actress and model Camila Morrone. That's a pretty long time, and they were seen together in Boston on New Year's Eve, so it's not like they're only hanging out when he's on a yacht. Granted, at 23, she still fits into his standard age range, and she won't hit the 25 mark until June 2022, so they could make it through this whole year before Leo gets his usual age-induced cold feet. Only time will tell!
Break Up: Dua Lipa & Anwar Hadid
View this post on Instagram
For most of 2020, I was super on board with Dua and Anwar's relationship. They seemed to have a great time spending early lockdown together in the UK, Yolanda Hadid clearly loves Dua, and overall, they just made sense together. But with Dua getting more and more famous, and Anwar spewing anti-vaxxer nonsense on Instagram, it may be time for her to move on to bigger and better things.
Get Together: Dua Lipa & Jonah Hill
This is a prediction that is based purely on vibes. Obviously, I have a feeling Dua Lipa may be single at some point this year, and Jonah Hill split up with fiancée Gianna Santos back in October. I can see Dua and Jonah hitting it off, and I could see her wanting an older guy after dating Anwar, who is four years her junior. I don't know how well they know each other, but they were on an episode of The Tonight Show together in 2016, so chances are they've at least met. I'm not putting money on this one, unless I'm right, of course.
Get Engaged: Taylor Swift & Joe Alwyn
Taylor's relationship with Joe, which began in 2016, has been way more low-key than her previous relationships, and until recently she barely even publicly acknowledged his existence. But the longer these two stay together, the more it feels like we're approaching a big next step, and this feels like the year Taylor Swift finally gets engaged. Realistically though, I could see her keeping it a secret, so don't expect too much information if and when it happens.
Get Together: Miley Cyrus & A Hot Rando Woman
View this post on Instagram
Since splitting up with Cody Simpson, Miley Cyrus has really been feeling herself. She's been publicly horny all over Instagram and TikTok, and along with her amazing new look and sound, it feels like she's just having a lot of fun. My guess for 2021 is that she'll get a girlfriend, but it won't be someone we know much about. She could slide into a hot woman's comment section on TikTok, or maybe she'll meet her new flame on Raya. Either way, I think it's going to be a good year for Miley.
Images: Lester Cohen/Getty Images for The Recording Academy; bravobybetches, ana_d_armas, braunwynwindhamburke, anwarspc, mileycyrus / Instagram
Why The F*ck Is Scott Disick Hanging Out With 19-Year-Old Amelia Gray?
I love a good pop culture crossover. The Avengers coming together, Grey's Anatomy teaming up with Private Practice, Tom Sandoval showing up in a random episode of The Hills—it sparks joy for me. Based on my personal interests, there's nothing that should excite me more than a crossover between Real Housewives and the Kardashian family—it's always fun when Kris Jenner shows up at one of Kyle Richards' parties, and I nearly died when I found this old photo of Bethenny Frankel and Kim K posing together. But I have to draw the line somewhere, and Scott Disick hanging out with Lisa Rinna's 19-year-old daughter Amelia Gray Hamlin feels like an attack on everything I hold near and dear.
We got our first glimpse of Amelia and Scott together on Halloween, when they arrived at Kendall Jenner's ill-advised Halloween/25th birthday party together (with no masks, naturally). Scott was wearing a bootleg Ace Ventura costume, while Amelia was decked out in a fuchsia wig and a candy bra. The photos sent a chill down my spine, and I knew that nothing good could come out of this.
View this post on Instagram
Showing up to a Halloween party together is one thing, but two weeks later, it's apparent that something is going on between these two. On Monday, they were photographed together walking on the beach, Scott with his arm around Amelia. They also recently attended a group dinner together, which like, who even knew group dinners were a thing right now? Obviously we don't know if Scott and Amelia are dating, or just hooking up, or even just friends, but something is going on.
To viewers of The Real Housewives of Beverly Hills, Amelia Gray is familiar as the younger of Lisa's two aspiring model daughters, and she's taken a pretty active role on the show in recent seasons. On RHOBH, she doesn't exactly come across as the most mature person in the world (duh, she's only 19), which makes Scott's involvement even more questionable. We've watched over the years as Scott has struggled with sobriety, fathered three children, and seemingly grown into a family man who's a great dad. So why the f*ck is he doing this again?
Of course, this type of age difference isn't out of character for Lord Disick. He and Sofia Richie first began dating back in May of 2017, when she was 18 and he was 33. Right around the same time, Scott also had a brief fling with Bella Thorne, who was 19 at the time. These age gaps raised some eyebrows, but Scott and Sofia were ultimately together for over three years before ultimately calling it quits earlier this year. Since then, there's been heavy speculation that Scott and Kourtney were rekindling their romance, especially when they posted pictures together from Kim's cursed 40th birthday trip. Sorry for all the Scott and Kourtney loyalists out there, but with all the recent photos of him and Amelia together, it seems like Kourtney is doing her own thing.
Scott disick be like oh covid's 19? 🧐

— cory buy furniture from me (@_averagemeat) November 18, 2020
I definitely don't feel great about whatever is going on between Amelia and Scott, but I will say, I kind of hope we get at least one scene of Lisa Rinna grilling Scott on next season of RHOBH. But for real, let's hope this "relationship" ends soon, because it's just not a good look.
Don't miss out on any pop culture or entertainment news. Subscribe to our weekly newsletter here. 
Images: Kathy Hutchins / Shutterstock.com; bravobybetches / Instagram; _averagemeat / Twitter
Scott Disick & Sofia Richie Finally Broke Up
Okay, I realize I am going to sound extremely soft when I say this—and maybe I am—but Page Six's new report that Scott Disick and Sofia Richie broke up is actually shocking me. I mean, a little—it hasn't like, upended my world view or anything. Not because I thought Scott and Sofia were perfect together (or even because I knew a single thing about them as a couple), but actually the opposite. They seemed so mismatched (and yes, I'm mostly talking about the age gap) that if they managed to stay together for three years, I figured they were in it for the long haul. But, at least according to sources who've spoken to Page Six and Us Weekly, this time Scott and Sofia are done. (Bad week for Sofias, amiright?)
Earlier this month, Page Six reported that Scott had checked into rehab to "work on his past traumas", denying any drug or alcohol abuse. However, he checked himself out of the rehab and returned home after, obviously, it got leaked the the media that he was there. And I know I sound like that time Karen Smith told everyone when Gretchen got diarrhea in Barnes & Noble, but the reason I'm bringing it up now is because sources told Page Six that Scott's traumas contributed to the split, saying, "Scott had gone back to his old ways and Sofia got fed up."
The source also said that Scott and Kourtney's relationship weighed on Sofia, adding, "Kourtney didn't make it easy for her." Yeah, I'd imagine it would be tough to be in a relationship with a guy when the entire world is rooting for him to get back with his ex and the mother of his children. Over Memorial Day Weekend, Scott celebrated his birthday with Kourtney and the kids in Utah, with Sofia nowhere in sight. UsWeekly claimed they were on a break at the time, so it looks like the break just became permanent.
And to add yet another blow, apparently Scott and Sofia weren't quarantining together, which took a toll as well. Though I can't exactly blame Scott for not wanting to quarantine with a 21-year-old; she'd probably want to spend all their time making TikTok dances.
I would normally take this time to insert some boiler plate "I feel bad for , but they'll be fine", but honestly, I'll save my sympathies for some other time. Sofia is 21, I'm sure she will have plenty more relationships, and Scott is a grown-ass man who is almost a decade older than me and also, I'm sure, fine. If I could give Sofia some advice, even though she's definitely never reading this because she's a celebrity and I'm just a rando with an internet connection, it would be this: Pour yourself a glass of wine now that you can legally drink it, go make fun of Scott's insane quotes on Keeping Up With The Kardashians, you'll get through it.
Image: Andrew Toth/Getty Images for Dujour
What The Hell Is Going On With These Loop Giveaways On Instagram?
If you've noticed an influx in influencers "giving away" hilariously expensive, random things (like Pelotons and Hyundais) via Instagram giveaways lately, you probably have some questions. Who's paying for all these Pelotons during a pandemic? Are the brands involved? What's the catch? Are there clear and legible legal fine prints? (Maybe that one's just me.)
Either way, you're certainly not the only confused one—and Twitter users and influencer watchdog accounts (like Influencers Truth, who now boasts over 14,000 followers) have been pointedly noting that influencers certainly aren't conducting these charitable embarrassing giveaways out of the goodness of their hearts. In fact, these "loop giveaways" have caused such a sh*tstorm on social media that Instagram itself has taken notice—accusing some of the influencers involved of violating their guidelines by "artificially collecting followers," which is spam, according to Buzzfeed. 
If you're not familiar with loop giveaways, here's a quick rundown: An influencer announces the giveaway, and the grand prize in question—whether it's a plethora of designer bags, an exercise bike, or even cold, hard cash—could be yours, as long as you follow 60 (sometimes less, sometimes more) of their "closest friends," (aka other influencers trying to cash in, so to speak, on new followers), all while commenting, liking, and tagging friends along the way. "Comment on my last post for an extra entry!" "Follow all my girls with names like @tayyylinmarieeee!" Occasionally they involve the swiping tool on Instagram stories (which is always slightly tempting, I hate to admit).
Giveaways, when conducted properly and legally, are generally considered a kosher marketing technique. In the influencer world, they're often done in partnership with a brand, and legal rules are typically presented clearly in the caption of the post, approved or written by a brand's corporate lawyer. (Because, well, it is the law.) It's a win-win for all parties involved—both gain some followers, brand awareness, and engagement from the chaos ensued when you tell thousands of people they have a chance to win a new skin care regimen, or something similarly covetable. And the best giveaways either ask for a fun, engaging content opportunity ("post something cute with our hashtag!") or barely require anything from the followers at all. Maybe it's a simple, "tag a friend in the comments!" or "repost this in your stories." 
The issue with these loop giveaways is two- tenfold. For one, the amount of frivolous steps involved is borderline offensive (who has the time?!), which followers find dubious for a few reasons: How can these influencers possibly track every single user's action to fairly conduct the giveaway? Is it rigged? Does anyone ever even win? It's also incredibly transparent: We get it, girl. You want followers.
My goal for 2020 is to actually win one of the Instagram giveaways I'm constantly tagging 3 friends in

— sarafcarter (@sarafcarter) January 9, 2020
Secondly, many of these loop giveaways are conducted with no connection to the brand in question. The most visible example has been The Peloton Scandal of 2020 (not to be confused with Peloton-husband-gate 2019). If you need a refresher, influencers were "giving away" Pelotons in droves this spring, causing social media users to ask what the hell was going on, before the brand confirmed they had no involvement with any of the promotions whatsoever. Awk. ("We don't know her," they said.)
So, who was paying for these Pelotons, which retail for a little over $2,200 a pop, and why? The answer's pretty simple: The influencers involved in the loop giveaway split the cost of the item they're giving away. You could say it's an ~investment~ in their personal brand: Splurge on a must-have "prize," tell Instagram users they can win it if they follow you, and get potentially bumped up into another influencer tier overnight. The higher your tier (aka, micro-, macro-, or mega-influencer), the higher and more frequent your brand partnership paychecks typically are. Of course, there are many, many more nuances to this complex ecosystem, but you get the gist. Followers are currency. 
Essentially, an influencer who does loop giveaways is manipulating the system by inorganically incentivizing people to follow them—followers they're gaining not because their content is special or particularly good, but because legions of Instagram users want to win expensive things.
It's all pretty inauthentic, and it's also a gatekeeping mechanism, too: If you can't afford to conduct extravagant out-of-pocket giveaways, and every other influencer can, where does that leave you? Potentially losing out on coveted brand deals, of course. And even if these influencers are splitting the hefty cost of the prize (for example, the $16,000 Hyundai previously mentioned), the ante keeps getting upped by the day. (Pelotons, cars, what's next—an island previously owned by Pablo Escobar?) 
Luckily, both consumers and brands are getting smarter. According to LawyerLookbook.com, "it's becoming standard practice for brands to insert provisions in influencer contracts prohibiting potential partners from participating in loop giveaways or comment pods." The reasoning? "The influencer marketing industry is a multibillion dollar business, and brands have lost a fortune to the fraud resulting from fake influence and fake followers—so more brands are spending their money on 'micro-bloggers' who may have a lower Instagram follower count, but have an authentic and engaged audience (of actual humans, not bots) and can actually convert sales." Makes sense. 
Instagram users are also fatigued with them, unfollowing these influencers for wasting their time and spamming their feeds, according to a Reddit thread on the subject. 
Essentially, loop giveaways have become increasingly taboo and frowned-upon. (Although that hasn't stopped Bachelor alum Catherine Giudici Lowe from conducting one as recently as May 21.) While the Kardashians (looking at you, Lord Disick), have conducted them for years, this latest bout of bad press—when it came out that the influencers behind the now-infamous Hyundai giveaway were being investigated by Instagram—might be the nail in the coffin for lawless loop giveaways. Because when you're essentially "buying" followers, refusing to comply with FTC regulations, and potentially leaving your "winner" on the hook for thousands of dollars in taxes for a new "gifted" car (much like the guests in Oprah's audience), you've certainly abused your influencer privileges as far as I'm concerned, and potentially lost the trust of a large portion your audience. When authenticity goes out the window, your affiliate sales might too. 
Of course, the frustration with affluent influencers has been exacerbated by COVID-19. From becoming viral human vectors (no pun intended—I swear) like Arielle Charnas, to conducting a loop giveaway under the guise of "doing something charitable" like Vanessa Grimaldi, (former Bachelor contestants need to chill), frustrations with the influencer economy have officially come to a head. This might be the optimist in me speaking, but it's beginning to look more and more likely that these loop giveaways could finally be over for good sooner rather than later, especially if Instagram ultimately penalizes those Hyundai people. (Inner optimist speaking again: I like to believe that no one is stupid enough to fall for them anymore anyway.)
RIP loop giveaways. We hardly knew ye. 
And although you may not have the chance to win the shiny new Hyundai of your dreams via Instagram anymore, at least you'll be able to scroll through the app in peace, without being bombarded with captions asking you to follow mediocre accounts named things like "Midwestern Momma" anymore. My advice would be to fill your feed with content that makes you happy right now, and support the influencers you feel are authentic and doing good with their platforms—not the ones exploiting people's insatiable desire for stationary bikes while stuck in quarantine during a pandemic. 
Images: vanessagrimaldi30, givethemlala / Instagram; sarafcarter / Twitter
5 Celebs Who Missed The Point Of Earth Day
If you checked Instagram at all on Wednesday, you probably know that it was Earth Day. Established in 1970, the whole idea of Earth Day is to show support for environmental protection, and acknowledge the importance of protecting our planet. Pretty simple, right? Well, for most of us, this translates to an excuse to repost old travel photos, and write some caption about how much we love the planet. And that's fine! Especially now that coronavirus has forced all of us to cancel our travel plans for the foreseeable future, it's good to remind ourselves how great our planet is.
But, as with most things, celebrities love to put their own spin on the meaning of Earth Day, which often means missing the point completely. Here are some celebs who might need a little refresher on what Earth Day is supposed to be.
Paris Hilton
View this post on Instagram
I love Paris Hilton deeply, but her Instagram is pretty deranged. She exclusively posts videos, most of which are just photos with like, glittery backgrounds. For Earth Day, she posted a few times, but my favorite is this one of her holding a dog (I think?) in front of a picture of Earth. In one of Paris' other posts, she said that "we have to take care of our world together," but in this one, she just asks her followers "Which city on Earth do you live in?" I'm not sure exactly what's wrong with the wording of this question, but something feels off. Either way, Paris is great, and I'm glad she loves Earth.
Kameron Westcott

When it comes to Earth Day on Instagram, posting your coolest travel photos is par for the course. The thing is, most of us could do a lot more to make our trips as sustainable as possible. But while we can all do little things to help the planet while traveling, you know what big thing rich people could do? Stop flying private! Private jets are horrible for the environment, which is why it's so wild that Real Housewives of Dallas star Kameron Westcott thought she should include a PJ pic in her Earth Day carousel. Kam, no!! I'm not naive enough to think that most of these celebs aren't flying private, but at least don't post the jet on Earth Day! It's just not that hard.
Scott Disick
View this post on Instagram
Most of the Kardashian Krew didn't even post about Earth Day, which might be for the best. God knows we don't need to see Kylie Jenner posting environmental thirst traps. But Scott Disick didn't forget about Earth Day! To mark the occasion, he shared a pic of him riding an electric bike on the beach. On the one hand, I guess an electric bike isn't bad for the planet, but maybe keep it on the sidewalk? Idk, celebrating Earth Day by riding your $2,000 motorbike in nature just feels off to me. Also, is this post sponsored? Because it kind of feels sponsored.
Vanessa Hudgens
Our sometimes-problematic Coachella queen Vanessa Hudgens obviously had to celebrate Earth Day, which she did… indoors. What's going on with her? This caption and look are giving me seriously weird vibes, and I need to know if Vanessa is okay. I feel like she's going to come out of this quarantine as one of those women in Union Square who claims they can read your palm and predict when you're going to die. Big Professor Trelawney energy, and it's freaking me out.
Nick Viall
Is this what comedy has come to in 2020? I'm supposed to laugh at Nick Viall's Earth Day post of him running around on a beach with dinosaur arms? Nah, I'm good. I really need to stop following all these Bachelor people on Instagram, because I'm just giving myself a headache at this point.
Among the celebs I stalked, there were lots more Earth Day thirst traps, but whatever, I'm not the bikini pic police. We're all losing our minds right now, so if you want to post a pic of you looking hot and pretend it's about the planet, go for it. But don't forget to like, actually be good to the planet, okay?
Images: Featureflash Photo Agency / Shutterstock.com; parishilton, kameronwestcott, letthelordbewithyou, vanessahudgens, nickviall / Instagram
Are Those Obnoxious Kardashian Instagram Giveaways Fake? An Investigation
When it comes to celebrities doing sponsored posts on Instagram, it really feels like we've seen it all. We've dealt with multiple stars using the same rented kitchen and pregnancy announcements turned into business opportunities, and both of those have just been in the past month. These days, it's no longer strange to see rich people on social media doing cringeworthy things to get even more rich. But there's one kind of post that's always seemed especially random to me, and today we're getting to the bottom of it. I'm talking about the infamous Instagram giveaways that the Kardashians and other celebs do, and the complicated business model behind them.
You know the posts when you see them. The celebrity, usually a Kardashian, is sitting on a staircase or a couch, with a ridiculous number of luxury handbags and the accompanying boxes and shopping bags surrounding them. The caption shouts that you can win all the bags in the picture, plus a cash prize, and it's totally simple to enter. But by "simple," they mean that you have to follow every single account that they (or another famous person) are following. Despite the claims that it takes "only 90 seconds to enter," you're faced with the decision of whether to follow several dozen random accounts on the off chance you might win a new handbag collection.
Here's Kylie's giveaway post from this week:
These posts are annoying as hell, and if you're as cynical as me, you never actually enter the giveaways, because you know you're not going to win. Also, I barely even care about half the people I already do follow, so there's no way I'm following 80 strangers and having my timeline blown up with random posts. But besides the general annoyance factor I feel when I see these posts, I have always been genuinely curious how they work. So this week, when Kylie's giveaway with Scott Disick appeared on my feed, I decided to get to finally do my research.
One thing that makes details about these giveaways especially difficult to track down is that the posts are almost always deleted after the contest is over. While all of the Kardashians, along with some other influencers, have participated in and posted about them in the past, there's no evidence from scanning their Instagram page. But when you Google the giveaways, you find lots of results, like when Kim did a Chanel giveaway this April, or when Kylie did a huge Saint Laurent giveaway in May. When influencers sell sponsored posts one their feed, one of the perks is often that the advertisement stays there forever, rather than a story post that expires after 24 hours. But with these giveaways, the focus is obviously on getting maximum attention over a short period of time.
Vicki Gunvalson, from The Real Housewives of Orange County, recently did a similar giveaway (but through a different company than the Kardashians use), and while she deleted her Instagram posts about it, I did find one tweet left over. But when you click on the account she linked, it takes you to a page that doesn't even exist anymore. Whoever is behind these contests obviously doesn't want to be traced.
Don't forget to enter my Instagram GIVEAWAY to WIN $3,000! Go to https://t.co/6KGEqdRxPw and FOLLOW ALL 46 ACCOUNTS they're following. Good luck! pic.twitter.com/xIDLbyn0B3

— Vicki Gunvalson (@vgunvalson) October 7, 2019
But through Scott Disick's post about his current giveaway, I ended up on the website of a company called Curated Businesses. They're the ones who run the contests, and their website makes some big claims about their abilities. Here's their "About Us" page, which is pretty light on actual details, but promises that they have "a trusted reputation" and offer their clients (hint: no apostrophe needed) "an exclusive opportunity to gain worldwide exposure."

While this info seems intentionally vague, the information on the site for member businesses and bloggers sheds more light on what's going on here. They state that their service is a form of "online advertising," and they boast big growth from their past campaigns. In that Kylie Jenner Saint Laurent giveaway from May, they say that participants gained 230k new followers and experienced a "dramatic increase in website traffic."
As I was starting to look into this, I wasn't the only one who was curious. My friend Sam (@bravohistorian on Instagram) posted a DM from a follower who has some behind the scenes info on how Curated Businesses runs their operation.

Wait, so every one of the accounts that Scott Disick is following paid $25,000-50,000 to be included in the giveaway? That's actually insane. If you assume each of the 75 accounts paid $25k, that's almost two million dollars. If Curated Businesses is making that kind of money, then they have more than enough to buy the Louis bags, pay the Kardashians to post, and still end up with money in the bank. Also, big yikes that Randall Emmett is that desperate for followers, because he should really be saving up his money to pay 50 Cent back.
When I first started looking into the the mechanics of these giveaways, it kind of gave me a headache. I actually had to draw out a diagram on a piece of paper to make sure I understood it. But now that I have a handle on it, I can see that it's actually kind of a brilliant scheme, however annoying it might be to see on your timeline. So here's how these giveaways actually work.
Dozens of random companies and influencers pay Curated Businesses to participate. In turn, Curated Businesses pays famous people like Scott and Kylie to be the face of the giveaway. Scott follows all the accounts that paid to participate, and he and Kylie post telling their fans to follow these accounts. In the end, Curated Businesses, along with Scott and Kylie, make a lot of money, the other accounts get a lot of exposure and followers, and one lucky winner gets seven Louis Vuitton bags and a wad of cash. It's a win-win-win, I guess.
I've seen and heard many people wonder if these giveaways are scams, and they're really not. On the Curated Businesses website, they have a whole page dedicated to the winners of past contests, showing pictures and the Instagram handles of whichever lucky person won. This might feel like kind of a scammy way to get followers, but it's not an actual scam.

So, there you have it. Like I suspected in the first place, this whole thing is just a more complicated version of normal sponsored content. I'd be curious to know if the accounts shelling out to be included in the giveaways actually experience long-term growth, because I'd imagine that most people unfollow most of the accounts the second they see a random post from an account they don't recall following, then remember it was from some giveaway they didn't win. I know I would. Either way, the Kardashians are laughing all the way to the bank. Ya hate to see it.
Images: kyliejenner, bravohistorian / Instagram; vgunvalson / Twitter; Curated Businesses (2)
Scott Disick Doesn't Have A Wikipedia Page So We Wrote Him One
Okay, so it's been brought to my attention that for some godforsaken reason, Scott Disick doesn't have a Wikipedia page. Even Rob Kardashian has one, and he's best known for…um, selling socks. How can one of the best characters on KUWTK and the most salacious riotmaker of the tabloids not have a Wikipedia page? Since Wikipedia helped us graduate high school (and, let's be honest, college), we decided to do them a solid and make a page for Scott. Check out the SparkNotes version of Scott Disick's life (with some opinions thrown in, obvi).
Childhood
Scott Disick was born to a wealthy family in the Hamptons. He was an only child, which is pretty obvious based on the fact that he's bratty and selfish. Scott attended a ritzy private school called The Ross School, which boasts other famous alumni like Alexa Ray Joel and Tessa Grafin von Walderdorff. And before you say, "who"?? Alexa's dad is Billy Joel, Tessa's husband is Barron Hilton, and Scott swindled his way into the Kardashians. So pretty much they get trained there to piggyback off of famous people in order to become famous.
Scott had his ups and downs in his adolescence. It's actually not known whether or not he really graduated high school. He modeled for a young adult series about horses, and I can't tell whether that's an up or a down. He also was nicknamed "Number One Scum" and "S.T.D." which just so happen to be his initials. He actually found those nicknames funny because they underscored what a party animal he was, and how he was such a player in high school. Scott also got arrested for a DUI under the age of 18, which is a huge foreshadowing of what was to come in his future.
"Career"
Entrepreneur
Okay, I don't even know what this means. I'm pretty sure it's a career you have if you're trying to make it seem like you do a lot of things when in actuality, you do nothing. There was an episode where Kourtney said she doesn't even know what it means, largely because he was so evasive about it. His evasiveness means that a) he doesn't know what it means either or b) he's involved in something sketchy like underground poker games or a drug cartel. With friends like Joe Francis, you never know what this guy will get himself into.
Reality Star
Let's not act like Kourtney was involved with Scott for so long because she was in love with him. I mean, he got caught cheating on her multiple times, he obviously had a substance problem that he barely attempted to get help for, and she was pretty open that she found everything about him annoying. TBH, I'm pretty sure she was only with him because they make adorable babies and he's probably the most interesting character on the show, so they needed a way to keep him tethered to the franchise.
Recently, Scott was given a new reality gig, a show called Flip It Like Disick about flipping houses. It's an eight-episode, hour-long series where Scott and a team of designers, contractors, and other people who actually know sh*t about real estate will renovate luxury homes. Tbh, the only thing Scott Disick is an expert in flipping is Kourtney's world upside down, but sure.
Almost An Actor
Remember American Psycho? Of course you do, because every finance f*ckboy has a quote from the movie as his dating app bio or he makes you watch it on a cozy night in. After all, what says romance more than Christian Bale slaughtering Jared Leto while blasting Huey Lewis and the News? Anyway, the writer of American Psycho announced on Twitter that the way he would ever do a remake is if Scott Disick or Miles Fisher played Patrick Bateman. No, seriously.
I have warned Lionsgate that I will not approve a new version of "American Psycho" unless it stars SCOTT DISICK or MILES FISHER.

— Bret Easton Ellis (@BretEastonEllis) December 9, 2011
Approve! RT @BretEastonEllis I have warned Lionsgate that I will not approve a new version of "American Psycho" unless it stars SCOTT DISICK

— Scott Disick (@ScottDisick) December 9, 2011

So, Bret never ended up making the remake, yet he was willing to make "The Canyons," which starred Lindsay Lohan. So Kanye West took it upon himself to do a remake of "American Psycho" starring Scott Disick and—get this—Jonathan Cheban. My dream come true.
Restaurateur
Remember when Kourtney and Kim took New York the first time around? You probably don't, because that season wasn't too memorable. You also probably don't remember Scott's restaurant, RYU, because it was doomed from the get-go and only lasted 191 days. Kourtney didn't even believe the restaurant would even open. But hey, that's more than 2.5 times longer than Kim's marriage to Kris Humphries, so at least Scott accomplished something.
Royalty
While the fam was in London, Scott had nothing to do because he basically does nothing for a living. He decided to become a Lord because anyone—even citizens of other countries—can be awarded this title. One of my majors in college was History with a concentration in Modern European History, and one thing we learned is that the try-hard social climbers that were so desperate to hang out with the elite would buy these "lord" titles to make themselves seem like they were members of high society. Scott leeches off the royal family of America and posts pictures of himself with overly priced watches and on private jets, so that sounds about right.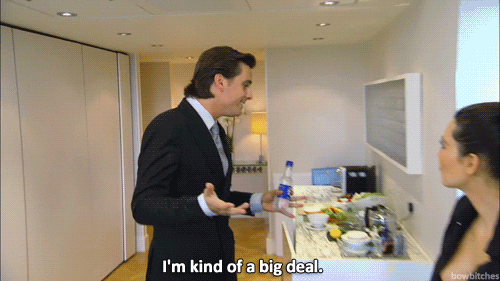 Designer
Scott started a clothing line, appropriately named "Talentless." Way to be self-aware for once, Scott! It donates 3% of the proceeds to a charity called "Fuck Cancer!" which is really sweet. The brand's mission statement is: "'Talentless' is an homage to the new wave of creators, innovators, and influencers who've made a name for themselves by going against the conventions of what it means to be 'talented.'" Okay, cool, that sounds super deep and inspiring or whatever, but how is selling plain old T-shirts with nothing on them for $42 an homage to creative people? This isn't some Derelict-level sh*t like most of Kanye's fashion shows are. But still, you're thinking way too highly of yourself here, Scott.
Influencer
Scott will throw up Instagrams about FitTea, cell phone cases, and asking his followers to follow Lala Kent's fiancé. Yet he barely posts pics with his girlfriend of two years. He also does appearances at clubs like 1OAK, which is where that bratty, try-hard girl from high school wears a leopard print outfit and takes tons of bathroom mirror pics to prove that she is better than you. But you know what? All of these jobs are probably less pathetic than Kourtney's CV. At least Scott tried(ish)!
Relationships
Kourtney
Kourtney and Scott met at the mansion of Joe Francis, best known as the creator of Girls Gone Wild. That in and of itself was a sign that their relationship would not work. First off, I would not wanna use the same toilet as Joe freakin' Francis, much less do body shots with him and his friends. Anyway, a year later, these two fell in love. Her entire family hated him at first. But soon, Kris, Kim, Rob, and Khloé fell in love with him too.
Sofia Richie
Sofia Richie is best known for being Nicole Richie's little sister, modeling (although I can't think of a single brand she's modeled for), and now, dating Scott Disick. But is their relationship serious? I'm not sure *grabs tinfoil hat*, and here's why. Before Scott and Kourtney broke up for the final time, Sofia was dating Justin Bieber. Also, Kourtney Kardashian and Nicole Richie have been friends since childhood. Kourtney's rebound after she broke up with Scott was Justin Bieber. So Scott came up with a conniving plan to hook up with Kourtney's friend since childhood and Justin's ex-girlfriend. Oh, and did I mention Sofia used to be besties with Younes Bendjima before he started dating Kourtney? That's honestly the most brilliant clapback ever—it's almost Shakespearean. Is Scott is totally in love with Sofia, or is this the most convoluted plan to make Kourtney jealous? I'll let you decide.
Hookups
Scott pretty much cheated on Kourtney all. The. Time. But the final straw was Chloe Bartoli. They were in the same group on vacation and she just so happens to be his ex-girlfriend, so inevitably they got handsy. Not too long after, Scott hung out with human glitter bomb Bella Thorne in Cannes, yet she denied any hookup took place. Scott also hooked up with Kourtney's best friend since childhood, Kimberly Stewart, and regulation hottie Madison Beer, who is probably the best catch Scott got out of all these hookups.
Children
Scott has three children with Kourtney (although it is unknown how many children he has had with his side chicks). His eldest, Mason, was always his mini-me, and will probably create a streetwear line that sells T-shirts with one logo on it for $400. Penelope is his only daughter, and the only gift he has ever given her is daddy issues. Reign is his youngest and clearly his favorite, so that little dude is set for life.
And that's pretty much all you need to know about Scott Disick's life! Wow, I have aged 10 years and lost most of my brain cells. If anyone works at Wikipedia, feel free to copy and paste this article directly in for Scott's page.
Wait, Kourtney Said She And Scott Are 'Soulmates'?!
Hi friends. Let's talk about Scott and Kourtney. They were the OG Kardashian power couple, way before Kanye came on the scene and turned them all into robots. Obviously, they had their issues, and the romance didn't last. In the past few years, we've seen them work on their relationship as parents, and it seems like they've come a long way. Of course, it's fun to talk about if they'll get back together, or what their astrology says about their relationship, what does this mean in real life? Are Scott and Kourtney ever going to be together again? Will we ever get more iconic scenes of them being petty about their relationship? Let's discuss, because there have been new developments, courtesy of the most recent episode of Keeping Up With The Kardashians.
On this week's episode of Keeping Up With The Kardashians, the family's group vacation to Bali continued. Scott came along for the trip, because it's normal for a dad to go on vacation with his kids. I'm glad he went, because I'm sure it's better for Mason, Penelope, and Reign that they can make memories together with both their parents. Whatever, I'm not their therapist. While on the trip, Scott and Kourtney went to visit a "healer," who told them that they are soulmates. This isn't a romantic thing, but instead it means that their souls are destined to find each other in every lifetime, and that "tragedy marred their relationship in a previous life." Okay, sure. Mas Joko, the healer, also told them that "It's up to you how you want to end up this life: together or not together."
That's definitely a lot to process, but it's also not that surprising, given that Scott and Kourtney had one of the world's most tumultuous relationships, but still ended up with three kids and going on vacations together. While Kourtney agreed that they're soulmates in some sense of the word, Scott was more content just to define their relationship as "having three kids together." In this moment, I've finally come to realize what Taylor Swift tried to tell us all those years ago: they're never ever getting back together. Probably.
This is really not that crazy, especially given the fact that Scott is literally in another long-term relationship! I feel like people unfairly dismiss Scott's relationship with Sofia Richie. One big reason is that she's much younger than him, but people also can't let go of the idea of Scott and Kourtney getting back together. I get it. I've been one of those people! But Scott and Sofia have been together for the better part of two years, and I don't think that's ending any time soon.
Also on this week's KUWTK (a lot happened in Bali), Khloé talked with Scott about the juxtaposition of Sofia and Kourtney in his life. Khloé said that if she was in Sofia's position, she would feel weird about Scott going on vacation with Kourtney. In a moment that was really eye-opening for me, Scott explained that Sofia knew from the beginning that he was always going to be close with Kourtney. According to Scott, "She was like 'Listen, I will never get between you and your family and your children. Just speak to me and make me comfortable.'" That is actually amazingly mature and real, and I just gained a lot of respect for Sofia, and her relationship with Scott. Maybe these people aren't psychos after all.
Scott and Sofia might not post about each other all the time, but they were literally just at an event together three days ago, so they're doing just fine. Also, Younes Bendjima was a guest at Kourtney's 40th birthday party a couple weeks ago, so it's not like she's sitting around waiting for Scott to break up with Sofia. I have no idea if Younes and Kourtney are hooking up or dating again, but clearly she can get a guy if she wants one. No one here is struggling.
Sofia Richie when questioning Scott about Kourtney being his soulmate: pic.twitter.com/GFAMYVMoxF

— Rosie TG (@rosie_tatiana) April 29, 2019
Are Scott and Kourtney soulmates? Maybe! I mean, who am I to argue with a Balinese guru? But at least for the time being, it seems very clear that there's nothing going on between these two. So maybe we should just cool it for a while. If they ever get back together, trust me, I'll be the first one to write about it. But for now, I'm just glad that everyone seems happy. Oh God, I can't believe I just said that.
Images: @kourtneykardashian, @fairfax432 / Instagram; @rosie_tatiana / Twitter