Shopbop's Annual Spring Sale Is Here, And These Are The Pieces We Want
Since I am an underpaid peasant, most of my clothes are from Zara. Tbh I have nothing against Zara because I like looking fancy as f*ck in my crisp, cropped blazer over my tea-length flowy skirt, and knowing that I spent less than $100 on the lewk. However, as I enter my 27th year, I want to wean myself off of fast-fashion and invest in higher-quality pieces, AKA shirts that won't unravel on the gentle cycle of my washing machine. That said, I'm not about to walk into Saks and buy myself a new wardrobe because, like I said, I'm poor. The solution? Shopbop's bi-annual sale! 
Now, if you're not familiar with Shopbop, climb out of the hole you're living in and join society. Shopbop, which finally has its own storefront on Amazon, carries literally thousands of designers that are perfect for people who want to graduate from Zara but not quite reach Saks. Shopbop is affordable and that is why I love it on any given day; obviously, I love it a little more when everything is up to 25% off (with the code SPRING). If you get overwhelmed easily, allow me to share our favorite things on sale, and make sure to buy before the sale ends on March 8th!
Shoes

Rag & Bone Razor Booties, $495
I am that annoying girl who wears boots in the peak of summer and guess what, idgaf. I have no shame in my game because boots—booties, to be more specific—are stylish all damn year. Rag & Bone sells all sorts of stuff, but the brand is most-loved for its amazing leather boots. My bank account weeps every time I admit that I own three pairs, but there's a very logical reason for that! The leather is thick af, which makes me feel a little fearless when I wear them because they're basically indestructible. I will say, though, the white definitely gets dirty, so make sure you get yourself a good leather balm to keep them clean. 

Soludos Lauren Espadrille Sandals, $85
I never would have bought these because they are obviously a tad loud, but I got them in one of my Trunk Club boxes and they are literally my favorite shoes. They are so f*cking cute and they surprisingly go with everything. I've worn them with a pale blue fit-and-flare dress, I've worn them with denim cut-offs and an oversized white tee, and I've worn them with skinny jeans and a cropped denim jacket. Seriously, they're more versatile than they seem. The only tiny issue is that they are definitely not made for long strolls. They do have a rubber sole, but it's very thin, so be careful where you wear them. Other than that, they're perfect.

Schutz is the underdog of shoe brands because I always forget about it when I'm on the hunt for a specific style, but they always end up having the exact pair I'm looking for. I have a pair of kitten-heeled boots, silver ballet flats, and sky-high, strappy stilettos from Schutz (can you tell I have a shoe addiction?) and the one thing they all have in common is that they are f*cking comfortable. Like the Soludos, they aren't meant for a walk along the beach, but if you are going to a dressy event and know you'll be on your feet for most of the night, these babies are the move. 
Tops

Tbh, I can't really say why this top is speaking to me so much because I haven't worn a crop top since 2012, but there's something about this hot pink number that I absolutely love. I would probably wear it with an aggressively high-waisted skirt, but I am also loving the way the model is wearing it. Even though it's obviously a very specific look, you can pack it for a trip and wear it a few different ways. I would, however, make sure it's the highlight of the outfit because anything that would compete with a top like this wouldn't be a good look. 

Stateside Poplin Twist Front Shirt, $162
I have a weakness for white button downs. Whether they're boyfriend style or super crisp, I don't even care. I want them all—especially this one. I am absolutely loving the menswear vibe and think it would look chic af French tucked into a pair of tailored bootcut jeans. A classic white shirt is timelessly elegant, but I love that this one has a little bit of a style moment with the subtle twist on the front. Obsessed. 

Birds of Paradis Carla Blouse, $218
For the record, I would not classify my style as preppy, but I appreciate very preppy pieces when they're paired with something a little grungy. For instance, this top, which screams Blair Waldorf circa season one, would look amazing with a pair of distressed boyfriend jeans and a pair of beat up high-tops. Or, of course, you could go the more neutral route and wear it over a pair of skinny jeans and metallic flats. Either way, this top wins.
Accessories

I am a big earrings gal and I am proud to admit that I have about a million pairs. It's a rough estimate. Anyway, as you can guess, I have multiple piercings and I would probably wear these with a few studs or smaller hoops in my other holes. **Cringes** These are a nice, contemporary shift from the classic gold hoop and I'm definitely into it. They aren't the kind of earrings someone will stop you on the street to ask about, but they can be the finishing touch on any look. Next!

Botkier Cobble Hill Mini Crossbody Bag, $198
If color scares you, fear not because this very chic bag also comes in white with a tortoise shell handle.  Tbh I love the yellow because it's attention-grabbing, but not too in-your-face because it's pretty pale. Another thing I love about this bag, aside from the sharp, structured shape, is the fact that the leather is textured, as opposed to smooth. If you're wondering what the f*ck difference that makes, let me just say, it makes a huge difference because all you have to do for smooth leather to scuff and scratch is, like, breathe near it. Textured leather, however, is tough af and, in my experience, is incapable of scuffs/scratches. 

Krewe Prytania Sunglasses, $275
I lose every pair of sunglasses I come into contact with, so I never spend too much on them. These are definitely a little bit of a splurge, but they're so stylish and timeless that I will put extra effort into not losing them. Of course, these will look good or horrible depending on your face, but this oversized rounded square shape is generally pretty flattering. The tri-color detailing on the upper rims make them a serious fashion find.
Dresses

FARM Rio Mini Cashew Mini Dress, $155
Yes, this is a dress with a cashew pattern, but it's so cute that it's nuts! I hate me, too. Personally, I think all dresses with a snatched waist like this are flattering regardless of your body type. You obviously have to be pro-color if you're going to buy this dress, but one thing I love about the palette is that it's pretty muted. This is something I'd wear to dinner on a beach trip with a pair of straw wedges and a big-ass pair of sunglasses.

LOVESHACKFANCY Edie Dress, $295
I don't know how they do it, but the designers at LSF make extremely flattering and sexy peasant dresses. This is the kind of dress, though, that would only look good in white. If it were in any other color, it would look like a nightgown my grandma would love, but in white, it looks like something a Grecian goddess would show up to brunch wearing. The eyelet details and the high slit in the front make it young-person friendly, and I am excited to wear it since I fully just purchased it as I am writing this article. I'd wear this with a pair of lace-up flat leather sandals or a pair of cork wedges. I seriously cannot get enough of this dress; it better fit me.

Z Supply The Reverie Dress, $60
As you can tell, I like a good oversized piece of clothing, and this dress is no exception. I love that it's cotton because that means I can get away with wearing it as a cover-up to the beach and to dinner later that same day! It is my personal opinion that everything looks good with heels, but I actually think this dress would look pretty stupid with anything other than a sensible flat. The dress is so casual that trying to dress it up with any type of heel just wouldn't work.
Images: Jakob Owens / Unsplash; Shopbop
Betches may receive a portion of revenue if you click a link and purchase a product or service. The links are independently placed and do not influence editorial content.
Five Summer Sandal Trends For Under $100
Believe it or not, summer is pretty much here. We all know that once Memorial Day weekend hits, everyone is straight ~summer state of mind~ from there on out. That being said, it's time to go treat yo' self to a nice-ass pedicure because sandals season is here. And, if you haven't started shopping for your summer sandals yet, don't worry, I'm here to help. Of course, I'm not here to recommend you just go buy yourself a basic pair of Rainbows and call it a day. No, no, you're better than that. You've got more style, and if you don't, well then take a cue from the following list! Here are the biggest trends in summer sandals and a few must-have styles for each.
1. Barely There Minimalist Sandals
The minimalist strappy sandal trend is yet another '90s trend making a come back this season. This style has been big recently among celebs, like the Kardashian and Jenner sisters, so like, what more proof do you need? This style sandal is perfect for pairing with all your sundresses this season because it's elevated without being over-the-top (contrary to some of the other trends on this list). This style sandal also looks cute worn with denim shorts and a button-down, or ripped jeans and a tee. Basically, it's a must-have sandal because it's guaranteed to look good with all of your outfits. Can't beat that!

Jeffrey Campbell 'Kaine' Sandal, $90

Zara Strappy Mid-Heel Leather Sandals, $79.90

Urban Outfitters 'Ana' Strappy Heeled Sandal, $74

Topshop HIPPIE Flat Sandals, $40
2. Sporty Sandals
Sporty sandals are v trendy this season, something that I'm sure a lot of you will disagree with me over in the comments section. Look, I don't decide the trends, I just report on them, so take it easy on me. But anyways, these once deemed "nerdy" style sandals are all the rage right now, with all the designer brands showing them on their runways. It's a hard style to pull off, but if you're up for the challenge, I'd go for it because these sandals look comfy af.

Zara Flat Padded Athletic Sandal, $69.90


Zara Multicolored Sporty Low Heeled Sandal, $59.90

3. Animal Print Sandals
If you haven't already seen leopard and snake print EVERYWHERE this season, well then, you're blind. It's everywhere from clothes to accessories to, of course, sandals. It actually makes for a chic and wearable print for sandals because it can be styled as a neutral. They add a stylish and unexpected element to your outfit, without clashing or taking away from it. They're an easy print to mix and match into this season's wardrobe, making them an overall essential sandal to have in your arsenal.

Topshop HOP Neon Flat Sandals, $40

Zara Mid-Height Heeled Elastic Strap Sandals, $49.90

Coconuts by Matisse Leopard Pebble Sandal, $35

Chinese Laundry Montezuma Snake Sandal, $69.99
4. Neon Sandals
Again, if you don't already know that neon is a HUGE trend right now, I'm judging you. (Okay, not really because like, my ability to inform you of trends is the only reason I have a job, so thank you.) Neon is big for spring, and will continue to be big for summer as well. And tbh, this is a trend I'm here for. I mean, what looks better with your bronzed summer tan than a bright neon? Nothing. This trend was made for summer, and especially summer sandals, and I'm here for it.


ASOS DESIGN 'Fleeky' Mule Sliders, $32

ASOS DESIGN Heckle Toe Loop Barely There Block Heeled Sandals, $48

Zara Tube Strap Low Heeled Sandals, $29.90
5. Woven/Raffia Sandals
This is a sandal trend that is pretty much a given every summer. This style sandal just makes you want to take an Insta-worthy tropical vacation…or more realistically, at least hit up a rooftop happy hour on a summer Friday. They have a boho natural vibe, but are elevated enough to also dress up your outfits. This style usually comes in natural colors, so they'll match everything in your closet. Which, is a great quality when you're packing for your summer vaca since you and I both know that suitcase is easily already over 50 pounds.

UO 'Rosalie' Raffia Platform Sandal, $49

Jeffrey Campbell 'Dane' Sandal, $75

Zara Woven Platform Wedges, $69.90

Seychelles 'Everlasting' Slide, $69
So there you have it, five types of summer sandals and four options for each! Now, you have NO excuse to be wearing Rainbows this season or, dare I say, your Old Navy flip-flops. I don't care how cheap they are, you're a grown-ass woman and shouldn't be buying her summer shoes from a store that advertises via commercials with adults jumping around and singing. Understood?
Images: @jonathanborba / Unsplash; Revolve (4); Zara (6); Urban Outfitters (3); Free People; ASOS (3); South Moon Under (2); Topshop (2)
5 Sandals That Won't Get Ruined In The Rain
There are few things riskier than dressing while it's raining in the summer. It's all basically a lose-lose. Either you're going to be decked out in rainproof stuff that will make you really sweaty, or you're going to absolutely ruin the cute summery stuff you planned on wearing three days ago before you heard it was going to rain during these plans. Luckily, sandals are like, the one thing that won't make you completely miserable if you can find the right pair. Here are a few sandals you can wear while it's raining this summer without worrying about completely destroying them.
These sandals are probably going to attract a lot of "when you have to fight the trojans at 7 but meet your friends out at 8" comments—especially if you still hang around with guys who read Barstool and have none of their own original jokes. These sandals are clunky AF, but they're made with a waxed leather, so they'll survive a little rain. Also, the tread sole on the sandal won't be super slippery. 

Okay, not to be dramatic, but these shoes saved my life. They're the most comfortable things I've ever worn and influencers wear them with clothes other than like, hippie gauchos, so I guess I can, too. These are great for the rain because they're waterproof and because they have lots of structure for your foot so you don't slip and fall when it's raining. Yes, I know that sounds like a Life Alert commercial or something, but sometimes I do feel like a senior citizen when I'm randomly hungover the day after a happy hour.

These have approximately one million ways to keep your foot in the sandal without falling out, which is nice when you're running across the street in the rain and not trying to lose a shoe. This is where I would insert a bad joke about Cinderella if I was a Disney freak. They're also cheap, so if you ruin them it's NBD.

Jelly sandals are risky business, so please take this suggestion with a grain of salt. These are definitely waterproof, but they'll also definitely make your feet smell like sh*t and will probably only look good if you're like, a very cool person with an interesting first name. Anyway, jelly sandals won't be trendy for much longer, so at least jump on it while you can. And since these are under $30, you won't feel stupid for wasting half your paycheck on a fad item.

You most likely can't wear pool slides to work, even if you have that one coworker who's always dressed so inappropriately during the summer, but you can at least wear these on your way in. Plus, the tortoise shell style of these almost makes them a more elevated pool slide, so you don't have to worry about looking fashionably inept when you enter the office.

Images: Dr. Martens (1), Birkenstock (1), Target (1), ASOS (1), J.Crew (1) 
Betches may receive a portion of revenue if you click a link and purchase a product or service. The links are independently placed and do not influence editorial content.
5 Reasons Men Should Not Be Allowed To Wear Flip-Flops
Acceptance around a man wearing flip-flops in the summer is a more divisive issue than whether Melania Trump is actually part of an elaborate hostage situation. Some people are for (exclusively men); some people are against (everyone else along with a handful of highly considerate men). Let's end all arguments now—men in flip-flops are nasty af. Unless you're one of the few hygienic men out there who gets weekly pedicures at their local nail salon, you do not have the right to disturb the world as you're proudly fanning your crusty feet. Our rapidly crumbling civilization gets exponentially closer to apocalypse every day, and  you're not exactly bringing the Zen with your vile feet. As summer kicks in, we're in no uncertain terms here to ask you not to wear flip-flops. We've compiled a number of convincing reasons, lest you think we didn't have a strong argument.
1. Your Feet Are Disgusting
Unlike women, most men don't get their feet scrutinized and scoured by a small woman talking shit to her coworker while she's buffing away dead skin and sadness every week. There's no polish to be found even though, quite frankly, it would help hide that bout of yellow fungus on your left big toe.
Since women are used to meticulous self-judgment and head-to-toe analysis by our bitchy friends (love ya!), we're naturally programmed to keep that shit lookin' fly. Or at least, not looking diseased. Men roll out of bed in the morning and we're lucky if they remember to brush their teeth. So we understand your lack of awareness around foot hygiene. But understanding does not equal acceptance. Ya feel me?
2. Your Feet Are Hairy
Nothing's hotter than a dude rocking a fur coat from the ankle down—said nobody ever. While you try to re-swallow that vomit that just rose in your mouth, let's all accept that men, by nature, have hairier feet than women. Sandals and their cousin, the flip-flop, just show all that shit off even more. Hard pass. However, might I take this opportunity to introduce you to the body groomer, which is the most essential all-purpose tool that a man should invest in pretty much as soon as puberty hits? No, it is not too much to ask…we women endure literal torture to look the way we do. Again, you're welcome.
3. You'll Get Foot Problems
Fun fact: flip-flops are incredibly bad for your feet. According to The Telegraph, "the flip-flop's lack of support, coupled with the gripping motion needed to keep it attached to your person … puts extra strain on your metatarsal joints." So combined with the fact that comfortable flip-flops don't exist, there's no arch support, AND you're damaging your joints, why would any idiot wear these casually?
4. The Sound
You know what isn't attractive? A guy walking toward me while his feet make a frrrrphmf frrrrphmf frrrrphmf sound akin to a small duckling being kicked down a city block. STOP. Plus I KNOW your feet are sweaty based on said sound, and the idea of your putrid, sweaty duckling feet walking towards me attached to a mouth that will say something stupid is causing me to have a rage blackout.
5. What Happens When You Go The Bathroom
Unlike civilized women, men pee standing up. At a urinal. Next to other dudes. You know what happens when one dude misses or splashes said urinal? Pee happens. It could happen on the floor. It could splatter onto Mr. Flip-Flops feet. Think about that next time you see a man in flip-flops.
If you absolutely insist on wearing flip-flops, then serious regular foot maintenance is mandatory. Yes, we know it hurts like hell when the cuticle cutter digs into the side of your toenail, but that does not excuse you from doing your part to keep civilization alive. Also plan accordingly for the extra five minutes that will be added to your morning ritual for hair removal.  If you choose to spend that extra $20 per week on something other than a standard pedicure, you can take your closed-toed shoes and go. Just go.
Images: Peter Hershey, Unsplash; Giphy (6)
5 Trendy Summer Sandals You Should Invest In
Summer is here, and I swear to God if I see any of you bitches in nasty, dirty, smelly, run-down Rainbow flip-flops that you've had since high school, you will be dead to me. Summer is the time to show some skin—including your feet. So get a pedicure and upgrade your sandal game so you can live up to the chic summer outfits you've already purchased. Here are the types of summer sandals you need to add to your closet.
1. Slides
Slides are the new have-to-have summer sandal. They're easy to put on, are super comfy, and can be super chic with the right outfit. If you're bougie af, these Givenchy ones are on my wishlist. Otherwise, if you're a poor like me, waiting for everyone to recognize that you're actually this artistic genius and pay you a bunch of money for it, buy these (considerably less chic) Ivy Park dupes.


2. Birks
Birkenstocks have been back in for ages, and I feel like a total hypocrite because I hated these hippie monstrosities in 7th grade. However, they've grown on me, and they're super fashionable right now (which, like, what does that say about our current fashion?) and they're comfy af. Get a cute color, like metallic, studs, or white—NOT those hideous greenish suede ones. Those give me PTSD flashbacks.

Birkenstock Arizona Soft Footbed Sandal
3. Mule
STFU about mules being old or ugly, they're cute af and they're the top pick for summer sandals. They're casual but give you a little bit of height. I recommend getting both a black and a neutral, like this pretty blush.

Steve Madden Relax Platform Mule
4. Wedge
Wedges are always a summer classic, and you can wear them to a Vegas pool party or your friend's outdoor summer wedding. And you won't even get stuck in the grass. Win, win. These ones are also perforated and espadrilles, both styles that are so hot right now. They're the basic wedge upgrade. Plus, they add ventilation so you don't have nasty foot sweat.

Marc Fisher LTD Annie Perforated Espadrille Platform Wedge
5. Decorative
To add a little glam to your summer casual wardrobe, add in a sandal with some embroidery or design. These little sandals from Michael Kors are gorgeous, espadrilles, and have this super cute leaf design to add some interest. It's the perfect vacation sandal. Or if you're not into chic and classic looks, here are slides with cats flipping you off. Whatevs.

Michael Michael Kors Fisher Espadrille Sandal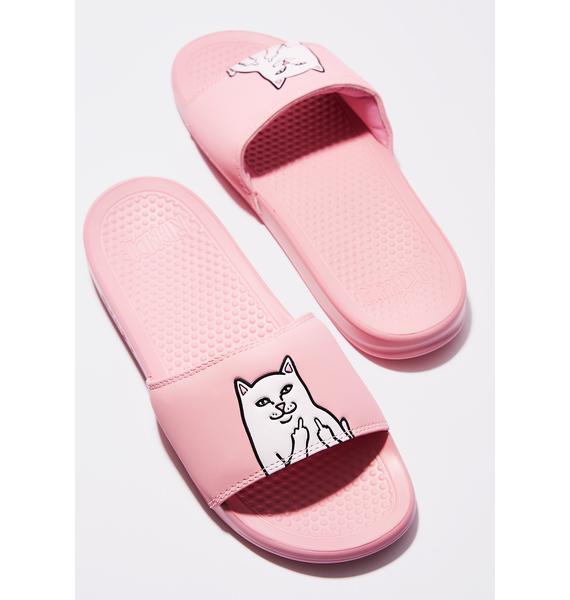 RIPNDIP Pink Lord Nermal Slides
Images: Nordstrom (6); Dolls Kill
Betches may receive a portion of revenue if you click a link in this article and buy a product or service. The links are independently placed and do not influence editorial content.

Comfortable Shoes To Wear To A Pool Party That Aren't Flip-Flops
Anyone who has ever been to a Vegas pool party knows the familiar sight of betches everywhere in tiny Beach Bunny bikinis paired with beat-ass wedges. In fact, not to make assumptions here, but I guarantee at some point you've even been one of those aforementioned betches. I mean, I myself am even guilty of shaking my bikini-clad ass to Diplo in a pair of uncomfortable wedges. Don't get me wrong, I understand the reasoning behind it—wedges elongate your legs and lift the butt. So why wouldn't you want to wear them with your swimsuit, right? Well, because you'll look like a try-hard, just like everyone else who's ever attempted it. And, assuming the majority of pool parties you'll attend this summer will be a lot less aggressive than the ones in Vegas, you'll want a more practical, and definitely more stylish, shoe option than a wedge. Unfortunately, wearing flip-flops is social suicide, so it leaves us in a tricky position. Where do you find cute yet comfortable shoes to wear to a pool party? Here are some sandals you can wear instead of try-hard wedges or fugly flip-flops.
Sandals
You know those cute gladiator sandals you love to wear? Yeah, they're going to be a no-go when it comes to pool parties. When you're at a pool party, you'll want a shoe that you can easily get on and off so you can quickly get back and forth from the bar. Duh.  Notice how I didn't say "because you'll be getting in and out of the pool" because, pro tip, no one actually goes swimming at pool parties. You came here to do laps, weirdo? Try your local YMCA for that, not a pool party. Basically, you want to look for stylish sandals that require minimal effort to put on, like these options below.

From left: Dolce Vita Aveline crocheted mule; Joie Fabrizia sandal
Slides
Slides are essentially just a more casual type of sandal. They're cute, easy, and they're not flip-flops. Like, idc if your flip-flops are Rainbows—they're still flip-flops and are therefore still hideous. Put your Havaianas away, bitch! It's time to elevate your poolside style and swap your flip-flops for a pair of trendy slides.

From left: Dolce Vita Benicia slide; Soludos braided pool slide
For an edgy and sporty look, you could even wear the currently popular athletic slide. Styled correctly, you'll look super fashionable and very Hailey Baldwin-esque. Styled poorly and you'll look like a former student athlete who posts inspirational Instagram quotes with way too many emojis in between every word, so just know your limits here. Of course, as cool as they are, I probs wouldn't try wearing them to a Vegas pool party; pretty sure the bouncers would be having none of that.

adidas Originals Adilette Slide
Platform Sandals
You insist on being extra, don't you? Fine, but still NO WEDGES! The only shoe I'll accept with some height is a platform sandal. Platform sandals make you look extra fashionable, unlike wedges, which make you just look extra. Now, don't take a mile when I only gave you an inch here. Keep the heel height minimal, please. Trust me, I know it seems like I'm being harsh, but I only have your best interest in mind.

From left: Steve Madden Asher; Rocket Dog Jarvis platform sandal
We are blessed to live in a world where options of shoes to wear to a pool party (and anywhere) are limitless, so take advantage! We've come so far…don't set us back now with your Payless wedges and Walmart flip-flops.
Betches may receive a portion of revenue if you click a link in this article and buy a product or service. The links are independently placed and do not influence editorial content.


3 Comfortable Summer Heels You Can Wear All Day & Night
We're a little over two months away from the first day of summer, and praise fucking be considering the weather we've been having. If you're anything like me when it comes to procrastination, then you've most likely done your spring cleaning already. Assuming you've emptied out your closet and cleaned out your dresser, you've miraculously paved the way for new and better shit to take up more room this summer. There's no better motivation to look your absolute best come bikini bod szn than shopping for sexy rompers, skin-tight bodycons, and of fucking course, brand new summer heels. From non-fugly mules and cut-out booties, this summer's shoe trends don't look so hideous. For once. Here are a few summer heels you can go from day to night drinking in.
More often than not, mules are fucking disgusting. It's true, they're most likely worn by the Patricias in your office. Of all the ridiculous trends so far, this year's summer shoes seem to  have one thing in common: comfort. That being said, don't wear regular mules. Wear like, ~cool~ styles like ones with a platform heel in different materials, and especially ones that show off your new pedicure.

Low wedges with ankle ties are a boho chic staple, especially during festival season. They make your legs look miles long and v toned. Bless. With a low block heel we've been obsessed with since last summer, you won't whine throughout the night that your feet hurt, or look like Bambi stumbling home.

Booties are the shit. You can wear them all year round (sometimes the same pair) and still get a ton of likes on your Insta. The heels are always thick, so you can totally last hours in them without having your feet hate you. And with all the different colors, you can never have too many—says someone who owns at least 10 pairs, six of them black. Moving on! This summer is all about the open-toed bootie that come in neutral shades like taupe, so your summer vacay tan looks a whole lot better when you go from the beach to the bars.

Images: Shopbop; DSW; MOBS Design
Betches may receive a portion of revenue if you click a link in this article and buy a product or service. The links are independently placed and do not influence editorial content.
8 Sandal Styles To Elevate Your Summer Wardrobe
Everything sucks. It keeps snowing, it's literally always freezing outside, and no rooftop bars are open yet. Summer has honestly never felt further away, but shopping for summer shit is usually a pretty solid way to fight off my seasonal depression. I mean like, until you see your pale, sickly looking skin under the fluorescent light of a Nordstrom fitting room and everything feels 10 times worse. But whatever. Thankfully, all of the new sandal styles are now available, so go treat yourself to a pedicure, your first iced coffee of the season, and shop for some summer shoes. Here are the eight most popular sandals you'll want to stock up on. Just like, don't wear them yet. When New York finally hit 60 degrees last week, I wore a dress, and have never felt so personally victimized by every single passerby in Manhattan.
1. Ankle Strap Sandals
If you're going to buy one pair of sandals this summer (moment of silence for thinking you'd ever make it through a summer purchasing only one pair of summer shoes), it should be a pair of ankle strap sandals. I am honestly such an advocate for ankle strap shoes, there's like, prob going to be something about them on my tombstone. Is that too morbid? Are tombstones even still going to be a thing by the time we die? Have any of you seen a good YouTube conspiracy video on death in the future? Is there a Black Mirror episode about it? LMK. Anyway, ankle strap sandals go with everything, and you should already own a pair by now. If for some reason you don't, buy these.

Madewell The Boardwalk Ankle Strap Sandal
2. Birkenstocks
I used to relentlessly rip on people who wore Birkenstocks, but like most questionable things I used to hate and now can't get enough of, I changed my mind when Kourtney Kardashian started wearing them. Birkenstocks are literally so comfortable and now that the brand has realized that people besides pothead philosophy students have started to wear their stuff, they've stepped it up. You can wear these with everything from T-shirt dresses to the cropped Lululemon leggings you probably live in all summer. Just like, don't accidentally step on the back end of the sandal while you're walking because it's literally worse than stepping on a Lego. 

Arizona Natural Leather Soft Footbed Metallic Copper
3. Slide Sandals
Honestly, bless the footwear industry for making slide sandals a thing. You know exactly why these are a gift to the universe if you've ever broken a sandal strap on vacation or dealt with ridiculous foot tan lines. These literally solve all problems. It's amazing. Besides the fact that these will make an insanely loud noise while you walk down a flight of stairs (you will get so many dirty looks if you are trying to run down to a subway with these on, just a warning), these summer shoes are pretty much the perfect solution to your entire life.

Treasure and Bond Mere Flat Slide Sandal
4. Boujee Sliders
Boujee sliders are like the shoe version of that friend you have from college that you want to hate, but love to party with with, so you stay in contact with her for life. Like, I don't want to be wearing a pair of rubber slider sandals with a fur or glitter strap, but I'm going to because it's a good fucking time. Sure, these will basically turn you into Snooki, but she's doing pretty well for herself these days so like, don't fight it.

5. Those Sandals From 'Wolf of Wall Street'
Okay, so, remember in Wolf of Wall Street when Leo DiCaprio and Jonah Hill were like, all fucked up and freaking out about Steve Madden? Well, the sandals that Steve Madden was making at the time are back, and these are them. Like most 90s trends that we're rewearing, these are kind of ugly, but everyone's like, obsessed with them. You can make these your go-to summer shoes for 2018, but I can't speak for any period of time after that.

6. Espadrille Sandals
You know how, a few summers ago, every travel blogger was wearing those sandals with pom-poms on them? Well, espadrille sandals are the 2018 version of that trend. Sure, they've been around forever, but that's not going to stop said travel bloggers from acting like they just invented them. It's kind of like how they think they discovered that small Caribbean island they're getting paid to convince you to visit. Or like, how Christopher Columbus thinks he discovered America.

Banana Republic Peep Toe Espadrille Sandal
7. Mules
Mule sandals aren't just for trendy high school art teachers and Anthropologie store managers anymore. Apparently we're all supposed to be wearing them now, too. The most ridiculous part about this trend is that everyone's like, "wow they're so comfortable!" While that may be true, the majority of the mule sandals out there are light, neutral colors like blushes and nudes that come in suede materials. This pair is also called "Commute." Obviously, whoever named these has no clue that there is no worse footwear than a blush, heeled suede sandal to wear to commute in. But, whatever. These are a trend in summer shoes this year, so here you go.

Platform Sandals
Platform and flatform sandals have definitely been popular for the past few summers. The way this look has been switched up for 2018 is by making them look like posturepedic footwear. These are basically the sandal version of those fugly Balenciaga sneakers that every fast fashion outlet is ripping off right now. I'm not exactly sure how, but I feel like Kanye West is to blame for this.

KENDALL + KYLIE Wave Platform Sandals 
Betches may receive a portion of revenue if you click a link in this article and buy a product or service. The links are independently placed and do not influence editorial content.