Summer is here, and I swear to God if I see any of you bitches in nasty, dirty, smelly, run-down Rainbow flip-flops that you've had since high school, you will be dead to me. Summer is the time to show some skin—including your feet. So get a pedicure and upgrade your sandal game so you can live up to the chic summer outfits you've already purchased. Here are the types of summer sandals you need to add to your closet.
1. Slides
Slides are the new have-to-have summer sandal. They're easy to put on, are super comfy, and can be super chic with the right outfit. If you're bougie af, these Givenchy ones are on my wishlist. Otherwise, if you're a poor like me, waiting for everyone to recognize that you're actually this artistic genius and pay you a bunch of money for it, buy these (considerably less chic) Ivy Park dupes.


2. Birks
Birkenstocks have been back in for ages, and I feel like a total hypocrite because I hated these hippie monstrosities in 7th grade. However, they've grown on me, and they're super fashionable right now (which, like, what does that say about our current fashion?) and they're comfy af. Get a cute color, like metallic, studs, or white—NOT those hideous greenish suede ones. Those give me PTSD flashbacks.

Birkenstock Arizona Soft Footbed Sandal
3. Mule
STFU about mules being old or ugly, they're cute af and they're the top pick for summer sandals. They're casual but give you a little bit of height. I recommend getting both a black and a neutral, like this pretty blush.

Steve Madden Relax Platform Mule
4. Wedge
Wedges are always a summer classic, and you can wear them to a Vegas pool party or your friend's outdoor summer wedding. And you won't even get stuck in the grass. Win, win. These ones are also perforated and espadrilles, both styles that are so hot right now. They're the basic wedge upgrade. Plus, they add ventilation so you don't have nasty foot sweat.

Marc Fisher LTD Annie Perforated Espadrille Platform Wedge
5. Decorative
To add a little glam to your summer casual wardrobe, add in a sandal with some embroidery or design. These little sandals from Michael Kors are gorgeous, espadrilles, and have this super cute leaf design to add some interest. It's the perfect vacation sandal. Or if you're not into chic and classic looks, here are slides with cats flipping you off. Whatevs.

Michael Michael Kors Fisher Espadrille Sandal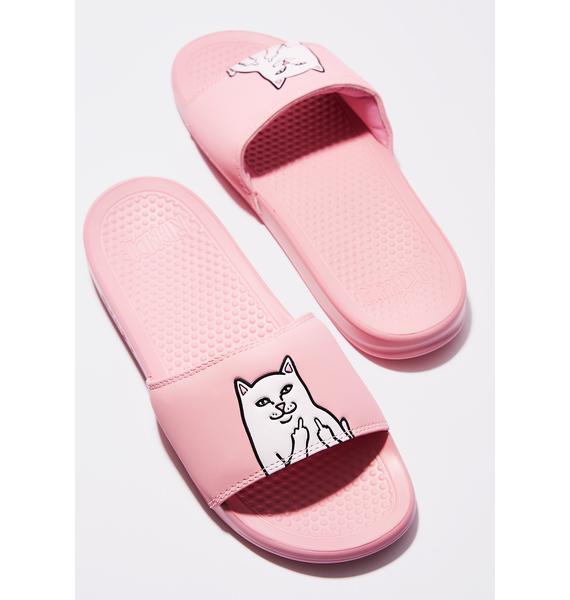 RIPNDIP Pink Lord Nermal Slides
Images: Nordstrom (6); Dolls Kill
Betches may receive a portion of revenue if you click a link in this article and buy a product or service. The links are independently placed and do not influence editorial content.