The Most Random Celebrity Couples You Forgot Were Married
If you've been having a great week so far, I'm about to ruin it with a depressing statistic from the American Psychology Association's website: "About 40 to 50 percent of married couples in the United States divorce. The divorce rate for subsequent marriages is even higher." Call me crazy (just kidding, I'm very sensitive), but I feel like the not-at-all-compatible celebrities who think getting married sounds like a fun thing to do between projects are at least partially responsible for this wildly depressing number of failed marriages. I mean, did Angelina Jolie and Billy Bob Thornton really place a vial of their blood around the other's neck and think, "Yep, this is my forever!" I wonder what they did with the blood necklaces after they called it quits. Can they just throw them in the trash or is that, like, an unsafe disposal of bodily fluids? Anyway, I shouldn't be singling out Angie and Billy Bob for getting married when they should've broken up, since they are just one of many celebrity couples who did the same thing. Don't believe me? Keep reading for this list of celebrities you forgot were married.
Nicole Kidman & Tom Cruise

We obviously all knew about this legally binding f*ck up, but it's still shocking. Honestly, good for Tom for scoring such a dime, but Nicole, what the hell were you doing? Maybe Tom Cruise was not as horrible-seeming then as he is now, but I will never understand this relationship, especially since two adopted children came out of it. What's more, neither Nicole nor the children (who are actually adults now) acknowledge each other. That sounds really sad. Like, if Nicole Kidman was my mom (Nicole, if you're reading this, I'm available for adoption), I would definitely make sure that everyone I've ever met knew that. 
Even though all parties alleged that their differing views on Scientology (the kids are believers and Nicole is not) did not influence their unfortunate familial situation, I think we all know that it's probably got to do with the reason they don't talk. Not that I'm a relationship expert, but I feel like before they got married and adopted kids together, Tom and Nicole should have discussed how they felt about being in a cult highly publicized and controlling church.
Jennifer Garner & Scott Foley

I don't remember this genetically blessed mess because I was 10 years old when they got married, but I am kind of into it. They met in 1998 and separated in 2003, which is pretty good considering I've never been with someone for more than like, two years. Whatever, I'm not bitter. Unlike celebrities today **ahem, Pete Davidson and Ariana Grande** they kept their relationship and breakup pretty private, so no one really knows why they ended, but I think it's safe to say that it's because Jen got very famous and Scott did not. In any case, Jen leveled up with Ben Affleck, but in classic celeb fashion, they got divorced too. Too bad, so sad. We were all rooting for you!
Elisabeth Moss & Fred Armisen

Not to blame the failure of another celebrity marriage on Scientology, but there's a reason these two ended it, and I have a feeling it's because one of them **cough Offred cough** is a Scientologist. Moss once told the L.A. Times, "Looking back, I feel like I was really young, and at the time I didn't think that I was that young. It was extremely traumatic and awful and horrible. At the same time, it turned out for the best." Yep, it's usually considered a good thing when something you look at as extremely traumatic and awful and horrible comes to an end. 
They met when her Mad Men costar, Jon Hamm, hosted SNL (Fred Armisen was a cast member) in 2009 and she was in the audience supporting him. They got married a year later. I feel like it's just never a good idea to get married after only a year of meeting each other. What is with celebrities and rushing into marriage? I didn't even want to meet my ex boyfriend's family a year after we had been together because I thought it was too soon, and I'm glad, because we ended up breaking up like six months later! Anyway, I guess it was an awful marriage considering she has no problem airing their dirty laundry to a national newspaper, so it's probably a good thing these two called it quits.
Wiz Khalifa & Amber Rose

I am still sad they are no longer married. They were so good together and they're still very good friends. Why couldn't they just make it work? "Things happen and sometimes as much as you love each other, you're better off as friends," Rose told PEOPLE after the pair split in 2016. "I feel like we can be the best of friends but we just can't be in a marriage together. And that's okay, because as long as Bash is happy, and we're able to co-parent, that's the most important thing." I mean, that's a beyond mature way to look at it and I wish I could do the same thing for my failed relationships. Personally, I just pretend that all my exes died after things didn't work out, but maybe I'll give this "friends" thing a try. Even though they are no longer together, I will always think fondly of Wiz and Amber as the cutest couple since they always looked genuinely smitten with each other. 
Angelina Jolie & Billy Bob Thornton

Like our friends June Osborne and Fred Armisen, these two thought getting married after a year of knowing each other sounded like a swell idea. I think it makes a little bit more sense for these two, though, since they were both rebellious wildcards in the late '90s. One good thing came out of this super bizarre pairing: Maddox, their adorable adopted son, who can now vote in this year's election. F*ck, I feel old. The two blamed their split on their vastly different lifestyles: hers a little more global and his a tad more…agoraphobic. That's probably something you'd find out had you waited longer than two seconds before agreeing to marry each other, just saying. Not that it matters, but he was also 20 years older than she was, and considering she was only 24 at the time, it's not that shocking that they broke up pretty quickly.
Alanis Morissette & Ryan Reynolds 

This one is the most random in my opinion. She's a 90s icon and he's a current icon, but they're only two years apart. Hmmm. Also an important thing to note is that they did not make it to the altar—but they were engaged, so I'm counting it. More on that, Morissette one said that her breakup with Reynolds was her "rock bottom." I get that. Breaking up with Ryan Reynolds would definitely be my forever lowest point. We'll never know why they broke up, because a source close to the couple said shortly after the breakup, "They ask that their privacy be respected surrounding this personal matter," which is honestly rude to all of the people who became as invested in their relationship as they were and need to know the details so that they (I) could move on, too. 
And there you have it: the most random celebrity marriages. Are there any that I missed? Probably. Let me know in the comments!
Images: Getty Images (2); Shutterstock.com
What Is The Bottle Cap Challenge And Why Do We Care?
Guys, I wish it hadn't come to this. I wish I wasn't writing an article about something called "The Bottle Cap Challenge," but yesterday I called a friend's new baby "alien-esque," so I guess karma works quick, huh? So what is the Bottle Cap Challenge, other than a stain on our history, an assault on my eyeballs, and a dumpster fire to my brain? Why I'm glad you asked, since I've got to write 800 words on the subject. Allow me to ruin your life enlighten you.
According to PopSugar, The Bottle Cap Challenge was started by Taekwondo instructor and fighter Farabi Davletchin on June 25th. Fine, Farabi, you seem cool. And, if you had only stopped there, I wouldn't have had to add you to my revenge spreadsheet. But this turned into a viral challenge, and that gains you automatic entrance onto my list. Sorry pal, I don't make the rules, I just enforce them. (Fine, I also make them.) Since the Bottle Cap Challenge began, celebrities have been participating in it, and also challenging their friends/colleagues/people they want to embarrass. Should we take a look at the best of the bunch? And by best, I mean "the ones that elicited a very strong reaction in me." Onward!
Mariah Carey
If I HAD to pick a favorite because some animal was threatening to rip the coffee IV out of my arm or something equally horrific, I'd have to pick Mariah Carey's. There's so much to like here. She's wearing a sparkly waist trainer.  She pretends to do some taekwondo moves in the beginning. It doesn't work the first time. She proves to us that she's STILL. GOT. IT. That voice! And, when it's over, she runs away with a healthy mix of shame and satisfaction. That's all I ask. Bow down.
Kendall Jenner
I hate the KarJenners and nothing they do will ever please me, so if you're a fan, you might want to put on the earmuffs right now. *Beginning rant* We know you're rich, Kendall. We know you're skinny, Kendall. We know you spend your days on jet skis instead of in darkened cubes surrounded by people who make sexist jokes that you're forced to laugh at in order to get that raise you begged for, Kendall. WE KNOW. You don't have to continue to shove it in our faces with everything you do, MY GOD. I'm not impressed. I'd only actually be impressed if she completed this challenge in the unfinished half of a friend's basement after drinking straight vodka for 6 hours like the rest of us were doing at age 23. Only then. *End rant*
Lizzo
First of all, hi Lizzo, where'd you get that jumpsuit? Help a girl out. Second of all, FINALLY someone speaks the truth! No one is actually completing these challenges, right? Certainly not while on a jet ski *cough* Kendall *cough*. Sorry sweetie, truth hurts. GET IT??
Ryan Reynolds
#BottleCapChallenge #Glass @AviationGin pic.twitter.com/joM20RhUid

— Ryan Reynolds (@VancityReynolds) July 3, 2019
Ryan Reynolds gets a special mention here, because I appreciate his commitment to self-promotion. Did you guys know he owns a gin company? If you didn't know, please see his 45-second commercial disguised as a viral challenge video. Does he successfully complete the challenge? I have no idea, because I lost interest in this one after 9 seconds, but now I am craving an ice cold G&T at 9 in the morning. Thanks, Ryan!
Jason Statham
There's no one cooler than Jason Statham. There just isn't. He once used defibrillators on himself. He put shards of glass in his eye. He jumped off a high-rise building with only a raincoat as a parachute and broke both legs. The Bottle Cap Challenge? A cake walk. This is the only video I can mildly tolerate. Call me, Jason! 
Did I miss any cool ones? KIDDING. They don't exist. I hope you got your fill of the Bottle Cap Challenge, because this is the last you'll hear of it from me. Fingers crossed it will pass quickly and we can all get back to watching our regularly scheduled YouTube makeup tutorials!
Images: mariahcarey, kendalljenner, lizzobeeating, jasonstatham/ Instagram; vancityreynolds/ Twitter
The Most Random People In Taylor Swift's New Video
Taylor Swift released her latest single, "You Need To Calm Down," on Friday, and of course I had thoughts right off the bat. I still like the song, and it's definitely been stuck in my head all weekend. This morning, Taylor dropped the video for the song, and she's really not playing around here. There are about a million celebrities in the video, many of them famous members of the LGBTQ community.
Many of the inclusions in the video make perfect sense, like executive producer Todrick Hall, and known lesbian and friend of Taylor Swift Hayley Kiyoko (who also happens to be my girl crush). But Taylor really pulled out all the stops here, and there are some cameos in the video that were very unexpected, for a number of reasons. Here are all the most random celebs in the video for "You Need To Calm Down."
Katy Perry
Okay, so random is really the wrong word to describe this, but I obviously had to include it. After Katy Perry officially announced the end of her feud with Taylor Swift, we all knew there was something coming, and here we go. I believe that they've gotten over their beef, but this is also very calculated. I have a feeling there's still a collaboration or something coming this summer, so prepare to have Katy and Taylor shoved down your throat for the foreseeable future.
Adam Lambert
I never thought I'd see Adam Lambert giving Ellen Degeneres a tattoo, but it's 2019, and weird sh*t is happening all over the place. Ellen's spot in the video makes sense, because she and Taylor Swift have always been weirdly obsessed with each other, but I haven't seen Adam Lambert in a minute. These days, he tours with Queen as their lead singer, but I guess Taylor is a fan too?
Jade Jolie
There are a lot of drag queens in Taylor's video, but the one who stands out the most is the queen who looks exactly like Taylor. This is Jade Jolie, who was on the fifth season of RuPaul's Drag Race, and she's known for being one of the best Taylor Swift impersonators. Idk if Taylor Swift actually knows who all of these queens are, but at least she got good ones for the video.
Jesse Tyler Ferguson
I haven't watched an episode of Modern Family in approximately seven years, but apparently Jesse Tyler Ferguson has friends in high places. Jesse and his husband Justin Mikita got…remarried, I guess?…on the set of the video, and their wedding officiant was none other than…
Ciara
F*ck, Ciara looks so good. I'm not sure about her connection to Taylor Swift, but luckily she graced us with her presence in this video, as the hot pastor officiating the wedding. Should I be wearing more orange latex?? Probably not, but I'm still tempted after seeing this lewk.
Adam Rippon
Adam Rippon is great, but I'm starting to think Taylor Swift just Googled "famous gay guys" and called the first 10 people that came up. Of course, Adam made history last year when he won a medal as an openly gay man at the Olympics, but the jury's out on how he knows Taylor.
Ryan Reynolds
Out of all the cameos in the video, Ryan Reynolds was definitely the least expected one. If I had to guess, this one can probably be traced back to the fact that Taylor is good friends with Blake Lively, who is obviously married to Ryan. I'm still not sure exactly how he ended up on set, but that at least explains how they're friends with each other.
Images: katyperry (2), adamlambert, missjadejolie, jessettyler, ciara, adaripp / Instagram
8 Celebrities Who Love 'The Bachelor'
Celebrities, they're just like us! They get divorced. They abandon social media every so often after realizing how much people suck. They get caught talking sh*t…sort of. Oh, and they waste countless hours of their lives getting wine drunk every Monday and watching The Bachelor. Just, you know, probably with better wine. Who amongst the rich and famous has the same sordid reality TV tastes as you? All the ones you would expect, TBH. I'll give you a guess: a whole lot of white women, and a few men who, at times, might as well be white women. Here are some celebrities who watch The Bachelor.
1. Allison Williams
It turns out The Bachelor franchise has produced at least one viable relationship: Allison Williams and her husband, Ricky Van Veen. They met at a Bachelor viewing party (why) and then got engaged at the same party just three years later (WHY). Wow. Can you imagine having to explain that to your children? "Mommy and Daddy fell in love while watching 13 blonde girls named Lauren get drunk and scream at each other in sequin ball gowns….for love."
2. Anna Kendrick
This should come as no surprise, considering Anna Kendrick is still smack dab in the middle of her infinite campaign of being the most relatable celebrity of all time. She tweets weird things! She hates other people! She eats sh*tty food! She watches The Bachelor, and by extension, is also subject to countless SugarBearHair Vitamin ads.
Kaitlyn can do better. Like if my boyfriend left me for her, I'd get it. #TheBachelor

— Anna Kendrick (@AnnaKendrick47) March 3, 2015
3. Ryan Reynolds
Always an entrepreneur, Ryan Reynolds managed to combine his (questionable) love for The Bachelor with some shameless self-promotion by live-tweeting the premiere of Ben Higgins' seasons with the hashtag #DeadpoolOnTheBachelor. The Venn diagram of women who watch The Bachelor and women who love Ryan Reynolds is, in fact, a circle, so this was a wise move on his part.
4. Amy Schumer
Amy Schumer popped up on a group date episode during Kaitlyn's seasons of The Bachelorette, which immediately earns her a place on this list. I can see her being the friend at the viewing party who pretends to hate it the entire season, but ends up crying during the finale when Peter Kraus has his heart broken into a million pieces on national television her favorite ends up going home.

5. John Mayer
John Mayer may be the most relatable person on this list of celebrities who watch The Bachelor because he harbors a crippling addiction to show but is physically incapable of watching an entire two hour episode. Honestly, this is the hottest take of 2018. Somebody call The Cut. They're probably not too busy these days. His favorite part? Girls crying in helicopters.  "If you get tears in flight, that is prime stuff." What? Everyone has their kink.
6. Sarah Hyland
There are Bachelor fans, and then there are Bachelor Fans. Sarah Hyland has secured a lauded spot in the second category. Not by hosting some viewing parties amongst her friends or starting a Bachelor bracket in her office. Not even by being one of those people who own Bachelor-themed clothing (looking at you, Kaley Cuoco). No, Sarah Hyland has transcended all those benchmarks and snagged herself a Bachelor alum to date: the criminally under-appreciated during his season, Wells Adams. The two are cute as hell and we're over here just wondering when Sarah is going to release her how-to book.
7. Adam Scott
Ben Wyatt watches The Bachelor and therefore you should watch The Bachelor. Furthermore, Ben Wyatt refuses to feel guilty about watching The Bachelor. You hear that, ladies? 2019 is the year we loudly and unapologetically rep the sh*tty things we love.
8. Dakota Fanning
I would have added Dakota Fanning to this list even without proof, solely because she looks like the epitome of a Bachelor fan. I hate to pigeonhole the poor thing, but I'm going to. Dakota Fanning likes The Bachelor. Dakota Fanning likes pumpkin spice lattes (but like….healthy ones). Dakota Fanning has a pair of UGGs in the back of her closet that she only breaks out on really desperate occasions because, f*ck it, it's COLD. In short, we are all Dakota Fanning.
Images:  Giphy (1); @AnnaKendrick47/ Twitter; @wellsadams/Instagram
Here's All The Proof You Need That Taylor Swift Fans Are Psychotic
Head Pro is able to separate the artist from her music and thinks Taylor Swift's songs are mostly fine. Email him at [email protected] and follow him on Twitter and Insta at @betchesheadpro.
Ok look, let's get something out of the way: if being a "fan" of anyone or anything is a core pillar of your identity, you're a fucking mouthbreather and Darwin was wrong about everything. Just look at college football fans, for instance.
But Taylor Swift fans are a different breed, and have created an entire ecosystem that they inhabit. Now, there's a major controversy brewing because Taylor—who, like her fans, is a weird combination of narcissistic and insecure—has divided her following. It all started when she debuted her latest disposable pop single, "Gorgeous." At the very beginning a baby's voice says the word "gorgeous," and fans started asking the totally normal and not at all weird question: whose voice is it?
Explain us the baby's voice Taylor. Who's this? @taylorswift13 #Gorgeous

— Dilara (@queenswifty_) October 20, 2017
Who's the baby at the beginning of gorgeous? Is taylor pregnant and hinting?

— Karl (@minimadkarl) October 20, 2017
It's a strange thing to care about, but whatever. Shit got extremely extra real, however, when Taylor herself responded to someone on Tumblr (because of COURSE Taylor Swift has a Tumblr account) with the following (and now-deleted) cryptic comment:

Per Buzzfeed, the "300" is a reference to the number of people who've been to Taylor's secret listening sessions at her various homes across the country. It's the most Taylor Swift thing ever: a deliberate, narcissistic ​act of sycophancy meant to endear her to her most extreme base and annoy everyone else. It's the entertainment equivalent of the fucking campaign rallies our idiot president keeps throwing for himself a solid nine months after taking office.
Anyway, now the Swifties not in this "inner circle" are red and nude and shitting their diapers with anger, appalled at how their messiah could have betrayed them by telling some people something but not other people.
taylor: 300 people know
everyone: she's confirming some of the fandom are better than others

….
what

— katie / I MET HER (@swiftestgrande) October 20, 2017
you know what really hurts? a fan asked who was the person behind the baby voice and taylor actually answered, "300 people know" thats it

— q (@GUCCIKlM) October 20, 2017

This is just a small sampling because this is supposed to be a quick post, but this is insane. All of it, really. It's insane that Taylor holds "secret" listening sessions for HER OWN MUSIC that she knows damn well won't remain secret, making them obnoxious PR stunts. It's insane that there are people out there who think that she owes them anything other than her music in exchange for their support (and money). Finally, it's maybe most insane of all that Taylor thought dicking around on Tumblr like a horny teenager was a good idea.
Look, I don't care if you like Taylor Swift. She's fine. But if you feel compelled to show your ass online because some people know something about her that you don't, here's what to do: Put down your phone. Walk outside. Look around. Take some deep breaths. Literally anything else you choose to do is more useful than posting your anger online.
Oh, and the voice belongs to Blake Lively and Ryan Reynolds' daughter, James. Happy now?​
We Need To Make Sure Katy Perry Is OK
The Metropolitan Museum of Art Costume Institute Benefit, aka that #MetGala thing all the celebrities you follow on Instagram kept posting about last night, is basically the biggest fashion party of the year. It's an event to fund the fashion department at that museum where Blair Waldorf ate lunch everyday. Every single relevant celebrity (and some non-relevant ones) shows up in a dress that takes up at least eight square feet of red carpet space and somehow has space to take a bunch of bomb solo pics. If you've ever tried to take an outfit Insta in Manhattan, you know how impossible it is to get a shot without an angry New Yorker in the background. IDK, I'm not like a scientist or a geographer or anything but to me that sounds like this event is pretty massive. Anyway, let's talk about the fashion.
Just like all of the Greek life mixers you attended, the Met Gala has a theme every year. It's pretty similar to college parties in the sense that it doesn't really matter if your outfit isn't totally in keeping with the theme as long as you look hot and/or get a great Instagram. Really, the only difference is that in college, you didn't care about the theme because you were drunk, but for the Met Gala, you don't care about the theme because it's some avant-garde shit you probably can't spell or pronounce. This year's gala was in honor of Rei Kawakubo, the creator of the Japanese fashion label Comme Des Garçons. See? I told you.

Rumor has it Kylie Jenner's Versace gown is made out of the exact beaded curtain Britney Spears is seductively hiding behind on the Oops… I Did It Again album cover. I know that this is just a rumor because I just made it up right now, but it's the least damaging rumor I've ever started so I think that it's probably okay to tell your friends about it.

Gisele's dress was obviously fabulous because we, like everyone else on Earth, have been brainwashed into thinking everything Gisele does is nothing short of dazzling—but her dress definitely wasn't outrageous or confusing, which seemed like a missed opportunity. Like, Met Gala is the one chance you get to literally glue random shit to your head yet Gisele took her wardrobe cues from the Super Bowl trophy her husband almost didn't win this year.

Speaking of gluing random shit to your head and calling it a night, that's exactly what Katy Perry did. I can't really tell if this is like super high fashion or the unofficial release of a new pair of Snapchat Spectacles, but either way, somebody better check on Katy to make sure she's not on the verge of a Britney 2007-esque breakdown. This whole thing looks like if my latest Pinterest fail came to life and started singing about the 2016 election. Like, what is that eyeball? And can't she get a handler to make sure her veil is on straight? Also, is she wearing socks with sandals here? Her feet look like two enormous camel toes. Every inch of this ensemble is just too much, and, to make matters worse, it's not even original. I'm fairly certain I saw this exact look on Winona Ryder at the end of Beetlejuice.

Everyone's freaking out over the fact that Blake Lively looked exactly like Serena Van Der Woodsen returning to the Met steps last night. To those people, I would like to point out the little known fact that Blake Lively actually did play Serena Van Der Woodsen in the hit series Gossip Girl, so like, yeah there's a pretty solid chance she's going to look like her. Anyway, the way the seaming on that dress perfectly accentuates Blake's curves is definitely going to inspire my next going out outfit/crash diet. I don't even hate the large bird trapped in the bottom of her skirt. Ugh, is Blake lively perfect because I hate her, or do I hate her because she's perfect?

In an effort to convince us she's given up the thirst trap life, Kim Kardashian wore the most understated dress possible. Honestly, it looks like one half of an Esmeralda costume. This is actually genius because she's already used every over-the-top play in the book, so the best way to get people to talk about her is to basically do nothing. Honestly the most shocking part of this ensemble was the fact that Kim's third child, Kanye, was conspicuously missing.

Bella Hadid wore the ULTIMATE "I'm going to run into my ex boyfriend and his new pop star girlfriend" slutty outfit. It looks like she was on her way to audition for Catwoman and then got a last-minute invite to the Met Gala. It's literally the most skintight ensemble I've ever seen in my entire life and I'm actually wincing thinking about all of the boob tape she probably had to peel off her body at the end of the night.

Lily Collins looked like what would happen if Regina George and Janis Ian finally gave into the lesbian relationship they both denied in middle school and raised a child together.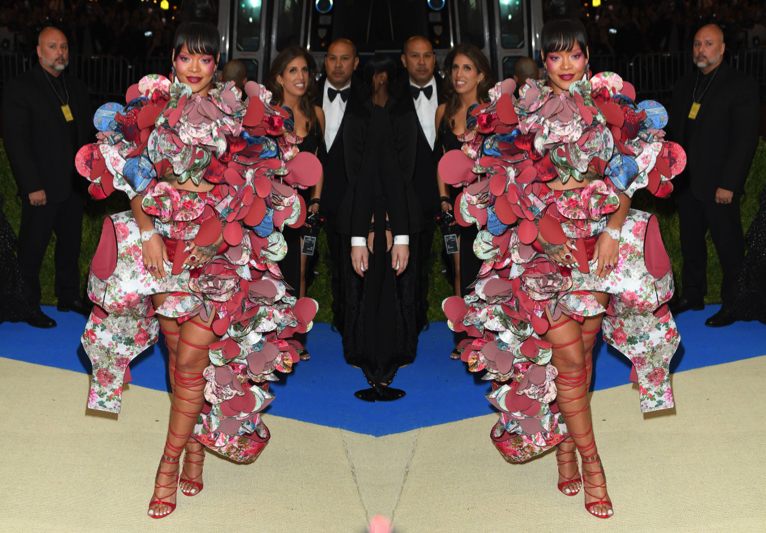 And lastly, Rihanna won best dressed because she wins best dressed at everything these days. It's just a thing, okay? If you Google "Met Gala 2017" it's like 80% photographs of Rihanna. Unlike The Grammy's when she stole the show by drinking out of a flask, this time RiRi showed everyone up by rolling around in your grandmother's potpourri basket. She somehow managed to wear a dress (????) that could double as a second grader's arts and crafts project and was twice the size of her body but still somehow managed to show off her underboob tattoo. She paired it with shoes that a team of people who make more money than you spent 30 minutes lacing up. What a legend.
Blake Lively Would Totally Do A 'Gossip Girl' Reunion If It Wasn't For Her Pesky Kids
We all remember Gossip Girl, the show about rich prep school kids in New York City based on a book about rich prep school kids in New York City that made you wish more than anything in the world that you were a rich prep school kid in New York City. For five full years, Gossip Girl was there to teach us witty comebacks and give us unrealistic expectations of what a high school sophomore should look like. Ever since the show went off the air in 2012, we've been just waiting for the day when the cast would say "We're out of money and ready to do a reunion." And while we haven't seen Ed Westwick (Chuck Bass) or Chace Crawford (Nate Archibald) since they walked off set for the last day of shooting (if anyone has seen them, btw, please contact the authorities. Their families miss them very much), other GG cast members have like, lives and careers and shit that might preclude them from diving back into the series that made them famous.
Because, let's face it, without Gossip Girl you'd have literally no idea who Taylor Momsen is, and you'd think Leighton Meester was just some store at the mall.
Blake Lively, on the other hand, has managed to maintain a career and a life post-Gossip Girl. Getting married and having babies and shit. Making her the least likely to return and reprise her role as Serena van der Woodsen, despite the fact that starring in the film The Age Of Adaline hardly counts as a thriving acting career.

Lucky for us Gossip Girl fans, Blake Lively told Variety that she's at least moderately DTPSVDWA—Down To Play Serena Van Der Woodsen Again—provided that she can work it in with the aforementioned "husband and babies and shit." I think I speak for literally everyone when I say, "If Blake Lively needs a babysitter, I volunteer as tribute."
"It sort of all depends," Serena Blake said, "Would I do seven years of the show? No, because it's hard work and I've got my babies, and I don't want to be away from them that much. But I've learned in life you never say never. I'm looking to do something I haven't done yet, not something that I did. But would I do that? Who knows? If it was good, if it made sense. We had so much fun shooting and living and working in New York City."

This sounds like a pretty soft no until you discover that "I'm looking to do something I haven't done yet, not something I did" are the exact words you said last weekend before booty calling your ex. So what I'm saying is, there's hope. Though, who can predict what Blake Lively will do? The woman named her daughters "James" and "Ines," for Christ sake.
'The Bachelor' Finale Predictions: What Heinous Looks We Can Expect
Let's face it, this season of The Bachelor has been one shit storm after another. We knew we were in for a rough fucking ride when they announced Nick Viall as the next Bachelor instead of mattel factory-made Ken Doll American hero, Luke Pell. But we didn't know how rough it would be until we got a look at the female contestants. Gone are the barrel curls, the glossed lips, and the smoky eyes we knew and loved. Instead replaced with looks that are up there with Lindsay Lohan, pre-Plastics makeover. RIP.
We've already established that none of these bitches have their shit together beauty-wise so I can only imagine how much of a shit show the finale will be. But for your sake I will imagine, so buckle up boys and girls, it's gonna be a rough one.
Here's what we can expect:
RAVEN

Real talk, on a scale of one to Trump Cheeto, how tan orange do we think Raven will be for the finale? It's like the farther we get from tropical locals the more Banana Boat self-tanner she feels the need to wear. She hasn't done anything completely batshit with her hair and makeup this season so I'm sure she'll look fine on that front but I swear to god if she shows up in another high neck, so-vintage-it's-practically-Pilgrim dress I will lose my goddamn mind. The one thing I do feel confident in is that Raven will come armed with a stiletto to beat the shit out of Nick with should he fail to give her an orgasm in the fantasy suite. No pressure, Nick.
VANESSA
Vanessa will show up with a significant amount of side eye and wearing the blood of her enemies in the form of a bold red lip. Her boobs will 100% be out in whatever heinous dress she picked up from the Canadian outlet stores. It's a bold move Cotton, but because we know Nick is a scumbag who can't resist staring shamelessly at women's chests, it could just get her the final rose.

RACHEL
If Rachel's still not eliminated yet she'll wear her hair in some sort of sophisticated wave to show that she's way too good for Nick and this show. It's hard to speculate on outfit choices because this girl is legit all over the place. Some days she looks like she bought her outfit in the clearance section of Wet Seal and other days she looks chic as hell.

Jesus. Seriously, Rachel, you better step up your game if you're going to be the next Bachelorette. Don't make me write a strongly worded letter to the producers about how I feel personally victimized by those mustard colored shorts.
NICK
Nick, aka the poor man's Ryan Reynolds and the least sexy person on the show, will undoubtedly be wearing his signature look: tears and a sexless turtleneck. I'm sure of it.

Brb I'm gonna start drinking now to pregame for this shit show. Shots every time Nick cries or Vanessa thinks she's better than this show. You forget we've seen your IMBD page girl, we know you're not.