The Best TV Shows And Movies Coming To Netflix In November
Ah, November. The sweet time of the year when everyone is either still hungover and reliving their glory from Halloween (your costume wasn't even that great, chill), or already setting up their Christmas tree and writing their Hanukkah wish list. There. Is. No. In. Between. Despite the fact that Thanksgiving is around the corner, nobody really seems to care about #turkeyszn. But, fear not! I'm here to make the irrelevant month of November more relevant again. Here are some new shows and movies coming to Netflix in November that you can get excited about.
 'Grease'

It's finally here! You may have seen my recent article on a new Grease series that is yet to come, but honestly, what can ever compare with the original? Grease is the ultimate classic you can enjoy with bae, your mom, your friend, or alone. Get your pink jackets, poodle skirts, and singing voices ready, ladies!
'Step Brothers'

Netflix, did we just become best friends? Thank you for bringing us the joy of watching Brennan and Dale's rivalry and brotherhood blossom and the laughs that is Step Brothers. Having a bad day? Need a pick-me-up?  This is the perfect comedy to turn on and cry of laughter to. I love you, Will Ferrell.
'A Bad Moms Christmas'

Mila Kunis, Kristen Bell, and Kathryn Hahn. An amazing trio, I must say. A Bad Moms Christmas is the perfect feel-good and hilarious holiday movie about three overworked moms who rebel against the expectations of motherhood during Christmas time. If you're already prepared to sit on Santa's lap this week, this is the movie for you. Let's get in the holiday spirit! P.S. Kristin Bell is me during the holidays.
'A Holiday Engagement'

Bonnie Somerville stars in this this holiday rom-com about a woman named Hilary Burns who constantly feels pressure from her mother to marry (same, girl), and when her new fiancé suddenly breaks up with her, she scrambles to find a replacement. So, she hires an actor to pose as her fiancé in front of her family, as ya do. Honestly, the only reason I even know Bonnie Somerville is from her role as Mona on Friends, but this movie is a pretty fun storyline to follow. Oh also, Hilary Duff's sister, Haylie, stars as the snobby sister, so that in and of itself should be your reason to watch.
'Queer Eye': We're In Japan!

The wait is finally over. It's been a long three months without JVN on our Netflix screens, but the Fab Five are back and truly better than ever. They are abroad in Japan to help four Japanese men and women find confidence in themselves. Unfortunately, the season is only four episodes long, so pace yourselves accordingly.
'The Crown', Season 3

The Netflix series—which won the 2017 Golden Globe for Best Drama and a handful of Emmys, is back with season 3 spanning from 1964 to 1977. Yeah, 13 years of history is a lot to get through. The show follows the reign of Queen Elizabeth II and the ups and downs of the royal family. What's interesting about the show is that the actors change every two seasons. For this season, actress Olivia Colman will take over as Queen Elizabeth, Tobias Menzies as Prince Philip, and Helena Bonham Carter as Princess Margaret.
'The Great British Baking Show: Holidays', Season 2

Dig out your ugly Christmas sweater because The Great British Baking Show is back for Season 2 for the ho-ho-holidays. This holiday extravaganza will see competitors from past seasons of the show reunite under the tent. Paul Hollywood and Prue Leith are back judging this season, and the fans are going wild. We're in for a treat, literally.
'Atypical', Season 3

This Netflix drama follows Sam Gardner, an 18-year-old who's on the autism spectrum, who decides it's time to find love. His journey sets his mom and family on their own path as Sam seeks independence. In the new season, Sam starts his first year of college and is faced with the challenge of figuring out what success means for him. The show is a great presentation of life in a family, specifically with a special needs child. If you haven't seen the show yet, I definitely recommend trying it out.
Unfortunately, when one door opens, one must close *sobs*. While we are so excited about what's to come this month, we also have to face what we are leaving behind. Here are the movies leaving Netflix this month: Caddyshack and Caddyshack 2, Chasing Liberty, Groundhog Day, Sex and the City: The Movie, The House Bunny, Mamma Mia!, and Coco. Enjoy them while you can!
Images: Becca Tapert / Unsplash; Giphy (8)
We Sat Down With JVN And Life Will Never Be the Same
Jonathan Van Ness seemingly became a household name overnight, with his overwhelmingly positive attitude and infectiously kind nature quickly rocketing him from being a member of Queer Eye's fab five to a superstar who can't walk down 7th avenue without getting stopped for selfies. On September 24th he released his highly anticipated auto-biography, Over the Top, in which he discusses a range of experiences, from growing up doing hours of gymnastics on couch cushions in his mother's midwestern basement and being the first non cis-gendered woman on his high school's cheerleading squad to sexual abuse, drug addiction, and an HIV diagnosis he's now openly discussed on more talk shows than his young queer self could've dreamed of.

JVN, as he's become known to most, stopped by Betches HQ to sit down with Chris and Bryan of our Everyone's Gay podcast (listen here) to discuss the whirlwind that's been the last two years, and how there's much more to him than the sunshine and rainbows that he is so often portraying on television. When he came in, understandably tired from a 6-interview first day book tour, we were thrilled at the opportunity to discuss the book that made half of our office cry on their train commutes home.
Wearing a simple purple sweater and graciously accepting a glass of Prosecco, the feeling of familiarity was overwhelming as we quickly delved into what had just happened before he came in: a call from none other than the HBIC herself, Elizabeth Warren. JVN had endorsed her on Twitter earlier in the day, explaining how forgetting his HIV medicine in LA cost him $3500 out-of-pocket to refill here in New York, something he told us he absolutely wouldn't have been able to pay for just a couple years ago.
Thank you for your support, @jvn! Shoulder to shoulder, we're going to fight for #MedicareForAll. No one should be able to make a profit off of denying people health care—and together, we'll win. pic.twitter.com/8aF4Ut55jq

— Elizabeth Warren (@ewarren) September 26, 2019
He also recalled when he received his diagnosis several years back after passing out while coloring a client's hair. His doctor told him not to worry, an HIV diagnosis nowadays isn't the devastating thing it was in the 80s and 90s, telling him he'll die of cancer or a heart attack before dying of HIV complications. After discussing the serious topics that he's been talking about since his book's release we quickly switched over to a lighter subject, the porn we used to watch as closeted teenagers, naturally, and how all three of us would sit near our family's basement TV trying to catch a glimpse of man on man action, while being able to quickly change the channel if someone were to come downstairs.
During a game of Everyone's Gay's signature game, "c*ck it or block it," (c*ck it, meaning we love it, block it meaning we hate it, obviously) we started with "impeachment" where JVN announced he not only would suck impeachment's d*ck, but he would let all the Republican senators, with the exception of Mitch McConnell, c*m impeachment in his mouth. The game also revealed how he stans the new(ish) hosts and judge of The Great British Baking Show, and how he thinks Tonya Harding knew more about her infamous sabotage of Nancy Kerrigan than she lets on.

He truly lived up to the hype, with a warmness that is hard to come by, and kindly offered a group photo before leaving, instructing his publicist on the correct way to film an instastory video, which at Betches HQ is not something we joke about. The book truly struck a cord with this formerly closeted, hiding to watch Project Runway in his parent's basement, still constantly socially anxious millennial, and is a book that everyone needs to read. Whether you're LGBTQ, a former cheerleader, a gymnast, a sex worker, or simply someone that needs to read a book about someone who has been f*cking through it and came out on the other side thriving, this is the memoir for you.
Click these links to listen to the episode on iTunes and Spotify
5 Ways To Get Gorgeous Hair Like Jonathan Van Ness
If you have noticed that your hair inspiration goals are starting to be a little less Blake Lively and a lot more Jonathan Van Ness, you're not alone. According to a recent study, 72% of women have reported wanting to emulate the Queer Eye star's hair and twerking abilities. Okay, I literally just completely made that up, but it sounds convincing and is actually probably true. JVN has flawless hair and a legendary Instagram handle, so it might be a good idea to take every single word he says and apply it to your own life. Jonathan recently spoke to The Cut to share some of his hair secrets. Here's how to use them as inspiration for your own life. And, because I'm better at repurposing other people's inspirational quotes than Michael Scott is, I've even thrown in some extra tips that helped create my flawless, modest, head of hair. 
1. Stop Washing Your Hair Daily
"Not overwashing your hair gives it a nice shine," JVN told The Cut. "Washing your hair every day dulls it out."
I mean… not washing my hair is my favorite part of my beauty routine, and I'm so glad that Jonathan has confirmed that it's his secret to Jesus hair. Personally, I've always been kind of skeptical of using dry shampoo, because I feel like if I'm not going to wash my hair for three days, and I look like a greaseball by day four, that it's a sign that I need to just wash my damn hair. But like, I also understand that some betches get a lil greasy by the end of wash day one and should probably use some dry shampoo. If you're going to trust any dry shampoo, I'd advise you to go with the one invented by the Olsen Twins named after a '90s grunge band. According to the reviews, this sh*t smells amazing and not at all like teen spirit. And no, that's not the only Nirvana song I know…

Elizabeth and James Nirvana Dry Shampoo
2. Use Silk or Satin Pillowcases
JVN also mentioned that silk pillowcases are the move for achieving shiny hair. Please, let's all just take a moment to close our eyes and visualize Jonathan laying on a heap of gorgeous silk pillowcases. I kind of feel like I just had a religious experience. You can probably pick up a silk pillowcase at a lot of places, but we at Betches love Slip pure silk pillowcases. They feel amazing and will make your fair so shiny, you'll need shades. No sorry you're right, that joke was terrible.

3. Use A Shine Spray
Jonathan doesn't really use shine sprays, but he did tell The Cut that he recommends Aveda Brilliant Spray On Shine and Kevin Murphy Shimmer Shine. Personally, I just feel like that wasn't his most like, fun recommendation. You definitely could spend $30 on one of the sprays that JVN stands behind but doesn't really use. Or, you could FaceTime your long distance best friend on your way home from a date that went kind of okay, realize your hair looks a little dull in the front cam, stumble into a Duane Reade because you're kinda drunk and want a snack, and then just like, discover your favorite $7 shine spray. I know I'm not a self-love guru, and I don't mean to go against anything that the lord of shiny hair advises, but I also feel like that could be a really great personal journey and I don't want you to miss out on it.

Aveda Brilliant Spray-On Shine
4. Become One With Nature
Okay, so, this next shiny hair gem actually just comes straight from me, so you're welcome. Like Jonathan said, I try to wash my hair as infrequently as possible. So when I do actually wash it, I need something that's going to work as hard as I do when I finally decide to take a weekend at the beach in late July after not having worked out since last September. LUSH's Daddy-O Shampoo uses citrus juice and seaweed to make your hair super shiny and it smells SO GOOD because it has a ton of flowers in it. It's supposed to be a brightening shampoo for blondes, but I'm a brunette and it keeps my hair looking like it's insured for $10,000.

5. Protect Your Hair From UV Rays
Okay, here's one more tip from me because I love to hear myself talk. Except, this tip is also basically from Jonathan because he loves a sun protection moment, and he is a graduate of the Aveda Institute. If you're not already protecting your hair from harsh UV rays, you really should be. There are like, a million reasons why. If you dye your hair, the sun can seriously dull your expensive color. If you wear hair extensions that don't receive the benefits of your hair's natural oils, the sun will basically fry and ruin them. Even if your job title on The Bachelor would be "free spirit," you need to protect your hair from the sun because it will seriously dry and dull your look, no matter how natural your hair is. This spray will help you minimize dryness, retain shine, and smell amazing.

Aveda Sun Care Protective Hair Veil
Images: Giphy; Sephora; LUSH; Aveda
Betches may receive a portion of revenue if you click a link in this article and buy a product or service. The links are independently placed and do not influence editorial content.

What His Swimsuit Says About How Big Of A Douche He Is
I learned two important lessons from my time analyzing men's underwear. 1) I'm basically the female version of Tan, and 2) there are way more bad options than good when it comes to covering men's junk. The situation is no different when we're looking at bathing suits—*remembers Speedos exist*—actually, it's worse. Ultimately, scoping out guys at your local beach/pool/YMCA (I don't judge) isn't about finding your sartorial soulmate. It's really about avoiding these common red flags. Read on for what his swimsuit says about him, and the swimsuits that should make you run far, far away.
Swim Briefs
Let's start with the worst. "Swim briefs" are Speedos, plain and simple. Calling them swim briefs is the equivalent of referring to Q-tips as "cotton swabs." So even using this term is sufficient reason to excuse yourself to the bathroom and never return. For those lucky souls who have never encountered a Speedo, I'll paint you a picture. They do bare minimum in the front, and either barely cover his ass or go full thong. In other words, if you hook up with a guy wearing a Speedo, you could plausibly mistake it for your own underwear while trying to get dressed. These are strangely popular among Europeans, so consider yourself warned before meeting your Italian Hinge match at Le Bain.

Square Leg/Square-Cut Shorts
Looks like we're going least to most coverage here! Square-cut shorts are the bathing suit equivalent of boxer briefs. This cut can be sexy when revealed under pants, but IMO it's a little aggressive as the sole thing covering your lower half. (*Thinks back to the cheeky Brazilian bikini I just ordered.* Nope, I stand by it.) I feel like Jordan from The Bachelorette definitely wears this kind of bathing suit, to give you a sense of the overall dateability conveyed by this style. It's the ultimate for guys who want to show off every inch of their bodies without committing fashion suicide. AKA every guy who cracked 1,000 followers on IG and now thinks they're too good to answer your texts. Not that I'm bitter, we were obvs growing apart anyway. But yeah, guys who wear this swimsuit are likely way more into themselves than they are you. Sorry!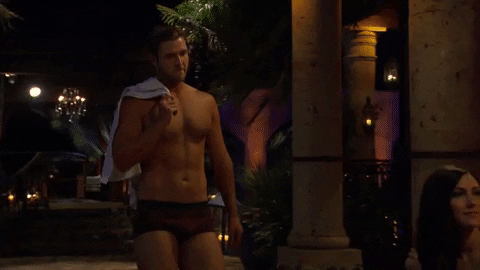 Swim Trunks
Ayyy, we've arrived at the only socially acceptable swim suit for men. Feels good. You'll recognize swim trunks from every time you've seen a male go in water without baring their full ass. They're your basic loose short, completely indistinguishable from actual male shorts to the naked eye. With swim trunks, the main thing you want to look out for is the print they choose. My personal preference is a solid that's flattering to their skin tone, or a simple print that's on-theme without being obnoxious. (E.g. *subtle* floral/Hawaiian, nautical, etc. Don't @ me, I like the tiny sailboat thing.)
If they're covered in giant flamingos, pineapples, or American flags, they're frat bros who didn't have to do anything other than breathe to get laid in college and don't intend to start now. Give them a few years of getting rejected by women like you and come back to them. Like wine, except instead of wine it's a 27-year-old man-baby. Anyone who wears plaid swim trunks is a psychopath or in middle school, and you can't convince me otherwise.

Board Shorts
Board shorts are…ok. They're really just the sloppier, oversized version of swim trunks, often worn by little kids or guys who really don't care about the fit of their clothes. Acceptable on surfers, for whom these serve a legit practical purpose. In all other scenarios, it's the sartorial equivalent of what you put on to pick up Gatorade while hungover.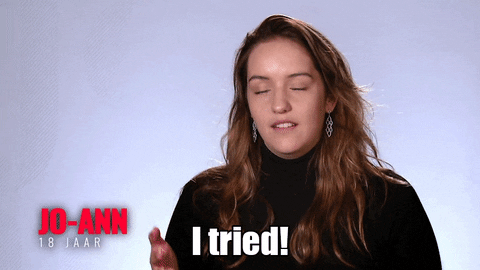 Jammers
First time hearing of jammers? Don't worry, me too. While I'd hoped this was a term for dressed-up jammies, it's actually a swimsuit specifically designed for athletic performance. AKA this bitch better be training for the Olympics. Otherwise, he's just weirdly proud of his thigh girth or trying to hide some kind of rash. Not a risk I'm interested in taking.

There you have it. If you're looking for a guy to actually date (so old-fashioned, I know), swim trunks only please. If you're already dating and looking to fine-tune his wardrobe, throw out all his obnoxious prints and board shorts. Everyone else, please feel free to hook up with the Speedo/short short/jammer wearing guys out there and report back. Don't say I didn't warn you when all they talk about is their dating app matches, muscle tone, and favorite protein powder. Wow, I'm just describing Jordan. He'll be missed.
Images: Giphy (5)
What Advice The 'Queer Eye' Fab Five Would Give To Your Zodiac Sign
You know how people say you're a total sociopath if you don't yawn when you see someone else yawn, because that means you don't understand empathy? Honestly, I just yawned like three times writing that because even reading the word yawn makes me yawn, but *Gretchen Weiners voice* that's because I'm such a good friend. Anyway, I think there's actually a new test to see if someone's a sociopath, and it's whether or not they hysterically cry while watching Queer Eye. No offense, but if you don't totally lose your shit at least once an episode, you're probably an awful person. It's the kind of inspiring, heartwarming television that makes you look at yourself and wonder how five beautiful gay men could make you a better person with only a few avocados and some Crate and Barrel furniture. Well, thanks to me, you now no longer have to wonder how the Fab Five would transform you into a better person. Here's what Tan, Jonathan, Bobby, Karamo and Antoni would do to make you suck less based on your zodiac sign.
Aries
As an Aries, you're like, always in a rush and never make any time for yourself. But being busy doesn't mean your permanent fixture of a boring ponytail is justified. Jonathan would prob hook you up with a travel sized Ouai Haircare kit, so you have a little battalion of shit to carry in your bag to save your hair on the go.

Taurus
Taurus is kind of the worst case scenario for a show like Queer Eye, because it's a sign that's really overly cautious and super stuck in its ways. You've probably been wearing the same dark wash skinny jeans and plain top forever. Maybe you occasionally spice things up by dabbling in whatever the current mainstream necklace trend is. (AKA, you used to have a few statement necklaces. Then you moved to a simple black choker. Now you're wearing a dainty gold chain. Yawn.) Tan would prob take you to like, Madewell, stock you up with classics, and show you how to elevate your favorite basics to create your own personal style.
Gemini
Geminis never STFU, so when it comes to entertaining, you probably think it's sufficient to throw a jar of Trader Joe's salsa and a bowl of Tostito Scoops on the table. As long as there's good conversation, you're having a decent time. While I'm sure your friends totally love hearing all about your new experiences at Orange Theory (oh wait, I lied, they don't), if you want to throw like, a real adult hangout, you need to step up the snacks. Enter Antoni and his avocados. He will teach you how to make an extremely fancy guacamole, because what else was he going to do?

Cancer
Cancers are super sensitive homebodies who have a tendency to obsess over material items for emotional appeal. AKA, you're all fucking hoarders. Bobby would most likely spend his time trying to find a creative, non-tacky way to consolidate all of the shit you've accumulated over the years into something really cute. But, since you're probably not going to be on Queer Eye anytime soon, I feel like it's my responsibility to let you know that it's time to throw away all of those cheerleading competition shirts from high school. Stop being weird.
Leo
It's like, written in the stars that Leos are really into great clothes and food, so you probably don't need a ton of help in those areas of your life. However, Leos are a fire sign, and although that usually leads them to be passionate and courageous, it can also result in jealousy or aggression if you don't know how to harness your intense energy. If you were on Queer Eye, you'd probably be in like, some confusing montage at a kickboxing gym while Karamo throws a few inspirational quotes your way.

Virgo
If you're a Virgo, I'm going to guess that your Instagram stories typically consist of acai bowls and a fridge full of prepped meals. We get it. You're healthy. Remember that time on Queer Eye when Jonathan showed those really hot firefighters how to make their own face masks? You should totally try it yourself. Combine egg whites and peach until you have a disgusting pudding consistency, and then save yourself a million dollars while you also clear your skin. Can you believe?
Libra
As an air sign, Libras have a tendency to think of really great ideas and then never actually finish them, because they can be super lazy. You've probably created a Whole30 board on Pinterest, and then only stuck with it for like, 10 days. Bobby would light a fire under your ass and hang up all the shit you bought to create a gallery wall in your living room, but never got around to hanging up.

Scorpio
Scorpios are already known for being pretty fierce, so I'm assuming that a lesson on how to "spray, delay and walk away" would be a total waste for you. Instead, the Fab Five would probably want to focus on your eating habits. You kind of have a tendency to eat whatever you want whenever you feel like it. Antoni would give you a few recipes for making healthy, wholesome snacks so you can stop ordering greasy Thai food on Seamless for no reason. Hopefully, you're into avocados and grapefruit.
Sagittarius
As a Sagittarius, you have a very eclectic style that's probably a result of all of the interesting adventures and trips you've taken. I know that just sounded like a compliment, but I'm actually subtly begging you to stop posting #tbts from your semester abroad. Bobby would most likely find a way to tastefully incorporate all of the cool shit you've acquired into an a dope space. We all know the whole tapestry and fairy lights thing is a little played out, so it's probably time for you to find a new way to let other cultures inspire your apartment decor, anyway.

Capricorn
Capricorns have a reputation for being really practical and business oriented, so I'm gunna guess that your closet needs some attention. Your status as a HBIC does not lock you into a lifetime of Banana Republic trousers. Tan would def hook you up with some edgy suit separates in badass colors, prints, and fits.
Aquarius
Aquarians value their personal freedom probably only second to straight white dudes who feel shaded by women's rights, so no matter how much skincare advice and avocado toast the Fab Five can give them, they'll never be hugely successful in a relationship until they truly learn to let people in. Karamo would probably take you on a drive in that enormous truck that's a pretty good use of product placement, and have a heart-to-heart with you about why you can still be a unique individual if you're in a relationship.
Pisces
Pisces are really creative, but they're also really gentle. If there's a bold hairstyle you've always wanted to try, you should totally let Jonathan's pursuit of living your most fun life inspire you to stop being so boring and just try it. This is 2018. Pretty much anyone can have like, pink hair or a neck tattoo without it being a big deal. Just go for it.


Images: Giphy (6)
The Best TV Shows And Movies Coming to Netflix in February
It's officially February, so that means the sun is still setting at 4pm, we're still trying to pull off knit turtlenecks, and we're still watching Netflix. Like, a lot of it. I'd say with the combination of the shitty weather, a boring Bachelor season, and the shit show of our political system, our society is at an all-time low, which means we can only turn to TV to make ourselves feel a little better. I mean, vodka helps too, but it doesn't give you as much material for elevator small talk at work. If you've already binged on all 10 seasons of Friends this month and you're in need of something new to watch, here are the best shows and movies coming to Netflix this month.
1. 'Meet The Parents' & 'Meet The Fockers'
Ah, two classic movies for Netflix & chill season. First of all, they literally go together, which gives you an excuse to keep the TV on for another two hours, and secondly, they're both equally great. I mean, there's nothing like the combo of Robert De Niro and Ben Stiller to make us forget about our own family drama, and also to remind ourselves never to agree to meeting the parents. It's always a trap.

2. 'Coach Snoop'
Watching Snoop in action is more mesmerizing than watching Cardi B give a live TV interview. Luckily for us, Netflix is literally giving us a show that allows us to watch Snoop in his very unknown natural habitat of little league football coaching. Is this real life? The answer is yes, and the show is coming out this week. Sit back, relax, and watch Coach Snoop coach a team of teenagers, no bong in sight.

3. 'Ocean's Eleven', 'Twelve' and 'Thirteen'
Apparently there's an Ocean's Eight coming out this summer, so I guess now is a sensible time to catch up on the other three. Ocean's Eight will be an all-female spin-off with a killer cast. We're talking about Sandra Bullock, Cate Blanchett, Mindy Kaling, Rihanna, James Corden, even Anne Hathaway (which is frustrating, but you can't win them all). Think of the OG trilogy as your pregame. The first remake of Ocean's Eleven (I know, it's confusing, and Hollywood has been out of ideas since 1970) and its subsequent sequels, though, feature the likes of George Clooney, Julia Roberts, Brad Pitt, and more.
4. 'The Joel McHale Show with Joel McHale'
We have to admit we have a soft spot for obnoxious stand-up comedians hosting their own shows, so we'll be watching Joel McHale's show. Joel McHale is known for his amazing pop culture shit-talking and fabulous celeb guests, so we're just praying his show is a fair combo of our two fav pastimes.

5. 'Project X'
This movie is so underrated, and we're totally into its revival, so thank you, Netflix. Project X was the movie that encouraged us to drink more and care less, and it also first opened our eyes to the hotness of Miles Teller (if you'd like to fight me on this, I'll be outside). The movie is all about high school seniors throwing a rager, so maybe it'll even hype us up to leave the house this weekend and get blackout enough to come home before even making it to the club. Ugh, I love being a responsible adult.

6. All 5 'American Pie' Movies
Another childhood classic. Why weren't these on Netflix already? I mean, the franchise was obviously overdone and dragged out way too long, but whatever, the jokes are funny and it just reminds us that life gets *somewhat* better after high school. On one hand, I feel like no one wants to watch the original from 1999, but on the other hand, most kids watching Netflix nowadays were prob not even born yet when it came out. Feel old?
7. 'Everything Sucks'
Speaking of the 90's, this Netflix original show is supposed to be set in 1996, and it follows high school freshmen through their v sucky lives. Honestly, it looks pretty good. The name caught my eye immediately, and the whole thing just feels like one relatable TBT. I mean, anyone who says they're not nostalgic for AIM and Tamagotchis is dead to me. Like, I still look for Dunkaroos in the pantry every time I'm drunk.
8. 'Queer Eye For The Straight Guy' Reboot
In case you've never heard of the original show, the original Queer Eye For the Straight Guy was on TV from 2003 to 2007, and Netflix is launching a reboot with an entirely new cast. The show will follow a new group of "Fab Five" guys who are lifestyle experts and like, D-list celebs with good taste. For example, the well-dressed host on Chopped who announces the mystery basket ingredients was one of the original Queer Eyes. Kinda sounds like our next guilty pleasure… we'll be watching.

Images: Tookapic / Pexels; Giphy (5)