The Celeb Couples We Don't Think Will Make It Through Quarantine
Raise your hand if you're ready to kill your quarantine partner! As my mother reads this over my shoulder and slowly raises her hand next to me, I assume many of you are experiencing the same thing. It's hard being locked in the house for months with no end in sight. But you know who it is especially hard for? Essential workers. Kidding! Celebrities. It's hard for celebrities. Because they're not used to spending endless amounts of time with their spouse in a 15,000 square foot house close quarters without assistants, nannies, and other peasants as a buffer. And the cracks are showing. In the last few weeks, we've already had divorce and breakup announcements from Kristin Cavallari and Jay Cutler, Mary-Kate Olsen and That Old French Dude, Ashley Benson and Cara Delevigne, and Megan Fox and Brian Austin Green. And I don't think we've seen the end of it yet *cue evil laugh*. So which couples do I predict will also fall victim to the quarantine curse? Read on for the questionable evidence!
Katy Perry and Orlando Bloom
I know, I know, they're having a baby, I'm so mean. And while, yes, quarantine has definitely made me meaner (turns out it was possible!) hear me out. Even before these two announced that a little baby was Blooming (turns out I'm hackier in quarantine, too!) they had their issues. Katy and Orlando broke up in 2017, saying they were taking "respectful, loving space". Ick. They're totally the kind of people that say "make love", aren't they? Then they got back together, got engaged, and then there were rumblings that they postponed their wedding. And even after they revealed Katy was pregnant, Katy herself told Ryan Seacrest that they tend to fight a lot!
Now, they're having problems in lockdown. The article claims that Orlando is having trouble controlling his partying, doesn't like being tied down, and keeps reminiscing about the old days. Orlando. You are 43. Your knees crack everytime you walk down some stairs. If ever there was a time to get tied down, it's now! And also, where are you partying in this pandemic?
I've always felt like these two were on rocky ground, and the fact that Orlando reportedly doesn't want to settle down pretty much convinces me they're going to break up. But to be honest, the fact that he's friends with Leonardo DiCaprio really should have been a red flag that smacked Katy across the face from the start. I'm sorry to say that these two are probably going to announce they're over soon, but if it's any consolation, Katy, I thought "Daisies" was a great song. 
Kim Kardashian and Kanye West
It's no secret I've never believed these two were a real couple. Much like Kim's face, entire body, and personality, I've always maintained this relationship was engineered in a lab for maximum attention. And boy, has it worked. But for the purposes of this article, fine, I'll bite. Kim and Kanye have been together since 2012 and have four kids together, even though I'm pretty sure everybody forgets about Psalm, right? Kimye have had their ups and downs, but now that they're quarantined together they are arguing a lot. According to US Weekly, Kanye doesn't help with the kids and is busy "creating". I'm sure we'll be blessed with a new $250 pair of spandex bike shorts with holes on the butt cheeks any day now! Now sources are saying Kim wants her space, and is trying to keep her family together for her kids' sake. This is definitely all true information not fed through a fake source, and I feel really bad for her!
So will they break up? Lol, no. They just don't want us to forget they exist while we're all binge watching season two of Dead to Me. Fine, Kim. Here I am, paying attention. Are you happy now?
Julianne Hough and Brooks Laich
I really don't care about these two, but for some reason the limit does not exist on stories about their rocky relationship. I'm serious. Over the past six months, there have probably been 50 articles about their sex life, their fights, if they're together, if they're not together, and MY GOD just give me your diary already Julianne, so I can read it aloud and be done with it. And now, they are reportedly "fighting for their relationship." Because apparently COVID-19 wasn't torment enough on its own, we also must be punished with even more say-nothing stories about two D-listers' relationship. And that's how I know the world is ending.
Anyway, Julianne and Brooks are not even in quarantine together even though they have "so much love" for one another. Girl, if you can't even stand to be in the same STATE as him during a global pandemic, and haven't posted a pic of him on IG in nearly a year, then I think it's time to call it. No need to shove more stories down my throat fight for the relationship. Once lockdown is over and these two can muster up the strength to briefly put aside the obvious disgust they feel for one another so they can break up in person, it's over. 
Kristen Bell and Dax Shepard
This one hurts. I love Kristen Bell. I watched Veronica Mars back when it was on UPN, so you know I'm loyal. And Dax is one of the Bravermans! I all-around love this couple, and I don't even say that about my own parents. So when I read that Kristen told Katie Couric that she and Dax are "at each other's throats" and "find each other revolting," I was devastated. Devastated, but also impressed by how clearly Kristen understands my feelings about every man after they express any interest in me. It really is revolting. But that's why I'm not married!
While I appreciate the fact that Kristen and Dax are being honest with us, I don't like that it gives me tummy problems. Don't we have enough to worry about right now? I'm praying that they keep it together long enough for us to get sprung from the bad place so they can each take a nice, individual spa weekend and regroup. 
Prince Harry and Meghan Markle
Okay, so I have no evidence that Prince Harry and Meghan Markle are going to break up. But I had to pick one wild card. I mean, I don't think anyone had any idea Mary-Kate and That Old French Dude were going to break up, and then BOOM! Papers filed! And if anyone is able to keep their sh*t on lock as well as the Olsen twins, it's the (former) royals. They would totally do a surprise divorce announcement, so I'm shooting my shot on this one. Plus, I'm giddy just thinking about all the gossip that would come out of it. And even though I don't actually have any hard evidence, as I said to the judge when I was disputing my speeding ticket, this isn't a real court so that doesn't matter.
And that's not to say it's not possible. Think about it. Harry and Meghan moved to LA at the very beginning of quarantine. Moving to a new city is hard enough even when you're not in the middle of a pandemic. And now he can't even get the goat cheese balls at SUR! How depressing. Plus, there's the added pressure of a toddler, and the fact that his family is sh*t talking him to all the tabloids in London, and I bet he has to drink a lot of kale smoothies now. Will this all result in a blowout fight that will break up our ginger prince and his American princess? I hope so, if only for the bragging rights. 
Those are the celebrity couples that I think are going to bite the dust! I hope that you all are handling quarantine better than they are, and if you don't hear from me again, my mother most definitely fed me to her dog. 
Images: Tinseltown / Shutterstock.com; katyperry, kristenanniebell, kimkardashian, juleshough, meghanmarkle_official/Instagram
The California Wildfires Are Affecting Some Of Your Favorite Celebrities
If you've been paying attention to the news for the last few days, you probably have an idea of how bad the California wildfires are right now. Since Thursday, thousands of acres have burned, and hundreds of thousands of people have evacuated their homes in areas surrounding Los Angeles. Obviously, this is a terrible tragedy, and we're sending out positive vibes to everyone who's been affected. But, being Los Angeles, some high-profile celebs have been at the mercy of the fires.
First, we were deeply saddened to learn that the Bachelor mansion partially burned down in the fire. This is really a tough blow, considering all the amazing memories that have been created there, and all the questionable choices that have been made under that roof. I'm sure Chris Harrison & co. will come back bigger and better in a new location, but it's still a major disappointment. Luckily, Colton and his crew of ladies are reportedly filming abroad right now, so there was no filming going on at the house. But still, this really might be the most dramatic season ever.
Pray for Malibu— and #TheBachelor Mansion… pic.twitter.com/D9t8VxFXeo

— Mike Fleiss (@fleissmeister) November 9, 2018
Because the fire zone is evacuated, a lot of people don't know the exact damage to their homes yet. Because of the proximity to Calabasas and Malibu, we do know that basically all of the Kardashians and Jenners live in the danger zone. Kim and Kanye, Kourtney, Khloé, Kendall, and Kylie have all evacuated their homes, which is really crazy. Kim posted a really cute picture with Khloé's daughter True, so at least they're all spending time together during this scary ordeal. Caitlyn Jenner also said that she evacuated her house, and doesn't know if things are damaged. If anything can bring Caitlyn and the Kardashians back together again, maybe it'll be bonding over a wildfire? Nah, they hate each other way too much.
Other celebs affected by the fire include Lady Gaga and Orlando Bloom. Lady Gaga has posted a few different messages about the fire, sending out her love and support, and urging everyone to be safe, saying she doesn't know if her house will burst into flames too. Meanwhile, Orlando posted a photo of his street that truly looks like it was taken in the depths of hell. This fire is no f*cking joke, that's for sure.
So basically, sh*t is really bad in Southern California right now, and a lot of people are going to lose a lot. Obviously it sucks for the celebrities, but our thoughts are with all the people who are affected by this tragedy. I won't get into Donald Trump's lackluster statements about the wildfire right now, but just know that this is a crisis far bigger than the Bachelor mansion. Please stay safe everyone!
Images: Shutterstock; @fleissmeister / Twitter; @kimkardashian / Instagram; @orlandobloom / Instagram
You Probably Forgot About Lindsay Lohan's Iconic Sex List
It's been a big year for Lindsay Lohan. She opened her beach clubs in Mykonos and Rhodes, and is supposed to be getting a new reality show sometime soon. I'm not sure whether I love her or hate her at this point, but I'm still fascinated no matter what. For the past few months, she's basically just been hanging out in Mykonos, posing for pictures with famous people and randos that come to her club. Her mom came to visit, as did my favorite Trump child, Tiffany. But a few days ago, I saw a photo that really made me feel nostalgic. Lindsay was hanging out with Nico Tortorella, one of the names on Lindsay's infamous "f*ck list."
If you don't know about the f*ck list, prepare to have your mind blown. Back in 2014, Lindsay was staying at the Beverly Hilton Hotel with her friends. For reasons unknown, Lindsay filled out a literal Scattergories playing cards with 36 names of people, all of whom it's assumed she slept with at some point. There are a few names that have always remained blurred out in the photos, but there's still a ton of material here. Let's walk down memory list, and check in on some of the greatest hits of Lindsay Lohan's f*ck list.
Nico Tortorella
Nico Tortorella (who uses neutral pronouns) definitely isn't the most famous person on the list, but they're one of the most interesting. Also, they're probably one of the few that she actually keeps in touch with. This is just a guess, but I'm pretty sure Zac Efron isn't texting LiLo on the reg. Nico has been in lots of random TV shows and movies, but they're best known for playing Josh on Younger. Nico is married to Bethany Meyers, and they're both queer and hot and very into expressing themselves. Lindsay and Nico have been friends since at least 2011, and he even proposed to her as a joke one time. Glad they're still friends—Lindsay needs some people in her life who aren't Russian oligarchs.
Jamie Dornan
I gotta say, Lindsay really got in early on this one. Way back in 2006, she and Jamie were rumored to have a fling, but it didn't really lead anywhere. That was the same year that Jamie had his first movie role, and it was a full nine years before Fifty Shades of Grey came out. I'm pretty sure this means that Jamie Dornan owes his entire career to Lindsay Lohan? Maybe I just need to sleep with Lindsay too, and then my life will stop being a mess.
Justin Timberlake
I must admit, I had truly forgotten about this one. It's wild to think back to a time when Lindsay Lohan and Justin Timberlake would have been at the same parties. It's a little unclear exactly when and how this happened, but there is one plausible theory. In 2009, they were allegedly at the same club in New York, and then later Lindsay tweeted (then deleted) "where's jb cheater?" Speculation is that "jb" could be Jessica Biel, and I'm just thoroughly confused. There's a 99% chance JT has Lindsay's number blocked.

Ashton Kutcher & Wilmer Valderrama
Hooking up with both of the hot guys from That '70s Show is really a classic LiLo move. It's a known fact that Lindsay dated Wilmer way back in 2004, when she was just 18 years old. Lindsay most likely got with Ashton in 2006, shortly before he started dating Demi Moore. That truly feels like a lifetime ago. Do we think Wilmer was mad at Ashton for sleeping with Lindsay? Bless this mess.
Orlando Bloom
The only known connection between Lindsay and Orlando is that they were both robbed by the Bling Ring. Wow, I really miss 2000s Hollywood. They were both robbed in the summer of 2009, and Lindsay was the last victim before they were arrested. At the time, Orlando was living with Miranda Kerr, but maybe he and Lindsay bonded over their lost stuff? Idk, they also could've had sex at literally any other time within the last 15 years. Fun fact: Orlando is a Buddhist, so I feel like he might vibe well with Lindsay's spiritual energy.

Riley S/Riley G
One of the most random, not famous inclusions on Lindsay's list is also a personal favorite of mine. The evidence points to this being Riley Giles, a snowboarder who Lindsay met in 2007 in rehab. They apparently dated for a while, and then Riley did some tell-all interviews after they broke up. Cute, I'm sure she appreciated it. Riley said that Lindsay "quit coke and got hooked on sex with me," and I just threw up in my mouth a little. He called her a "nymphomaniac," and said they escaped rehab and went to a mountain cabin, where they went at it "like rabbits." Okay, I hate Riley.
Stavros Niarchos III
Ah yes, Stavros. He's the heir to a massive shipping fortune, and naturally that's always made him desirable boyfriend material. In the mid-2000s, he was dating Paris Hilton, and Lindsay allegedly tried to move in on Paris' territory. It was always rumored that this was the reason Lindsay and Paris stopped being friends, even though Lindsay claimed that's false. More recently, Stavros has been seeing Dasha Zhukova, which makes a lot of sense. Dasha is a Russian businesswoman who was previously married to Roman Abramovich, a Russian oligarch who's worth $11 billion. Dasha is clearly good at following the money, and I applaud her. She and Stavros both have private Instagrams with less than 1,000 followers, which is a total power move.
All The Rest
There are a lot more famous names on the f*ck list, so we could be here for days. Highlights include Zac Efron (Lindsay spelled both his first and last name wrong), Joaquin Phoenix, Adam Levine, Heath Ledger, James Franco, and Benicio del Toro. Someday, I really hope Lindsay writes a book in which she explains each and every one of these encounters, but that would probably result in approximately 10,000 lawsuits. I'm also very curious to know who's been added to the list since 2014, because I bet there are some really interesting artistic choices. Thanks for all the great memories Lindsay, please never change.
Images: @trackers88 / Instagram; @nicotortorella / Instagram; Giphy (2)
The Most Random Drunken Celebrity Hookups You Forgot Happened
Celebrities…they really aren't just like us. "Oh, I have perfect skin from drinking lots of water and wearing sunscreen." Bullshit. You get facials worth thousands of dollars and cake on La Mer. "I lost the baby weight because chasing my kids is a workout class on its own!" Oh please, you did two-a-day sessions with Kirk Myers or Gunnar Peterson and may or may not have had some lipo. But one thing that does humanize celebrities a little more? The embarrassing drunken celebrity hookups that they'd probably love to forget. And obviously, we'd love to remind them because sometimes those who have stars on the Hollywood Walk of Fame should be knocked down a few pegs by doing a walk of shame.
Mary-Kate Olsen and Kanye West
Ever since Mary-Kate's relationship with Stavros Niarchos ended and Ashley and her college sweetheart broke up, the Olsen twins seem to have a type: much older rich dudes that are….well….ugly hot would be sugarcoating it, right? Kanye West's type, on the other hand, is a lot more bootylicious. So Mary-Kate and Kanye must have been super drunk when, reportedly, they made out at Kanye's birthday party over a decade ago, because they could not be more the opposite of each other's types. Let's hope that drunken makeout didn't lead them to the bedroom, because Kanye seems like the kind of guy who says his own name during sex. But at least we now know why Kanye rapped, "Prince William ain't doing it right if you ask me. If I was him, I would have married Kate and Ashley."

Paris Hilton and Jared Leto
Jared Leto seems like that guy who takes himself so seriously that he explains the *profound* meaning behind his tattoos even though you didn't even ask. He seems like that kind of guy who will whip out an acoustic guitar at the most random of moments in group settings and start playing songs he wrote, coercing people into giving him halfhearted approval for his shitty lyrics. He's that guy that closes his eyes and nods his head solemnly after he gives you unsolicited advice that is really just quotes he saw on Instagram. In other words? He has the charisma of a creepy cult leader, whereas Paris is so much like a Barbie doll come to life that she puts Tyra Banks in Life-Size to shame. So it makes zero sense that these two drunkenly made out at Sundance a decade ago. The only thing I can think of that these two have in common is that they were bonding over how they have the same hair colorist or facialist since they both clearly put in a lot of effort into their appearances. Hey Jared, I get my hair colored at IGK too. Does that mean I can drunkenly make out with you?
Selena Gomez and Orlando Bloom
The best kind of hookup is the revenge hookup. Okay, it's not exactly healthy for the people involved, but that's between them and their respective shrinks. From a gossip standpoint, though? It's 24k gold. Miranda Kerr reportedly cheated on husband Orlando Bloom with Justin Bieber a while back. And that is just so…ew. Really? Sweetie, you're more than a decade older than him and you're married to one of the hottest B-list actors on the planet. I guess it's true that when people cheat, they cheat down. Selena Gomez is no stranger to getting screwed over by Justin either, and she and Orlando must have bonded over that while partying at a Las Vegas nightclub, because what else would a Disney Channel star have to talk about with a man who's 16 years older than her? They were photographed getting very touchy-feely with each other, and we all know there's no such thing as a sober Las Vegas hookup, right?                           

Scarlett Johansson and Benicio del Toro
Scarlett Johansson is one of the most beautiful women in the world, and Benicio del Toro…has his angles where he looks kinda good. Everyone knows that, besides the Golden Globes, the Oscars are the drunkest night of the year in Hollywood. So of course, that leads to drunken hookups. Back in 2004, Scarlett and Benicio reportedly had a drunken hookup in the elevator at the Chateau Marmont. Neither of them has confirmed it, but neither of them has denied it either. We'll have to add elevator sex to our bucket list, because a quickie like that sounds kinda hot.
Scott Disick and Bella Thorne
Scott Disick is pretty much always drunk, so that means every hookup with Scott Disick is most likely a drunken hookup. But still, how random is it that he hooked up with Bella Thorne? Scott Disick and Bella Thorne had a drunken tryst at Cannes last year. It was pretty obvious from the paparazzi photos that they were all over each other and #whitegirlwasted. Bella denied hooking up with Scott, but we all know that based on the photographic evidence, that's probably not true. Why else would you be holding hands outside of 1OAK, the club where celebrities and desperate basic bitches go just so they can be seen? We can't believe we're saying this, but this hookup makes us actually like Sofia and Scott together.

Liam Hemsworth and January Jones
Remember when Hollywood's golden couple, Liam and Miley, first broke up? We try to forget because they're so perfect for each other. But this was at the beginning of Miley's wild stage—you know, when she would dry hump teddy bears on stage, barely wore any clothes, and would not keep her tongue inside her mouth? Towards the end of their relationship, Liam couldn't keep his tongue inside his mouth either because he was busy at a Chateau Marmont party locking lips with January Jones. The party was sponsored by Grey Goose, so you know these two were definitely wasted. They were photographed leaving together, and that's when the news broke that Miley and Liam were over. We're glad she forgave him for cheating with January and we're glad he forgave her for Miley Cyrus & Her Dead Petz.
Images: Giphy (3)
A Ranking Of The 10 Most Dramatic Celebrity Breakups Of 2017
If you brought a new boyfriend home to Thanksgiving and you're still together as you're reading this, congratulations. Not everyone can make it, which is why today we're reminiscing on the most dramatic celebrity breakups of 2017. Cheers to the ones you remember, and pour one out for all the ones you forgot about. It's been a long year.
Tbh this one was only really dramatic because we're psychopaths who care too much about this, but whatever. They always seemed like a normal, fun married couple with no reason for drama, but obviously shit happens. They released a diplomatic statement about how they have all this respect for each other, because of course.

Like with Chris and Anna, we really didn't see this one coming. They got married at the height of their fame in 2009, but things probably started to go downhill when they named their son Axl. Tbh the last straw for Fergie was probably when she found out Josh was doing ANOTHER Transformers movie. How are they still making those?
8. Katy Perry & Orlando Bloom
Resident weirdest girl in school and our favorite pirate called it quits in February after a year of dating. There's no way to know for sure, but maybe Orlando didn't love the short blonde hair and annoying publicity stunts?

7. Robert Pattinson & FKA Twigs
Who would we be if we didn't update you on Edward Cullen's life? After Rob said last year that they were "kind of engaged" (ladies, you have permission to key your man's car if he ever says that), they reportedly broke up earlier this year. Guess he should have "kind of" tried a little harder, because she's been hanging out with a male model.
6. Nicki Minaj & Meek Mill
Nicki had previously been coy about whether she and Meek were engaged, but she officially announced that they were over in January. Looks like she dodged a bullet, as Meek is now in prison for 2-4 years for violating his probation. Good job Nicki, you got out just in time.

5. Selena Gomez & The Weeknd
We may or may not have already written some stories about this, but it's literally so good. Have fun with Justin and Bella, kiddos, and use protection!
4. Scott Disick & Bella Thorne
We might never actually know what went on here, but what we do know is that Bella came home from Cannes early, and she was replaced with a hotter girl the next day. There are conflicting reports about how *together* they actually were, but whatever. Bella's basically been spiraling since, while Scott got with Sofia Richie and probably a bunch of other 19-year-old models.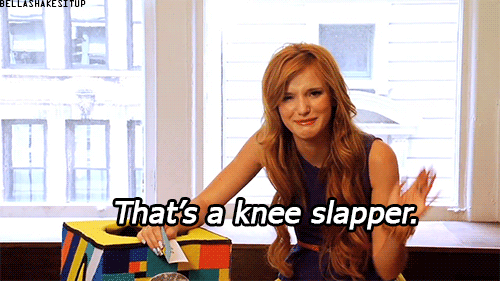 3. Jennifer Hudson & David Otunga
We weren't expecting much from this breakup, but it's really been bringing the drama. Last week, Jennifer got an emergency order of protection, which also means David doesn't get to see their son. This one is gonna be messy, but we really hope Queen J-Hud is okay.
2. Janet Jackson & Wissam Al Mana
You might be wondering why Janet and this guy you've never heard of are on this list, but hear me out. Wissam is a rich businessman from Qatar, and their prenup stated that Janet would get $100 million in the divorce if she stayed for five years, and $200 million if there was a baby. So what did Janet do? You better believe she stayed for five years, had a baby, and got the hell out of there with the money.

1. Mel B & Stephen Belafonte
It's important to be there for the Spice Girls when one of them is in a time of need, and Mel B's divorce was a fucking dumpster fire. Stephen allegedly got the nanny pregnant, paid for the abortion, and was violently abusive towards Mel. Basically, he's a trash human. Scary Spice deserved a less terrifying husband.
Katy Perry & Ryan Phillippe Deny Dating Rumors By Flirting Shamelessly, Fooling No One
As we all know, Katy Perry and Orlando Bloom are broken up, as evidenced by Katy Perry's new "I'm Going Through A Breakup" pixie cut. So which heartthrob nobody has cared about since 2005 will Katy Perry take off the market next? Should we pull Shane West out of retirement? Maybe give Ben Mckenzie a call? I know Josh Hartnett isn't doing anything.
Nope, it looks like the most viable option for Katy Perry to continue to crush our high school selves' heart is Ryan Phillippe who, like any man who has caught feelings for a woman, took to Twitter this week to declare that he and KP are not dating. Because there is no better way to let the world know that you're not dating someone than to "jokingly" tweet about it, because the idea is soooo funny to you. Ryan Phillippe is basically every dude who has ever casually mentioned how "everyone" thinks that you're dating just to see how you react, and then acts totally shocked if you show interest. Seriously, look at this shit:
I AM NOT DATING KATY PERRY. BARELY KNOW HER. PLEASE STOP FLYING HELICOPTERS OVER MY HOUSE. SHE IS NOT HERE.

thx

— Dr. Philz (@RyanPhillippe) April 10, 2017
Oh really, Ryan? Paparazzi are "flying helicopters" over your house looking for Katy Perry? How do you even know what the helicopters are looking for? Maybe they're a search party trying to locate your career, which hasn't been seen since the last time we had a republican president. Predictably, Twitter was not buying this fuckboy-esque behavior from Phillippe, and pointed out the obvious:
@RyanPhillippe THATS WHAT SOME1 WHO HAS KATY PERRY IN HIS BASEMENT WOULD SAY…..

— jonesy (@flyboy4014) April 10, 2017
Okay but here is where shit gets interesting because, as we know, Katy Perry is one of the most extra pop stars in existence and boasts a Taylor Swift level roster of A-list ex boyfriends (literally, considering they both dated John Mayer). KP, instead of doing what any self-respecting person would do and ignoring Phillippe's obvious thirst trap, did what most post-breakup betches would do and decided to fuck wit it:
Can u let me out of this basement pls? https://t.co/I2WKOsIxak

— Katy Perry (@katyperry) April 10, 2017
So now here we have two very famous (or, used to be very famous) individuals who are on Twitter telling people that they're not dating but are also simultaneously hardcore flirting for all of the world to see. Do these two think we're fucking dumb? I haven't put thousands of hours into stalking my ex's mentions to not recognize when two people are flirting online. Please do not insult me this way. Of course, Phillippe, who hasn't been relevant a day since he stopped being Reese Witherspoon's husband, responded immediately:
@katyperry never

— Dr. Philz (@RyanPhillippe) April 11, 2017
And then, because Katy just couldn't resist going back and responding to the original tweet…
Hi, nice to meet you, sorry bout that @RyanPhillippe carry on, lol.

— Katy Perry (@katyperry) April 10, 2017
There is a 90% chance that Phillippe slid directly into Katy Perry's DMs after this tweet was sent, and the two of them are vigorously sexting at this exact moment. Seriously, you don't joke about kidnapping a woman and keeping her in your basement unless you really like her. Beauty And The Beast taught us that. This Twitter convo has all the trademarks of a celeb romance in the making. Katy Perry is obviously trying to come off as a "cool girl" here, using a casual, lowercase "lol" to show that she is emotionally distant, though those of us who study in Textology know that the only way that she could show that she is more interested would be to say "k" and sign off for a while. Phillippe's interest is a given because, literally what else is he doing right now? Serious question.
Now please excuse me while I find someone to bet on wedding dates online with me. I give it six months.