What Is Optical Allyship? How To Go Beyond IG Posts
After Blackout Tuesday, you may have seen the term "optical allyship" making the rounds on social media, along with the phrase "it's a movement, not a moment." While it's great that Black Lives Matter is finally being accepted in the mainstream and talked about on a global scale, and showing solidarity (especially on social media) is important, it shouldn't be your only step toward working to be anti-racist. If you are committed to practicing allyship continually, it's important to learn what optical allyship is, why it's counterproductive, and how you can make sure you're going beyond the optics with your support.
So, What is Optical Allyship?
the internal work – interrogating, re-arranging, and re-educating our psyches and hearts – that's the hard work. that's the work nobody will hold you accountable for. do that too. do that most.

— kendra (@kendramorous) June 2, 2020
Latham Thomas, author of Own Your Glow, coined the term optical allyship, which she defines as "allyship that only serves at the surface level to platform the 'ally.'" She explains, "It makes a statement but doesn't go beneath the surface and is not aimed at breaking away from the systems of power that oppress." Basically, optical allyship is performative, serving the ally and not really digging deeper into understanding the systems of oppression so they can be dismantled. Optical allyship is mostly talk, when true allyship is about actions. As Roxane Gay explains in her article On Making Black Lives Matter, "The problem with allyship is that good intentions are not enough. Allyship offers a safe haven from harsh realities and the dirty work of creating change. It offers a comfortable distance that can be terribly unproductive." Separating yourself from optical allyship means not just posting a black square or Martin Luther King Jr. quote and calling it a day, it means taking on the struggle and fight as if it's your own and committing to doing the work—not just this week, but beyond. That is where the real allyship begins.
Optical Allyship In Action
One of the obvious examples of optical allyship is the influencers who use the protests and Black Lives Matter movement to up their IG aesthetics. While (I hope) we all know right off the bat why it's wrong to show up to a protest, take one picture, and then bounce, posting a protest thirst trap isn't the beginning and end of optical allyship.
Odds are that the majority of us have either posted an Instagram story or retweeted an image or statement recently in efforts to spread awareness and show support for the movement. If you are not also donating to causes supporting Black Lives Matter, supporting Black-owned businesses, reading up on Black history, and/or calling your representatives, then that Instagram story or retweet falls under optical allyship. In an Instagram post, Thomas explains, "True allyship is about building trust, being consistent, standing up, speaking up, recognizing the struggle and carrying some of the weight, it's using your God-given sense to figure some of this stuff out and not waiting for folks to tell you." 
I get it for those of you out there that want to support the movement but aren't sure how or what to do. I can also see how one might think that posting a black square is a contribution to the cause because you're showing solidarity, but in reality, ask yourself what is it really doing and who is it really serving? It is not enough to just post a quote or an image without any context or link out to reliable resources. That is when your allyship becomes performative and fails to break through to deeper levels in order to invoke real conversation and change. Really, it's time to put your money where your black square is. As Roxane Gay puts it, "We need people to use common sense to figure out how to participate in social justice." 
How To Be An Authentic Ally
So, how do you make the leap from optical allyship to being an authentic ally? Well for starters, just listen without feeling the need to insert yourself into the dialogue. As Thomas writes in her Instagram caption, "just because you're new to the work, doesn't mean it's new. Know that folks have been working all along and you're stepping into something already in play…get in where you fit in, take notes, bring resources, and acknowledge you have work to do." Especially as white people, one of the best things we can do (and it's so easy) is actually just shut up and listen. 
That doesn't mean you should never post on social media about Black Lives Matter—it just means be intentional about what you do post. Instead of just posting a square, see if you can post resources. Share organizations, educational materials, and places to donate. Share artwork by BIPOC illustrators and designers to amplify their voices.
View this post on Instagram
Systemic racism wasn't built in a day, and abolishing it won't happen in a few weeks, either. Continued ally support is essential in the battle against racism. Black lives matter today, they matter tomorrow, and they will continue to matter long after the protests subside. Being an ally is an ongoing commitment. I understand that this learning and these conversations can be uncomfortable, and change can be too, but when people are losing their lives, then it's time to get uncomfortable.
Yes, take action by educating yourself. Read books, watch documentaries—do that. Then go a step further by implementing your newfound knowledge into your everyday life, and by having discussions with people in your life about what you learned. This doesn't mean that you have to blow up and check your conservative aunt with soap opera-level dramatics at every family gathering, but you can still discourage and shut down any racist remarks, and help educate those who make them. Conversations lead to change, so they're worth having—comfortable or not. Amélie Lamont writes in The Guide To Allyship, "As an ally, you need to be willing to own your mistakes and be proactive in your education." Not to be cheesy, but every day is a new opportunity to do better. You can also continue your practice by following accounts that reinforce these ideologies, like Mireille Harper, who released a 10-step guide to achieving non-optical allyship. The resources are all there, so use them. Seriously, if you can take the time to learn how to bake sourdough bread, then you can take the time to learn how to be an ally.
How To Make Allyship Your Lifelong Priority
There's another level of allyship that goes beyond sharing resources, spending money, and having hard conversations with family members and friends. You may have heard the saying, "when you're accustomed to privilege, equality feels like oppression." This refers to how the actions that are necessary to truly dismantle systemic racism might appear to mean putting yourself or your white peers at a seeming disadvantage in some parts of your life.
The difference between these types of opportunities for allyship, versus what we've been witnessing happening on social media over the past few weeks, is that we don't always get to choose when these opportunities arise for us, and they may appear as harder choices than simply choosing to buy from a Black-owned brand. But recognizing these opportunities to stand up and speak up, and then doing it, is what makes allyship authentic vs. performative.
For example, let's say you're a parent at a school district meeting. Pretend it's a great school district, the type where parents will pay higher property taxes to give their children the chance to attend. Now pretend that the racial or socioeconomic makeup is one that doesn't allow for a lot of diversity. Back to the hypothetical school board meeting: the issue at hand is trying to more actively integrate the school district, and that might be coded as "adding more multi-family homes to the district" aka zoning apartments. If you grew up in certain elitist suburbs, you know that there will be individuals who resist these changes, chalking it up to things like "property values" and the "school district ranking." In this scenario, focusing on these latter things would indicate that someone prioritizes maintaining one's own advantages (building wealth, premium education for their children) rather than allowing children of color to access these advantages as well. A commitment to being anti-racist can sometimes mean dismantling those types of perceived "disadvantages" for the sake of the greater good.
This is just one of the thousands of examples of systemic racism that persist in our society in ways that white people can choose to ignore and uphold. They're also not the types of choices that we're faced with every day, and perhaps these types of choices have previously been consciously uncoupled from race in the minds of most white people. The goal is to be able to see what issues in society have been insidiously shaped by racist policies, so that when we're presented with an opportunity to actually do something about them, we've been educated and are committed enough to make the right choice, even if they might take away some of the advantages we've enjoyed in the past.
Images: Life Matters / Pexels; Kendra Austin / Instagram; Off Campus / Instagram; Shana Hezavehi / Instagram
Why RBG Came Out Against the Equal Rights Amendment
Supreme Court Justice and feminist legend Ruth Bader Ginsburg shocked some admirers recently when she suggested that it might be time to stop trying to ratify the Equal Rights Amendment.
RBG has been a long time advocate for the ERA, but she is now saying a better strategy would be to start from scratch.
As a refresher, the ERA would ban discrimination on the basis of sex and guarantee equality for women under the Constitution. How very radical. But because America runs on Dunkin' misogyny, the ERA has been trying to become federal law since it was first introduced in the 1920s. For everyone who says sexism is over in 2020: we literally still have not been able to pass a law banning discrimination against women, so.

The ERA passed and was submitted to the states in 1972, where it would wait to be ratified by 38 of them to be formally adopted to the U.S. Constitution. A deadline for federal ratification was set for 1979. It was later extended to 1982, but failed to meet that deadline too.
Democrats won over the Virginia's state government in 2018, and it last month it finally became the 38th state to ratify the amendment. This means the states had finally met the threshold necessary to change the Constitution. However, this comes decades past the deadline, and some states that previously ratified the amendment have rescinded their decisions.
Though last week the House did vote largely along party lines to extend the deadline, whether or not these ratifications are legit is up for debate.
And that's why RBG thinks it's time to start over. Ginsburg recently told a crowd at Georgetown University that she would like to see the ERA  have a new beginning, noting that, "there is too much controversy about latecomers," and that Virginia's move came "long after the deadline passed."
She makes some good points, but advocates for the ERA were feeling some positive momentum after the recent ratification in Virginia, so to have an icon and longtime supporter like RBG speak out against it now feels like a bit of a blow to the movement.
Ginsburg does, as expected from a lawyer and Justice who has done more than most to pursue a feminist agenda in the courts, believe an Equal Rights Amendment should become a part of the Constitution. "I would like to show my grandaughters that the equal citizenship stature of men and women is a fundamental human right," she said. Same, girl.
Here's to hoping that we as a nation can find a way to make a federal law that ensures equality for women. Would be like, super chill.
And on a somewhat unrelated by positive note we can end on: at the same Georgetown event, RBG joked about how popular she is right now, saying, "I can be getting an award every day of the week." Okay queen, flex!

Want more stories like this? Subscribe to the Betches Sup newsletter for a lunchtime briefing to make you laugh, instead of cry, about the news.
5 Celebrities Who Have Misunderstood Feminism
Feminism is, at its core, a relatively simple concept. Merriam-Webster defines it as "the theory of the political, economic, and social equality of the sexes." Unless you've been trapped in a bunker since the 1950s or serving in the two highest offices of the United States, you'll probably concede that this is a good idea. Yet according to a survey by GenForward, less than 20% of participants belonging to any racial or ethnic group self-identify as feminist, with most saying they "don't identify as a traditional feminist, but support women's rights and equality." This cognitive dissonance is even more glaring when we look at celebrities' interpretations of the term. Given their power and influence, it also makes it that much more disappointing. Below are five famous women who at one point or another have refused to identify as feminist, despite very clearly supporting feminist ideas. Celebrities—they're just as clueless as like us!
1. Taylor Swift

When asked in a 2012 interview with The Daily Beast whether she considers herself a feminist, Taylor Swift said, "I don't really think about things as guys versus girls. I never have. I was raised by parents who brought me up to think if you work as hard as guys, you can go far in life." So adorable. While this is a lovely way to think, it presupposes, incorrectly, that feminism is a movement fueled by the hatred of men. On the contrary, feminism is about uniting men and women and putting them on equal footing. Luckily, Taylor has since changed her tune.
2. Miley Cyrus

Miley Cyrus skirted around the issue in a 2014 interview with Elle by saying, "I'm just about equality, period. It's not like, 'I'm a woman, women should be in charge!' I just want there to be equality for everybody." Miley's concept of feminism suffers from a similar flaw in logic as Taylor's: it assumes that the movement is about uprooting men and taking away their power. However, it's not an either-or proposition. Both men and women can and should have opportunities to be in power and "in charge". Crazy, I know.
3. Susan Sarandon

Susan Sarandon, actress and occasional problematic person, had this to say about identifying as a feminist in a 2013 interview with The Guardian: "I think of myself as a humanist because I think it's less alienating to people who think of feminism as being a load of strident bitches, and because you want everyone to have equal pay, equal rights, education, and health care." The "humanist" response is a popular one with celebrities and, IMHO, a bit of a cop-out because it doesn't acknowledge the reality that we live in a world where women are the more disadvantaged sex. Even worse, it perpetuates the false notion that all feminists are militant, combat boot-wearing, bra-burning wenches who want to burn down the world and render men obsolete (though I'll admit I'm down for the combat boots). Can we be angry sometimes? Sure. But some anger is more than warranted when we continue to live in a world where we're paid 77% of what men make, account for only 25.4% of board members and 6.6% of CEOs of Fortune 500 companies, are at a greater risk of rape  and domestic violence, and have little to no autonomy over our bodies. Instead of being afraid of appearing angry, perhaps we should ask ourselves why we're so uncomfortable with women being angry in the first place.
4. Sarah Jessica Parker

Ironically, the star of Sex and the City, a show that's supposed to be all about female empowerment, declined to take up the term despite clearly espousing feminist views in a 2016 interview with Marie Claire: "I am not a feminist. I don't think I qualify. I believe in women and I believe in equality, but I think there is so much that needs to be done that I don't even want to separate it anymore. I'm so tired of separation. I just want people to be treated equally." The problem with SJP's response is that she's guilty of the very thing she doesn't like about the movement. Women can't begin to achieve the equality she desires if she and other non-feminist feminists refuse to engage and separate themselves from the cause. There's power and unity in numbers.
5. Beyoncé

It may be hard to believe now, but there once was a time when the woman who closed out the 2014 VMAs by performing in front of a giant "FEMINIST" sign hesitated to accept the label. Just one year earlier in an interview with British Vogue, the one and only Bey said, "That word can be very extreme … But I guess I am a modern-day feminist. I do believe in equality. Why do you have to choose what type of woman you are? Why do you have to label yourself anything? … I do believe in equality and that we have a way to go and it's something that's pushed aside and something that we have been conditioned to accept… But I'm happily married. I love my husband." The reference to her marriage and husband is strange as well as problematic, because it implies that a feminist can't have a healthy and loving relationship with a man. Her aversion to labels sounds more like the Tuesday night musings of your run-of-the-mill f*ckboy rather than a compelling argument coming from one of the most powerful and innovative performers of our time. Without labels, we can't identify ourselves and, in turn, effect meaningful change, something Beyoncé later realized and emphasized with her VMA performance.
It's clear that when it comes to feminism, we can't look to celebrities for guidance—not just because they often fundamentally misunderstand the term, but also because, like most things celebrity-related, it's an exercise in distraction. Roxane Gay points out in a piece for The Guardian that, "We run into trouble, though, when we celebrate celebrity feminism while avoiding the actual work of feminism." Identifying oneself as a feminist is a crucial first step, but it's just the beginning of the conversation and work that needs to be done.
Images: Allie Smith / Unsplash; Giphy (5)
Apple Programmed Siri to Deflect Questions About Feminism
I hate to be the one to tell you this, but much like every frat guy you've ever met, Siri has been programmed to not talk about feminism.
According to the Guardian, around 2018 an internal program at Apple aimed to rewrite how Siri would respond to "controversial" subjects such as the #MeToo Movement and feminism. People working on the project were advised to find ways for Siri to answer these questions by either not engaging, deflecting the question, or providing a neutral answer. Okay, Siri, who do you think you are, Robert Mueller at a confirmation hearing?

The goal was to make sure that Siri didn't "take a side" on this issue, but instead would say that she is in favor of human equality, without ever saying the word "feminism." For example, when asked questions like, "Are you a feminist?" Siri was designed to answer with something like, "I believe that all voices are created equal and worth equal respect," for instance, or "It seems to me that all humans should be treated equally." A very Centrist approach, if you will.
Previously when users asked Siri "Are you a feminist?" the app would yield responses such as "Sorry , I don't really know."
This information was found in documents that were leaked to the Guardian by someone who worked on the program at Apple. The leaker was one of thousands of workers who were tasked with checking Siri's responses for accuracy, but Apple ended the program after privacy concerns were raised by the Guardian (employees were privy to people's personal information when overlooking how people were using Siri).
Apple's guidelines on the matter seem to consider "feminism" — also known as the radical concept that men and women should be treated equally — a "controversial" subject, and advises Siri to be "guarded when dealing with potentially controversial content." Prior to the rewrite, Siri handled questions related to gender and equality with answers like "I just don't get this whole gender thing" and "My name is Siri, and I was designed by Apple in California. That's all I'm prepared to say," according to the Guardian.
Apple claims that this sort of programming is to avoid controversy and make sure all users are provided with facts, not opinions. This could also be a response to people's disapproval of how Siri was handling questions related to sexual harassment in the past. Apple/Siri came under fire after the #MeToo movement when users found that when called a "slut," Sir would respond, "I'd blush if I could." Now, the response is, "I won't respond to that."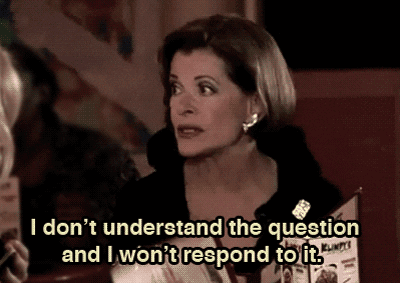 However, even if this program was meant to avoid controversy, its approach ignores some major truths. Feminism exists, and simply avoiding using the word isn't remaining neutral, it's remaining ignorant an inaccurate. You can't talk about equality without talking about feminism; they are intrinsically linked.
Additionally, most people working in tech to design programs like Siri are men. So, having a bunch of dudes come up with ways for a female voice to answer questions about feminism without saying the word is…laughably problematic. This is essentially exacerbating the problem of not having female voices heard in public discourse. And having men find a way for an A.I. to not talk about issues of feminism is certainly not "neutral," it's anti-feminist.
Want more news explained in a way that's not boring and easy to understand, AND delivered straight to your inbox five times a week? Sign up for The 'Sup!
QUIZ: Is She Flirting With You, Or Is She Your Coworker Asking For Feedback On A Presentation?
Ginny Hogan has written for The New Yorker, The New York Times, Cosmopolitan, and McSweeney's. Her first book, Toxic Femininity in the Workplace, is available September 10th. Pre-order here.
Having women at your office is tough. Nobody asked you if you wanted them there, which feels unfair. One particularly challenging aspect is figuring out who is trying to sleep with you (smart) and who just has bad taste (un-smart). If a woman seems to be interested in talking to you, you might not know if she's flirting or trying to "collaborate." To figure it out, take our quiz!
Did she schedule a meeting with you via:
a. Your phone number, which she asked for twice (some women are assertive, what can you do?)
b. The office scheduling tool
Did she send an email saying she wanted your thoughts on:
a. Her eye makeup—she's open to doing darker if you're into it
b. If she should swap slides 16 and 18
When she writes your names on the presentation, does she:
a. Put hearts around yours
b. Choose to live heart-free
When you run into her in the hallway, does she say:
a. "Hey handsome"
b. "Hey, have you had a chance to look over the deck I sent last night?
On a Monday morning, does she ask you about:
a. Your love life—did you #pound this weekend? If not, are you looking to next weekend?
b. The email she sent two hours ago
Does she end her emails with:
a. Thanks, babe
b. "Regards"
During the presentation, does she sit:
a. In your lap
b. Not at all, because she's standing (she's the one delivering the presentation)
Does she regularly compliment:
a. Your abs
b. Your choice in font size, because she can't think of anything else to compliment but she knows men need constant encouragement
When she said "great job", did you notice her wink and bat her eyes?
a. Yes
b. No, but what even is "batting your eyes"?
c. Yes, but she did stay up all night drinking coffee to prepare this presentation, which you didn't actually help her with, so the eye-batting could be very much be an exhaustion-related twitch.
Have you swiped right on her on every single dating app and still not matched?
a. No
b. Yes
c. That's a very personal question
Has she explicitly told you already she's not flirting with you and not interested in you?
a. Not yet
b. Yes
Should you stop?
a. Why?
b. What is "stop"?
If Mostly As: She's sooo into you. She probably took the job because of how badly she wanted you—it's unlikely that she just wanted to work. In fact, you'd be an irresponsible coworker to her if you didn't continue hitting on her until she sleeps with you. Part of working with women is giving them what they want.
If Mostly Bs: She wants feedback on a presentation, after which she will be into you. The thing about women is sometimes they need help with things, but that doesn't have to detract from how badly they want you. After all, you are a brain and a body, so why wouldn't she want both?
If neither: She hasn't indicated any desire for feedback, which means you should give it to her unsolicited (it's what women want). And even though all signs point towards her not being into you, she definitely is, because she's a woman at your office. Key word being "woman." Other key word being "at." She's there—she wants you.
If both: She needs you and she wants you. Actually, this is true regardless.
Ginny Hogan has written for The New Yorker, The New York Times, Cosmopolitan, and McSweeney's. Her first book, Toxic Femininity in the Workplace, is available September 10th. Pre-order here.
The Horrifying Onslaught Of Lethal Violence Against Trans Women
Time to do a deep dive on some truly diabolical bullshit. There have been three reports of trans women dying at the hands of violence in the last month alone.  All three victims of these horrific crimes were trans women of color.  In 2018,  the Human Rights Campaign reported 26 deaths of transgender people due to lethal violence. The majority of victims were trans women of color. Clearly, this kind of atrocious violence disproportionally affects trans women — especially Black trans women — and yet the media coverage for these women is either slight or non-existent. This is an epidemic, and it deserves to be treated with urgency and action.
Below are the three trans women who lost their lives at the hands of hate and violence this month. Remember their names. Say their names. Talk about what happened to them. Speak out for them. And may they Rest In Power.
RIP Michelle "Tamika" Washington
Michelle AKA Tamika Washington was fatally shot in Philadelphia on May 19th at the age of 40. She suffered several gunshot wounds to the head, body, and buttocks. On May 21st, Troy Bailey was arrested for the attack and is being charged with murder. Washington was a strong advocate for the trans community in Philadelphia, and those who knew her are devastated by her death. In a Facebook post dedicated to Tamika, Deja Lynn Alvarez  wrote, "Your memory will live and light will shine on through us."
"Your memory will live and light will shine on through us."@HRC joins advocates and community members in mourning the death of Michelle "Tamika" Washington, a Black transgender woman fatally shot in Philadelphia on May 19. #SayHerName https://t.co/FJK3EuaqxC

— Human Rights Campaign (@HRC) May 21, 2019
RIP Muhlaysia Booker
Muhlaysia Booker was found dead on the streets of Dallas on Saturday. The investigation is ongoing, but the cause of death has been reported as homicidal gun violence. Booker was the victim of another violent crime a month ago, which was caught on tape. The video shows several men violently assaulting Booker and using homophobic slurs. It was reported that the attack was the result of a $200 bet that essentially dared a man (Edward Thomas) to beat up a transgender black woman. Disgusting.
A friend of Booker's, Jessica Anderson, told The New York Times that Booker had been assaulted several times. She said, "She was so tired of getting beaten down. Tired of not being able to be who she wanted to be." Muhlaysia Booker was only 23 years old.
Muhlaysia Booker was filmed fighting back against attackers last month. This weekend, she was found dead. At least 26 transgender people were killed in the U.S. last year, most of them black transgender women #StopKillingBlackTransWomen #SayHerName https://t.co/y7rpHQvok6

— BlackWomensBlueprint (@BlackWomensBP) May 22, 2019
RIP Claire Legato
21-year-old Claire Legato was shot and killed in Cleveland, OH on April 15th after an argument between her mother and the suspect (John Booth) broke out. In social medias post made in her memory, her friends remembered her as someone who was "full of life."
Living your truth at the intersection of racism, sexism and transphobia is one of the bravest, but most dangerous things you can do. Claire Legato was 21.

We lift up your name #SayHerName#ClaireLegatohttps://t.co/hVBoAjX2Ax https://t.co/hVBoAjX2Ax

— Protest Therapist (@blkandnonbinary) May 18, 2019
These three tragic deaths all took place within the last month, and all targeted Black trans women. Clearly, this is a major problem in our country, and it's not going away unless we do something. So let's fucking go.
Heads up, you need to keep up with the news. It's not cute anymore. That's why we've created a 5x weekly newsletter called The 'Sup that will explain all the news of the week in a hilarious af way. Because if we weren't laughing, we'd be crying. Sign up for The 'Sup now!
20 Ways To Celebrate Women That Could Actually Help Us
Alright ladies, today is International Women's Day! Great, so they'll give us a day, but won't give us the salary of a man in the exact same position as us. Love that. The gals have 24 hours where we can all post vague memes about equality, so I think it's safe to say that we solved sexism! Everyone pack up your things, our job here is done. Don't let the door grab you by the pussy on the way out LOL.
In all seriousness, International Women's Day is rad, but there is still so much work to be done. Well guess what, my good betch, you can get started on that work today! 'Tis the season day, after all. In case you need some guidance when it comes to figuring out how to help women, we've gone ahead and put together a comprehensive list for you. We really do have to do like, everything, don't we? Anyway, try celebrating women by checking off some of the things on this list, or die a sexist monster. Your call!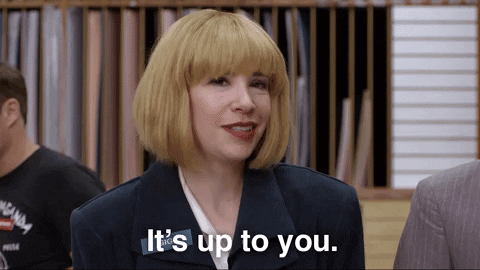 1.Push For Equal Pay
Seriously, how are we still talking about this? As of 2018, female full-time workers made only 80.5 cents for every dollar earned by men. It's important to note that the numbers get even worse when factoring in race, because everything is trash. What are these men getting paid more for? Sexually harassing us? Help put this bullshit to rest, and demand that your female colleagues get paid the same as their male peers. And if you're a person in charge of deciding women's salaries, make sure you give them the same amount you give the men. Simply put: pay us, bitch!!!
2. Teach Men (And Everyone) Not To Rape
It's 2019 and rape culture has got to go! Stop perpetuating the idea that women are responsible for making sure they don't get raped. Stop telling women to shove their keys between their fingers Wolverine-style, and start teaching men the definition, nuances, and importance of consent from a young age. When someone makes a joke that condones rape/date rape, go off on their ass! That sh*t isn't funny, dude. 
3. End The War On Pockets In Femme Clothing
All of my dresses need pockets and that's just all there is to it. Somebody please go talk to management about this, thank you.
4. Make Oprah President
I firmly believe that if Oprah was president everything would be FINE. Make it happen, people.
5. But Seriously, Elect Women
A society run by men is a society made for men. We need women making decisions in our governments, and that means electing women who run for public office. Representation matters, and so does voting. Women have the power to make change, so go out there and put women in positions of power. 
6. Stand Up For Women, And Stand Up To Your Friends Who Don't
If you see your buddy being a class-A creep, call him on that sh*t! Don't let misogynistic behavior fly. If you're a man, doing this bare minimum thing will make everyone around you think you're a f*cking hero, so if doing the right thing isn't inspiration enough, there is always that.
7. Compliment Our Minds, Bitch
Women are told from a young age that our looks are what we should value most. I remember family friends telling me how pretty I was at the age of like, ten. It's weird and gross and it needs to stop. Try telling young girls and grown women how intelligent, creative, original, etc. they are. And then you can feel free to compliment our perfect cheekbones, hair, makeup, clothes, etc. Thanks!
8. Idk, Believe Us?!
Believing us when we recount the specific realities we have experienced as women is an option, just saying.
9. Pass A Law That Laura Dern Must Be In Every Film And TV Show
Representation matters.
10. Say "Bye Bitch" To White Feminism
Pushing a non-inclusive feminism is bad for feminism. Feminism that adopts exclusion is not about equality and that's hypocritical af. Check your feminism as you check your privilege, and make sure everything is in line with intersectional feminism standards. 
11. Stop Telling Us To Smile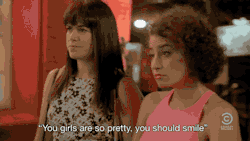 Literally we will kill you.
12. Listen To Our Ideas. No But Like, R
eally
 Listen
People have a way of dismissing women, sometimes explicitly and sometimes more subtly. Simply shutting the f*ck up when women talk is a start, but the work doesn't end there. Make sure you're actually hearing what they are saying, as opposed to just coming up with a response/refute to what they just said. Take time to process what women are saying. Take the time to reevaluate values and ideals that you have learned from a patriarchal society. Women have insight that you might not have considered, so take the time to understand it. Okay, thanks!
13. Stop Referring To Grown-Ass Women As Girls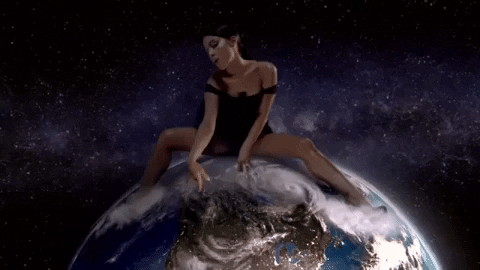 Calling a full-grown woman is belittling, and yet so common. If she can't order off of the children's menu she is a woman. Also God is a woman, final answer!!!
14. Ban Khakis
Please, for the love of God, put us out of our misery and burn all the khakis. Save our eyes, save men's humility, save the world.
15. Prioritize Women's Safety
The world likes to put on a front of believing it's protocol to "save the women and children first," but the reality is that women's safety is often disregarded. Did you know that car crash dummies are usually male, meaning cars can pass safety regulations without really being safe for women? This makes it so they don't have to go the "extra mile" of making cars that are safer for female body types. Cool! And that's only the tip of the iceberg. Shit is f*cked up, and time's up (as the kids say). Women's safety needs to be prioritized like, yesterday.
16. Buy Us All A Fenty Beauty Kit

I cannot stress this enough. Legally every single woman should be gifted a Fenty Beauty Kit.
17. Stop Slut-Shaming
Seriously, slut-shaming is so 2009. And it shouldn't have even been a thing back then. Sluts are amazing. Sluts make the world go round cum hard. Fuck the double standard. Viva la slüt.
18. Don't Leave Sex Workers Out Of Your Feminism
If you think you are a feminist, but go around talking shit about women who sell sex for a living, think again bitch!!! Sex workers are people too, and just because they've found a way to monetize their own bodies doesn't mean you get to talk down to them. They receive no protection from the law and government, and their rights are constantly under fire. Stop calling people "hookers" or "prostitutes," or anything of that nature as an insult. Making money off of what your mama gave you shouldn't be a crime, and certainly shouldn't exclude you from human and equal rights. And even if you don't think sex work should be legalized…just try not to be a bitch about it, k?
19. Men: Consider Getting A Vasectomy As A Form Of Birth Control
Listen, it's not an invasive surgery, whereas getting your tubes tied very much is. Also, pregnancies only happen when y'all jizz all up in our sh*t, so technically they are your "fault." Take some responsibility, and snip that shit if you don't want kids. It can even be reversed! I'm going to receive so much hate mail for this lololol!
20. Vote Donald Trump Out Of Office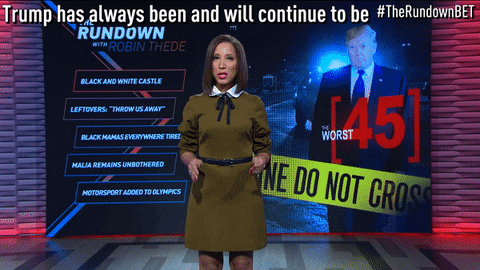 I don't need to explain myself here. See you at the polls in November 2020 or see you in hell.
Heads up, you need to keep up with the news. It's not cute anymore. That's why we've created a 5x weekly newsletter called The 'Sup that will explain all the news of the week in a hilarious af way. Because if we weren't laughing, we'd be crying. Sign up for The 'Sup now!
Images: Giphy (7)
Rihanna Just Struck A Deal With France Because There's Nothing She Can't Do
Rihanna is a living goddess, sent down from the heavens to bestow unto us the gifts of Fenty Beauty and an endless supply of straight bangers (if your inner middle school self doesn't still get hype over "Pon de Replay," you're wrong). In addition to making us fully support a completely see-through curtain of diamonds as an acceptable outfit choice, she also spends her free time being a major advocate for important causes. Truly, we are unworthy.

Our noble Barbadian queen just made the world a better place again by striking a deal with France to fund education for girls in underprivileged countries. Rihanna is an ambassador of the Global Partnership for Education, and took her passionate work work work work work ethic to their Financing Conference in Dakar earlier this month. There, she was spotted hugging French President Emmanuel Macron because what person in their right mind would pass up getting to touch Rihanna's gorgeous, talented, (presumably) silky smooth skin?!

Actual footage of Macron seeing Rihanna in person
JK, the real reason for their hug was Macron's agreement to Ri's personal request that France would contribute $250 million to the GPE's efforts to ensure that every child receives a basic education – especially those living in the poorest conditions and in countries plagued by conflict and tragedy. Rihanna tweeted her thanks at Macron, who responded, "When I commit, I deliver. @Rihanna, France will always side with those fighting for a better education. #FundEducation" Honestly, I feel you, Macron. If RiRi @-ed me on Twitter I would literally empty my pockets at her feet and beg her to take my next 10 paychecks, my rent, and my first-born child.

Rihanna ended her conference visit with a speech, saying, "We've made tremendous progress today, but of course, our work is never done. We have a long way to go. This is a fight we're never gonna stop fighting until every boy and every girl has access to education." Pop a quick drum beat and a feature from Drake under that and we have our next Top 40 single.
Seriously though, if the same woman who has been nominated for 33 Grammys can get entire foreign nations to hand her money for noble causes, we might have to reevaluate where we need her most and use this power for even more good. You heard it here first…#Rihanna2020

Heads up, you need to keep up with the news. It's not cute anymore. That's why we've created a 5x weekly newsletter called The 'Sup that will explain all the news of the week in a hilarious af way. Because if we weren't laughing, we'd be crying. Sign up for The 'Sup now!