First NY Woman To Use 4/20 Post To Mention Recent Legalization Of Marijuana Declared Comedic Genius
WILLIAMSBURG — With a self-satisfied smile, Ohio transplant Juliette O'Connor gets ready to hit post on her latest Instagram. In it, she's leaning against her window, surrounded by her favorite plants ("my babies," she calls them), exhaling a plume of smoke. The photo, which has been edited heavily using presets Juliette purchased from her favorite influencer, is captioned: I can FINALLY celebrate 4/20 now that weed is legal in NY!! 😉 #legalizeweed#justintime
"I'm so glad Zaddy Cuomo legalized weed just in time for 4/20," she says while taking a hit out of a bowl that is at least 3 years old. She bought the weed six months ago from an NYU student.
Despite it being a Tuesday afternoon, Juliette takes another hit. Her laptop is open and a Zoom meeting is taking place in the background.
"Oh it's fine, I turned my camera off and I'm muted," she says. "Plus, they'll understand. I mean, who makes a meeting at 4pm on 4/20? It's like they want me to be high for this."
Juliette's 4/20 celebrations included a wake and bake at 8am, faking a doctor's appointment to avoid doing work, followed by an afternoon of setting up her celebratory Instagram shot and some distracted social media scrolling. In fact, she scrolled right past multiple educational infographics about the war on cannabis, the racist enforcement of marijuana possession laws, and how to contact her reps about expunging cannabis convictions.
Quickly after posting her Instagram, the likes and comments started rolling in.
"OMG! The caption!" Wrote one commenter.
"Caption 💯" read another.
Soon she was overwhelmed with captions praising the ingenuity of her caption.
"I see what you did there!!" Praised another commenter.
In fact, the comment was so clever and original that it caught the attention of the National Comics Association, the nation's leading humor organization. The NCA awarded Ms. O'Connor the designation Comedic Genius, an honor the association gives out twice a year to recipients who advance the field of humor with ideas and jokes that have never before been expressed.
A spokesperson for the NCA said, "Declaring Ms. O'Connor a Comedic Genius was a no-brainer, since she used her platform to point out on 4/20 that marijuana had recently been legalized in NY, which nobody else had ever said before. In fact, few people noticed the fortuitous timing at all."
When asked what she intends to do with the award, Juliette said, "Well I'll obviously put it in my Instagram bio." She said she wants to "do something really big," adding that she hopes to be the first Brooklyn resident to start a weed-inspired merch brand.
Image: SOROKAJPG / Shutterstock.com
5 Reasons We Should Just Legalize Weed Already
It's the most wonderful time of the year! On this holy day – the twentieth of April – we honor the sacred act of getting blazed. And while 4/20 is meant for smoking/dabbing/blazing/etc, we should also take the time to think about marijuana in a political sense. Sorry boo, it's 2019 and everything is political now. That's just the world we live in! As of now, 33 states have legalized medical marijuana and 10 states plus D.C. have legalized recreational marijuana. Clearly, we are inching towards legalization, and in our humble opinion, we should start sprinting towards it and just like, make this sh*t happen. All the cool kids are doing it! But in all seriousness, legalizing weed has many benefits, and I've taken the time to lay out several for you here. You're welcome and blaze on!
1. It Could Help End Mass Incarceration
Idk if you've heard, but we incarcerate sh*t ton of people in America and it's f*cked up. And a lot of people are locked up because of marijuana charges, aka possession. Police arrest millions of people for simply having weed on them every year.  And would you be shocked if I were to tell you that many of these arrests are racially biased? If so, wake up sweetie, we have a race problem to deal with. Despite the fact that usage rates are equal between the two demographics, black people are almost four times mores likely to be arrested for marijuana related "crimes." The United States imprisons more people than any other nation, and a vast majority of people in prison are there because of (most often non-violent) drug arrests. In 2016, 1.5 million drug arrests were made in America, and 80% of those arrests were for possession alone. And the majority of those arrested were Black and Latinx. And guess who's paying for all of this? You and your tax dollars, babe. It's not only unjust, it's a waste of your money. All to stop people from *checks notes*  getting baked and watching Netflix documentaries?
2. Weed Has Multiple Health Benefits
Despite what your D.A.R.E. teacher told you, weed can be good for you. It's used to treat certain ailments, such as cancer, chronic pain, and anxiety, just to name a few. It's all about knowing how to use it, and seeing if it's something that works for you. Like, you can't just take a bunch of hits off your bong and assume that will cure you of your anxiety. That will most likely have the opposite effect. But legalizing weed would allow health professionals more access to knowledge about medical marijuana and would give them the liberty to relay this information to their parents. It would also simply open up the conversation about the benefits of marijuana, so we could all stop pretending smoking weed will kill you, and start getting the real facts about how to use marijuana in a beneficial way.
3. Weed is Good for the Economy
As it turns out, weed is good for biz. A report from cannabis analytics company suggested that if weed was legalized federally, it could generate  $131.8 billion in federal tax revenue by 2025. It's a booming business, as you have probably learned from your cousin who lives in Colorado and survives off of his dank weed pie business. However, an important thing to note here is how legalization as we know it is still racially biased. In order to get into the marijuana business, you need certain permits. The catch? You can't obtain these permits if you have been convicted of a crime. So, let's say a person is arrested for having weed on them (something most of us have been "guilty" of at least once), they serve their time, and now they are out of prison and living in a world where the thing they were arrested for is no longer illegal. Even if they wanted to, they could not get into the business of selling marijuana legally. And as we have covered, most people arrested for weed related crimes are Black and Latino men. So now we have a business where white men, yet again, are profiting, and minorities aren't able to access as easily. So when we say "legalize weed," what we really mean is "legalize weed in a way that also allows people with weed convictions to enter the business legally." But that's kind of hard to fit on a poster.
4. Everyone Smokes Weed Anyway
Not to keep bringing up your D.A.R.E. teacher, but as hard as they try, they aren't going to get kids to stop smoking weed. Smoking weed is fun and people enjoy it and are going to do it. Polls actually show that a majority of Americans have tried marijuana in their lifetime (and about half those stop in their late 20s because it starts making them anxious for no reason). Clearly, marijuana prohibition has been about as effective as alcohol prohibition back in the day. Legalizing marijuana would mean there would be a legal, regulated market, which would be a safer market than the illegal one we have now. Regulations means your weed can't be cut with anything without you knowing about it, and it also means drug kingpins go out of business. That could drastically decrease the violence that takes place in the drug world. Sounds pretty chill, no?
5. Weed is Famously Tight
At the end of the day, you gotta give the people what they want. And the people want legal weed. It's as simple as that.
Legalize weed

— Alise Morales (@AliseNavidad) April 18, 2019
Heads up, you need to keep up with the news. It's not cute anymore. That's why we've created a 5x weekly newsletter called The 'Sup that will explain all the news of the week in a hilarious af way. Because if we weren't laughing, we'd be crying. Sign up for The 'Sup now!
Weed Helped Save My Mental Health, So Why Is There Such A Stigma?
Okay, story time: I used to work as a front desk girl for a popular "boutique" spinning studio. Not gonna name names because you've clearly figured it out already, and I lasted a month there. The place prided itself on being super open-minded and all about getting in touch with yourself, overcoming challenges, and following your soul.  Once, we played an icebreaker game where we went around the room, said our name, the studio we worked at, and something we do to relax. Every. Single. Person. said alcohol is their way to unwind, along with watching a TV show or, of course, working out. I was last, and I said, "taking an edible and tanning." The CPR woman looked like she was in shock, and was all, "Okaaaayyyy, moving on." So much for being a liberal as your brand markets itself being, huh? Remind me why weed is worse than alcohol again?
Marijuana is the fastest growing industry both nationally and internationally. There's luxury marijuana getaways, weed treats, marijuana spas and bath bombs, people are literally putting it in their green juice. And don't get anyone started on the benefits of CBD because, honestly, I don't wanna endure listening to them pontificate about its benefits as if I don't know them already.
But that doesn't mean there still isn't negative connotations around marijuana use.
Yes I smoke weed everyday. No I'm not lazy. I'm literally almost a straight A student in college rn. I'm living my life and getting the shit I need done,yes I have slip ups and that's human. Weed has helped me in so many ways that I'm forever going to defend it and its stigma.

— Bambi (@suckmypoptarts) April 13, 2019
When I was 14 years old, I got diagnosed with the most severe case of ADHD possible—I was in the 99th percentile. I was prescribed a dosage of meds that they would give someone the size of Lebron James, literally the maximum dosage. What it did to my brain is an entirely different story. I was made fun of in high school and college for how erratic my meds made me. I believed the pills would make me feel like a normal person, which I thought was someone who didn't experience anxiety or depression. But I didn't feel normal. Whenever I told my doctors that I was having trouble sleeping or that I was anxious, they'd just prescribe new pill after new pill or increase my dosage. I was treated like my brain was the problem, and I needed to take anything I could to be like everyone else. But deep down, I knew something was wrong, and because of that, I was indoctrinated to believe I'd never be normal.
So my conception of the self-help industry was: you're the problem, so take a pill to make yourself just like everyone else. I was brainwashed to believe that my ADHD was a bad thing. Did you know that it was seen as an evolutionary advantage? Even during the Industrial Revolution, many inventors actually met the criteria for ADHD. I feel like that's not talked about enough. The system did nothing to help me embrace that I think differently than others. I wasn't using therapy or pills in a way that gave me the opportunity to evolve or to have healthy coping mechanisms at all. 
Eventually, I got sober. I had to time off from college (where I was partying way too much—weed, alcohol, mixed with the prescription pills was a recipe for disaster) and learned how to cope with my ADHD, anxiety, and depression without controlled substances. I didn't smoke weed or really drink for about a year. I learned how to look internally in order to reacclimate to society without the use of controlled substances, to get back in touch with myself, and to learn how to cope with reality. Between meditation, yoga, and extensive therapy, I began to come into my own. Why weren't these resources suggested to me before shoving copious amounts of legal meth down my throat?
6. Whenever someone brings up ADHD. It makes it seem like it's is just an issue of distraction. Wrong! For example, I read 2-3 books a week! I don't know many people with ADHD can do that. But for me taking clothes out of the dryer & folding them, that's like climbing Mt. Everest

— Yashar Ali ? (@yashar) February 26, 2019

As time went on, my doctors and I decided that it was okay for me to start indulging in mind altering substances like alcohol and weed again. Last year, my doctor gave me a prescription for Benzos that I use sparingly because I would never want to become dependent on them or go through the brutal withdrawals ever again. I check everything I do over with my doctors. No, seriously, a good rule of thumb is to ask yourself, "How stupid am I going to sound to my shrink once I tell them I did *insert reckless action here*?" So I started using mind altering substances again at my discretion because through the extensive work I've done, I now know how to indulge in it without making it a crutch to completely detach from reality.
Without going into the gory details, I went through one of the most difficult times of my life last year. I endured a lot of trauma and I wouldn't wish that on anyone. Waking up in the morning and instantly crying is the worst possible feeling, feeling lonely and utterly helpless is heartbreaking, and not feeling safe in your own city and apartment is horrific. I unfortunately turned to alcohol for a month or two because, even though it wasn't the answer, I thought it was the easy way out. I learned over time that it just made things worse, and I'm glad it didn't develop into something far more serious.
Over time, I turned to weed instead, and it was actually my saving grace in a lot of ways. Journaling, therapy, yoga, meditation—all that New Age sh*t—works wonders. But if you're in a position where you need a quick fix or you simply want to expand your consciousness and see things more lightheartedly, weed is incredible.
I first was open with my shrink about how I wanted to switch from Benzos to medicinal weed and he was all for it. I got prescribed with Benzos to take sparingly in the event that I needed a quick fix to calm the f*ck down. I came to find that being in a Klonopin Cloud wasn't as comfortable as it used to be, and in retrospect, I don't think it ever was a comfort zone. It was just a way to detach from reality completely and a chemical way to become apathetic. Weed, on the other hand, loosened the vice grip I have on my issues and helped me see things through a more panoramic lens. While I'm still cognizant of my problems, I definitely don't feel like a zombie like I  did with Xanax or Klonopin. My shrink and I are working towards getting me a prescription for weed right now, thank God.
I recently went to L.A., and I was totally shocked by how normalized it was out there. Like, of course I knew it was legal and all that. But when I walked into MedMen, which is one of the most notable dispensary chains, I was totally taken aback by how open they were about the benefits of weed. I was awfully tightly wound about the whole thing because I was in such shock that they were all so open-minded, and it was then when I realized that I had internalized the negative stigma against weed too. The intention behind MedMen, one of the employees said, was to show people that weed use and dispensaries shouldn't be this clandestine and sketchy thing. It should be the embraced. The place looked like an Apple store, I swear! When I mentioned that to the employee, they said it's because they want people to know that they embrace the industry and they don't want them to feel like buying weed should be this uncomfortable, shameful process that you need to be so secretive about by going to one of those shady looking dispensaries with, like, no windows.
I ended up purchasing products from them and it was one of the best decisions I've ever made in terms of my psychiatric journey. The products they sold me were way more regulated than the bud I buy from NYU grad students. It was like taking an anti-anxiety medication that helped me take a step back and live more light-heartedly when need be. It was also a form of embracing my ADHD and thinking differently without being hyperaware of conforming to norms or pacing around because I couldn't sit still to do my work. A lot of people think that weed makes you flighty, loopy, and totally out of it. That can totally be true, but it's not always the case. For my ADHD, I use it to stop pacing around, keep my anxiety at bay, to calm down, and embrace that I think creatively.
Even before MedMen, I've always maintained that weed helped me on a philosophical level, helped expand my consciousness, and look at my life and myself without harsh judgment. A lot of people scoffed at that and saw it as a BS excuse to get high and watch Workaholics. Full disclosure: smoking weed while watching Workaholics is dope, but it's not the primary way I use it. Now, I definitely believe that it is a form of medicine for me. I did have my struggles in the past with mind altering substances that obviously did more damage than good and I wasn't instructed on how to use them properly in the first place. But I'm in a place in my life where I can drop a tincture of THC mixed with CBD under my tongue the same way someone can take an Adderall. For the record, I do believe that Adderall can work for some. However, 2 in 3 adults outgrow ADHD, and my doctors told me that I would never be a part of that group.
But it absolutely sucks that people still side-eye something that my doctor and I see as my medication. Although Adderall was horrible for me, you don't see me judging people for taking it if that's what their doctors think is best for them. It's difficult enough that people assume anxiety is just being nervous and that you need to "suck it up," or that ADHD is just immaturity because I have trouble focusing and staying organized. It's not like I sit in a corner and cry because things don't go my way or because I'm nervous. It's not like I'm all, "Oooooh, look at a shiny red ball!" when I'm writing an essay. It's not like I'm a lazy, careless bum because it's a struggle to keep my apartment clean. Those things are tough for me, and it completely worsens my struggles when someone tells me that my afflictions don't matter and that the way I believe is the healthier route is just an excuse to be lazy and indulge in munchies.
5. People who don't have ADHD often oversimplify what it means to have ADHD. I don't blame them, they're not living with ADHD. But that's one of the reasons ADHD is so misunderstood because it's anything but simple. That's why it's so hurtful when people jokingly say "squirrel"

— Yashar Ali ? (@yashar) February 26, 2019
I think for the sake of society, we really need to start listening to each other and not only support each others' differences, but also endeavor to encourage these differences so people can be more open. So the question is: why is society so myopic when it comes to these differences? Why is the immediate answer in the form of a capsule in order to "normalize" them? And if that capsule doesn't work, why the next best option is another capsule, and another?
Not everyone should function the same way and fit into this mold that society created. A New Age approach helped me embrace my differences instead of stifling them, and marijuana absolutely changed my life for the better too. If it's not for you, that's cool. But if it could help someone, but the stigma of being associated with weed use is making them afraid to seek out that option, that's a problem.
These Are The Politicians Who Are Down With 4/20
Anyone who hasn't been living under a stupid rock knows that 4/20 is national marijuana day, aka weed/pot/cannabis/ganga…or whatever the youths are calling it these days. Immediately the image of a group of stoners sitting around a lunch table at the high school comes to mind, and guess what, one of those stoner friend groups is responsible for creating this wonderful unofficial national holiday. Who knows if these guys ever thought that weed would be legal in the U.S. but times are a changing and now a bunch of mainstream politicians think hay ayy ayy ayy, smoke weed everyday. So roll up a fat one and get ready to have your mind blown.

Who TF Supports Cannabis in Congress?
Turns out you don't need to still be in high school to start a club about weed, because there is a bipartisan group that started the Congressional Cannabis Club Caucus. Now, idk if they all go to someone's office after hours, put their chairs in a circle and light up like they are in an episode of That 70's Show, but that's what I like to think happens. Which, by the way, would be totally legal in DC, so maybe they'll make it an open invite next time. The founders of this chill AF caucus are Republicans Dana Rohrabacher (CA) and Don Young (AK) with Democrats Earl Blumenauer (OR) and Jared Polis (CO). Their states already have legalized medical and recreational marijuana, but their goal is to have it passed at a federal level so that we can all get high. Dope.

Throwback to the 2016 Presidential Election
As the progressive presidential candidate Bernie was very open about his support of legalizing marijuana. He also "did" weed twice, and it made him cough a lot. So now we know what "feel the Bern" really means. He wasn't the only candidate in the 2016 election who admitted to having tried cannabis at a young age. Shocker. The best was Jeb Bush who admitted to it during a debate and then tweeted out, "sorry mom." In case you weren't already aware, politicians are people and had lives before congress. TBH I wouldn't trust a candidate who never even considered smoking weed in college. Also, these politicians we're talking about are white, so they can totes get away with admitting to doing drugs. Just something to remember, betches.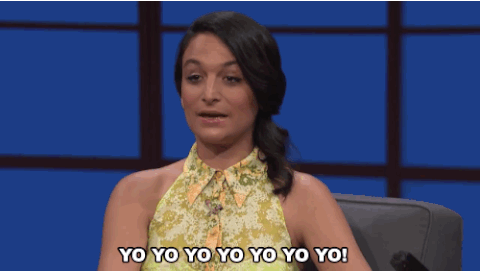 Keep Going I Want to Hear More
Sen. Kirsten Gillibrand (D-NY), Sen. Cory Booker (D-NJ), Sen. Rand Paul (R-KY), and Sen. Elizabeth Warren (D-MA) are all happy to welcome their old friend John Boehner to the dark side. Boehner is the most recent politician to come out in favor of legalization when he announced he is joining the board of Acreage Holdings, who distributes weed across 11 states. He was a real buzzkill back in the day and voted against legalization back in 1999. Boehner's position is meant to help Acreage lobby with the former Speakers powerful friends in Congress. With so many influential members supporting medical and recreational use of marijuana, it should be no time before it is legalized in most states. Tiiiiiiiight.

Who TF does this Piss Off?
Of course there has to be a fucking narc and who would it be besides Jeff Sessions. He has launched a war of his own on marijuana and claims, "Good people don't smoke marijuana." I'm a f***ing good person, Jeff. Basically he wants to infringe on the states' rights to determine their own marijuana laws… not very Republican of you, Seshie Boi. But have no fear, like so many other things Jeff has done, it will probably backfire. It turns out that he's pissing off the 64% of Americans who support legalization, and they are going to go out and vote for Dems who will pass legislation they favor. Tsk Tsk. He should've realized that an election can actually still be about the issues, especially when you want to take away weed from pot heads and lessen mass incarceration. Who knows, maybe Jeff has smoked before but he just can't recall.
Heads up, you need to keep up with the news. It's not cute anymore. That's why we've created a 5x weekly newsletter called The 'Sup that will explain all the news of the week in a hilarious af way. Because if we weren't laughing, we'd be crying. Sign up for The 'Sup now!
Where Can I Get High Legally: A 4/20 Investigation
Today is 4/20, which means betches who love weed will be smoking in celebration and betches who don't will be pretending they do in order to look like, super chill. Whichever category you fall in to, I am here to update you on the current state of legalization in the US, because I am selfless and don't want you getting arrested or fined on this sacred holiday. You're like, so welcome.
It's 2018, Trump has been president for over a year, half of the people he's ever met have been subpoenaed by Robert Mueller, Zuckerberg probably sold the data on everyone you've ever instagram stalked to Russia, and it's snowing in New York in April. In other words, the citizens of America are in dire need of a stress-relieving drug. Public approval of marijuana legalization has never been higher, more than doubling since 2000 to clock in at 64% of US adults in 2017. Among anxious millennials, who have been gifted climate change, the gig economy, and mass incarceration, support is understandably even higher at 70%.

However, marijuana remains a schedule 1 substance in the federal classification system, rendering it equivalent to heroin or methamphetamines in the eyes of the law. Regardless of the fact that this is literally insane and I personally have had many more near death experiences related to alcohol than marijuana, this means that while states may legalize or decriminalize, federal prosecutors can still sue individual businesses. Jeff Sessions intends to keep it that way, and rescinded an Obama-era guideline that basically let states legalize without federal interference.Trump and Sessions appear to be divided on this issue, so stay tuned to find out who wins that battle. I'm sure they will deal with this right after Syria and gun control. Anyway, now that I've given you enough legal background to impress the next hot stoner you encounter at a party, let's get down to where you can and can't smoke legal weed.
Where It's Totally Legal and Totally Lit
Nine states and the District of Columbia have completely legalized marijuana, including its use for recreational purposes. In Alaska, California, Colorado, Oregon, Nevada, and Washington, you can fully purchase weed for fun at legal dispensaries. It's literally lit. In DC, Vermont, Massachusetts, and Maine, recreational sale is either not legal or pending legislation, but you are allowed to smoke, carry, and grow your own marijuana. Dude…nice.

Where It's Decriminalized, So Like, Kinda Illegal
Some states have decriminalized marijuana to varying degrees, so it isn't legal, but penalties for possession are usually just fines, and do not incite arrests. In many states, this is part of an important broader effort to reform the punitive and racist enforcement of stricter marijuana laws. The decriminalized states are: Connecticut, Delaware, Illinois, Maryland, Mississippi, Missouri, Nebrasksa, New Hampshire, New York, North Carolina, Ohio, and Rhode Island. Right on.

Where It's Medical, But You Probably Have  Anxiety So It's Fine
States that allow medical marijuana include decriminalized states, recreationally legal states (duh), and some states where non-medical use is fully illegal. The non-recreationally legal states that do allow medical marijuana are Arizona, Arkansas, Connecticut, Delaware, Florida, Georgia, Hawaii, Louisiana, Maryland, Michigan, Mississippi, Missouri, Montana, New Hampshire, New Jersey, New Mexico, North Dakota, Pennsylvania, Rhode Island, West Virginia, and Virginia. So basically, all you need to do is successfully convince your psychiatrist that you have anxiety, as you've already been doing for years to access your Xanax prescription, and you can get weed in these states. What a time to be alive.

Where It's Illegal, But You Didn't Want to Go To Kansas Anyway
Unfortunately, there are still some US states fully committed to outlawing weed (and joy). All forms of marijuana, including medically-prescribed weed, are illegal in Alabama, Idaho, Indiana, Kansas, Kentucky, Montana, Oklahoma, South Dakota, Tennessee, Texas, Utah, Wisconsin, and Wyoming. You probably weren't going to use your previous vacation days in Montana anyway. Land of the narcs, if you will.
Happy 4/20, betches! Get high and don't feel too guilty about ordering McDonalds via Uber Eats, it's a damn holiday.

Heads up, you need to keep up with the news. It's not cute anymore. That's why we've created a 5x weekly newsletter called The 'Sup that will explain all the news of the week in a hilarious af way. Because if we weren't laughing, we'd be crying. Sign up for The 'Sup now!
5 Telltale Signs You're A Stoner
Happy Holi-blaze, betches! Tis the season for getting baked out of your mind and eating approximately ten thousand bags of potato chips. On 420, everybody is an honorary stoner, but how big of a stoner you are IRL will probably dictate how into the holiday you are. If you're not much of a smoker, you may partake in an after work smoke sesh with your more stoner-y friends, or just like their Instagrams and not actually participate yourself because weed gives you anxiety. If you are a stoner, though, you probably started celebrating yesterday for 420 Eve ("In my family, we always smoke our blunts at midnight!") and have been coasting along, high AF all day. Maybe you even called out of work to ensure that you don't have to deal with your narc co worker's questions about why your eyes are so red or what "smells like a skunk." True stoners have no limits on how they celebrate 420, no matter what actual commitments they may be expected to fulfill on a Thursday. You're not going to let a little thing like a doctor's appointment or a final exam get in the way of you getting completely baked on this, the holiest of High Holidays. So how do you know if you're one of these dedicated marijuana enthusiasts? Check out our video and we'll help you figure it out.
What type of stoner are you? Read our stoner horoscopes to find out here!
What Type Of Stoner Are You Based On Your Zodiac?
The stars have once again returned to their 420 alignment, meaning that today is the perfect day for each member of the zodiac to partake in some herbal refreshment. Now, there is no one stoner sign. Marijuana is for everyone (except like, babies), but the way you enjoy marijuana, like most things, is 100% dictated by the arbitrary placement of the stars and planets as they align with the date and time of your birth. So as you're making your 420 plans, please keep the Stoner Zodiac in mind so that every member of your friend group, whether she be a Gemini, Leo, or dare I say, Scorpio, can get high AF without any of the munchies, anxiety, or getting paranoid the cops have been called.
(TBH tho, if the weed is dank, you'll probably still experience all three…)
Aries, "The Group Dealer"
So, we're not saying you're a literal dealer here (though you may be, in which case please send your contact info to [email protected]) but that you're the person in the group who is always good. You're a natural born leader, and there's no better way to take charge of a smoke circle than to have it be your product the circle is smoking. Anytime someone suggest it's time to blaze, you're right there with your own little baggie, dictating exactly the best method by which you should smoke it, and ensuring that you get greens because Stone Etiquette clearly dictates that the weed owner always gets to smoke first, unless it's like, somebody's birthday or something.
Taurus, "The Productive Stoner"
Given your work ethic and stellar resume, most people would be surprised to learn that you've been high since roughly the year 2005. You're the type of person who is somehow able to both live a productive life and smoke weed every day. You're basically like a stoner unicorn. Budicorn, if you will. Just make sure you're careful with your non-Taurus friends today. Sure, you can wake, bake, and give a killer presentation at work an hour later, but most people do not have this superpower. So when your friend tells you that they absolutely cannot smoke this bong and still be okay to meet their boyfriend's parents in an hour, believe them. Laugh at them in private, but believe them.

Gemini, "The Weed Innovator"
Geminis are always looking for the next best thing, meaning that you are the person in your friend group who is always on top of the latest and greatest in weed trends. You're the person who rolls up to the party with some kind of crazy-ass mega-vape, or actually said "yes" when your bestie's weird cousin pulled out some giant rube-goldberg dabbing contraption and asked who wanted to smoke it. And sure, sometimes you get so high off these newfangled devices that you blackout and wake up on a marijuana farm in Mexico, but that's all part of the fun, right? ….Right??
Cancer, "The Active Stoner"
As far as weed smoking goes, just zoning out to a Netflix and zoning back in 17 episodes later with no clue what the main character's name is is just not your vibe. You much prefer getting high and doing something, even if that something is just folding socks for two hours or finally painting that one wall in your room (both of which you will have to completely do over BTW). The point is, you need to keep yourself busy while high to avoid going deep into your brain and remembering every single embarrassing thing you've done, starting with the time you peed during reading circle in Kindergarten, and ending 20-something years later with the anxiety attack you are about to have right now. Before packing up to go to your 420 celebration, make sure to pack some kind of crafty thing or snack recipe to keep you busy when the weed hits. Knitting and cookies are always a good option.

Leo, "The Insta Stoner"
Leo is "The Performer" of the zodiac, meaning that you really don't really see a point in smoking unless people know you're smoking, nah mean? So either because you have those privacy settings on lock, or because you DGAF, your Insta story is nugs on nugs on clouds of smoke. And on 420, your extra-ness is about to get a whole lot more extra, thanks to all of the weed related clothing items you've stocked up on all year just for the occasion. You're no stranger to an amazing photo op, so be sure to head out into the best possible lighting to display your new "420 BLAZE IT" shirt across social media, where your friends will appreciate the subtle addition of not one, but two, lit blunts. Just make sure to double-check that you blocked your boss on everything.
Virgo, "The Woodland Stoner"
Virgos love nature, and what better way to really get in touch with nature than by smoking tree all day? Sometimes, you miss the good old days of sneaking out into the woods behind your parents' house, crouching behind a bush, and smoking shitty dirt weed out of an apple. Now that all your friends have their own residences, it's all nice-ass bongs and sitting comfortably on a couch. Lame. If you really want to honor your Virgo spirit this 420, roll yourself up a fat J (with those herbal, sustainable papers of course) and head for the trees. If you can't find any friends who want to join you (allergy season, etc…) just take a couple of puffs of the dank shit and try talking to a nearby squirrel. You two will be besties in no time.

Libra, "The Social Stoner"
As far as weed goes, it's something you prefer to do in the company of friends, meaning 420 is the perfect day for you to get really into it. While sitting around alone in your underwear stoned out of your mind seems pretty fucking boring to you, sitting around in your underwear stoned out of your mind with your friends sounds amazing. Maybe you're not smoking weed on the daily, but you do maintain a small stash so that you can be ready whenever the opportunity for a smoke circle presents itself, and you'll never say no to something that is being passed around a group. Basically, your ideal smoke situation is every episode of That 70s Show, Ashton Kutcher and all.
Scorpio, "The Philosopher Stoner"
Scorpios are intense. This you already know from having to be yourself. As a stoner, Scorpios are the people who want to get high and think about shit. Lots of shit. Like how the Earth is just like…hanging there…in space. They're the ones who take one bong rip, look to their left and ask, "How do we know that the blue I'm seeing is the same as the blue you're seeing?" You're also not opposed to just sitting back and watching Planet Earth for five hours. The Earth is fucking crazy, man.
Sagittarius, "The Classic Stoner"
Sags are notorious for their great senses of humor without the aid of a drug that is literally known for making everything hilarious. Get a few puffs in you, and you can't help but turn into the classic image of a stoner, rolling on the floor laughing your ass off at something that you can't really explain to everybody else. Sags are also intensely curious, so weed will open you up to all the classic stoner dilemmas like "If someone could tell you the exact date and time of your death, would you want to know?" and "Do I hate you because you're fat, or are you fat because I hate you?" Also, you're going to want to keep some eyedrops with you. Your eyes look fucking terrible.

Capricorn, "The Cannabis Connoisseur"
As a Capricorn, you like to know everything about everything. So once you get into weed, you like really get into weed. You're the type of person who can look at a nug and tell you its entire life story. You know every strain so well that when your dealer tries to sell you some bullshit called "Blueberry Kush Dog" you'll take one look at it and say "If this was really Blueberry Kush Dog, it would have defined nugs, visible crystales, and a defined, fruity odor. This strand you have here has an earthy aroma, strands of red, and is sticky AF which leads me to believe it's Girl Scout Cookies. I'll take an ounce and don't ever come around here without knowing your shit again."
Aquarius, "The Marijuana Activist"
Legalize it! Aquarians are known for their social activism and liberal agenda (how you holding up these days, BTW?) making you the type of stoner who get like, legitimately heated when talking about marijuana legalization. You'll sign any Change.Org petition that rolls your way regarding legal weed, and one of the surest ways to get your vote is to put medical marijuana on the ballot. You've probably been to Colorado like 20 times, and had no problem telling your horrified grandmother over Thanksgiving Dinner about how Denver made so much money on legal weed taxes they were able to invest more money into public schools (that's true). And don't even get you started on the way marijuana was used to help bolster the prison industrial system—seriously, don't get started. Just relax enjoy the holiday for once, Aquarius. It'll give you the energy you need to make the giant pot leaf protest banner you've always dreamed of.

Pisces, "The Festival Stoner"
Pisces are the artists of the zodiac, so you're basically a natural weed lover. It like, gets you in the zone and shit. Pisces are also music lovers, meaning that once you toke you want nothing more than to put on your fav album and just like, chill. And what place combines rampant marijuana use, artistic expression in the form of body paint and glitter, and basically non-stop access to your favorite musical acts? Festivals, duh! Pisces are perfect for the festival scene. In fact, they thrive. Coachella? You're there. Both weekends. Bonnaroo? Fuck it you can hang with the hipsters for a weekend. Wait, also, wasn't that you toking next to Malia Obama at Lollapalooza? I'm pretty sure it was…
10 Healthy Munchies To Reach For When You're High AF
It's 4/20: high schooler stoner holiday galore. But before you get ready to puff, puff, pass, make sure you're stocked up on snacks that won't result in next day regrets (i.e. cheese balls and a pack of bologna… I speak from experience). Having healthy grabs around will keep you from inhaling a box of Cheese-Its or polishing off a block of cheddar when the munchies hit. If you don't have any of this shit on hand, it's time to make a high trip to Whole Foods—nothing you haven't done before, we're sure.
1. Hummus
A vital part of the betch food pyramid, hummus is a dippable and delicious (AND nutritious) snack perfect for dipping carrots or pita chips in when you're seeing sounds. Or you can eat it with a spoon and we won't judge. Not only is that shit super high in nutrients, but it'll also help curb the "I'm hungry" feelings.
2. Tortilla Chips And Salsa
No one knows where the blind loyalty to chips and salsa came from, but for betches, this is a bitchin snack when we're sober, drunk, high, waiting for our burritos, etc. Salsa literally has like, no calories, and lots of tortilla chips—like On The Border brands—are organic, baked, use sea salt, and are generally healthier than other alternatives.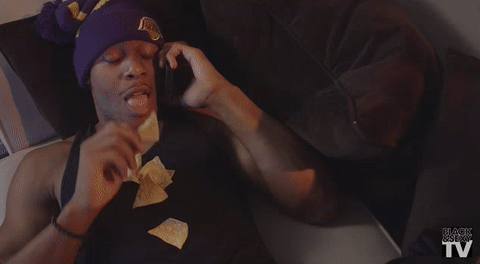 3. Kale Chips
You're dying for some Lays or Cape Cod chips, but kale chips will make you feel one with the Earth AND you won't gain 10 lbs. eating them. Either make them yourself by tossing kale with olive oil, salt, and parmesan and baking at 350F for about 15 minutes (get your hippie friend to make them—she absolutely has a recipe) or buy at—YOU GUESSED IT—Whole Foods.
4. Sweet Potato Fries
Fries are fucking amazing when you're drunk, high, or whatever. Sweet potato fries are better for you, bring that whole sweet and salty thing, and you can eat a shit ton of them (which probs isn't the best but whatever, it's a holiday). Try 'em baked (LOL) which will be less calories and fat than having them fried.

5. Roasted Chickpeas
Totally poppable, full of protein, and not terrible for you, you can make roasted chickpeas yourself or buy them premade in the extra healthy aisle at Whole Foods (Trader Joe's if you're poor). The best part is, these can be made to taste like allllll your fav chips—salt and vinegar, classic, barbecue, pickle—WTF ever.
6. Instant Oatmeal
Cereal somehow becomes extremely appealing and crave-able when you're hitting the jazz cabbage, and instant oatmeal is a perfect comfort food. So, heat that shit up with a little maple syrup, toasted almonds, and brown sugar and bam—not totally horrible snack to nom on. It only really requires a microwave and a few cups of water or milk, so no matter how high you are, you really can't fuck this up.
7. Beef Jerky
So much protein! You'll be reaching for salty goodness, so reach for something that'll help curb the munchies and taste amazing. With the plethora of flavors out there now (chili lime, spicy, classic, bbq, teriyaki), jerky is a great high protein snack that's totally okay to indulge in. Plus they tell them at 7-11 so you can kill two birds with one stone when your bf just needs to get his slushie and questionable pizza fix.

8. Toasted Pumpkin Seeds
You could inhale 1 cup of these and it'd still be better than most of the shit you reach for whilst chasing rainbows. You can buy them pre-toasted or do it yourself by tossing cleaned raw seeds with butter, salt, and pepper and baking in a 300F oven for 40 minutes. Shit, you can even go sweet and do butter, cinnamon, and sugar. The possibilities are endless. Honestly, though, if you're high out of your mind (as you should be on 4/20) we do NOT recommend carving out the inside of a pumpkin with a knife or any other sharp objects.
9. Apples With Peanut Butter
A little grammar school, yes, but these won't result in regret or water retention. Peanut butter is a go-to stoner snack and adding apples will help you slow your roll while you're dipping into it. But like, don't eat too much peanut butter because then it kinda negates the whole "healthy" aspect.
10. Hemp-Infused Shit
You could also always head to the store and grab hemp-infused treats like Activated SuperFood Cereal; LARABAR Organic Bar with Hazelnut, Hemp, and Cacao; or even Organic Hemp Hearts to sprinkle on literally everything. None of that shit will get you high (bummer), but it is super healthy and, like, it has hemp so whatever. It's festive.