The 5 Biggest Takeaways From 'Euphoria's Special Episode
This might sound dramatic, but there's nothing more frustrating than waiting forever for your favorite show to come back. Even for shows that stick to a strict annual schedule, the off-season can be a lonely time, and sadly, the pandemic has really messed with TV calendars. When Euphoria's first season concluded in August of 2019, we assumed that it would be a while before the second season rolled around, but we had no idea just how long the wait would be. With no premiere date set for season 2, luckily HBO came through in a major way, and decided to give us two special episodes of Euphoria to bridge the gap between the seasons. The first special, "Trouble Don't Last Always," dropped over the weekend, and it shows us what's happening with Rue shortly after the conclusion of the first season.
If you haven't watched yet, there will be spoilers ahead, but it's no big secret that this isn't like a normal episode of Euphoria. We only see Rue, Ali, and Jules (briefly), and the majority of the episode is one long conversation at a diner. It's deep and emotional, and while it may not have all the bells and whistles that you expect from Euphoria, it's an impressive character study that we wouldn't get in an episode with 20 other subplots happening. Keep reading for the five biggest takeaway from the first special episode.
1. Rue Is Not In A Good Place

In the season 1 finale, we saw Rue relapse after being left by Jules on the train platform. After a sort of dream sequence of her perfect life with Jules, the special finds Rue at the diner with Ali, and she's in really bad shape. Ali quickly sees through her unconvincing act of having her sh*t together, and he spends the next hour getting real with her about a wide range of topics relating to addiction. I don't know about you, but I was barely keeping it together for most of the episode, and I f*cking lost it when Rue said she didn't plan on being around much longer. By the end, it seems like Ali may have finally gotten through to her, but as we know, addiction isn't a problem you just solve right away. But as they drive off in the rain, it does seem like there is hope that our main character will find her way out of this dark time.
2. Rue Is An Unreliable Narrator
In season 1, Rue literally told us that she can be an unreliable narrator, but at the time we didn't know if that detail applied to what we were watching. But after taking Rue's relationship with Jules at face value last year, the special reveals that some of that sh*t never happened. The big reveal here is that Rue and Jules never actually got the lip tattoos we saw them getting in season 1—they just talked about doing it. In the grand scheme of everything that's happened on this show, it's a small detail, but it could open the floodgates in terms of what little lies Rue has told the audience.
We also see that for the first time, Rue is confronted with the realization that she and Jules were never officially in a relationship. We've all been there, and it sucks, but Rue had to figure it out sooner or later. You always have to DTR!! This wasn't necessarily new information to us, but during season 1 it was definitely tempting to see things from Rue's perspective. As much as I love Rue, Jules didn't actually cheat on her, and honestly, she should probably just focus on herself for a while.
3. Jules Is Next
Now that we've gotten a deeper look at the aftermath of the season 1 finale for Rue, it only seems fair to get Jules' side of the story. HBO has confirmed that "Rue" is the first of two special episodes, and while we don't have a premiere date for the second one yet, it should be coming soon, considering that Zendaya referred to the two specials as "the Christmas episodes." As for the content of special #2, it appears that it'll show us what's going on with Jules. In the "Enter Euphoria" featurette for the special, series creator Sam Levinson discusses the limitations of Rue's perspective, saying "it leaves open the other side of the story, which is… Jules' side."

So basically, we're getting a Jules special, is really exciting for a couple reasons. Up until now, the entire show has been more or less told through Rue. Her narration guided season 1, and as we just discussed, she's not always the most accurate. It's going to be a whole different experience to hear Jules telling her own story, and this opens up a lot of possibilities for future storytelling methods and character development. Also, we have no idea what happens with Jules after she gets on that train! In her special, we could meet new characters, or encounter other characters we already know, or who knows, it could literally be Jules talking to herself for an hour. The possibilities are endless!
4. Are We Getting A Spin-Off?
This is less of a takeaway and more of a vague conspiracy theory. Season 2 of Euphoria was originally supposed to begin production in March of this year, and was put on indefinite hold just days before as everything shut down. Sam Levinson quickly pivoted his focus, and we found out over the summer that he had secretly made a movie during quarantine starring Zendaya and John David Washington. The movie, Malcolm & Marie, is coming to Netflix in February. So, you ask, what does this have to do with Euphoria? Well, in the special episode, we find out that Ali has a daughter named Marie (!!!) who resents him for his past.
This could be a total coincidence, but considering that both stories were written by the same person, it's fun to imagine that the stories could be somehow connected. We're going to be waiting a while for season 2 of Euphoria, so maybe we can pretend that Malcolm & Marie is another special episode. Either way, I'm excited for it.
5. What About Season 2?
So yeah, about season 2. While I loved the special episode, it was nothing like a normal episode, and I won't pretend that I didn't miss all my favorite characters, like Maddy and Cassie and Lexie and Kat and Ethan and okay I really just love all of them except Nate. The special gave us some insight about what's ahead for Rue (hopefully getting sober again), but the other storylines are still completely up in the air.

As for a timeline of when we can expect to see the second season, don't hold your breath. Filming won't start until early 2021, and the cast has frequently discussed how long and complex the Euphoria shooting process is. In a new interview with Cultured, Alexa Demie said "there is a possibility that it's out next year," so I definitely wouldn't expect a premiere date until later in the year. Either way, season 2 is definitely happening, so let's hope it's worth the wait.
Don't miss out on any pop culture or entertainment news. Subscribe to our weekly newsletter here. 
Images: HBO; Giphy
5 Celebrities Who Don't Photoshop The Sh*t Out Of Themselves
Okay, let's be real, everyone probably Photoshops or Facetunes a little bit. I like to use it to clean up backgrounds, for example, or when my eyebrow hairs are completely out of control. There are ways to use photo editing for good, instead of evil. But I am not for celebs who pretend they have scary Barbie bodies on social media. It's totally toxic and I think they need to be called out on their bullsh*t. But when I'm not busy doing the Lord's work with our Photoshop Fail series, I really like seeing celebs who don't give in to the bullsh*t and post real photos. It's impossible to know for sure that they don't edit (if Photoshop is done correctly you should not be able to tell), but at least it's not done to a ridiculous point. Whatever, fix a flyaway hair, or the lighting, but stop removing ribs. Here are some celebrities we have to shout out for refusing to do toxic Photoshopping.
1. Cara Delevingne
A few years ago, you couldn't go anywhere without seeing Cara's face. She was the "It Girl" model that sold you every pair of jeans, every line of makeup. Cara is insanely beautiful and thin, but what I like about her is that on social media, she posts real photos right up with her magazine covers. Of course the covers and fancy photoshoots are edited (not by her), but she keeps it real by posting pics of her and her super cool gf Ashley Benson in their real life. That includes acne, bags under the eyes, fine lines, etc. She shows you that the image you see on the runway or in Vogue isn't real life, and isn't afraid to laugh at herself.
2. Zendaya
When you're as perfect as Zendaya, I'm not even sure what you would edit. But Zendaya has no time for magazine Photoshop bullsh*t, as she called out Modeliste Magazine for their ridiculous manipulation of her body. She's a badass. So while following her probs won't help your self-esteem (why is she so perfect?), at least you know she's the real deal and not advertising faking your body or face.
3. Chelsea Handler
I've loved Chelsea Handler since I read My Horiztontal Life like 15 years ago. (Where were my parents? Who was letting me read that as a 14-year-old?) That aside, Chelsea is the first person to tell you that the Hollywood glamour actually takes a sh*t-ton of work. She admits to wearing tons of Spanx, having personal trainers, strict diets, and hours and hours of getting ready just for her own TV shows. I appreciate that while she's in awesome shape, she only posts pics of her real body and her un-airbrushed face. She's also adapted to using her platform for good, instead of just making fun of people (although I miss Chelsea Lately A LOT, sorry not sorry).
4. Priyanka Chopra Jonas
Models get a bad reputation in the world of Instagram, mostly because they fill their feeds with lies and deceit (looking at you, Hadid sisters). But Priyanka isn't the typical model. The photos she posts never look airbrushed and her body pics are very much of a fit person's body, not an emaciated Barbie doll. She even posted this photo to prove she had armpits after Maxim's disastrous Photoshop job. Apparently, women are no longer allowed to have armpits if they want to be considered attractive. Thanks for that, Maxim.
The only Photoshop she's guilty of is this hilariously botched Photoshop job to pretend she was at some event with her husband Nick Jonas.
5. Jennifer Aniston
To be fair, Jen's only been on Instagram for around five minutes, so I'm sure she just hasn't even discovered Facetune yet. But still, Jen is the definition of aging well, and I don't even care if she's had a ton of Botox or work done, because whoever her doctor is did a great job. I like that she doesn't try to look like she's 20, she's just a gorgeous however-old-she-is woman. The Kardashians should take note. All Jen's pics (you know, all like 10 of them), are unedited/not airbrushed, and she looks amazing in all of them. In the above photo, she even shows us the difference between reality and the professional photoshoot fiction. This is how you do Instagram, people.
What's Going On With 'Euphoria' Season 2?
After the massively underwhelming second season of Big Little Lies, which may as well have been called "The One Where Meryl Streep Calls Reese Witherspoon Short," it was nice to tune into Euphoria, a show whose drama is actually riveting. I've never used that word non-sarcastically, so this is a big moment. The season finale gave us so much, including world's most beautiful sociopath, Jacob Elordi, throwing a temper tantrum; Zendaya performing a very morbid musical number; Barbie Ferreira making a case for dominatrix fashion; and Hunter Schafer confirming that Avril Lavigne's black streaks are still very much not a good look. But I'm greedy and I need more, which leads me to my first of many questions: Will there be a Euphoria season 2?
Francesca Orsi, Senior Vice President of Drama Series at HBO, told Entertainment Weekly, "We are so grateful that chose HBO as the home for this groundbreaking series. We look forward to following these complex characters as their journeys continue through the challenging world they inhabit." Yay! Then Zendaya retweeted HBO's announcement and said, "Literally just got the call. Can't say thank you enough for the support we've seen, wow." She types with the same enthusiasm level as my dad, who responds to all of my good and/or exciting news with a resounding "yea." Anyway, this is amazing news and I am f*cking happy about it, as is the rest of the world. Look, even though exactly zero of my season one finale predictions came true, I'm still in the game of guessing the future, so keep reading for my Euphoria season 2 predictions!
Jules Will Go M.I.A.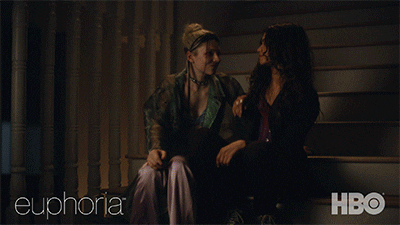 This is model-turned-insanely-talented-actress Hunter Schafer's first acting gig ever, which is shocking considering I'd nominate her for a f*cking Oscar if the Academy would let me. Back to my theory: the finale ended with Rue and Jules boarding a train for an unspecified place, but right before the train left the station, Rue started to have very responsible second thoughts. I'm proud of her for thinking of someone other than herself (her mom and sister), but also disappointed because this love story gave me all the life I'll ever need and I don't want it to end. So being the badass b*tch she is, Jules still boards the train! Will she come back? Honestly, probably, because I can't imagine this show getting the exceedingly high ratings that it did without her, but also because she is such a fan favorite. 
I think she will be living in the Rue's memory for the first episode or two via flashbacks and then she'll just reappear with some gorgeous pastel hair color and make everyone (me) really happy. I am getting Serena going to boarding school after f*cking Nate vibes from her right now, and I'm not mad about it. 
Rue Will Relapse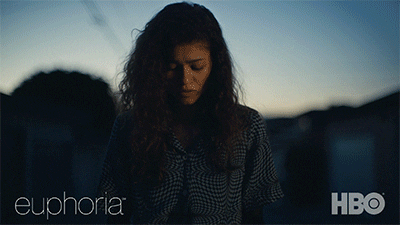 Real talk: addiction is a disease, and many addicts relapse at some point on their roads to recovery. Rue admitted in the pilot that even after rehab, she had no intention of staying clean, which is sad because she was in a drug-induced coma for four days and nearly died. As we know, she meets Jules, and Jules' beautiful existence on this earth is enough to convince Rue that life is worth living. I think, though, that with Jules taking her amazing eye makeup game to a different city, Rue will fall back into old habits and start using again. I've cried so many times watching this show and I know that Rue battling with whether or not she should swipe a pill in season two will def bring me to tears. I'm not prepared for this, y'all. 
Am I devastated to watch Rue undo all of her progress? Yes. Is this a drama about a teen drug addict? Yes. My point is Rue is 17 and is addicted to pills, so the chances of her staying off drugs are slim to none. So sad, but so inevitable.
Nate Will Come Out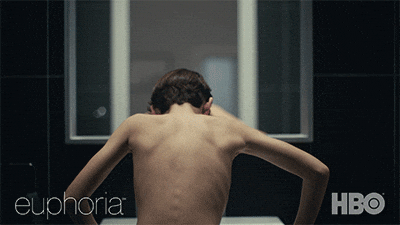 But not in the way most people do. He's definitely going to sexually assault a guy he thinks is cute and then go home and think, "What a good time! Should I blackmail text him? Or is it too soon?" I'm not a psychologist, but I do have working eyes and have observed that every time anyone insinuates that Nate may not be 100% straight (is anyone, though?), he gets more violent and spirals out of control. I mean, I literally had to close my eyes when he was having a Lottie in A Little Princess moment in his room because it was so terrifying. His very real internal battle will definitely start to come out. Pun fully intended. 
This may be far-fetched, but I think he will take after his dad and prefer the company of wildly inappropriate sexual partners and it will all explode in his face. Hoping that also happens to his dad because he is a disgusting child abuser who needs therapy/jail time pronto. 
Fez Will Have More Lines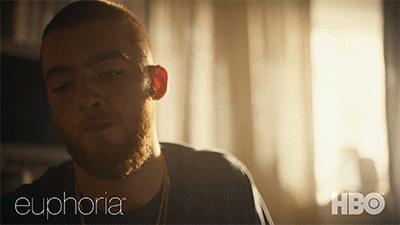 Minus that time he attacked and robbed a rich man in front of said man's young son who will probably be traumatized for life, Fez has been the unsung hero of this show. Not going to lie, I didn't understand his character when the show first started and for a hot second, I thought he may be Nate's long lost brother since he has two and we've only met one, but now I am really happy that they aren't related. Fez was kind of a wildcard because I hated him for enabling Rue all these years, but at the same time, dude's gotta eat! For real, though, Fez has a big heart and I'm happy he cut Rue off because he seems to genuinely care about her and she him. Unlike a few important people in her life, Fez has seen and helped Rue when she was at her lowest points, so hats off to you, Fez. We love you. 
I think Rue will lean on Fez in Jules' absence and he will become much more of a central character in the show. I also think Mouse, that terrifying dude rocking a few face tats, will give him trouble for the raid and Rue, as always, will accidentally be present when sh*t goes down and ruin everything. Of course, Fez will save her and we will fall further in love with him. 
Think I'm completely wrong about one or all of my predictions for season two? Let me know, but make sure that if you come for me in the comments, you have facts to prove me wrong. Do you have any predictions for Euphoria season 2? 
Images: Giphy (4)
Our Predictions For The Season Finale Of 'Euphoria'
Based on my last Euphoria article, it's no secret that I am f*cking obsessed with this show. If you didn't get a chance to read it, here's how obsessed I am: I had ~plans~ with my FWB on Saturday and just as we were about to like, start, Euphoria came up in the convo and he admitted he had never heard of it, so I made him sit there and watch three full episodes. Yep, this nympho put sex on hold for a few hours so that one more soul could be touched by Euphoria. Was I doing God's work last weekend? I'll let Her decide, but I think yes. This show is incredible and if you disagree, I will fight you respect your opinion. 
If Euphoria has given you more than just a reason to stay up past 10pm on a Sunday night, you are probably all caught up and have a few ideas about what's going to happen in the finale. But because this show is one gigantic curveball, it's hard to know for sure. All I'm saying is that I've literally gasped out loud at least twice during every episode because I was so shocked. I truly can't believe this season is already over, but like all good things, it must end. Yeah, I'm crying, whatever. Ok, so in light of the season finale that will most definitely have the world shaking, I have a few predictions up my sleeve that I'd love to share with you all. Here we go. 
Rue Is Dead

As in, she's been dead the whole time. Tbh, I didn't come up with this theory, but I read it on this really reliable source called the internet (ever heard of it?) and I kind of believe it. Here's why: after reading said theory on the World Wide Web, I went back and watched the first episode because I needed to fill the hole in my day that my friends fill with their boyfriends, and I realized that Rue's language is really cryptic and completely omnipotent. Maybe the directors just did this for stylistic purposes and so that we, the audience, can know wtf is going on, but maybe, just maybe, she's like a beautiful, crop top-wearing, drug-taking spirit who has all of this v private knowledge about the characters because she's already dead and ghosts know everything.
And as for the concrete reasons I believe the above to be true? For starters, remember when Rue fully overdosed in the first episode? What if, instead of Gia finding her just in time, she got there a little too late and Rue died? And the rest of the season had already happened pre-overdose and she's recalling all these events based on her memory? That would actually make a lot of sense, considering it's really hard to remember things that happened when you were high (or so I've heard…). She's even admitted that she's not super reliable. One more point: the last episode is called "And Salt the Earth Behind You," which, like, yeah. I feel like HBO just confirmed that I am right with that one. 
Cassie Has An Abortion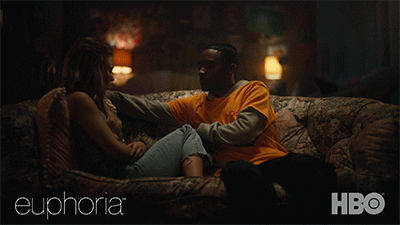 I know what you're all thinking. Of course she has an abortion! But think about all of the shows that feature some sort of unplanned underage pregnancy. Everyone either has the baby or has a miscarriage. No television show that I can think of (not even SATC) has touched abortion. I think Euphoria will be the one to go where no other show has gone before. And honestly, just knowing Cassie, she's not going to be down to become the next Juno of her school. 
The fact that McKay is also very not down to have a baby has to influence her at least a little bit. It may be her body and her choice, but if the man she loves adamantly does not want to become a teen dad to their unborn child, it's not that crazy to think that she may agree with him. As her pathetic excuse for a father so insensitively ingrained in her, parenthood isn't something to be taken lightly, so if you're not 100% down to have kids and care for them for at minimum the next 18 years, don't f*cking have kids. 
Fez Is Going To F*ck Nate Up

And not in the way Nate likes it. I fully believed Fez when he promised Nate that he'd kill him if he (Nate) didn't stop tormenting Rue and her friends. Obv Nate didn't really care and is 110% going to keep messing with them, which makes me think that Fez will pull a gun on him just before he has the opportunity to do something really horrible to Jules and/or Rue. In the preview for the finale, someone in a ski mask (really?) is seen pointing a gun at someone else, and while a few people think it's Rue holding the gun, I know for a fact it's Fez. How do I know this? Look at those f*cking eyebrows! Those are Fez's! Would anyone really be that shocked that the "dropout drug dealer" has and uses a gun from time to time? Now, I have no idea what Nate will actually do to incite this totally terrifying gun violence, but I definitely know it will be something bad. Like, worse than that time he made a fake dating app account using the identity of a man that he savagely beat up right before framing said man for rape, and then flirting with Jules on the fake account to use as blackmail against her. Is there even something worse than that? If so, Nate sure as f*ck would know what it is. Honestly, poor Jules. How did this even happen to her? 
I don't think Nate will die, though. Mostly because, even though he's a complete psychopath, he's too damn beautiful to die. Secondly, later in the trailer (I'm assuming it's chronological), someone is pinning him to a wall. From the looks of it, the person doing the pinning kind of seems like it's Rue, but unless she's part Hulk, I think it might be her dad? He's the only other curly-headed person on this show. If it is him, that would also explain my earlier theory re: Rue narrating this entire season from the past. It would also explain why Nate hates Rue.
Daniel Is Kat's Creepy Admirer

Ok, hear me out! Remember at the end of the last episode when Kat starts stripping at the command of someone who masked his voice and blacked out his screen? If he was just a rando creep on the internet, he wouldn't have done that because he wouldn't have had a reason to. Anyone else who Kat's banged this season also wouldn't have had shame in admitting they think she's a sexy kween because, hello, they already had sex with her. Yes, technically, Daniel also had sex with her, but during it, he lied said he had zero recollection that the two of them dated for five months back in the day. And by "back in the day," I mean four years ago. Unless POS Daniel has brain damage, there's no way this little skeeze wouldn't remember that. I think he has been into her this entire time, but is too much of a p*ssy to admit it, which is why he Skypes her while covering his camera and changing his voice. Is SVU hiring? I'm on a f*cking roll with the detective sh*t here.
One more theory about this and then I'll move on. Him being into Kat would def explain why he's not into Cassie: they're polar opposites. It's almost like the popular boys are expected to be into someone like Cassie and not into someone like Kat, which is both f*cked up and completely proves my point. 
What are your theories? Let me know!
Images: Giphy; HBO
WTF Is 'Euphoria' And Why Is Everyone Obsessed With It?
For those of you who haven't seen Euphoria because the trailer gave you absolutely zero insight as to what this show is actually about, you are not alone. I, too, had no idea what the f*ck this show had in store for people who miss Skins and are finally old enough to have an HBOGo account. But because I am a huge Zendaya fan and had no plans on the Sunday that Euphoria premiered, I gave it a watch. And may I just say, I am blown the f*ck away? 
Because recaps aren't really my thing and this show deserves more than that, I'm going to let you just watch it to find out what it's about, but I will sum it up in one sentence for the purpose of this explanation. Euphoria is about 17-year-old Rue (Zendaya) who spent her summer in rehab for a nearly fatal drug overdose. I spent my junior summer working at Le Pain Quotidien, but to each her own, right? Anyway, you know how in Orange Is the New Black, Piper Chapman is obv the star of the show, but each episode is, like, about a different character? Euphoria is like that, but instead of a privileged white girl running the game, it's Zendaya. *drops to knees* * bows down*
The main themes of this show are sex, drugs, etc. but not in a Gossip Girl kind of way that will make you physically ill from rolling your eyes so hard. Euphoria is actually at least somewhat relatable and 100% better in every way. Because this show has more layers than an ogre, I'm going to break each of these themes down to explain wtf this show is and why everyone with eyes is talking about it. Before diving in, though, I just want to say that, yes, this show is about a group of high school kids, which isn't a novel idea for a television show, but Euphoria delves so much deeper into issues that we either have or are currently experiencing, and to me, that is why everyone is so obsessed with it. 
Sex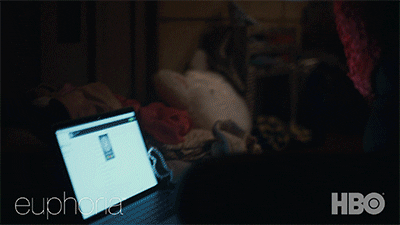 Ok, this needs to be said: I've seen more d*cks on Euphoria than I have IRL. Honestly, it's too much at times. I'd be totally happy with no d*cks at all, but I'd def cap it at two per episode. Ok so, the sex in this show isn't the kind of sex I'm used to seeing on TV, which is always missionary for exactly two seconds and then both parties finish at the exact same millisecond and are also perfectly satisfied with what just happened. Nopers, not in Euphoria! The sex in this show is mostly, like, concerningly violent and almost always involves some sort of v specific fetish. Like, Nate's dad whose version of foreplay is sticking his entire hand down his victims' partners' throat. Also, if you're wondering what his type is, it's underage twinks at sketchy motels. He also films them and stores the tapes in a color-coded file cabinet. Okay, so maybe this is less of a fetish and more of a pathology? He isn't the only one who works out his issues in the bedroom, nearly all of the characters do this and HBO literally shows it all. Another thing most shows don't do!
Drugs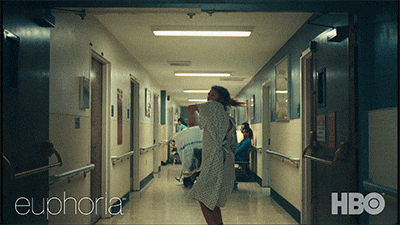 We all went through a drug phase (except me, mom…) when we thought narcotics were really cool. Right? Rue even says that drugs are pretty awesome. In fact, the only real drug-related regret she has is that horrific scene when her adorable little sister found her unconscious and covered in her own vomit (been there) after an overdose (have not been there). This is another reason why people love Euphoria. Because it shows the not-so-pretty sh*t that other shows won't! While TV dramas love drugs, most never actually give us any of the sh*t drugs do to people. It's all just, like, quietly whispered under everyone's breath because they don't want to get into the horrible, terrifying, and sickening sh*t that drugs actually inflict in the people who take them. Seriously, drugs are not pretty, y'all. Euphoria is all about realness and that's evident in, like, every scene. 
Ok, that's it from my D.A.R.E. campaign. 
Young Love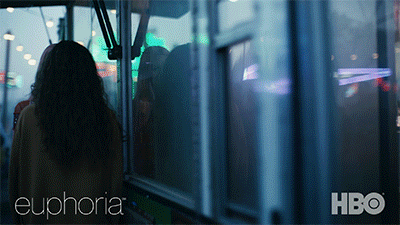 I don't entirely know how to address this because the ~love~ on this show is def not the Friday Night Lights sh*t we grew up with. It's like, very volatile and pretty toxic a lot of the time. But even though it's riddled with so much violence and just generally awful sh*t, I don't doubt that Nate really does love Maddy or that Cassie loves McKay. Like, did Nate verbally/physically attack Maddy? Yes. Are these relationships complicated af? 100%, but that's the reason why the women feel like they can't just walk away. I appreciate that this show proves adults can't and shouldn't chalk young love up to nothing serious because, at the end of the day, love is love. It doesn't matter how old you are, and it feels real when you're in it. Euphoria proves that in a really nuanced way that I def appreciate after two hours of listening to Jed's bullsh*t on The Bachelorette. 
All in all, this show is incredible because it's doing what no other show on television is doing. It's an actual reflection of the ups and downs of life when you're young. Except it actually shows the ups and downs.
Images: Giphy (3); HBO
All The Best & Worst Looks From The 2018 Met Gala
You know how basic bitches always say the Victoria's Secret Fashion Show is their Super Bowl? Well, if that's true, then the Met Gala is a meme-loving betch's Super Bowl. Except, like, O.J. Simpson returns and makes the game winning touchdown at 70 years old, then confesses to murder, and the halftime show is just John Legend singing show tunes while Chrissy Teigen eats a bucket of fried chicken on top of the piano. It's that ridiculous, and the 2018 Met Gala didn't disappoint.
As I'm sure you've all been waiting for (probably?), here's a recap of the 2018 Met Gala. This year's theme was Heavenly Bodies: Fashion and the Catholic Imagination. If the classroom I took one year of CCD classes before making my First Communion didn't have a very distracting pet guinea pig in it, I might have paid more attention and would currently be able to provide more insight into that theme, or at least know what to do with my hands on the off chance I get roped into attending a church service. However, I can't (sorry, Grandma), so instead, I'm going to talk shit about celebrities wearing outfits that require teams of people who make more money than me to help them walk around. Here are the celebrities who inspired the best memes with their god-awful outfits, and those who looked so good that we'll actually give them a break for once.
The Ensembley Challenged
Lana Del Rey

At best, Lana looks like the hottest girl at a cosplay convention in the Midwest. While I can appreciate the dramatic implications of wearing a dress that makes it look like you've been stabbed in the heart a bunch of times, I can't get behind the creepy wizard bird lady vibe, or the Weird Al Yankovic hair. I am truly disturbed.
Shailene Woodley

I actually could warm up to this look if someone could please confirm that Shailene Woodley purposefully showed up to the Met Gala in a Sexy Lord Farquad costume. If I were Shailene Woodley, I would have shown up, taken one look at Zendaya's outfit, and promptly left.
Solange Knowles

I would do anything to hear an unedited clip of the noise this shit makes when you walk. But all joking aside, I'm going to try to be positive here. Solange could probably buy all the Getty Images of herself in this outfit and sell them as Rorschach Tests to therapists in hipster neighborhoods. If you think I'm bitter, I am—Solange totally stole my "sexy Ursula" costume idea for Halloween.
Mary Kate And Ashley Olsen

The Olsen Twins have been dressing in mysterious cloaks and capes for like, what, a decade now? So I was kind of hoping to see a little more from them. Instead, they're both serving middle school pottery teacher realness. I'm willing to bet on my most-liked Instagram photo that at least one of them is wearing Birkenstocks underneath all of that. Also, why is one twin aging exponentially faster than the other??
Selena Gomez

Guys, is Selena Gomez ok? She came to the fucking Met Gala rocking a spray tan by Tan Mom and a nightgown. This dress looks about three sizes too big on her, and I'm 1000% sure her boobs are not actually that big/saggy. Coupled with the hairstyle that closely resembles a tangled up mop, I'm going to put out a theory that she literally just rolled out of bed and onto the red carpet.
Katy Perry

Forgive me father, for I have sinned: one time I watched the Katy Perry movie, and I cried. Ugh, Katy. Didn't you hear? This is not the auditions for the Victoria's Secret Fashion Show! I know the Met Gala is all about being extra, but every single thing about this outfit makes me want to scream. Serious question: Do I hate Katy Perry because she's tacky, or is she tacky because I hate her?
Lena Dunham

It was really nice of Ceelo Green to lend the dress he wore to the 2017 Grammy Awards to Lena Dunham. All jokes aside, Lena looks like a washed-out extra from Shakespeare in Love. At least that hood/collar/creature around her neck looks like it would make an excellent pillow. Oh, did I say "all jokes aside"? Oops.
Cara Delevingne

Honestly, I've been staring at this photo for like, 10 minutes and I've got nothing. I haven't been this lost since I tried to spell Cara's last name without the help of Google (aka about 30 seconds ago). Wait, I got it: This is the outfit you wear to the funeral when your sugar daddy dies. Right?
The Heavenly Bodies
Rihanna

Fucking duh. Has there ever been an event where Rihanna wasn't the best dressed? No. Robyn Fenty is the Pope of everything important, and we shouldn't have expected anything else. Should we just rename the Met Gala to the Rihanna Gala? I'll draft up a petition.
Hailee Steinfeld

The only thing wrong with this look is that it's almost impossible to make a meme out of it. Hailee stuck to the theme, but still looks effing amazing. With every passing award show, red carpet, and lack of nude photo scandal or age-inappropriate boyfriend, Hailee Steinfeld continues to impress me with how well she's handling fame at a young age.
SZA

SZA looks PERFECT. Like, her dress is angelic and her boots are slaying. Plus, her hair and makeup is so insanely flawless that she literally looks like a Bratz doll that got her shit together and became super successful. I feel like a proud mom.
Cardi B

Cardi B can do no wrong in Fashion Nova, so obv the entire world is dying over this Moschino look. I can't wait to buy a candle with a photo of Cardi from this year's Met Gala on it at some dingy store on Canal Street. Shit, maybe I shouldn't have said that before I got the chance to launch my new Etsy store.
Zendaya

How did Zendaya wear her hair in a weird little ginger bob with bangs and still look amazing? Not sure. She's officially the eighth wonder of the world. Cue the Zendaya vs. Shailene Woodley "what you order online vs. what comes in the mail" memes. I haven't watched Game of Thrones since like 2014, but I have a feeling Zendaya is going to show up and kill everyone next season.
Blake Lively

Wow, Serena van der Woodsen has come so far from eating yogurt on the steps of the Met. (I know I'm the 400th person to make that joke today, leave me alone.) Blake just looks stunning as fuck, and I love her so much. Also, I feel like all these bejeweled halos/crowns/tiaras were made by one old gay man who definitely has carpal tunnel syndrome now.