5 Wedding Dress Shopping Tips That Are Total B.S.
Thanks to Say Yes to the Dress, the wedding dress shopping experience has become a full-blown circus. From custom T-shirts and coolers of champagne to bringing everyone you've ever known to your dress appointment, brides forget what they're actually doing there. As a former bridal shop consultant, I've heard first-hand the crazy tips brides think they should follow, and I'm calling B.S. on a few of these. Here are the wedding dress shopping tips that are complete crap.
B.S. Tip #1: Bring Your Bridesmaids

On TLC's Say Yes to the Dress, you often see the bride with her entire bridal party in tow (and her grandma, her future MIL, her third cousin twice removed). Sure, they might seem like a nice reprieve from mom's nagging opinions, but in my experience, bridesmaids have a hard time putting their personal opinions aside. Comments like "that doesn't work for your venue" or "that's not that flattering" happen more often than you'd think. I once had a bride who went from excitement in the dressing room to total distress because of a bridesmaid's bitchy comments. I'm not saying all of your friends will be assholes, but wedding dress opinions are subjective, so the most important thing is trusting your gut over their opinion. If you must bring your squad along, set some guidelines beforehand and tell them that they should just be there for moral support, not to go all Simon Cowell circa American Idol. 
B.S. Tip #2: Pinterest Is Your Friend

I love Pinterest just as much as the next basic bitch, but TBH, going on a pin binge right before you dress shop is NOT helpful. Sure, you might find things you like, but unless you're sure the store you're going to has that dress in stock, you'll likely be disappointed. Showing a stylist your pin board is helpful if you have a general vibe in mind (classic, formal), but if you want something extremely specific that you pinned, that's a bit tougher depending on the salon's inventory. Also, gowns look completely different on you than they do on Pinterest. Often times, those pictures are from models with completely different body types than yours (unless you're a model, in which case, none of this applies to you). I've had a number of brides come into the store with a vision they'd created from hours of pinning, only to find out that a flowy, boho vibe did not live up to their expectations. Having a general idea of what you like is better than coming in with a highly specific vision. 
B.S. Tip #3: You Need To Shop At Multiple Stores

This lie is one that really pisses off stylists. Not just because they're more likely to lose a sale to this notion, but because it's simply not true. Yes, this dress is a once-in-a-lifetime garment, but that doesn't mean you have to have an over-the-top emotional moment where you and your mom sob and hug each other like you just overcame some terrible illness. Feeling amazing and loving the way you look in the dress is more than enough of a reason to say yes to it; crying is optional. Brides who go to multiple stores also might do so because at the first store, they found something that wasn't what they expected. That happens more often than not, so don't be alarmed. It's OK to have a change of heart, especially when it comes to wedding gowns, because they're totally different once you put them on. Be confident in your decision when it feels right, tears or no tears. 
B.S. Tip #4: Champagne Required

Celebrating is V important. Boozy brunch is V important. However, a drunk bride and her entourage is NOT. Too many times I've dealt with a sloppy appointment when the bride stumbles in, can't get two feet into her dress, and nobody in her peanut gallery has any self-awareness. When it gets to this point, the squad should have just stayed at brunch. Save the celebrating for after, and don't show up with a chambong ready to get wild at the salon. A lot of salons either don't have champagne or they save it until a final decision is made. Wedding dress shopping is a classy affair, so sure, have a few glasses after saying yes, but save the sloppiness for the bachelorette party. 

It sounds ridiculous, but putting wedding dresses on is actually a very tiring process. Oftentimes you're getting in and out of up to 10 dresses in one appointment, times that by three appointments and you'll have tried on nearly 30 dresses in one day. Not only are you exhausted by your last appointment, everything will start to blend together. There's no reason you need to turn dress shopping into the hunger games of your wedding. Visiting one store in a day is plenty, especially since the appointments are usually 90 minutes. Don't go to more than two in one day and plan a break in between so you have time to regroup both mentally and physically.
Images: Shutterstock; Giphy (5)
4 Tips To Make Wedding Dress Shopping Less Stressful
In November 2018, I married my college sweetheart, Mike Sorrentino. One of the most memorable and surreal moments of the entire experience was my first time trying on wedding gowns. I planned our entire wedding start to finish in roughly two months, so I didn't have time to waste on decisions, especially when it came to wedding dress shopping. I decided on both my wedding gowns in just 30 minutes. I swear, it's true! But that's because I went in prepared. Right off the bat, I had in mind a few dresses I liked and wanted to use as inspiration for my gown. I had Pronovias, Ines di Santo, Marchesa, and Zuhair Murad bookmarked as my favorite bridal designers while researching before my appointment. I went into the store with a mission, and really didn't consider the possibility of not finding a dress I loved. Plus, I made sure the place I was going to carried my preferred designers ahead of time, which was a big help to stay ahead of the game.
Here were some of my top picks for inspiration.

Obviously, I'm not saying you need to choose dresses like these, as they should be to your personal taste. But I am saying you should have a few options either printed out, saved to your phone, or bookmarked in your brain, and concrete reasons why you like them. That way, you know what elements to look for in other gowns. For example, I chose the Zuhair Murad dress on the left because I love the fuller skirt and heavy embellishment; I like the Marchesa one in the middle because the feathery light detail at the bottom of this dress is dreamy and ethereal; and I also love the Zuhair Murad dress on the right because I'm obsessed with the 20s feel of this gown and the embellished cape.
When it comes to wedding dress shopping, it is possible to get a dress on your first appointment and not spend hours in the store and have it be a miserable experience. Here are a few wedding dress shopping tips you should keep in mind, based on my personal experience, to make the whole wedding dress shopping process less stressful (and, dare I say, actually fun).
1. Do Your Homework
Like I said above, don't show up to a boutique expecting people to read your mind. Have a Pinterest board ready to show your stylist. Even if you can't verbalize what details you like, the stylist will be able to identify the common thread between the photos to make sure you're happy with what she pulls for you to try on. (But it's way easier if you do verbalize the details you like, as I did in my example above.)
2. Don't Bring Too Many People
If you're going wedding dress shopping, I'd advise you limit your guest count to 4-5 max if you have a hard time making decisions. The more people you bring, the more opinions you have that may sway you away from your vision. If you're like me and don't care what anyone else thinks, then bring your whole bridal party! I picked my dresses (yes, two) in 45 minutes TOPS. It can be done. 
3. Don't Make The Process More Stressful Than It Needs To Be
Enjoy yourself! You're getting married! This is fun! It can be a stressful time with all the detailed decisions and lifetime commitment and all, but make sure to enjoy this special bonding moment with your friends and the amazing multi-generational women in your family if you're lucky enough to have them around!
4. Trust Your Gut
The best piece of advice I could give any future bride is to stick to your gut instinct. A women's intuition is everything, so take a moment (or a day or a week) to decompress after your first time wedding gown shopping experience (if you need it), but don't second guess your first instinct! Don't doubt yourself. As sure as you know you want to marry your soon-to-be husband, you'll know what the right dress for you is as soon as you see yourself in it!
And because I'm sure you're all super curious about which dresses I went with, I've included them below.
Dress 1

Dress: Pronovias
I knew I wanted long sleeve lace for my main gown, meaning the gown I'd be married in and wear for our formal photos and first dance.
I love long sleeves on a bridal gown. To me, it's just super chic, and the lace combination really added a romantic feel. Plus, there's a traditional aspect to long sleeves on a wedding gown.  I didn't want too much sheerness or anything corseted. I wanted to stick to a semi-traditional silhouette in that sense. 
Tip: What I didn't realize was that even though I had a fall wedding, I definitely worked up a sweat taking photos and socializing the whole day. Had we gotten married in spring or summer, I probably would've gone the strapless route or worn an off the shoulder look.
Dress 2

Dress: Stephen Yearick
For the second dress, I went with the mermaid and fit and flare look. When going for a more fitted look like I did, I think as long as it's done tastefully it can be as beautiful and timeless as a traditional bridal look. 
Tip: Balance is key! You don't want to do fitted, sheer, cleavage, corsets, etc.—it's just too much! As someone with big boobs, I didn't want them to be exposed in either dress or to have too much sheerness along with a more fitted look so I went with a higher neckline.
Whether you're buying one dress or two or five (hey, no judgment), it's important to go into your appointment with a clear idea of what you like and don't like. But above all, enjoy the process! You'll only wear the dress once, so have fun with it.
Follow Lauren on Instagram and Twitter
Images: Charisse Kenion / Unsplash; Michael Romeo Creations (2); Zuhair Murad (2); Marchesa
5 Things 'Say Yes To The Dress' Gets Hilariously Wrong
If it's on, you can bet I'm watching Say Yes To The Dress. Not only do we all love Randy's antics (because I only watch the NYC one, since it's the only one that counts), but I love watching a bride break down when she's a) gained too much weight; b) isn't allowed to go over $10k; and c) requires the designer to come out and tell her what a beautiful butterfly she is in order to purchase said $10K dress.
This shit is so unrealistic it's hilarious. As someone who has successfully bought a wedding dress (and like, gotten married but I feel like that's less important here), here are all the things that are totally ridiculous about Say Yes to the Dress.
1. You Probably Won't Have An 'OMG THIS IS THE DRESS' Moment
You're going to try on A LOT of dresses. Some will look hilarious, what with their giant bows or wrist-length lace or see-through corsets. Some will look literally amazing on you. You're going to like (and hate) a lot of them. It's pretty rare to have an OMG THIS IS 100% THE DRESS moment, which you'll notice the show always hypes up. So, take this fucking advice to the bank: If you don't have an OMG moment, it's fine. It's normal. Again, you're going to like lots of dresses. Just pick one you feel comfortable and like yourself in. Don't let these TLC skanks make you believe you need a dress orgasm when "the one" comes along. 2. Not Everything Works Even After Alterations
Say Yes to the Dress makes it seem like eeeevery little thing can be fixed by Vera. To be fair, that betch is a MIRACLE worker (have you seen the brides that gain 15 pounds and don't understand why their dress doesn't fit?). Most stores that aren't Kleinfeld have good and great alterations departments. That doesn't mean that the backless lace dress you picked is going to perfectly hug every curve when they get done with it. Why? Because the dress you pick depends on its structure, and short of creating you a brand new dress, not everything is going to look like it's painted on you. They'll do their best—it's their job. But go in knowing that miracles are unlikely.
3. Most Shops Let You Grab Your Own Dress
Did you ever notice how on Say Yes to the Dress, the brides kinda sit and ponder their lives while the attendant grabs dresses THEY think she'll like? Most shops aren't like that. Some will guide you to the racks where dresses within your budget live. Some will let you run all over the store. Yes, some will grab for you, but many really don't. Don't feel like you have to put your dress future in someone else's hands, especially a stranger you just met. I spent 40 minutes by myself in one boutique because I wanted to try a ton of options on and because I really don't like people in general. It's your time and it's your money.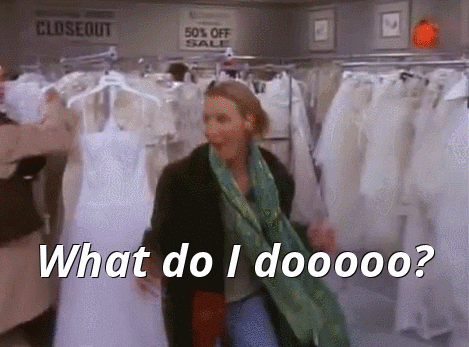 4. Very Few People Are Going To Spend More Than $5K
"Oh, this one is $13,000" is a normal part of conversations at Kleinfeld on Say Yes to the Dress. Outside of TLC—a place where being 600 pounds is commonplace and buying $10K dresses you'll wear for one day is totes fine—this isn't a typical occurrence. One shop may have nothing over $5,000. Another may have more intermediate pricing. The fact of the matter is that very few bridal shops are going to carry one-of-a-kind pieces that clock in at about as much as a shitty used Honda.
On top of that, don't feel like you have to spend a certain amount. On Say Yes to the Dress, if a bride has a budget of less than $2,000, they often get the "WTF YOU'RE POOR" music and an attendant talking about how there are so few options for those who are povo. FAKE NEWS. There are tons of dresses from $100 to $2,500. Maybe not at Kleinfeld, but there are in the real world.
5. It's Better If You Bring One Person
Show me an episode where the whole bridal party gets along, and I'll eat my hand. The more people you bring to a bridal appointment, the more issues and opinions are going to be hurled at you. Mommy wants a ballgown. Sister wants a mermaid. Gramma wants a tea-length. You know whose opinion matters? Yours. Bring one person or no one at all and pick the dress YOU want to get married in.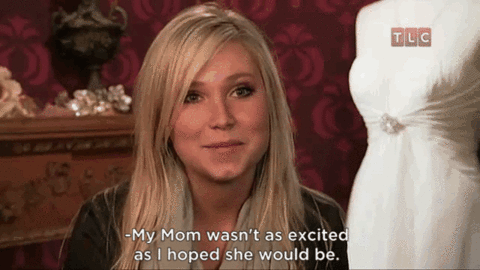 Images: Giphy (5)
10 Ways To Cut Costs On Your Wedding Without Looking Cheap
We honestly hate helping in any form, but the wedding industry has gotten so out of control that it demands our expertise. Between shows telling us that you have to spend upwards of $100k on one goddamn day and brides pitching actual crying fits because mommy won't buy them the $30k dress of their dreams, we needed to bring everyone back down to Earth.
You can have a super amazing day, dress, and overall wedding without blowing your savings and parents' retirement fund. Here are our top 10 tips for cutting costs at your wedding without making you seem tacky and cheap.
1. Get Married December-March
Winter weddings are daring in general (here's hoping it doesn't blizzard), but if you take the risk, you may be rewarded with more money for drinks on the honeymoon. Choosing "off" months between December and March can mean as much as a 40% less cost at some venues, depending where you are.
2. Get Married On A Friday Night Or Sunday Morning
I make a lot of fun of brunch weddings (cause I don't want to get drunk in front of family members before noon), but if you wanna save a buck or two, picking an off time is the way to go. Saturday nights are in high demand, so choose a Friday evening for your super special day or a Sunday morning brunch. Bonus points if you choose a Sunday night before a Monday holiday like Memorial Day when everyone is off anyway.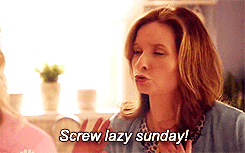 3. Chill On The Invitations
I know you want Minted's handmade, laser-cut, imprinted, glitter, foil, rare edition, unicorn tear invitations, but unless you want to spend more than $800 on 200 invites, you need to chill. People aren't going to spend more than five minutes examining your invite, so the idea of spending a ton of money is preposterous. Go pretty, go classic, and pick one—MAYBE two—special touches like a foil or letter press.
4. Be Besties With Your Florist
If you've been dyyyyying for hydrangeas but they're out of season and are going to cost you $24 per stem (real talk), let your florist lead the way. These are goddamned flower experts, and if you tell them to substitute with cheaper but similar looking colors and flowers, they will. I told my florist to use my color scheme and go nuts—keeping it around a specific price. She delivered, and the flowers looked amazing.

5. Do Choose An Actual Venue
You may think having a backyard barbecue at your friend's parents' Hamptons house is going to be cheaper than an actual venue, but you could be wrong. Once you start factoring in catering, tents, utensils, linens, the band, the restrooms, etc., your bill is likely to be just as much as a venue (if not more). PLUS, it's a lot more fucking work.
6. You Don't Need A Giant Fucking Cake
I've said it time and again—no one gives a shit about your 12 layer platform vanilla-on-vanilla wedding cake. Save some goddamn green, and get a small cute tea cake to cut with your S.O. that you won't even have to share with anyone. Everyone else can fuck themselves eat cookies.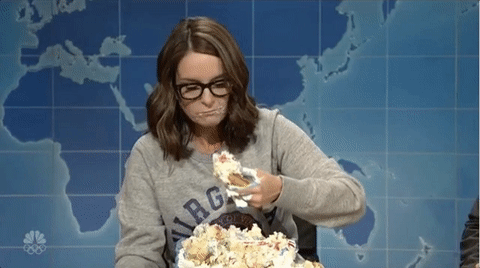 7. Buy, Don't Rent
If you're at a venue that's charging you for every fork, napkin, and plate, see if you can use or buy your own items. Seriously, it's often cheaper to use your own linens and utensils, if the venue will allow it. So start stealing knives, forks, and napkins, fam.
8. Stick To Your Goddamn Dress Budget
This is a big one. Nothing pisses me off more than the bitches on Say Yes to the Dress who have a budget of $3k and end up spending nearly double. STICK TO YOUR DRESS BUDGET. DON'T EVEN LOOK AT DRESSES OUTSIDE THAT BUDGET. Remember that even if you pick a dress at your $2k budget, you're still going to shell out for alterations. So going above on that means you're going to lose something else or pay way more than you want in the end. CHILL. IT'S ONE DAY.

9. Make Your Guests Do Work
I mean, you're paying for a five or six hour party—the least your guests can do is help out. Whether you make them set tables for the reception, make your desserts (guilty and it was AMAZING), or bring all the liquor to stock the bar, making your guests pitch in is totally a great way to cut costs.
10. Visit The Tacky Bridal Shows
I KNOW they're literally the worst, but the best thing about those bridal shows and expos is that florists, DJs, bands, planners, and venues hang out there to snag brides with a good deal. Honestly, I know a betch who got like 40% off her DJ because she hired him from the bridal show. So, yes, it kind of sucks to go to a room full of what feels like used car salesmen, but you'll thank yourself when you see the bill later on.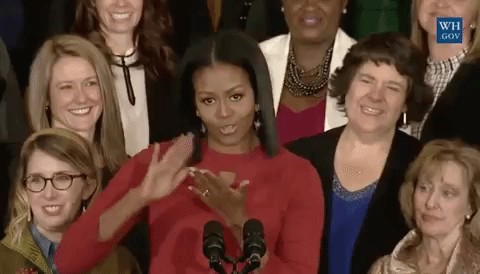 What Your Wedding Dress Silhouette Says About You & How Insufferable You Are
He popped the question, you Insta'ed and Snapped that shit, and now comes the planning, the stress, the different colored napkins, the fucking flowers, the bridesmaids, the food…and of course, the literal most important part of planning: choosing the dress.
We've all watched Say Yes to the Dress enough fucking times to acknowledge Randy's place as our spirit animal and the dress's place as what everyone will be staring at. You could think you're really leaning toward one silhouette, but you could be wrong. As in every facet of your life, we're here to guide you. You wouldn't just pick a princess, strapless, sweetheart silhouette without asking your friends first, right? Right.
1. The Ball Gown
Fitted bodice and flared at the waist for a full skirt—this is the shit every bride under the age of 20 buys. My Big Fat Gypsy Wedding? Ball gowns. People who like to pretend they're princesses? Ball gowns. Child brides and virgins? Ball gowns. Home-schooled jungle freaks? You get the idea. Honestly, I find this shit childish and tacky, which, if that's what you're going for during your carnival themed, pizza-catered wedding in the Elks Lodge, go for it. If you're poor, I get it. This shit seems expensive for those who thought a night at Golden Corral was a big-time treat.

2. The A-Line
This dress has a fitted bodice through the waist and flows to the ground, resembling an uppercase "A." I have no real issue with this shit, aside from the fact that it's boring. If you have a stellar body and have been #sweatingforthewedding for a year, dropped a shit ton of weight, and resemble a part-time model (but only part-time), show that shit off in a more revealing silhouette. If you have a small upstairs and still THICC downstairs, though, an A-line is great for you. Show off dem boobies, as my idiot husband would say. This is also a great dress for virgins not afraid to expose the wrist and ankle.

3. The Mermaid
Fitted from ya titties down to the knee, then, like Ariel's magical green flippers, flares out. This shit works v well if you are a size 00 yet still have a nice hourglass frame (who are you people?). Also works well if you moonlight as a Victoria's Secret model. Unfortunately, if the aforementioned does not apply to you, then you should probably not buy this kind of dress. Your family members will tell you you look magical, when really you look like a sausage squeezed into a too-small bag. Flaunt what you've got, but ain't nobody wanna see you spilling out of a white-ish dress.

4. The Sheath
Are you a wannabe 40s movie star who had a little too much fun in theater and choir growing up? Have you newly discovered satin? The sheath is likely what you're leaning toward. This is a dress that has a narrow shape that flows straight down the neckline to the hemline. Who can ACTUALLY wear this shit? If you're super tall, super thin, or very petite with an hourglass figure, this shit will WERRRKKKK. However, if you're super short and chubby OR very tall with an athletic build or just like, a normal fucking human, probs not for you. This dress is NOT forgiving, i.e., you cannot hide your pudge where you store extra cookies, feel me?

5. The Tea-Length
"Hi! I like to pretend everything is retro and cool, and my house is oddly era-specific and mid-century modern, AND I have a lot of cats and love reading!" Here's your dress, weirdo. Tea-length dresses fall between the ankle and knee and, shockingly, work for almost every body type. However, we find them weird and kind of overly trendy. Like, if you're having a 50s themed wedding in an abandoned diner in Brooklyn, ya, this will work. You're also hipster scum, but w/e.

6. The Trumpet/Fit 'N Flare
Unlike your mermaid gown, this shit is a straight bodice (doesn't hug like a mermaid) which flares out toward the bottom, giving you a skirt like—YOU GUESSED IT—a trumpet, starting around your knees. This is a great option if you want to show off curves while actually dancing and shit. Downside—it will NOT hide your tummy pooch, so don't go inhaling all the shit at the dessert table. Liquid diet it is.

7. The Empire Waist
If you want to pretend you're an ancient Greek goddess and/or wow your Star Wars-obsessed soon-to-be, this is the dress for you. Great for those who have stellar racks but not-so-stellar thighs, hips, stomachs, etc., aka many of us. Personally, this shit feels a lil too boho hippie chic for us, but if you're into flower power and communing with nature, this could be a great fit.

Photos: Alvin Mahmudov / Unsplash; Shutterstock (7)
What Your Wedding Dress Style Says About How Much Of A Bridezilla You Are
Mazel Tov! You're getting married. Or you're balls deep in a breakup and fantasizing hard about a day when a man comes into your life who doesn't turn out to be a total fuckboy as soon as you hook up. Either way, you're obsessed with weddings right now. Despite being a completely outdated societal norm that reinforces the idea that women are nada unless they have a man who loves them, it's something we all dream about our entire lives. Hey, no one ever accused me of being a romantic, but even I'm all fired up about putting on a big cotton ball of a dress just to have some poor dude proclaim that he's officially whipped in the name of the Lord and the government. I blame Say Yes To The Dress tbh. Like, fuck you Randy for making me all basic and shit. How dare you? I'm supposed to be a card carrying feminist out here in my pussy hat and yet the minute somebody mentions floral arrangements, I'm suddenly full of opinions. It's the eternal paradox. Anyway, to help you judge the shit out of almost-married besties this wedding season or make sure you don't commit bridal fashion suicide if you're you're the one saying "I do," here's what your wedding dress style says about you.
Ball Gown
If you dream of having a dress so big you can hardly walk down the aisle, you def want a ball gown, meaning you're a basic AF bride. You probably say shit about wanting to feel like a princess on your big day and all your bridesmaids def commence talking shit about you as soon as you leave the room. Just trust me. They are. You're the type that's dreamed/talked/pinned about this day for-fucking-ever and you're super optimistic about getting married, even though deep down you know a lack of interesting sex with a man who is developing a beer belly is in your future. You'll start a mommy blog once you have kids and make everything look like it's perfect, but you'll have a secret stash of vodka and maybe a little weed in your nightstand for the one day a year when you're actually allowed to enjoy life.

Mermaid/Trumpet/Fit And Flare
First things first, what's the fucking difference? And even if there is a slight difference, is three different names for something that's virtually the same really necessary? I'm gonna say no. But I digress. If this is the kind of dress you go for, you're confident and hot but you understand that your 90-year-old Meemaw doesn't want to see you looking like a hoe on your wedding day. Ever since you got engaged, you haven't eaten carbs (except for that one drunken pizza binge at your bachelorette) and you've been hitting up SoulCycle every morning. You're super successful at work thanks in large part to your type A personality. Because of this, you're obsessing over every detail of your wedding and have had at least four nervous breakdowns planning this shit. You're excited for it to be over with so you can finally relax, but let's be honest, you'll find something else to obsess over in a matter of days. Probably like, a baby or some shit.

Something See-Through
If this style is for you, you're the trashy bride. I mean, at least you're bold, right? You're marrying someone who's rich AF because there's no way you'd settle for one dick the rest of your life if there wasn't some benefit in it for you. You were the lush of your sorority in college and while you were excited to get married at first, the whole "till death do us part" thing has you wigging the fuck out the closer you get to your wedding. In a few years, you'll get a role on Real Housewives because you need to do something for you and after two seasons you and your husband will call it quits. You'll say it's because the pressure of living your life on reality TV magnified your problems, but it's really because you were bored out of your fucking mind. In a year or so, you'll try releasing a pop single and it'll be embarrassing for literally everyone.

Tea Length
Hold on. I need to wait for this massive eye roll to end before I can put together my thoughts. Okay cool. I'm finished. A tea-length wedding dress is reserved specifically for hipster brides and people who are roughly a thousand times less cute than they think they are. At your wedding, everything will be DIY because "you couldn't find anything that truly embodied your essence" and you will literally tell everyone in earshot about it. For favors, you and your fiancé brewed your own beer that's fucking disgusting if I had to guess and made custom labels that say "Let Love Brew." Vomit. IRL, you pride yourself on not having the type of job the status quo—or as you like to call it, "The Man"—expects you to have. So like, you harvest bees and sell honey on the side of the road or some shit. Idk. Long story short: You're the worst. Welcome to your tape.

Multiple Dresses
Isn't one $10,000 dress for one evening of your life enough? If your answer to this question is no, you're extra af. You care way too much about what everyone thinks and you're going to be so tied up in everyone's opinion of you and your wedding, you're going to be fucking miserable the day of. In general, you try way harder than you need to at pretty much everything you do. Out of your 12 bridesmaids, only 4 or 5 would consider you a close enough friend to have them in their wedding, and all of them are pissed about how much money they had to spend making your destination bachelorette happen. Ouch. In a few years, you'll pop out a kid or two and quit your job to be a full-time mom so you can take up tennis at your local country club and become the president of PTA.

Your Mom's Dress
If you insist on wearing your mom's old haggard wedding dress from the 80s, you're a typical nicegirl. Everything you do in life revolves around what's best for others rather than looking out for #1 and because of this you've been walked on by everyone you know. Tragic. You think wearing your mom's dress will be a sweet gesture and will make her v happy, but did you even think about yourself? I mean, it's your fucking day and you're gonna wear some tacky shit from the 80s? I'd feel bad for you except you're also the type that would only have beer and wine at your reception, fuck maybe even no alcohol at all, and I don't feel bad for people who pull that kind of shit on their friends.

A-Line
Brides who choose A-line dresses are sophisticated, classic betches, not just on their wedding day but in general. Unlike most brides, you've been chill throughout the entire wedding process and not a total nightmare so you'll still have friends other than your spouse once this whole thing is over. You're like really really pretty and don't need a super tight dress to be the hottest girl in the room. You're the type that won't change after you get married. You'll still hang out with all your friends and not be lame AF and for sure won't keep your wedding portraits as your prof pic for too long. When you have a kid, you'll name it something normal and have the appropriate amount of involvement in its day to day life. Congratulations. You win.

How long is it acceptable to keep your wedding profile pic up? Find out here!