The Throwback TV Shows With The Messiest Hookups
Anyone who knows me knows that I think Gossip Girl is the holy grail of terrible TV, and in these times, it has brought me a lot of comfort. Seriously, when I'm down and feeling blue because I haven't seen another human being IRL since mid-March, just got laid off, and have been subsisting on DiGiorno for way too long, I think about that episode when everyone found out that Blair boned Nate and Chuck, and even Jenny didn't want anything to do with her. Like, what's a pandemic compared to Blair Waldorf's slow and painful demise in the first season??
Anyway, if it isn't clear, I re-watched the entire series over the course of the last two months and am blown away by the fact that none of the characters are bothered that everyone hooks up with everyone's exes! Like, am I too old-fashioned for not wanting my best friend to f*ck my ex?? This got me thinking: GG definitely isn't the only show whose cast is horny af for each other. So join me in taking a walk down memory lane.
'Gossip Girl'

I obviously had to start with the messiest show of all time. In the first and best season, the couples kind of make sense since the characters are all supposed to be juniors in high school and the writers have lots to work with. Nate and Blair have allegedly been dating for 10 years (which means they started seeing each other when they were six, k) and Dan and Serena start dating. Again, this all seems normal. I stan! But then, the rest of the seasons happen and it is very clear that the writers were just kind of like, "idk whatever."
Without going into too much detail because I have a word limit, I'll just say that pretty much all of the guys in this show are eskimo brothers. Dan and Nate both hook up with Blair, Serena, and Vanessa; Jenny hooks up with Chuck and Nate; and Ivy, a random character who doesn't matter, hooks up with Dan, Nate and Rufus (!!). I'm not necessarily judging because everyone on this show is disturbingly attractive, but still, it's a little crazy. These people are supposed to live in New York City and can't find anyone outside their social circle to hook up with? Unrelated, but after season four, everyone just stopped going to college and no one acknowledges it.
'Friends'

There is definitely some cross-contamination here even though it's more subtle than that of GG. On a show with 10 seasons, it's easy to forget who hooks up with whom, but luckily, I remember. Obviously, the two main couples are Ross and Rachel and Chandler and Monica, but there's some overlap I haven't forgotten about. Yes, I'm talking about Rachel hooking up with Joey. Let's not forget that Phoebe also kissed Joey, although they never ended up together, even though Joey did propose. I'm also convinced that Monica and Chandler only got together because the writers didn't feel like bringing in a new character crazy enough to date either of them.
There obv aren't so many inter-cast relationships on Friends as there are on Gossip Girl, but there are def a few instances of the Friends dating the same people. For instance, Joey and Ross both dated the hot science lady, Charlie, and Joey and Chandler both dated Kathy. Ugh, come on, you guys!
'Desperate Housewives'

I truly believe this was one of the best shows literally ever. If you haven't watched it because you were too young to understand what was happening when it was on TV, give it a watch now. It's on Hulu. Anyway, as its name implies, the main characters are all married, but there is one singleton who I absolutely live for. Edie Brit is the Samantha Jones of Desperate Housewives, and she has loves to f*ck her friends' ex-husbands. Is it just me or does that sound like an intro on a Bravo show? She dates Gabby's ex, two of Susan's exes, and makes out with Bree's ex. Yikes! Even though I love Edie as much as I love this show, which is a lot, I always thought that plot line was kind of weird and pointless.
'Girls'

There were two really weird love triangles in this dumpster fire of a show: Adam/Jessa/Hannah and Ray/Marnie/Shoshanna. First of all, the whole premise of Girls is that, at least for a little while, they're all bound by their strong female bond, so why are they all so quick to date each other's boyfriends? Also, I'm confused why two gorgeous, cool, impressive women are both so into Old Man Ray. We'll never know.
'One Tree Hill'

Unlike my experience with Gossip Girl, I watched this show when it was on television and have not thought about it since, so my knowledge of inconspicuous details is pretty unimpressive. However, one thing I'll never forget about this iconic mess is the love triangles. First we have Lucas/Peyton/Brooke then we have Nate/Peyton/Brooke. Uhhhhhh. Brooke and Peyton are the Blair and Serena of the early 2000s, so I guess it makes sense that they're both down to hook up with each other's boyfriends. The Nathan/Brooke situation was never super serious, but Lucas and Peyton got married! After she seriously dated Nathan! What! Does that make them the Dan and Serena of this show?
What did I miss? Are there any other shows where the cast loves to bang each other? Let me know in the comments!
Images: Everett Collection / Shutterstock.com; Giphy (5)
6 Things You Need To Know About Traveling Alone
Way back when I was ~studying abroad,~ my friends and I tried to organize a trip to Amsterdam. Spoiler: it didn't go well and none of us talk to each other anymore. It felt like that Girls episode when they all visited North Fork to "heal" and Marnie went completely psycho—except in my case, we were all Marnie. Fun! Tbh, I would blame the worst four days of my life on me and my friends all being too poor to do anything aside from smoke weed and feel depressed in the Anne Frank House, but I think the real reason is that traveling in groups, no matter how much money you have, sucks. Don't believe me? Take a look at the cyberwar that broke out in your group chat over where to get dinner this weekend. Like, try doing that, but for four days in a different country. So, after the Amsterdam Incident, I've officially decided that every trip I take from now on will be either by myself or with my boyfriend, and since he is suffering from a brutal case of nonexistence, it looks like I'll be traveling alone. And I am totally okay with that.
I know what you're thinking, "wow, that's so depressing!" and to you, I ask, is it? In my experience, when other people get involved in my plans, everything gets messed up and I become irrationally resentful. In other news, I will likely be dying alone. So if you want to protect your friendships from your own rage without sacrificing the ability to travel, maybe you, too, should consider traveling alone. Here are a few things to think about before you do, though.
Get Over Being By Yourself

If you've ever met me, you're probably rolling your eyes right about now because you know that I don't like to do literally anything alone. Like, if I'm eating by myself, it's behind my closed bedroom door where no one can see me deep-throating a burrito. I have no idea why, but I always feel like when I do things alone in public, everyone is staring at me thinking, "That poor, pathetic girl." In reality, since no one knows who I am and because I'm not doing anything worth staring at, exactly zero people are looking my way or thinking anything about me except for maybe "please get out of the way." If you're thinking of traveling alone, I'd start getting used to going to restaurants in a party of one, seeing movies, and shopping by yourself, just so you get used to the feeling of being out in public without anyone else with you. Being by yourself is nothing to be embarrassed about—and you're really going to have to get over that before traveling alone.
Be Safe

I hate that safety is a concern for women traveling alone, but if you've ever seen Taken, you know that the world is a different place for women than it is for Liam Neeson men. Of course, being on your own isn't a reason to not do things like travel, eat, or party; it's just a reason to be extra vigilant. Obv, Taken is the most ridiculous movie ever made and Kim probably could have avoided the whole being kidnapped thing by just, like, not getting in a car with a French stranger and driving straight to her living quarters, but I don't want to victim-blame. Seriously, though, if all the true crime I watch has taught me anything, it's that there are a lot of crazy people out there, so when it comes to staying safe, take precautions! Basic safety tips include not trusting strangers (see, I knew my trust issues would come in handy one day), choosing a good purse with a secure closure (so you don't get pickpocketed), and keeping your passport and other important documents locked up (pickpockets again).
Another big safety tip is to do your research beforehand and don't just roll up to a foreign city totally unprepared. Make sure you are familiar with the vibes of each neighborhood, how to get around, stuff like that. And make sure you have the emergency numbers (like, the 911 equivalent) of wherever you're visiting on hand. That may seem massively unnecessary, because what could possibly happen? But as someone who has broken a rib from simply falling down, let me just say, things could definitely happen. According to Bustle, "Some countries have separate numbers for crimes and medical emergencies," so it's a good idea to write all the important numbers down beforehand (yes, like on paper) in case your phone dies, you have no service, or anything else goes wrong with your phone. Bottom line is, you don't want to have to look that stuff up in an actual emergency.
Accept That Not Everything Will Go According To Plan 

Like I warned my sister-in-law on her wedding day, every detail in the itinerary will not play out perfectly. Don't react like she did; just be cool and accept it. Look, you can't control the weather or whether or not there will be a huge national strike because the president of France wanted to increase the retirement age and now all the monuments are closed, so you can't let mishaps ruin your whole trip. The best way to avoid having your itinerary getting f*cked up by things outside of your control is to not plan out every second of every day. Rather, choose an area you want to see and have a general idea sketched out of what you want to do there, rather than a minute-by-minute timeline that leaves no room for exploring or detours. I recommend picking one or two specific things you'd want to do in the morning, afternoon, and evening. Being on an aggressively strict schedule on vacation is low-key stressful, and part of the fun of taking a solo trip is being able to wander and explore without your annoying friends reminding you that you were supposed to be on your way to the Prado three and a half minutes ago.
Don't Go Off The Grid

My crazy mother has convinced herself that if I walk back to my Midtown East apartment by myself, I will get murdered, so I can't imagine how much that woman will worry when I go to Madrid, which may as well be North Korea to her, by myself. She's very dramatic, but your friends and family will worry about you, so literally going off the grid isn't a good idea—especially if you're going somewhere unfamiliar alone. Whether you want to post every step you take to your Instagram story or just send a simple "I'm alive" text to a few people every night is up to you, but don't be an asshole and just, like, turn your phone off.
Choose Your Accommodations Wisely

So, obviously you should do a ton of research into where you're going to be staying and read enough reviews that you can feel confident and safe with your choice (but not so many reviews that you go down a rabbit hole and just throw your whole trip in the trash… speaking from experience). But, with so many options (hotel vs. hostel vs. Airbnb), your first bet is to zero in on which type of accommodation is right for you. One thing to consider is the balance of comfort vs. isolation. While it's definitely nice to relax at the end of a tiring day in a non-bunk bed in a private room at a hotel or Airbnb, speaking from experience, staying in one of those can make it more difficult to meet people, which can make you feel even more isolated. So you'll really want to be honest with yourself. Assess how easily you can talk to strangers, and whether you feel energized by being around people. If you like being around people but are not good at starting conversations, you might want to find a more social place to stay. If you literally hate people and/or could chat up a wall, you'd probably be fine staying in a place where you will never so much as bump into another person.
Prepare For FOMO

I once skipped a distant friend's birthday dinner at a restaurant I hate because I had a cold, but then I saw everyone's Instagram stories, and you better believe my FOMO was through the damn roof. So much so that I ripped off my floor-length bathrobe, threw on an outfit, and got my sick ass to Brooklyn because missing out is too much for me to handle. Even if you're having the time of your life, you will probably still experience FOMO traveling alone. If you're traveling alone, you are going to have to be okay with the fact that your friends won't pause their own lives while you're living your best one in a different city/state/country. Remember, you are the prize and you took this trip for the Instagrams yourself! Let this trip teach you a lesson about having fun by yourself and being happy for the people having fun without you.
At the end of the day, I wouldn't actually recommend traveling alone every single time you go on vacation (at the very least, so you can save money by splitting costs), but taking a few days to explore the world on your own is a really good way to grow and, considering how much I hate eating alone at a restaurant, I am definitely in need of a little growth. 
Images: Giphy (6); Unsplash
J.K. Rowling Got In Trouble Again For An Offensive Tweet That No One Asked For
At one point or another, we've all said things we shouldn't have. Whether you said your boss's idea was dumb in a meeting or gave your friend your honest opinion about how she looked in an outfit, it happens. But there's a big difference between telling Jen her dress is too tight and saying sh*t that's actually bigoted or otherwise problematic. Seems like an easy concept to grasp, but some celebrities just don't seem to get this. Case in point: J.K. Rowling. While she became a billionaire by creating the Wizarding World, she f*cks up a lot when it comes to things in the real world. Today, she's in hot water for a tweet about an important UK legal decision, and it's really not a good look for her.
Here's the background: a woman named Maya Forstater, who worked at a poverty think-tank, was fired for a series of tweets questioning government plans to allow people to self-identify as whatever gender they chose. In one tweet, Forstater specifically stated that "men cannot change into women," blatantly disregarding scientific opinion, along with the experiences of countless trans people. Forstater contested her firing at the Central London Employment Tribunal, but this week, they ruled against her. The judge called Forstater's views "absolutist," and said that they serve to create "intimidating, hostile, degrading, humiliating or offensive environment." Basically, it's almost 2020, and trans people aren't going anywhere, sorry Maya.
What I am so surprised at is that smart people who I admire, who are absolutely pro-science in other areas, and champion human rights & womens rights are tying themselves in knots to avoid saying the truth that men cannot change into women (because that might hurt mens feelings)

— Maya Forstater (@MForstater) September 30, 2018
In the wake of the decision, J.K. Rowling did what she always does, and tweeted something outlandish even though nobody asked. She tweeted her support for Forstater, claiming that the Tribunal is trying to "force women out of their jobs for stating that sex is real," and using the hashtag #IStandWithMaya. As someone who took like, two gender studies classes in college, this tweet immediately made me cringe. Rowling doesn't seem to understand the difference between sex and gender here—so, for the people in back, let's take a look at the GLAAD definitions. Sex is "the classification of a person as male or female," which is assigned at birth, "usually based on the appearance of their external anatomy."  Gender identity, however, is "a person's internal, deeply held sense of their gender," and "for transgender people, their own internal gender identity does not match the sex they were assigned at birth." No one said sex isn't real here, because the issue was never about sex. It was about gender and gender identity.
Dress however you please.
Call yourself whatever you like.
Sleep with any consenting adult who'll have you.
Live your best life in peace and security.
But force women out of their jobs for stating that sex is real? #IStandWithMaya #ThisIsNotADrill

— J.K. Rowling (@jk_rowling) December 19, 2019
On top of being like, factually incorrect, with this statement, JK Rowling is dipping her toes into an area of feminism that's hardcore problematic. In the wake of her tweet, she's been labeled a TERF: Trans-Exclusionary Radical Feminist. This term, which was coined in 2008, describes a subset of feminists who have transphobic views, a main one being that trans women aren't real women. While some women who have been called TERFs argue that the term is a slur, that's probably because they're not ready to talk about the fact that they believe in sh*tty, hurtful things.
Trans women are women.
Trans men are men.
Non-binary people are non-binary.

CC: JK Rowling.

— Human Rights Campaign (@HRC) December 19, 2019
After her latest tweet, J.K. has been called out on Twitter by thousands of people, including some of the top advocacy groups for LGBTQ issues. She's yet to respond to the controversy, but hopefully she can take this as a learning opportunity and fix her transphobic views. Maybe I'm being too optimistic, but it's just kind of sad that J.K. Rowling sucks this much. Because she has created such beloved books and characters, it's tempting to dismiss a comment like this as a misunderstanding, or a one-off tone-deaf moment, but that's just not the case. She has sucked for a long time.
This latest issue is far from the only time J.K. Rowling's behavior has raised questions. Perhaps most famously, many people have been upset by the decision to keep Johnny Depp in the Fantastic Beasts movies after he was accused of physical and verbal abuse by his ex-wife, Amber Heard. Even Daniel Radcliffe questioned the decision, telling Entertainment Weekly, "I suppose the thing I was struck by was, we did have a guy who was reprimanded for weed on the film, essentially, so obviously what Johnny has been accused of is much greater than that."
Rowling has also been accused of using her after-the-fact revelations about Harry Potter characters as a deflection of criticism that the books aren't very inclusive, and it's hard to argue with this. If Dumbledore was really gay all along, would it have killed her to mention it even once in seven books? Yeah, she should probably just stick to writing, and maybe include a little more diversity in her next book.
Of course, J.K. Rowling is far from the only celebrity who has made an uncomfortable habit of saying things they just shouldn't. Here are a few of the most prolific sufferers of foot-in-mouth-syndrome—have fun cringing while you remember all these moments.
Lena Dunham
Honestly, where to even start with Lena Dunham? I loved Girls, and I think most people can agree she's talented, but every time she opens her mouth I dread what she's going to say. You know you officially have a problem when your Wikipedia page has a whole section titled "Controversies," and Lena Dunham's history of putting her foot in her mouth is a lot to take in. For today, we'll just enjoy some of the highlights.
In 2014, Dunham's book Not That Kind of Girl created controversy around a story about being sexually assaulted by a classmate at Oberlin College. The issue wasn't with the story itself, rather the fact that the pseudonym she used for her abuser was…not a pseudonym at all. She described a guy named Barry in great detail, and then a real-life guy named Barry came forward, claiming that her description matched up a little too closely. Random House had to reprint the book with a clarification apologizing for the "confusion."
That wasn't the only controversy surrounding Dunham's book. She got even more backlash for passages where she writes about interacting with her one-year-old sister in a sexual nature when she was seven, which many people labeled as predatory behavior. Dunham's sister defended her, saying people should be able to make their own decisions "for themselves what has and has not been normal," but yeah, this didn't sound normal. Everyone from attorneys to child psychologists weighed in on the controversy, and it still weirds me out, even five years later.
And by the way, if you were a little kid and never looked at another little kid's vagina, well, congrats to you.

— Lena Dunham (@lenadunham) November 1, 2014
One of Lena Dunham's most puzzling moments came in 2016, when she said publicly that she wishes she'd had an abortion. When speaking on a podcast about abortion rights and understanding women's experiences, she said "I can say that I still haven't had an abortion, but I wish I had." Whatever your thoughts are about whether abortion is okay or not, wishing you had one, like, for the story seems incredibly strange.
Scarlett Johansson
In case you haven't noticed, Scarlett Johansson is white. In fact, you could say that she's very white. And despite being an incredibly talented actor, she's not so talented when it comes to accepting her privilege and staying out of the spotlight for all the wrong reasons. This has specifically been an issue with some roles she's accepted in the past. She played an Asian woman in Ghost In The Shell, and was slated to play a transgender man in the movie Rub & Tug, before she left the project for unknown reasons. It would be nice to think that those reasons had something to do with her casting being problematic in the first place, but as recently as this summer, she's stated that she doesn't see the issue with her playing non-white, non-cis roles.
Definitely Scarlett johansson. Who else would even dare to play a tree?! https://t.co/rGZQiQzYV1

— V (@AllYouNeedIsATV) December 18, 2019
When speaking to As If magazine in July, she stated that "as an actor I should be allowed to play any person, or any tree, or any animal because that is my job and the requirements of my job." She got trolled online for the tree part, but the whole thing is rough, whatever way you look at it. She also said that the trend toward political correctness "needs to happen for various social reasons," but that it makes her uncomfortable, because she feels "art should be free of restrictions." Oh Scarlett, honey, no.
Nicki Minaj
Nicki Minaj has been a polarizing figure throughout her career, and has a habit of feuding with basically every female rapper on the face of the earth. Whether you think the feuds are fun or exhausting, they're not that problematic, for the most part. But Nicki's track record when it comes to working with (and dating) known abusers is pretty bad.
Nicki has long collaborated with Chris Brown, and in 2018, lots of people got mad at her for working—and developing a close friendship—with rapper Tekashi 6ix9ine. As you may have heard, this week he was sentenced to two years in federal prison for gang-related offenses, but this isn't his first time being in trouble with the law. Back in 2015, he pleaded guilty to three felony counts of "use of a child in a sexual performance," which is as gross as it sounds. Last year, Nicki publicly voiced her support for him, despite him pleading guilty to all the charges against him. But her friendship with 6ix9ine was not a one-off instance of Nicki supporting a sex offender.
Also last year, Nicki started dating Kenneth Petty, who happens to be a registered sex offender. He was convicted of attempted rape back in the 1990s, which seems like it would be a dealbreaker for most people, but Nicki clearly has no issue with it. In fact, she's bashed people on social media for criticizing her relationship decisions, and she and Kenneth are still going strong and apparently married. Welp.
There are plenty of other celebs who have said their fair share of ill-advised things, but these are a few of the most egregious ones. Which celebrities have caused you to cringe the most over sh*t they've said? Is there anyone who's overdue for a canceling? Lmk in the comments.
Images: jk_rowling, hrc, lenadunham, allyouneedisatv / Twitter; theshaderoom / Instagram
Lena Dunham Is Making A Show About Fake Socialite Anna Delvey
This week, The Cut published a profile on Lena Dunham. The piece is being hailed as a refreshing look at female pain, and an illuminating profile on someone from whom we all assumed we'd heard more than enough. While the piece was indeed less insufferable than I feared it would be, one piece of information included was enough to ruin my day. Lena Dunham has a deal with HBO to create a series on fake German heiress (and real Russian scammer) Anna Delvey. You may have missed that tidbit in the extremely long profile, but yes, a Lena Dunham show about Anna Delvey is supposedly in the works.
In case you don't remember Delvey's story, here's a quick refresher. Delvey broke into the NYC socialite scene after a Parisian fashion internship. With vague claims about wire transfers and generational wealth, she scammed her way into almost $300,000 in unpaid bills for her luxurious lifestyle. She even made up a fake financial adviser, whom she then killed off when people grew suspicious. Last we heard from her, she was somehow Instagramming from Riker's Island. In other words, a baller through and through.
Me to Anna Delvey: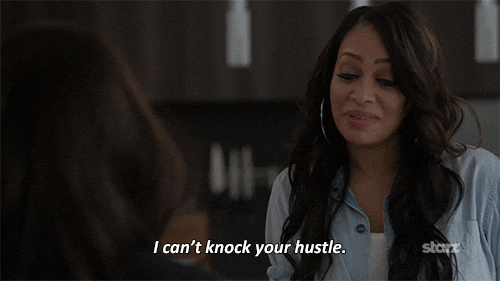 Lena Dunham, last we heard from her, was making a show called Camping, of which no one I know has been able to stomach more than one episode. And yes, we all watched all of Girls, but very few of us felt ultimately good about it. As far as careers go, Lena Dunham's has aged about as well as the box of Chinese takeout I ordered on Saturday night that's still sitting in my fridge. Seeing as Anna Delvey's story of scamming has been a bright spot of joy in an otherwise bleak news cycle, I'm not thrilled about the prospects of a Lena Dunham show about Anna Delvey. Like, ruin Williamsburg all you want, but when you come for my scammers? That's where I draw the line.
The good news is that Lena isn't the only person who's been given the opportunity to translate Delvey's scamming stories to the screen—we've known for a while now that Shonda Rhimes was also tapped to create a series for Netflix about her. Now, when I heard Shonda Rhimes was making her own Delvey show, I was thrilled. Rhimes' handle on sexy, fast-paced drama is exactly what Delvey's story needs. We need secret love affairs, high-fashion montages, and constant overlapping power plays. What we do not need is mournful shots of Delvey on the toilet while a Belle & Sebastian song plays.
The silver lining here? Whatever it looks like, the Lena Dunham show about Anna Delvey can't possibly be as bad and/or offensive as her adaptation of a Syrian refugee's story will be. Cheers to that.
If you love scams, cults, conspiracies, and true crime, listen to Not Another True Crime Podcast! New episodes out now.
Images: Getty Images; Giphy (1)
Revolve Is Getting Slammed For This Gross Fat-Shaming Sweatshirt
Look out Goop, Revolve is on its way to take your spot as the least relatable brand on the planet. In their latest "wait, what?" moment, Revolve released, and subsequently removed a sweatshirt with the quote "Being fat is not beautiful, it's an excuse." Obviously, the internet was quick to call them out for their sh*tty decision making, because this isn't 2007 anymore and graphic tees with questionable slogans being sold at Abercrombie is no longer a thing that anyone has time for. *Kourtney Kardashian voice* There's people that are dying. Oh and, just to make this more of a face palm situation, Lena Dunham, Cara Delevingne and a bunch of other models are involved. Because, of course.
Luckily, queen of shade Tess Holliday snagged some receipts and publicly called out Revolve before the sweatshirt was taken down.
LOLLLLL @REVOLVE y'all are a mess. pic.twitter.com/CrzOkd5oE4

— Tess Holliday ???? (@Tess_Holliday) September 12, 2018
According to Fashionista, the product was one of five sweatshirts that were created in a collection for LPA. Each one included something terrible that was said to Lena Dunham, Emily Ratajkowski, Cara Delevingne, Suki Waterhouse and Paloma Elsesser (who was the one told that being fat is not beautiful, it's an excuse). It was meant to be a campaign addressing cyberbullying, as exhibited by the barely visible Instagram handles on the sweatshirts and literally nothing else. Like, seriously, someone actually thought it was a good idea to create that sweatshirt, throw it on a thin model, and not explain the point behind it. Smart!
In the most on-brand statement of her life, Lena Dunham posted this painting to her Instagram with a long caption explaining the intention behind the collection while distancing herself from the project and announcing donation to the charities of Emily, Cara, Suki and Paloma's choices. She also called out Revolve and suggested they cough up some money to try and fix this mess. Revolve later told People that it would be making a $20,000 contribution to Girls Write Now, the charity that the collaboration was originally intended to benefit.
I'm pretty conflicted here. I mean, the intention behind the collaboration definitely sounds cool as like, an initial idea. It kind of reminds me of every time I've ever been like, "oh my god, I have an idea for an app/podcast/other sizable project I'm going to realize is a bad idea once I start actually thinking it through." Like, yeah it would be great to have a collection of clothing that addresses internet trolling. But maybe, Revolve, using a skinny model and selling a sweatshirt that says "Being fat is not beautiful, it's an excuse" is a miss, considering I can't imagine anybody except hateful fat-shamers who would dare wear this shirt out in public? IDK, I'm not a professional! Also, if a sweatshirt needs a long-winded explanation to not appear as offensive, maybe it's just offensive.
Images: tess_holliday / Twitter; lenadunham / Instagram
The Treatments Behind Celebs' "Natural" Beauty That Nobody Talks About
In 2018, we've definitely noticed that the way we use makeup is changing (unicorn brows, anyone? JK, this trend made my eyes bleed). Specifically, we've seen a lot more honesty from celebs and normals alike about how much of a role makeup plays. Think: Kardashian-esque contouring, YouTube beauty tutorials, #nomakeup selfies. And often, it's been empowering to watch people openly celebrate both natural looks and the transformative power of makeup. But recently, the tone has shifted. While the idea was once more "everyone has flaws and that's ok," it's now about having such naturally perfect features that makeup would only detract from them. These treatments are typically semi-permanent (aka not a full nose job/brow lift—so '90s), always expensive, and basically give you an Insta-filtered face. Here are some of the semi-permanent treatments celebs are using to get that perfect "effortless" look.
Botox/Chemical Peels
I'm lumping these two together, not because they're all that similar, but just because these are the beauty treatments we've all known about and made fun of since the '90s. Both treatments have gotten a lot more sophisticated—so the Samantha Jones raw meat face doesn't happen after peels anymore, and people with Botox can (kind of) still raise their eyebrows—but they're still the basic anti-aging treatments we all know and wish we could afford love.
Microneedling
Microneedling is a procedure in which a tiny needle pokes holes all over your face. (If you've ever used a dermaroller, it's the expensive version of that.) This then promotes collagen production as your skin heals, which reduces the visibility of fine lines, wrinkles, pores, and acne scars. You know, all the things that make you look like a human, which is no longer desirable. Treatments cost up to $1,000, but then your skin is as good as Kourtney Kardashian's. (You didn't really think it was her diet that made her skin good, right?)
Injections
Injections is kind of a vague way of putting this, but that's because injections can do so many different things. You can use filler to fix bad under eyes, smooth out your jawline and cheeks, and really just smooth out any imperfections you're worried about. While I'm certain that most celebrities over a certain age have had some sort of filler put in, some of the most vocal users are the cast of Vanderpump Rules. In fact, Lala Kent and Tom Sandoval recently took a joint trip, where Lala got something called "Diamond Facial Sculpting." (Fillers, but fancy I guess?) Lala says Tom was there for "moral support," but I swear I saw him in a chair in the background of her IG story. Hard to believe Sandoval would willingly skip out on a beauty treatment.
Laser Treatment
No, I'm not talking about laser hair removal. (Though I'm certain that any celebrity who's ever worn a bikini has gotten that too.) I'm talking about lasers used as facial treatment, which, like fillers, come in many varieties and have many uses. Basically, lasers can be used to fade pigmentation (*glares at rosacea-ridden face*), even out texture and tone, and basically act as "permanent concealer." MUST BE NICE. Both Kim Kardashian and Jhené Aiko have recently raved about their laser treatments—and if they're not #skingoals, IDK who is.
Microblading
This one is along slightly different lines, because it's not about skincare. BUT, now that we are officially living in the Age of Eyebrows, it's pretty freakin' important. Microblading is getting semi-permanent tattoos draw onto your brows with teeny tiny strokes that resemble real hairs. This then gives you the appearance of naturally full brows for roughly two years. It also costs around $1,000 upfront, plus a mandatory touch-up two weeks later. So yeah, I'll be getting that when I'm 70 and win the lottery, and will be drawing on my brows each morning until then. Irritatingly, I cannot tell you that celebs like Cara DeLevingne have used this treatment. Instead, it's a whole bunch of awfuls including Bella Thorne and Lena Dunham. Microfeathering is another version of this treatment, which basically just fills in instead of drawing you a whole new brow.
Do I have anything against these treatments, beyond the fact that I can't afford them? Yeah, a little. I definitely have a problem with celebrities who pretend they haven't had ANYTHING done. I respect their privacy and all, but I'm a grown-ass woman and I find myself getting upset about my own visible pores. This isn't something that bothered me even two years ago. But now, every picture I see on Instagram features skin that doesn't look like skin. And just a few years of being bombarded with those images has been enough for me to think there's something wrong with my face because of it. Which is all to say, I'm truly worried for young kids who are growing up surrounded by that kind of illusion, and not being repeatedly and aggressively told that it is, in fact, an illusion.
Ultimately, I think it's probably positive that these treatments are public enough that I can even write this article. Yes, the treatments themselves are becoming more mainstream. But the information is available—if you look—about why exactly these celebs can post #nomakeup selfies that make me feel like a garbage rat. Now if you'll excuse me, I'm going to start a GoFundMe because all these procedures cost more than my rent.
Images: drjasondiamond, thelipking, lalakent, jheneaiko, microbladingla_juliafaria / Instagram
Lena Dunham Is Single, So Get Ready For Some Embarrassing Tweets
We're only a little more than a week into 2018, but the endless cycle of celebrity relationships has no chill. Lena Dunham and Jack Antonoff are over after more than five years together, marking the first big breakup story of the new year. In case you're not up to speed, Jack Antonoff is the cute but dorky-looking guy from Fun. and Bleachers, and Lena is, of course, the star of Girls who basically has a second career in saying problematic shit about everything.
Their breakup is surprising, considering that they always seemed like a pretty normal, happy couple. Back in October, Lena posted an Instagram of them together, saying they had just celebrated five and a half years together, and that she was "still working hard to impress him in surprising ways." We're not sure if that's supposed to be like, a weird sex thing, but clearly she still felt invested in the relationship.
But shit can change quickly, and obviously something wasn't working between Jack and Lena. In the past, Lena had publicly said that they were waiting to get married until gay marriage was legal, but obviously that came and went a couple years ago. In November, Lena tweeted "5.5 years, no rock and you know what? It's real nice." Again, we obviously don't have full context, but it's probably not a great sign if you're like, thrilled that your man hasn't proposed to you after almost six years. Also if you have to tweet that you don't care that your boyfriend hasn't proposed, you definitely care. A lot.
So now it's January and there are two more single people in the world, but we have a feeling they'll both be okay. Lena can keep tweeting tone-deaf things about race and gender, facing no consequences for her actions, and Jack can go back to making music that no one really cares much about. We don't know who either of them will end up with next, but we do know Lena's next boyfriend definitely won't be Odell Beckham Jr. We don't know why they broke up, and their sources say it was "mutual", but I like to think it was because Jack Antonoff finally woke up from his five-and-a-half-year hypnotism and realized he was dating Lena Dunham.
It's Time We All Stop Listening To Lena Dunham
There's plenty to hate about Lena Dunham already—her infantile, grating narcissism, her dubious alignment with Taylor Swift's girl squad, and every line she's ever uttered as Hannah Horvath come to mind (I somehow watched every episode of Girls, so if you tell me you never wanted to smack her in the face, I know you're lying). But through all that, the very low baseline Dunham set for herself has always been her early adoption of and staunch loyalty to the title of "feminist". So, even if you hated her artistically and culturally, you could vaguely nod along to her railing against the patriarchy—until this week happened.
Last week, actress Aurora Perrineau came out with rape allegations against writer Murray Miller. Perrineau was 17 years old at the time of the alleged attack, and her story includes plenty of horrifying details about her alleged reminders to Murray of her underage status, her unease in his presence, and finally, her waking to Miller on top of her, "having sexual intercourse" with her. Is this story disgusting and horrifying? Yep. Is it at all surprising given your experience of life as a woman the past few weeks of news we've had? Absolutely fucking not.
That is, of course, unless you're Lena Dunham, and the writer involved happens to be a buddy of yours. In a statement to Variety, Dunham defended Murray, saying, "While our first instinct is to listen to every woman's story, our insider knowledge of Murray's situation makes us confident that sadly this accusation is one of the 3% of assault cases that are misreported every year." Never mind that a few months ago, when Dunham was accused by an Instagram troll of fabricating a rape story of her own, she tweeted verbatim, "things women don't lie about: rape." Never mind that in a 2015 acceptance speech for Variety's Power of Women award she said, "my ultimate goal is to use my experience, my platform, and yes, my privilege, to reverse stigma and give voice to other survivors." Nope! Apparently, in this case, it's "one of the 3 percent of assault cases that are misreported every year" based on the fact that she's "worked closely with for more than half a decade."
Thankfully, the backlash to this absurd statement has been swift and severe enough that Dunham has already issued an extensive apology, which you can read here if you really want to. But suffice it to say the damage has very much been done. The same "experience, platform, and privilege" she promised to wield to accumulate wealth and fame in defense of other women was instead used to invalidate and humiliate a potential fellow survivor.
Zinzi Clemmons, a former writer for Dunham's Lenny Letter, has already quit the publication, citing Dunham's "known racism" and encouraging those who share her outrage to do the same. While I'll go ahead and assume the readership here has minimal overlap with "people who work for Lena Dunham," I'll go ahead and encourage you to stop sponsoring Dunham's existence in our collective consciousness, and start disabusing her of the notion that anyone gives a shit what she has to say anymore. And if there's a larger lesson here, it's that the world is not divided into "people you like" and "people who are rapists" (Sarah Silverman had a much more nuanced and appropriate reaction on this topic when her close friend Louis CK's assault allegations came forward). What Lena Dunham did here was a bizarre perversion of the "boy's club" mentality that's protected so many rapists and criminals so far; only now, it's friendship with very specific white ladies that gets you a pass. And if you don't care about any of the other points I've made so far, it's likely you're a psychopath think of Dunham's discontinuation as a glorious opportunity to never see her face on your TV screen again. Please, let's all be done(ham) with Dunham.