Kristin Cavallari Finally Gave Us Details About Her And Jay Cutler's Divorce
Remember way back in April, when days of quarantine were still filled with random activities, and the biggest story in the news was Kristin Cavallari and Jay Cutler's shocking divorce? Well, here we are five months later, still in quarantine, and still talking about Kristin Cavallari. What a f*cking year. Back in April, we didn't get much information about the split, other than their initial Instagram posts, and some messy legal details that were seemingly resolved pretty quickly. This was all just weeks after the fam returned from their never-ending trip to the Bahamas, so the whole timeline was very confusing. But his week, Kristin spoke to People, and while she was mostly there to promote her new cookbook (random, but sure), thankfully she also spilled some much-needed info on WTF happened between her and Jay.
Unsurprisingly, she says that the split "didn't happen overnight," despite whatever happy façade fans saw. She continued, saying "We tried really, really hard for years and years," and that the split "was the hardest decision I've ever made." I think most of us assumed their divorce wasn't just a split-second decision, because that's not how divorces tend to work, but Kristin and Jay were definitely a couple that managed to keep most of their drama private, despite the fact that they did a reality show together for three seasons.
Speaking about the public perception of her marriage, Kristin told People, "I always thought it was interesting when people would refer to us as 'couple goals.' I was like, if you guys only knew." Maybe I'm in the minority here, but from watching Very Cavallari, it never actually seemed like things were that perfect in Kristin and Jay's relationship. They weren't having huge fights or anything, but Jay never seemed that thrilled to be there, and Kristin was almost constantly annoyed with him. Kristin admitted that things were not going well during filming for the show's third and final season, but that "we definitely kept a lot of stuff private. Producers saw stuff, but they didn't put it in the show—which is good, because I don't want my kids to ever ."
When asked about the actual reasons that led to the breakdown of her marriage, Kristin kept things pretty vague. And by that, I mean that she definitely did NOT reference the cheating rumors that have persisted about Jay Cutler since before the split was even announced. Instead, she painted a broad picture, saying, "Every relationship has their stuff. I met Jay when I was 23. I was a baby. Jay and I had so much love for each other, but we grew up. When you work at something for so many years and nothing's changing, I think you have to just make a decision. We all want to be happy." Amen, sister… but what about the cheating rumors?
But rumors aside, it sounds like Kristin and Jay are in a pretty good place now. After those initial legal issues immediately following their split, they came to a co-parenting agreement, and Kristin was able to buy her new house in Nashville. She shared that "I still care so much about and talk to him almost every day. We have three kids together. He's going to be in my life forever."
She may be stuck with Jay, but she seems happy with her decision to leave reality TV in the past—for now, at least. When she began Very Cavallari three years ago, the focus was mainly on her business, but the spotlight shifted to her personal life in more recent seasons. She says that she's "relieved" the show isn't coming back, because "I just knew I was going to have to talk about everything, and I didn't want to. Thinking about filming was giving me anxiety." Kristin maintains that her current focus is on what's best for her three kids, and that's "Probably not doing a reality show, having to talk about divorcing their dad." Fair enough. Honestly, Very Cavallari was not that entertaining to begin with, so I'm happy to find something else to watch.
Along with the cheating rumors, I'm also a little disappointed that Kristin didn't address that photo she posted with Stephen Colletti this summer. Like, I know in my heart that they're not back together, but I still need to hear it directly from her. Kristin says that she's "really excited about the future all around," but who's to say that future can't include a fling with her old flame? For now, I will continue to hold out hope, because it's really all I have left at this point.
Don't miss out on any pop culture or entertainment news. Subscribe to our weekly newsletter here.
Images: Timothy Hiatt/Getty Images
Are Kristin Cavallari And Stephen Colletti Back Together? We Investigate
Welcome, friends, to the first in what I hope will be a recurring column in which I investigate whether recent celebrity news is real or a PR stunt. Now, you might be asking yourself what gives me the right to judge the intimate details of a complete stranger's life and decide for myself if their most recent headline-making dalliance is real or something cooked up by their publicist? Well, I have been recapping The Bachelor for the last five seasons and seeing as how that show is a modern-day Ringling Brothers Circus that specializes in creating Kris Jenner-worthy storylines for the sake of our Monday night entertainment, I'd say that's all the certification I need. Mmkay?
Moving on. Today I thought we'd focus on a headline that is dominating entertainment news feeds as well as five of my personal group chats. I'm, of course, talking about the selfie seen 'round the world of Kristin Cavallari and her ex-Laguna Beach lover Stephen Colletti. Last night Kristin shared a selfie on Instagram of her SITTING ON HER EX'S LAP for the entire world to see with the caption "2004 or 2020?!" Subtle, Kristin, veeery subtle. 
As you'll recall, in March, Kristin and Jay Cutler announced that they were getting a divorce after 10 years of marriage. Soon after their very chill, very "we love co-parenting" divorce Instagram announcement, headlines started popping up accusing Jay of some alleged "misconduct." There were cheating rumors, rumors that Jay was holding the family's bank account hostage so Kristin couldn't find another house to live in, and other wild accusations. In May they finally reached a joint custody agreement and have been laying relatively low ever since. 
Which brings us to Tuesday night and the Instagram that launched 1,000 ships speculations. Are Kristin and Stephen back together? How long have they been talking? Will she plan a vacation to Cabo for old time's sake and, more importantly, will Stephen get drunk and call Kristin a slut for dancing on the bar? 

Ah, young love! So cute! So healthy!
These are the questions that keep me up at night. But is this for real or is this a mere PR stunt? Well, let's take a look at the evidence.
From the outside (and probably all sides, tbh) this looks very much like a PR stunt. As we've mentioned, Kristin's marriage is over. For those of you who watched Very Cavallari (guilty), you know that her marriage was arguably the most interesting thing about the show. What we used to love about Kristin during her Laguna Beach era (her mean girl antics, outrageous love triangles, and ability to make choppy bobs look chic) have been completely abandoned on Very Cavallari in favor of interviews about her pilates schedule, b-roll of her pretending to cook family meals, and modeling microscopic jewelry for her Instagram followers. Jay carries the show with his bare minimum personality while Kristin maintains the stage presence of a Cobb salad.
Speaking of Very Cavallari, in May Kristin announced that we wouldn't be getting another season of the hit E! show and was instead focusing on this "new chapter" in her life. Booooo. I'm assuming this next chapter is going to focus on growing her jewelry "empire" which consists of mid-level expensive midi rings and layering necklaces. Let's be honest here folks, the girl could really use a PR boost.
And she's not the only one whose publicist is probably thirsty for more media coverage. According to Stephen Colletti's IMDb page, his last television appearance was on a show called Everyone Is Doing Great about washed-up heartthrob actors "struggling to reclaim their previous level of success and relevance", and the pilot appears to have been filmed in his basement during quarantine. Brb just going to copy and paste that entire entry to share with Merriam Webster in case they're looking for a sentence to illustrate the definition of "rock bottom." 
Now, I can already hear some of you coming for me in the comments section with "bUt WhAt iF tHeY'rE jUsT fRiEnDs??" and, yes, they could just be friends! In fact, sources tell TMZ that the two have remained "good friends" since their break-up many eons ago, and that's why they were seen together Tuesday night. Good friends that in the last 16 years have never posted or spoken about each other unless they're in the midst of promoting their latest book or a trailer for the upcoming season of their show.
Final verdict: this is 100% a PR stunt. This wasn't a nostalgic get-together with old friends or—and I hate to break my eighth grade heart—an epic Laguna Beach romantic reunion. If anything, it was a casual dinner and drinks situation that maybeee ended in a hookup on Stephen's futon couch that triples as a bed and dining room table (IDK, I just feel like he has one of those), and Stephen pretending they'll "totally do this again sometime" as he responds to a random's DM on Instagram. Good luck, kids! Ever happiness to you both!
Images: @kristincavallari /Instagram (3); SheKnows.com (1); Giphy (1)
Kristin Cavallari Is Disgracing The Good Name Of 'The Hills'
In case you thought Botched was the most cringeworthy show on E! right now, Kristin Cavallari's new show, Very Cavallari, is premiering this summer, and it literally makes Lauren Conrad's Teen Vogue internship look real. Let's discuss. 
Look, don't get me wrong. I'm not one of those people who turns on Real Housewives on a JetBlue flight and pretends to suffer through an episode of reality TV. I love reality TV. I can explain the Kardashian family tree better than my own, and I still hesitate before making plans on Monday nights even after Bachelor season is over. I just genuinely think Very Cavallari is gonna suck.
I mean, let's talk about the promo. We see a few shots of Kristin being a *regular person* who lives a normal married life in Nashville, and we're supposed to be impressed that she's building her own "lifestyle brand" while being a cool mom. Yawn. That just described the daily goings-on of pretty much every mom on Instagram with more than 300 followers.
Kristin starts the trailer by saying, "It has been SEVEN YEARS since I've stopped shooting The Hills."
Umm, yeah, and there's a reason it stopped airing. We were team Lauren back then, and we don't give a shit about your fake drama anymore. Like, Kristin heroically returning to reality TV is the equivalent to me going back to the nail salon after I screwed up my manicure because it wasn't dry yet. No one asked for this revisit. Also, there's a reason shows like The Hills don't exist anymore. The characters are dated. Like, I used to think Lauren was the most relatable person on the show, but nowadays I relate much closer to Spencer's batshit breakdowns and financially irresponsible crystal collection. Just saying.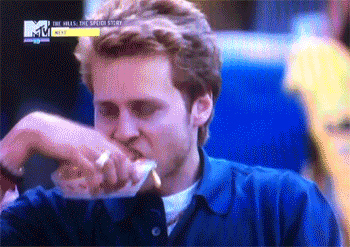 Then Kristin starts spewing random shit about her "business team", like, "I have the craziest staff. Of course there's gonna be drama. Of course there's gonna be hookups…. It's gonna be a wild ride."
First of all, "of course there's gonna be hookups"? What kind of workplace environment are you in? It sounds like a sexual harassment lawsuit waiting to happen. And I'm sorry, what is this show even about?! So far it sounds like one of those shows where a secret HR rep is watching a corporate disaster from some hidden camera in a nearby van and has to step in when Kristin hooks up with an intern or shows up to Casual Friday in a bikini. I actually think I'd watch that, though.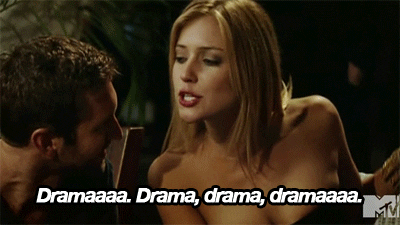 The drama on this show makes the plot lines on Laguna Beach seem plausible. Unless you give Brody Jenner at least one guest appearance, I'm sticking with the Jersey Shore reboot for now. But like, on the bright side, I guess we've finally solved the debate over how Cavallari is pronounced. VERY helpful, Kristin.
Images: E! News (1), Giphy (4)
Kristin Cavallari's Best Moments From 'Laguna Beach' In Honor Of Her 31st Birthday
Kristin Cavallari turns 31 today, which is absolutely mind-blowing when you consider the fact that she was getting shitfaced on reality television 13 years ago. Actually, I guess I had no idea how old I thought KCav was before Googling it. Publicly documented underage drinking and access to the best beauty resources in Orange County make for confusing age calculations. Anyway, Kristin has always been the HBIC we've feared and admired. She's a reality TV icon. Here are some of her best moments from Laguna Beach.
When She Wore A White Dress At The Black And White Party
Kristin established her position as HBIC early on in the series. If you remember all the way back to the very first episode, everyone goes to a black and white party that was prob more lit than any party you've ever been to. LC thinks it's "so ironic" that everyone is in a black dress and Kristin is in a white one, but Kristin totally doesn't give a shit, which was actually iconic and not ironic.

When Her Car Was Dunzo
Maybe Kristin's most famous line in Laguna Beach history was when her SUV shit the bed and she threw a total fit. She starts yelling "my car is dunzo!" Although this reaction is infamous for being ridiculous, I'm kind of surprised it wasn't more extreme, TBH.

When She Danced On The Bar In Cabo
Another one of Kristin's famous one-liners was "what happens in Cabo stays in Cabo." I mean, obviously this isn't anything Kristin invented, but that just proves how obsessed everyone is with her. Like, she can literally take a cliché and turn it into one of her own famous one-liners. Anyway, she danced on bars and fought with exes and we're still talking about it a million years later. So obviously, nothing scripted stays in Cabo.

Her Feud With LC
If you don't know about Kristin and LC's eternal rivalry, why are you this far into this list? Please educate yourself. As a middle school girl agonizing between Team LC and Team Kristin graphic tees at Hollister, I'd be willing to bet that most of us made poor decisions and supported Lauren. In hindsight, LC was boring AF and Kristin was the fun one. She wins the entire feud by default, byeee.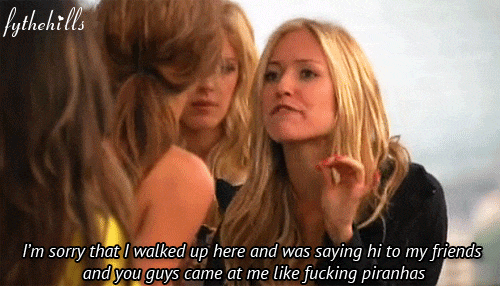 When She Was The Most For-The-Girls Betch Ever
This prob doesn't count as an official "moment," but Kristin Cavallari was for the girls before frat bros were shotgunning Bud Light for the boys. Kristin was always brutally honest, whether that meant telling someone her boyfriend was cheating on her (sorryyyyy Jessica), or that her hair looked like shit. Thanks for keeping it real since 2004.

A Definitive Ranking Of Early 2000s MTV Shows
Early 2000s MTV was television at its finest. I know there are people that love the vintage shit where it was all about music, and then millennials will bitch about how great Teen Mom is because it opened their eyes to the epidemic of teen pregnancy in trailer parks across America, but like, none of that holds a fucking candle to the days of Real World, The Hills and My Super Sweet Sixteen. It was our first taste of reality TV besides shit like Survivor and American Idol, and we wanted to be exactly like everyone on these shows, even if they were trashy and/or douchey af. There are people who say that Netflix and other streaming services have brought us to the age of "peak TV," but anyone who had the pleasure of watching Sammi and Ronnie in their first season knows that we reached "peak TV" long ago. That's why we're ranking our fave MTV shows from our youth by the only metric that matters: betchiness. Also because like, it's better than focusing on whatever tf is going on today.
10. 'Jersey Shore'
Don't get me wrong, I fucking live for a weekend-long marathon of GTL, bar brawls and Sammi Sweetheart screaming Rahhhnnn at least seven times an episode, but like, this group of guidos and the Jersey Shore in general is so not betchy. They wore shit from… Fuck, idk where you buy shit like that because I would never, but y'all know what I'm talking about. It all looked like it came from the back room at the airbrush T-shirt store they "worked" in. They had a duck land line for fuck's sake. Funny, but not betchy.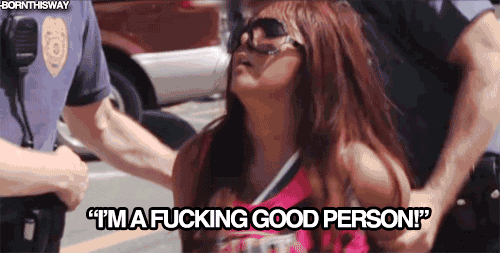 9. All Of The Dating Shows
Looking back on it, all of these shows were beyond fucked up. We think going on Tinder and Bumble is bad? Try having a fuckboy judge whether or not you're worth his time by going on a date with your mom. Dating in the early 2000s was absolute savage. There was Next, where possible datees sat on a bus together and the main suitor just said "next" after five minutes if they were bored or thought you were ugly; Date My Mom, which is self-explanatory I hope; Room Raiders so pervy dudes everywhere could judge high school girls by their underwear drawer and women could use black light technology to see exactly how much men ejaculate on stuff; and my personal fave, Parental Control, where parents who hated their kid's S.O. forced them to go on dates with other people and then they watched WITH THE BOYFRIEND OR GIRLFRIEND. I'm shook just thinking about it. Anyway, these were fun to watch, but like, if you need to go on one of these wack-ass shows to find love, you def can't sit with us.

8. 'Real World'
Real World is basically the OG reality show. If you're anything like me, Real World was the first show you watched behind your parents' backs because they didn't want you turn into an alcoholic thot like all the girls on there. Understandable. The show was entertaining af, mainly because it was a bunch of semi-hot strangers who lived together and therefore ended up fucking, almost killing each other, or saying something racist. Sometimes all three. Naturally. It was fine and we all loved it, but everyone on it was legit trash and was either forgettable or went on to compete on Road Rules or The Challenge aka is now just a desperate middle-aged fame whore. No fucking thanks.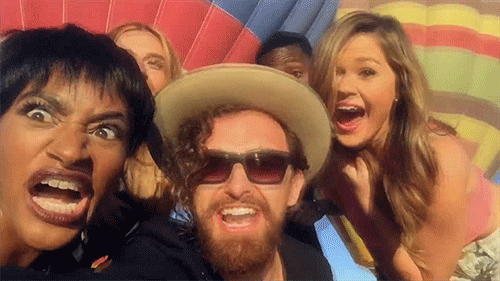 7. 'Two-A-Days'
Ahhh… The classic tale of the state-winning high school football team and their undying love for every girl on the cheerleading squad. It was pretty much just MTV capitalizing off all of us being obsessed with Friday Night Lights by giving us a way more boring real life version. I loved it at the time because I could like, relate and shit, but now it's just meh. Football captain Alex and cheerleading captain Kristin were a cute couple and all, but I would rather exercise than watch people do sports. And that's serious.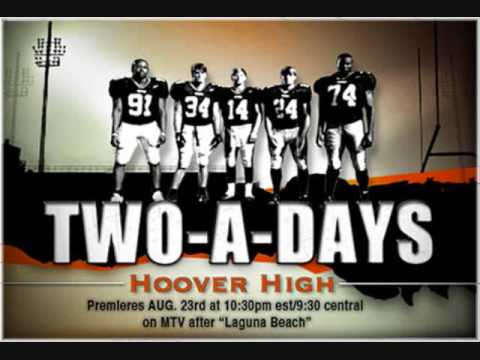 6. 'Cribs'
Who doesn't want to look in celebrities' houses and see all the tacky shit new money can buy? Hopefully no one because that shit is entertaining. It gains betch points because the whole premise is touring v expensive mansions, but loses points because there's no drama. Show me an episode of Taylor Swift's "pad" as they liked to call it and have Katy Perry or like, any of the other billion people who hate her throw a glass of wine in her face. Now that's a damn show. We need to get Andy Cohen on this, asap.

5. 'My Super Sweet 16'
It's a fucking miracle I didn't turn into a legit terror because of this show. Or maybe I did, idk. Ask my mom. But despite them being the fucking worst, these spoiled af teens were betchy. They knew what they wanted and got it. Even if it was a six figure birthday party. I specifically remember one with two girls who had Sex and the City drag queens and Three 6 Mafia performed. Like, that's legit af. But god, everyone was so annoying.

4. 'Laguna Beach'
Let's have a moment of silence for the first time we met Lauren Conrad… Okay enough of that. Who would have thought an overly bleached blonde teen that obsessed over a guy who friend zoned her for the BSCB would end up being our life idol? But here we are. There was the perfect mix of nice guys, mean girls, and people in the middle we'd actually wanna hang out with and I may or may not have tried to convince my parents to move to the real O.C. more than once. A lot like Two-A-Days, MTV just took a popular TV drama (The O.C., fucking duh) and turned it into a less exciting reality show. I mean, Laguna Beach was great, but no one OD'd in TJ or anything.

3. '8th & Ocean'
This is def one of the most underrated, forgotten MTV shows of all time. Beautiful people in a beautiful place with a decent amount of drama? I'm in. We watched really really ridiculously good looking models live together and fight about bookings and who was hotter. Riveting. There were the twins from the astigmatism commercial, the innocent new girl, the heartthrob and some more people who were there but irrelevant. In fact, is there anyway we can make this happen now? With like Gigi, Kendall, Bella, and the likes? God, I should be in television.

2. 'The City'
This show could have slid into the number one spot because of head betch Olivia Palermo herself. Was she the mean girl who treated nicey-nice Whitney like shit while they worked at DVF? Sure. But welcome to NYC, bitch. You're not in L.A. anymore. It's cutthroat af. On The City, we watched Whitney go off on her own and stop being in Lauren's less qualified but still more successful shadow. She hung with models, worked in fashion, got a scruffy boyfriend in a band, pretty much your usual basic new to New York betch starter kit. But we love Whitney and New York. And we really really love Olivia Palermo.

1. 'The Hills'
Fucking duh. Lauren Conrad went from back burner betch to HBIC in like one fucking year. Sure, there was the whole Jason Wahler, giving up Paris to live with your bf at the beach thing, but we're gonna pretend season 1 didn't happen. We naively believed that Lauren was actually an intern at Teen Vogue and that she and Brody were soul mates and that she really did coincidentally meet a hot, already mic'd girl at the pool of her apartment. Were we stupid? Yeah. But The Hills gave us Lauren Conrad 2.0, one of the betchiest of all betches.
The Definitive Ranking Of 'Laguna Beach' Cast Members
In honor of the TBT, we need to take it back to the Godfather of MTV reality dramas. Without Laguna Beach we would have never been blessed with The Hills or even The City. In case you needed reminded that you're old AF now, the first episode of Laguna Beach aired in 2004. That was so long ago Kim Kardashian's claim to fame was still that she was "Paris Hilton's assistant." Seriously. That was the year that America thought that maybe John Kerry could be president. Let that shit sink in for a minute. While you're mulling that over, we've ranked the top 10 cast members on the show for your reading pleasure.
10. Morgan Smith
I low-key loved Morgan on the show for being just the right dose of sweet and salty. Morgan was the Mormon of the group and her big drama came when she went to dramatically open her admissions letter to BYU on the beach and ended up getting rejected. Ouch. She eventually reapplied and got in later so things didn't actually turn out to badly for her. She eventually got married to another Mormon dude and now has a children's clothing company or something extremely lame. Good for sweet, little Morgan.
9. Trey Phillips
Aw, we loved Trey. While all the other guys on the show just seemed to be out to get their dicks wet, Trey was volunteering and shit. He seemed particularly woke for a high school kid from the real Orange County. Remember when he did that odd hat fashion show for Active Young America and had all his friends model his stuff? That's a classic episode of Laguna Beach right there. He seems to have turned out pretty normal. He still volunteers and is an Associate Designer for Vera Wang.

8. Jessica Smith
Jessica was probably best known for who she dated more than what she did on the show. Sure, she and Kristin were pretty good friends, but she was kind of a hot mess. She wasn't as put together as Lo and LC and she wasn't as much of a man-eater as Kristin. She kind of just dated and broke up with people as part of her character arc. She started as Dieter's girlfriend and then quickly moved on to Jason. So, yeah, technically Lauren got her sloppy seconds, so I guess that's something. She's chosen not to pursue a career in the limelight. That's probably for the best.
7. Dieter Schmitz
Dieter was to Stephen as Lo was to Lauren. He wasn't what people paid to see, but he was a solid cast member. We've just established that Dieter and Jessica dated before she moved on to Jason. I don't mean to slut shame, but this girl really made her way around the men on this show. Anyway, Dieter wasn't just Stephen's bestie, he was also pretty great friends with LC and by friends with we mean friend-zoned by. That situation kind of turned Dieter into a go-between with Lauren and Stephen. Also, I can't be the only one who feels disturbed that someone thought Dieter Schmitz was a good name for a baby human.
6. Jason Whaler
You probably remember Jason more from The Hills than from Laguna Beach, but he was totally there too. In fact, his dating drama didn't start with LC, it started with Jessica. They were the couple no one wanted to be around because they fought all the fucking time. It was probably a relief for the entire friend group when they broke up. Except, as soon as they broke up, Jessica went skiing at Mammoth and he immediately asked Alex out. That's cold, bro and high school drama at its finest. We loved it. It was actually kind of a surprise that Lauren eventually went for him, but we all know how that turned out.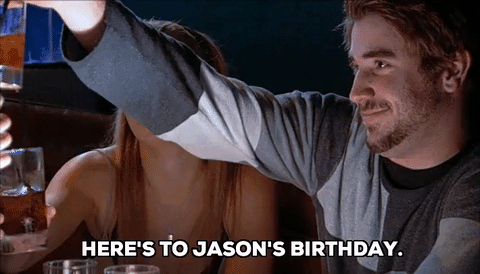 5. Talan Torriero
As far as dudes of Laguna Beach go, Talan was a safe second choice. Sure, he wasn't the total star of the show, but he was always a great sounding board for Stephen's lady drama. Not that Stephen was the only one that could pull girls, Talan was the show's resident player. Did you like how I used the word player to keep with the times of the show? I mean, I guess, nowadays we'd probably call him a fuckboy. When Kristin and Stephen were in a fight, which was basically always, she'd hit up Talan. That's a back burner bro if we've ever seen one.
4. Lo Bosworth
Lo is best friend goals personified. Even when she appeared on The Hills, she was the best wing woman LC—or anyone else for that matter—could have. Lo was super cute and laid back. While everyone else was causing drama, Lo was just chilling on the couch, ready to offer super hilarious commentary. She also kept it real, like when Lauren's parents grounded her for bad grades so she couldn't go to Catalina and Lo was like, ha well yeah, you should have gotten better grades. Even your best friends throw you under the bus sometimes and you love them even more for it.

3. Stephen Colletti
STE-Phen was the Orange County surfer boy of your dreams. What makes a person more desirable than having the two hottest girls in high school fight over him on TV? Stephen was always the most chill, even when playing Kristin and LC like the fiddles they were. He was also just a standup dude in the friend group, except for that time he called Kristin a slut for dancing on the bar in Cabo. Relax dude, what happens in Cabo stays in Cabo, remember? He was always invited to everything and, much like Ke$ha in 2009, the party didn't start until he walked in. Add in a puka shell necklace and and his dark hair and he was a gift to every girl the early aughts. He later went on to start in One Tree Hill, but it was, like, after Chad Michael Murray left so no one cared anymore.
2. Kristin Cavallari
Guys, we know Kristin was ahead of her time because she's wearing a choker in like every episode on the first season of Laguna Beach. She was the spunky junior that hung out with all the seniors and dated the heartthrob of the group: STE-Phen! She hated LC for her nice girl ways and was always the first one to dance on the table, errr, bar in Cabo. Even though she was painted as the villain on this show, she kind of turned things around by the time she got on The Hills. Now, she has like 19 kids and is married to Jay Cutler, so she seems to be doing all right for herself. Also, she tried to make removable bangs happen. Let us not forget.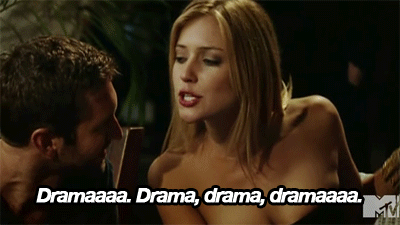 1. Lauren Conrad
We give Lauren the top spot even though she was kind of the nice girl juxtaposition to Kristen's bad betch. Lauren was the girl you actually wanted to be friends with when she was on Laguna and then again when she took the star spot on The Hills. Whether she was driving Kristen crazy by going on dates with her boyfriend or having a weird, mascara-laced cry over a sex tape rumor or some shit, Lauren was captivating to watch. Thank god for this show because Lauren staying in the limelight has #blessed us with a couple pretty decent clothing lines and probably one of our favorite Insta follows. Now she's running some sort of lifestyle empire, married to a lawyer, and expecting a baby. We're glad things turned out so well for LC.