Shopbop's Annual Spring Sale Is Here, And These Are The Pieces We Want
Since I am an underpaid peasant, most of my clothes are from Zara. Tbh I have nothing against Zara because I like looking fancy as f*ck in my crisp, cropped blazer over my tea-length flowy skirt, and knowing that I spent less than $100 on the lewk. However, as I enter my 27th year, I want to wean myself off of fast-fashion and invest in higher-quality pieces, AKA shirts that won't unravel on the gentle cycle of my washing machine. That said, I'm not about to walk into Saks and buy myself a new wardrobe because, like I said, I'm poor. The solution? Shopbop's bi-annual sale! 
Now, if you're not familiar with Shopbop, climb out of the hole you're living in and join society. Shopbop, which finally has its own storefront on Amazon, carries literally thousands of designers that are perfect for people who want to graduate from Zara but not quite reach Saks. Shopbop is affordable and that is why I love it on any given day; obviously, I love it a little more when everything is up to 25% off (with the code SPRING). If you get overwhelmed easily, allow me to share our favorite things on sale, and make sure to buy before the sale ends on March 8th!
Shoes

Rag & Bone Razor Booties, $495
I am that annoying girl who wears boots in the peak of summer and guess what, idgaf. I have no shame in my game because boots—booties, to be more specific—are stylish all damn year. Rag & Bone sells all sorts of stuff, but the brand is most-loved for its amazing leather boots. My bank account weeps every time I admit that I own three pairs, but there's a very logical reason for that! The leather is thick af, which makes me feel a little fearless when I wear them because they're basically indestructible. I will say, though, the white definitely gets dirty, so make sure you get yourself a good leather balm to keep them clean. 

Soludos Lauren Espadrille Sandals, $85
I never would have bought these because they are obviously a tad loud, but I got them in one of my Trunk Club boxes and they are literally my favorite shoes. They are so f*cking cute and they surprisingly go with everything. I've worn them with a pale blue fit-and-flare dress, I've worn them with denim cut-offs and an oversized white tee, and I've worn them with skinny jeans and a cropped denim jacket. Seriously, they're more versatile than they seem. The only tiny issue is that they are definitely not made for long strolls. They do have a rubber sole, but it's very thin, so be careful where you wear them. Other than that, they're perfect.

Schutz is the underdog of shoe brands because I always forget about it when I'm on the hunt for a specific style, but they always end up having the exact pair I'm looking for. I have a pair of kitten-heeled boots, silver ballet flats, and sky-high, strappy stilettos from Schutz (can you tell I have a shoe addiction?) and the one thing they all have in common is that they are f*cking comfortable. Like the Soludos, they aren't meant for a walk along the beach, but if you are going to a dressy event and know you'll be on your feet for most of the night, these babies are the move. 
Tops

Tbh, I can't really say why this top is speaking to me so much because I haven't worn a crop top since 2012, but there's something about this hot pink number that I absolutely love. I would probably wear it with an aggressively high-waisted skirt, but I am also loving the way the model is wearing it. Even though it's obviously a very specific look, you can pack it for a trip and wear it a few different ways. I would, however, make sure it's the highlight of the outfit because anything that would compete with a top like this wouldn't be a good look. 

Stateside Poplin Twist Front Shirt, $162
I have a weakness for white button downs. Whether they're boyfriend style or super crisp, I don't even care. I want them all—especially this one. I am absolutely loving the menswear vibe and think it would look chic af French tucked into a pair of tailored bootcut jeans. A classic white shirt is timelessly elegant, but I love that this one has a little bit of a style moment with the subtle twist on the front. Obsessed. 

Birds of Paradis Carla Blouse, $218
For the record, I would not classify my style as preppy, but I appreciate very preppy pieces when they're paired with something a little grungy. For instance, this top, which screams Blair Waldorf circa season one, would look amazing with a pair of distressed boyfriend jeans and a pair of beat up high-tops. Or, of course, you could go the more neutral route and wear it over a pair of skinny jeans and metallic flats. Either way, this top wins.
Accessories

I am a big earrings gal and I am proud to admit that I have about a million pairs. It's a rough estimate. Anyway, as you can guess, I have multiple piercings and I would probably wear these with a few studs or smaller hoops in my other holes. **Cringes** These are a nice, contemporary shift from the classic gold hoop and I'm definitely into it. They aren't the kind of earrings someone will stop you on the street to ask about, but they can be the finishing touch on any look. Next!

Botkier Cobble Hill Mini Crossbody Bag, $198
If color scares you, fear not because this very chic bag also comes in white with a tortoise shell handle.  Tbh I love the yellow because it's attention-grabbing, but not too in-your-face because it's pretty pale. Another thing I love about this bag, aside from the sharp, structured shape, is the fact that the leather is textured, as opposed to smooth. If you're wondering what the f*ck difference that makes, let me just say, it makes a huge difference because all you have to do for smooth leather to scuff and scratch is, like, breathe near it. Textured leather, however, is tough af and, in my experience, is incapable of scuffs/scratches. 

Krewe Prytania Sunglasses, $275
I lose every pair of sunglasses I come into contact with, so I never spend too much on them. These are definitely a little bit of a splurge, but they're so stylish and timeless that I will put extra effort into not losing them. Of course, these will look good or horrible depending on your face, but this oversized rounded square shape is generally pretty flattering. The tri-color detailing on the upper rims make them a serious fashion find.
Dresses

FARM Rio Mini Cashew Mini Dress, $155
Yes, this is a dress with a cashew pattern, but it's so cute that it's nuts! I hate me, too. Personally, I think all dresses with a snatched waist like this are flattering regardless of your body type. You obviously have to be pro-color if you're going to buy this dress, but one thing I love about the palette is that it's pretty muted. This is something I'd wear to dinner on a beach trip with a pair of straw wedges and a big-ass pair of sunglasses.

LOVESHACKFANCY Edie Dress, $295
I don't know how they do it, but the designers at LSF make extremely flattering and sexy peasant dresses. This is the kind of dress, though, that would only look good in white. If it were in any other color, it would look like a nightgown my grandma would love, but in white, it looks like something a Grecian goddess would show up to brunch wearing. The eyelet details and the high slit in the front make it young-person friendly, and I am excited to wear it since I fully just purchased it as I am writing this article. I'd wear this with a pair of lace-up flat leather sandals or a pair of cork wedges. I seriously cannot get enough of this dress; it better fit me.

Z Supply The Reverie Dress, $60
As you can tell, I like a good oversized piece of clothing, and this dress is no exception. I love that it's cotton because that means I can get away with wearing it as a cover-up to the beach and to dinner later that same day! It is my personal opinion that everything looks good with heels, but I actually think this dress would look pretty stupid with anything other than a sensible flat. The dress is so casual that trying to dress it up with any type of heel just wouldn't work.
Images: Jakob Owens / Unsplash; Shopbop
Betches may receive a portion of revenue if you click a link and purchase a product or service. The links are independently placed and do not influence editorial content.
5 Office Holiday Party Outfits Your Work Crush Will Def Notice
I don't mean to sound like the Grinch, but office holiday parties are the absolute worst. You have to work all day with these people, have three mental breakdowns in the bathroom (that may or may not be caused by these same coworkers), and then have to socialize with them? You have literally nothing in common with Karen from HR and you know she won't shut up about her kids. Throw alcohol into the mix, and you're playing a dangerous game. How do you drink just enough to tolerate Karen, but not so much that you'll end up blurting out that nobody cares about little Jimmy's baseball game? Not to mention, your invitation says "dress festively." What the f*ck does that even mean? More importantly, how can you slut it up to catch the eye of the office hottie without getting reprimanded by your higher-ups? Not to worry, I have plenty of office holiday party outfits for you so that once when Karen stops yapping about how smart her 2-year-old is (doubt it) you can add in how inexpensive your dress is and how you plan on sleeping with Brett in accounting. Just kidding, maybe don't mention that last part out loud to anyone except Brett in accounting.
3 Summer Shoe Trends You Can Wear To The Office
Figuring out what shoes to wear to the office is difficult, especially in the summer. Like, is Richard in accounting going to get his delicate sensibilities offended by the sight of my bare toes? But at the same time, why should I have to sweat my feet off in close-toed heels? Let's start with what you shouldn't wear. Anything that resembles something you would find in a retirement home is a no-go. Feel like that should go without saying, but figured I'd spell it out for you so there's no confusion. The basic rule here is that anything that looks too comfortable is also probs too ugly.
Now that I've laid the groundwork of what not to wear, let's discuss some alternatives to your tacky Naturalizers. Shoes are something worth investing in, especially shoes to wear to the office, because you're going to be wearing them every day. If you wear crappy shoes, then no one is going to take you seriously (and your feet will hurt). You can say looks don't matter all you want, but how you choose to present yourself undoubtedly affects people's perception of you. And, if perception didn't matter, then you wouldn't have spent two hours doing your makeup for the beach, just to get a bikini pic for your perfectly curated Insta feed. So we can agree—how you look does matter. That being said, you don't need to spend tons of money on your shoes, but you do need to take the time to make sure you're finding quality ones.
Finding stylish shoes to wear to the office is especially hard during the summer, but luckily, you have me. These shoes are work-appropriate and won't leave your feet sweaty and gross, and they also won't leave you with an HR complaint.
1. Mules
Fortunately for you and your otherwise pitiful office wardrobe, mules are currently back in style. This is great because they're, like, legit everywhere right now and there are some really cute styles out there. Mules look great with everything from your tailored pants to your pencil skirt. And, most importantly, the open back allows your foot to breathe. I probably would stay away from the open-toed styles unless you know for sure your office is okay with that, and even then, I'd probs stick with a more subtle peep toe. Like, woahhh don't want to be considered the office slut because you're strutting around the office exposing your bare toes! Just use your best judgement and be mindful of your office's "culture."

Jeffrey Campbell Complete Plaid point toe pumps

Dolce Vita Cinda point toe mule

2. Open Back Flats
To quote Hannah Montana, you get the best of both worlds with open back flats: no heel (more comfortable) and no back (more breathable). Open back flats look polished and professional. There's just something sweet and innocent about a flat—like, no one would suspect that the girl in flats spent the majority of the workday in the bathroom scrolling through Instagram…speaking for a friend of course…

Rebecca Minkoff Alexis Bow point toe flats

Raye x Stone Cold Fox Kensie slide

3. Slingback Pumps
As much as I hate to say it, this may be the only time and place where kitten heels make sense. Slingback pumps are the perfect summer shoes to wear to the office because they offer a breathable open back heel, plus a strap around the ankle so that you can actually walk in them. Please don't make it weird by wearing  full-blown stilettos to your 9-5. Who would have thought Caila Quinn might have been on to something with her kitten heels? Turns out, there are actually a lot of cute styles of slingback pumps with kitten heels that aren't basic.

Sam Edelman Ludlow slingback pump


Linea Paolo Carly slingback pump
In addition to those, you could also toss in a loafer or a short ankle boot to wear to work in the summer as well, but just know they're a lot less breathable. I gave you a fuck ton of suggestions for each style of shoe, so if you don't like any of them, this is no longer my problem.
Images: Shopbop (5); Revolve; Nordstrom (3)
Betches may receive a portion of revenue if you click a link in this article and buy a product or service. The links are independently placed and do not influence editorial content.
5 Exercises To Tone Your Legs So They Look Amazing In Heels
Not only is it Chrismahanakwanza season and gain 15 pounds season, it's also holiday party season. That means that more than likely, at some point in the next month, you will have to dress up in some sort of cocktail attire and squeeze your blistered, frozen, malformed toes into heels. But all those cookies likely didn't do much good for your calves. You may be waltzing around sporting some cankles for all I know (gross).
Because this is the time of giving or something, here are five ways to get your legs heel-ready without having to go to the gym with the other losers promising themselves that this is like, REALLY the year they're going to lose 10 pounds. Stop lying to yourself—I'll see you at Taco Bell in February.
1. Planks With Leg Raises
Ugh, planks. Get into plank position, but lift your right leg up so it's at least parallel to the floor, higher if you can. Put it back down and do the same with your left leg. Keep doing this till you die (or for 10-15 reps per side, whichever comes first).

2. High Knee Toe Taps
Grab a chair and put your hands on your hips like you mean it or something. Tap your left food on the bench, then swap and tap your right foot. Do this until you're so tired you can't breathe. This is more of a cardio exercise than a leg move, so go fast, like you're running away from a guy who puts "good vibes only" in his Hinge profile. Anyway, with this exercise, go for bursts of 30 seconds and work up to longer intervals.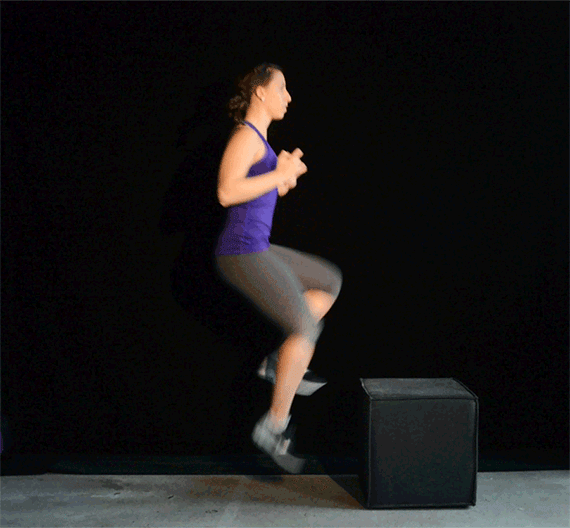 3. Side Lunges
You should know how to do a lunge, and if you don't? Shame. Stand with your feet together, then take a big step to your left—bending your left knee and pushing your butt back—while keeping your right leg straight. Repeat on the other side, and alternate until the lure of cookies outweighs your desire to look nice. 10-20 reps per leg should be enough.

4. Inverted Inner Thigh Openers
These are my fav cause I can lie down and pretend I'm not actually working out. Lie on your back with your knees bent and feet flat on the floor, then lift your right leg up, keeping your thighs touching, and extend your leg up to the ceiling. Lower your right leg—still straight—out to the right side as far as you can without moving your hips off the floor. Repeat with your other leg until your boyfriend/husband/roommate comes in and laughs at you, or 10-20 reps depending on your fitness level.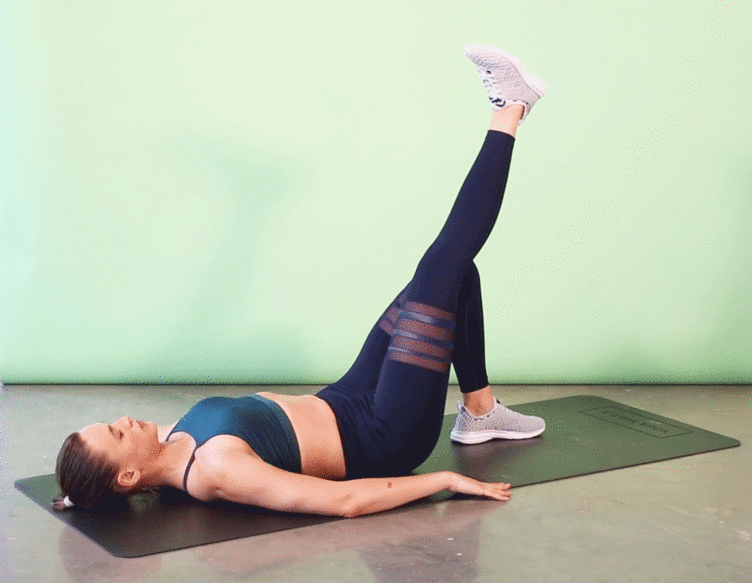 5. Lying Side Leg Raises
Like planks, but easier! Lie on your side with one arm flat on the floor in front of you, or propping up into a side plank for some additional ab work. Leave the other arm at your side, behind your head, whatever is easiest. Place one foot on top of the other with your legs out completely straight. Keeping them straight, raise your top leg until you like, can't bring it up anymore, then bring it down. Do this 10-20 times on one leg, then switch to the other side until you feel like you've reached a new plane of consciousness via exhaustion.

Trendy Summer High Heels That Are Comfortable Enough To Day Drink In
NGL, I've never been a shoe person until like, this year. I know, who even am I? Luckily for me, I left that dark period behind. I went from having a solid five pairs of shoes I used for every occasion, to having my own shoe closet—aside from my wardrobe, duh—because I'm basically Carrie Bradshaw now (or so I tell myself). This season's shoe game has been my fave ever since the naked shoe got serious upgrades (thanks for the trend, Yeezy), and velvet block heel sandals became a thing—because anything in velvet is always better, don't fight me on this. From time to time, I enjoy sporting Adidas and strutting in ballet flats even in unbearable heat, but when I'm trying to capture the very essence of a well overdue blackout in broad daylight, I need some wedges and heels to stumble around in. I mean, despite how many times I say, "I'm totaally fiiine, baarely tipsy," how else would my friends know to cut me off from ordering another shot?
Because you should look good from head to toe for all of your day drinking affairs, here are the cutest shoes you should most deff add to your (already existing) cart:
First and foremost, your basic wedge is a necessity so if you don't have one by now, hell yeah, I'm judging you. Get yourself a pair in a nude color so you can wear them with multiple outfits. These espadrilles are perfect for wearing with ass-flattering dark jeans or a lightweight summer dress.

With a heel just a little under 4 inches, you can easily slay the shit out of these wedges. They come in a crisp ivory with lace-up ribbons and fringe detailing. Can these be anymore summery? The street is your runway, so flaunt these as dramatically as you want. You are Beyoncé, always. Don't let anyone tell you differently.

For a long time, kitten heels were only worn by Paris Hilton and the woman in your office who works in accounting. But, now they're like, cool, chic, and modern so it's socially acceptable to wear these out again. These suede heels come with a bow ankle strap in a neutral sand color that makes throwing them on last minute really convenient.

These block heels take a modern twist on the adored chunky-heeled sandal. This black (hallelujah) pair is finished in suede and comes complete with a clear plastic band, combining this summer's hottest trends. At 3.5 inches, the thick heels will have you comfortably stumbling all night long.

The "nothing shoe" trend is still very much a thing. I'm not saying you should go berserk and buy some plastic thigh-high boots that honestly make you look like you Saran Wrapped yourself. However, a transparent slip-on heel says you still know your fashion shit, and you're also very down-to-earth because without them you're basically barefoot. I guess they're also cute because they show off your fresh pedicure, and partly because Kim Kardashian made it happen.

Because graphic tees aren't enough, graphic wedges are coming around in an assortment of designs and patterns so don't say I didn't warn you. Whether they're covered in cacti or rays of sunshine, the fun style will add bright colors, flair, and originality to any lame-ass simple outfit.

The Cutest Low Chunky Heel Sandals For Summer That Won't Cause You To Break An Ankle
For the past year or so, I've been pretty excited about the fact that fashion trends have been getting increasingly comfortable. We all just pretty much wear leggings and sneakers everywhere, which I'm sure would bring tears of joy to the eyes of all the historical betches who fought so we could wear pants instead of like, corsets or whatever. (I'm here to write about current fashion trends, so if you want a history lesson, you're gonna have to hit up Google. Sorry.) Because we're all lazy as shit and would rather lay in a cocoon of blankets three inches from a MacBook Pro screen while we re-watch Gossip Girl for the eighth time than go outside, fashion designers realized they should probably make some stuff that we're actually going to buy. I mean, I'm assuming that's the reasoning behind this summer's chunky low heel trend. My second best guess is that the Bumble bros are tired of having to lie about their height in their bios and are on some secret mission to lower the average heel height, but I seriously doubt that anyone who is seriously invested in a dating app is making significant moves in the fashion industry.
Anyway, here are a few pairs of shoes with low chunky heels that you should prob buy if you're looking to avoid clunking around in dated six inch stilettos all summer. Please note that this is not a green light to wear fucking kitten heels. Nobody, with the exception of middle school guidance counselors, has any business creepily hovering half an inch above the ground. The following pairs of shoes have low enough heels that you can walk into your roommate's room to ask if she likes your outfit without twisting an ankle, but as a rule of thumb, they should still be tall enough so you have to run to your Uber that's been waiting for 10 minutes with some difficulty.

Aldo describes these as having a "hammered, metallic heel," so they're basically perfect for when you're hammered at brunch and nobody else is. With a hammered heel, you'll never feel alone. (Kind of.)

These sandals have a pin stud detail on the ankle ties, which gives them a badass vibe without being too much. They're pretty much perfect for the betch whose closet consists of a nice mix of basic, feminine styles and band tees from musicians she's unfamiliar.

If you follow even just one college betch on Instagram, you've probably already seen about nine million variations of this shoe in graduation pics alone. Don't let that steer you away, though. It just means they're great footwear for being drunk in semiformal situations.

Red is definitely having a moment right now, and I genuinely believe it's because there are so many great red emojis to use as captions on your outfit Instas. These heels are cool because they definitely have like, elements of what comes to mind when you picture a stripper shoe, but they're only three inches tall and have some ruffle details that make them appropriate for your daily life.

If you're only going to buy one pair of heels this summer (moment of silence for how unrealistic that scenario is), it should be these. The classic ankle strap heel has been a staple in every betch's closet for a few seasons now, and this pair is updated with a chunky two inch heel for summer 2017.

These heels are actually four inches tall, which I guess isn't really considered a "low heel," but I'm probably not the first person who's ever told you a white lie when referencing the length of something in inches. These will probably make your feet sweat and fog up the straps but if Kim Kardashian can strut around Calabasas in a more expensive version of these, you can wear them to the club for one night.

These shoes are kind of a cross between the ankle strap and wraparound designs that most of the popular heels have this summer. They're called the Christy City Sandal, which probably sounds like something that should be semi-comfortable. If you've ever had to walk more than two blocks in New York City during the summer you know that there really is no such thing as a comfortable shoe, so you should probably just accept the fact that you're going to have blisters no matter what you wear.