It's Official—These Are The Best Nipple Covers on the Market
Betches may receive a portion of revenue if you click a link and purchase a product or service. The links are independently placed and do not influence editorial content.
Get ready to wear your favorite tops and dresses (even the tricky ones) without any bra straps in sight. The Nippies Silicone Nipple Covers are the ultimate "barely-there bra" that'll keep you comfortable and confident in any outfit. These amazing covers are made from premium silicone, offering a seamless look underneath clothes. Plus, they come in different sizes and a variety of colors to perfectly match your skin tone.
Let's face it—wardrobe malfunctions are annoying, but you can make them a thing of the past with Nippies Silicone Nipple Covers. They've got your back (or rather, your front) when it comes to reliable coverage and invisible support. These covers are super lightweight and they stick-on for hours. Yes, even if you're jumping around at a nightclub or in a humid climate.
With these, going braless is a breeze. The ultra-thin, smooth silicone material seamlessly adheres to your skin, creating a natural appearance. Whether you're wearing sheer or thin fabrics, these covers blend perfectly, ensuring that nothing peeks through.
Let's talk comfort, shall we? These nipple covers are all about keeping you comfy. They're obviously soft and flexible, so they feel gentle against your skin, ensuring maximum comfort without any irritation. Plus, they're designed to be breathable, allowing your skin to do its thing naturally.
No need to stress about applying or removing Nippies Silicone Nipple Covers—it's a breeze. Their self-adhesive backing securely adheres to your skin, ensuring they stay in place throughout the day or night. And when you're ready to take them off, simply remove and wash them with mild soap and water. With proper care, these covers can be reused multiple times, making them not only convenient but also cost-effective.
These are the perfect accessory for a wide range of outfits. From backless and strapless dresses to plunging necklines and swimwear, they've got you covered (quite literally). That skimpy halter top that you've been dying to wear will finally get its chance in the spotlight.
And, guess what? These come in colors that match all skin tones. You can choose from a variety of shades to find your perfect match, ensuring a seamless and natural appearance. These covers effortlessly blend with your skin, providing an undetectable finish that really remains hidden, no matter how exposing your top dress is.
Now you're in on the secret—Nippies Silicone Nipple Covers are the must-have fashion accessory for your summer wardrobe and beyond. With their reliable coverage, invisible support, and natural-looking results, these covers are the real deal. It's like they're tailor-made just for you and your nips.

The Best Lingerie For Your Body Type
Lingerie is low-key one of the best inventions of all time. It's like, these fun little pieces of underwear you can wear under your regular, everyday clothes without anyone knowing that you're actually living out your goddess/stripper/girl from a rap music video/whatever you want to call your personal sex fantasy goals while just walking around in society. Or, you can wear it without anything over it to seduce someone. OR you can even just wear it while you watch The Office alone in your living room with a tub of cookie dough while your roommates aren't home. That's the beauty of lingerie. You can do whatever the fuck you want with it. Here are a few ways to step up your lingerie game depending on your body type.
If You're Really Busty…
Strappy little bralettes definitely aren't going anywhere anytime soon, which kind of sucks if your boobs weigh more than a rice cake. It can be really difficult to find interesting bras for big boobs, but ASOS Curve has a few expertly engineered styles, so you can rock that trend without slicing your shoulder in half.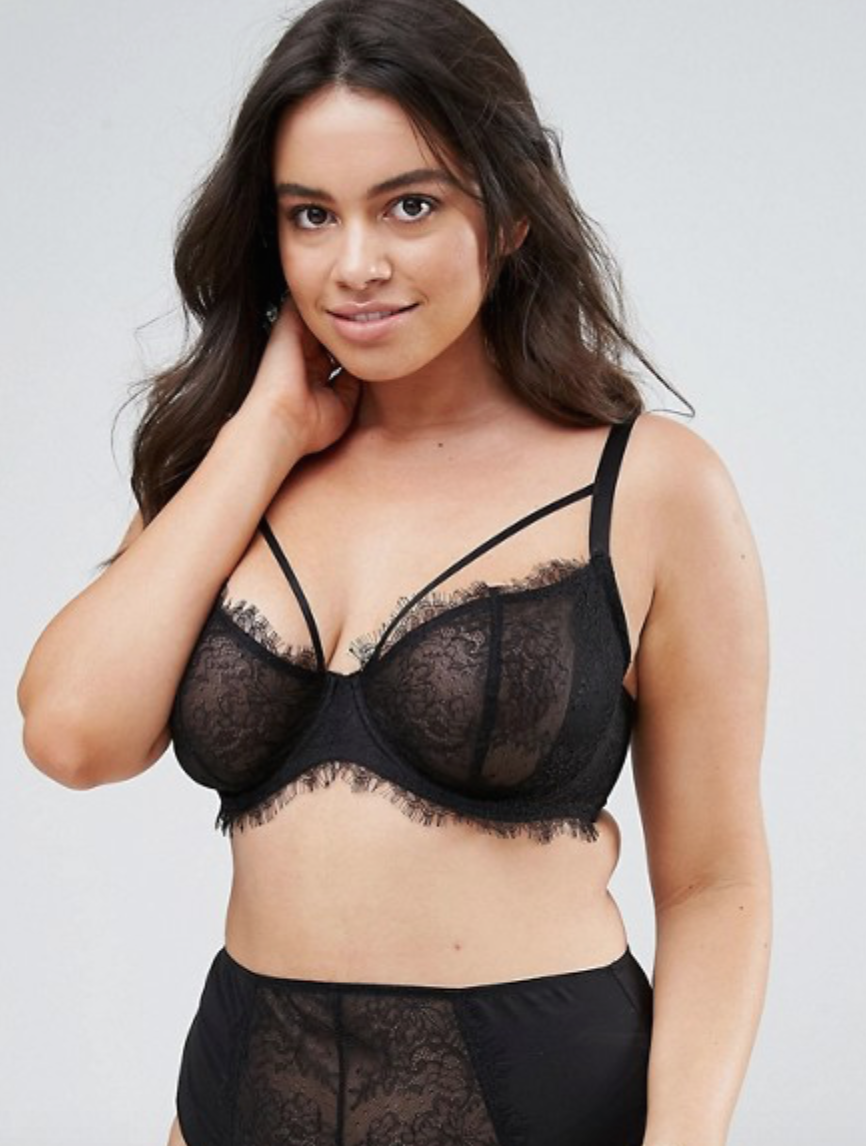 ASOS Curve Eyelash Underwire Bra
If You Want To Look A Little Slimmer…
When bodysuits and one pieces first became popular again, we were all like, "Holy shit, yes, this means we can go back to eating bread!" Then, we actually started trying that shit on and realized they have the potential to be as unflattering as your middle school field hockey warm-ups. Look for bodysuits that create subtle optical illusions, like this one that will make you look slimmer because the lace panel stretches around to the front, creating a false silhouette that is smaller than your natural waist.

If You Actually Kind Of Hate Lingerie In General…
Lingerie doesn't necessarily have to be little lacey pieces of string, so if that doesn't sound like something you want to spend your money on, there are tons of other options. Just seek out styles that are typically flattering on everyone, but in new materials. For example, literally everyone in the world looks good in a sports bra. It's just like, a thing. This grey velvet bralette is basically the sports bra you try to sneak under all of your clothes, when you know nobody's going to see it, except you'll actually want to show it off because it's really cute.

Out From Under Catalina Velvet Bralette
If You're A Proud Member Of The Itty Titty Committee…
Like I already said, strappy, delicate bralettes are literally everywhere these days, and chicks with small boobs are lucky AF, because they look good in all of them. However, if you want to pull some tricky shit to make your boobs look a little bigger, you might want to get creative. Skip heavily padded pushups with a ton of underwire, because they're super uncomfortable and the scam will be totally obvious once you take it off. Instead, opt for a high neck bralette contraption thing that has so much going on that it's just like, "Yeah, there are definitely some boobs in that mix, right?"

If You Have A Little Booty…
If I could live in a different decade, I would pick literally any era where little butts were a thing that people got excited about. Since I don't have a time machine or butt implants, I've settled for buying underwear that makes it look like I have a butt. These are my favorite things ever, because they have a wide waistband to make your stomach look flatter and ruching on the back to make your butt look fatter. They're literally amazing and I swear by them forever.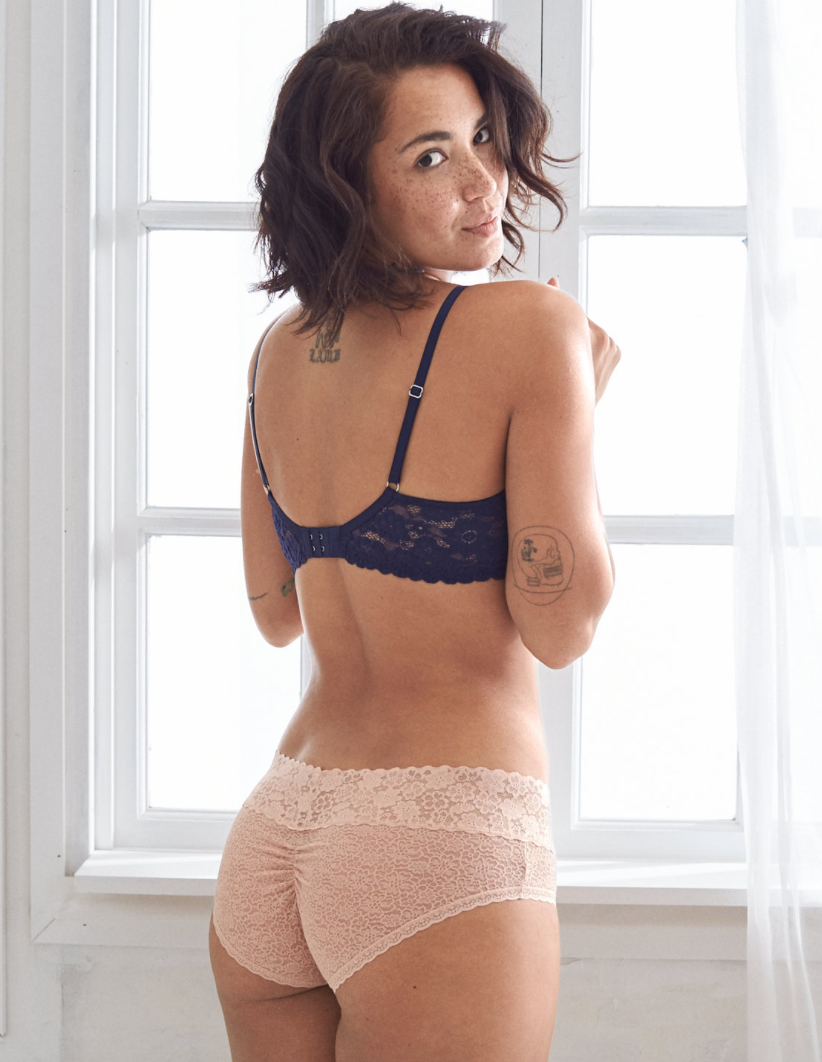 Ridiculously Hot Lingerie That Will Make You Feel Like A Victoria's Secret Angel
It's officially fall (she says while sipping an iced coffee in 71 degree weather), and that means the season of lingerie as outerwear is coming to a close. In fact, if you're kind of flat-chested looking to keep your feud with HR alive and well, the oversized sweater rotation you wear for the next six months may even be a bra-optional situation. The good news here is that your lingerie no longer has to serve any kind of functional purpose (unlike in the summer, when the lacy bralette showing through your drop-armhole tank had to somehow also offer full support and not make you sweat uncontrollably). So, now is the time to stock up on all the lingerie pieces that can't really be worn outside the house, but when's the last time you really wanted to leave anyway? Stay in and stare at how amazing your boobs look Snapchat your latest Bumble date with one of these pieces peeking out; it's basically guaranteed that he'll help make sure you don't have to leave bed.
If you're feeling nostalgic for your Lara Croft Halloween costume, and you're not quite ready to give up that level of dangerous/sexy, this is the lingerie for you. While I know this isn't exactly a budget piece, I once bought an Agent Provocateur corset and my parents rightfully froze my bank account it's honestly the most joy I've ever gotten from a single clothing purchase. If you choose to buy this bodysuit, prepare to set aside the next six hours to saunter in front of a mirror, drink champagne, apply red lipstick, and masturbate furiously whatever else you do when you're basking in the glow of your own hotness.

Warning: This is not for anyone with a cup size of over a B (sorry!). Given that it's composed of about 12 inches of floral lace and some black silk ribbon, this is the G-string of bras (except a thousand times cuter than whatever you think of when you hear the term "G-string"). Throw on your softest cashmere cardigan, unbutton half the buttons, and add some over-the-knee socks for the perfect "fell out of study hall and into your librarian porno" fall look. Or, wear it under a silk robe at home for some disingenuous "casually unwinding with a bubble bath in the background" Snap stories.

If you're looking to channel your inner Cheryl Blossom, I can't think of a better way to go than this La Perla bodysuit. You might not have her red hair or perfect red lipstick, but you know this is what Cheryl would wear if her scheming ever required elaborate seduction (please let that happen, and please let her hold some kind of terrifying prop, like throwing stars or a musket). Where the Agent Provocateur bodysuit requires more of a Hadid level of body confidence, this bodysuit offers a little more support, coverage, and overall flattering fit. Plus, the fact that it's November means everything you see is going to be Christmas themed by like, tomorrow, so this red is basically a seasonal necessity.

I couldn't help myself, I had to include more than one Agent Provocateur piece on this list. The eyelash trim, the tulle "wings," the satin bows—everything about this bra is so delightfully extra and such a necessary gift to yourself. I'm not even sure you could wear this bra under a shirt if you wanted to; it would be the up-top equivalent of the panty lines you'd get trying to wear these matching panties. So if you're in any way trying to stock up on functional, versatile pieces, this is not the look for you. This set is designed to be worn with nothing else, and is a good surprise for someone you feel romantic enough about to go for a soft navy instead of classic black.

As temperatures continue to drop, there are going to be people who tell you it's time to descend into sweatpants and fleece blankets and not come out until May. Those people are wearing cotton boyshorts from Old Navy, and you don't need that kind of negativity. Stock up on a little lace and enjoy the fact that being this hot doesn't stop on Labor Day.
5 Strapless Bras That Won't Fall Off Throughout The Day
I not only hate bras more than the average woman, but I especially loathe strapless bras. I mean, I think I speak for everyone here when I say they don't actually do anything for a barely-there chest other than cover your nipples (if that). Like, hello, just because you're strapless doesn't mean I can't have some motherfucking support and perkiness to fool everyone into thinking I'm two cup sizes bigger than I actually am. THEN, when I actually find a strapless bra I can tolerate, it stretches out after two minutes of wear and literally falls down to my hips. Now, before you blast me with feminist "free the nipple" comments—because yes, I know, it's 2017 and we don't actually have to wear bras to begin with—some of us (hi) aren't cool with letting the nip hang out during adult-like such as my job, so therefore, a strapless bra becomes a necessity. Also, you can't just wear a normal bra with straps under an off-the-shoulder-top. Otherwise:

For the cooler temps and halter top weather to come, here are the best strapless bras that won't fail you for once.
This is a non-bullshit bra from a non-bullshit company. From women who truly understand how annoying and ridiculously expensive bra shopping can be, Harper Wilde has created bras that fit our needs without the bullshit of lace, frills, and sharp sequins. The everyday strapless, The Flex, comes in neutral shades to layer underneath the most delicate tops. It features a no-slip seam, because bras are not belts, and has light padding to keep you lifted all day long.

This is basically a bandeau and bra rolled into one. It's super lightweight and comfortable, so honestly, you may even forget you're wearing it. The shades, nude or black, are each perfect for layering under light blouses. It comes with a secure underwire as well as molded cups and removable padding. Bless.

There's a reason why this bra is rated number one and known as one of the best strapless bras known to woman. It's actually a multi-way bra, which if you've ever even stepped foot into Victoria's Secret, you'd know that it comes with two straps, but both can be converted to fit whatever style top you're wearing. Life-changing, I know. This bra is ultra light, seamless, and created to provide the most natural look from office #mood to happy hour shenanigans.

Speaking of Victoria's Secret, our fave underwear store also makes a great multi-way bra. The fully adjustable removable straps can be worn five different ways for the utmost comfort and support, regardless of the bodysuit or shoulder coverage your outfit provides (or doesn't). It comes with a memory fit (designed for your tatas only) and lightly lined cups for max support. It comes in a shit ton of colors, including this pretty lace you can def get away with wearing as a bandeau.

The contouring bra provides extra comfort and support for the most natural-looking, perky twins you could ever ask for. The "age-defying" bra assures your boobs will never sag for as long as you wear it. The seamless appearance eliminates under-shirt bulging and awk gaping between your skin and the bra itself. It stays put all day and will *finally* be the answer to all your strapless bra prayers.

5 Summery Bralettes You Can Wear As Shirts Because Boob Sweat Is The Worst
Despite the sweltering heat, summer is def the best season because it's the one time a year a girl can dress up like a total slut and no other girls can say anything else about it. Is it really summer if you don't see a group of basic betches like myself at like, some music festival on Randall's Island in short-ass shorts with their ass cheeks hanging out? Um, fucking no. Not only does summer coincide with every girl looking like clones of Vanessa Hudgens at Coachella, but add in a progressive feminist movement à la #FreeTheNipple and the concept of not wearing a bra is basically as forced upon us as an irrational unicorn obsession.
If freeing the nip is all the rage, then you may as well join 'em because I know the first thing you do when you get home (after drinking wine out of the bottle), is toss your bra onto the nearest surface. With summer fashion requiring so much boobage, the last thing you need is horrible boob sweat. Like, no fucking thank you. But even if you skip the bra, you don't have to flash the whole city and feel as though you're lactating with the replacement that is a versatile bralette. Here are 5 comfortable, sexy styles to wear this summer because slutty is in fashion rn no one likes wearing bras and boob sweat is fucking gross.


Black lace bralettes are literally a must-have, regardless of the time of year. It's black (fucking duh) so it not only fits in with the rest of your entire wardrobe, but if you're into the mesh/see-through everything trend, this is perfect to use for (minimal) coverage. Since it's wireless and v comfortable, you can layer this under an oversized crop top if you know you'll be showing some major side boob.

This neutral style fits like your fave bandeau—except without the whole falling down, having-to-pull-it-up-every-five-seconds thing. Wear this under a trendy T-shirt dress for a casual daytime look. To really look like you know WTF you're doing, pair with dark jeans under a longline jacket in hopes your street style game is half as good as Kendall Jenner's.

If you're like me and feel as though you could have a nip slip at any moment with a tiny piece of fabric, this one is designed to keep your boobs in check regardless of their size. With size options that go all the way up to G, you can layer this bralette with or without straps and still slay the dance floor—or so tequila makes you believe.


With a style as lightweight as this, you'll have a refreshing breeze every time you wear it so you can at least feel assured that you won't get a sweat stain in the middle of your chest. Wear this bralette under a plunging bodysuit or jumper for an equal balance of pretty and hoe (which incidentally is my Tinder bio).


This probably looks like that high-neck bralette you got at Victoria's Secret and that's because it basically is but like, this one is so much better. Unlike some rough shit that scratches you every time you fucking move, this sheer lace feels comfortable and secure enough to lounge all day in. Wear alone as a shirt with denim cut-offs or wear under a denim jacket to your next music fest.
How To Wear Lingerie Without Looking Like You're Trying Too Hard
Wearing lingerie without looking like you're trying too hard is extremely difficult to achieve, mainly because lingerie at its core is one of the most extra inventions in history. Like, somehow, someone created an industry of getting women to pay a shit ton of money for complicated strands of lace that they wear for a couple of minutes before stripping naked. Whoever realized that they could get people to spend hundreds of dollars on tiny see-through dresses and underwear with the crotch cut out is both a psycho and a genius (funny how those two things often go together). Honestly, I'm not even convinced that lingerie turns men on, because most guys will probably tell you that trying to figure out the clasp on a regular bra is too much to handle, let alone trying to figure out how to release all the straps on a garter belt. I think the point of lingerie is probably to make you feel like Candice Swanepoel for a quick sec and make it so you begin the boning process with a heightened level of confidence. The right lingerie can make you feel yourself so hard that you'll do all sorts of wild shit in bed, like start in reverse cowgirl or actually complete a full blowjob. However, if you mess up and get the wrong lingerie, you're going to look like you rooted through J Woww's closet from the first season of Jersey Shore. The more understated, the better, so here are a few suggestions.
If Lauren Conrad offered a lingerie section on her website, I kind of feel like this would be included. It definitely falls into that whole "less is more" category by being sexy without revealing too much more than a trashy bodysuit from Charlotte Russe would show. Plus, it has a racerback, which is basically a magical design that is super comfortable but also makes your boobs look amazing.

2. Calvin Klein Black Lace Bralette
Calvin Klein's been making the best underwear essentials for like, ever, so obviously they know how to handle lingerie without being a total fucking hardo. This black lace set is basically a hotter version of the bralettes your normally wear because of its romantic lace and mesh details and discretely padded cups. You can save this one for the bedroom if you want, but honestly this piece is so cute there's no reason you couldn't also wear it under a sheer top, making it one of the only lingerie pieces that you'll absolutely wear on the reg.

3. Out From Under Exploded Fishnets
Wearing lingerie as regular clothing is definitely a trend right now because apparently we're all really extra and needed to make fishnets and slip dresses a thing again. This is pretty much made with the purpose of having some fishnets stick out over your clothes. I'm still really conflicted on this trend, but I'll prob end up wearing it in like a week anyway.

Nothing says "I'm not trying too hard" like ordering your lingerie from ASOS instead of having to get off your ass to go buy it in a store. ASOS has its own brand of Risky Business lingerie and it's all pretty low-key and not going to cost you $100 for two scraps of lace that they're calling a bra unlike SOME people (*looks at Agent Provocateur*). Plus, this bodysuit has a high-cut leg, which is soo in right now.

This is the perfect casual kind of lingerie to own, because if your sex life starts going downhill you can always repurpose it as a Halloween costume like Karen from Mean Girls. You might be single AF but you're also a mouse… duh.

What does your wedding dress style say about you? Find out here!