Lingerie is low-key one of the best inventions of all time. It's like, these fun little pieces of underwear you can wear under your regular, everyday clothes without anyone knowing that you're actually living out your goddess/stripper/girl from a rap music video/whatever you want to call your personal sex fantasy goals while just walking around in society. Or, you can wear it without anything over it to seduce someone. OR you can even just wear it while you watch The Office alone in your living room with a tub of cookie dough while your roommates aren't home. That's the beauty of lingerie. You can do whatever the fuck you want with it. Here are a few ways to step up your lingerie game depending on your body type.
If You're Really Busty…
Strappy little bralettes definitely aren't going anywhere anytime soon, which kind of sucks if your boobs weigh more than a rice cake. It can be really difficult to find interesting bras for big boobs, but ASOS Curve has a few expertly engineered styles, so you can rock that trend without slicing your shoulder in half.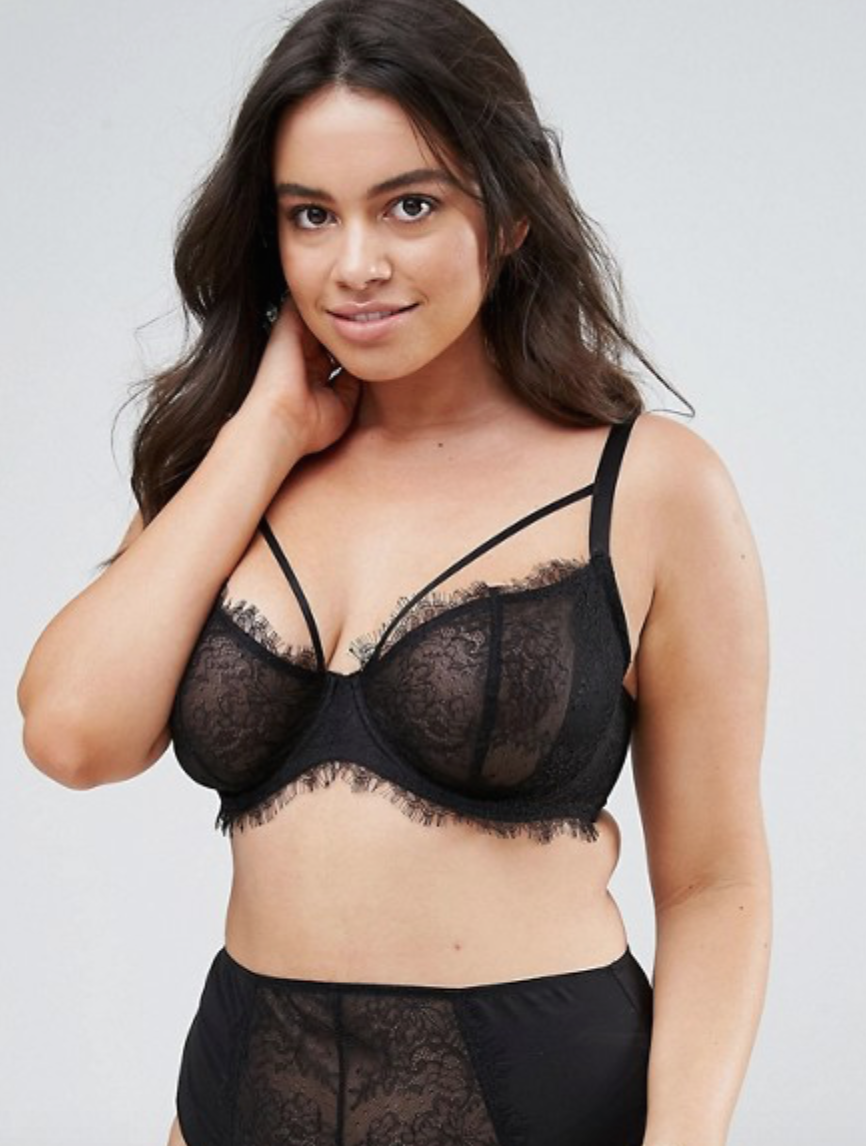 ASOS Curve Eyelash Underwire Bra
If You Want To Look A Little Slimmer…
When bodysuits and one pieces first became popular again, we were all like, "Holy shit, yes, this means we can go back to eating bread!" Then, we actually started trying that shit on and realized they have the potential to be as unflattering as your middle school field hockey warm-ups. Look for bodysuits that create subtle optical illusions, like this one that will make you look slimmer because the lace panel stretches around to the front, creating a false silhouette that is smaller than your natural waist.

If You Actually Kind Of Hate Lingerie In General…
Lingerie doesn't necessarily have to be little lacey pieces of string, so if that doesn't sound like something you want to spend your money on, there are tons of other options. Just seek out styles that are typically flattering on everyone, but in new materials. For example, literally everyone in the world looks good in a sports bra. It's just like, a thing. This grey velvet bralette is basically the sports bra you try to sneak under all of your clothes, when you know nobody's going to see it, except you'll actually want to show it off because it's really cute.

Out From Under Catalina Velvet Bralette
If You're A Proud Member Of The Itty Titty Committee…
Like I already said, strappy, delicate bralettes are literally everywhere these days, and chicks with small boobs are lucky AF, because they look good in all of them. However, if you want to pull some tricky shit to make your boobs look a little bigger, you might want to get creative. Skip heavily padded pushups with a ton of underwire, because they're super uncomfortable and the scam will be totally obvious once you take it off. Instead, opt for a high neck bralette contraption thing that has so much going on that it's just like, "Yeah, there are definitely some boobs in that mix, right?"

If You Have A Little Booty…
If I could live in a different decade, I would pick literally any era where little butts were a thing that people got excited about. Since I don't have a time machine or butt implants, I've settled for buying underwear that makes it look like I have a butt. These are my favorite things ever, because they have a wide waistband to make your stomach look flatter and ruching on the back to make your butt look fatter. They're literally amazing and I swear by them forever.