2018 Victoria's Secret Fashion Show Recap: I Can't Believe I Stayed Up For This
Sunday, December 2 was the biggest night of the year for body insecurity—I mean, since Thanksgiving (but maybe that's just my family)—because we were all treated to the 2018 Victoria's Secret Fashion Show. I'd like to open with a few remarks. First of all, a big F*CK YOU to ABC and Victoria's Secret, above all, for making this sh*t start at 10pm on a Sunday night when I should be lying awake, crippled by anxiety about going back to work tomorrow asleep. Second of all, for making this sh*t exist in the first place. It's 2018, we're body positive now, sitting on my couch at 10pm watching tiny women who all somehow look alike prance down a runway while last year's pop stars serenade them is not my idea of a good time. Like, didn't Miss America even get rid of the bathing suit portion of their competition? It's time to mix it up.
Fortunately, I have a few ideas for how the Victoria's Secret Fashion Show can be upgraded. Throw the Nathan's Hot Dog Eating Contest in with this b*tch. Maybe add a talent portion (because I can assure you, walking in a straight line and blowing the occasional kiss does not count as a talent—if it did, I would be far more successful than I am today). Maybe a couch-to-runway portion, where models eat half a Domino's pizza and then model lingerie? Give the people what they want!
In any case, regressive or not, I reluctantly tuned into the 2018 Victoria's Secret Fashion Show. I missed the first performance due to connectivity issues, but tuned in to watch The Chainsmokers (aka the hot one pretending to play the guitar) and Kelsea Ballerini. I still have not figured out who Kelsea Ballerini is, to be honest. Is she from The Voice? Is she like, the Rita Ora of country music? Sure, I could Google it, but then who would be there in the comments to smugly correct me? She and The Chainsmokers (the other one was relegated to the back, my mistake, but he was there) perform some song I've never heard of.
Candice Swanepoel gets ready to walk down the runway. This is my favorite part—the soundbites of the underpaid PAs screaming "Go, Candice" to signal her trip down a flat strip of floor, as if she's about to perform brain surgery and not just put one foot in front of the other. One of the Angels literally crosses herself backstage. I mean, I know someone did fall last year, but still, I can assure you, it is not that deep.
The theme to this line appears to be "random corsets". It's kind of like Candy Land mixed with Valentine's Day? I'm sure that's precisely what went on during the brainstorming meeting. Some models are wearing tiny sunglasses as if this weren't filmed in November. The stage does look really cool, though.
We come back from the commercial break to a montage of Adriana Lima's career as a Victoria's Secret Angel. Lest we forget, Adriana is hanging up her wings after tonight. And when I decide to stop wearing lingerie in front of other people, they call it "letting yourself go". This montage, though, is excellent. We move through Adriana's awkward years—which, to be clear, are still better than any of us look on our best day—up until today. The most interesting part of this retrospective, I think, is the unintentional journey through women's beauty standards. Initially, we see a stick-thin Adriana with arms that are smaller than my wrists, to now, where she appears to have been granted the ability to consume full-fat milk. Progress!
Adriana walks the runway in this gorgeous bejeweled hybrid between a bra and a shirt. How can I cop this bra for New Years Eve? Asking for myself. Adriana is crying, and I guess that's how I'd feel on my last day of work too.

Immediately after this, Halsey performs, looking like a sexy white walker. (I don't watch Game of Thrones, so you can let me know in the comments if that reference was accurate.) She's got like, feathery eyebrows, I guess because if they didn't put something stupid on Halsey's face she'd look like an Angel and they wouldn't want anyone to feel threatened. Halsey killed it, and I have nothing further to say on the matter.
This section is very "literal angel"—lots of white, lots of feathers. I guess it could also be winter. Whatever. One shining moment was getting to see Winnie Harlow walk down the runway, because it is about as far as VS will push the boundaries of what's considered conventional beauty tonight.
Next, Bella Hadid walks down the runway and we cut to The Weeknd, clapping in the audience. I just want a guy to look at me with the mixture of admiration and bashfulness with which Abel looks at Bella, but I guess in order to achieve that I'd have to work out for hours every day and get some light plastic surgery… or so society would like me to believe! 
We come back from commercial to footage of the models finding out they're making the Victoria's Secret Fashion Show. It's kind of like watching a bunch of marriage proposals: a lot of screaming, crying, and tearful calls to loved ones.
Thank you, I'll be here all week.
When we return to the show, it's Bebe Rexha's performance, and she's wearing what is like, top half trench coat and bottom half ballerina outfit. It's hot pink and garish. There are matching thigh-highs and a giant bow in the back. I imagine her conversation with her stylist went like this:
Stylist: How do you wanna look for the 2018 Victoria's Secret Fashion Show?
Bebe: Pink Panther, but make it sexy.
Stylist: Gotchu fam.
My favorite part of Bebe's performance is the models who are half dancing down this runway (which, when your job is to walk, feels like cheating but ok), singing along to this song. How much do you think Bebe's people had to pay them to pretend like they knew the words? Seriously, gun to your head, could any of you name a single Bebe Rexha song? And not like, a G-Eazy song where she's featured on the hook—one of her own songs. I'll wait.
The clothes being featured are the PINK line, and I didn't even have to look at the garments closely to tell you that. I can tell that by the sheer amount of inappropriate sequins. What is this, 2000? Because that's the last time I thought wearing a sequined striped referee top was a good idea.

After Bebe Rexha, it's Shawn Mendes' turn to perform, and this was a smart move on the part of the talent bookers for this show, seeing as being serenaded by Shawn Mendes is the only thing in this entire hour-long special that's actually motivating me to purchase more underwear. 
My favorite moment is when Gigi Hadid walks by, wearing a parachute strapped to her back. I get it, because I'm also thinking about jumping out the nearest window watching this. 

Our regularly scheduled programming is interrupted by a Bachelor promo in which Colton holds a bunch of golden retriever puppies, who look like they would rather be anywhere else in the world than in his arms. I'm sure, come January, many of the women competing on the show will be able to relate. 
Before we return to the show, we get a video of all the models' fitness goals. Martha Hunt attempts to be relatable by saying her goal is to do 10 squats without breaking form (she has Scoliosis, so I guess this is actually difficult for her… fine). My fitness goals are to be able to eat whatever I want and not gain weight, so like, same thing.
After that, Rita Ora performs!! She's wearing so much gold jewelry, it puts the Migos to shame. I don't actually have anything bad to say about Rita; she can clearly sing and she looks good. As Behati Prinsloo walks by, they pan to Adam Levine, who is screaming after her. Once again, if my man isn't going to show this type of loyalty, I don't want him.
The theme of this collection is "we just realized people are pretending to like Rock 'n Roll as a trend now". Legit one of these shirts is cut up the sides and held together with safety pins, like I used to do for free with shirts I got at bar mitzvahs. And, literally the last look of this collection is straight out of Mugatu's derelicte campaign.

I'm sorry, is that a trash bag?? With spray paint?? Oh wait, I get it: this entire show is one giant walk-off.
What I hope is the last performance of the evening is by "British rock band, The Struts." And they need to qualify that because otherwise none of us would know who tf that is. Kendall Jenner finally gets her big moment in the sun—and that pun was intended since the theme to this collection is astrology. "What VS Bra Should You Wear According To Your Horoscope"—new article coming soon to Betches.
I have to pause for a moment here, because I've got to wonder why the rock band didn't sing during the rock themed collection. I sincerely hope that, after reading this article, somebody will reach out to me to curate next year's show. I've got good ideas! In any case, the one other positive moment from the show is what is sure to be the abundance of Kris Jenner memes. Behold, my blurry af screenshot of Kris Jenner filming Kendall walking down the runway:

First "thank u, next" and now this. What did we do to deserve this good fortune?? Additionally, I think Kris Jenner should just walk around with a camcorder at all times now.
And we've made it to the finale without incident. SNOOZE. Overall, I am disappointed nobody ate sh*t on the runway. One Kris Jenner meme does not a fashion show make. On the upside, I've been so distracted by how lame this show has been to even feel bad about my body. So there's that!
Images: Getty Images (4); ABC
The 2018 Victoria's Secret Fashion Show Performers Are Kind Of A Let-Down
It's finally November, which means we're rapidly approaching one of the year's most important events: the Victoria's Secret Fashion Show. The VS show is always a great opportunity for drinking games and binge eating, and we're starting to get a pretty good idea of what this year's event will look like. We have the list of which models will be walking in the show, and now we also know the list of 2018 Victoria's Secret Fashion Show performers. Read on to find out which musical artists will be performing on the runway.
In the past, the performers have included major stars like Taylor Swift, Rihanna, and Lady Gaga, among others. They've set a high bar for the talent level in the past, and I've gotta be honest, this year's lineup is a little disappointing. It seems like they went for quantity over quality, because there are seven musical acts performing: Shawn Mendes, The Chainsmokers, Halsey, Rita Ora, Bebe Rexha, Kelsea Ballerini, and The Struts. Let's unpack, shall we?

Okay, so I'm assuming some of these people will be performing with each other rather than solo, because otherwise this sh*t is going to be seven hours long. Shawn Mendes will probably get to perform by himself, because he's super famous and cute and talented, and it's what he deserves. Sure, all of the six-foot-tall models will make him look like a literal child, but I'm okay with it.
I've gotta be honest, the trio of Halsey, Rita Ora, and Bebe Rexha seems a little repetitive. I like all three of them, but to have them all performing at the same event doesn't really seem necessary. Maybe Halsey will do "Closer" with The Chainsmokers? Ah 2016, it was a simpler time. The notable connection between Bebe and Rita is that they're both Albanian, which they love to talk about. Maybe they'll come out in Albanian flag costumes and perform together? Probs not, but I'm sure the creative geniuses at Victoria's Secret will come up with something equally entertaining. Or maybe not. I have little faith.

The duo of The Struts and Kelsea Ballerini are definitely the bottom of the barrel here, and I'm kind of confused why they're even on the list. Kelsea is a cute country singer, so I guess they're going for that demographic, but if this means we're getting a hoedown themed segment in the fashion show, I'm officially done with everything. For the love of god, do not put Adriana Lima in a cowboy hat, I forbid it. The Struts are a random British rock band, and it's unclear if anyone cares. That's all.
As for the models walking in the show, there are lots of them, and most really don't matter. Kendall Jenner and Gigi Hadid are on the list, as well as long-time favorites like Adriana Lima, Behati Prinsloo, Candice Swanepoel, and Lily Aldridge. Also returning is Devon Windsor, who recently made headlines when she compared the struggles of being blonde to what black people go through. Great!
The 2018 Victoria's Secret Fashion Show airs on December 2, so we're only a month away! Start working on your fashion show bod—just kidding, it's far too late.
Images: Giphy (2)
8 Criminally Underrated Music Artists You Need To Know About
It's tough to keep up with new music, no matter how much time you spend on your Spotify Discover page. A few weeks ago, I spent time unpacking the legend that is Rita Ora, and you guys had a lot of thoughts. Taking a deep dive into Rita's career, I was inspired to shine a light on some other underrated music artists who might be slipping through the cracks of your pop culture knowledge. I'm thoroughly obsessed with most of these artists, and I think it's important that everyone is aware of what they're missing out on. Let me know if I missed one of your faves, or if there's anyone else out there who deserves a deep dive. So little time, so many hot rando singers wearing tiny sunglasses on Instagram.
1. Bebe Rexha
You probably don't recognize Bebe Rexha's face, and you might not even recognize her name, but you've definitely heard her voice. She first shot up the charts in 2015 on G-Eazy's song "Me, Myself & I," and she's recently had a massive country crossover hit with "Meant To Be" featuring Florida Georgia Line. She was also one of the featured artists on Rita Ora's song "Girls," which is iconic for its own reasons. Overall, Bebe has great style, a really charming personality, and a surprisingly great voice. Bebe doesn't love sharing her personal life, but there have been past rumors about her dating DJ Martin Garrix and former 1D member Louis Tomlinson, both of whom she's collaborated with. Her debut album, Expectations, is finally here, and Bebe is poised to be a huge star.
2. Tinashe
If I'm honest, it's a fucking crime that Tinashe isn't a household name by now. She's been around for a few years, but her biggest hit is still her debut single, "2 On." You know the one, it's a goddamn bop. Tinashe has bounced back and forth between a cool R&B/hip-hop sound and more traditional pop, and she's always claimed Britney Spears as her top musical idol. She was featured on Brit's song "Slumber Party" a couple years ago, and the video is truly one of the hottest things I've ever seen. In recent weeks, Tinashe was in the news because her ex Ben Simmons allegedly cheated on her with Kendall Jenner. Tinashe really deserves better, so you should probably go listen to her new album, Joyride. It's good, you'll like it.
3. Troye Sivan
Let me clear the air by noting that I am a gay man and I want to have so much sex with Troye Sivan. Troye, who is both South African and Australian (the accent is glorious) is already a gay icon, but everyone needs to know. His debut album back in 2015 was kind of a moody Lorde vibe, but this year he's ready to take over the pop world. His songs "Bloom" and "My My My!" are catchy as fuck, and he just dropped a new song featuring our favorite bride-to-be, Ariana Grande. Troye has a hot boyfriend named Jacob Bixenman, and he's also the new face of both Valentino and Saint Laurent. Pay attention, because this kid is about to be fucking everywhere.
4. Dua Lipa
Over the past year, Dua Lipa has made a ton of progress in her career. She released her debut album last summer, and her song "New Rules" was really the only thing that stopped me from sending risky texts in 2017. (But I'm back on my bullshit in 2018, sorry Dua.) Her look is so fucking cool, and all her music is great. Her single "IDGAF" is getting big, and her song "One Kiss" with Calvin Harris is also a major vibe. Dua is only 22, but she's already had high-profile relationships with a couple people that are definitely UK-famous, even if we haven't heard of them. Recently, it appears that she's broken her own rules by getting back with her ex, celebrity chef/model (lol) Isaac Carew. He's hot AF, but also people think she might be dating Calvin Harris, which I really hope is just a rumor. Calvin, keep your grubby little Taylor Swift hands off our girl.
5. Anne-Marie
Anne-Marie is another British dance-pop rising star that I've been obsessed with for like, two years because she was on some random Spotify playlist. Can you tell I have a type? She's had a number of songs that were big hits in the UK, but for some reason no one in the US has really started to care. Start with "Ciao Adios" and "Alarm," but the more recent song of the summer contender is the throwback anthem "2002." Actually everything about Anne-Marie gives me an early 2000s vibe, and I'm loving it. Anne-Marie doesn't like to talk about who she's dating, but she recently said in an interview that she's dated both men and women. She's friends with Ed Sheeran, which is a downside, but nobody's perfect.
6. Charlie Puth
Okay, you all know about Charlie Puth, but do you really know about Charlie Puth? He's both talented and hot, and we've slept on him for far too long. Actually, scratch that, I would definitely sleep on him. Charlie's been around for a while, and his biggest hits include "See You Again," "Marvin Gaye," unfortunately featuring Meghan Trainor, and "We Don't Talk Anymore" featuring Selena Gomez, which is a perfect pop song. Actually, I really think Charlie and Selena would make an amazing couple, so like, the universe should make that happen. (I want the record to reflect that I've secretly been shipping them for years.) Charlie has an awesome voice, but he also writes and produces all his music himself, which is really impressive. Basically, imagine if Justin Bieber was also Diplo, but also not someone you'd be ashamed to introduce to your dad. The low point of Charlie's career was when he made out with Meghan Trainor onstage at the American Music Awards, but he basically admitted it was just a publicity stunt.
7. Grimes
Ah yes, Grimes, the indie darling of the past decade. People who like artsy music have been obsessed with Grimes since at least 2012, but she's never really broken into the mainstream. Really, I'm not sure she wants to. That's partly why it was so surprising when she showed up at the Met Gala last month with Elon Musk. She's dated a couple music dudes before, but a public relationship with one of the most rich and famous men in the world is definite departure for her. I'm v curious to see if this will be a more permanent shift in her persona, or just a one-time deal. Either way, her last two albums are excellent, and you should really give them a listen.
8. Kim Petras
Kim Petras is definitely the least famous person on this list, but I have a feeling that could change soon. Kim is everything a pop princess should be, serving up iconic looks and banger after banger. Her debut single "I Don't Want It At All" is incredible, and the video features a cameo from Paris Hilton. Kim, who hails from Germany, just launched her music career last year, but she's actually been famous for a long time. Back in 2008, Kim became one of the youngest people to ever have gender reassignment surgery, at 16, making her kind of an icon in the trans community. It's been cool to see her resurface as a rising pop star, and she'll be touring with Troye Sivan this fall.
Images: beberexha, tinashenow, troyesivan, dualipa, annemarie, charlieputh, grimes, kimpetras / Instagram
Who Is Rita Ora And Why Is She Famous?
Not all celebrities are created equal. While I love accomplished actors and singers, I prefer famous people with a little more confusing resumes. Case in point: Rita Ora. While you've probably heard of her, you also probably have no idea why. Why was she at the Met Gala? Why does every tabloid cover everything she does? Even if you could name one thing she's done, you're most likely still blissfully unaware of how much of a clusterfuck her career has been. Luckily, I've done way too much research and am prepared to talk about Queen Rita's myriad accomplishments so none of you have to waste the energy typing her name into Google and figuring out the timeline of her career yourselves.
Here's some background on Rita Ora. She was born in 1990 in Yugoslavia, but her family moved to the UK a year later because of major political turmoil and ethnic persecution. I'm not going to explain the entire Yugoslavia situation (you have Wikipedia, use it), but it was bad. Fast forward, when Rita became one of the first artists signed to Jay-Z's record label and started making YouTube videos. She started getting big in the UK after she was featured in this EDM song "Hot Right Now," which you have absolutely never heard if you live in the US. Early Rita Ora is very 2010, kind of like Rihanna's "We Found Love" phase, but obviously not as good.

For some reason, I first became aware of Rita in 2012, when she released her debut album. It was really only big in the UK, but there's a slim chance you might have heard the songs "R.I.P." or "How We Do (Party)." No? That's okay too, none of this matters. She started making announcements about her second album in 2013, but there's still no word on when this album is coming. I'm not like, a music industry insider, but I feel like it can't be a good thing when your album has been "coming soon" for a full five years. In terms of music, you most likely know her from being featured on Iggy Azalea's song "Black Widow" back in 2014. Classic stuff. She's actually released a few new songs in the past few months, and they're not bad. I particularly like "Anywhere," and this makes me think that there might be an actual album that exists.
In the half a decade that her second album has been allegedly in the works, Rita has stayed busy with a wide variety of projects. She's been a judge/coach on the UK versions of both The Voice and The X Factor, which really says a lot. Going on one singing competition show is one thing, but judging two is a pretty good indicator that your music career isn't exactly breaking records. Like, there's a reason you don't see Drake judging the new American Idol. 

Rita has also done some work as an ~actress~, and by that I mean she was in Fifty Shades of Grey. She played Christian's sister in all three movies (they look nothing alike), and in the third one she even got a juicy kidnapping subplot. Yes girl, act! For the most recent movie, she even got to do a song with Liam Payne for the soundtrack, which is actually more impressive than being in the movie itself. Fifty Shades is probably how half of you know about Rita, which is one of the saddest things you can say about someone's career. It's like the Hollywood equivalent of being known in the office for bringing a lunch that smells weird.
If you're not aware of Rita's legendary acting work or iconic music career, perhaps you know her from her brief stint on America's Next Top Model. Remember back in 2016, when they tried to do a season without Tyra Banks? Remember how everyone hated it? Yeah, Rita Ora was the one who hosted that train wreck. I'm not sure who thought this was a great idea, considering that Rita is not actually a supermodel, but I can commend her people for getting her that gig.
So what is Rita Ora up to right now? Well, she just started a new European tour, which is supposedly in support of her second album that does not technically exist yet. She also just released a new song, "Girls," featuring Bebe Rexha, Charli XCX, and Cardi B. It's impressive that Rita got all these people (especially Cardi) on her song, but the song itself unfortunately got started off on the wrong foot. Notably, there was backlash claiming that the song is disrespectful to the LGBT community, because the song is all about how sometimes girls just want to make out with girls—but it's implied they mean it in like, a drunk way. Because of the criticism, Rita was forced to clarify that the song is actually about her own experiences having relationships with men and women. This week, Rita dropped the video for the song, and I honestly love it. Rita looks hot AF, and things are great until Cardi B appears in her Jackie-O wig as some sort of hologram thought bubble. I love Cardi B, but I have to admit I'm confused why she's here. At least Rita saved the best outfits for herself, a true betch move.
Also, this unintentionally shady tweet from Cardi B is my favorite thing to ever exist.

Maybe someday Rita will have a singular accomplishment that turns her into an A-list star, but for now we will just have to watch as the Daily Mail covers her every outfit change as if it's a breaking news story. Hopefully she'll continue being invited to every single red carpet event for no apparent reason, because at this point I would miss her. Next time you're looking at red carpet photos and see Rita, take a moment to appreciate her. You'll probably still have to check the caption to figure out who the fuck she is, but at least now you'll know how hard she's tried to become famous.
Images: Shutterstock; Giphy (2); @ritaora / Instagram; @iamcardib / Twitter
The AMAs Fashion That Should Have Been Stopped & The Looks We're Living For
Mondays always suck, unless it's the day after literally any award show. There's truly nothing better than sitting at your desk, pretending to work as you scroll through Instagram and judge the shit out of all the red carpet looks. As you've probably seen if you follow any celebrities on any form of social media, last night was the American Music Awards. Let's give compliments like a drunk girl in a bathroom then talk shit about the worst dressed, shall we?
Best
Demi Lovato
Okay, all extra celebrities, please take notice. Demi's look is like, the perfect example of the perfect music award show red carpet look. The dress is super flattering, the hair and makeup is incred, and overall it kind of has an edgy vibe but is still a classic look. Well done, Lovato.

Selena Gomez
Honestly, Selena has kinda been on my nerves recently for literally no reason whatsoever, so this is difficult for me to say, but I'm obsessed with this look. Usually a drastic post-breakup hair change is a bad move, but when you're rich AF and can get back into a relationship with Justin Bieber like, a week later, the rules don't apply. I love this new (old?) Selena.

Lady Gaga
Gaga wasn't even technically at the red carpet at the AMAs—she was at the Washington D.C. stop of her tour—and she still looked better than everyone else. She rocked an Alaïa to honor the recently passed designer (RIP) and channeled some major Madonna vibes. Into it.

Ciara
Pretty sure Ciara's sole purpose in life is to just be hotter than the rest of the human population. This dress is so dope. Plus, her hair and makeup is perfect but still looks natural.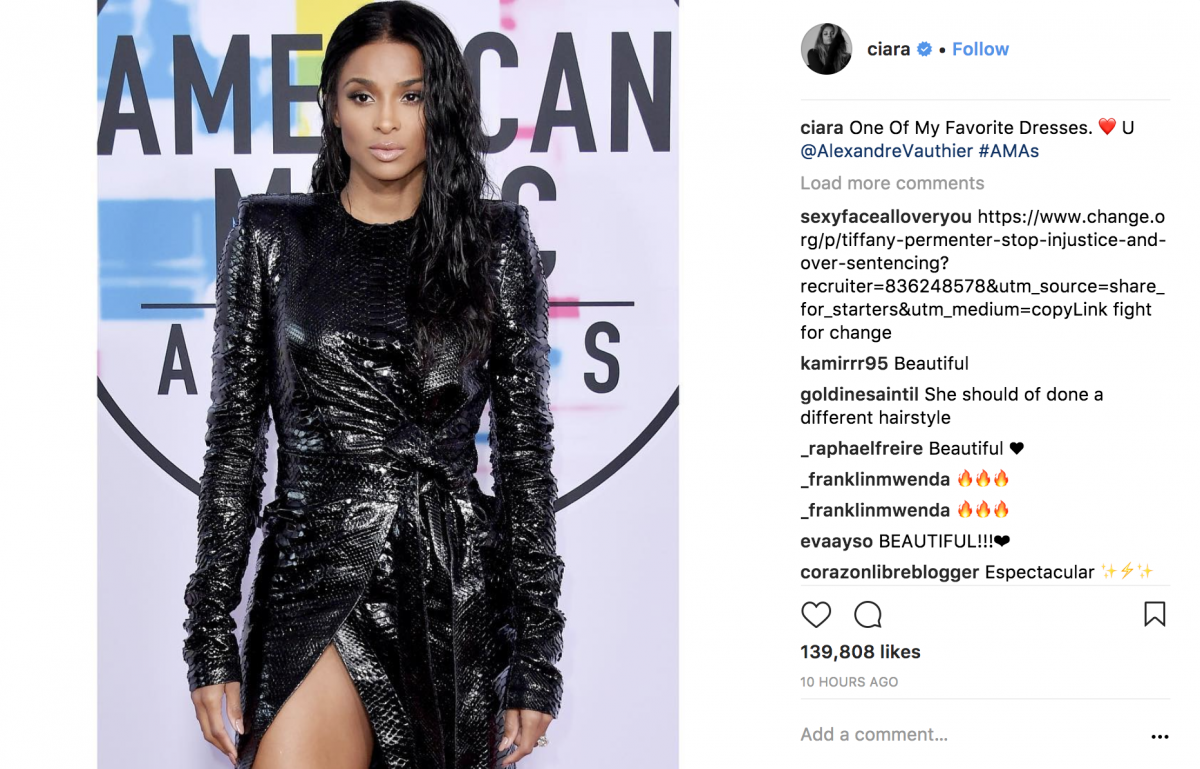 Kehlani
TBH, Kehlani's dress is kind of eh, but I'm considering her one of the best simply because she can pull off a low ponytail without looking like a founding father.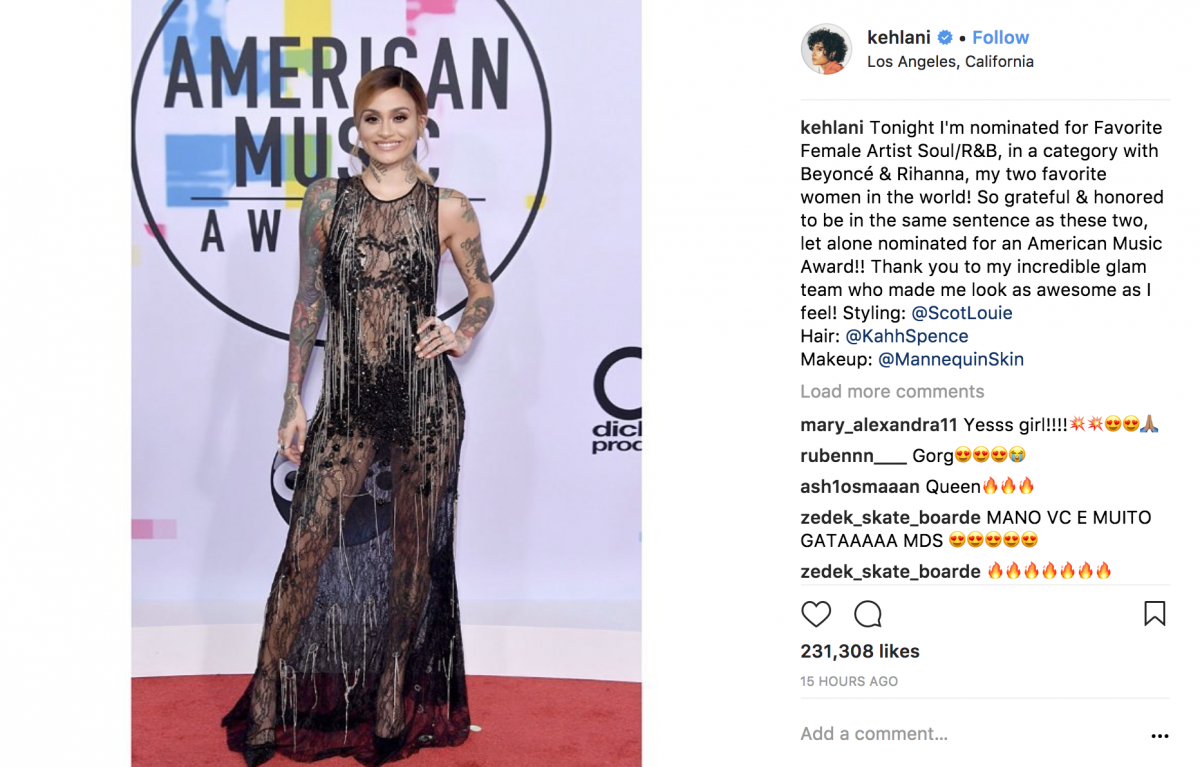 Worst
Sabrina Carpenter
I have no idea who you are, but I hate your dress. Sorry. It's very Miranda Hobbes and the boots kind of look like a serial killer made them out of human skin à la Silence of the Lambs.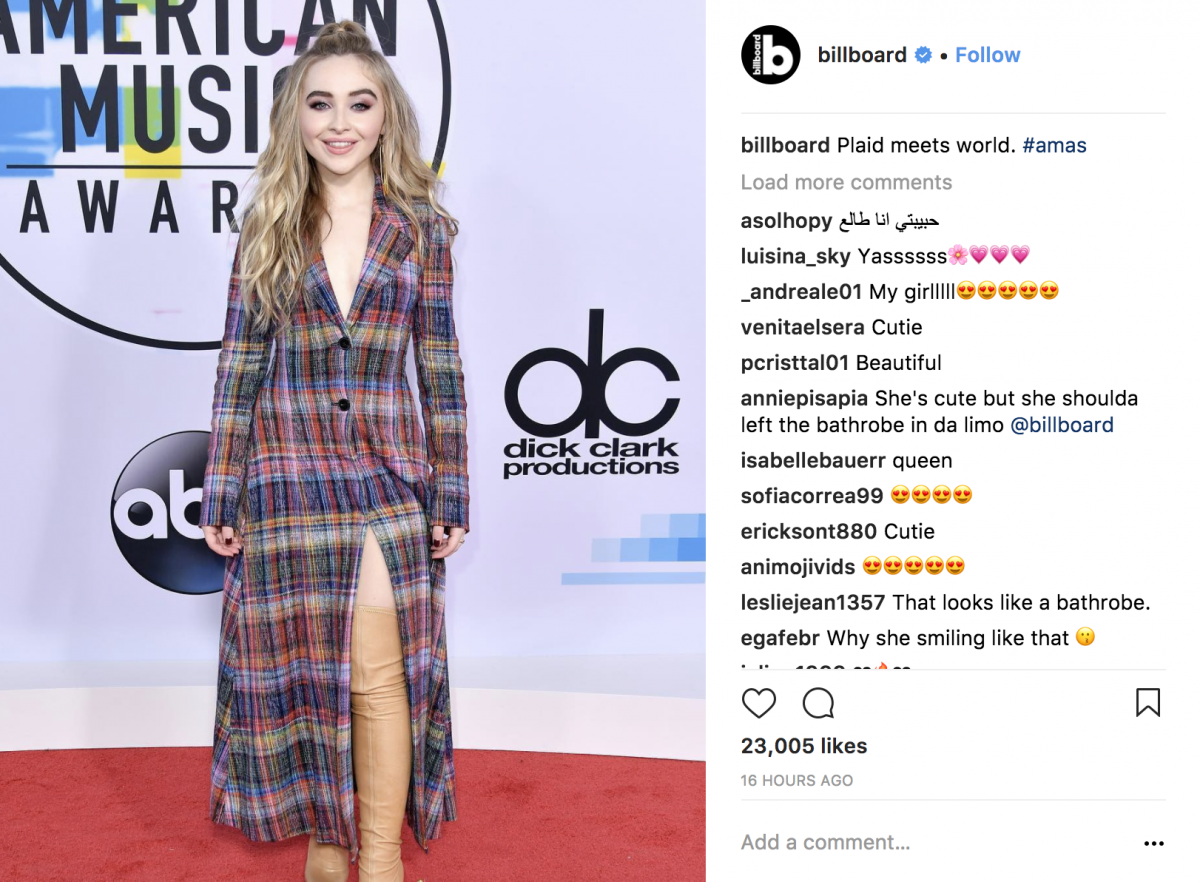 Demi Lovato
I'm putting Demi down for best dressed and worst dressed, because not even the most flawless styling could balance out this dress. She looks like a walking lava lamp. This is potentially one of my least favorite dresses in history.

P!nk
Even P!nk looks pissed to be wearing this dress. It kind of looks like a fancy loofah that came with the Bath and Body Works gift set your dad's new girlfriend bought you for Christmas after your parents' divorce.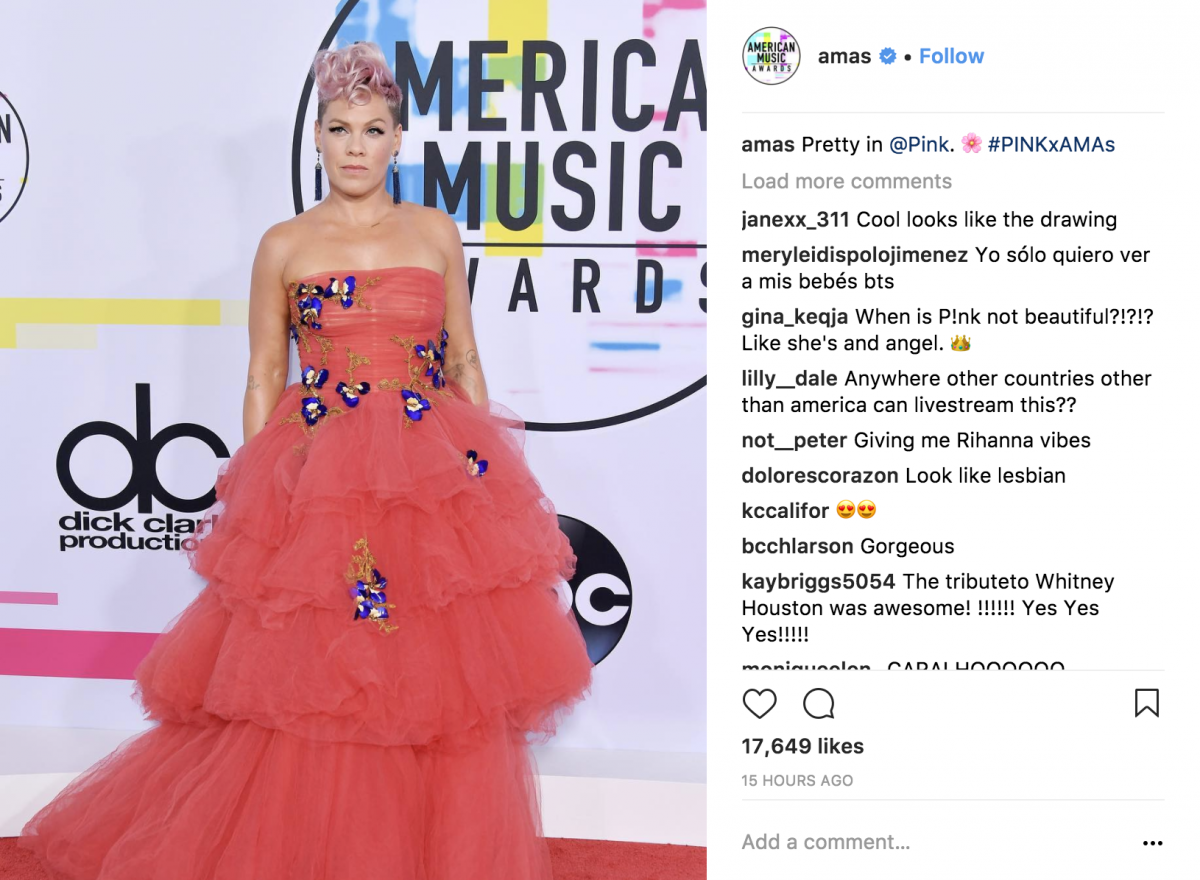 Bebe Rexha
I'm confused as to what is happening here. This dress probably had good intentions (even if it's made out of a fabric I would have worn to a friend's bat mitzvah in 2004), but then it decided to allow Bebe's boobs to try to run away from each other. Also, just looking at the cut of the dress paired with the shoes stresses me out, because I keep picturing Bebe falling over and having to do the worm instead of walk.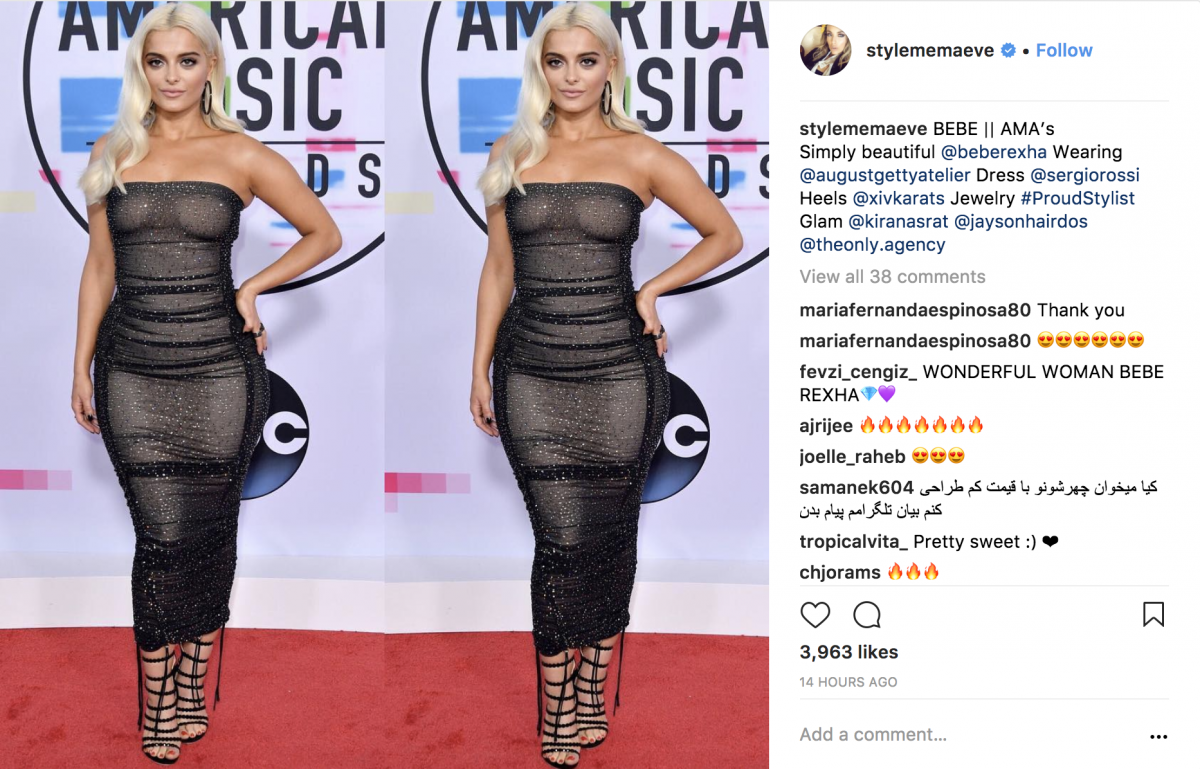 Julia Michaels
I mean, if the end goal here was to channel Lydia Deetz from Beetlejuice, then this look is killer. But like, I'm assuming that wasn't the point. This year, Comme des Garçons has kinda scammed everyone into thinking that it's fashionable to wear heaps of fluffy red fabric, but this look obviously isn't working.