The Top Beauty Looks You Need to Try for Spring 2020
Presented by Ulta Beauty
Spring means relief from ice, cold, snow, etc. Unless you live in LA, where weather is just a myth, and then spring just means new trends are upon us! No matter where you live or what your current level of skill is at applying makeup, you can try (and pull off) these spring beauty trends. And even better is that on March 15 (technically still winter for you people on the East Coast), Ulta Beauty is starting their 21 Days of Beauty event, just in time for you to put all these trends to use. The event features daily beauty steals, offering 50% off top makeup and skincare products for one day only. That means you can't do your indecisive "add to cart and let it sit there collecting dust of a week" thing. If you want to take advantage of the amazing deals Ulta Beauty is offering, you have to act fast. If you want to be the most on top of the spring beauty trends this season, here's what looks to try, and which products will help you achieve the looks.
Glassy But Classy

Since everything we loved in middle school is back in, glossy lips are back, but this time we're elevating the look and doing it in a glassy, smooth way (aka no hair stuck in your lip gloss). To try this look out yourself (and make your 7th grade self super jealous), grab a Kylie Cosmetics High Gloss (an Ulta Beauty exclusive) that's on sale on 3/28, or the Buxom Full On Plumping Lip Cream on 4/2. The key is hydration, not lip superglue, this time around. You can just swipe it on and go!


Buxom Full-On Plumping Lip Cream
Speaking of hydrating, this also applies to your skin. We want to look fresh-faced and glassy instead of the super matte looks we've done for the last 10 years. I'm extremely oily, so THANK GOD, my time has come! But even with my oily skin, serums somehow keep my natural oil under control and give me a glow, as opposed to my natural look which is "greasy pizza". For life-changing serums, the Mario Badescu Vitamin C Serum is on sale on 3/15 and  the Peach & Lily Glass Skin Serum is on sale exclusively at Ulta Beauty 4/4. Serums are so easy—you just put them on after washing your face but under moisturizers or sunscreens. They make such a difference in your skin's texture, trust me. 


Make People Think You Got Microblading & Eyelash Extensions

Lashes are always in, but this season,  it's more important than ever to have them big and bold. If you're into falsies, select lashes go on sale on 3/19. Otherwise, a couple swipes of Tarte Maneater Mascara on 4/4 (also exclusive to Ulta Beauty), or Benefit Badgal Bang Mascara on 3/20 will finish off your look. 

Benefit Badgal Bang Mascara

But since your eyes are the window to your soul or whatever (wouldn't know, I've been told I don't have a soul), we can't stop at lashes, and have to give brows some love too. Is there ANYTHING more important than brows right now? The answer is no. And since the razor-thin brows have been out since we all graduated high school, we can grow out our brows but still keep them neat and well-groomed. If you have sparse brows from the days of overplucking, pick up the Anastasia Beverly Hills Brow Wiz pencil on 3/15. If you need to keep unruly brows tamed down, try the Benefit Gimme Brow eyebrow gel on 4/4.

Anastasia Beverly Hills Brow Wiz pencil

Benefit Gimme Brow eyebrow gel

Bold, Bright Eyes

The best part of spring is how everyone puts away their dark wardrobe in favor of fun, bright colors. Well, now we're doing that with our makeup colors too. Instead of going dark with your going-out looks, neon is now the way to play. You can do bright eyeshadows (select Lime Crime palettes on sale on 3/24), or lips (select Kylie Cosmetics lipsticks and glosses on 3/28), but unless you're a very skilled colorist or makeup artist, you probably should not do both at the same time. Think super hot pink lipstick or a bright blue eyeshadow (but not both, lest you look like a clown). Neon is a super fun and modern way to change your look and really easy to pull off well through summer.
Finish off your fun neon eyeshadow with a bold liner that's a little easier to apply than the traditional cat-eye. Apply it along your top eyelashes and flick it out towards the ends to imply longer lashes. You still get the drama, but it doesn't take quite the same level of hand-eye coordination. My holy grail favorite eyeliner of all time is Stila Stay All Day Eyeliner, which you can buy on sale on 3/26, or IT Cosmetics Superhero Eyeliner on 3/27.


IT Cosmetics Superhero Eyeliner
You guys are SO WELCOME for all the savings you're about to get from Ulta Beauty. Get your credit card ready, because you do not want to miss the 21 Days of Beauty event before it ends on April 4th. Now is the time to spring clean all your old, out-of-style makeup and start fresh with this amazing sale. 
Images: Ulta Beauty
The Best Black Friday And Cyber Monday Deals On Beauty
Like many millennials with jobs, my beauty look is pretty consistent day-to-day, but that doesn't mean I don't have 82 tinted moisturizers, 41 mascaras, and about a million different facial mists. I like to mix it up, what can I say? If you, too, are an out-and-proud beauty junkie, welcome. It is my personal belief that the best time to buy beauty products is around Thanksgiving, because not only is everything cheap af, but everything is sold in sets. Yes. Please. Give me a million eyeshadows that have just slightly different undertones. Honestly, I love this holiday so much because we spend the whole day being grateful for all of the sh*t we have, but only until midnight when we'll fight each other to the f*cking death at Target to get that 30% off KitchenAid mixer. #America, right? So if you fully embrace this holiday as a day of gluttony, scoop up these beauty deals before your friends do. 
Ulta
Obviously, I have to start with the DSW of beauty because it just has so much stuff to basically give away this holiday season. Because they have about a thousand different sales going on during Thanksgiving weekend, I'm just going to name the few brands I'd personally recommend. Let's start with 25% off Macadamia Professional hair masques. If you've ever been in a drugstore, you've seen this brand's hair products. I have been using the Deep Repair Masque since high school, and it's never disappointed me. It's meant for people with damaged hair, but as a bitch with proudly virgin hair (hold applause), I love it because it takes my hair to the next level in softness. If you think delayed gratification is stupid, you'll love this masque because you'll feel its effects immediately. 

Macadamia Professional Nourishing Repair Masque
Next is the BECCA Volcano Goddess Eyeshadow Palette, which is 40% off, aka it's $27, aka it's free. Honestly, I don't really wear eyeshadow because I don't know how to put it on without looking like a toddler in drag, but the colors in this palette are pretty wearable. So if you stan an eyeshadow moment, this palette is for you. 

BECCA Volcano Goddess Eyeshadow Palette
And lastly, Ulta is offering 25% off a Chi 1-inch Ceramic Hairstyling Iron. I don't have the time or the skills to give myself Serena-van-der-Woodsen-circa-season-one waves, so I don't even try. However, every now and then after sleeping on wet hair for no reason at all, I wake up with a really unfortunate situation on my head, and this little hero can fix it within 10 minutes. I don't usually curl my whole head, but a few chunks of hair throughout gives me that tousled look that I'm really feeling these days. I know what you're thinking: wtf are you talking about, this is a hair straightener? To you, I say the most natural-looking waves come from flat irons! Twist your hair around the iron and gently pull the iron down the twist. I'm telling you, it's never failed me. 

Chi Original 1" Ceramic Hairstyling Iron
Glow Recipe
Not going to lie, I discovered Glow Recipe at Urban Outfitters, and have been obsessed ever since. The relatively new brand is offering 20% off every single product on their website, so if you haven't already added a slew of skin care to your cart, you're behind, girl. Anyway, if you are the kind of person who can be seduced into buying something simply because the packaging is irresistible, get ready to purchase literally every damn Glow Recipe product. I have the Watermelon Glow Sleeping Mask and am truly obsessed—mostly because it serves as a skin savior and decor on my dresser. Cute appearance aside, the mask itself is actually really good. It's really moisturizing, but has a gel-like quality to it, so it doesn't leave you feeling greasy and oily when you wake up. That ain't cute. 

Glow Recipe Watermelon Glow Sleeping Mask
Tatcha
This Japanese skin care brand is in pretty much every natural or ethical beauty store in the world and from November 28 through December, you can "play for a chance to get either 20% off your $100 purchase, 15% off your $75 purchase, or two free gifts with orders of $50 or more." All of their products are cute and purple, but one of their products is truly better than the rest. I'm talking about the Luminous Dewy Skin Mist. Before you judge me for spending more than I'd like to admit on what you'd call water, hear me out. It's made with botanical oils and humectants, which are responsible for the dew, and tbh it smells so damn good that I literally smile when I spray it, and I don't even smile at puppies walking by.

Tatcha Luminous Dewy Skin Mist
Also, I recently learned that your moisturizer absorbs way better when your skin is moist (get over it) than when it's bone dry. Think about it this way: your skin is like a sponge, and sponges don't work until they're damp, right? Another cult favorite from this brand is the Dewy Skin Cream, which I haven't had the pleasure of trying because I am low on funds, but maybe I'll hit the jackpot on their annoying Thanksgiving game and be able to afford it! 
Kevyn Aucoin
Get ready for the most niche Black Friday sale literally ever: Get 25% off your order and receive a free Exotique Diamond Eye Gloss in "Galaxy" when you spend $75 on November 29. Like, really? Only on November 29? Honestly, I'm sure I'll get an email on November 30 that says, "We're so nice and extending our sale!" The only reason I'm down for this annoyingly specific sale is because I'm so in love with my Neo Blush and feel like she needs friends. I've been dying to try the Sensual Skin Enhancer Concealer because it's a really thick cream (as opposed to a solid, like most concealers are) and comes in a cute little pot. Also, I feel like if I have this, I could just dab it where I need it (because it's thicc af and does its job) and not have to wear foundation or tinted moisturizer. 

Stila
Stila is offering 35% off site-wide plus free shipping on all orders of $50 or more from November 29 through December 1 with the promo code BF35. I own one product from Stila that has truly defined my going out look to a T, and it is the Stay All Day Waterproof Liquid Eye Liner. Executing the perfect cat eye is hard, but Stila's liner is actually really easy to use because it's just a long tapered pen. So all you have to do is angle it as you draw, so the line gets thinner, and that's pretty much it. Easy peazy. Anyway, Stila also has a pretty legit price point for a mid-level brand, so I fully support this sale. Another product I had and loved until I broke it by accident was the Aqua Glow Serum Foundation, because it was pretty full coverage but had the consistency of water, so it didn't feel heavy or caked. 

Stila Stay All Day Waterproof Liquid Eyeliner
Drybar
I am more in love with my six-year-old Buttercup hair dryer than I am with the guy I'm seeing. Seriously. I have a lot of thick hair, so making sure it dries without going rogue is very important to me, and that's why I have the Drybar one, the famous Josh Harry one, and, don't judge me, the Dyson Supersonic. Drybar is shining down on thee and giving you 20% off all products, tools, and kits from November 21 through December 1. The Buttercup was the cheapest and oldest of the three I have, but it's my OG and I use it every damn day. It weighs like, a pound, is pretty quiet, and does an excellent job. Generally, expensive hair dryers are better than drugstore ones because they use more power than they do heat, so they are less damaging to your hair. Cheaper hairdryers work in the opposite way, using more heat than watts, so you're essentially frying your hair for longer. I also have the Drybar heat protectant, which smells so good that I leave it on my hands for as long as I can before the New York City subway system forces me to wash them. Luckily, the smell lingers in my hair for the entire day. By the way, Harry Josh is also having a Dermstore sale for 30% all of his products with the promo code DSGIFT from November 28 through December 2. His hair dryer is def cuter than the Buttercup, so if that matters to you, you can get it for a little less this holiday season!

L'Occitane
L'Occitane (pronounced "lox- ee- tahn"—you're welcome) is giving us 20% off all full-size items with promo code CYBER from December 1 through 4, because they know no one is dragging their hungover asses to a store to buy their favorite hand cream. Speaking of which, I didn't realize this brand sold anything besides hand cream until my grandmother gave me a beautifully packaged perfume (technically an eau de toilette) that smells so good that I spray it on my pillow before I go to sleep. It's the Verbena scent, which is generally pretty clean with a hint of green tea. No complaints. 

L'Occitane Verbena Eau de Toilette
Images: Ulta; Glow Recipe; Tatcha; Kevyn Acoin; Stila; Drybar' L'Occitane; Eco Warrior Princess / Unsplash
Betches may receive a portion of revenue if you click a link and purchase a product or service. The links are independently placed and do not influence editorial content.
8 Beauty Gift Sets That Make Great Holiday Presents
It's the best of times and the worst of times. Sure, everyone is being merry, singing "Jingle Bell Rock", feeling the urge to be creepily nice, getting a break from work, and of course, spending true quality time with your loved ones. However, at the same time, it f*cking sucks. It's brick AF outside, it's dark by like, 4pm, and you're draining your bank account faster than you can say, "payday."
Buying everyone in your family a gift this season feels amazing and all, but you've got to admit that watching the numbers on your account get smaller makes you die inside. Same. It may be the season of giving, but it's also the season of receiving…even if that means secretly buying yourself that well-deserved palette or face mask you've been eyeing at Sephora. No one is here to judge, otherwise, you wouldn't be reading this right now. So here it is: the eight best beauty gift sets worth buying this year. Whether it's for yourself or your best friend, no one has to know.

Lancôme is a really good brand that doesn't get enough attention. I feel like people tend to forget about it because it's on the pricier side, but this is one of the rare times when cost actually makes up for the quality you're getting. This super dope gift set comes with 10 full-size bestsellers (FULL-SIZE, people!) and a cute makeup bag you can actually use.

If you already own one or have even sampled a shade or two, you'd know that Morphe palettes are life. Their shades are always really pigmented and right on point. The only things you need to go with it are their soft, clean brushes. These nine ~vegan~ eye and facial brushes cover all the bases when it comes to makeup application. They also come in a chic little brush case.

I am a huge fan of IT Cosmetics because it's not only affordable for the quality, but also their products are all great for my annoyingly sensitive skin. Seriously, if you haven't tried anything from this line yet, now is the time. This limited-edition anti-aging gift set comes with a full-size moisturizing super cream—a must-have during the winter—and travel sizes of their hydrating cleansing serum and eye cream.

'Tis the season for vampy and festive-colored lips, so get 'em while they're hot, in stock, and on sale. This colorful set comes with 10 fan-fav mini lipsticks ranging from deep burgundy to "very hot" pink to a classic deep-tone beige.

If you're going away for the holidays, congratulations. I hate you, I'm a jealous b*tch. If you're not going anywhere, that makes two of us. But, on the bright side, this cheery gift set is enough to make us pretend we're getting our tans at the beach. It features 15 exclusive, new eyeshadow shades; a 12-hour lasting blush; eyeliner; and a bestselling glossy lip paint.

If you're a consistent reader of my stuff (sidenote: you the real MVP) you'd know that I've tried plenty of products from the Insta-famous Glossier. It's packaged in the millennial pink shade we love, stays in an affordable range, and actually delivers what it promises (most of the time). This gift set comes with the bestselling Boy Brow (my personal favorite), Lash Slick mascara, and Cloud Paint in the color of your choice.

Sounds too good to be true? It basically is. For a salon-style blowout in the comfort of your own home, this gift set isn't one to skip over. It carries a top rated straightening brush, anti-humidity spray, dry shampoo, and a ton more. Get perfect-looking hair this holiday for under $100.

These colder temps make me want nothing more than fuzzy blankets, comfy slippers, unhealthy food, and dozens of hot baths. If that doesn't sound like the most perfect and well-spent night ever, I'm officially a f*cking grandma. And you're just missing out on a good-ass time. This deluxe holiday collection from Philosophy features shampoo, shower gel, and bubble bath, all in holiday-friendly scents such as apple cider and peppermint stick.
Images: Charisse Kenion/Unsplash; Nordstrom; Ulta (2); Saks Fifth Avenue; Macy's; Glossier; Sephora (2)
Betches may receive a portion of revenue if you click a link and purchase a product or service. The links are independently placed and do not influence editorial content.
Black Friday Deals On Beauty Products You Need To Know About Now
Black Friday (and more importantly, Cyber Monday) deals are almost upon us. Although I hate crowds, and people, and lines, I really, really love Black Friday deals on beauty products. This is why you can shop online, guys. There is nothing better than telling myself I'm not going to spend money and spending $500 at Sephora but getting $850 of products, so really, I made $350. That's just good business. Since both in stores and online Black Friday shopping is going to be chaos and every woman for herself, it's best to be prepared for what exactly to hit up first and what to buy. Don't wait until the last second when every store is the animal world in Mean Girls. Here are the Black Friday deals on beauty products you need to know about now.
You when you got everything you wanted on Black Friday because you planned ahead:

Sephora is by far my favorite place to shop for beauty deals already with their point systems and lax return policy. They are trying to further my love for them because they are starting Black Friday deals on beauty products on November 15th this year. The early deals are exclusively for the app, so make sure you have that downloaded if you don't already. For Beauty Insiders and Rouge members (which should be all of you, if not, do it now), you get early access to all deals on November 21st, with "regular" customers getting deals long after on Thanksgiving Day/Actual Black Friday. If you choose to go to stores (God help you), Sephora will open on Thanksgiving at 6pm with their deals ready to go. The biggest sale options this year seem to be their $15 & Under deals, where you can stock up on expensive value sets all for under $15.
Ulta is also going to open for Black Friday at 6pm Thanksgiving Day (those poor, poor workers). Their official Black Friday ad goes live around November 12th, so keep a lookout so you can plot what to buy. Their typical Black Friday layout is pretty awesome, with 50% off brands like Urban Decay and Tarte, and $30 off styling products like Chi. Stock up on expensive makeup palettes and definitely take advantage of their 5-for-$5 specials on face masks and other little products.
Amazon already has some of their Black Friday deals out and ready to go. The best part is you can do all your shopping online without missing out on anything. Every day, Amazon will be adding more and more products to their discount list, so check frequently for deals. This is where you should stock up on your have-to-have basics: acne patches, face wash, lotions, that Aztec face mask everyone is obsessed with, etc. Buy in bulk and save the rest of the year.
Bath and Body Works always has amazing Black Friday deals on beauty products. Things sell out quick so you need to be on it. Remember, they have a great return policy, so buy as much as you can with the deals offered and you can return or exchange any scents or products you don't like later. They always have sales going on, so expect them just to be amplified and all at once on Black Friday/Cyber Monday. The real key to owning the BBW system is to sign up for their emails now, and get coupons for 20% or $30 off to use in conjunction with their deals on Black Friday. The better coupons are online only, so keep that in mind if you decide to venture out to the stores. Their elusive $8 candle sale (normally $24!) is usually around Black Friday, but expect the large candles to be marked down to at least half off. Stock up now on those and take advantage of any get-nine-body-washes-for-the-price-of-three weird deals they have. Do you need 10 matching body washes/lotion/body spray combos? I'm gonna say duh, but you can also divvy them up as last-minute gifts later. Or you can just hoard bath products and never have to buy body wash again. Your call.
Images: Shutterstock; Giphy
All The Makeup You Need To Grab During Ulta's 21 Days Of Beauty Sale
What a time to be fucking alive. This winter has basically kicked my ass with the amount of insane snowstorms we've had to endure. I've honestly never been so ready to bask in any temperature above 60 degrees and ditch my hibernation clothing for shit that screams "sun's out, bottles out." St. Patrick's Day was clearly a preview of the shit show I'll be this spring. With the official start of spring happening in literally two days (halle-fucking-lujah), what better time to not only clean out your closet, but update your vanity with some of the best makeup and skincare products 2018 has blessed us with so far? Ulta's 21 Days of Beauty sale has a way of coming in at the best time. Until April 7th, one of our favorite beauty brands will be up to 50 percent off every day for an obvious 21 days. Fucking duh. From Clinique to Smashbox, here's what to come this week to get your cart started.
Monday, March 19
IT Cosmetics is seriously amazing. If you've never used any of the products, let me tell you why you should stock up during the 21 Days of Beauty sale. This finishing powder is the perfect last step to your daily makeup routine as a setting powder or quick touch-up if you're feeling greasy af. It comes in a translucent shade so it works wonders on everyone to reduce pore size and signs of turning ancient, and leaves your face looking like that of a porcelain doll.

Bye Bye Pores Pressed Anti-Aging Powder
Tuesday, March 20
Regardless of your skin type, Clinique probably has products that will make it look perfect. Whether you're oily, dry, or something in between, Clinique offers a 3-step facial cleansing kit to brighten dark spots, provide hydration, and reduce annoying breakouts. So for like, half the price during 21 Days of Beauty, you'd be missing out big time if you didn't take advantage of this.

Clinique 3-Step Introduction Kit For Oilier Skin (Type 3)
Wednesday, March 21
I speak from first-hand experience when I say this Smashbox primer is a fucking miracle worker. If you're looking for a primer that works without making your foundation look cakey, this will be your best friend. The primer absorbs into your skin immediately, so you can start applying foundation right away. It doesn't leave any shine or grimy residue, so you can even use it as a setting spray once you're finished.

Smashbox Photo Finish Primer Water
Thursday, March 22
As we prep for warmer weather, we'll soon turn away from makeup that could melt off your face, like matte lipsticks. Your summer lip go-to will be a creamy lip gloss that isn't something out of the 90's, but still provides full coverage, color, and shine for an added pop to your thotty weekend outfit.

Friday, March 23
The next best thing after a face mask is a face peel—that's just like, the rules of feminism. For something that doesn't rip your skin off, these Exuciance peels still removes nasty-ass shit immediately, so you'll want to stock the fuck up. This six-week supply comes with 25 peels that can be used anywhere, from your face to your neck to your back (to your pus—no, nvm, please do NOT use it there). Anyway, this Exuviance peel helps remove dead skin and wrinkles, and it brightens dark spots. Peel off after just 10 minutes and voilà, bitches.

Exuviance Performance Peel AP25
Saturday, March 24
I run out of makeup wipes like there's no fucking tomorrow. It's becoming a pain in the ass, since I'm too fucking lazy to walk down the street and too lazy to go grocery shopping for a DIY remover, so you can see the dilemma I'm in. For shit that actually lasts and works better than your average Neutrogena brand, Philosophy created makeup removing cloths that feel soft af and take off the most stubborn mascaras with a single swipe. And since you can order them online during the 21 Days of Beauty sale, you don't have to walk down the street or even leave your house.

Philosophy Purity Made Simple One-Step Facial Cleansing Cloths
Sunday, March 25
Nothing ruins a day's worth of expensive makeup like having an oily T-zone by noon. Talk about a buzzkill. Whether you're using as a finishing powder or simply touching up while on your lunch break, this sheer powder from Mally Beauty reduces oily spots and fine lines, and leaves your face looking matte and smooth as can be. It stays on from morning to night without making you break out the next day, and even comes with a sponge that looks like a BeautyBlender on crack. Bless.

Mally Beauty Poreless Face Defender
Images: Hanna / Unsplash; Ulta (7)
Betches may receive a portion of revenue if you click a link in this article and buy a product or service. The links are independently placed and do not influence editorial content.
Ulta's Holiday Beauty Blitz Is Giving You Half Off Your Fave Brands This Week
This is like those chocolate advent calendars your grandma used to get you when you were like, five years old, but only a million times better. Ulta, the less hot expensive version of Sephora, is always known for having amazing deals where the shit is so cheap, it's basically free. While we'd expect nothing less this holiday season, they have truly outdone themselves with this crazy good month-long sale. If you thought their 21 Days of Beauty was good, you'll def go broke after hearing about this one. In the 25 days leading up to Christmas, Ulta launched their Ulta's Holiday Beauty Blitz which features a different deal every day. Not just any deal, more like an insane deal that takes up to 50 percent off of beauty brands we're obsessed with for just one day. I'm talking Anastasia Beverly Hills, Bare Minerals, Urban Decay, and obvs so much more.

You'll have to check their site every five days to get a preview of the upcoming deals that week so you can beat out the other basic bitches. Not only are these deals unheard of, but they're also valid online and in-stores so you can do holiday shopping (and grab some shit for yourself) regardless of where you are. I've already started my cart for this week, so here are this week's deals you should start saving your direct deposit for before they sell out.
Too Faced's bestselling lip gloss gives you Kylie-looking lips, but without the fillers. Each flirty shade is full of avocado and jojoba oils to give you thick, soft, hydrated lips that last all day long. Layer with your fave lipstick for triple the amount of "Wya" Snapchats from your latest fuckboy.

The limited edition set comes with a full size They're Real! Lengthening Mascara in black (bless), as well as a mini They're Real! Push-Up Eye Liner in black and They're Real! Remover. The 3-in-1 set is all you need for hella long lashes, killer winged liner, and easy removal when you're too tired to wash your face. Believe me, we've all been there.

Bare Minerals is one of the few brands that actually promises what it delivers, so whenever there's a deal on their makeup, I go fucking nuts. The concealer is so light you'll forget you're wearing any at all; it instantly rids you of annoying breakouts and redness; and it protects against cancer-causing UV rays. The blend-ability is also like, v amazing, so you'll have no problem mixing with any foundation or wearing alone.

What originally started as the eyeshadow everyone had to have has now become a fave highlighter, lipstick, and all-over illuminating powder. Each lightweight baked powder comes with reflective particles so you shine like a fucking diamond 24/7. Whether it's for the perfect contour, fake cleavage, or "toned" legs, it'll give just the right amount of long-lasting shine. Prolong the wear with your setting spray, or mix with a lotion for less of a glitter fiasco.

The bent wand to this mascara may look kinda fucked up, but it's worth it because it emphasizes length, lift, and volume. The fab formula makes it easier to reach even the smallest lashes for maximum length. Covered in the blackest black you could ask for, each lash will be conditioned in rose-infused stuff that prevents flaking and smudging throughout the day. So like, it's literally the best mascara you've probs been searching your whole life for.

Images: Jazmin Quaynor / Unsplash; Giphy; Ulta (5)
Ulta's 21 Days Of Beauty Sale Has Half Off Your Fave Makeup So It's Basically Free
The second half of 2017 is already looking better than the past few weekends months that have made my life a living hell, but what else is new it's fine I'm fine. Maybe 2018 will be my year, I say knowing it's not true because I literally say this every fucking year. Honestly speaking, I think things are only looking up because end-of-summer sales have been fucking great. I literally bought a skirt and shirt for $6 the other day so, life is good. Like, retail therapy really works wonders *angrily glares at my therapist*. Prime example: Sephora's Weekly Wow has done my card dirty treated me v well, but its competitor Ulta is about to be even better. Sunday kicked off the first day of Ulta's 21 Days of Beauty event, which discounts beauty necessities up to 50% off *everyday* for an obvious 21 days. So, basically, you can get everything you've ever wanted from your favorite brands at half off all the way until September 23rd. You guessed it, we're fucked. So on that note, here's a preview of week's goods to get you psyched everyday for the rest of the week month.
Tuesday, September 5th:
If Google didn't exist, I would've never graduated college would have no idea Jennifer Aniston and Heidi Klum are both in their 40s. That's in part due to my inability to correctly guesstimate anything ever, but also because Aniston and Klum both use this amazing cleansing gel. This exfoliating cleanser is full of fruity stuff that unclogs yo' nasty pores and removes dead skin cells that are the bane of my existence cause breakouts so you have younger-looking, refreshed skin for all your future Instas.

This primer is everything you need to brighten and tighten your skin (without looking like you got botox) for Snapchat filter-looking skin. Like, you just know how on-point those filters make you look, hence why all your selfies have fucking puppy ears. If you think this primer sounds amazing, all of the PÜR primers are half off too, so the more, the better your nudes selfies look.

Kind of like a lip primer, kind of like Chapstick 2.0, this colored lip oil gives you ultimate Kylie lips with just a simple swipe (and no injections). It's packed with oils like coconut, green tea, and cloudberry (WTF is a cloudberry, LMK), for a conditioned duck face-ready pout. These come in shades of pinks, reds, and bold darks for wearing underneath your fave lipstick or to wear alone because we're lazy af.

Wednesday, September 6th:
Nothing makes me spend more money happier than a 2-in-1 product. It's like a freebie, but better. This exclusive double-ended lipstick features a smooth matte lipstick in vibrant shades with an accompanying hydrating lip gloss for a quick touch-up. It's "travel-friendly" which basically means you can throw it in your purse before heading out to sweaty nightclubs.

Thursday, September 7th:
If you can master perfectly winged eyeliner, you can literally get away with murder do anything. This liquid eyeliner is an essential for drawing a wing so sharp, you can cut a bitch. It's basically a marker made for your eyes so if you still fuck up, it's your own damn fault. They're waterproof and come in a bunch of bright colors—that is, if you feel like having yellow eyes or something equally weird that's basically any color other than black.

Friday, September 8th:
If you love the way you glow after getting lucky with your Bumble boy or you need to pull a Kristen Wiig before your booty call awakens, you need to buy this gorg palette.

The trio comes with silk-powdered bronze, highlighter, and blush for a v sexual radiant contour. Choose from any of the versatile shades, regardless of your skin tone, for the most #flawless sculpting look you've ever achieved. Now, you can schedule your next dick appointment without spending an hour on your contour beforehand. So blessed.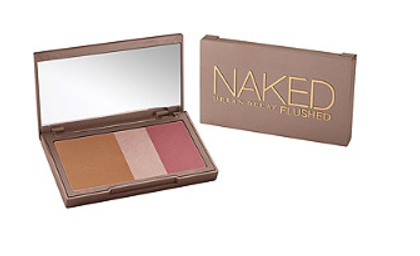 7 Under-Eye Concealers That Are Cheaper Than Botox
Unless you're 12 years old or don't consistently wake up on Monday morning from a Sunday brunch hangover (and honestly wtf else would you be doing with your life?), I hate to break it to you, but you've got bags, and I'm not talking that reusable trendy shit you hoard in your pantry. Look, we're not getting any younger. It's just the ugly truth. Like, idk when girls started treating under-eye concealers like a choice of wedding meal courses, but these aren't an option. When it all comes down to it, concealers are a matter of life or death, mostly because without something to cover up your under-eye bags or dark circles, or whatever your issue is, you actually look like a fucking corpse.
So if you're one of those self-described "lucky" girls who thinks this doesn't apply to you, then by all means, skip over this article, but expect to stop being carded at the ripe age of 25. For all the rest of us, these under-eye concealers are worth sacrificing two drinks, and selling your soul at Ulta. But like, what else is new?

First off, if someone could tell me what the fuck 'CC' means, that'd be great. But I know enough about it to know that 'CC cream' and 'full coverage' have never been used in the same sentence. Which is why this shit is one-of-a-kind and I will swear by it til death. First off, it works as an anti-aging product, so there's that. It also comes equipped with advanced Cold Spoon Technology aka a groundbreaking metal tip, but tbh the cooling application feels like heaven. It's also SPF 50, so in other words, add this product to your cart, like yesterday, so you don't look like melted butter at the beach this weekend.
You know anything with as betchy of a name as Anastasia is bound to be a decent product. I mean, just look at the success of her eyebrow products. But anyway, this concealer comes in 16 shades, so unlike last week's Bumble match, you're bound to find a match you don't feel personally victimized by. But what's best about this is that it stays put all day and for those oily skin types, won't settle into creases. Plus, in really desperate times, you can use this as an all-over foundation. So what Anastasia is basically getting at is that there's no excuse for you to look anything but fabulous during your walk of shame.

Our environment has already gone to shit, but that doesn't mean your face has to. Idfk how a makeup brand can be gluten-free, but the entire Milk line is eco-friendly, for all of you who still care about what goes on your face (I wish I did, tbh). It allows for full coverage but also the ability to still move your face freely without feeling like a cracked sidewalk. The product is infused with marshmallow and chamomile (wtf?), so it's best used on fair skin and pink undertones to decrease redness and stress pimples.
Betches love simplicity. Actually, betches love being able to get away with doing the bare minimum. In that case, this NARS concealer wand is pure gold. Not only will it give your skin a radiant glow (hence the title, duh.), but it's also lightweight and doubles up as a contouring wand and can also be used to hide those trouble areas, all while giving the impression that you actually didn't need to use Snapchat's pretty filter to take a no-makeup selfie.

When you're balling on the broke bitch budget and have to choose between a decent concealer and Sunday brunch, don't. That just adds stress, and I've already had waste my own time explaining how to cover your stress bags. But with this drugstore concealer, you won't have to enjoy brunch solely via Instagram. It allows for full, lightweight coverage, and you can either use the tip of the crayon for finer contouring lines, or the side of the crayon for larger areas of skin – you know, basic first grade shit.
If Kat Von D is able to cover up those ugly star face tattoos with her own makeup brand, then her line of under eye concealers will undoubtedly cover up all your weekend regrets. The velvety finish of this full-coverage concealer is long-lasting and will give your under-eye region an instantly brightened finish. It's also known to fall on the thicker spectrum of coverage, so bitch about the thickness all you want, but you'll be spending a stupid amount of time correcting those under-eye bags on FaceTune.

This concealer is exactly as promised in the name – it lasts for fucking ever. Wear it through your weekend alcohol binge, sport it during a zombie apocalypse, wherever the case, it's the shit. Not only that, but the lightweight formula is infused with Pure Focus Pigments designed to even out skin tones and erase shadows, so you don't look like burnt toast. But if you're still not convinced, it also won some prestigious beauty award in Allure, but I'm sure these all did at one point, so.