Cute Lightweight Sweaters That Won't Make You Sweat
Everyone loves fall, and everyone loves a good fall sweater. Well, mostly everyone. Some of us (yes, me) seem to be going through early menopause on a daily basis. You know, like having random hot flashes and just casually sweating all the time??? Fun stuff. Therefore, although a sweater looks cute and cozy while I'm getting ready in the morning, by midday, I feel like I'm suffocating. And, not be dramatic or anything, but feel like I'm slowly losing oxygen by the minute. However, there IS a solution for all of us Sweaty Bettys out there who still want to embrace all of the cute and trendy fall sweaters. We, too, can take Instagram-worthy "candids" in cable knit sweaters while holding pumpkin spice lattes, just like all those other girls! We will no longer be personally victimized by suffocating sweaters! The solution: lightweight sweaters.
Ladies, help me, help you. No one needs you turning into the Incredible Hulk midday of your 9-5 and manically tearing off your sweater. That's just a HR nightmare waiting to happen, and you don't need that kind of drama in your life. I've found five styles of lightweight sweaters that are a lot more breathable than the average sweater, so that you don't have to be the office hoe.
Don't be this girl:

1. Open Knit
Open knit sweaters are the definition of lightweight sweaters. The loosely knit structure of the sweater means that air can still flow through, keeping you breezy throughout the day. Basically, wear one of these sweaters and you won't feel like you're in one of those sweat lodge space suit things the second it gets a little warm.

Free People Beach Comber V-Neck Sweater



Free People Infinite V Neck Sweater
2. Open Back
When we start to get hot, one of the first places most of us start to sweat is our back. Therefore, a sure way to eliminate this from happening is to wear a sweater with an open back. I know, I'm like, so smart, right? The open back obviously allows for easy air flow, plus you won't be obsessing over whether everyone can see your gross sweat stains. Win-win. 

About Us Cheryl Open Back Sweatshirt

Lovers + Friends Crew Neck Sweater

Lovers + Friends Amelia Sweater
3. Off The Shoulder
Off the shoulder sweaters are great because they allow you to wear a sweater without feeling like your sweater has the hidden agenda of killing you slowly. There's nothing worse than when you're wearing a turtleneck and, all of a sudden, you start slightly sweating, and then omg, is this turtleneck getting tighter? Is this thing trying to choke me?? Omg, am I going to suffer death-by-turtleneck???? The panic of being overheated while wearing a turtleneck is what I imagine it feels like to be a manic Bachelor in Paradise contestant who just got dumped and is desperately trying to find a new rose to stay on the show. All while sweating profusely on national television. Anyway, here are some cute off the shoulder lightweight sweaters.

Neely Off The Shoulder Long Sleeve Knit Sweater



Lovers + Friends Sheer Sweater
4. Cropped
Cropped sweaters are a great option for fall, because the silhouette allows for some midriff breathability. Although the downside is that they do require abs amidst a winter-bod-mode mindset, and probs some good self-tanner, too. I recommend wearing a cropped sweater with some high waisted pants so that you just show a sliver of skin—just enough to just keep you cool. And also so you don't get called into HR for having your belly button ring stick out. 


Free People Shades Of Dawn Pointelle Pullover

ASTR The Label Carly Crop Sweater

Topshop Pointelle Crop Sweater
5. Distressed
Distressed clothing has been vvv trendy for the past few seasons now, and continues to be for fall. Not only is it trendy, but it also allows for air flow and is a go-to breathable sweater option. You don't need to go all Yeezy-level distressed though to get some extra breathability. A few subtle rips and tears is all you need to ensure you're sweat-free!


Lovers + Friends Prospect Sweater

27 miles malibu Evelyn Distressed Crew Neck Sweater

It's never cute to be the girl sweating, especially when you look like the girl who is trying to be cute but is totally being curbed by her incessant sweating. Nothing says effortless LESS than the girl dripping through her fall ~lewk~. Fortunately, you don't have to be that girl, as long as you get one of these lightweight sweaters.
Images: Unsplash / @brookecagle; GIPHY; Revolve (11); South Moon Under (2); Nordstrom (3); Free People; Princess Polly; Verge Girl
Betches may receive a portion of revenue if you click a link and purchase a product or service. The links are independently placed and do not influence editorial content.
Lord & Taylor Is Having A Sale On The Cutest Sweaters Right Now
In case you've somehow managed to avoid the internet, the outdoors, and basically every single member of the human race… it's fucking freezing outside. Like, cold enough that there's either going to be a baby boom nine months from now, or an end to civilization because nobody has the desire to leave their apartment. Up to you. Anyway, the only reasonable way to cope with this insane weather is to buy yourself a sweater. Lord and Taylor happens to be having a sale, so knock yourself out. Here are a few super perf sweaters:

This sweater is perfect for when your friend that you usually ditch invites you out for drinks and you feel obliged to go. You don't want to put any effort into your appearance, but still kinda have to look cute. It's like, just a plain sweater but features a lace-up design that will make it look a little less like you just threw on a sweater and probably have a sports bra underneath it.

This sweater is a little confusing. It's kind of a crop top, but it's also a billowy, baggy, comfy, fluffy sweater. Pair it with high waisted leggings and fuzzy socks for your next totally innocent "just lounging around on a snow day!" thirst trap.

This sweater is so fucking extra that I almost hate it. But, similar to my addiction to any and all Real Housewives franchises, I'm going to defy all logic and totally live for it anyway. I can't even look at this without hearing Napoleon Dynamite say "I like your sleeves. They're real big."

This cable knit cardigan is long as shit, which is always like, best case scenario when it's freezing out. Once the temperature drops below freezing, I always just want to rip off the Olsen twins' style and wear a million chunky layers that drag behind me on the ground.

This is basically a potato sack with a bow tied around it, and I'm sooo into it. Plus, you can totally wear it as a dress, too. Like, if it's ever warm enough to wear a dress ever again. Idk.
Images: Brooke Cagle / Unsplash; Lord & Taylor (5)
5 'Ugly' Christmas Sweaters You'll Actually Want To Be Instagrammed In
If there's something everyone goes nuts over during the holiday season, it's the ugly holiday sweater fad. TBH, IDK how or why this is even a thing, because every year I'm asked to wear one, I'd probs rather die. They're literally never cute, and looking ugly at a party is not my aesthetic or sense of humor. I seriously go out when I need a boost of confidence because I know some drunk girl is going to make me feel like Beyoncé in the bathroom. However, like some of the worst trends of our time (unicorns, mom jeans, rubber slides), there's no escaping this one either. If you're going to this year's SantaCon, favorite frat's mixer, or cliché company party, you're def going to need a non-fugly ugly holiday sweater, so here are 5 styles that you'll actually want to Insta.
'Tis the season for all that is cuffing-related, so if you're not ashamed of letting your forever current relationship status show, you'll want one that lets every man in the building know you're ready to mingle after you've had four vodka sodas. The knit style is comfortable, kind of cute in a non-atrocious way, and actually gives back to the Boys & Girls Clubs of America when you buy it. You're getting and giving in one shot, happy fucking holidays.

If wearing cheesy holiday designs and patterns makes you wanna vom (hi), then you can still go for a neutral holiday pattern and call it ugly. No one will question it, I promise. This soft knit sweater features a rounded neck and dropped shoulders for a casual and relaxed fit. You can totes wear it again outside of the holidays with its matching skirt or your comfiest leggings.

This is probs the cheesiest of my selections, but I'm trying to remain unbiased since this is probably of interest to some of you. It's not the ugliest sweater I've seen, tbh, and it still makes you look like you have some sort of fashion sense with its trending choker neckline. You will most definitely get a shit ton of compliments on this (you're fucking welcome) and put your friends' sweaters to goddamn shame.

Yes, I know other holidays besides Christmas happen in December. Sooo, for my Jewish betches, I've found a moderately fetch, slightly humorous holiday sweater to ring in this year's Hanukkah celebration. Don't let the "men's" category throw you off, because tbh, we all know that somehow, someway, men's sweaters and hoodies are often way comfier than the shit we're offered. You're obvs getting lit this season, so this bright-colored cotton crewneck gets the job done. Just order a size down from your norm and mazel tov.

From yours truly, the Betches have the most non-fugly ugly Christmas sweater you'll want to get ASAP. Since we know bright colors, sexualized Santa, and other shit are just fucking weird, this classic white style is lined in fleece and tells it like it is. Duh.

Read: 4 Holiday Party Makeup Looks That Will Make You The Hottest Person In Your Office
7 Cozy Sweaters You'll Want To Literally Live In This Winter
If there are two things in this world that I really hate more than anything (like, even more than whipped cream flavored vodka), they're adulting and cold weather. If you enjoy being financially responsible and sitting by the fire, watching snow fall through the window, you're a) crazy and b) probably on this website by mistake. Anyway, to remedy the fact that it's freezing outside and you also probably have a million adult things you're supposed to be doing, here's something you can do to kill two birds with one stone: shop the Outnet for comfy designer sweaters. I mean, there's pretty much nothing more responsible and grown-up than a designer sweater, right? There's just something about a cashmere turtleneck that screams "hey world, I have my shit together." Plus, everything on the Outnet is like, a million percent off, so it's genuinely such a responsible way to shop. Here are seven sweaters you totally need.

This 100% cashmere sweater will make you look cozy AF, but it also has a v-neck that could potentially serve as an opportunity to show off some cleavage, so you can trick people into thinking you didn't just roll out of bed.

Finding a slouchy, loose-fitting turtleneck that doesn't look like something your dad would wear to shovel the driveway is actually way more difficult than it should be. Luckily, Alexander Wang created the T by Alexander Wang brand specifically for simple, laid-back styles, so obviously this one is perfect.

Just when I thought mesh panels were officially dead, I found this sweater. Because the mesh paneling isn't doing anything ridiculous, like giving you a chance to be basically naked at brunch, it's actually a really cool detail. This sweater is ideal for those situations where you just want to wear jeans and a sweater, but like, want to look like you're wearing something more than jeans and a sweater.

For some, winter can feel like a total bummer, because there aren't a lot of easy ways to be a thirst trap show off the body you've worked so hard for. Lucky for you, this sweater has an asymmetrical hem that will make your butt look really good.

Leave it to the Olsen twins to create a sweater made out of a material that's pretty much the clothing version of laying in your bed while wrapped in a towel after a shower. Everyone knows Mary-Kate and Ashley invented the whole "sleeping bag as casualwear" trend, so an Elizabeth and James sweater is something every lazy betch truly needs.

In the words of our lord and savior Cardi B, a hoe never gets cold, so you should prob get this really cute open back sweater.

It's a sweater and a sweatshirt, so you can totally pull off a hoodie in a situation where you normally might not be supposed to be wearing a hoodie. (Like, IDK, maybe when you're pulling an Ilana Wexler and taking a nap at your desk at work.)
5 Oversize Sweaters You Can Wear Without Pants This Winter
We're in full swing of every thot's fave time of year, aka fall. With October upon us, the temperatures are getting colder faster than we can say PSL. In addition to the little black boot, sweaters are like, the best trend fall fashion has to offer. There's nothing better than nursing your hangover, running errands, or even meeting your posse at the bar while wearing the world's comfiest oversize sweater—with no pants, of fucking course. Sweater weather already has models we strive to be as skinny as (Bella Hadid and Kendall Jenner, obviously) strutting streets in baggy sweaters and cute heels, because IDK, maybe even celebs run out of clean leggings, too. If worn correctly, a bulky sweater will most def *not* make you look bloated af or look like a sack of potatoes. Just take it from the expert, okay? Here are the most comfortable, yet trendy oversize sweaters you can totally wear as a dress, because like, fuck pants.
This pullover hoodie screams Kardashian in the sense that I'm almost positive every single one of them wears a hoodie as a dress at least once a week. This cotton high-to-low hoodie comes in two different colors (our go-to black and millennial pink), each with a drawstring hood. The asymmetrical hem provides good enough coverage to go pants-less in confidence. Pair with sock boots and you can totes go out in public in this before indulging in a low-key wine night.

Wool is typically avoided because it's uncomfortable and itchy AF. I know beauty is pain, but wool is usually the exception because it's just not worth it most of the time. Thank god this lightweight oversize sweater is designed with luxury wool—the shit that doesn't itch—to keep you warm and v comfy in the cooler months. It features an extra wide neck so it can be worn off the shoulder for an effortlessly chic look while you Netflix and chill with your latest cuffing season fling. Order a size up from your usual so you can easily style, no pants required.

Nothing says "I'm an important fucking person" like wearing some high-class cashmere. With dropped shoulders and a tie front, this sweater dress looks perf over any body type without making you look (or feel) pudgy. Even after several vodka sodas, you can adjust the tie to hide your bloat and still look skinny. Pair with sexy thigh-highs and your friends will be begging to borrow your outfit next time you go out.

Whether you're doing the walk of shame or lying comatose on your couch, you may as well look semi-decent doing it. Opt for a textured sweater that brings a fun element to a carefree look by styling with a non-suffocating corset belt and ankle strap heels. From night to daybreak, you'll be the last one standing in absolute comfort and style, two words that are rarely in the same sentence.

For an option that balances sex appeal and classiness, this oversize sweater comes with off-the-shoulder sleeves and a ribbed trim for the ideal relaxed fit. Bless. The length comes to just above the knee, but you can def go up a size for extra comfort. Feel free to take this to the office and pair with your overly worn Adidas Superstar sneakers for something more casual. If you plan on grabbing drinks, elevate the look with block-heeled boots.

The 5 Jackets And Cardigans You Need To Get Through Fall
Fall is the shit because I can wear leggings 24/7 and get away with wearing just a big-ass sweater because like, fashion. Even though there's a 30% chance my breasts can tell weather experts say it's going to be a v warm fall, temps are already cooling down. Maybe I'm being ~a little bit dramatic~ but I can no longer take on the night without a jacket. It's getting brick and although I'm sick of wearing the same old denim jacket, I'm not quite ready to sweat profusely in wear leather jackets, either. Layering up doesn't have to be a major buzzkill or make you look like a prude, though. You can still look hot and stay warm, because risking your health for your outfit is totally valid not okay. If you look hard enough, or just take my fucking advice, you can find the most perf lightweight jackets that take you from work to your 5:01pm blackout. Or, you can simply elevate a Sunday walk of shame outfit and die on the couch lounge in the comfiest hangover clothes. Either way, we can only go up from here, so start prepping for chilly fall nights you can def still look good af for.
A duster jacket is the boss-ass bitch of all jackets. They kinda remind me of a cape, but like, a sexy cape. It's business-y, warm, and v comfy for striding in the streets. Yes, comfy and warm *can* be in the same sentence as business-y. Tell your HR rep to suck it. You can totally dress this up with a really good heel or keep it casual with a sexy boot. Although this one comes in black (bless), you'll have one in every color by the time October rolls around.

I might be biased because I have one, but I'm also considerate enough to share my goodies with you. Let me just say, this is the comfiest shit ever. It's a denim jacket and a hoodie in one. Any time I feel like channeling my inner Damian Leigh, I just pull my hood up and throw on my biggest shades and stifle the urge to yell, "She doesn't even go here!" It's also trendy enough to wear with a dress and your go-to little black boot. You can totes get away with wearing this when you drag your boyfriend to go apple picking, or when you go on your sorority's Instagram shoot field trip to a pumpkin patch.

This is the inconspicuous celeb style we all aspire to have. Olive green is always huge for fall, so let anyone tell you it's fugly. This is actually a cold weather jacket so you can justify the price by telling yourself you'll wear it more than just the awkward one week span between summer and fall. The jacket is v lightweight but it blocks out the chill and is like, water resistant??? Fucking grool. Easily throw it over a mini skirt or slutty tight dress for a night out.

This is basically a black leather jacket but like, in gray (fucking obviously) which makes it sooo much better. It's not yet basic so you might as well grab it and be the trendsetter. This one is soft, breathable, and obviously goes with literally anything—from your overly worn leggings to a casual T-shirt and mini skirt.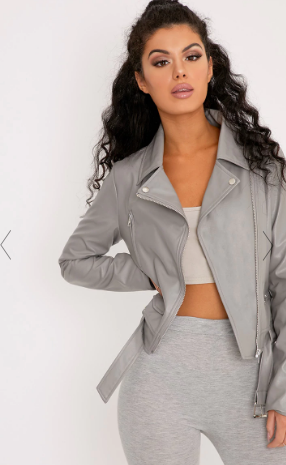 This may look like your grandma's sweater, but that's the whole principle of fall and stocking up on cardigans that end up looking the same. The fringe detailing is modern, laid-back, and says, "I'm not trying hard at all, but this cardigan is over $100." It's honestly not the warmest, but if you sweat even in a blizzard under any coat (uh, same), this is good enough to just throw over for dinner or when hopping a bar strip. Since it's neutral, contrast with something dark (aka probs most things in your closet) or layer up with a light-colored scarf.