Fall is the shit because I can wear leggings 24/7 and get away with wearing just a big-ass sweater because like, fashion. Even though there's a 30% chance my breasts can tell weather experts say it's going to be a v warm fall, temps are already cooling down. Maybe I'm being ~a little bit dramatic~ but I can no longer take on the night without a jacket. It's getting brick and although I'm sick of wearing the same old denim jacket, I'm not quite ready to sweat profusely in wear leather jackets, either. Layering up doesn't have to be a major buzzkill or make you look like a prude, though. You can still look hot and stay warm, because risking your health for your outfit is totally valid not okay. If you look hard enough, or just take my fucking advice, you can find the most perf lightweight jackets that take you from work to your 5:01pm blackout. Or, you can simply elevate a Sunday walk of shame outfit and die on the couch lounge in the comfiest hangover clothes. Either way, we can only go up from here, so start prepping for chilly fall nights you can def still look good af for.
A duster jacket is the boss-ass bitch of all jackets. They kinda remind me of a cape, but like, a sexy cape. It's business-y, warm, and v comfy for striding in the streets. Yes, comfy and warm *can* be in the same sentence as business-y. Tell your HR rep to suck it. You can totally dress this up with a really good heel or keep it casual with a sexy boot. Although this one comes in black (bless), you'll have one in every color by the time October rolls around.

I might be biased because I have one, but I'm also considerate enough to share my goodies with you. Let me just say, this is the comfiest shit ever. It's a denim jacket and a hoodie in one. Any time I feel like channeling my inner Damian Leigh, I just pull my hood up and throw on my biggest shades and stifle the urge to yell, "She doesn't even go here!" It's also trendy enough to wear with a dress and your go-to little black boot. You can totes get away with wearing this when you drag your boyfriend to go apple picking, or when you go on your sorority's Instagram shoot field trip to a pumpkin patch.

This is the inconspicuous celeb style we all aspire to have. Olive green is always huge for fall, so let anyone tell you it's fugly. This is actually a cold weather jacket so you can justify the price by telling yourself you'll wear it more than just the awkward one week span between summer and fall. The jacket is v lightweight but it blocks out the chill and is like, water resistant??? Fucking grool. Easily throw it over a mini skirt or slutty tight dress for a night out.

This is basically a black leather jacket but like, in gray (fucking obviously) which makes it sooo much better. It's not yet basic so you might as well grab it and be the trendsetter. This one is soft, breathable, and obviously goes with literally anything—from your overly worn leggings to a casual T-shirt and mini skirt.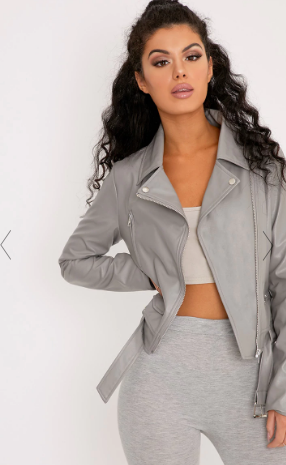 This may look like your grandma's sweater, but that's the whole principle of fall and stocking up on cardigans that end up looking the same. The fringe detailing is modern, laid-back, and says, "I'm not trying hard at all, but this cardigan is over $100." It's honestly not the warmest, but if you sweat even in a blizzard under any coat (uh, same), this is good enough to just throw over for dinner or when hopping a bar strip. Since it's neutral, contrast with something dark (aka probs most things in your closet) or layer up with a light-colored scarf.