This Artist Will Draw Your Thirst Traps To Support Sex Workers During COVID-19
Hey babe, looking for some light during these dark times of quarantine & scream chill? I got you. Or rather, comedian, artist, author, and stripper Jacqueline Frances — aka Jacq the Stripper — has got you. Frances is using her quarantine time to come up with creative endeavors, including a project that involves drawing thirst traps and helping sex workers stay afloat during this crisis. We absolutely god damn love to see it.
Jacq the Stripper asked her followers on Twitter to send her their thirst traps so she could draw them for $50 and send the proceeds to mutual aid funds for sex workers. Sex workers are among one of the most affected groups of workers amid the pandemic, as many of them are unable to conduct their business safely.
With strip clubs and massage parlors closing for the foreseeable future, the NYC Health advising people not to engage in sex with anyone besides themselves and their roommates, and people generally being afraid to come within six feet of people, it's harder than ever for many sex workers to find gigs right now, making these mutual aid funds vital to their survival. To have your money go towards a great cause and get you a dope drawing of your sexy bits all in one go? That's a slay, hon.
Send me your quarantine thirst traps and for $50 I'll draw your portrait, with proceeds going to mutual aid funds for sw affected by this wildly inconvenient world health crisis. All commissions are through https://t.co/g3Lu0NhTjv pic.twitter.com/vJ5G6PhwJX

— Jacq the Stripper (@JacqTheStripper) March 25, 2020
These drawings also make for amazing gifts. If everyone I knew gifted me with drawings of my nudes I would be one happy slut, I'll say that. If you have a friend who's feeling down, has a birthday coming up, or just deserves a treat for the sake of it, may I suggest sending one of Jacq's masterpieces their way. And while we're throwing ideas around, it would be pretty rad to have one of Justin Bieber's thirst traps drawn, and if anyone made this happen for me I would not be mad.
And this isn't Jacq the Stripper's first rodeo in terms of creating cool, sexy projects with an important message. She has "soft clothes for sluts," pro-sex work merch, and other amazing art that you can buy on her website. She's also a hilarious performer, and you can access all of her amazing content on her Patreon for endless entertainment. Wow, smart, funny, hot, talented women really can have it all. Who knew?
Want more news like this? Sign up for Sup's daily newsletter to laugh (instead of cry) about the news.
Images: Twitter (2), Instagram (1)
The Argument For Decriminalizing Sex Work
Let's talk about sex (work), baby, let's talk about sex and work! If I'm being h with y'all, I think sex work is amazing. It's the oldest profession in the game, pretty much everyone likes to indulge in it in some way (porn, anyone?), and it's an industry that largely employs women and allows them to profit off of their sexuality. J'adore.
Just to clarify, when I say sex work, I am referring to the various jobs within the sex industry. This includes strippers, escorts, adult film actors, webcam models, street workers, and anyone who sells sexual services. It's an umbrella term that covers more than you may realize. If you've ever sold photos of your feet or a pair of panties, congrats, that was a sex work gig. Also, hell yeah, babe, get that money.
Some sex work is legal, like stripping, and some is not, like selling sex. Sex work that is illegal arguably receives more judgment and shaming than legal sex work — people have an annoying tendency to blindly equate legality with morality — but all in all, it's safe to say sex workers experience a lot of stigma for the work that they do.
Call me radical, but I think shaming someone for profiting off of their dope sexuality and literally just doing their job is, in technical terms, really fucking stupid.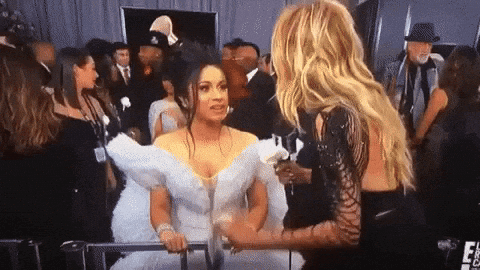 My face when someone says sex workers should "get a real job."
Don't Be a Captain Save-a-Hoe
But what really grinds my gears is when people speak out against sex work under the veil of wanting to protect sex workers. Let's start with the law: selling sex is illegal, and cops will likely tell you this is to protect people, mostly women, from entering a field that uses them, puts them in danger, and forces them to shamefully sell their bodies to survive. (Sidenote: sex work isn't selling your body, it's selling a service/experience. You go home with your body at the end of the day, as it is intrinsically yours and nobody can buy it.)
Sure, some people do sex work because they feel they have no other option (not all!), but last I checked throwing someone in jail and giving them a record did not help them thrive.
Also, many people do jobs they hate in order to survive, but the fact that sex workers are made to feel worse about what they do is only exacerbated by the narrative of "sex work is bad, sad, and dirty" that society keeps pushing. And this narrative is held up by the fact that a lot of sex work is illegal, because if it's against the law, it must be "bad," right?
And a lot of sex workers like their jobs. A job is a job and it can be hard and exhausting, but many, many sex workers do sex work because they want to. Stop being Captain Save-a-Hoe by trying to "stick up" for women who don't need your saving.
And if you're thinking, "but sex work exploits women!!!!" my argument to you would be that it's not sex work that exploits women, it's capitalism that exploits the working class, and the sex industry is no exception. If a woman doesn't want to use her sexuality as part of her job, she certainly shouldn't have to. In a capitalist society, many of us are forced to work jobs we don't want to in order to survive. But on the other hand, if a woman *does* want to monopolize on her sexuality and make a living selling sexual services, then she should be able to without fear of the law, police brutality, and societal ostracizing. Sex workers deserve the freedom to do their jobs in peace, just like an other worker. So, how could this be done? Decriminalization, baby.
if you think sex work is exploitative just wait til you hear about capitalism

— Irene Fagan Merrow (@_irenemerrow) January 29, 2020
Sex Work and Sex Trafficking Are Not the Same
The decriminalization of sex work is what it sounds like: removing criminal penalties for sex work, mainly the trade of sexual services. This doesn't mean it would be legal, it just means people wouldn't be charged with a crime for doing it. This, of course, would not apply to sex trafficking. Sex work and sex trafficking are two separate things and should be treated as such. Sex trafficking should obviously be punishable by law.
Sex trafficking is when victims are forced into selling sex and is obviously nonconsensual. Sex work is when a consenting adult sells a sexual service to another consenting adult. See the difference? Treating two separate things in the same way is not effective, and conflating the two is actually dangerous.
For example, FOSTA, the Fight Online Sex Trafficking Act, and SESTA, the Stop Enabling Sex Traffickers Act were implemented to stop sex traffickers from being able to conduct their business online. However, the laws also make it illegal for consenting sex workers to conduct their business online. A lot of sex workers used to use resources like the website Backpage, where they could pre-screen their clients and make sure they were safe. Online hubs also helped sex workers communicate with each other, so they could warn each other about bad clients or verify good clients for each other.  FOSTA-SESTA took this away, so sex workers have been forced back onto the street, often going into work situations blind and at risk. Treating consensual sex work like sex trafficking victimizes sex workers, it doesn't protect them.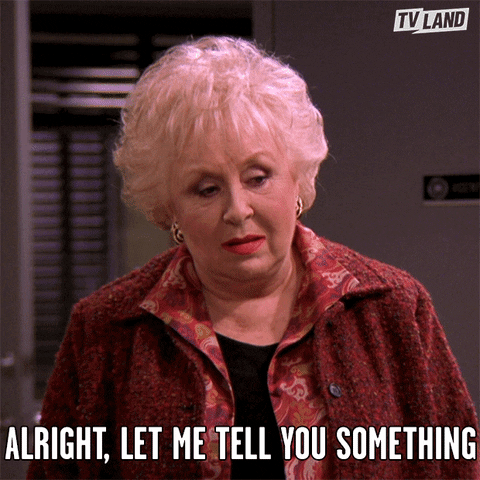 Cops Are Not Our Friends
The criminalization of sex work is supposedly meant to protect sex workers, but it actually leads to a lot of harm. I'm going to let you in on a lil' secret: the police are not sex workers' friends.
Go ahead and clutch your pearls, but it's true.
Sex workers are often harassed by cops, and far too often experience violence at the hands of them. According to the Human Rights Watch, police officers abuse their power in situations with sex workers by holding the penalties over their heads when they harass, abuse, and sometimes rape them. Some will even coerce them into giving free sexual services in exchange for no arrest. You know, like sexual assault.
Human Rights Watch also found research across various countries that showed criminalization makes sex workers unsafe because attackers acknowledge they are unlikely to go to the police, so they can get away with abusing them. Sex workers don't want to go to police because they are afraid of getting penalized for their work, and also are afraid of being abused by the police. Plus, sex workers are often forced to conduct their work in unsafe locations, as they are trying to avoid being seen or caught by law enforcement, and this makes them much more vulnerable to violence. As it turns out, making sex work punishable by law puts sex workers in danger, rather than protect them from it. The law fails to provide for a marginalized group of society again, truly who could have seen this coming?!
There are also health issues when it comes to criminalization. Some sex workers fear using condoms because they can be used as evidence that the illegal work is being done. In some strip clubs, dancers aren't allowed to carry purses because they don't want them to have condoms on them. Some clubs even check the strippers' purses for condoms before a shift, and make them throw them out if they find any. Cops treat street sex workers in the same way; they stop them, search them, find condoms and question them about them, and sometimes make them throw them away.
The "idea" here is that if the workers don't have the condoms, they won't engage in the sex work. Obviously that is not true, they will just do it without the condoms. Criminalization isn't stopping the work from happening, it's just making hard for sex workers to do their jobs safely.
The Nordic Model Doesn't Work, Babe
The decriminalization of sex work would allow sex workers to do their jobs more safely, as they wouldn't have to fear penalty of the law when it comes to where they conduct their work and if they feel the need to report being abused. It would also keep the cops from abusing their power over them. Some people advocate for the Equality Model — also known as the Nordic Model — which only criminalizes the buyer. This is nice in theory, but as made clear before, the cops are not sex workers' friends. Having them involved doesn't help. This model has been tried in Scandinavian countries and hasn't been proven to benefit sex workers. In fact, it often gives cops an excuse to harass sex workers, and identify undocumented sex workers and deport them. Additionally, it makes negotiating with a client very difficult, since they are risking criminalization and the worker is not.
At the end of the day, consenting adults should be able to have sex with other consenting adults on their terms. It's called bodily autonomy, Karen, look it up. The patriarchy is terrified of women realizing the power in their sexuality, and that's probably why it enforces laws to stop them from profiting off of that. You don't have to want to engage in sex work, but maybe don't judge others who do just because some of it is illegal and society has deemed it immoral. Society is famously wrong, and we as humans all deserve to be respected, no matter how we decide to survive. Support women, support sex workers, support decriminalization. Just a thought!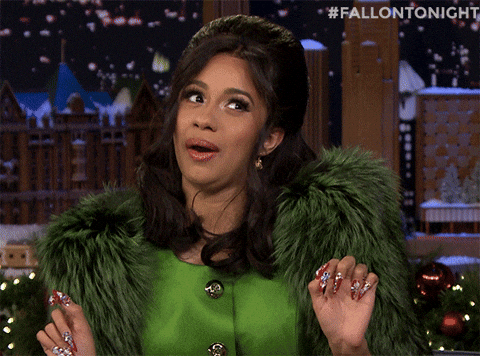 Want to keep up with the news without crying into your sad desk salad? Subscribe to the Betches Sup newsletter for a lunchtime briefing to make you laugh, instead of cry, about the news.
Images: Giphy (3)
Does 'Hustlers' Deserve An Oscar?
Now, before you all come for me… Is Hustlers an amazing film? Yes. I mean, I'm a gay man who's obsessed with Cardi B, Lizzo, and J.Lo, so Hustlers could literally be a piece of sh*t spread on toast and I would still convince everyone I know to see it. Fortunately, it's not sh*t spread on toast, but delicious avocado toast topped with perfectly ripened heirloom tomatoes, a gloriously poached egg, and a beautiful sriracha drizzle—but does avocado toast deserve an Oscar? I mean, does Hustlers deserve an Oscar? The reviews have been excellent, with rogerebert.com saying it's J.Lo's best work since 1997's Selena. The Hollywood Reporter called it J.Lo's best film to date, and Hollywood superwoman Shonda Rhimes tweeted that she only leaves her house for a movie every five years, and Hustlers is the one. For all intents and purposes, this movie is screaming "give me an Oscar," so what's the f*cking issue? Well, as it turns out, the woman who lived the real-life story has a major issue with it, and fittingly, like the bad bitch she's portrayed as in the film, she's not going down without a fight.
The film, directed by actor/writer/director Lorene Scafaria, has grossed $62 Million, tripling its budget in only 10 days, which is like…a really good ROI. (That means Return On Investment, which means that one class I actually showed up to in college did teach me something.) The premiere at the Toronto Film Festival was apparently iconic, with a 2,500-person standing ovation and guests immediately whispering that J.Lo deserved an Oscar for her performance as Ramona, the queen-pin of the strip club turned queen-pin of drugging and robbing men.
The movie tells the multi-year story of J.Lo's character, Ramona, and Constance Wu's character, Destiny going from making hundreds of thousands of dollars a year stripping in Manhattan before the 2008 financial crisis to drugging men and maxing out their credit cards in 2013. Cardi B essentially plays herself, with only a few brief scenes, including one of her grabbing Destiny's hair and calling her a bitch for accidentally trying to take one of her clients on her first day, which was amazing, and something I've done to coworkers while serving tables before. Lizzo appears even less than Cardi, but somehow manages to sneak her famous flute playing into her scene, and Keke Palmer and Lili Reinhart both are great in their roles as underling members of Ramona's crew. One scene in particular, with a half-naked and six-inch-heeled Keke Palmer running through a parking garage screaming, had me laughing out loud, and Lili's character's nervous puking adds a welcome lightness to some otherwise dark scenes.

All in all, it's a very good movie. J.Lo looks absolutely incredible, and one scene where men are tossing singles on her while she does a sultry pole dance to Fiona Apple's "Criminal" had me questioning if my sexuality actually was a choice. Constance Wu is… fine, and Julia Stiles could be played by literally anyone (I'm sorry, but it's true). I could have played Julia Stiles' character, and the fact that I wasn't even discussed during casting is a catastrophic overlook, but I didn't let that influence my thinking while watching the film.
The thing about it is, at no time while watching did I think this movie was going to garner Oscar buzz, and I don't really know how to feel about the fact that it has. Let me be very clear about something, I f*cking love J.Lo, and if she won an Oscar I would be crying before she got to the stage, but then again my favorite movies of all time are Sister Act and Sister Act 2: Back in the Habit, so like…who am I to be judging? After all, Bridesmaids scored nominations for Kristen Wiig and Melissa McCarthy, Anthony Hopkins won the Oscar for only 16 minutes of screen time in Silence of the Lambs, and Anne Hathaway got her Oscar for a mere 15-minute choppy AF haircut in Les Miserables. So with the rules of what qualifies as Oscar-worthy clearly not set in stone, why not consider Hustlers? I suppose that pesky little fact that the person behind the story didn't get paid for it to be told.
The movie is based on the 2015 New York Magazine article, "The Hustlers at Scores," written by real-life New York Magazine journalist Jessica Pressler (played by the lackluster Julia Stiles). The movie is told through the narration of the article's main character, Roselyn Keo, renamed Destiny and portrayed by Wu for the movie. J.Lo's character, Ramona, is based on Samantha Barbash, aka Samantha Foxx, who is currently threatening a lawsuit against STX Entertainment, the studio behind Hustlers. Samantha says she was lowballed to sign away the rights to her story, and according to her lawyer, she "unequivocally rejected all offers to be included in the film." She claims that J.Lo never spoke to her before or during filming the movie, and she is now writing her own book about her story.
Pressler's article and the film actually seem to stick pretty close together, with some direct lines from the article used in the film, such as, "You can't feel bad! If we don't do it, somebody else will do it."
My hesitation with fully believing the movie's story comes from the troubling fact that we don't quite know what about the article is true. Pressler wasn't able to fact check a lot of what Roselyn, known as Rosie, told her when she was writing it. After beginning the article by saying "according to Rosie" several times, Pressler clarifies, "I say 'according to Rosie' because her family did not respond to interview requests, and because Rosie is an admitted liar with multiple pending felony charges. Still, she is occasionally prone to offering up indisputable truths." While some of the story may be fabricated, some aspects must be true, because the fact remains that men really were drugged and robbed, with one Queens strip club bartender pleading guilty last year to being in cahoots in overcharging the credit cards of two men who were drugged by strippers.

Hustlers is told in a similar fashion to 2017's Oscar-nominated I, Tonya, with the main character narrating her own rags-to-riches-back-to-rags story while establishing an emotional connection with the audience that goes beyond whatever shady sh*t they may have done. (By the way, Nancy Kerrigan still competed in the 1994 Olympics, so like…get the f*ck over it.) The difference, however, is that Samantha Barbash more than likely won't be sitting in the audience as J.Lo's guest at the Golden Globes as Tonya Harding did with Margot Robbie and Allison Janney. Allison ended up winning the Oscar for her portrayal of Tonya's mother; Margot was nominated for best actress for her portrayal of Tonya, but lost to Frances McDormand.

So aside from the question of whether or not Hustlers deserves an Oscar for the remarkable story, the way it's been told, and/or J.Lo and Constance Wu's performances, the fact that the real-life subject of the story is unhappy remains, and this should not be brushed over. I suppose we'll find out whether or not the Academy will take that into consideration come February. With that being said, I would let J.Lo use me as her own personal red carpet if she wanted to.
Images: Getty Images; Giphy (3)
I Took A Pole Dancing Class To Learn About Stripping, And Wow
I would just like to say that I learned more about stripping from Hustlers than I did about America in AP U.S. History class. Seriously, this movie deserves an Academy Award in every category and I will fight anyone respectfully debate the opinions of those who disagree. Because this article isn't actually about Hustlers, I'm not going to waste my word count listing out all of the lessons imparted on me during the best two hours of my life. Look, strippers, both real and fictional (like J.Lo and the rest of the amazingly talented cast), make pole dancing look easy. Well, guys, it's actually really f*cking hard.
If you're wondering how I know this, allow me to explain: last weekend, a friend and I signed up for a pole dancing class and, I'll just to cut to the chase, it did not go well. Holding your body up while balancing on a pole requires a level of strength and determination that I do not possess, so this class was exceptionally hard. Like, yes, I could climb up the pole and chill for a few seconds before awkwardly sliding down, but that is neither sexy nor impressive, so I tried the more advanced moves and it was an absolute sh*tfest. However, my hour on the pole wasn't a raging dumpster fire because I'm just a hopeless mess, it was because pole dancing is beyond hard and no one, not even Cardi, is good on her first day. Pole dancing is no easy feat, and this needs to be recognized. So if you want to find out exactly what your local strippers do every day and night, read up!
You Need More Than Rhythm

As I mentioned before, you essentially need to be the Hulk to be able to do literally anything on a pole. Even just the basic moves, like a wide squat and then slowly straightening your knees while arching your back on your way up to a standing position (or as Christina Milian would say, "dipping it low and picking it up slow") requires a level of strength I didn't think human beings were capable of. As for the more challenging moves, yeah, that didn't go well, either. 
Just for sh*ts and gigs, I wanted to try something really hard, so I climbed to the top of the pole as ungracefully as humanly possible, hooked my right knee and my right wrist around it and attempted to swirl down slowly, à la J.Lo in the Hustlers trailer. The swirl lasted approximately half a second because the inside of my knee felt like it was being lit on fire by the sun itself and my wrist wouldn't budge since the pole was sticky with sweat. Ouch. So in addition to being able to dance with an inanimate object, exist in six-inch heels and look hot while attempting the impossible, you need to be very, very strong to be a decent pole dancer. 
It's A Workout

I know that pole dancing has become the new hot workout for young suburban moms in recent years, but don't knock it 'til you try it, because it really is a workout. For context, this is what it feels like: you know when your SoulCycle instructor says you have one song left of class and you're so relieved because three minutes of effort is really all you have left? Okay, that's how I was feeling eight minutes into pole dancing and the class was an hour long. Yikes. So, while on my hands and knees with the pole against my ass, I started to think about all of the hard working dancers out there who do this for hours on end, and I became absolutely mesmerized by their strength, willpower and endurance. 
Also, one important thing to note: it hurts a lot,  and not in a good way. At one point, I was in a handstand position with one of my feet against the pole and was told to walk my hands away from it. Because I have zero balance and next to no core strength, I came crashing down and have a giant bruise on my shoulder to prove it. I'm sure this happens less with practice, but frankly I've given up on my short-lived dreams of ever attempting this again.
It Doesn't Feel Sexy At First

Full disclosure, I walked into the studio thinking I'd at least be decent at this since I did ballet for over a decade. What a fat LOL I had after exactly two minutes, when I realized that ballet and pole dancing have absolutely nothing in common! I thought my dance background would be helpful, but going on pointe for a few seconds at a time is nothing compared to hanging upside down from a metal pole. Also, pole dancing is really graceful, and grace was something I learned in ballet, but I still managed to look like a cross between a clumsy, blind toddler and Greg from Succession on the pole.
Again, it takes practice, but I'd just like to remind you that it took J.Lo, the most fit and coordinated person on planet Earth, weeks to master this, so it would take me about three years to even kind of figure it out. That math seems accurate, I think. The thing is, I could have definitely tried to be sexy doing the moves, but I was too focused on not dying to prioritize looking good. So I truly don't know how strippers both defy gravity and look incredibly hot doing it. 
At the end of the day, strippers are athletes in every sense of the word and deserve the same, if not more, respect that we show a bunch of critically concussed men for running around a field in shoulder pads. I don't really know how or why people assume strippers are these broken and sad women who strip as a last resort, but that grossly incorrect presumption needs to be updated because they work incredibly hard. They are hardworking queens who possess a lot of skills that are hard to come by, and if you don't agree, take a pole dancing class and you'll change your mind. 
Images: Shutterstock; Giphy (3)
As A Stripper, Here Is What I Hope You Learn From 'Hustlers'
From the moment I saw the 
Hustlers 
trailer, I was overcome with a mix of emotions. First of all, I was beyond excited to see JLo, Constance Wu, Cardi B, Lizzo, and the rest of the cast shake their asses and work their magic on the big screen. But with all this excitement came a bit of fear. As a stripper myself, I was delighted to see strong women representing us in the mainstream media, but I was also worried that Hollywood may do what they do best and 
mis
represent us. And seeing as the premise of the film was that a group of strippers came up with an elaborate scheme to fleece rich men for thousands of dollars, I was also concerned that the film would leave people believing that all strippers are
scam artists
.
I attended a 12:15pm matinee of the movie with my friend, who is also a stripper, and I can say from start to finish, 
Hustlers 
dazzled the f*ck out of us. We clapped, snapped, laughed, and whispered, "SAME" to each other throughout the entire thing. It was a GD delight. And I can honestly say that I think, for the most part, they did a good job representing strippers and conveying the nuances behind the story in a way that showed the audience that the situation wasn't black and white and that strippers are, you know,
human beings.
The film hired
actual strippers
to
consult
 and act as extras in the film, and I think this really shows. It feels authentic and far from the usual portrayal of strippers or sex workers, which is that we are sad, broken people with no agency over our bodies and ourselves. However, I can still see how some people could take things from the movie and either not understand or misconstrue them. So, I'd like to go ahead and say what I hope you took away from the film, besides the obvious, which is that JLo is the hottest person in the world and can run me over with her car (if she wants).
Stripping is a legitimate job that requires lots of different skills.
A standout moment in the movie is when Destiny (played by Constance Wu) is giving a dance and a man asks her, "What happened to you that made you do this?" This is a typical kind of question from a male customer. It's condescending, rude, and ignorant. These dudes come into the club looking to buy what we have to offer, and they say sh*t like this, implying that what we do isn't valuable or worthy, and that we must only be doing it because we are damaged goods. Sex work is work, and I think Hustlers does a good job of showing how it's very much a job that requires a set of skills. You have to learn how to read and work people, how to charm people, how to be confident, plus how to walk and dance in six-inch heels. It's fun and empowering, and it's also exhausting. It's a job. I hope when you saw Destiny exiting the club as the sun was coming up, you thought, "Damn, girl," because that moment is very real.
While stripping can and should be empowering, the system it works within is broken.
The first act of Hustlers essentially shows us the working conditions for a stripper. Granted, the film takes place about a decade ago, but a lot of the industry standards remain the same. We see Destiny go through a long night of working, only to have to hand over a chunk of her earnings to her boss. Most clubs work in a way that cushions the pockets of the men in charge, and takes advantage of the women doing all of the heavy lifting. In most clubs, strippers are not paid any sort of wage. Instead, they have to pay the club for the "privilege" of working there.
I've noticed in the way management speaks to us, it is often implied that we are disposable and lucky to be given the opportunity to make money at their club. We have to pay a house fee every shift. In my experience, this ranges form $40-$100 per shift, depending on when you arrive (the house fee goes up as the night goes on). On top of this, you have to tip out other people on the staff, because they also make their money on tips.
And, while the first act of the movie shows how hard it can be, it eventually transforms to these women making insane amounts of money, because a plot of a movie must progress. But something I find myself often explaining to people is that stripping is very inconsistent work. Some nights I feel like JLo in the scene where she bathes in money and I take home two months' rent in one night. Other nights I owe the club money after working the floor for six hours because I didn't even make enough to pay my house fee.
Hustlers shows that strippers endure tough working conditions that require them to hustle hard, so instead of shaming them for what they choose to do, we should support and stand by them.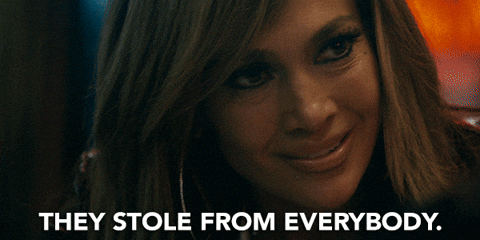 Not all strippers are trying to rob you.
Sure, this film is based on a true story about a group of strippers who came up with a master plan on how to rob some super rich Wall Street guys. But I think Hustlers makes a point to show the situation these women were in that led them to do doing what they did: a financial crash that took away their business and a need to survive and support themselves and their families. It also includes a line from Destiny reiterating that this is not what all strippers do, which I really appreciated and hope you noted. As someone who has worked at the club that Hustlers is based off of, I can say firsthand that I've never witnessed anything like this scandal there. This was a unique situation, and it made major headlines because of what a big, and uncommon, story it was. It is an exception.
Strippers are hustlers and we are smart people who persuade people (often rich men) to spend their money, but that doesn't mean all strippers are going to drug and rob you. It's an interesting story, but it is not the norm. So, please don't watch and support this movie and then use it as an excuse to stay away from strip clubs and not support actual strippers. Hollywood shouldn't be the only one making money off the dazzling world of strip clubs.
Sisterhood exists at the strip club.
In the past, I've noticed that when strippers are portrayed in film and TV they are often pitted against one another. People who have never worked in a strip club assume it's every stripper for themselves and highly competitive. Hustlers showed audiences an authentic strip club, where yes, you should not cut in on another stripper's client, but you also work best when working together. The only time they show the competitive aspect is when Destiny tries to talk to a man who is watching Diamond on stage. That's not a good move, and Destiny figures that out when Diamond grabs her hair and tells her to f*ck off. But she also learns that becoming friends with her coworkers and combining their powers is not only lucrative, but essential to staying happy at work.
A line from the original article written about the scandal, entitled "The Hustlers of Scores,"  says, "While evolutionary theory and The Bachelor would suggest that a room full of women hoping to attract the attention of a few men would be cutthroat-competitive, it's actually better for strippers to work together, because while most men might be able keep their wits, and their wallets, around one scantily clad, sweet-smelling sylph, they tend to lose their grip around three or four." This is absolutely true. Plus, working with a bunch of women who have seen your pussy is honestly a blast, and I love my sisters at the club. They keep me sane.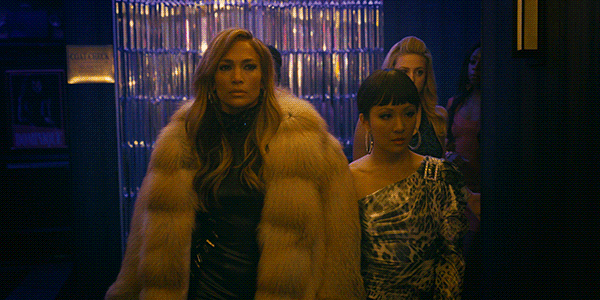 Strippers put up with a lot of stigmatizing bullsh*t.
While I'm proud of the work I do, I also know the world, for the most part, is not. My hope is that Hustlers will help people clock their unfair judgements about strippers. Being represented in mainstream media means a lot, and having a cast of strippers that the audience is meant to sympathize with is helpful. But I hope people don't leave their enthusiasm and "yaassss queen" energy at the theater door. I have seen people gushing over this movie and over the cast, but I hope they realize that while, yes, JLo is a goddess, so are the strippers she and the rest of the cast are portraying here. Something I hear way too often from my clients is, "You are too smart to be working here." They think it's a compliment, but really it's a belittling dismissal of the hard work that I and my fellow strippers do. You'll notice that I wrote this article anonymously, because unfortunately, I still feel as though there are people in my life or in the professional world who would view me differently and less positively if they discovered that I do this work. That sucks. I hope Hustlers helps you see that strippers are amazing, smart, funny, clever, badass b*tches who deserve your respect. And TBH, your money.
Stripping is a form of sex work, and all sex work is work.
Nothing bums me out more than people rationing their compassion, especially when it comes to sex work. If you saw Hustlers and discovered that you respect the work that strippers do, don't stop there. Make sure to respect and support all sex workers. Different people provide different services, and the details of those services shouldn't dictate what respect you have for them. Different strokes for different folks, babe. No need to judge.
And please, for the love of God, remember that sex work is completely separate from sex trafficking. I'm not asking you to support the latter. I'm asking you to realize that consenting adults choose to make a living from the former, and they are often shamed and penalized for it. Let's change that, shall we?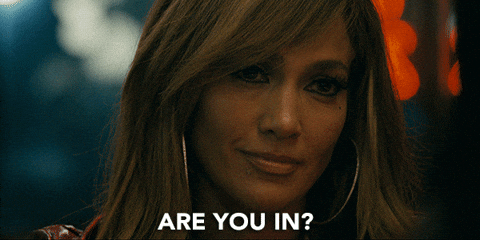 Images: Getty Images, Giphy (2)
I'm A Stripper, And I'm Tired Of Hearing These Misconceptions About My Job
The first time I ever set foot in a strip club, I was in awe. I mean, the club was sh*t and the drinks were overpriced, but the strippers were A-MAZ-ING. I pulled a T-pain and fell in love with all of them. Of course, being a fan of strippers isn't groundbreaking. Most people are pretty pumped about a topless woman showing off her athletic abilities. However, most people have a lot of inaccurate ideas about strippers. The way strippers are portrayed in media and the ways in which we talk about them in casual conversation are usually based on false stereotypes. Wow, humans wildly misrepresenting an entire group of people based on assumptions and a desire to belittle that which they don't understand?!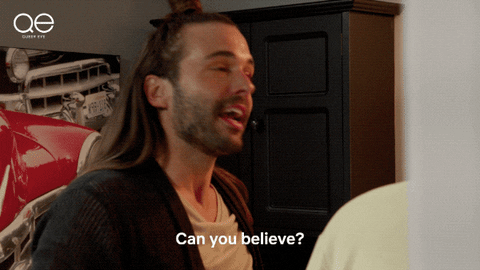 Anyway, what do I know? A bit, actually. For the past five months I have been working nights at both a "gentleman's club" and a traditional strip club. I'm certainly no pro, but one of the first things I noticed while stripping was how infuriatingly off-base people's beliefs about it are. So, I'm here today to share what I've learned and hopefully make you realize that talking sh*t about strippers is dumb as hell. Sex work is work, babe.
False: Strippers Are All Catty B*tches
Pretty much any Law & Order episode that has a scene in a strip club (a lot of them) involves strippers fighting. I've seen this in a lot of other TV shows and movies too. It's portrayed as a cutthroat industry where women see each other as the enemy. While every work space is bound to have some drama, I've noticed that my coworkers at my stripping jobs are the most supportive, friendly, welcoming women I've ever worked with it. It's a lot less, "Get away from my customer, you whore," and a lot more, "Omg babe, you look so hot! Where did you get that corset?!?!" Of course, there is etiquette to abide by, and you should never steal another woman's customer. If you do, you might find her mad at you, but most of what I've seen is someone doing this on accident, realizing it, apologizing profusely to the other woman, and then both of them laughing about it. Often the best part of a stripping shift is going to take a breather in the locker room and talking sh*t about men/trading skin routine regimens with all of the other strippers. People love to paint women as catty bitches who can't work together, but the reality is women tend to love being around other women, and this is often the case at a strip club.
False: Stripping Is A Last Resort Job
Sure, some people may turn to stripping when they can't find other work, but this could be said about so many jobs, such as bartending or working as a receptionist. People seem to think that anyone who becomes a stripper is down on their luck and is only doing this because they have to. That's not always the case. For me, I could easily be working at a restaurant or babysitting or temping as a way to pay my bills, but I've chosen stripping. Why? Because I like it. I like the flexible schedule, the environment, the fact that I get to work with women, and tbh dancing naked beat answering the phone for a startup company run by 21-year-old finance bros in midtown. Also, this assumption implies that just anybody could be a stripper. Like any job, it's not for everyone. It requires an incredible amount of energy, personable skills, and talent. Especially for the women who are expert pole dancers. That sh*t is unbelievable, and most people could never do what they do. So the idea stripping is only meant for those who have run out of options is, to be frank, bullsh*t.
False: Strippers Are Gold Diggers

This one makes me lol. A lot of times, people talk about strippers as if they're these malicious people just trying to get your money…as if that isn't what every business transaction is about. Imagine this scenario:
Plumber: *asks for payment for his services*
Customer: Wow, all you care about is my money. Here I was thinking you liked me, when really you just want to be paid! Slut.
Sex work is work, plain and simple. And yet, I've seen men get all worked up when it comes time to pay for their lap dance. They feel hustled, scammed, bamboozled by the fact that they agreed to a payment plan and then were asked to follow through with it. They feel this woman who is simply asking to be paid for her literal job is somehow taking advantage of them and rolling in dough by means of gold digging and scamming. But really, she's just asking for what every worker asks for: compensation. It's almost as if the fact that she's a woman using her own body as a means for money delegitimizes her as a professional in the eyes of society?
False: Calling Someone A Stripper Is A Sick Burn
"You look like a stripper," is supposed to be an insult, but all that's really saying is, "You look like someone would pay a lot of money to see you naked." Mission accomplished, b*tch. It's the same when people say sh*t like, "She should quit politics and go back to stripping." Stripping isn't any less a respectable job than working in politics. Assigning value to these jobs is classist and sexist. Truth be told, people are just uncomfortable with the idea that a woman is comfortable and confident enough to use her body and sexuality to her advantage, so they react by putting her down, because god forbid she realize her power. So when someone uses "stripper" as an insult, it's actually a compliment commenting on your power. *Drops mic*
False: Strippers Can't Find Love

The question I encounter most often when working is, "How does your boyfriend feel about this job?" Men are always surprised to hear that I'm in a relationship, my partner is aware of the work I do, and he's okay with it. The concept that a man could allow a woman the freedom to do her job, even if it includes using her sexuality, is truly absurd to most. But a lot of the women I work with are in happy and healthy relationships. And why wouldn't we be? We're fun, sexy women, so much so that many are willing to pay for a few minutes alone with us. Imagine how lucky the ones who get it for free are.
Images: Eric Nopanen / Unsplash; Giphy (2)
How 'Shrill' Forced Me To Confront My Own Fat-Shaming
Before I give you my thoughts on Shrill, here's a little context. The first time I sat on a guy's lap, he jerked back and pushed me off. "How much do you weigh?" he demanded, rubbing his legs in pain. I was 13 years old, standing in the aisle of a school bus filled with my 7th grade classmates. Over a decade later, I barely remember the guy—but his comment, I remember. The same way I remember, later that year, comments under pictures of me on my cousin's Myspace: "Who's your fat friend?" Or in 4th grade, when another girl and I broke our ankles at the same time and had to be carried down a flight of stairs. "Looks like I got the light one," a teacher joked, picking up the other girl.
If you haven't yet watched Shrill, the new Hulu show starring SNL's Aidy Bryant, I highly recommend it. (I also recommend tuning out of this article, because duh—spoilers.) Shrill, in six too-short episodes, tells the story of Annie (Aidy Bryant), a fat woman who finds herself taking far too much sh*t from her mother, her boss, and her f*ck buddy-slash-boyfriend. While Annie's struggles are not solely derived from her size, Shrill emphasizes the harmful assumptions made about fat people (namely, that their size is a result of being lazy, or lacking willpower), and how licensed people feel to treat Annie differently because of it. From well-meaning "concern" expressed by strangers to her boss telling her to her face that she doesn't "take care of" herself, the sheer fact of walking around as a woman of Annie's size translates to an onslaught of uninformed, unsolicited opinions about her character.
All this is to say: though I have not, in my adult life, been overweight, I expected to relate to Annie while watching this show. From my own memories of middle school fat-shaming, I was ready to raise a glass in solidarity and share in Annie's triumph as she gained the courage to issue a massive f*ck you to her haters. But while I did find the show highly relatable, it wasn't, ultimately, Annie's struggle in which I saw myself. Instead, I felt my stomach sink every time a passive-aggressive barb was thrown out against her—and I heard it clearly in my own voice.
To fill you in on the decade between being cyber-bullied on Myspace and now: just before high school, I lost about 25 pounds and grew three inches. (Don't hate me; it was the last time I lost weight effortlessly in my life, I promise.) From that moment on, likely because of how I'd been treated when I was bigger, I have been obsessed with getting, and staying, thin. From 8th grade on, no diet was off-limits—from South Beach in 2009 to keto about six months ago. (Am I crazy BTW, or are those diets basically the same?) All that dieting was successful, depending on how you define it. While I'm perpetually in a state of wanting to lose "the last" 5-10 pounds, I am by no means overweight. And importantly, my body allows me to suffer none of the public shaming and discrimination that Annie receives every day.
So, let's take Annie being accosted in a coffee shop by a personal trainer, who grabs her (apparently, tiny) wrist and says earnestly: "There is a small person inside of you dying to get out." Watching that scene, I had no idea what it was like to be Annie. I did, though, have years of memories of grabbing my own wrists and admiring their smallness, of looking in disgust at the rest of my arm and hating myself for the way it (in my mind) ballooned outward. When Annie's mom tells her, "you always feel better when you exercise, I can tell," I hear the same lie I tell people about going to the gym. Sure, it makes me feel better—but only, I'm pretty sure, because I know it's helping me lose weight.
I came into Shrill thinking it would be a feel-good empowering romp, with twinges of painful memories from my past. I was mostly right (it felt great! and super empowering!), but the twinges of guilt I feel are from how I think about my body right now. I hope that my constant desire to be smaller doesn't spill out in how I treat other people—but I can't imagine that it doesn't. If I hate myself for struggling to zip up a pair of size 27 jeans, how would I not judge someone who wears jeans that are two, four, or ten sizes larger? When I look around in envy at the tiny women NYC is riddled with, have I been kidding myself that I'm not, also, looking at fat people with pity? How many people, beyond myself, have I actually been harming with the constant internal monologue of self-directed fat-shaming?
I won't say that Shrill cured me of these habits. Midway through writing this article, actually, I stopped to measure myself to decide which size pants to reference (every company is different, y'all know this). Then I measured myself again—and three times after that, with different tools, because I wasn't happy about the number I was getting. This can't be right, I thought, furiously switching out a charging cable for a piece of ribbon to wrap around my waist. Never mind that reading a different number off my tape measure has exactly zero effect on my actual body. My negative body image, clearly, is still in effect—but Shrill is the first show I've seen in a long time that made me want to do something about it.
If I can recognize how sh*tty people's treatment of Annie is, I reason, I should be able to apply that same logic to myself. And hopefully, if we can all be a little kinder to ourselves in private, we can be kinder to others in public too. I'm grateful that Shrill brought my fat-shaming into clearer view, but the most pressing issue the show elucidates is our policing and shaming of fat people for simply living their lives near us. And whatever personal struggles you may or may not be dealing with, that kind of bullying on a societal level has got to stop.
Images: Hulu Press; @aidybryant, @dietstartstomorrow/Instagram