The Best Pants For Your Thanksgiving Food Baby
Thanksgiving is the time we celebrate America's greatest traditions: racism, pillaging minorities, and gluttony. My family is from the South, so somehow we still have all three at our table every year. I play this fun drinking game with myself where every time someone makes an offensive comment I drink. I tend to fall asleep before I die of alcohol poisoning, so it's fine.
However, on Thanksgiving, I am totally pro-gluttony and I plan to shove too much of every side dish into my mouth as fast as possible. Let's be real, the side dishes are the point of Thanksgiving, we only eat the turkey because it's expected and it's a pain in the ass to cook. If you're like me and you're going to drown your problems and disrespectful relatives in wine and pumpkin pie, you need to dress accordingly. That means pants that look chic for photos, yet can expand enough to accommodate your inevitable food baby. Before you give up and buy maternity pants, try these first.

Liquid Leggings
I wear leggings as pants on the reg, so I don't really GAF about the whole "leggings aren't pants" debacle. However, if you want to look put-together and still have maximum stretch and comfort, try a pair of liquid leggings that look like leather. Pair these with a cute oversize sweater and booties and you'll look fall-ready, but be totally comfortable. Get a high waisted pair to really disguise your giant stomach and still look teeny AF in photos.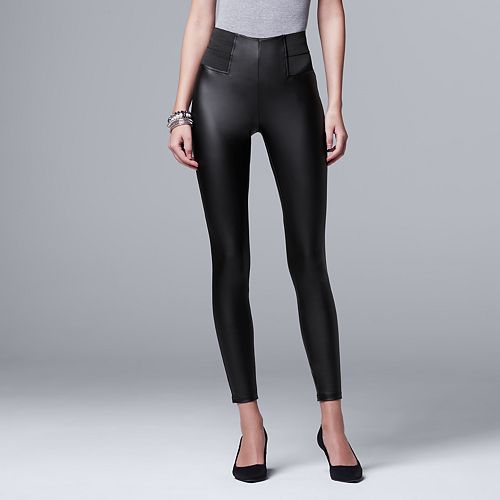 Women's Simply Vera Vera Wang Faux Leather Leggings
Jeggings
What kind of psycho wears jeans to Thanksgiving? Are you trying to get that look where your fat gets deep red marks the second you sit down? F*ck no. So if you must wear jeans with your outfit, skip the actual denim and opt for a pair of super stretchy jeggings. Just please don't wear the ones with the v obvious elastic waist unless your shirt or sweater covers it. They look stupid. These "jeans" from Vibrant are actually jeggings. They are so soft, stretchy, and look exactly like real jeans. I have the skinny, high waisted, and flares ones in almost every wash. They stretch so much so they're great if you have eaten an insane amount of food. They are also so cheap!

Vibrant Women's Juniors Bell Bottom High Waist Fitted Denim Jeans
Palazzo Pants
Who says palazzo pants are just for spring and summer? Palazzo pants are the best because they basically feel like you're wearing pajamas but they look super put-together. You can wear whatever floral or tribal prints that you already have from this summer, but if you really want to make the look feel more fall-appropriate, choose a more autumnal fabric, like velvet. I just got the most amazing green velvet pants and I'm obsessed. And they are totally appropriate for both photos and instantaneous obesity.

Rut & Circle Velvet Wide Pant Green 
Jumpsuit
Are jumpsuits considered pants? Is butter a carb? I don't care. They're super comfy, stretchy, and look really chic, but still feel like you're wearing sweats. Plus you can choose cuts that skim over your stomach and won't restrict you as you're eating seven rolls of bread.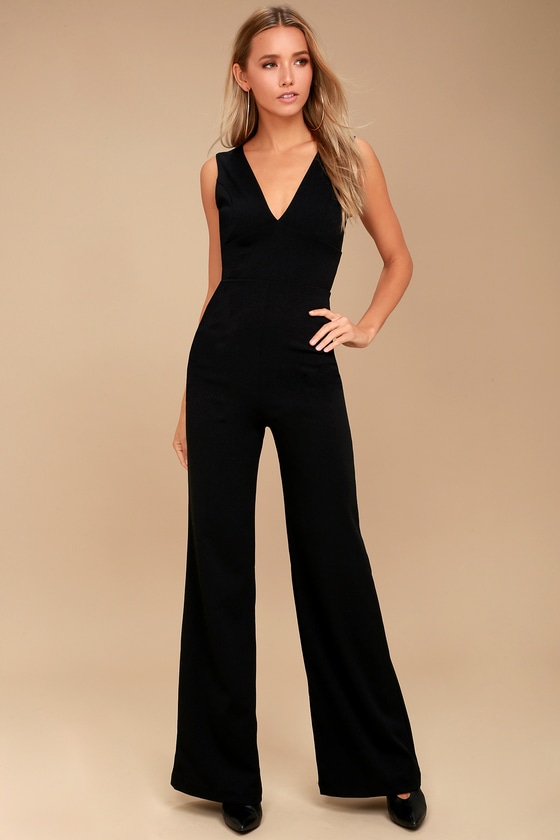 Lulus Ready For It Black Sleeveless Wide-Leg Jumpsuit 
Culottes
Culottes are another fabulous outfit option under the "pretend pants" category. They're easy to style, super stretchy and comfortable, and wearable in any season. Find some with a tie waist or other detail to distract from how rapidly you're expanding.

ASOS DESIGN Culotte With Tie Waist
Images: Giphy (1); Unsplash/Cortney White; Kohls/Vera Vera Wang; Amazon/Vibrant; NA-KD; Lulus; ASOS
Betches may receive a portion of revenue if you click a link and purchase a product or service. The links are independently placed and do not influence editorial content.
Pants That Will Make Your Legs Look Twice As Long
Whether you have man shoulders, your nailbeds suck, or you just have really bad breath in the morning, we all have things we wish we could change about ourselves. I, for example, wish I had the long, gazelle-like legs of Gigi Hadid. Instead, I have been cursed with stumpy-ass gams, which have caused me many deep internet spirals in search of the secrets of the long-legged Gods. Inevitably, this always leads me to the same exact quote, repeated by every VS supermodel ever: "Honestly, all I do is Pilates." Riiiigggghhhtt. Naturally, I blow my paycheck on $30 Pilates classes and invest heavily in a Pilates-perfect wardrobe. All of this, only to glance in the mirror a month later and see my same old trusty stumps…but now in $100 Lulu leggings. Smh.

But, do not despair—I obvi wouldn't even be writing this article if I didn't have an answer for all my fellow stump-legged sisters out there. I have finally uncovered the secret to longer legs, and no, it's not Pilates. It's pants. And no, they're not all high-waisted. So, take that would-have-been-wasted Pilates money, and put it towards the following new pants, all of which will make your legs look longer than Kim K.'s latest hair extensions.
1. High-Waisted Pants
Let's start with the obvious: high-waisted pants. Every girl knows the power of the eighth wonder of the world that is high-waisted pants. Not only do they make your body appear slimmer by holding in your beer bloat, but they also make your legs appear 10 times longer. It's simple math: by shortening your torso, you're lengthening your legs. Capiche? So go ahead and put away your Christina Aguilera circa 1999 low-rise jeans in favor of the more current and flattering high-waisted version.

2. Wide Leg
As of late, wide leg pants have gained a special place in my heart. Flowy, kind, forgiving—what more could you ask for? Wide leg pants make it literally impossible to tell the actual shape of a person's legs, and even more impossible to tell where the leg starts and ends. I mean, are there even legs under there at all? Nobody knows.

3. Long Hem
Ever had the fun idea to try on a pair of those cute, kinda-cropped jeans that off-duty models love to wear? If your answer is yes, and you are not in fact Karlie Kloss, then you probably quickly realized that this particular style of pants that look soooo cool and effortless on models legit just look like floods on you. Instead, opt for pants with extra long hems that cover the tops of your feet and the entirety of your heels to make your legs appear super long and exaggerated. The key here is to wear heels; you want to look chic, not sloppy.

4. Vertical Lines And Details
Ah, we've all heard the age-old, "horizontal stripes will make you look fat." What everyone's mom failed to also mention is that, on the flip-side, vertical stripes will lengthen and slim your silhouette. Pants with vertical lines, details, and creases will naturally elongate your legs. Complement a pair of striped pants with a nude heel, and I promise you'll have legs longer than a list of Taylor Swift's exes.

5. Clean Silhouette
Last but not least, we all know by now that black is slimming. By the same principle, a pair of dark jeans with a clean silhouette will lengthen your legs. This means no cuffs, bulky pockets or any other distracting details. So basically, no cargos. Pair your dark wash skinnies with a dark-colored bootie to create a continuous, seamless line, and voilà. You've stretched those legs to almost supermodel status. Almost.

Nordstrom Farrah High Waist Skinny Jeans
Images: Zara (3); Nordstrom (2)
Betches may receive a portion of revenue if you click a link in this article and buy a product or service. The links are independently placed and do not influence editorial content.
5 Comfy AF Pants For When Leggings Are Out Of the Question
Since I'm originally from upstate New York, a place you probably only know as like, "near Canada" where people wear a grotesque amount of John Deere, or whatever that camo brand is, I only know weather as being hot or cold. There isn't really an in-between. When it's cold, which is more often than not, I wear leggings religiously. When temperatures hit 80 degrees or more, I get a little too excited and break out my Dukes of Hazzard-looking denim shorts. This is only slightly an issue when I have to go to that thing called work, or attend an event where people think when I say "I drink" only means having an occasional glass of wine.
Ha. Ha. Imagine.
Well, thanks to the latest pant ~trend~, I found a solution: pants that aren't technically Bermuda shorts (no fucking thanks) but, are more like modernized gaucho pants (??). Just hear me out. They're not too creepily short or long, they're lightweight for summer, and they come in millions of styles so you're bound to find the perfect look for you. Start with these 5 trendy styles picked out by yours truly.
For your first pair, start with black—something you're comfortable and too familiar with. These pants are made out of a breathable cotton, so no worries about sweat stains. The cuffs are finished with tassels to provide a carefree, playful look to your OOTD. Accentuate the high waist with a fitted top or tuck in a flowy blouse to add volume. Just make sure it doesn't actually look like an awk muffin top.

I'm probably being biased because I'm embarrassingly short, but this style is my fave only because I can't find a maxi skirt without having to get it hemmed afterwards. These comfortable pants come pretty close, with v sexual leg openings for a slutty free-spirited feel. They're made out of sheer rayon so you'll be able to withstand suffocating heat and stay remotely cool all day long. For a boho chic look, wear with a flowy crop top or tucked in bardot shirt.

Get crazy and loud with a fun tropical pattern. Wear these to your next happy hour or to your next vacay overseas. Pair with a solid white or black tank, or to hell with that, make it easier for your (lazy) self and just get the matching shirt.

Find a silky, ivory pair like these for your next lunch date to breeze through the afternoon with no problem. Take these from day to night(club) with their scallop cutouts and high waistband. Pair with your fave wedges and a bright colored shirt to really make a statement. No cranberry and vodkas though because like, white, duh.

These will probably be your new hangover pants. With its adjustable drawstring waist, you can wear these as loose as you want (just don't get crazy) and stay comfortable all through brunch with your mimosa bloat. Wear with a loose-fitted T-shirt or white crop top to balance the stripes. Maybe if you're lucky, you can wear these to work without showing everyone you actually made no effort in your outfit. Maybe.

5 Trendy Pants That Are Perfect For Short Betches
Being short sucks. Trust me, I'm five feet tall. With the exception of the brief period when Deena and Snooki made "meatball problems" a thing on Jersey Shore and the fact that I could meet the height of any fake ID I used in college by carefully selecting my heels, it really isn't a whole lot of fun. Short betches understand that standing at under 5'3" means packed bars are a nightmare, getting lost in crowds is a legitimate concern and that even if you're a grown-ass adult who doesn't ever smile, people still tend to call you cute. (Yuck.)
As if dealing with random douchebags who think it's funny to pretend to use your head as an armrest wasn't enough, we also have to figure out how to find clothes that don't make us look like we're playing dress up. It's probably easier to find a rich, hot, non-annoying boyfriend than it is to find pants that fit. Historically, petite sections fucking suck… unless you're into wearing professional-length shorts from Ann Taylor. (Vom.) This season, there are tons of cool pant trends that include interesting hems, which means we can't really get them tailored. Thankfully, a few online retailers got their shit together and whipped up a few pairs of dope pants for us.
The lace-up trend clearly isn't going anywhere anytime soon, so it's probably worth it to get these pants. These will also make your legs look longer, because of the exposed strip of skin that runs straight down the leg. Plus, they're cropped and will actually hit your legs where they're supposed to, so maybe you'll finally look like a full-sized adult human for once.

Bold floral prints and fringed hems are also really popular this season, and these River Island pants are a pair that you can finally wear without needed to rock heels.

Apparently, culotte pants are super comfortable. I wouldn't know, because like I said, I still haven't broken five feet and I know that I'm just going to end up swimming in any culottes that are designed for girls with average length legs. These pants are also linen and super loose fitting, so they're perfect for nasty humid days in the summer.

To be honest, my reaction when I found these pants was so embarrassing that if someone had filmed it, I'd probably be made into a life-ruining meme. These are the kind of pants I always assumed only like, Kendall Jenner could wear, but Missguided finally made a pair for girls under 5'3".

5. Missguided Petite Grey Satin Paperbag Waist Cigarette Pants
Missguided's petite clothing selection is so good, I had to give them two spots on this list. I really never thought I'd ever want anything with the words "paperbag" and "cigarette" in the name (like… is this a bar in Staten Island or a pair of well-tailored pants?), but these are kind of perfect. Plus, the high waist will make your legs look longer, so they're pretty much a necessity.

The 5 Best Leggings You Can Wear As Pants That Don't Cost A Million Dollars
I know I'm not a typical fashion writer here at Betches—I tend to save my talents for Bravo recaps and the occasional hate piece—but I'm willing to branch out for something I'm extremely passionate about: wearing leggings as pants. It is an important cause I support wholeheartedly. Really, I think that the woman who lobbied for women to wear pants fucked us all up, because pants are only a viable and comfortable option if you have all of the following: perfectly proportionate legs (i.e. not too long or too short), no muffin top to speak of, and nothing weird going on in the butt area—a set of criteria that basically only applies to models and nobody else. And that is why, despite the protests of my friends, my dad, and probably everyone who's seen me walking down the street minus a few mouthy construction workers, I continue to wear leggings as pants. No matter the season. No matter if my shirt covers my butt. But here's the thing: You can't do it with just any old pair of leggings. They've got to be opaque enough that you can get away with it, yet still comfortable. So I've gathered my the 5 best leggings to wear as pants (from my closet). You are welcome in advance. Also full disclosure, you will not see super expensive leggings on here because I'm cheap and can't justify spending more than like, $45 on some spandex.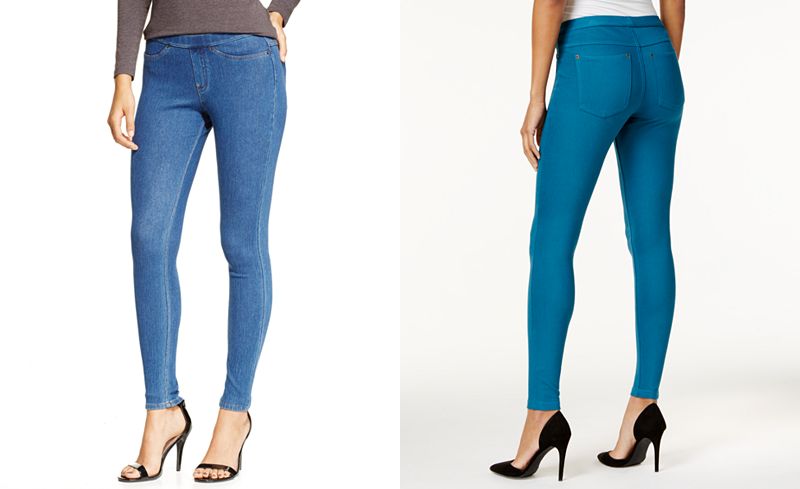 These things are the shit. I literally have three pairs and am soon going to acquire a fourth. They are a jegging and priced as such, but they behave like a jean except there's no fly digging into your stomach or weird, small front pocket that nobody uses. They do have back pockets (I repeat: pockets!) and they look so much like jeans you'll confuse everyone. Just ask the fuckboy I'm hooking up with who told me "I love when you wear these jeans." Guys are idiots, am I right? And before you ask, no, I'm not hooking up with Ginuwine. Yet.

Okay, these aren't the exact leggings I have, but if you go to Target, hit up the workout section and go to the rack of Champion leggings—any of those will do. They're not super thick but they are opaque and they fit super well. No muffin top to speak of and I know you all don't know me or my body type, but trust me when I say that's saying a lot. There's no uncomfortable horizontal line across your stomach when you take them off. And they're like $20, so they're probably the cheapest thing you'll buy in Target. They come in a bunch of patterns so you can buy all 67 pairs—speaking hypothetically, of course. That's definitely not something I've done before.

I'm not going to lie to you all, this one's a risky choice, but I just did a few leg presses yesterday so I stand by it. I have the "seamless" kind so I can only speak to those, and I have them in the camo print—I just didn't use that picture because I didn't want you guys to judge me. They're probs not leggings you want to work out in (but they have an "active" kind you can take to the gym) because they feel a little like tights because they have a horizontal seam along the crotch instead of the vertical seam you see on most leggings, nahmean? I'll be real, it's a little bit of a stretch wearing these with a crop top (as I am right now), and I'll update you on how many moms yell at me for exposing their kids to lewd content in public later. But again, they are super comfortable and as someone who's prone to a muffin top, I personally appreciate how high-waisted they are. Would def try their other leggings and report back.

Yeah I know these aren't cheap per se, but I chose a style that was on sale so you're fucking welcome. Really any Splits59 leggings will be extremely comfy—I'm extrapolating based on how many pairs I tried on at a Bandier sample sale yesterday—but I know we're not all Kendall Jenner and spending upwards of $100 on a pair of leggings is a little ridiculous when you have like, rent to pay and shit. I'm personally a fan of the mesh leggings because anything that appears slutty but is also technically covered by fabric so nobody can say shit—even if it is see-through fabric—really highlights my personal aesthetic, which is slutty. Sorry, dad. Anyway, these things are comfortable, not restrictive, blah blah blah. I think we can all agree the qualities that make for good leggings are universal.

These are really the ideal leggings if you want to give off the "Did I just come from yoga or do I go grocery shopping like this?" vibe. They're sporty-looking and they're the shiny-looking leggings, if you are into that and know WTF I'm talking about. They're pretty thick and opaque and easy to move around in. They are a little tight around the waist if you don't get the right size, though, so my best advice is: Don't let the size chart flatter you (it told me I was a small—mistake) and order the size you normally wear and you'll be Gucci.
The 9 Best Leggings For Spring
We're not sure why, but brands always seem to come out with their coolest leggings toward the end of winter. It's like, we just spent the past four months cuddled up with in bed watching This is Us while eating enough sushi for a large family. Is this really the time to come out with the hottest, most form-fitting leggings you can think of? Sweatpants are all that fits me right now.
Either way, we rounded up our favorite leggings out right now, so you can avoid putting on skinny jeans and stock up on the pants that Kendall Jenner made acceptable to wear in public. Here are the ones you need:

All betches know that Lululemon was our OG $100 pair of leggings, so we can't make a leggings roundup without the pant that started it all. Lululemon leggings are basically as timeless as an engagement ring, and their new styles somehow keep getting better. We'll always love their classic Wunder Under leggings, but these Body Con Tights are so cute and just edgy enough with the mesh cutouts on the sides. We're obsessed.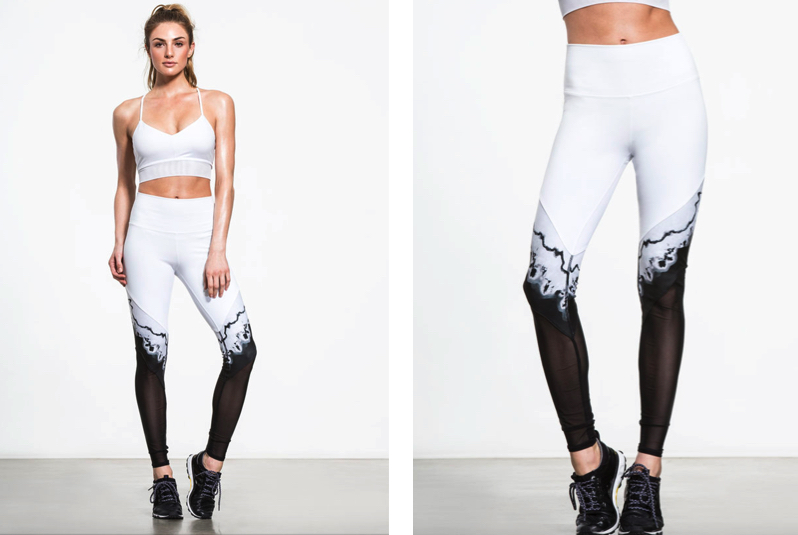 White leggings are pretty much reserved for betches who are so skinny that they're not even expecting to get their periods in the next six to eight months. These ones are high waisted and have a sick print at the bottom, so they're pretty much the best things ever. Plus, they're actually made of breathable material that keeps you cool and dry during a workout, so you can actually put these things to use when you feel like moving. In other words, no crotch sweat marks. Hallelujah.

Basic girls tend to stay away from grey leggings, but not many people know how amazing they make your ass look. The cutouts on these leggings are amazing, and we're obsessed with the color. The pastel grey is subtle enough to match with more than one colored top, but is light enough to accentuate your ass, even when you've neglected your squats since last summer.

These leggings look like they're too dope to actually sweat in, but they're surprisingly made with a ton of support to move with you while you work out. Don't let the trendy cutouts fool you. These leggings are elastic-free so they're super comfortable on your waist, and they're made with four way stretch to expand with your muscles while you move. Plus, they're slutty looking enough for you to wear on a night out when you're feeling fat or lazy or both.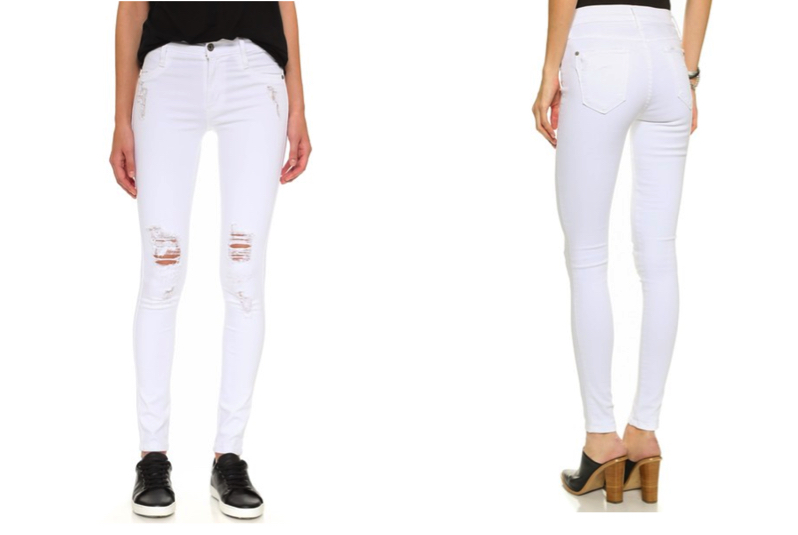 These jeggings look like your best white jeans, and they're super comfortable too. I mean, any pants that say the words "ultra flex" in their name have to be pretty sick. Every LA betch is freaking out over James Jeans right now, and we get the hype. It's prob too soon to wear white right now, but drop a few pounds by July Fourth and you'll kill it in these.

Terez is the brand that SoulCycle instructors and their overexcited 6am riders wear while jamming out to Sia in a dark room while channeling all their good vibes. That sounds like the last type of person you'd aspire to look like, but hear us out. The pants are usually too colorful for us, but we happen to love these ones. They're awesome for working out and if you pair them with a black sports bra and black Nikes, you'll look like the super intimidating betch at the gym who takes her workout extremely seriously. AKA no fuckboys trying to pick you up at the gym. AKA success.

These leggings are called "power leggings" for a reason, and they're ready to be put to work. Not only is the colorblock pattern so hot right now, but they're also insanely versatile. The sweat-wicking fabric is stretchy and supportive, and the high waist is super flattering. They've also got a little zip pocket in the back, so you can work out and go meet your dealer right after without changing pants.
Karen Millen Faux-Leather Leggings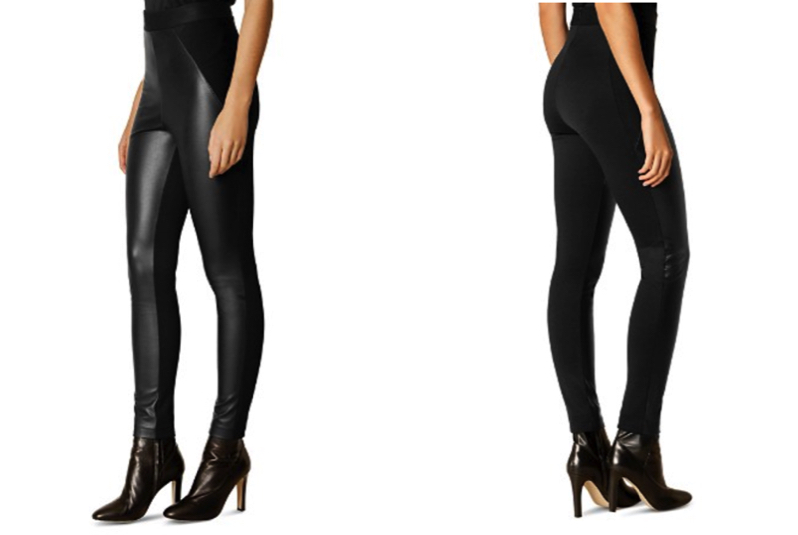 Faux-leather can be a risky move if they look too over-the-top and trashy, but these leggings are chic AF. These pants are perfect for when you're not feeling jeans but still need to get dressed up. Plus, the concept of a pair of leggings that you can also wear on a night out is basically the best invention since sliced bread—whatever that is.

We've always been fans of the Rivington jegging from Asos, and this new seasonal edition of the jegging is so on trend for spring. The combo of the ripped knees and light wash color is perfect when you're sick of black jeggings and aren't ready to pull out the white jeans yet. Your mom will give you shit for buying pants that are already ripped, but it's worth it. These are 45% cotton, so you can be somewhat comfy in jeans that look like they're tighter than saran wrap.