UPDATED: A Casual Reminder That Justin Timberlake Has A History Of Being Sh*tty To Women
As a not-so-closeted Britney fan, I was more excited to watch The New York Times Presents, Framing Britney Spears than I was when I found out WFH meant I could wear the same unwashed sweatshirt and leggings every day. And I wasn't disappointed. Framing Britney brought me facts about Britney's career, conservatorship, struggles with the spotlight, and more, wrapped up in a tight hour and a half. It even briefly touched on her four-year relationship with Justin Timberlake, which immediately brought me mental flashbacks of obsessing over their denim-on-denim AMAs look. You know the one. The documentary, though, showed how Justin weaponized their relationship to launch his solo career, make headlines, and ultimately sell records. That was enough to send me into the deep dark interwebs to dig up everything I could about this guy. 
Peeling back the layers and piecing together his history revealed a seriously disgusting picture, and a pattern of him exploiting female artists and taking advantage of the music industry's sexist double standards for his own gain. I'm here today to expose more of Justin's horrible behavior, so next time you want to cue up "SexyBack", you'll think twice.
The Early Days: Britney & Justin Become The "It" Couple
Britney and Justin met in 1993 when they were on Mickey Mouse Club alongside Christina Aguilera and Ryan Gosling. Justin went on to join *NSYNC and Britney went on to pursue her solo career, and they began touring together in 1998. In 1999 they began dating while still on tour, with their relationship ending in March 2002. 
At the time, Britney was redefining what it meant to be a female pop star. Between 1999 and 2000 alone was when "… Baby One More Time" debuted at No. 1 on the Billboard 200, Britney appeared as herself on Sabrina The Teenage Witch, hosted SNL, and sold 20 million copies of "Oops!… I Did It Again". Side note: she was 18 at the time… which makes me think, all I was doing at 18 was Googling "where to buy fairy lights" and discovering there is such a thing as too much Valencia filter.
*NSYNC, despite being what I call the ugly annoying cousin of the Backstreet Boys, was doing well at the time—the group's self-titled album debuted at #82 on the Billboard 200, and in October 1998, peaked at #2 on the charts, spending 30 weeks total in the top 10. (The albums it peaked behind? Lauryn Hill's The Miseducation Of Lauryn Hill and—wait for it—Britney Spears' …Baby One More Time.) But let's be honest: Justin wasn't a solo superstar before he dated Britney—his media coverage was primarily grouped in with all of *NSYNC. Once he and Britney started dating, though, he started to get more media coverage and solo opportunities, including interviewing Britney at the 2000 Grammys and being invited to join her at her 2002 SNL appearance (which surely wouldn't have happened if they weren't together).
During their time together, there were quiet (and never proven) tabloid rumors floating around that Justin had potentially cheated on Britney with groupies or backup dancers. Although nothing was proven, he'd go on to be accused of cheating on his ex-girlfriend Cameron Diaz and his now-wife Jessica Biel, and I like to say that where there's smoke, there's usually fire. 
2002: Justin Villainizes Britney For Media Attention
In March 2002, rumors surfaced that Britney cheated on Justin with their mutual choreographer, which led to their breakup. Like any well-trained money-hungry social climber, Justin took every opportunity after that their breakup to talk sh*t about Britney, spin the narrative to make him look like the victim, and profit off the exploitation of their relationship. Wasting no time to even collect his blonde dip dye from Britney's, Justin ran off and wrote "Cry Me A River" in two hours.
And if you've been living your life thinking "Cry Me A River" is just a catchy tune, wake tf up let me explain the significance: it's not just about Britney cheating on Justin. Justin also cast a Britney lookalike in the music video to pair with the lyrics of infidelity, just so there was no room for a nuanced interpretation. (And I don't have the time to get into it, but the way he went about telling Britney about the lookalike was also f*cked up.)
Imagine—just imagine—the frenzy the video sent magazines and gossip sites into, because it was essentially Justin confirming that she cheated. And that benefited Justin how? One, airtime, headlines, etc. and two, his record sales surely benefited from the publicity. For context, his first solo record, "Like I Love You", was released in August 2002 and peaked at 11 on the Billboard Hot 100. But, when "Cry Me A River" and his album Justified were released in November 2002, the media heavily speculated it was about Britney, which got his name in the press. Justified sold over three million copies in the U.S., while "Cry Me River" peaked at number three on the Billboard Hot 100. 
Whether they were true or not, Justin milked the cheating rumors and earned himself a victim narrative in the headlines, most famously in a 2002 interview with Barbara Walters. In the interview, Barbara gave him an opportunity to clarify the public impression that Britney was at fault for the breakup, and while he didn't directly agree, he also didn't deny it. He also chose to perpetuate the victim narrative, getting his Mom to speak about how heartbroken and shattered he was over the breakup. Personally, I find it hilariously hypocritical that Justin catapulted his career by vilifying Britney when he, himself, has gone on to (reportedly) cheat on his wife and the mother of his children. Talk about what goes around comes around…
And despite Britney publicly saying she wanted to save herself until marriage (the media's fixation on which was a whole other sexist can of worms we don't need to open right now), Justin shattered that image for her by proudly bragging that they'd had sex and alluding to it in that same Barbara Walters interview. He also notably admitted to having oral sex with Britney on New York's Hot 97 radio station, where he said "I did it. I'm dirty."
Talk about a double standard. 
2003-2016: Justin Continues To Profit From Britney's Name
Apparently, Justin's PR strategy was to talk sh*t, throw shade, and continue to milk the "poor me" storyline, because that's exactly what he did way past their breakup. 
In 2006, Justin told GQ, "I felt like had a couple of opportunities to just sort of stick up for me, and she didn't. Which is fine. But at that time, you know, I fought back, and that's the way I fought back. I used my mind. I came up with a song." Then, at the 2008 Rock 'n Roll Hall of Fame Induction ceremony, he alluded to Britney being a Madonna wannabe, followed by allegedly calling her a "bitch" at a 2013 Super Bowl party. And then, over a decade after they split, Justin did an interview with Vanity Fair Italia where he cited that the suffering and pain from his breakup with Britney helped him write hits like "Cry Me A River". 
Beyond bringing her up in interviews, Justin made headlines in 2006 because the media speculated that his hit "What Goes Around… Comes Around" was also about Britney… basically saying Britney's divorce from Kevin Federline was karma for her cheating on Justin. Maybe he should have, ya know, let it go??
Oh Wait, He's Caused Other Women To Suffer, Too?
Remember a little scandal called Nipplegate that basically got Janet Jackson blacklisted from the music industry? If you need a refresher, it was a tragic incident when Justin ripped part of Janet's costume off during the live 2004 Super Bowl Halftime show, revealing her breast on national TV. 
Even though Justin was the one who visibly tore Janet's top, Janet's the one who suffered when her music and music videos were banned from all Viacom subsidiaries including MTV, and when she was pressured not to attend the 2006 Grammys despite originally being invited to speak. People called Justin "the Teflon man", because he left the scandal virtually unscathed—his music wasn't blacklisted from stations, he attended the Grammys as planned, and he was even invited back to the Super Bowl to perform in 2018. He did acknowledge in 2006 that "America is harsher on women" and told MTV, "If there was something that I could have done in her defense…I would have." I can think of at least a few things he could have done, but okay.
Justin sort of vaguely apologized for the 2004 incident ahead of his 2018 Super Bowl performance. He also radio host Zane Lowe after Lowe directly suggested that he and Janet had made peace with what happened in 2004, "absolutely, and I don't know that a lot of people know that. I don't think it's my job to do that because you value the relationships you do have with people." K.
There have been other instances in which Justin has come under fire. In 2018, he and his wife Jessica Biel attended the Golden Globes—to which, if you'll recall, invitees wore black in solidarity with #TimesUp. Justin and Jessica both wore black (fine) but before the event, in a tweet that has still not been deleted, Justin posted a picture of himself and Jessica, writing, "Here we come!! And DAMN, my wife is hot! #TIMESUP  #whywewearblack". It's so tone-deaf it almost feels like satire. Almost. On top of that, Timberlake posted the #TIMESUP hashtag while at the same time starring in a Woody Allen movie. 
The saying means, for example, you can't support #TIMESUP and praise sexual predators at the same time. You can't retain your credibility as an activist (i.e. – retain the cake) and, at the same time, praise a sexual predator (i.e. – eating the cake).

— Dylan Farrow (@RealDylanFarrow) January 23, 2018
2021: Justin Faces Backlash After Framing Britney Spears' Release
Fast forward to 2021, and The New York Times brought us Framing Britney Spears, which lifted the veil on the calculated narrative Justin crafted about his relationship with Britney. And people are PISSED, demanding Justin say sorry. 
Personally, I predict that, because of the public pressure, Justin will release a very scripted PR statement on Instagram, similar to the one he posted when the Jessica Biel cheating rumors were going around. Following that I assume he'll lay low, spend some time with his wife and kids, and break back onto the scene in late 2021 or early 2022 to announce that he's releasing music or starring in some movie. 
That said… I hope I'm wrong with that prediction. I hope he sincerely admits to and apologizes for weaponizing his privilege and abusing sexist double standards (among other things), and maybe even calls the women to personally say sorry.
And even more than that, I hope this transcends the Justin and Britney of it all, by influencing the industry to stop promoting men at the expense of women, and to say enough is enough when it comes to exploiting double standards. 
UPDATE: In response to growing calls to apologize, Justin finally released an apology to Britney and Janet Jackson on his Instagram on Friday.
View this post on Instagram
In the apology, Justin acknowledges that the music industry is inherently flawed and sets men up for success, and acknowledges his complicity in this sexist and racist system. He promises to "take accountability" and "be part of a world that uplifts and supports".
Issuing an apology is a good first step, but it's the bare minimum. I can't help but wonder if he'd ever have thought to apologize were it not for the public pressure—and I sure hope that in addition to that public apology, he's also trying to reach directly out to Britney and Janet to say sorry.
Images: Jeffrey Mayer/WireImage via Getty Images; RealDylanFarrow / Twitter
Britney And Justin Reconnected On Instagram, And We're Nostalgic AF
We're reaching the point of quarantine where normal rules just don't matter anymore. We're eating at random times, drinking at… all the times, and reaching out to people from our past just out of boredom. If you haven't texted a past hookup or ex during this pandemic, you're stronger than me, congratulations. Luckily, Britney Spears is taking my mind off of my ex, by very publicly talking about one of her own exes: Justin Timberlake.
On Wednesday, Britney Spears posted one of her now-signature videos on Instagram, featuring some frantic dance moves, choppy editing, and most importantly, ultra-low rise booty shorts. But what was notable about this video was that she's dancing to one of Justin Timberlake's songs, "Filthy." In her caption, she says that this is her "version of Snapchat or TikTok or whatever the cool thing you're supposed to do these days." God, I love her.
But then she really brings it home by addressing her song choice: "PS I know we had one of the world's biggest breakups 20 years ago …… but hey the man is a genius !!!! Great song JT". And, in that moment, my soul rose up to heaven. Britney's Instagram during quarantine has been messy in the most delightful way, and this is everything I could've asked for.
But then it got even better, because Justin Timberlake commented on the post. He kept it frustratingly simple, with just some emojis, but in these dark times, I will take what I get and I won't get upset. We know that Justin and Britney thought of each other yesterday, and for that I am thankful.
View this post on Instagram
Naturally, people were very excited by this interaction, and this post got sent in no less than three group chats I'm in. Britney's sister Jamie Lynn Spears also chimed in, commenting that "Blogs are already plotting their outrageous stories…. you keep having fun and looking cute tho!!" Okay, I don't know if I should feel attacked right now, but I will refrain from plotting any outrageous stories. And honestly, there's nothing going on here to even plot about. It's pretty obvious that Britney and Justin aren't close or anything—this isn't a Brad and Jen situation—but it's fun to see them shouting each other out.
Seeing Britney's post, and the ensuing comments, made me feel super nostalgic. Last week, we threw it back to 2006 to explain the iconic photos of Britney Spears with Lindsay Lohan and Paris Hilton, but Britney's relationship with Justin was a whole different era, and I f*cking miss it. Of course, we all remember the classic matching denim looks, but I feel like people forget how sh*tty Justin was to Britney after things ended.
In a Twitter thread from 2018 that's basically a goldmine of forgotten moments, @PallahAbdul walks us through two decades of reasons "why Justin Timberlake is trash." The thread isn't just about Britney, but their relationship is definitely a recurring theme. According to the thread, soon after Justin and Britney broke up in 2002, Justin began a pattern of portraying himself as the victim, and putting the blame on Britney for the relationship going wrong.
In this clip from a Barbara Walters interview, he says that he promised Britney he wouldn't say the exact reason for the split, but basically says yes when Barbara asks him if Britney cheated. Allegedly, they both cheated on each other, but Justin leaves that part out. Then, later in the segment, he sings a song called "Horrible Woman." Subtle!!
In his Barbara Walters interview he paints himself as a victim then goes on to sing a song about Britney called horrible woman pic.twitter.com/nngMVbN3oC

— Romeo Santos (@PallahAbdul) February 4, 2018
Soon after that, he released "Cry Me A River," which everyone has always assumed is a Britney diss track. While promoting the song, he continued to talk about Britney, and in this radio clip, he admits that he "f*cked Britney Spears." Considering that they both famously claimed to be virgins during their relationship, this feels like a pretty big betrayal of trust.
Here's another clip of him on the radio talking about sleeping with Britney pic.twitter.com/q8VulGYMFz

— Romeo Santos (@PallahAbdul) February 4, 2018
Fast forward a full decade, and Justin was still talking sh*t about Britney. In this video from 2013, he introduces a performance of "Cry Me A River" by vaguely talking about when you love someone, and they turn out to be "a bitch." Classy.
Before his album cycle in 2013, Justin predicably started bringing Britney up again. Before a performance of "cry me a river" he called her a bitch pic.twitter.com/CyEyaOqjWa

— Romeo Santos (@PallahAbdul) February 4, 2018
In the nearly two decades since the breakup, Britney has generally kept things more positive, and she even said in 2016 that she'd love to get in the studio and collaborate with Justin. That being said, she hasn't been above a shady comment or two, and in this video (that looks like it was shot in a bunker), she and K-Fed joke about how "Cry Me A River" is "pussy-fied."
Fun little bonus clip: Britney singing cry me a river and calling Justin a pussy pic.twitter.com/c47LTJv9lA
— Romeo Santos (@PallahAbdul) February 5, 2018
Honestly, I don't think these two will ever be friends, and I don't need them to be. Clearly, a lot of messiness went down in the past, and sometimes you're just not supposed to be friends with your ex. I'm happy that they can make playful comments on Instagram, but that's probably about as far as this will go. Actually, I really want Justin to post a video dancing to one of Britney's songs, but that doesn't seem realistic.
Images: Jeffrey Mayer/WireImage via Getty Images; commentsbycelebs / Instagram; pallahabdul / Twitter
Is Justin Timberlake A Cheater Or Just An Idiot?
Nineties babies, I hope you haven't thrown out your Trapper Keeper bedazzled with "Mrs. Timberlake" just yet, because you might still have a shot! That's right, your middle school crush Justin Timberlake was just caught getting touchy with a woman who was decidedly not Jessica Biel. The Sun exclusively reported on Saturday that Timberlake was out in New Orleans drinking heavily and holding hands with his costar Alisha Wainwright. They're in town filming a football movie named Palmer, for which Timberlake will not win an Oscar. Call it a hunch. They have photos and video of the incident, which I did watch despite the fact that there was an ad every nine seconds. I do this for you. Based on the content of this evidence, I suspect someone is about to be in a lotttt of trouble back at home.

Let's talk about what happens in this video. JT appears to be pretty drunk, and oddly he's more attractive to me than he's been in years. One has nothing to do with the other, I'm sure. He and Alisha are out drinking on a balcony together, and at one point Alisha sits next to JT, and he grabs her hand and puts it on his leg and SHE CARESSES IT. Now, I don't know how you all interact with your married coworkers, but I usually just ask them to send me pictures of their home renovations, no caressing involved. There are also photos of him holding hands with Alisha under the table. And that's not all! In the video he is grabbing hands and getting playful with another woman as well. All in all, not a good look for JT, but also not definitive proof he's a cheater. I mean, it definitely proves he's a douchebag, but I think we already knew that. 
Another problem JT is going to have to deal with? He's not wearing his wedding ring in this video. Now, this, along with his behavior, could be an indication that he and the most annoying Camden sibling (fight me) actually have broken up, he's a single man, and they just haven't announced it yet. Celebrities usually keep that sh*t on lock until they drop the news strategically on Friday night or right before a long weekend. We see you. And neither of the Timberlakes have posted about each other on Instagram since Halloween, which is not necessarily a long time, but like, Starbucks has already rolled out their Christmas drinks, so maybe it is?
On the other hand (not literally, the ring was on neither hand), maybe JT wasn't wearing his ring because he just wanted to be like a regular married man looking to score and slid it right into his pocket before hitting on someone way too hot for him. Or, if you are not like me and prefer to give people the benefit of the doubt, maybe you think he just left it at home because he knew he'd be out drinking and didn't want to lose it. That's sweet. 
People immediately followed up this report with one of their own, with a source claiming that it was "completely innocent," and that Justin and Alisha are filming a movie together and "they're cool." And this source's name was Shmustin Dimberlake. Timberlake himself is yet to make a statement about what happened, but he was caught having the decency to look mildly embarrassed the next day. 
Regardless of whether he is a cheater or not, this is a pretty embarrassing situation for JT. He's visibly drunk out in public, acting way too flirty with women who are not his wife, and let himself be photographed and videoed without anyone knowing! He's super rich and super famous, he should know better than this—or should have at least surrounded himself with people who know better than this. It's sloppy. I doubt he and Jessica are separated, but I do hope that she rips him a new one when he returns home. Maybe if we're lucky she'll ban him from being in that movie and none of us will be subjected to his terrible acting ever again. A girl can dream!
It'll be disappointing if the cheating rumors turn out to be true, but Justin would be far from the first famous person to be caught in bed with someone who's not their spouse. Just for old time's sake, let's reminisce about some of the messiest celeb cheating scandals. There are honestly way too many to choose from, but I've done the tough work of narrowing it down.
Tristan Thompson & Khloé Kardashian
Perhaps the most notorious cheater of the last couple years is none other than Tristan Thompson. Who could forget when he was spotted with another woman while Khloé Kardashian was in Cleveland, literally about to give birth to his baby? For whatever reason, Khloé stayed with him, until almost a year later, when the Jordyn Woods news hit the fan. He and Jordyn may not have slept together, but their inappropriate behavior was finally enough for Khloé to ditch his ass. Thank f*cking god.
Ben Affleck & Jennifer Garner
Even four years later, I'm still not quite over the way things went down with Ben Affleck and Jennifer Garner. They seemed like a normal, happy couple, which is why it was so disheartening that Ben cheated on Jen with their nanny, Christine Ouzounian. Ben's team tried to deny the rumors, but you know some shady sh*t is going down when the nanny gets fired one day after you announce your divorce. Jen is now dating a super normal guy, and Ben can kick rocks.
Tiger Woods & Elin Nordegren
It's been 10 years since the great Tiger Woods Cheating Scandal of 2009, but it's no less crazy a decade later. After an initial tabloid report about Tiger having an affair, an avalanche of mistresses began coming forward, with nearly a dozen women accusing Tiger of sleeping with them. If you're going to cheat, you should probably try to keep the number of mistresses to like, one hand at least. Tiger's wife Elin divorced him the next year, and this year she gave birth to a son with former NFL player Jordan Cameron. Good for her.
LeAnn Rimes & Eddie Cibrian
This cheating scandal was M E S S Y, and there are so many layers here to unpack. LeAnn and Eddie were both married to other people in 2008, when they started hooking up while shooting a Lifetime movie together. Honestly, how all great relationships begin. They eventually went public and left their spouses to be together. They're still together, so maybe this was for the best? Also, you might remember that Eddie Cibrian's ex-wife is a woman by the name of Brandi Glanville, who would go on to be an iconic Real Housewife, and also one of the root causes of the drama that gave us Vanderpump Rules (because Scheana also slept with Eddie). This cheating scandal is so deep, and its ripple effects have greatly benefited my life, even years later.
What's the craziest celeb cheating scandal you can remember? And do you believe that Justin Timberlake cheated on Jessica Biel? Let me know in the comments, because I need conspiracy theories about this.
Images: giphy, justintimberlakebelge,jessicabiel/Instagram
The Best Celebrity Mother's Day Posts
Like any other holiday in 2019, Mother's Day is 25% about what you're doing in real life, and 75% about what you post on social media. Maybe you took your mom out to a nice brunch, or at least gave a her a nice phone call, but I'm willing to bet that no matter what, but either way you definitely posted 47 photos of her on your Instagram story, despite the fact that she couldn't figure out how to use Instagram if her life depended on it.
Celebrities are no different than us when it comes to holidays on the internet, and nearly every famous person who is/has a mom posted something to mark Mother's Day. Obviously, all moms are great, and without them we literally wouldn't be here, but I still managed to pick some favorite Mother's Day posts from this year. A couple of them may or may not have made me cry, but please don't tell anyone, because I have an image of being a bitch to uphold.
Chrissy Teigen
Chrissy Teigen pretty much always manages to kill it on social media, and her Mother's Day post was no different. Her caption is simple and heartfelt, and the photo of her naked during one of her pregnancies is gorgeous. We already said we want Chrissy to adopt us, and now I really need her to teach me how to take bomb mirror selfies.
Gwyneth Paltrow
Why am I just now figuring out that Gwyneth Paltrow's children are beautiful? Not that it's a surprise, but when I saw a photo of her daughter Apple last week looking grown-up and stunning, I almost fell out of my chair. We are so old! Gwyneth looks totally natural in this photo with her kids, and they all look great.
Billie Lourd
I'm not crying, I just have something in my eye. If you're not aware, Billie Lourd is an actress who just happens to be Carrie Fisher's daughter. Her family has obviously had a tough couple of years, but her Mother's Day tribute was all about spreading the love to whoever needs it.
Michelle Obama
The Obamas are still my first family, and they look damn good!!! Michelle's caption is a lovely tribute to her mom, and the portrait of three generations of women together is incredible. I feel like I haven't seen a photo of Sasha in a while, and she is like, stunningly beautiful.
Justin Timberlake
Is it weird that I want to print out this photo and have it framed for myself? Just kidding, that would be like sooooo crazy! Justin Timberlake and Jessica Biel keep their relationship pretty low-key these days, but this post is gorgeous.
Khloé Kardashian
Choosing which Kardashian child is the cutest would literally be impossible for me, but True is really making a strong case for herself. Khloé has gone through a lot in the year since she gave birth, but photos like these show why it was all worth it. Honestly someone stop me from stealing this baby.
Gisele Bündchen
I love a bilingual caption moment, but I have to give Gisele a hard time for just a second. I truly don't understand the whole "they chose me to be their mummy" thing. Like, I guess it sounds sweet, but it is so factually incorrect!! Do I need to give Gisele a quick lesson on biology, or like, how sex works? Where does Tom Brady think babies come from? Cute photo tho.
Ava Phillippe
Ava Phillippe is one of my favorite up-and-coming celeb kids, and her post for Reese Witherspoon is perfection. Idk when this photo is from, but it doesn't really matter because Reese is stunning and does not age. Reese Witherspoon is a treasure, and this just makes me so happy.
Gabrielle Union
Okay, and now we're at the crying portion of the article. Gabrielle Union struggled with miscarriages and difficulty getting pregnant for years, until she finally had a baby via surrogate last fall. It clearly was a dream come true for her to get to be a mother, and this photo is sheer joy. The caption is a beautiful message for mothers and mother figures everywhere, and Gabrielle is someone who obviously knows how much this means. I'm! Not! Crying!
Who else had Mother's Day posts that made you laugh or cry? Did anyone make you cringe? Usually holidays on social media are a bit much for me, but this year Mother's Day really delivered. My mom is probably reading this, so I love you, and please don't ever get Instagram!
Images: chrissyteigen, gwynethpaltrow, praisethelourd, michelleobama, justintimberlake, khloekardashian, gisele, avaphillippe, gabunion / Instagram
You Probably Forgot About Lindsay Lohan's Iconic Sex List
It's been a big year for Lindsay Lohan. She opened her beach clubs in Mykonos and Rhodes, and is supposed to be getting a new reality show sometime soon. I'm not sure whether I love her or hate her at this point, but I'm still fascinated no matter what. For the past few months, she's basically just been hanging out in Mykonos, posing for pictures with famous people and randos that come to her club. Her mom came to visit, as did my favorite Trump child, Tiffany. But a few days ago, I saw a photo that really made me feel nostalgic. Lindsay was hanging out with Nico Tortorella, one of the names on Lindsay's infamous "f*ck list."
If you don't know about the f*ck list, prepare to have your mind blown. Back in 2014, Lindsay was staying at the Beverly Hilton Hotel with her friends. For reasons unknown, Lindsay filled out a literal Scattergories playing cards with 36 names of people, all of whom it's assumed she slept with at some point. There are a few names that have always remained blurred out in the photos, but there's still a ton of material here. Let's walk down memory list, and check in on some of the greatest hits of Lindsay Lohan's f*ck list.
Nico Tortorella
Nico Tortorella (who uses neutral pronouns) definitely isn't the most famous person on the list, but they're one of the most interesting. Also, they're probably one of the few that she actually keeps in touch with. This is just a guess, but I'm pretty sure Zac Efron isn't texting LiLo on the reg. Nico has been in lots of random TV shows and movies, but they're best known for playing Josh on Younger. Nico is married to Bethany Meyers, and they're both queer and hot and very into expressing themselves. Lindsay and Nico have been friends since at least 2011, and he even proposed to her as a joke one time. Glad they're still friends—Lindsay needs some people in her life who aren't Russian oligarchs.
Jamie Dornan
I gotta say, Lindsay really got in early on this one. Way back in 2006, she and Jamie were rumored to have a fling, but it didn't really lead anywhere. That was the same year that Jamie had his first movie role, and it was a full nine years before Fifty Shades of Grey came out. I'm pretty sure this means that Jamie Dornan owes his entire career to Lindsay Lohan? Maybe I just need to sleep with Lindsay too, and then my life will stop being a mess.
Justin Timberlake
I must admit, I had truly forgotten about this one. It's wild to think back to a time when Lindsay Lohan and Justin Timberlake would have been at the same parties. It's a little unclear exactly when and how this happened, but there is one plausible theory. In 2009, they were allegedly at the same club in New York, and then later Lindsay tweeted (then deleted) "where's jb cheater?" Speculation is that "jb" could be Jessica Biel, and I'm just thoroughly confused. There's a 99% chance JT has Lindsay's number blocked.

Ashton Kutcher & Wilmer Valderrama
Hooking up with both of the hot guys from That '70s Show is really a classic LiLo move. It's a known fact that Lindsay dated Wilmer way back in 2004, when she was just 18 years old. Lindsay most likely got with Ashton in 2006, shortly before he started dating Demi Moore. That truly feels like a lifetime ago. Do we think Wilmer was mad at Ashton for sleeping with Lindsay? Bless this mess.
Orlando Bloom
The only known connection between Lindsay and Orlando is that they were both robbed by the Bling Ring. Wow, I really miss 2000s Hollywood. They were both robbed in the summer of 2009, and Lindsay was the last victim before they were arrested. At the time, Orlando was living with Miranda Kerr, but maybe he and Lindsay bonded over their lost stuff? Idk, they also could've had sex at literally any other time within the last 15 years. Fun fact: Orlando is a Buddhist, so I feel like he might vibe well with Lindsay's spiritual energy.

Riley S/Riley G
One of the most random, not famous inclusions on Lindsay's list is also a personal favorite of mine. The evidence points to this being Riley Giles, a snowboarder who Lindsay met in 2007 in rehab. They apparently dated for a while, and then Riley did some tell-all interviews after they broke up. Cute, I'm sure she appreciated it. Riley said that Lindsay "quit coke and got hooked on sex with me," and I just threw up in my mouth a little. He called her a "nymphomaniac," and said they escaped rehab and went to a mountain cabin, where they went at it "like rabbits." Okay, I hate Riley.
Stavros Niarchos III
Ah yes, Stavros. He's the heir to a massive shipping fortune, and naturally that's always made him desirable boyfriend material. In the mid-2000s, he was dating Paris Hilton, and Lindsay allegedly tried to move in on Paris' territory. It was always rumored that this was the reason Lindsay and Paris stopped being friends, even though Lindsay claimed that's false. More recently, Stavros has been seeing Dasha Zhukova, which makes a lot of sense. Dasha is a Russian businesswoman who was previously married to Roman Abramovich, a Russian oligarch who's worth $11 billion. Dasha is clearly good at following the money, and I applaud her. She and Stavros both have private Instagrams with less than 1,000 followers, which is a total power move.
All The Rest
There are a lot more famous names on the f*ck list, so we could be here for days. Highlights include Zac Efron (Lindsay spelled both his first and last name wrong), Joaquin Phoenix, Adam Levine, Heath Ledger, James Franco, and Benicio del Toro. Someday, I really hope Lindsay writes a book in which she explains each and every one of these encounters, but that would probably result in approximately 10,000 lawsuits. I'm also very curious to know who's been added to the list since 2014, because I bet there are some really interesting artistic choices. Thanks for all the great memories Lindsay, please never change.
Images: @trackers88 / Instagram; @nicotortorella / Instagram; Giphy (2)
The 8 Most Dramatic Moments In Grammys History
The 60th Annual Grammy Awards are being presented this Sunday, and 60 years is like, a very long time. As much as we're excited to celebrate Ed Sheeran's engagement and listen to "Despacito" for the millionth time this year, we're more interested in the show's dramatic moments. Like, if there isn't at least one tragic stair fall and one mistaken award, we'll be disappointed. In honor of 60 years of sick music, we've decided to take a look back at the most dramatic moments in the history of the Grammys. I mean, we looked ALL the way back. Here's the lineup.
Adele lit the entire internet on fire by winning literally all of the awards last year, when a lot of people thought that Beyoncé deserved every award ever at least some of them. Whether she genuinely felt this way, already had too many Grammys at home, or like, feared Jay-Z pulling a less comical Kanye impression, she basically went full Cady Heron at Spring Fling and dedicated her whole career to Queen Bey. She didn't mention Emma Gerber's hairdo at all, which is either really nice or really mean depending on how you think about it.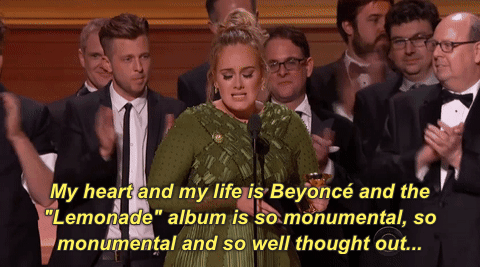 7. When Lady Gaga Showed Up In An Egg
Lady Gaga was literally carried down the red carpet in an egg in 2011, and we're still confused about it. She got out of the egg during her performance of "Born This Way" and it became *kinda* clear that it was a statement about her individuality, or something. When she was asked about it on Jay Leno, she said she spent three days before the show inside the egg. I mean, are you kidding me? Sounds like something your pledge master made you do during rush and never spoke about again. Hard pass.

6. When Jennifer Hudson Made A Surprise Appearance
It was a major dramatic moment when Jennifer Hudson showed up to the Grammys in 2009. She had just gone through a tough time in her family when she lost her mother and brother in the same year, so nobody expected her to show. She ended up doing a v emotional performance of "You Pulled Me Through" and got a major standing ovation at the end of the song. She also won the award for R&B album of the year, so it was a pretty dramatic night overall.

5. When Justin Timberlake Apologized for Nipplegate
In case you're unaware of what went down at the 2004 Super Bowl, we'll give you a little history lesson. JT was performing with Janet Jackson, and she had a major nip slip at the end of the performance. Everyone in the world saw her (covered) nipple, and although she said it was a wardrobe malfunction, both of the singers got a ton of hate from the media because they thought they planned it (which they totally did). When Justin was at the Grammy's a week later, he apologized for offending anyone by showing Janet Jackson's nipple. Fast forward to today and he's performing at the Super Bowl again, so I guess everyone's forgiven him? Still no ETA on Janet's forgiveness though.

4. When ODB Kanye-d Shawn Colvin's Acceptance Speech
Way before the Kanye/Taylor fiasco at the MTV Video Music Awards, something similar happened at the Grammys in 1998. Shawn Colvin had just won the Song of the Year award, and while she was giving her speech, Ol' Dirty Bastard from the Wu-Tang Clan literally jumped on the stage and rudely interrupted. They weren't even nominated in the same category, so no one really knew his motives. Can we assume he was high af? Yes, that's probably always a safe bet when the Wu-Tang Clan is involved.
3. When Bob Dylan's Backup Dancer Ruined Everything
Bob Dylan was mid-performance at the 1998 Grammys when one of his backup dancers ruined his live version of "Love Sick" by ripping off his shirt, displaying the words "Soy Bomb" written across his chest. He literally stood next to Bob Dylan, which is basically a cardinal sin, and danced around until security escorted him off the stage. Bob Dylan was pretty unfazed (which is super chill of him), but everyone else literally hated this guy.

2. When Milli Vanilli Got Caught For Lip- Synching
Does anyone know who Milli Vanilli are? Apparently they were a huge duo back in the day and they performed during the 1990 Grammys before winning Best New Artist. Eight months later it came out that their performance was lip-synched and they didn't even sing on their album that won the award. Their Grammy got taken away and no one cared about them ever again. Why don't teachers include this story in the cheating section of the syllabus?

1. When Will Smith Boycotted On TV
So apparently in 1989 the award for Best Rap Performance wasn't televised because it wasn't considered television material (i.e., they were racist af). Will Smith was nominated and was obv upset about it, so he skipped the Grammys and instead went on Entertainment Tonight to boycott the show. The best part is that he won the award anyway. Looks like staying at home was a good call. Just something to think about the next time you feel bad about bailing on plans.
Meet The Justin Timberlake Protégés Who Are About To Be Your New Obsession
If you haven't heard of The Shadowboxers yet, you will very soon. And I don't mean because I literally just told you about them—I mean because this R&B band is on the rise. The Shadowboxers are a Nashville-based band made up of Adam Hoffman, Matt Lipkins, and Scott Tyler, and trust me when I say they're going to be huge. They just released their new single, "Hot Damn", and they're already backed by Justin Timberlake. Yes, that Justin Timberlake—they're signed to his artist development company, Villa 40. Needless to say, they're kind of a big deal.
Here's their story: Adam and Matt met at Emory University in Atlanta and started making music in 2008, and soon after Scott joined the group. They were later joined by Carlos Enamorado on the bass and Cole McSween on the drums. After graduation, they moved from Atlanta to Nashville, like ya do when you're trying to make music. They got discovered on YouTube (how millennial of them) after they posted a cover of Justin Timberlake's "Pusher Love Girl" and it got re-tweeted by JT himself. And the rest, as they say, is history.
The Shadowboxers stopped by Betches HQ when they were in New York to chat with us about their story and perform a few of their acoustic hits. Check out the video below to meet your new obsession and find out how Justin Timberlake slid in their DMs:
Follow The Shadowboxers on Instagram, and listen to them on Spotify!
10 Iconic 90s Music Video Outfits That Inspired Your Slutty Middle School Wardrobe
Before style trends were dependent on the Kardashians, CW teen dramas, or even our Cheeto president there was the 1990s. Ah, the 90s. A simpler time, a time when Britney Spears was still a "virgin" and boys in matching denim ensembles were considered sex symbols. What a time to be alive.
It could be nostalgia kicking in or it could be this $8 bottle of red wine that's mostly empty, but either way I'm about to revisit some of my favorite shit shows fashion choices and beauty looks from the best 1990s music videos.
1. "JUST A GIRL" — GWEN STEFANI (1995)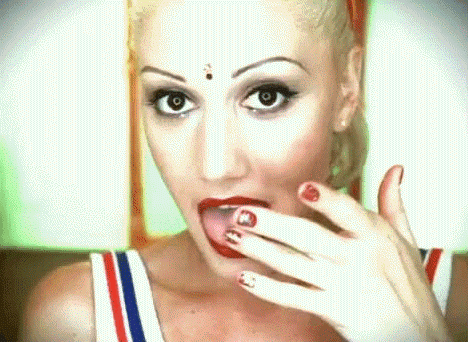 Oh, Gwen. Where do I even begin with you? Perhaps with the semi-culturally offensive red jewelry in the middle of your forehead? The fugly giant hair barrettes? Or the men's track pants you're wearing? Please also keep in mind that this person has a very successful FASHION LINE today, which I can only imagine Twitter is responsible for. Gwen's style is something I'll understand about as much as I understand clear plastic boots, which is to say I don't fucking get it. Let's also not let this moment pass without discussing how Gwen's eyebrows are thinner than my will to live. They are actually making me so uncomfortable. I need an adult.
2. "MMMBOP" — HANSON (1997)

Seeing prepubescent boys with better hair than me makes me want to heavily drink. Seriously, shouldn't you be getting head lice from kids on the playground, not giving a grown woman hair envy?
3. "I WANT YOU BACK" — N*SYNC (1997)

I mean seriously wtf were we thinking? To be fair, this music video actually features some of the less offensive fashion choices from their time in the spotlight. Shocking, I know.

Also #neverforget JT's ramen noodle hair. I love that since Justin went solo and didn't become a has-been like the rest of the band, he thinks he's better than everyone. Like, you might be married and successful and actually pretty funny anytime you appear on SNL, but you still wore a JEAN SUIT to the American Music Awards. Know yourself.
4. "(HIT ME )…BABY ONE MORE TIME" — BRITNEY SPEARS (1999)

An iconic Britney moment that forever made me want to dress like a baby prostitute. Thanks for giving us years of slutty Halloween costumes. You the real MVP, Brit.
5. "SAY MY NAME" — DESTINY'S CHILD (1999)

You know I had to add in the Queen here. And I guess I have to mention her backup singers band mates too. Aside from the fact that the lyrics in this song are fire and I use them in daily in my life, Beyoncé also looks like a fucking goddess in this music video. Groundbreaking, I know. I'll even forgive her for those gold hoops because we all know hoops are Regina's thing. An important note, though: If your skin burns in the sun, you should absolutely, under no circumstances, attempt her hairstyle at home.
6. "GOOD VIBRATIONS" — MARKY MARK AND THE FUNKY BUNCH (1991)

Fuck, this boy is ripped talented. The original fuckboy, his signature look was not wearing a shirt, touching himself, and giving white people hope of becoming a rapper. 10/10 would hit that.
7. "DIRRTY" — CHRISTINA AGUILERA (2002)

While not *technically* a 90s song, I'm still including it because Kylie Jenner made this video relevant again. Those dirty AF blue hair extensions, the assless chaps, THE BODY JEWELRY—she made slutty chic. Not all heroes wear capes, people. She was also single-handedly responsible for every dress code violation phone call my mother received about me from grades 8-12. *starts a slow clap*
8. "ALWAYS BE MY BABY" — MARIAH CAREY (1995)

Aka the reason I thought butterfly hair clips were a statement piece. She spends this entire music video swinging over a lake in a classic jean-on-jean ensemble, looking as angelic as her voice sounds.
9. "WANNABE" — THE SPICE GIRLS (1996)

The original Plastics, these girls are responsible for stereotypes in cliques and my hideous metallic mini dress in middle school. Also for giving my boyfriend an excuse to "get with my friends."
10. "AARON'S PARTY (COME GET IT)" — AARON CARTER (2000)

Again, not exactly a 90s song but I couldn't not include this one. First of all, Aaron Carter is, what, 9 in this music video? Maybe? And he's throwing fucking ragers while his parents are out to dinner? I applaud you, son. Also the fact that a third grader is rapping on a bicycle in a fur coat while middle school girls grind up on him. I'd be lying if I said I didn't want to be one of those middle school hoes. And you'd be lying too.
Anddd now I have "Aaron's Party" stuck in my head. Brb I'm just going to do something productive bang my head against a wall until I stop singing rap lyrics written by and for a 12-year-old.