Bobbi Brown On The Top Makeup Mistake People Make & How To Fix It
If you're a makeup lover, or if you simply don't live under a rock, you know who Bobbi Brown is. Brown transformed the beauty industry by creating cosmetics to highlight a woman's natural look, instead of trying to hide it. This sounds like a no-brainer for us now, but back in 1990, it was pretty f*cking revolutionary. She started her career by creating 10 simple, natural looking lipsticks that evolved into what is now a beauty empire. After leaving Bobbi Brown Cosmetics in 2016, Brown returned to her passion of focusing on life and wellness as she authored nine books, launched her lifestyle brand Beauty Evolution, her editorial site justBOBBI.com, and a line of wellness and beauty ingestible products titled EVOLUTION_18 (including, of course, a CBD gummy). She also imparts her wisdom on MasterClass, where subscribers can watch her perform makeup tutorials, describe her beauty philosophies, and teach lessons and tips to key makeup fundamentals. So, who better to ask about what beauty mistakes people make than a beauty icon, trailblazer, and entrepreneur? 
The Mistake
There's a reason conventional wisdom tells us to put our best face forward, and the reason Brown's top beauty mistake is not about lipstick, or eyeliner, but about what people see first: your face. We've seen it in just about every Jersey Shore cast photo since the beginning of time: foundation and concealer that don't match the skin tone. Brown has seen it, too, and cites it as the top beauty mistake she notices: "people who wear the wrong color foundation and concealer" is her number-one no-no. Another serious faux pas? "So many women will either skip concealer, which is really bad, or they will put a concealer on that's too light and it just looks like a raccoon." Ouch.
There are a few reasons Brown often sees people sporting the wrong shade concealer or foundation, which, thankfully, means it's easy to fix. Number one is simply misunderstanding the purpose of these products. Brown explains, "the reason we wear foundation is to even out our skin, and not try to change the color of it." So don't get all aspirational during the winter by buying a shade you know is too tan for you—that's what bronzer is for. 
yeah i'm wild. yeah i like to gamble. yeah i like to order new foundation online despite having never tried that particular brand before and therefore having no idea about their shade range and whether or not the color would match me. yeah i'm crazy.

— sophie (@pixievalkyrie) December 4, 2019
Another culprit? Rushing the process and not taking the right care to find the perfect match, including not trying on foundation on your actual face. Brown emphasizes, "the only way to find the right color foundation is actually trying it on the side of your face—not your hand, not your inner arm—and if it disappears it's the right color." Which means, yes, actually trying out the foundation before buying it and not just hoping you'll get it right.  "You have to put in a little time and energy into choosing the right foundation," Brown says, adding, "it's hard to just buy something off of Instagram because you don't know what actually works." Adding that foundation or concealer to your cart is obviously fine if it's the go-to shade you've been wearing for years, but if you're trying it out for the first time, be warned that going off the color on your computer screen is a risk. 
The Fixes
The good news is that while choosing the right foundation can be tricky, it's not rocket science. First things first, Brown stresses the importance of having a good base, and that means going for an inside-out approach. She says, "Start with good skin. Make sure you're eating properly and put your moisturizer on before you do anything else." And here I am with my million serums and toners—who knew that just eating right and moisturizing would give me good skin? In all seriousness, Brown says, "for someone that's been both a beauty expert, a makeup artist, and a health coach, the healthier your skin is the less makeup you need."
if anyone is shopping for gifts for me, I wear Fenty foundation shade 185 and dollar size $185 as well

— Betches (@betchesluvthis) December 17, 2019
She also notes the importance of assessing how your foundation looks in the daylight so you can make sure it's the same exact shade as your skin. And, if you're using a bronzer, it needs to "tint your skin so it blends to your neck and your chest," lest you avoid looking like Dorian Tyrell in The Mask, or Paris Hilton in the early 2000s. On top of that, recognize that you might be wearing too much makeup, or simply applying it in the wrong places. In Brown's opinion, all you may need to do is "Throw on a quick concealer under your eyes, and really just use your foundation to touch areas that are red." I'm someone who basically paints a mask on using my foundation, but Brown assures me, "you don't need it all over." 
Overall, the key to wearing the right makeup, Brown emphasizes, is confidence. She says, "whatever your style, make sure you feel good when you look in the mirror." She adds, "some people look great in a red lip, some people look great in a cat-eye, and other people look best in a nude face. So really, it's about style and preference and if you're comfortable with it, then you are confident." Choose the makeup or style that brings out your natural beauty and make you feel fabulous. Then, you will shine. 
Images: pixievalkyrie, betchesluvthis / Twitter
Does Foundation Make Your Skin Suck?
Does foundation make your skin suck? The short, the frustrating answer is maybe. It's possible that your foundation is making you break out, which is a huge bummer. But that doesn't mean you need to forgo coverage in order to get good skin. Actually, it may be something else you're doing wrong and not the makeup itself causing all the trouble on your face. (Go ahead, breathe a sigh of relief.) So before you toss your makeup bag and that $40 foundation you just bought, check to see if you're committing one of these skin care sins.
1. You're Using The Wrong Foundation
If you feel that your base is breaking you out, it may be because you're using the wrong one. "Look for a product that is non-comedogenic, meaning it shouldn't obstruct pores and create acne," says Los Angeles dermatologist Ava Shamban. This shouldn't be that hard—these options often clearly say non-comedogenic on the bottle, but it also doesn't hurt to take a quick scan of the ingredients label just to be sure. While you're doing that, Shamban says to avoid sodium laurel sulfate, lanolin, coconut oil, and butyl stearate, since they're the most common pore-clogging offenders. These formulas will tend to be more water-based and lighter in texture, which is another good sign a product won't produce acne.
2. It Might Be How You're Applying Your Product
Sometimes it's not about the foundation, but it's about what else is touching your face. I'm not psychic, but I know that you're not cleaning your makeup brushes enough. Literally NO ONE DOES. "You want to wash them once a week," recommends Shamban. Wow, ok, my entire life has been a lie. The reason is that when your brushes are damp, as they get from liquid makeup, it creates an ideal environment to grow bacteria. Ew. Dr. Shamban also warns against using a compact with a reusable sponge, because touching the applicator to your face and placing it back to the compact can contaminate the product. "Something with a pump is cleaner," she advises.
3. Sleeping In Your Makeup Is Still The Wooooorst
"Foundation acts like fly paper," says Shamban. "everything sticks to it—tiny soot particles, air pollutants, car emissions." Are you horrified? I'm horrified. That's why sleeping in your makeup is such a huge no-no. You're leaving all these gross things stuck to your face for extra hours. Up your cleansing game by following your cleanser with a micellar water to make sure you've gotten everything off. In a pinch, if you can't wash your face, it's still better to use a makeup wipe to quickly get it off than to leave it on all night. 
 4. Makeup Doesn't Cover Up Bad Skin Care
Keep in mind most makeup floats on top of your skin and can't fix the fact that you've eaten pizza all weekend and haven't exfoliated since the Obama administration. "I think the biggest problem with foundation is that people use it to cover up all kinds of bad habits," says Shamban. "When the skin gets dull it's because it's not exfoliated or not hydrated."  Without proper prep, foundation can exacerbate poor tone and texture even though the foundation itself is not the cause. Fix that by exfoliating once a week (either physically with a cleansing brush or chemically with a glycolic acid) to remove built-up skin cells that can congest pores and cause acne and dullness. Every day, you should use an antioxidant to protect your skin against the aforementioned pollution, and be sure to moisturize and use SPF.
5. But Foundation Can Actually Be Good For You, Too! 
The confidence you get from having clear, even skin is a benefit in itself, but certain foundations do even more than that. Mattifying formulas can control oil, and foundations containing sunscreen can, you guessed it, protect you from the sun, which provides longer term benefits to your skin. "Sun damage equals fine lines, wrinkles and brown spots," says Shamban, which might cause you to want to wear more corrective makeup. The best way to prevent against the damage is, you already know, sunscreen. Options with SPF 30 can go a long way to improving your skin over time.
So now you're probably wondering what foundations won't make your skin suck. Don't worry, I got you. Here are some dermatologist-approved options at a variety of price points, so you can see what works best for you. Everyone's skin is different, but these options are a good place to start.

It Cosmetics CC+ Cream Oil-Free Matte with SPF 40 — $39

Dermablend Cover Crème Full Coverage Foundation SPF 30 — $39

Clinique Acne Liquid Makeup — $29.50

Dior Backstage Face and Body Foundation — $40

Oxygenetix Oxygenating Foundation — $66

Neutrogena SkinClearing Liquid Makeup — $14.59
Images: Kevin Laminto / Unsplash; betches, nottoopretty, dietstartstomorrow / Instagram; It Cosmetics, Dermablend, Clinique, Dior, Oxygenetix, Neutrogena
I Actually Believe In Day And Night Creams Now—Here's Why
As someone who reads and writes about skincare on a daily basis, I find myself hitting something I call "skincare fatigue." Just when I'd mastered toner (kind of), I start hearing about serums, retinol creams, and whatever the f*ck an "essence" is. Thankfully, the concept of day cream vs. night cream isn't new to me—but actually using a different moisturizer for morning and evening is. I'd always kind of figured that "needing" two different moisturizers was just a way for companies to sell you more products. But three weeks in to my new regime, I'm sold. Here's why.
Night Cream Needs Time To Sink In
The purchase that kicked off this whole venture is Tatcha's Dewy Skin Cream, a moisturizer I feel confident in calling pure magic. From the moment I got my hands on all that silky lavender goodness, I loved it so much I wanted to take a bath in it. This moisturizer has brought my skin back to life after a night out, scared burgeoning pimples back into hiding, and—praise be—NOT activated my rosacea, which just about every other celeb-approved moisturizer does. (Looking at you, La Mer. I wanted so badly to love you.)

Now that my shameless Tatcha evangelizing is out of the way, on to the real point. Because I was so excited about this moisturizer, I was using it morning and night—and quickly realized my mistake. I have a four-step routine I stick to: cleanser, toner, treatment, moisturizer. Because the sun exists, and because my skin is so dry that sunscreen alone does not moisturize it, I have to follow up that four-step routine with an SPF cream in the morning—all before adding any makeup.
Now, anyone who's tried to quickly apply five different face products and then add foundation on top will immediately see the problem here. My beloved Tatcha moisturizer is on the thicker side, which is perfect for my dry skin—but it takes a solid 15-20 minutes to be completely absorbed. That would be fine if it were my only morning skincare step, but I also have to give my toner and treatment steps 5-10 minutes each to sink in. That gets us up to 30 minutes on pre-make-up skincare, minimum. In my week of trying to use the Dewy Skin Cream as a day cream, I don't think I managed to put foundation on once. Since I never had enough time to let the moisturizer sink in all the way, even my sunscreen was barely getting absorbed—which means I was going out looking like a greasy, white-tinged mess.
Note: Dewy Skin Cream isn't advertised specifically as a night cream—there's a different night cream from that product line—but that's how it works best for me. As a rule, night creams will be thicker than day creams, and are formulated to moisturize while you sleep.
Me, waking up post-Tatcha moisturizer: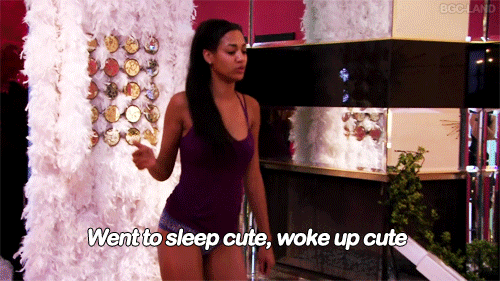 Day Cream Protects; Night Cream Repairs
Day cream, I learned, has one major job: to protect your face from the sun, so basically to contain as much SPF as you can stand. (For reference, I use SPF 46—do not come at me with your SPF 15 liquid foundation). Like I said before, I have a special breed of lizard skin that requires me to pair said SPF 46 lotion with a second day cream—but if you have the option of combining these steps, I strongly recommend you do. I love this one from Origins (so brightening), or this SPF 50 IT Cosmetics CC cream. (No, I don't know what a CC cream is, and my head will explode if I research further.) I own this cream, and would refer to it as somewhere between light coverage foundation and tinted moisturizer.

Scott Disick knows what's up, a sentence I never thought I'd utter.
If you are like me, and SPF products aren't moisturizing enough on their own, I recommend a super lightweight cream that sinks in quickly. My personal fave for this is Cerave, which makes both a day cream and a night cream.
While day cream bears the brunt of sun protection, your night cream can and should have active ingredients too. We've already discussed the benefit of adding retinol to your daily routine, and 2019 is heading toward being the year of glycolic acid. These ingredients are both great, because they help speed up cell turnover, AKA get rid of the dead skin and bring in the new, better skin. Very scientific, I know. However, both of these ingredients also make your skin more sensitive to the sun. I can personally attest to this—this past December, I used a retinol oil and then went out for a day of skiing. Within 24 hours, I developed dark, rough patches of sunburn on my face like I'd never seen before, and they lasted well through New Year's Eve. Happy 2019 to me!
So, while retinol and AHAs are a good addition to night creams, they should absolutely be avoided in your day creams. On the flip side, you're welcome to put on SPF at night—but unless you're sleeping at a campsite, I'm not sure why you would.
Ultimately, you could just say f*ck it and use the same lightweight moisturizer with zero active ingredients for both day and night (plus sunscreen, obv). But if you have skin that's on the dryer side, I highly recommend investing in a thicker night cream—and not making the mistake I did of piling it on in the morning, too.
Images: Tatcha; Giphy (2)
Everything You Should Know About Microblading & The Aftercare
I've written before about the wonders of microblading: the magic treatment behind so many celebs' perfect, make up-less brows. While microblading is slowly becoming more common, the treatment is expensive enough—and permanent enough—that I assumed my microblading days were years away, if they existed at all. Perfectly sculpted brows first thing in the morning were a luxury for the rich and famous—I, who struggles to go a single day without spilling food on my shirt, was not worthy. Cut to: in an exchange I thought maybe I had dreamed, EverTrue Microblading Salon offered me a treatment with their head stylist. I (obviously) couldn't accept fast enough, and two weeks later, I'm confident it's the best beauty treatment I've ever gotten. Read on for details on the procedure, aftercare, and some dramatic before and after shots.
WARNING: Side effects of this procedure may include taking a disgusting amount of selfies, a small obsession with what other semi-permanent treatments could also improve your face, and a general spike in vanity. WORTH IT.
The Microblading Procedure
I got my brows done at EverTrue's Flatiron salon, with their Master Therapist Michelle Wu. (Pictures of her work, and other brow specialists, are available on the salon's Instagram.) Wherever you go, make sure that you look at samples of your stylist's work beforehand, and even speak to past clients if possible. With semi-permanent makeup, there's no such thing as being too careful. While I'd been daydreaming about this procedure for years, I found myself getting nervous the night before. What if I hated it? What if it hurt? Was I crazy for going through with this?

Luckily, both the salon (pictured above) and Michelle herself were incredibly soothing—and it didn't hurt that everyone there, down to the receptionist, had flawless brows of their own. Before diving in to the procedure, Michelle did some tweezing, and we discussed brow shape and color. My brows, as you'll see in a moment, have always been lighter and patchier than I've liked, which meant about 20 minutes spent with my Anastasia brow pencil every morning. They're also lacking when it comes to having a defined shape, or noticeable arch, something that's harder to fake with my particular makeup skills.
After listening to my concerns, Michelle drew in my brows with pencil, showing me exactly where every stroke would go, and what the end product would look like. The first time through, she gave me a very natural look, following the existing shape of my brows and just filling in. On a second draft, I asked her if she could give me more of an arch, even if that meant tweezing my brows further to fake it (it did). She drew it in, I fell in love, and she went off to mix up a pigment that would match my natural hair. Twenty minutes of numbing cream later—and 30-45 minutes of Michelle individually drawing in each "hair" with a tiny, pigment-carrying blade—I was all done. In less than 90 minutes, and with no pain other than a slight soreness toward the end, my brows were complete.
My brows, before and after:


Microblading Aftercare
Honestly, most of my night-before fears about microblading weren't about the process itself; they were about the aftercare. Mostly, I blame this InStyle article, which led me to that my brows needed to be on full lockdown for a week following. No moisture (including sweat), no showering unless you wanted to tempt fate, and don't you dare roll over in your sleep—unless you want to ruin your brows like this author's unfortunate, side-sleeping co-worker did. Obviously, this writer had no malicious intent, but as someone who believes basically everything she reads on the internet, I was pretty f*cking stressed.
After carefully rattling off my concerns to Michelle, she gave me a few pieces of good news. Given improvements in the pigment they use, microbladed brows now only need to stay dry for 48 hours after the procedure—not a full week. And short of sleeping fully on my face, she was very skeptical that I would manage to mess up her work overnight. Phew! That being said, I had still just gotten eyebrows tattooed onto my face, and she was clear that certain aspects of aftercare were non-negotiable. For one week: apply a thin layer of healing balm (provided) twice daily, don't get any product on your brows, and don't apply direct pressure. This means when people see your brows and immediately try to touch them, you back the f*ck away. (Maybe no one in your life will do this. But all of my weirdo friends definitely did).
So yeah, my showering regimen definitely took a hit the following week (I could get them wet after 48 hours, but I was scared of stray body wash or shampoo getting in there). And I may or may not have yelled at my boyfriend every time he tried to kiss me, but every rose has its thorns and all that. It was a slightly annoying week with 3-5 heart attacks that I'd fatally messed up—but I never had, and my brows remained intact.
The Final Results
Finally, I didn't realize how much your brows change in the weeks following the microblading procedure. For the first few days, they were much darker—now, two weeks later, they're almost too light. This is all a normal part of the healing process, as your skin scabs, heals, and grows back, and as the pigment adjusts to your skin. Brows will reach their "final" color 4-6 weeks after the initial process, and just in time for a mandatory touch-up session, where your stylist can fill in any holes, go bigger if desired, and make adjustments to the shade.
I have to say, though, both at their darkest and their lightest in this healing process, my brows look the best they've ever looked. Even my sister, who is skeptical of all beauty treatments that take more than water to remove, was thoroughly impressed. And of all the slight modifications I've made to my appearance over the years—eyelash extensions, laser facials, coloring my hair—it's made the biggest and best difference. Having thicker, filled-in brows gives me the exact boost I sought out with my minimal makeup routine: I look more put-together, and frankly, more natural than I did before.
Me, one week in and feeling myself:

Something about having these permanent (technically, one year to 18 months) brows makes me want to wear less makeup on the rest of my face, too (obviously, the above selfie notwithstanding). While I know these brows aren't actually natural, I feel like they look like they could be—and appreciating a natural look goes a long way toward putting down the eyeliner and taking on the world with nothing more than my fancy new brows. It's boosted my confidence, cut down my morning routine, and flooded my DMs with questions about the procedure. If you're able to make a beauty investment right now, and you're wondering what to go with, run, don't walk, to EverTrue, or your nearest (reputable!) microblading salon.
Images: Alexandru Zdrobău / Unsplash; EverTrue Microblading Salon (2); @evertruesalon, @louisabhaus / Instagram
7 Amazing Beauty Products You Can Buy On Amazon
By now you're probably well aware that you can get just about anything on Amazon. Wine, face masks, food—you name it, Amazon delivers it to your doorstep. To add to your addiction, we've scoured the ecomm giant for the best Amazon makeup products. The only thing better than getting a vibrator delivered to your door without facing a cashier is the ability to get a same-day mascara delivery when you don't have time to stop at Sephora. Some are best sellers and some are just the fucking best, but regardless your face will thank both you and our guy Jeff Bezos.

Whether your eye bags are giving away the fact that you're hungover AF or you have serious period pimples popping up all over your face, NYX's Professional Makeup Concealer's creamy consistency will cover all of that. It's no wonder it's an Amazon makeup best seller—betches can't get enough of covering up their poor life choices and unfortunate hormonal acne.

The only thing worse than taking off waterproof mascara is trying to take off waterproof mascara with wipes that don't actually remove waterproof mascara. Thankfully for your lashes, wallet, and sanity, you can get Neutrogena's excellent wipes delivered to your front door. They work like a charm.

Too Faced's Better Than Sex Mascara is definitely better than the shitty sex you had with your ex-fuckboy. But you know what's better than the mascara AND subpar fuckboy sex combined? TWO Better Than Sex mascaras: the OG and the waterproof version. You can get the full size regular mascara and travel size version of the waterproof mascara right now on Amazon, and on sale no less. Using the waterproof to seal in the regular mascara will leave you questioning why you ever settled for lame mascara and lame sex.

Blending L'Oréal's Lumi Glow Amour Boosting Drops on your cheek bones is like dropping pixie dust into your foundation. It makes your cheeks shimmer, and the liquid drops blend a better than most powder highlighters.

Everyone needs a super-pigmented liquid matte lipstick that will last all night—no matter what activities you choose to partake in. That's why you need to get Lime Crime's Velvetines Liquid Matte Lipstick delivered to your doorstep ASAP. The best part is that Lime Crime's velvety texture won't cause the lipstick to peel or dry out your lips (*glares at Kylie*).

The fairy godmother of highlighters, Anastasia Beverly Hills' Sun Dipped Glow Kit is the answer to all of your highlighter needs. It'll have you looking like a bronzed goddess even in the middle of this fucking godawful winter.

Another Too Faced product made the list solely because, well, this foundation is the absolute tits. The amount of coverage this foundation gives without looking cakey is unparalleled. The best part? Its texture is still lightweight enough (and oil-free) so that it's suitable for those with acne-prone skin. Blessings.
Images: Jazmin Quaynor/Unsplash (1); Amazon (7)
Betches may receive a portion of revenue if you click a link in this article and buy a product or service. The links are independently placed and do not influence editorial content.
The Types Of Makeup Brushes You Actually Need To Buy
Ok, so if you've ever fallen into the black hole that is internet makeup tutorials (aka all of us), then you've probably been exposed to the endless makeup brushes that those 15-year-old YouTube stars use. But which makeup brushes do you actually need? I mean, we love contouring as much as the next betch, and we also enjoy a perfect smoky eye, but do you really need a different brush for your crease, brow bone, and smudging? Not so much. Read on to find out which makeup brushes your vanity can do without, and which ones ACTUALLY need (and where to use them), courtesy of Jane Iredale's new (and chicly designed) brush collection.

Jane Iredale's Chisel Shader Brush is perfect for both powder and cream eyeshadows, and can be used to lay down the eyeshadow from the lash line to the brow bone so you won't need another brush. The densely packed, short bristles make it easy to build layers of shadow without smudging.

A brush with long, soft bristles helps to blend a multicolored eye look so you don't end up with streaky raccoon eyes. If you've ever seen someone walking around with unblended eyeshadow, you know why a crease brush is necessary.

If you're into powder foundations or bronzers, then a long-bristled, flat-topped brush like The Handi Brush can be used to dab on the powder, then buff out after applying. Since the bristles are so dense, you won't lose or waste makeup in the application process.

If you're a liquid foundation kinda betch, you need a large, rounded, densely packed brush like a Kabuki Brush for an application that you can buff on evenly for the best coverage. Yes, you really do need a different brush for each type of foundation. Sorry, I don't make the rules.

If you want to properly achieve a transformation as dominant as Kim K's, then you're going to need a contour brush (and a lot of other work—but most importantly, a contour brush). The brush also doubles as a blush brush and is really used to enhance any/all features. Contour brushes should be of medium density and have an angled top. Those of you who still haven't figured out how to contour can save a little money by not bothering with this type of brush.

Ok, so you really only need this brush if you're obsessed with highlighters. Which, if you've read this far into the story, odds are you take angled selfies just to get a glimpse of your glowing highlighter. There's just something about having shimmering cheeks that makes us feel better about ourselves. A soft, long-bristled, fan-shaped brush should be dabbed into a highlighter and then spread above your cheekbones. If you're one of those people who doesn't believe in highlighter and thinks it's all a scam to get us to buy repackaged eyeshadow, you can skip the fan brush.

Short, thin, angled brushes like Jane Iredale's Angle Liner/Brow Brush will help to apply eyeliner and fill in your brows without making you look like Oscar The Grouch. So yeah, you need one of these in your stash.

A rounded, flat, dense brush with medium to short bristles allows you to apply and blend liquid or cream concealer evenly, and with control so you don't end up having white rings around your eyes when someone uses the camera's flash.
4 Foundations That Are Better Than FaceTune
If there's one thing I strive for in this life, it's the pursuit of happiness the perfect selfie. Whether that pursuit is a means to trap a man or to make my sorority sisters from college jealous or just because I think I'm, like, really pretty, sometimes the pursuit of the perfect selfie isn't always as easy as people think it is. First, it involves my face, which 9 times out of 10 is working against me for reasons that are unclear to me. Then there's the fact that half the time my foundation is blackmail causes me to look like Casper in all my Insta stories. Thankfully, not all foundations are sabotage (just the ones I got conned into buying at Sephora). Anyway, here's a list of all the foundations that are better than Instagram filters and will give you fire selfies.
There's a reason this foundation has a 5,000+ wait list, and that's because it is motherfucking sorcery makes you look better than your Facetune app can. The #FauxFilter foundation is the brain-child of Huda Kattan aka person who looks eerily similar to Kim K one of the best beauty bloggers in the game. The foundation itself is highly pigmented but instead of feeling mask-like and weighted down, it actually goes on  creamy AF. It blurs out pores, blemishes, and redness for an airbrushed finish that's practically guaranteed to have your ex sliding back into your DMs (I paraphrase). Beware because this shit is long lasting AF, as in will outlast you and the six vodka crans you "accidentally" downed at the bar last night watching the Super Bowl, and you will be scrubbing off after work later along with the remnants of your dignity. Plus, it has serious range with over 30 different shades that cater to literally any skin type. Blessings. 
Okay, so technically this is a primer, not a foundation but, whatever, I'm still including it because it's fucking magic. Last year Milk Makeup launched their Blur Stick and people lost their goddamn minds over it. Mostly because it does more work hiding facial imperfections than Kim Kardashian before she posts a nude on Instagram. Like its predecessor, the new Luminous Blur Stick still absorbs excess oil, smoothing over pores and fine lines, but now it also leaves skin with a v healthy glow. Plus you can use this product in lieu of an actual foundation for that "I just woke up like this, I don't know makeup" look.
We reviewed Rihanna's Fenty beauty line when it first dropped last fall, and, while normally all Rihanna has to do is breathe in the same vicinity as a product and I'll buy it, I wasn't super impressed with her foundation. That said, it gets an honorable mention here because it's inclusive AF with over 40 different shades available. If you have oily skin then this foundation is about to change your whole damn life. Seriously. Think Kardashian Fam 2008 to 2018 transformation goals, but, you know, minus all the plastic surgery that went into that transformation. Plus, if you buy this product then you're, like, one step closer to being a part of Rihanna's inner circle. Or at least that's what I whisper to myself every time I use a Fenty beauty product.
For all my betches on a budget, you'll want to try Revlon's Photoready Airbrush Effect Makeup foundation. It's a light, buildable foundation with a natural-looking matte finish that costs less than the bottle of wine you just bought. Plus it holds up better than my Hinge dates when I ask them "what we're doing" after 10 dates. But beware because this foundation does have a sparkly finish to it. From far away (and, most importantly, in all your selfies) you'll look fucking fabulous but up close you might resemble Bella Thorne after a rave chill night in. That said, I'm just going to point out once more that IT COSTS LESS THAN A BOTTLE OF WINE. You're welcome.
Images: Ayo Ogunseinde / Unsplash (1) @shophudabeauty / Instagram (1); @fentybeauty / Instagram (1); @milkmakeup / Instagram (1); @revlon / Instagram (1)
How To Stop Looking Pale In All Your Selfies This Winter
Winter is full of sabotage. First, there's the fact that people just expect you to come to work every day even though it's cold and miserable and riding the J train during any sort of inclement weather is the equivalent of playing Russian roulette with your life. Then there's the fact that you're too pale for half your makeup and you can't step outside for 2.5 seconds without your skin rapidly flaking off. All of that is pretty hellish, but there is no worse fresh hell on this earth than ghostface.
Let me paint a picture for you here: it's January, you just survived your first full week back at work WITH SNOW ON THE GROUND and you're ready to fuck up all your New Year's resolutions in one night. You show up to work Friday barely hiding the crop top you're wearing under your cardigan or the fact that you DGAF about being there. By the time happy hour rolls around you're ready to start pounding shots and sending selfies to your entire squad to let them know it's going down right fucking now. Then you go to take said selfie and you're so fucking pale that your skin actually blinds the camera. And all of your friends are just like…

That's called "flashback" or "ghostface," and it exists to ruin lives. Usually any phenomenon with the word "ghost" in it I take as a personal attack, but ghostface is even more of a betrayal than when guys ghost me, because this is my own fucking face sabotaging my happiness. My. Own. Face. But fear not, I have access to Google am an expert at hiding all my flaws, so here's how you can stop your selfies from being sabotaged. RT to save lives.
Pick The Right Foundation
SPF in foundations is the leading cause of sabotaging my fire selfies ghostface. Why there aren't more documentaries on this v important issue is beyond me. Anyways, stay away from foundations with SPF in them like it's a guy who actually seems interested in you. Certain SPFs use minerals like titanium dioxide and zinc oxide, which can make your skin look fucking translucent. This sabotage happens because their white pigments are designed to reflect the sun's harmful UV rays as well as camera flashes, giving you a white appearance. I'm honestly feeling so attacked rn I can't even. I suggest using a nighttime foundation with low amounts of SPF because those won't usually cause ghostface. If you're a betch on a budget then try L'Oreal True Match foundation. It costs less than your Starbucks order and they have a wide range of shades.

Always Check The Ingredients In Your Powder
Sometimes it's not even your foundation that's screwing you over, it's your powder—because apparently the betrayal from your beauty products knows no bounds. In particular, you should stay away from beauty products that have the ingredient silica in them because silica is the nastiest skank bitch you'll ever meet and you should not trust it. Silica is used mainly in HD powders aka the good shit. HD powders are known for their light-reflecting particles that soak up oil and blur imperfections. Basically it's like Facetune but IRL. But I guess all deals with the devil crazy good beauty products come with a price, because once you go to send a fire selfie to a fuckboy to make him regret not responding to your text last night, the flash comes out and can result in harsh white patches that make your skin look flaky AF. *adds "silica" entry into personal burn book* Nah, no betch has time for that shit. Instead stick to silica-free setting powders—trust me, you'll thank me later.

---
Betches may receive a portion of revenue if you click a link in this article and buy a product or service. The links are independently placed and do not influence editorial content.