7 Crazy Celebrity Conspiracy Theories That Will Blow Your Mind
Love conspiracy theories? We JUST LAUNCHED a podcast about conspiracies, cults, true crime, and more. Listen to Not Another True Crime Podcast here!
We live for celebrity gossip. From reality TV shows to tabloids, we cannot get enough about who our favorite celebs are dating or what they're eating for lunch. Understandably so, when a celebrity dies, we have a stronger emotional response than when our great aunt once removed dies. Need proof? Both Princess Di and Michael Jackson's funeral were televised and it is estimated that over 30 million people tuned in to each of those. To put it in perspective, that's more views than Trump's inauguration and way more than the number of people who showed up to your aunt's funeral. Ouch. But death isn't just what people fixate on. People today need reasonings for everything, which explains the countless celebrity conspiracy theories surrounding an unexpected death, a pregnancy, or even a slightly weird behavior. Get ready to question everything.
1. Avril Lavigne Was Replaced By An Impersonator
People think our fav Sk8er Girl actually committed suicide in 2003 and was replaced by a doppelgänger. The theory goes that Melissa Vandella allegedly filled in for Lavigne before her "death" to confuse the paparazzi, but when she did die, Vandella stepped in to continue her fame. Here are their reasonings: one, her nose changed (have these people ever heard of a nose job??). Secondly, her image went from punk to more "bubble gum-y." Although I don't argue with this, music artists change their image often. Just look at Miley Cyrus!
2. Beyoncé Was Never Pregnant With Blue Ivy
I think I could dedicate a whole article to the celebrity conspiracy theories involving just Beyoncé. Besides the fact that people claim her to be the Queen of the Illuminati, people believe she and Jay-Z used a surrogate for their pregnancy with Blue. The strongest "case" these people have is her appearance on an Australia talk Show called Sunday Night. When Bey goes to sit down, her fake belly dress folds in an unnatural way that convinced people she was wearing a prosthetic stomach. I think the most absurd "evidence" for this conspiracy theory is that there are no pictures of Beyoncé giving birth to Blue. Hmm maybe she didn't want pics of her platinum vagine online? Just a thought.
3. Britney Spears Worked for George Bush
Ha. I think this may be my favorite of the absurd celebrity conspiracy theories. Ever wonder if it was a coincidence that Britney Spears had some public scandal whenever a government incident also occurred? I'm Canadian, so I didn't, but maybe you did. People think the government paid Spears to have some public scandal every time the Bush government messed up to distract the public. If this is true, maybe Trump should start paying Kanye West?

4. Marilyn Monroe Was Murdered
Monroe was found dead in her home on August 5, 1962, and her death was ruled "acute barbiturate poisoning by accidental overdose." People believe this isn't the case. Due to Monroe's intimate relationships with the Kennedy brothers, some speculate that her death was organized by the CIA or mafia because she knew too much about them. This gets me thinking if this were true, no one would ever know and how many other deaths were "accidents." *Looks over shoulder*
5. Princess Diana Was Killed By The Royal Family
There are actually so many theories as to how Princess Diana's accident was really a plot orchestrated by the royal family that the British government opened an investigation called Operation Paget to examine all of them. The most popular conspiracy theory says that Diana was having an affair, got pregnant from said affair, and the royal family killed her to cover it up. Even stranger? Diana herself believed the royals were after her and that her car had been tampered with… that same car that crashed and killed her. In the third episode of Not Another True Crime Podcast, we delve into each conspiracy theory and its plausibility. Listen below.
6. Elvis Presley is Alive
After his death in 1977, people added another theory to the master celebrity conspiracy theories list. This time, people believe that the King of Rock actually faked his own death to go into hiding. The Elvis Sighting Society (yes, it's a real thing) is dedicated to publicizing when "Presley" is spotted today. People even claim he was an extra in Home Alone. But can you imagine if Elvis was really posing as an Elvis impersonator on the Vegas strip? LOL.

7. Michael Jackson Faked His Own Death
People believe that Jackson faked his own death to escape fame and to save himself from bankruptcy. Since Michael has been famous since he was a kid, his whole life has been followed by the paparazzi, so I definitely wouldn't blame him for wanting some normalcy. Further, it is speculated that his financial status wasn't good near the time of his "death." By faking his death, he knew his sales would skyrocket and he would no longer be in a financial crisis. If this celebrity conspiracy theory is true, it's a pretty damn good business move on the King of Pop's part.
Want more conspiracy theories? Listen to Not Another True Crime podcast here!
Images: Gokil / Unsplash; Giphy (3)
Drop Everything, Sources Say Beyoncé Is In Labor With The Twins Right Now
Our worlds summers came to a screeching halt when it became apparent that Bachelor in Paradise was probably canceled for the season, but like the patron saint she is, Beyoncé has come to rescue us all from a life of mundanity. Rumors are swirling that Beyoncé is in labor with the twins, and if this is true, this just might be what we need to get us through the day week.
Beyoncé or her people haven't publicly said she's in labor, of course, but that doesn't matter. You see, some desperate stans unnamed sources in Los Angeles reported that one of the hospitals there has a ton of security right now, which could only mean one thing. No, not that given today's climate it makes sense for establishments to take extra safety precautions, but obviously that Beyoncé is in labor. I for the life of me haven't been able to find out which hospital has this reported high security so that I can camp out and wait for the birth of these little deities do some in-person investigative journalism. Oh well. I tried, you guys.
For what it's worth, I don't think that Beyoncé is currently in labor. Like, for one, do you really think fucking Beyoncé of all people would go to a hospital that regular people go to like some peasant? No. This is Beyoncé we're talking about. She's probably giving birth in some high-end spa that costs like, $3,000 a minute that happens to employ a few doctors and midwives who will sing to her as she gracefully slides out two twins without even breaking a sweat. Come on. Do you think Beyoncé would risk contaminating her babies' air with the air that not just normal people, but sick normal people breathe? No.
Either that or she's giving birth at home in the comfort of her own mansion with the company of like, her doula and a bunch of healing crystals and no less than five of the world's top obstetricians. I'm sorry, but I just cannot imagine a world in which Beyoncé gives birth in a regular fashion. This is the woman who almost fell off a chair while pregnant during a live TV performance and released not a diss track, but an entire diss album AIMED AT HER OWN HUSBAND—I don't think "chill" is in her vocabulary.
For now we'll have to wait and see if these rumors pan out, but I don't think I'm getting ahead of myself by requesting the rest of the week off of work in preparation. I mean, the twins' birthday is bound to be declared a federal holiday anyway so I'm just getting ahead of the game.
This Video Proves Blue Ivy Is The Second Coming Of Beyoncé
From the moment Blue Ivy Carter was born, we knew it was only a matter of time before she took over the world. Now she's five years old, which makes us feel ancient, and she's starting to come out of her shell. We've spent a lot of time wondering, will she be more like Bey, or more like Jay? On the one hand, her resemblance to Jay Z is striking. On the other, her personal style clearly mimics that of her mother. Probably because her mother dresses her, but I think we know that when Blue's personal style will be off the chain (once she learns how to tie her shoes). Well, now we have even more proof that Blue Ivy is Beyoncé's mini me when, over the weekend, she performed in a dance recital at her school. How do we know this? Because the video got leaked.
Sidebar: If you're the person leaking 5-year-olds' dance recital videos, maybe rethink your life?
We'd like to imagine that Beyoncé was videotaping in the aisle like Amy Poehler during "Jingle Bell Rock", but realistically this video was taken by some rando older brother who knew he could sell it to TMZ.

Blue looks great in the video, and it comes as no surprise that she's front and center in the dance. Like, there's no way that dance teacher is going to make Blue the Michelle of the dance class. Beyoncé's flesh and blood is not a fucking backup dancer, make no mistake. We're a little confused why Blue got to wear her hair down while everyone else's is up in a neat bun, but she was probably like, "Fuck that, I am literally the spawn of a legend, get that ponytail holder out of my face."
We're not exactly sure what this dance was supposed to be, because there's a lot going on. The little girls are wearing pink leotards with huge tutus, as if they're the next crop of ballerinas getting shipped off to Russia. But they're dancing to "September" by Earth, Wind & Fire, which doesn't really make us think of ballet. This is seriously some Big Little Lies shit, so we're basically lucky no one got punched. Honestly, knowing Blue (and I do know Blue) this whole thing is probably a semi-autobiographical piece of statement art based on her relationship with James Z, the boy who sits next to her in reading circle. I mean, realistically they should've just done the "Single Ladies" dance and been done with it, but I guess that's "not appropriate for children" or whatever.
The girls generally know the moves to the song, but they all look just a little bit drunk and lost. *Sings 'Drunk and Lost' to the tune of 'Drunk In Love'* *Feels pride* So yes, Blue Ivy may look more like her father, but her personality is all Bey. As far as the twins go, we'll have to wait and see, but if the response to their conception is any indication, those two are definitely going to have Jay-Z level egos.
11 Celebrity Moms Who Need To Adopt Us Immediately
We love our moms. Seriously. They're always there for us, and we don't know where we would be without them. But wouldn't it be fun if your mom was not just a cool mom, but a famous mom? In our alternate fantasy life, we could be on red carpets and living in some palace in Hollywood while our parents make millions. Like, did any one else see Francis Bean Cobain at the Met Gala and think, "if only my mom had been a famous heroin addict who may or may not have killed my dad. Then that could be me!" Or how like, Jaden Smith is just allowed to do whatever tf he wants (like bringing a handful of his own human hair to that very same Met Gala). It's like, God mom, did you really have to spend all that time working hard and raising us when you could have been trying to get famous? Like, what were you even doing before you had me?
Okay so, JK, but in the spirit of Mother's Day, here are the top celebrity moms we want to adopt us, because it's fun to dream.
1. Blake Lively
Blake Lively is basically the dream mom. She's beautiful and smart and funny and she loves to cook and she has a hot husband and can you tell that we like her? We'd get to live in a beautiful home in upstate New York, and the once or twice a year we'd get to go to a movie premiere. Sounds like a sweet deal to us.

2. Beyoncé
Blue Ivy is basically the princess of the world, which is what happens when your mom is an actual goddess. Like, I honestly dare anyone to show me a person who looks better pregnant than Bey. Her maternity fashion is on point. And considering she is already prepping for the arrival of her twins, so why not just adopt us at the same time? She'd barely even notice we were there.

3. Katie Holmes
This might seem like a surprising choice, but think about it. First of all, Suri was always the most stylish celebrity toddler, which is right up our alley. And now that Katie left Tom Cruise and all that Scientology bullshit behind, Suri is probably loving life. Also, we'd basically have Jamie Foxx as a stepdad now, and everyone loves a hot stepdad.
4. Meryl Streep
Not gonna lie, it would be pretty cool to have a mom who's literally a national treasure. Her daughters are successful actors now too, which means Meryl did a pretty great job of raising them. We just need Meryl to hug us every day and tell us we're beautiful, is that too much to ask?

5. Carrie Underwood
First of all, we really would love to inherit her flawless legs. We know that's not actually how adoption works, but a girl can dream. Also, it would be pretty awesome to have her sing us to sleep every night. She also probably has a lot of hot country singer friends that she could set us up with. And if any guy ever cheated on us, mom would know exactly what to do.

6. Reese Witherspoon
If you watched Big Little Lies, this should be a no-brainer. You would always have a beautifully packed lunch to take to school, and she would argue with your teachers until they gave you good grades. She's definitely the mom who's basically your big sister, which is perfect for talking shit.

7. Natalie Portman
Natalie is perfect and has the body of a small bird, so we would definitely love to get some diet and exercise tips from her. As an Israeli-American, we'd also get Israeli passports, and she'd be sure to throw us an insane bat mitzvah. L'chaim, Betches.

8. Rachel Zoe
We want the clothes. There is no other reason.

9. Michelle Williams
First of all, Michelle has raised little Matilda as a single mom, which is the most badass thing. She also has incredible style and just seems like a person who has her shit very together. We'd love her motherly advice on how to pull off short hair, and also how to wear a choker without looking like a basic bitch.

10. Chrissy Teigen
Let me first just say that this is not a ranking and Chrissy is only number 10 because we wanted to build up the suspense. Of fucking course Chrissy would be on this list. Chrissy is gorg and a casual swimsuit model AND she's hilarious af, especially on social media (aka the only place that matters). Chrissy is also an amazing cook and if we lived with her and John Legend (#swoon), we'd probs get fat but we'd honestly be okay with it. Actually, I'm not sure if I want Chrissy to adopt me so much as I want to BE Chrissy…

11. Tina Fey/Amy Poehler
Our ideal life situation is being co-parented by Tina and Amy, both of whom are just the best. Their kids are guaranteed to be funny and independent, and we really want to get in on it. Also, like, they're rich AF.

5 New Resting B*tch Faces for Spring
Spring has arrived which means it's time to trade in our all black outfits for different black outfits, and more importantly, to stay on trend with the latest resting betch faces. While last season was all about mid-winter depression and post-election angst, this season is all about showcasing how warmer temperatures equal less fucks given. We're bringing you five of our favorite new scowls for an RBF update that will have you looking bitter and better than ever.
1. Danielle Bregoli AKA "Cash Me Outside"

Danielle became a viral meme earlier this year when she went on Dr. Phil and threatened to fight an entire studio audience, whom she referred to as a bunch of hoes. Naturally, the response is that everyone fucking loves her and she now gets paid $40,000 to show up at events because it's 2017 and God isn't real. As a certified juvenile delinquent, the "howbow dah" girl sports RBF that feels like an instant classic, no matter how badly you want it to just go away already, and will pair well with any casual ensemble and extreme sense of entitlement this season.
2. Sean Spicer

Press Secretary Spicer has quickly become the angriest looking person in D.C., and it's not just because you could land an airplane on the bags under his eyes. Spicey's facial expressions, even when he's not speaking, are filled with a vitriol only experienced by someone forced to commit political suicide everyday as part of their job. He's 100% dead inside, and 100% a must-have in your wardrobe.
3. Lorde

These days Lorde is extremely excited about releasing the smash hit "Green Light" off her new album, but you'd never know it by looking at her. That's because her face naturally emanates hate beams for miles and actually has the power to kill people. Her sleek RBF look is best worn for a night out on the town and is guaranteed to elicit a worried "What's wrong? Are you mad at me?" from everyone who crosses your path.
4. Grayson Allen

Pretty much everyone who follows college basketball hates Duke's shooting guard Grayson Allen, but not as much as he loathes us and life in general. Allen is known for tripping his opponents and consistently demonstrating the opposite of good sportsmanship, all while flaunting his signature death stare. With Duke's crushing loss in the NCAA tournament still so fresh, this look is literally all the rage.
5. Blue Ivy at the Grammys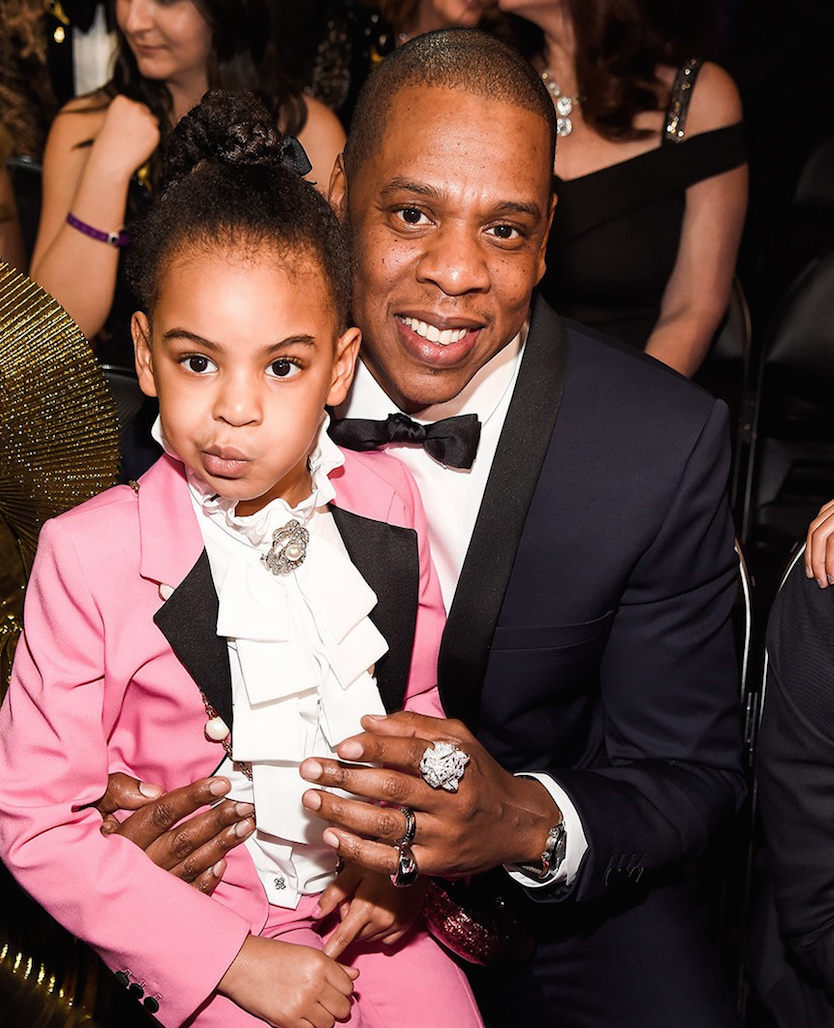 Holy god damn. The world has never seen a 5-year-old harder and fiercer than Blue Ivy Carter, not that we're surprised in the least since she's the offspring of demi-god Beyoncé. At this year's Grammy Awards she sported a $3,000 pink Gucci tuxedo and made everyone from James Corden to Nick Jonas feel inferior with her devastating shade. Wear it out of solidarity for Lemonade, or just wear it because you're a fucking badass. Either way, everyone needs to be sporting the Blue Ivy betch face this spring. 
2017 Has Been Saved: Beyoncé Is Blessing The World With Twins
Hear ye, hear fuckin' ye, it's basically the most magical day of 2017 so far and OBVIOUSLY that's because it's a day where Beyoncé fucks our shit up. 
This morning, on February 1st, 2017 *writes date down in calendar as holiday* Queen Bey announced that she and Jay-Z are expecting TWINS. Like, just fuck me up fam. One baby and I would have been stoked AF, but two? I'm low-key about to pass out.
Of course, 'Yonce announced it on Instagram while surrounded by a throne of flowers, that were grown using the most pure sunlight and the tears of adoring fans everywhere. Remember when Kim tried to break the internet with a champagne bottle on her ass? Beyoncé has literally done it by just existing and having a kid. Iconic.
This might be the one thing that becomes a bipartisan celebration. Beyoncé has made the first, most crucial step to saving 2017. Now she needs to tackle this immigration ban and then all will be chill in the world.
TOMI LAHREN: Beyoncé is a piece of shit snowflake, erg celebirties they don't get it, blah blah
THE WORLD: CASH ME OUTSIDE, HOW BOUT DAH
After the past week and a half of this political shit show, Bey clearly realized the world needed the news of her gene pool spreading now more than ever. I imagine one day Beyoncé was sitting in her tower somewhere in New York, looking down at the protests and turned to Jay-Z like: "It's time."
Can't wait to obsess over these children like the world does with Blue Ivy. If these kids are named "Magenta Fern" or some shit I'm going to be a little disappointed, but whatever.
This has been a public service announcement, you're fucking welcome.