We Can't Keep Doing Award Shows Like This
Last night the 78th Annual Golden Globes were brought to us by Zoom, because I guess nobody in Hollywood has gotten the memo about how sick we all are of virtual meetings. This three-hour Hollywood circle-jerk could have been an email, which cohost Tina Fey readily admitted in her opening monologue. Speaking of other things that were unnecessary, this year the Hollywood Foreign Press Association decided to do a bicoastal Golden Globes, filming both in Los Angeles and New York, which I feel like they just did to try to show off their tech skills—tech which backfired immediately, with Daniel Kaluuya's audio getting cut off for the very first acceptance speech of the night.
Truthfully, I have never really cared about award shows, and in 2021, even less so. If the past 12 months have shown us anything, it's that we simply can't just carry on doing things the way we used to. And even though the Golden Globes had nominees video chat into the ceremony rather than making a whole song and dance out of testing everyone beforehand and pretending to have them quarantine before sitting in a room together, not much else aside from the virtual appearances changed. Even before the program aired, controversy erupted when critically acclaimed shows by Black creators were snubbed in favor of their less-than-mediocre white counterparts, something we've seen happen time and time again with various award shows, including the Oscars and Grammys. But this year's issues went beyond Black artists' contributions being ignored, as a February report by the LA Times brought to light the fact that the committee who decides who is nominated for and wins a Golden Globe is made up of 87 members, zero of whom are Black. On top of that, another LA Times report detailed how easy it is to, ahem, influence which projects are nominated. Notably, it discussed how Emily in Paris flew more than 30 of the organization's members to Paris and wined and dined them, which could explain how the TV series equivalent of the girl in the Muzzy commercial repeating "je suis la jeune fille" received multiple nominations while shows like Insecure and I May Destroy You got zero.
2021 could have really been a year to change things around. Instead, Amy Poehler and Tina Fey hosted the ceremony again (a decision that, for the record, I enjoyed, but just underscores that the HFPA have no interest in switching it up). There was a confusing semi-in-person red carpet, when there didn't need to be one at all. The ceremony still started at 8pm EST, and even with Zoom transitions, still ran for three hours. It did not need to be this way!
The tension between needing to change the way things are done, and the powers at be clearly not wanting to, came to an awkward head during the ceremony. In their opening segment, Tina Fey and Amy Poehler criticized the HFPA for not having a single Black member in its voting body. It was better than saying nothing or trying to sweep the lack of diversity under the rug, but it was still kind of uncomfortable since Poehler and Fey still agreed to host the Golden Globes, and presumably collect a paycheck.
Even worse was when the HFPA trotted out its few members of color in an attempt to address the organization's lack of diversity, with HFPA Vice President Helen Hoehne saying, "Just like in film and television, Black representation is vital. We must have Black journalists in our organization." They "must", but they currently don't, so…? It felt like the organization was attempting to get out ahead of a narrative it is already 20 years behind on. Time's Up, at least, wasn't buying it: CEO Tina Tchen wrote in a letter to NBC and the HFPA that the statements made by the organization during and preceding the Golden Globes "indicate a fundamental lack of understanding of the depth of the problems at hand", saying that its promise to include Black journalists "is not a solution". 
On the one hand, as someone who's never liked award shows, the Zoom format was better than the usual one, if only because I didn't have to spend a combined 30 minutes watching people shuffle on and off a physical stage. (Plus, it's easier to cut someone off by just cutting their audio and video versus having to physically remove them from the podium.) On the other hand, the insistence on maintaining the same level of pomp and circumstance in light of *gestures broadly* everything felt especially ridiculous. Watching all these celebrities pretend to tear up with gratitude in full glam and wardrobe while sitting on their couches felt weirdly emblematic of the past 12 months, and also completely absurd. I mean, I can't even imagine putting on an underwire bra at this point, let alone a full gown. What is it all for?
From the lack of diversity to the stuffiness and length, Hollywood seems to be holding onto all the least enjoyable parts of award shows with a death grip. That said, there were plenty of memorable moments from last night, including but not limited to: Daniel Kaluuya and John Boyega's wins; Taylor Simone Ledward accepting an award posthumously on her late husband Chadwick Boseman's behalf for his performance in Ma Rainey's Black Bottom (even if the film itself didn't get nominated for best motion picture); Jason Sudeikis giving an acceptance speech in a tie-dye hoodie; Borat beating out Hamilton. But, I don't know, I feel like there's got to be a better way to honor these films and TV shows without all this bullsh*t. Am I part of the problem? Most definitely, but I feel like I'm held hostage here. HFPA created this awards show and the subsequent pre- and post-show hullabaloo, and I'd be missing out on clicks, shares, and likes by not participating. I'm watching not because the show is particularly entertaining, or because I'm invested, but because I'm trapped in this elite media hype pyramid scheme, which feels even worse given the HFPA's lack of diversity, pay-for-play shadiness, and the allegations that it is improperly subsidizing its members' incomes. Honestly, I want out. The memorable moments can be a highlight reel, or as Tina Fey said in her opener, an email. We don't need to keep doing this.
Images: NBC / Contributor/ Getty Images
76th Annual Golden Globes Recap: I Would Die for Sandra Oh And You Should Too
Welcome to award season, Betches. Last night, everyone who mattered in Hollywood over the past year (and Ryan Seacrest) gathered together for the 76th Annual Golden Globes. For the uninitiated, the Globes are basically prom for the TV and film industry. Think about it:  everyone is wasted but pretending they aren't, the venue is too small, the night is an hour and a half longer than anyone wants it to be, people in attendance do a poor job of concealing their open hatred for each other, and no matter who wins, someone will be mad.
The Globes are the best event of award season for the sole reason that it's the one night a year that we are reminded that perhaps famous people are more like us than we think. It's like a winter solstice of sorts, where the divide between our mortal world and their supernatural celebrity lives is thinner than any other night. We start to think things like "Wow, maybe Allison Janney and I have more in common than I thought." We don't. She's a goddess. But it's a fun charade that we'll all forget about come Monday morning.
This year the Globes were made all the better by two near perfect hosts: Sandra Oh and Andy Samberg. In short, they killed it. Not because their jokes were outrageous and controversial or because their skits were over the top or worse, so niche that only those in attendance understood them. No, Sandra and Andy won us all over for a simple reason: they're both good people. After a year like 2018, sometimes it's nice to be reminded that those still exist.
Part of what made Andy and Sandra such amazing hosts was that you could tell they were having the time of their lives. They were up there making wholesome, funny jokes at the expense of almost no one (except Les Moonves, which, fair) that didn't put us through the tiring charade of pretending people are innately funny because their humor is "edgy" (@RickyGervais).
It doesn't hurt that both Sandra and Andy are actual rays of sunshine, untouched by scandal due to the both of them steadfastly minding their own damn business. Every time Andy talks, we're reminded that he's possibly the only man in Hollywood who can pull off "woke white guy" without making us puke. And, as it was so eloquently said to me by a friend before the show, while we're all brimming with pride that Sandra Oh is finally being recognized for the absolute star that she is, it's endlessly frustrating that it took this long for it to happen.
Their monologue was equal parts witty and campy, matched by real sincerity from both parties about the state of the entertainment industry. It's not often that Betches applauds sincerity, but on a night usually plagued by caustic and embittered jokes about diversity, equality, representation and other things that are actually very important, it was nice to see two people so genuinely happy about the direction things are moving.
Rather than round up every joke, which Buzzfeed already did 36 seconds after the broadcast ended, we've broken out the events of the night into highs and lows. What's wild is that for the first time in my now four years of reporting on this award ceremony, the lows were hard to come by. Maybe 2019 won't be the cataclysmic trainwreck that we're all expecting (famous last words lol)!
The Highs
In no particular order, here are the absolute best things to happen throughout the entire night: 
– It's not even my job to talk about fashion (because I can't), but there were so many stunning dresses tonight it's almost like everyone in that room is obscenely rich or something
– Emma Stone screaming "I'M SORRY" off-camera when Sandra Oh called out the whitewashing of Aloha
Sandra Oh: ["Crazy Rich Asians"] is the first studio film with an Asian American lead since "Ghost in the Shell" and "Aloha."

Emma Stone [in the crowd]: I'M SORRY! pic.twitter.com/YI1S7sLvPH

— David Mack (@davidmackau) January 7, 2019
– Richard Madden gracing my TV once again. We lost Rob Stark in season three. THREE. It's been too long. Better yet, no workout has ever filled me with the same level of adrenaline as when we got to the end of his speech and he didn't thank a girlfriend.
– The look on the collective face of the cast of The Big Bang Theory after the Les Moonves joke.
– Replacing the "wow celebrities eat pizza and candy" bit with "CELEBRITIES GET SURPRISE VACCINATED" bit was an inspired choice. If you listen clearly you can hear the clacking keyboards of anti-vaxxer mommy bloggers around the country.
Tired: passing out girl scout cookies to women who have starved themselves for six months to fit into gowns that cost more than a year of my rent

Wired: forcefully vaccinating the most powerful people in Hollywood on live television while Shots by LMFAO plays in the background.

— Mary Kate (@marykatefotch) January 7, 2019
– Andy and Sandra showing an inspiring Golden Globes moments reel which was just the two of them being announced at previous award shows.
– Ben Whishaw's soothing voice during his acceptance speech for Best Supporting Actor – Series, Limited Series or Motion Picture Made for Television, which cured my anxiety and provided me the first full night of sleep I've experienced in years.
– The entire Crazy Rich Asians table.
– A moving speech from the HFPA President about supporting journalists rather than falsely demonizing them and then not acting when they're murdered by foreign governments. If only there was another President out there that felt the same way.
– Taraji P. Henson's cleavage.
– Tyler Perry confirming that everyone there is just as drunk as we all suspected them to be.
– Every second of Christian Bale's alcohol-fueled speech, in which he called out Mitch McConnell, thanked Satan, and revealed that he is, in fact, not American???
I like watching an actor spend their entire career doing American accents and the second they win award it's like "FANK YOU AND FANK 'VYONE 'HO 'ELPED ME"

— Chase Mitchell (@ChaseMit) January 7, 2019
– Sam Rockwell, just existing.
– The Carol Burnett Lifetime Achievement Award. If you had told me I would spend the first Sunday night of 2019 crying, alone, on my couch crying while Carol Burnett recieved the inaugural Carol Burnett Award, I would have absolutely believed you because that sounds like a very me thing to do. And yet, I was still unprepared. After much deliberation, I am left with two lasting thoughts on the entire affair.
First of all, if anyone ever said anything HALF as nice about me as Steve Carrell said about Carol Burnett during his introduction, I would spontaneously burst into flames.
Second, I would kill 100 men for literally anyone to look at me the way any person in that room was looking at Carol Burnett.
– The raw, gay energy emanating from this moment:
Emma Stone, Olivia Colman and Rachel Weisz presenting "The Favourite" at the #GoldenGlobes just adorable ???? pic.twitter.com/OkZbUpty6R

— best of emma stone (@badpostestone) January 7, 2019
– Regina King stopping the play off music through the sheer power of her speech and then vowing to make all her projects moving forward 50% women.
– Sandra Oh FINALLY WINNING A GOLDEN GLOBE for Best Actress in a TV Series Drama for Killing EVE.
Me when Sandra won: AHHHHHHHHHHHHHHHHHHHHHHHHHHH.
Me when they cut to Sandra's dad standing up and clapping: AHHHHHHHHHHHHHHHH
Me when she screamed: AHHHHHHHHHHHHHHHHHHHHHH
Me when she thanked her mom and dad: *uncontrollable sobbing*
– "Please welcome Chris Pine and his busted face."
– Glenn Close's speech, which brought me to tears for the third time tonight.
– Glenn Close winning in general, which allowed this image to resurface
— dilara elbir (@elbirdilara) January 7, 2019
–  Jeff Bridges reprising his lifetime role as "the high, rambling grandpa we all deserve" during his acceptance of the Cecil B. DeMille Lifetime Achievement award.
– Jeff Bridges' hair. Should we all be so lucky.
– The fact that Bradley Cooper won nothing.
The Lows
 – Hugh Grant's facial hair. It looks like he's shooting for a British spin-off of Diners, Drive-Ins, and Dives. I say this with the utmost respect because I love Hugh Grant more than any self-respecting twenty-six-year-old American should.
– Amy Adams' 1,000,000th snub.
patricia clarkson winning when amy adams lost is SUCH an Adora thing to do.

— Jarett Wieselman (@JarettSays) January 7, 2019
– The director of Green Book screaming to stop the play off music only so we could stand there for another two minutes whitesplaining racism.
– The fact that Green Book and Bohemian Rhapsody won Best Motion Picture Comedy and Drama (respectively) when both Crazy Rich Asians and Black Panther exist.
This is only the beginning, my friends. We're officially on the road to the Oscars, and the results of tonight mean we have four weeks of wild speculation ahead of us. Who will win? Who will lose? Who will embarrass themselves with a well-meaning but tone-deaf speech? Only time will well.
Images: @JarretSays, @elbirdilara, @badpostestone, @ChaseMit, @davidmackau, @marykatefotch (Twitter)
A Recap Of Last Night's 3-Hour Ariana Grande Promotion, Or The 2018 VMAs
As anyone who doesn't live under a rock without wifi can tell you, the 2018 VMAs were last night. Awards were given, asses were bared, and we all had to grapple with the stunning realization that in 2018, face tattoos are like, a thing. Here's everything you need to know so you can pretend you didn't drink two glasses of wine and fall asleep in your clothes halfway through.
The Hosts
This year the VMAs went hostless which, tbh, was a godsend after Katy Perry's sad excuse of a performance as host last year, which I affectionately still refer to as "the stand-up show from Hell".
Cardi and her baby open us up but—oh wait!—it's not her baby! It's actually a moon man. Was I the only person relieved that Cardi didn't actually drag an infant child up on stage at such a loud, late-night event? Am I the only person who thinks babies and small children don't belong at the VMAs? More on this later…
For the rest of the show, the VMAs separated hosting duties among a variety of people, from charismatic superstars (hi Cardi) to actual comedians (put Tiffany Haddish on every stage please) to what I can only assume are soulless cardboard cutouts of human beings that MTV animates to star in their 3 million television shows.
The only people who got this format right, IMHO, were Tiffany Haddish and Kevin Hart, who came out and gave a truly manic roast-style monologue that made me think, "these two are on drugs, and it is WORKING."
Hart kept it semi-political, saying things like "in this game you're allowed to kneel!" while Haddish saved her comments for the stars, the most awkward of which was when she thoroughly mispronounced Camila Cabello's name and then roasted Fifth Harmony for not being invited while Camila was nominated for literally everything.
Cabello, who was in full princess gown mode, clearly didn't appreciate any of it. I mean, being reminded of the time you lost all your friends is probably not the best way to kick off a fancy award show.
Also not appreciative of the comment was Nicki Minaj, who wasted no time starting sh*t when she was accepting her award for best Hip Hop, telling Tiffany Haddish not to come for Normani because she's "that b*tch."
Me During This Moment: Oh no oh God if Tiffany Haddish and Nicki Minaj fight I won't know what to do who do I support I hate when friends are fighting I can't handle this anxiety—
Nicki (to Tiffany): No, I love you.
Me: OH THANK GOD MOM & DAD ARE GONNA BE FINE!
The rest of the hosts vacillated between "passable" to "painfully awkward and I want to die." In the passable category were Keegan Michael-Key and Olivia Munn, who did a classic "I'm reading the wrong lines!" bit.
In the "painfully awkward and I want to die category" were Blake Lively, Ana Kendrick, and the Rockettes, who I'd say got an A for effort and an F for execution. The whole premise of the bit was that Lively (dressed like she's starring in an off-broadway production of Cabaret) knows the Rockettes. She calls on the Rockettes to come out, they don't, so then Kendrick starts explaining how their new movie "will get you laid" when the Rockettes do show up, give a full performance, and Kendrick and Lively only notice once they're done with their weird mime routine.
If the above paragraph was confusing for you, that's because the whole thing was confusing and frankly, I expect more from Anna Kendrick.
Just when I was starting to feel like I was too old to understand wtf is going on at the VMAs anymore, the MTV Gods gifted us early 90s babies with Jimmy Fallon introducing Panic! At The Disco, who then led into another awkward intro by the Backstreet Boys.
Me Watching This Scene:
Millie Bobby Brown Watching This Scene:
The Backstreet Boys sang one song from each of the "Song Of The Year" nominees, and I got the distinct impression that they hadn't practiced. The whole thing was very awkward and made me even sadder than Logic's immigration performance (we'll get to that later). But I appreciate the people at MTV throwing a bone to those of us who remember what dial-up internet was like.
IMHO, the true unofficial hosts of the VMAs were Pete Davidson and Ariana Grande, to whom the camera crew cut approximately 100,000 times throughout the show, just to make sure we were all still paying attention and aware that they are engaged.
Conclusion: The only thing worse that people trying to be funny at the VMAs is people who don't try to be funny at the VMAs.
The Awards
Like most VMAs (except the infamous "I'mma let you finish but…" moment), the awards were handed out pretty predictably and the only real moment of tension was the aforementioned Nicki-Tiffany beef.
To reiterate, Nicki got Best Hip-Hop for "Chun Li" and Ariana helped her get up to the stage. #WomenSupportingWomen. She then shouts out Ariana Grande later in her acceptance speech because honestly this whole show is really just about Ariana Grande at this point.
Speaking of Ariana Grande, she won Best Pop, where she thanked "her friends on the internet" (relatable) and Pete Davidson "for existing." A ringing endorsement from one fiancee to another.
Post Malone and 21 Savage won for "Rockstar," Childish Gambino won Best Video With A Message (and had his choreographer accept because he's a Renaissance Man with better sh*t to do), J Balvin won for Best Latin, and JLo, Cardi, and DJ Khaled got Best Collaboration.
Cardi also won Best New Artist which is well deserved but also hilarious to think of her as "new" because I truly cannot remember anything from before Cardi B came into my life.
Did anybody else notice they had to enlist like, five people to help Cardi get on stage just so they could walk her back down into the audience to get her Moon Man from Millie Bobby Brown, which she immediately handed back to Millie (who is the same size as the Moon Man), because, and I quote, "this sh*t is heavy." That seemed avoidable.
The rest of the major awards (Video of the Year & Artist of the Year) went to Camila Cabello, who came a long way since getting roasted and having her name mispronounced at the beginning of the show. From here on out, 2018 will be known as El Año Cabello.
The Performances
TL;DR on last night's performances is that the women killed it and the men were like…fine.
Shawn Mendes kicked us off by making the audience extremely wet—I'm sorry, he made himself extremely wet playing guitar under a single rain cloud like he's a sexy Charlie Brown or something.
Logic, of all the dudes, brought it the hardest with a performance of his single "One Day" where he wore a shirt that says "F*ck the Wall" and brought up immigration activists from United We Dream, Make The Road New York, and the National Domestic Workers Alliance. They all entered from the back of the building wearing white T-shirts à la Eminem's 2000 performance of "The Real Slim Shady," except this time instead of slut-shaming Christina Aguilera, the artist made a poignant statement about immigrant rights and citizenship in America. 2018 really is something.
The best performances were by Nicki Minaj and Ariana Grande. At first, I was shocked they would dare put Nicki on the outside stage, but she killed it in her Egyptian-inspired performance of "Barbie Dreams" and "Fefe." The crowd was literally singing every word even though the album came out two seconds ago so, yeah, I think the monicker "Queen" is accurate.
We were all watching and waiting for Ari to perform, the way Pete Davidson watches Ari while she sleeps and waits for her to get up. And lemme tell ya, she delivered.
How good is being engaged to the dude who spawned the phrase "Big D*ck Energy?" Good enough to cast yourself as Jesus in a Last Supper inspired performance of "God Is A Woman." Then Ariana ended by bringing out her ancestors (i.e her mom, aunt, and grandma) out with no introduction like we're supposed to know who the f*ck these people are.
Diva status: Achieved.
Maluma made history as the first Latin artist to ever perform on the VMAs. He kept it pretty simple, dancing with a random sexy lady on a platform before ditching her to go dance with Camila Cabello and her mom.
Aerosmith, apparently, also performed, but I gotta be honest and say we were like 2.5 hours deep into this award show at that point, and Aerosmith reminds me of my ex so I kinda checked out. I'm sure they were fine.
The Video Vanguard Award
So obviously no discussion of the night's performances would be complete without talking about our Video Vanguard Award winner, motherf*ckin' Jennifer Lopez.
Did you know that JLo's infamous green Grammy's dress was the reason Google invented Google Image search, because so many people were Googling the dress it made them realize they needed an image option? I learned that on Twitter last night and have been shook ever since.
In keeping with the fact that she's literally the b*tch who invented Google images, JLo's performance was amazing. She started by singing "Waiting For Tonight" while flying around, then launched into a medley of all her hits.
I actually clutched my heart and said, "aww!" when she started "My Love Don't Cost A Thing," at which point the stage shifted from a Minaj-esque Egyptian motif to a snow bunny motif which I can only image was an homage to the "All I Have" video with LL Cool J.
At one point DJ Khaled comes out and I feel like its 50/50 as to whether or not he was asked to perform, or just can't help but screaming "ANOTHER ONE" into any available microphone.
The best cameo, obviously, was when Ja Rule came out to help her perform "I'm Real" and "Ain't It Funny," proving that JLO is not only a beautiful vanguard, but a benevolent one. She's forgiven Ja Rule for Fyre Festival, and so too shall we.
Anybody else spend this entire performance thinking about how JLo is 49 years old? The only thing of note I'll probably be doing when I'm 49 is going on Dr. Pimple Popper to have a fatty lipoma removed.
Once the performance was over we cut to Shawn Mendes, who totally f*cking blew it. Or the VMAs blew it. Or everybody blew it. Either way, it was blown.
As Shawn is trying to introduce JLo, you can literally hear the entire audience chatting in the background. It's deafening. No one is paying attention to him. At one point Ja Rule runs across the stage behind him and just starts chatting with another person in the audience. People are taking selfies. It was brutal. Shawn Mendes could have said literally anything in that moment because nobody was paying attention. He could have been like, "I have Donald Trump's pee tape on a thumb drive right now!" and the audience would have been like, "Do you know when someone is coming around with more drinks?"
Anyway, JLo then gave a very nice speech about her long ass career in which she called one of her managers her "three eyed crow," so I guess we know JLo likes Game of Thrones.
JLo: It's been so crazy dreaming my wildest dreams watching them all come true.
Me Drinking Boxed Wine, Blocking Yet Another Call From My Credit Card Company:
The only thing missing from this, in my view, was that I really wanted JLo to perform "Bidi Bidi Bom Bom" by Selena. That would have been dope.
Madonna?
Soooo we have to talk about the absolute weirdest moment of the night, which was supposed to be the most solemn.
It all started out well and good with the VMA's attempt at an Aretha Franklin tribute, but then Madonna came out dressed like someone who was about to sell you fake ayahuasca at a festival and you know shit is about to go off the rails.
Madonna used Aretha Franklin's tribute to tell a long-ass story about herself. Does Madonna think the VMAs are The Moth? Is this her one-woman show? I'm truly confused. The story has literally nothing to do with Aretha Franklin, other than the fact that at one point she sings an Aretha Franklin song, which is more about Madonna letting us know she's a good singer than it was about Aretha Franklin's contributions to music.
Then Madonna launches into another story that actually has nothing to do with Aretha Franklin even tangentially, where she reminds us all about the time she sang "Like A Virgin" on a cake and her manager said her career was over. She ends that performance by saying "lol" outloud, but pronouncing it wrong.
Thank you, Madonna, for that touching contribution.
Final Thoughts
All in all a pretty standard VMAs, but I have to get one thing off my chest: Does anybody else feel like baby Asahd, DJ Khaled's 1-year-old son, is just like, too young to be at the VMAs? The VMAs are late as f*ck! Also loud. He's a damn baby! Everyone here is drunk. Get a babysitter and bring him to the VMAs when he can actually sing along to some of the songs. That's just my belief.
Also, did anybody else catch that Truth commercial about how smoking will give you erectile dysfunction? That was…a lot.
Also, why the f*ck was Stormy Daniels' lawyer, Michael Avenatti, there? Don't you have a case to be working on? Are we just going all in on the "politics is entertainment" thing now?
Tune in next year when the VMAs will be hosted by Secretary of State Mike Pompeo, with a performance by Betsy DeVos.
Images: Getty Images; GIPHY  (14)
The Best And Worst Dressed Celebrities At The 2018 Oscars
Listen, I'm pretty disappointed with this year's Oscars red carpet. Normally, the E! preshow is decent enough to make up for having to watch three hours of producers and directors get passive-aggressively rushed off stage with that annoying music while they desperately try to thank their moms, but this year was a shit show of epic proportions. If you're out of the loop, you basically just need to know that nobody wanted to stop to talk to Ryan Seacrest because of the sexual assault allegations against him. At the culmination of an award show season that's been all about holding shitty dudes accountable, I don't really understand why E! couldn't just like… let a woman do it. We all know chicks on their payroll don't make as much as men so they probably could have saved a few dollars, but hey what do I know? I'm just here to talk shit about celebrity style, so let's get to that. Here's the best and worst dressed 2018 Oscars edition.
Best Dressed 2018 Oscars
Tiffany Haddish
Tiffany Haddish is hands down the best dressed at the Oscars this year because she's openly like, "fuck it, this dress was expensive and I'm going to Febreeze it and wear it again." This is the positive Hollywood influence I'm looking for. Except, when I do it, it's less like a $4,000 Alexander McQueen gown and more like, a $60 pleather Topshop miniskirt. Whatever, the sentiment still stands. I'm also very down with Tiffany's UGG slippers. I'm so glad we finally have a celebrity who's actually relatable, and not just pretending to love pizza and fall down a lot because her publicist told her it could be a good gag. Her red carpet look was not the same dress, but it was equally memorable, and I hope served as her audition for Black Panther 2 because she looks regal. I'd give her the role, I'm just saying. 

Margot Robbie
I'm usually not one for random off-the-shoulder embellishments, but Margot Robbie's white Chanel gown is actually changing my mind. I'm pretty sure she'd still look perfect in this even if she styled it with a fried, frizzy Tonya Harding ponytail and a Marlboro Light. Every wedding gown on the next season of Say Yes to the Dress will be a knock-off of this, I'm calling it now.

Lupita Nyong'o
Lupita absolutely stunned in this Versace gown that would probably look a little bit like most of the dresses worn to a Staten Island prom in the 1980s if she wasn't like, the most flawless person in Hollywood right now. The asymmetrical neckline, the slit—it all works.

Taraji P. Henson
Taraji P. Henson is one of the few celebrities left in this godforsaken world who still knows how to look classy with a super high leg slit and a shit ton of cleavage. Oscar looks can get boring easily because it's kind of the stuffiest award show, but Taraji's Vera Wang look is perfect, and it looked even better paired with the shade she threw at Ryan Seacrest.

Jennifer Garner
I really hope Jennifer Garner's former nanny who fucked Ben Affleck is crying into a tub of ice cream right now. I mean, I'm doing it, and I didn't even break up a marriage.

Worst Dressed 2018 Oscars
Salma Hayek
I kind of feel like I've seen Salma Hayek's dress before, but that might just be due to the fact that I spent my last hangover watching JonBenet Ramsey documentaries for seven hours, and this blinged-out Gucci gown looks like it previously belonged to a child pageant star. I may or may not be temporarily blind now.

Emma Stone
Emma Stone decided to completely ignore the "it's the Oscars, wear a gown" memo, I guess because she won last year so she doesn't need to try this time around. It's kind of like when you get a boyfriend and you start going out to the bar in flats because you "don't have anyone to impress." How come when I showed up to work in this exact outfit it was "you can't come to work in your pajamas" and when Emma Stone did it, it was fashion?

Saoirse Ronan
Saoirse usually totally slays, but this Calvin Klein gown is giving me a dull headache. It's what I would imagine Regina George would have worn to the spring fling if she had a regular mom who was like, "aw honey, don't try Sears, let's have my tailor let this out so it fits you better."

Andra Day
Listen, mad respect to Andra Day for saying fuck it and literally just laying down on the red carpet, but this Zac Posen gown is bad news. Every award show red carpet has at least one woman who is the butt of the guaranteed "this is made out of a fugly tablecloth from my grandma's house" joke (we will have two), and not only does this look like an elderly woman's tapestry, it also looks like its original purpose was for a Renaissance Fair.


St. Vincent
I saw a lot of tweets praising St. Vincent for whatever it is she's trying to wear here, which has led me to the conclusion that it's probably time for me to stop chasing retweets and put my efforts into selling flat tummy tea, because obviously everyone on Twitter is fucking insane. This look reminds me of something a sorority girl would craft out a trash bag for an Anything But Clothes mixer. Or like, maybe the aesthetic is slutty funeral? Much like this outfit, I can't decide what I'm going for.

Zendaya
It physically pains me to put Zendaya on any kind of worst dressed list, but this flappy brown chiffon Giambattista Valli gown does not make her exempt from a good shit-talking. This list isn't personal, it's just that I hate your fashion choices and am now questioning your judgment and taste. Sure, I might just be biased on this dress because I spent 2005 wearing a lot of brown gauchos and Limited Too graphic tees with slogans like, "I'm adorable, DEAL WITH IT," but chocolate brown is a color that will never work unless you are a hot UPS delivery guy who's very receptive to the Bend and Snap.

Kelly Ripa
I just have two quick questions for Kelly Ripa. The first is, what are you on that made you think wearing a massive pink and neon green bow on your butt would be a good idea? This dress is the definition of a mullet. The second question is, can you hook me up with your plug?

Whoopi Goldberg
Whoopi's dress was made for her by Project Runway winner Christian Siriano—apparently this week's challenge was to make a dress out of your grandmother's shower curtains.

Adam Rippon
Adam Rippon is 28, but he looks like a high schooler who found his parents' stash of bondage gear. He definitely still gets carded at the leather bar. This is why they need to stop making 50 Shades movies.

Can't get enough of our shit-talking? Read the full 2018 Oscars recap. We promise it's wayyyy more entertaining (and shorter) than the actual show.
The AMAs Fashion That Should Have Been Stopped & The Looks We're Living For
Mondays always suck, unless it's the day after literally any award show. There's truly nothing better than sitting at your desk, pretending to work as you scroll through Instagram and judge the shit out of all the red carpet looks. As you've probably seen if you follow any celebrities on any form of social media, last night was the American Music Awards. Let's give compliments like a drunk girl in a bathroom then talk shit about the worst dressed, shall we?
Best
Demi Lovato
Okay, all extra celebrities, please take notice. Demi's look is like, the perfect example of the perfect music award show red carpet look. The dress is super flattering, the hair and makeup is incred, and overall it kind of has an edgy vibe but is still a classic look. Well done, Lovato.

Selena Gomez
Honestly, Selena has kinda been on my nerves recently for literally no reason whatsoever, so this is difficult for me to say, but I'm obsessed with this look. Usually a drastic post-breakup hair change is a bad move, but when you're rich AF and can get back into a relationship with Justin Bieber like, a week later, the rules don't apply. I love this new (old?) Selena.

Lady Gaga
Gaga wasn't even technically at the red carpet at the AMAs—she was at the Washington D.C. stop of her tour—and she still looked better than everyone else. She rocked an Alaïa to honor the recently passed designer (RIP) and channeled some major Madonna vibes. Into it.

Ciara
Pretty sure Ciara's sole purpose in life is to just be hotter than the rest of the human population. This dress is so dope. Plus, her hair and makeup is perfect but still looks natural.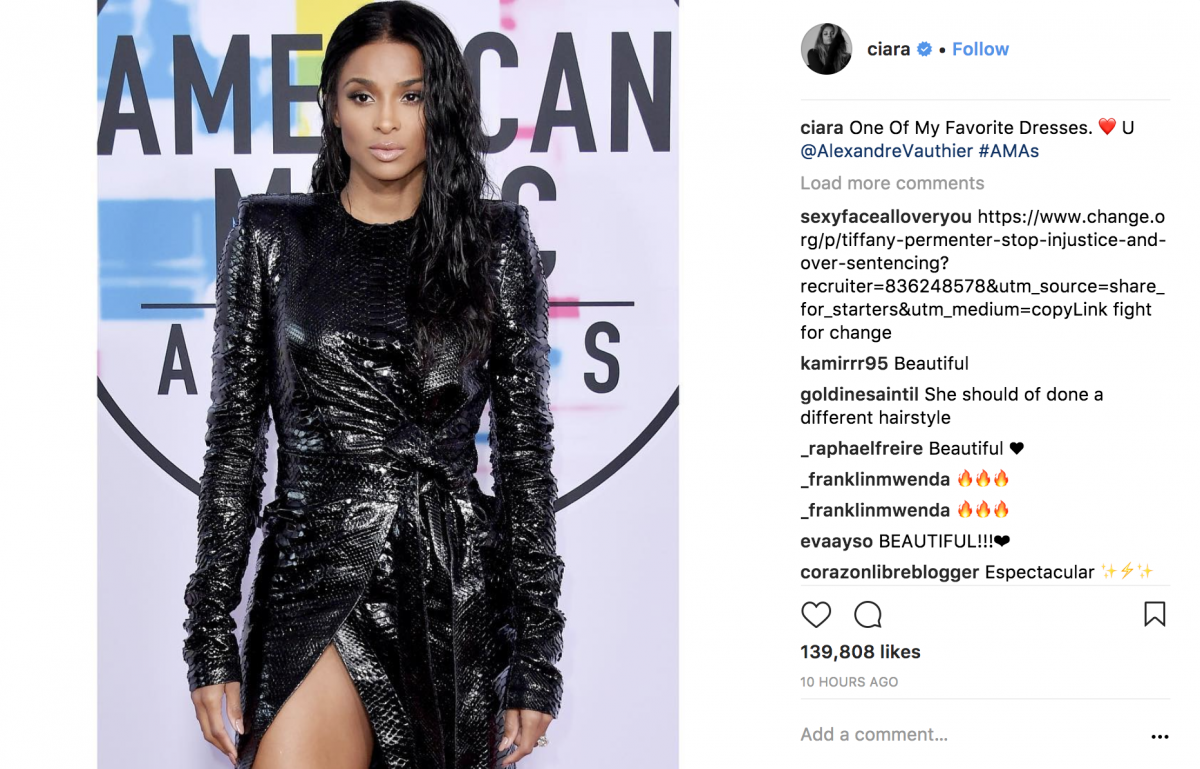 Kehlani
TBH, Kehlani's dress is kind of eh, but I'm considering her one of the best simply because she can pull off a low ponytail without looking like a founding father.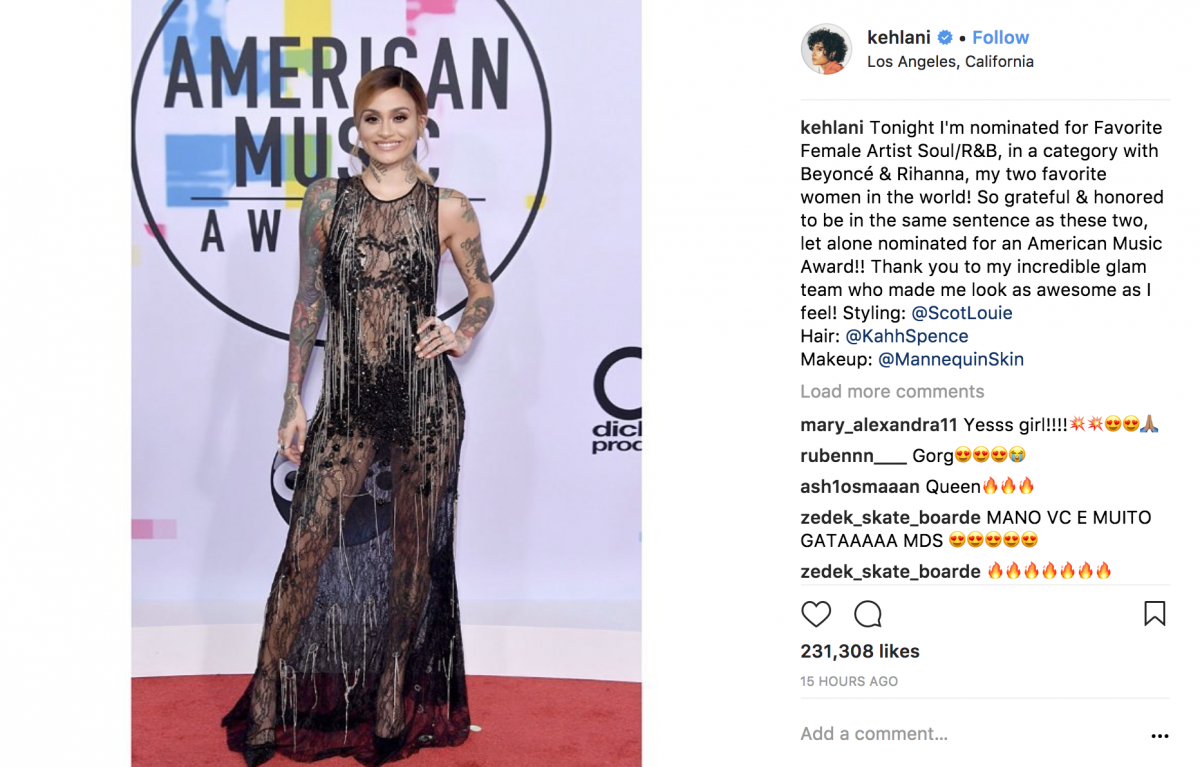 Worst
Sabrina Carpenter
I have no idea who you are, but I hate your dress. Sorry. It's very Miranda Hobbes and the boots kind of look like a serial killer made them out of human skin à la Silence of the Lambs.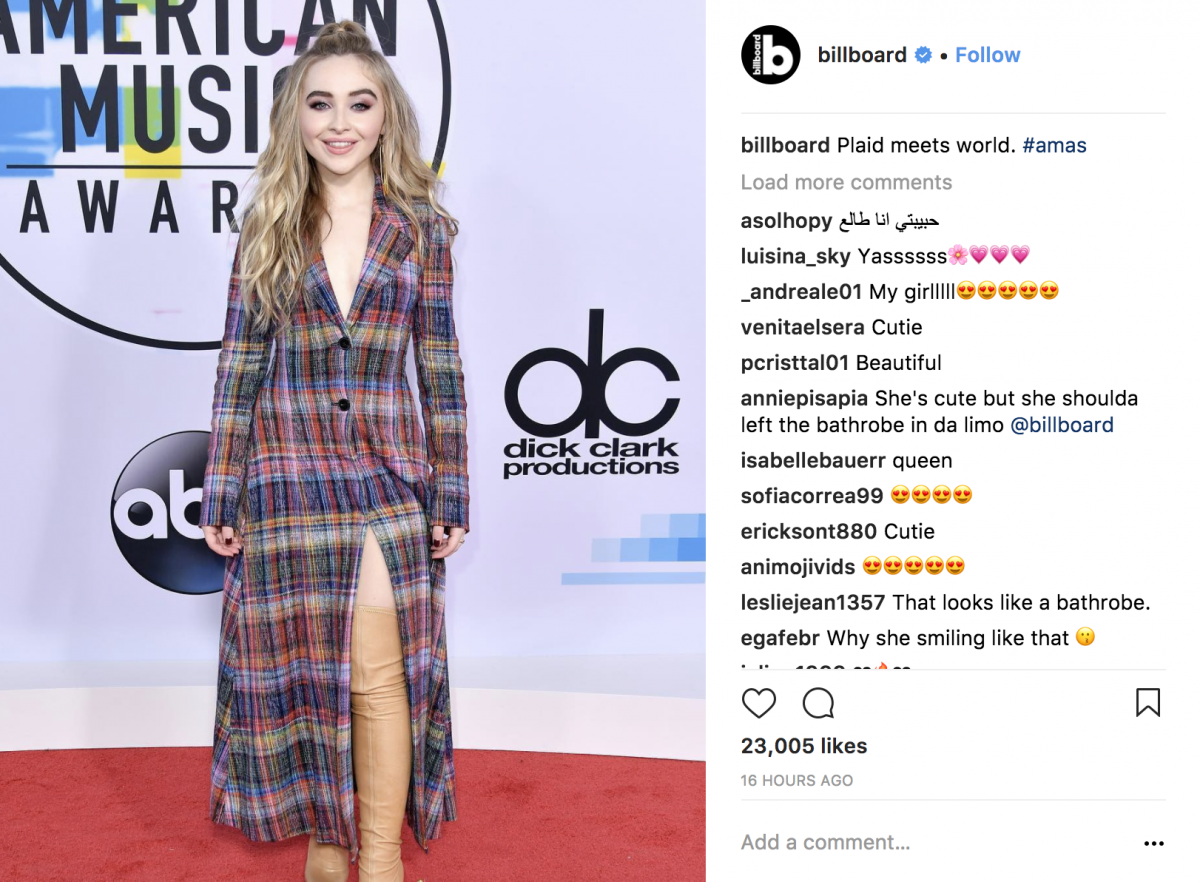 Demi Lovato
I'm putting Demi down for best dressed and worst dressed, because not even the most flawless styling could balance out this dress. She looks like a walking lava lamp. This is potentially one of my least favorite dresses in history.

P!nk
Even P!nk looks pissed to be wearing this dress. It kind of looks like a fancy loofah that came with the Bath and Body Works gift set your dad's new girlfriend bought you for Christmas after your parents' divorce.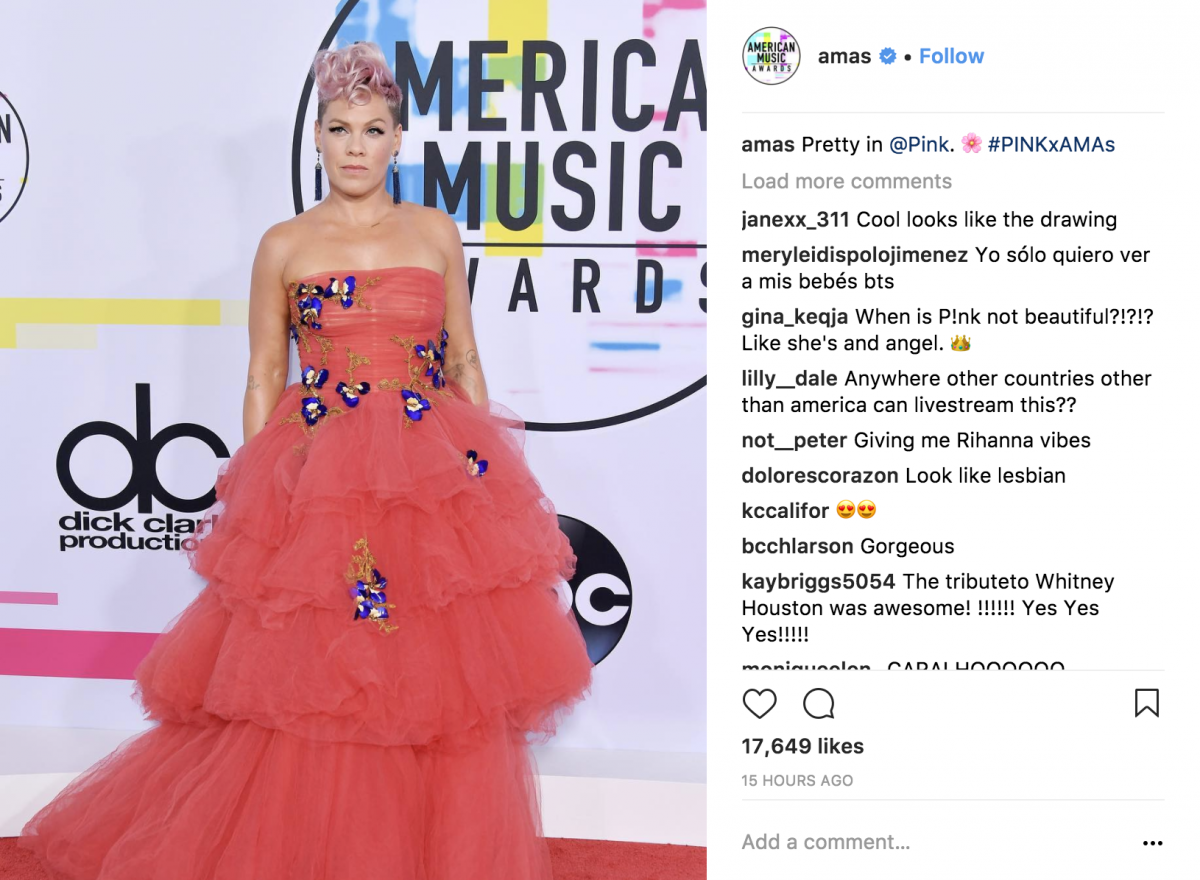 Bebe Rexha
I'm confused as to what is happening here. This dress probably had good intentions (even if it's made out of a fabric I would have worn to a friend's bat mitzvah in 2004), but then it decided to allow Bebe's boobs to try to run away from each other. Also, just looking at the cut of the dress paired with the shoes stresses me out, because I keep picturing Bebe falling over and having to do the worm instead of walk.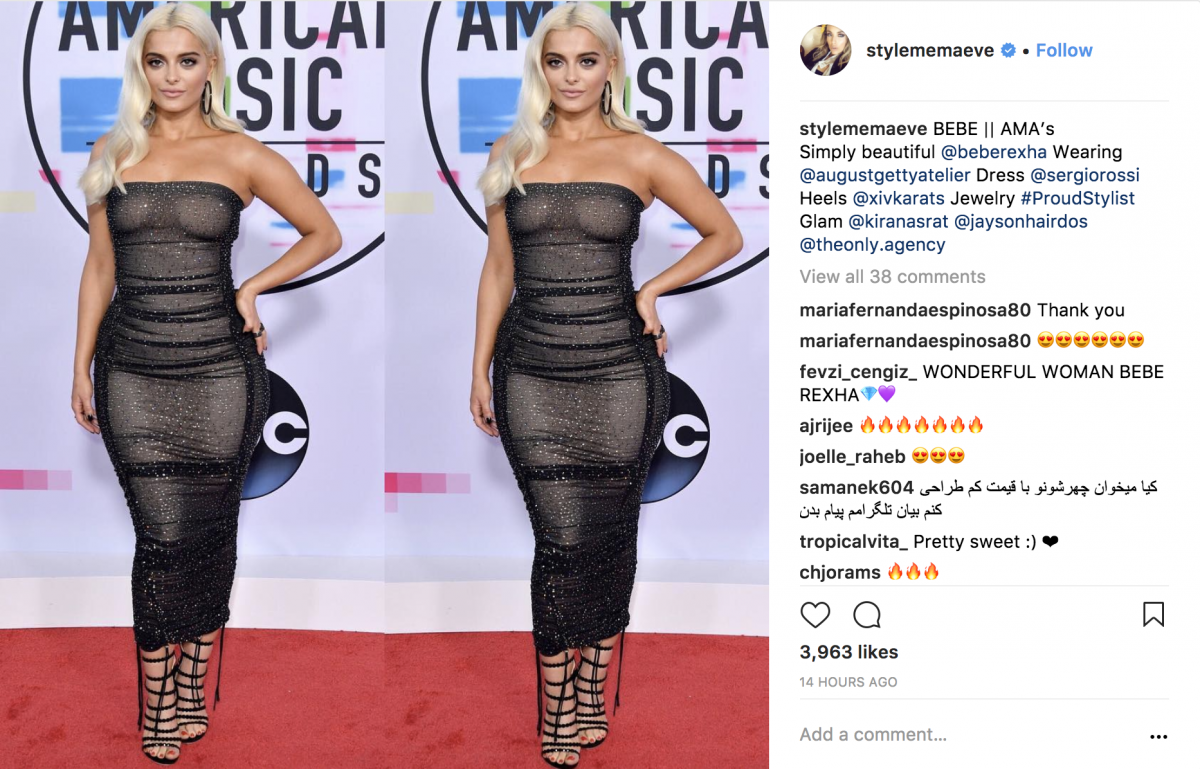 Julia Michaels
I mean, if the end goal here was to channel Lydia Deetz from Beetlejuice, then this look is killer. But like, I'm assuming that wasn't the point. This year, Comme des Garçons has kinda scammed everyone into thinking that it's fashionable to wear heaps of fluffy red fabric, but this look obviously isn't working.

The Oscars Had Another F*ck-Up No One's Talking About
We've already discussed the colossal fuck-up from last night's Oscars that will go down in history—awarding Best Picture aka the pinnacle achievement to the wrong fucking film—but now it turns out that there was another cringeworthy error made during the night. This was part of the "in memoriam" segment that pays tribute to people in the film industry that recently passed away, in other words a pre-recorded video requiring third grade PowerPoint skills that's the same every year. You'd think it'd be impossible for anything to go wrong here, but much like Dakota Johnson's dress, it was extremely insulting and embarrassing for everyone involved.
The Best Dressed At The Oscars & Who Needs To Try Sears
Basically what happened was that the segment displayed a picture of Jan Chapman, an Australian producer who *spoiler alert* isn't dead. Some fucking idiot confused her with Janet Patterson, an Australian costume designer who died in October and was a four-time Oscar nominee. TBCH I don't know who either of these people are, but someone who should probably know is the person who oversees the production of the fucking Academy Awards. Or they could've at least used Google Images rather than take a wild guess while high, which is clearly what happened.

The whole situation is v offensive to Jan and Janet, who both got absolutely roasted in what was supposed to be a moment of honor. Jan is now blasting her social media accounts and probably regretting all those nights she chose to stay in recently because a good amount of people legit thought she was no longer alive, and Janet got the shittiest memorial ever because no one in the Academy knew her well enough to realize that photo openly wasn't of her. Overall this was just too savage on the part of the Oscars, and we hope this is peak award show awkwardness because we're already out of Xanax for the year and it's not even March.
We Just Have A Lot Of Feelings About Beyoncé Losing To Adele
Before the Grammys even happened on Sunday, most people had done the math and realized the main storyline would be Beyoncé vs. Adele. They were both up for all the big awards, and they're obviously both huge fucking stars and queens and magical unicorn women.
Both of their performances ended up as some of the most talked about, but for different reasons. While singing a tribute to George Michael, Adele had to stop the song and start over because she was out of tune. She said "fuck," which we kind of love, but also like, get your shit together. You had one job. Whatever. Beyoncé, on the other hand, made news because she literally looked like some kind of pregnant alien goddess while performing a medley of songs from Lemonade, causing viewers everywhere to wonder for the umpteenth time whether she is, in fact, human.

Both of them won smaller awards in individual genre categories, so neither was going home empty-handed, but Beyoncé came up short at the end of the show when Adele won Album of the Year. Knowing the Beyhive would annihilate her if she did literally anything else but dedicate the award to Beyoncé, she used both acceptance speeches to talk about how amazing Bey is. Adele was crying. Bey was crying. We weren't crying, you were crying!

Obviously Beyoncé deserved to win. This is not an opinion. This is not a bias. This is an indisputable, non-alternative fact.
Years from now, there will be a few moments that will stand out in history—moments you'll always remember precisely where you were and what you were doing when they happened. When Michael Jackson died. When Barack Obama won the presidential election. When Beyoncé released Lemonade.
Not content to shock us all with a surprise album, Beyoncé came out of the woodwork and did what no one other artist has ever accomplished: an hour-long visual experience that celebrated and empowered black women, forcing us to acknowledge for the first time that Beyoncé is, in fact, a black woman.
In addition to offering racial commentary and opening up about her struggles following Jay Z's (reported) infidelity, Beyoncé used Lemonade to pose important questions to the world: What's worse, being jealous or crazy? Who is Becky with the good hair?
In a situation where most would have shut down and shied away from the public, Beyoncé aired it all out for the world to see. It was healing, rather than vindictive. She did it all while bringing black culture to the forefront of pop culture, exposing it to people who would have otherwise pretended it didn't exist, only to try to take credit for it a few years down the line. She did all that, and then gave us an hour of startlingly beautiful visuals—and many Halloween costume ideas—on top of it.

The irony of Beyoncé losing to a white woman was not lost on anyone in the audience last night. After last year's #OscarsSoWhite fiasco and the current racial climate in general, you would hope that the Grammys could have been one of the first award shows to get their shit together and serve as an example for the rest of the industry of what a truly unbiased event could be. But once again, a woman of color was shoved into the background when she deserved to shine. And when that woman is Beyoncé, we will not take that lying down. Nobody puts Bey in a corner, not even the Grammys.
                                                       
It goes without saying that Adele is wildly talented. None of this is a slight on her or 25, an amazing album in its own right and absolute shoe-in any other year. But everyone in attendance knew Beyoncé should have won that award. Beyoncé knew that Beyoncé should have won. Becky, whoever she is, knew that Beyoncé should have won.
In a moment that easily could have made or broken her career, Adele used her acceptance speech to go full Cady Heron and essentially give her spring fling crown Grammy to Beyoncé.
You know what they say: when life hands you lemons, make Lemonade and then watch as it gets absolutely snubbed by the Recording Academy. Our thoughts about the entire debacle can be summed up, once again, by Adele.
To Beyoncé, to Adele, and to all the strong women in the music industry and life in general who put up with more shit than they should ever have to:

But no matter who you are, no matter who you wanted to win, just remember that nothing can ever be worse than Taylor Swift winning for 1989 last year. 
The Best & Worst Dressed At The Golden Globes

Natalie Portman is pregnant AF, so she chose a sensible yellow Prada dress that was probably a leftover from the Jackie set. Literally how is she so pretty?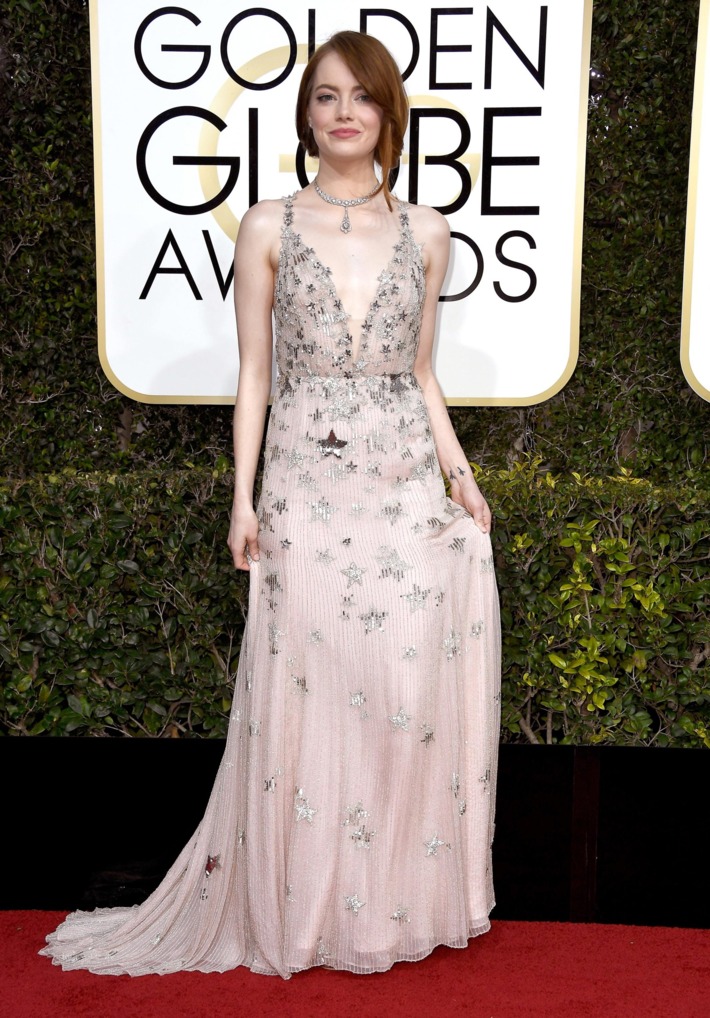 Emma Stone played it safe in a nude Valentino dress with a plunging neckline. She's super pale so it kind of blended in with her skin, but she made sure to remind us that she's the biggest fucking star in Hollywood with the silver stars all over the dress. Honestly, the whole thing was a little bat mitzvah.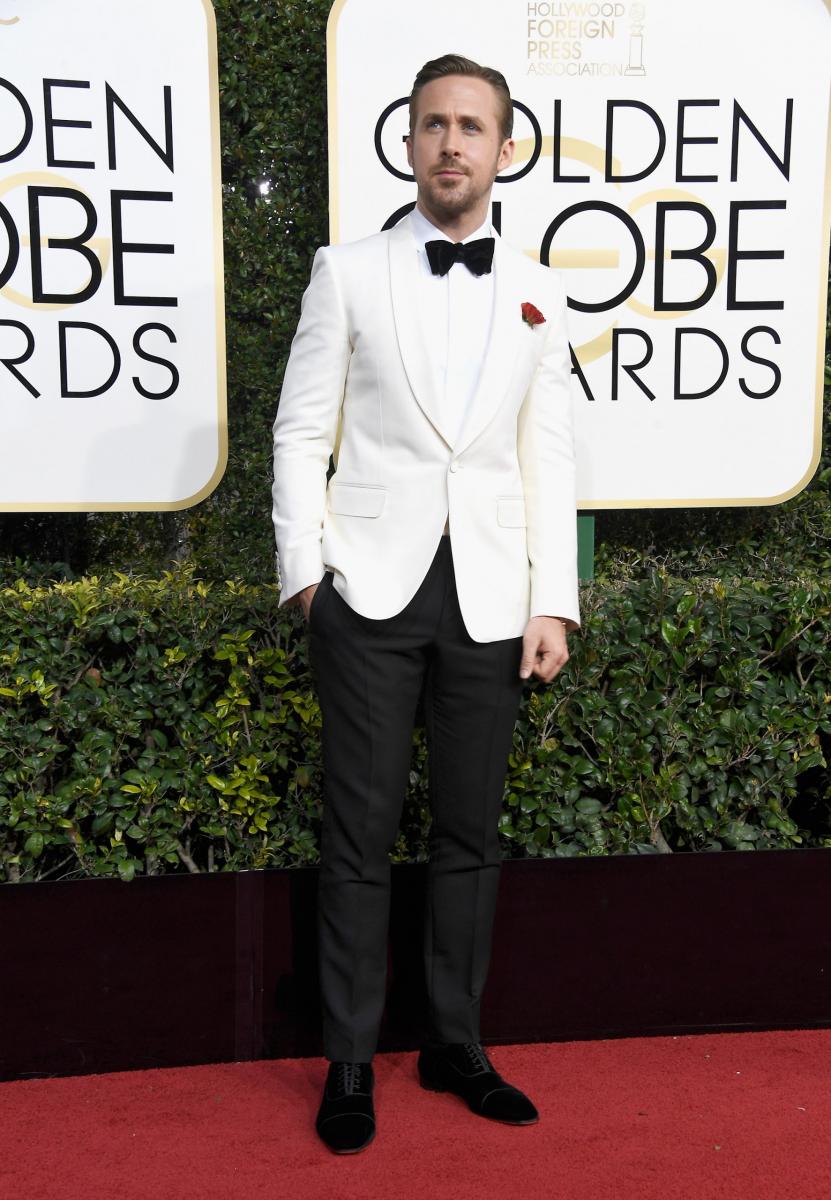 Ryan Gosling chose to wear a white tux, which is usually just what nerdy guys wear to their high school prom, but he's Ryan Gosling so he pulled it off.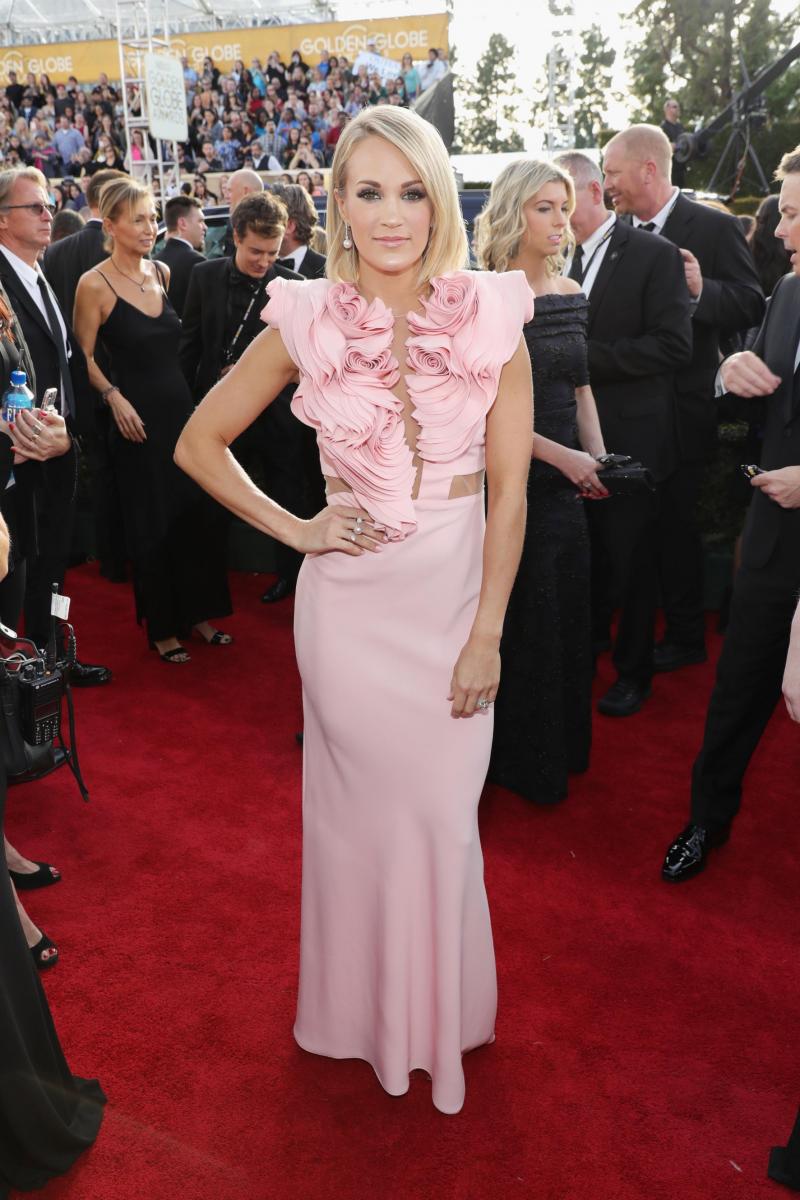 It's unclear why Carrie Underwood was invited, but someone put approximately a million pink ruffles on her chest so you really couldn't miss her.

Blake Lively looked stunning as per usual, while somewhere in Paris, Leighton Meester was probably sitting at a cafe alone. And none for Blair Waldorf, bye.

Kerry Washington's makeup was flawless, but her calf-length yellow lace dress would look better on an 80-year-old woman. Olivia Pope couldn't fix this situation.

Viola Davis finally won something, and she looked incredible doing it in her yellow Michael Kors gown. Slay.

Nicole Kidman's Alexander McQueen dress could have been stunning, but she got caught somewhere between dance recital and artistic sparkly picture of a wave. She has a rocking body, but the life-preserver sleeves really killed this look.

We're not sure who approved Sarah Paulson's hair or dress, but she looks like a soap opera businesswoman from the 1980s. Get it together, Sarah.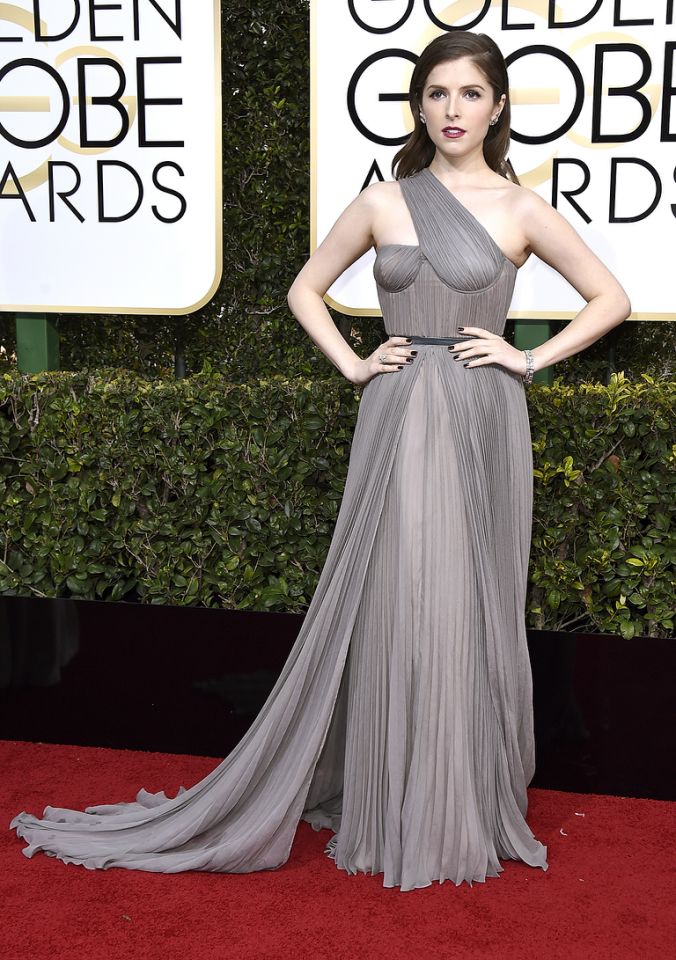 We could literally swear that Anna Kendrick has worn this boring AF dress before, but whatever. Pretty-ish but boring, just like her.

Amy Adams went for reliable sequins, which worked, but the neckline basically looks like a shelf across her chest. Tom Ford, how could you do this to her?

Reese Witherspoon took us straight back to a 2006 red carpet with her basic bitch yellow strapless dress. She looked great, but it's time to step it up.

Chrissy Teigen and John Legend are basically the best thing happening in the world right now, and Chrissy usually kills it on every red carpet. Unfortunately, her gold Marchesa gown really just looked like an outfit from the opening ceremony of the Hunger Games.

Sofia Vergara's New Year's resolution is apparently to not wear fabric anymore, because her dress was basically some foil gum wrappers artfully arranged on sheer mesh. Tasteful!

Connie Britton basically wore an old person's version of a prom dress, but her hair looked perfect like always so she still wins.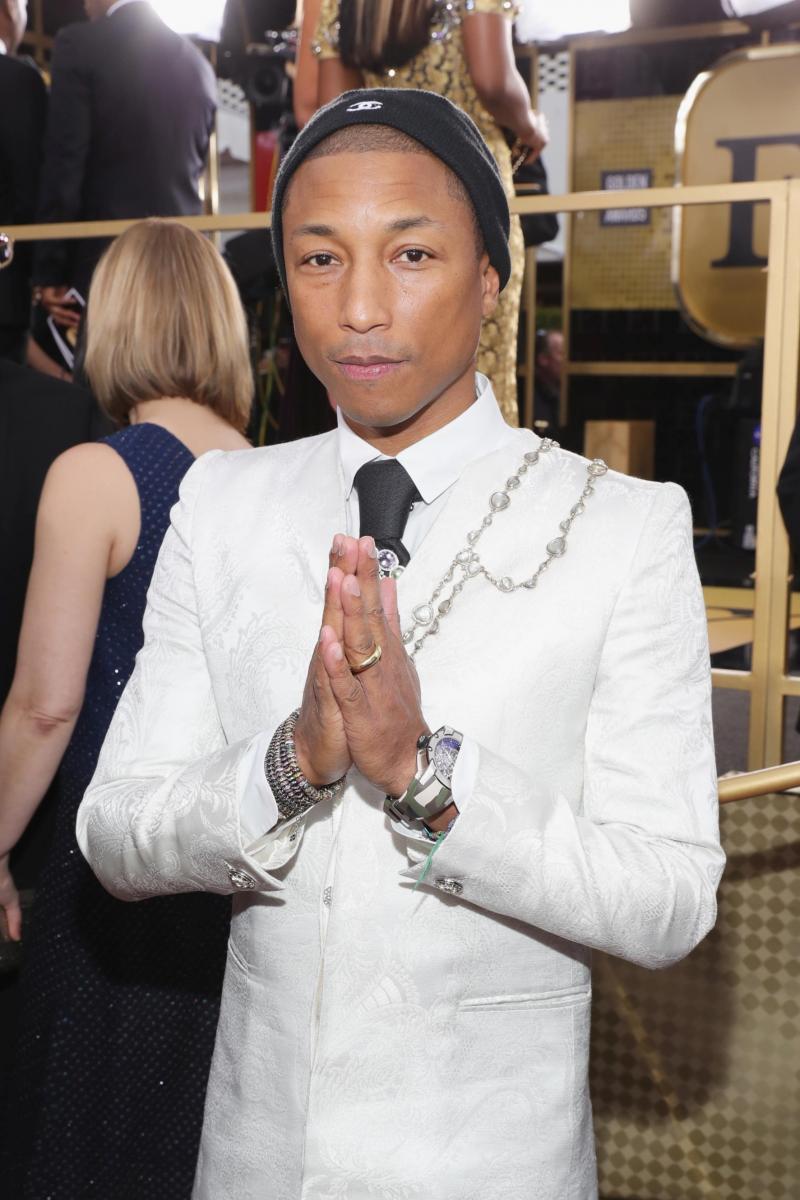 Pharrell wore a dumb white Chanel suit with a crossbody necklace, which is not a thing, but he's still on our shortlist for that giant hat.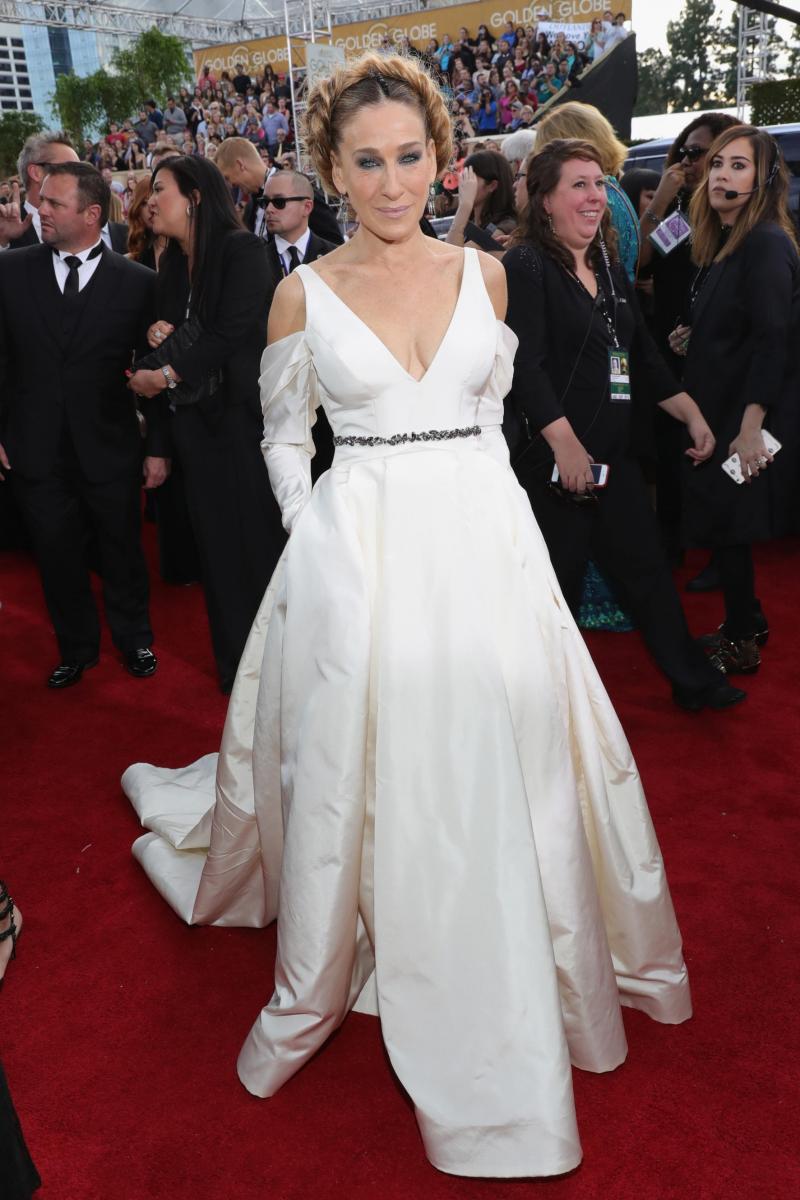 Sarah Jessica Parker literally still thinks it's 1999, which explains why she wore a taffeta ballgown and a curly updo, ugh.

We'd normally hate Michelle Williams' lace Louis Vuitton dress, but she's so fucking chic it hurts. Bonus points for wearing a relatable choker.