5 Lies The Victoria's Secret Fashion Show Told Us
Pour your zero-carb appetite suppressant out for the Victoria's Secret Fashion show, which was officially canceled yesterday in a statement by their parent company, L Brands. Apparently, the VS fashion show is taking the year off to "evolve the messaging" of the brand, aka to consider working with people who are not six foot tall cis women that weigh the same as an apple. In the #MeToo era, it comes as no surprise that a show as blatantly male gaze-y as the VS Fashion Show would have to rebrand (also, model Shanina Shaik leaked the news to the Daily Telegraph back in July). As someone who, for whatever reason, found herself watching the Victoria's Secret Fashion show year after year, the news is bittersweet. Sure, I won't be subjected to a parade of damaging body standards that leave me seriously considering an all-soup diet, but I also won't get to see Kendall Jenner wearing a space bra covered in glitter.
Obviously, I'm kidding. I will not miss wasting three hours on this event, which I inevitably would have done because I'm a sick millennial who is addicted to screens. But in honor of this iconic show's demise, here are five iconic lies they've told us over the years. Here's hoping the Hadid sisters use the show's end as an excuse to let loose and try a piece of cheese.
1. This Is What Normal People Look Like In Underwear

Let's be clear: I'm not saying that nobody looks like this. Some people do! And all 20 of them are in the Victoria's Secret Fashion Show. Yes, there are a blessed few who pop out of the womb with the genetics to be 5'10 and 119 pounds, but for most of us, that is just not happening. And for the people who are 5'1o and 119 pounds? Yeah, they mostly don't look like this:

Anyway, back to watching Netflix on my couch wondering why I don't have a six pack even though I went to the gym for 20 minutes three months ago.
2. This Is An Appropriate Costume

Yeah…don't do this. Don't even think about doing this. Unless you're actually Native American*, in which case do whatever the hell you want. You've been through a lot. This photo is of Karlie Kloss from the 2012 VS Fashion Show, approximately 500 years after Columbus sailed the ocean blue and made this not okay to do. (Rhyme intended.) Funnily enough, Karlie stopped walking for VS in 2014 after "studying feminist theory" at NYU and realizing it sent harmful messages to young girls. Models! They're just like us! (Getting woke after taking one women's studies class in college.)
Also, anyone who wants to comment on this post saying VS was just trying to "honor" Native American culture is welcome to do so, but they also legally must Venmo me $12. Call it an ignorance tax.
*finding out you're .00007% Chippewa on 23andMe doesn't count. 
3. This Is What A 37-Year-Old Woman Looks Like

This photo is from last year's show, where a 37-year-old Adriana Lima walked her final runway. Now, I'm not saying that a woman in her late thirties can't be a gorgeous, sexy, sensual being in the prime of their life. But what we see above is an actual abomination of nature. A gorgeous abomination, sure. But an abomination nonetheless. For reference, here is what I, a 29-year-old woman, will look like in exactly one year talking about the time I went to Bonnaroo:

Time is a cruel mistress.
4. Trans Women Can't Be Fantasies

#TBT to a little over one year ago, when Victoria's Secret was forced to issue an apology after Ed Razek, the guy literally known as "the man behind the Victoria's Secret Fashion Show," said he would never allow "transexuals" (his word, not ours) to walk the catwalk because the show "is a fantasy." He then went on to say the same thing about plus-size models.
First of all, trans women are women and plus-size women are women and the whole point of the show is to sell clothes to women, so wtf are you even talking about? Second of all, anyone who doesn't think plus-sized or trans women can be "a fantasy" is a narc who has never even glanced at porn.
Anyway, Razek left L Brands this August, and shortly before his departure, Victoria's Secret hired Valentina Sampaio (pictured above) as their first trans model. You simply love to see it.
5. This Is What Running Into Your Ex Is Like

We couldn't talk about the VS Fashion Show without mentioning the iconic moment, also known as "the only good thing that happened in the year 2016." Let's set the scene: Bella Hadid and The Weeknd had been dating for a year when they split up just a month before Bella's first-ever VS Fashion Show. They were then reunited live on stage as Bella made her VS debut looking like a low-carb snack. And thus a million revenge fantasies were born.
Unfortunately, a moment like this is not available to the vast majority of the population. For us non-models, reuniting with an ex looks more like running into them with their new girlfriend while we are making a tampon run in old sweatpants. But this moment was amazing television, and almost makes the 23 years of toxic beauty standards and bad body image worth it. Almost.
Images: Giphy (4)
2018 Victoria's Secret Fashion Show Recap: I Can't Believe I Stayed Up For This
Sunday, December 2 was the biggest night of the year for body insecurity—I mean, since Thanksgiving (but maybe that's just my family)—because we were all treated to the 2018 Victoria's Secret Fashion Show. I'd like to open with a few remarks. First of all, a big F*CK YOU to ABC and Victoria's Secret, above all, for making this sh*t start at 10pm on a Sunday night when I should be lying awake, crippled by anxiety about going back to work tomorrow asleep. Second of all, for making this sh*t exist in the first place. It's 2018, we're body positive now, sitting on my couch at 10pm watching tiny women who all somehow look alike prance down a runway while last year's pop stars serenade them is not my idea of a good time. Like, didn't Miss America even get rid of the bathing suit portion of their competition? It's time to mix it up.
Fortunately, I have a few ideas for how the Victoria's Secret Fashion Show can be upgraded. Throw the Nathan's Hot Dog Eating Contest in with this b*tch. Maybe add a talent portion (because I can assure you, walking in a straight line and blowing the occasional kiss does not count as a talent—if it did, I would be far more successful than I am today). Maybe a couch-to-runway portion, where models eat half a Domino's pizza and then model lingerie? Give the people what they want!
In any case, regressive or not, I reluctantly tuned into the 2018 Victoria's Secret Fashion Show. I missed the first performance due to connectivity issues, but tuned in to watch The Chainsmokers (aka the hot one pretending to play the guitar) and Kelsea Ballerini. I still have not figured out who Kelsea Ballerini is, to be honest. Is she from The Voice? Is she like, the Rita Ora of country music? Sure, I could Google it, but then who would be there in the comments to smugly correct me? She and The Chainsmokers (the other one was relegated to the back, my mistake, but he was there) perform some song I've never heard of.
Candice Swanepoel gets ready to walk down the runway. This is my favorite part—the soundbites of the underpaid PAs screaming "Go, Candice" to signal her trip down a flat strip of floor, as if she's about to perform brain surgery and not just put one foot in front of the other. One of the Angels literally crosses herself backstage. I mean, I know someone did fall last year, but still, I can assure you, it is not that deep.
The theme to this line appears to be "random corsets". It's kind of like Candy Land mixed with Valentine's Day? I'm sure that's precisely what went on during the brainstorming meeting. Some models are wearing tiny sunglasses as if this weren't filmed in November. The stage does look really cool, though.
We come back from the commercial break to a montage of Adriana Lima's career as a Victoria's Secret Angel. Lest we forget, Adriana is hanging up her wings after tonight. And when I decide to stop wearing lingerie in front of other people, they call it "letting yourself go". This montage, though, is excellent. We move through Adriana's awkward years—which, to be clear, are still better than any of us look on our best day—up until today. The most interesting part of this retrospective, I think, is the unintentional journey through women's beauty standards. Initially, we see a stick-thin Adriana with arms that are smaller than my wrists, to now, where she appears to have been granted the ability to consume full-fat milk. Progress!
Adriana walks the runway in this gorgeous bejeweled hybrid between a bra and a shirt. How can I cop this bra for New Years Eve? Asking for myself. Adriana is crying, and I guess that's how I'd feel on my last day of work too.

Immediately after this, Halsey performs, looking like a sexy white walker. (I don't watch Game of Thrones, so you can let me know in the comments if that reference was accurate.) She's got like, feathery eyebrows, I guess because if they didn't put something stupid on Halsey's face she'd look like an Angel and they wouldn't want anyone to feel threatened. Halsey killed it, and I have nothing further to say on the matter.
This section is very "literal angel"—lots of white, lots of feathers. I guess it could also be winter. Whatever. One shining moment was getting to see Winnie Harlow walk down the runway, because it is about as far as VS will push the boundaries of what's considered conventional beauty tonight.
Next, Bella Hadid walks down the runway and we cut to The Weeknd, clapping in the audience. I just want a guy to look at me with the mixture of admiration and bashfulness with which Abel looks at Bella, but I guess in order to achieve that I'd have to work out for hours every day and get some light plastic surgery… or so society would like me to believe! 
We come back from commercial to footage of the models finding out they're making the Victoria's Secret Fashion Show. It's kind of like watching a bunch of marriage proposals: a lot of screaming, crying, and tearful calls to loved ones.
Thank you, I'll be here all week.
When we return to the show, it's Bebe Rexha's performance, and she's wearing what is like, top half trench coat and bottom half ballerina outfit. It's hot pink and garish. There are matching thigh-highs and a giant bow in the back. I imagine her conversation with her stylist went like this:
Stylist: How do you wanna look for the 2018 Victoria's Secret Fashion Show?
Bebe: Pink Panther, but make it sexy.
Stylist: Gotchu fam.
My favorite part of Bebe's performance is the models who are half dancing down this runway (which, when your job is to walk, feels like cheating but ok), singing along to this song. How much do you think Bebe's people had to pay them to pretend like they knew the words? Seriously, gun to your head, could any of you name a single Bebe Rexha song? And not like, a G-Eazy song where she's featured on the hook—one of her own songs. I'll wait.
The clothes being featured are the PINK line, and I didn't even have to look at the garments closely to tell you that. I can tell that by the sheer amount of inappropriate sequins. What is this, 2000? Because that's the last time I thought wearing a sequined striped referee top was a good idea.

After Bebe Rexha, it's Shawn Mendes' turn to perform, and this was a smart move on the part of the talent bookers for this show, seeing as being serenaded by Shawn Mendes is the only thing in this entire hour-long special that's actually motivating me to purchase more underwear. 
My favorite moment is when Gigi Hadid walks by, wearing a parachute strapped to her back. I get it, because I'm also thinking about jumping out the nearest window watching this. 

Our regularly scheduled programming is interrupted by a Bachelor promo in which Colton holds a bunch of golden retriever puppies, who look like they would rather be anywhere else in the world than in his arms. I'm sure, come January, many of the women competing on the show will be able to relate. 
Before we return to the show, we get a video of all the models' fitness goals. Martha Hunt attempts to be relatable by saying her goal is to do 10 squats without breaking form (she has Scoliosis, so I guess this is actually difficult for her… fine). My fitness goals are to be able to eat whatever I want and not gain weight, so like, same thing.
After that, Rita Ora performs!! She's wearing so much gold jewelry, it puts the Migos to shame. I don't actually have anything bad to say about Rita; she can clearly sing and she looks good. As Behati Prinsloo walks by, they pan to Adam Levine, who is screaming after her. Once again, if my man isn't going to show this type of loyalty, I don't want him.
The theme of this collection is "we just realized people are pretending to like Rock 'n Roll as a trend now". Legit one of these shirts is cut up the sides and held together with safety pins, like I used to do for free with shirts I got at bar mitzvahs. And, literally the last look of this collection is straight out of Mugatu's derelicte campaign.

I'm sorry, is that a trash bag?? With spray paint?? Oh wait, I get it: this entire show is one giant walk-off.
What I hope is the last performance of the evening is by "British rock band, The Struts." And they need to qualify that because otherwise none of us would know who tf that is. Kendall Jenner finally gets her big moment in the sun—and that pun was intended since the theme to this collection is astrology. "What VS Bra Should You Wear According To Your Horoscope"—new article coming soon to Betches.
I have to pause for a moment here, because I've got to wonder why the rock band didn't sing during the rock themed collection. I sincerely hope that, after reading this article, somebody will reach out to me to curate next year's show. I've got good ideas! In any case, the one other positive moment from the show is what is sure to be the abundance of Kris Jenner memes. Behold, my blurry af screenshot of Kris Jenner filming Kendall walking down the runway:

First "thank u, next" and now this. What did we do to deserve this good fortune?? Additionally, I think Kris Jenner should just walk around with a camcorder at all times now.
And we've made it to the finale without incident. SNOOZE. Overall, I am disappointed nobody ate sh*t on the runway. One Kris Jenner meme does not a fashion show make. On the upside, I've been so distracted by how lame this show has been to even feel bad about my body. So there's that!
Images: Getty Images (4); ABC
Everything We Know About The 2018 Victoria's Secret Fashion Show
Well, friends, since Halloween is basically tomorrow in three weeks, we honestly can't deny the fact that hibernation month will soon be upon us. I'm talking about November, obviously. It's a time when it really begins to feel like fall—not this humid, muggy, 80 degree sh*t—so we can bury ourselves in chunky sweaters and comfy leggings, sweat-free. It's also that time of year when we shamelessly eat our weight in food because like, Thanksgiving, and well, the Victoria's Secret Fashion Show. *Stares at the Ben & Jerry carton in my freezer.* Both of these events make me want to consume enough calories to feed a small town, but the VSFS is one that I really look forward to for other reasons, tbh. I just can't resist the insane angel wings, bejeweled lingerie, and seeing my fave supermodels all in one place. We've still got ways to go, but this year's show is already one of the most discussed, highly anticipated ones yet. Let's begin, shall we? Here is everything we know about the 2018 Victoria's Secret Fashion Show.
Where Will It Be Held?
For starters, it will be held in New York City again, guys. FINALLY. After two whole long years, the show is coming back to America, but a specific venue hasn't been announced, though.
Who's Set To Perform This Year?
Tbh, this has yet to be confirmed. I've done extensive sleuthing and honestly, I couldn't find any talk about predictions. However, if any of the previous years are an indication of how it'll go, expect him/her/they will be a big deal.
Which Models Are Walking And Which Aren't?
I'm just going to start off by saying Kendall, Bella, and Gigi have neither confirmed or denied whether or not they'll be walking in the 2018 Victoria's Secret Fashion Show. It's still totally up in the air, despite them all being familiar faces. On the bright side, there will be a ton more familiar faces and even some new ones. Those walking include Adriana Lima, Candice Swanepoel, Jasmine Tookes, Behati Prinsloo, Barbara Palvin, Winnie Harlow, and like, a dozen more. Those we probs won't be seeing at the moment are Lily Aldridge (she's pregnant, so fine) and Alessandra Ambrosio (retired last year and they made a huge deal about it—GOD, do you even go here??).
Will There Be A Designer Collaboration?
Yaaas, betch. Like last year's Balmain capsule collaboration, the lingerie house will officially be collaborating with Mary Katrantzou for 2018. Not much is known about the collection, but the pieces will apparently be able to be worn as both undergarments and clothing. They're expected to be full of bold, lively colors and patterns probably a lot like this one. Either way, can't freakin' wait.
When Exactly Is The Fashion Show Expected To Premiere?
*Sigh.* No date or time has been announced yet, but definitely plan on keeping your calendars open from late November to early December to stick with when shows have run in the past.
Photo: Kris Atomic / Unsplash; Instagram
One Of The OG Victoria's Secret Angels May Be Hanging Up Her Wings
Okay, we might be a little too invested in the Victoria's Secret Angels. Just as we were coming to terms with the retirement of Alessandra Ambrosio, now it looks like another one of our favorite OG Angel might be preparing to hang up her wings: Adriana Lima.
Adriana has been an Angel since 1999, which means she's looked hot in lingerie since before you were even wearing a training bra. She's obviously done lots of sexy fashion shows and photo shoots in her career, but now it looks like her values are shifting. She posted on Instagram over the weekend: "I will not take of my clothes anymore for a empty cause…." and we have to say, the Victoria's Secret Fashion Show is about as empty as it gets.

Adriana's decision was brought about by concerns with body image and how other women struggle to accept their bodies, which might just be a sappy excuse to get out of doing squats, but we get it either way. She's refusing to embrace the idea that society only wants to see bodies like hers, and she says she wants to "fucking change the world." You go, girl.
She hasn't made any official announcements about leaving Victoria's Secret, but some internet detectives figured out that she's unfollowed the brand, most of the Angels, and Ed Razek, the senior creative director. So maybe she's just ghosting them for a bit until she makes up her mind, but her days of wearing the Fantasy Bra are probably over. RIP, it was fun while it lasted.
The Weird Foods The Victoria's Secret Models Eat Right Before The Fashion Show
As betches, we're always wondering WTF models and celebrities are eating. We probably need a new hobby, but honestly this one keeps us busy enough for now. The VS Fashion Show is in Shanghai this year, and we already have our Seamless orders ready to cuddle up with a bottle of Pinot Noir and watch Candice Swanepoel strut down the runway in lingerie that would realistically only be found in a gentleman's club in Downtown LA. Regardless, we've been doing some research on what the Angels like to eat leading up to the show. Or like, what their trainers are making them eat. Here's what we found.
Adriana Lima
It feels like Adriana's been in the VS lineup forever, so she's obviously doing something right. I mean, this woman is literally a MOM and has a better body than 99% of European models and 100% of all Americans. IDK if it's the Brazilian genes or the discipline to do boxing workouts six days a week, but she has her nutrition on point. Adriana swears by eating six meals a day and she's obsessed with buckwheat, a grain-like seed that's filled with protein and fiber. She literally eats it with milk and honey before bed, and says it helps her burn calories while she sleeps. BRB, currently ordering a 10 pound bag of buckwheat on Amazon.

Blanca Padilla
Blanca Padilla is coached by a famous NYC trainer Stephen Pasterino, and he controls her exact diet and workout schedule before the show. Her diet is all about eliminating foods that could cause bloating or inflammation, so she takes a shot of apple cider vinegar in the morning and then avoids any hard-to-digest foods like kale, broccoli, nut butters, and bananas. She's also not allowed to have any salt with her meals and can't have any packaged foods whatsoever. Sounds like hell.
Sara Sampaio
Sara claims she basically eats like a basic betch throughout the year, and then cuts down to healthy foods and a ton of exercise before the show. She basically lives off pizza, bread, and pasta, and then swaps the carbs for fish, fruit, chicken, and veggies before the show, while adding in a gym sesh 4-5 days a week. This diet honestly doesn't sound that bad, the issue is that I do not for one second believe she actually eats all those carbs when she's not in VS show mode.

Lais Ribeiro
Lais Ribeiro says she doesn't even change her diet that much around the time of the show. She eats a lot of protein all year to keep her muscles healthy, so she just makes sure to have protein every day leading up to the show. Aside from that, she just depends on whole foods and real ingredients. Ugh, boring.
Martha Hunt
Martha is also protein-obsessed, but her diet is more meat-heavy than you'd expect. Let's just say this girl isn't ordering a salad. Martha says she swears by meat, salmon, and eggs to fill her up, and she also loves almond butter to spread on basically anything. Martha is definitely one of the models who works out really hard, so the high-protein diet makes sense. Like, she trains at an NYC boxing gym called Dogpound on the reg. She's not exactly sipping on a green juice afterwards.

Bridget Malcolm
Bridget got snubbed from the VS show this year, but we're pretty fascinated by what she was eating when she thought she would be in the show. Like, let's just say she seems like a bit of an obsessive dieter. I mean, we're not judging or anything. We've tried every diet in the book, but we don't claim to live a balanced lifestyle or anything like that. Bridget is a vegan, and she also makes sure to wait at least 12 hours between breakfast and dinner. She follows some Japanese principle called "Hara hachi bu" which means you stop eating when you're 80 percent full. I have a headache just thinking about this diet, but if it works for her, you do you, Bridget. She sounds like the type of girl who takes her horoscope too seriously. Just saying.
Josephine Skriver
We should probably start by saying that Josephine claims she hates the word "diet" and loves to live a "healthy lifestyle." We're guessing she probably also shops on the Goop website and calls a whole wheat bagel a cheat meal. Regardless, Josephine sticks to protein, vegetables, and brown rice for her pre-show routine. She says her typical breakfast is scrambled eggs and brown rice, which seems pretty legit and respectable but also kind of disgusting. Eggs and rice? Sounds gross. But then again, she says she doesn't drink American milk because she only likes the milk from Denmark, so like, maybe she is a psycho. Also, who drinks milk?

Definitive Proof The Victoria's Secret Angels Are All Related
As I was finding corresponding gifs for the ranking of the Victoria's Secret Angels, I came to the stark realization that all these women look the fucking same. No, seriously. Looking back and forth between gifs of like, Alessandra Ambrosio and Izabel Goulart (who is not an official Angel this year, but is Alessandra Ambrosio's identical twin as I learned), I realized I could not pick these women out of a lineup of two. So I think it's only fair that I back up such a seemingly absurd statement with real evidence so you can all see what I mean. I'm convinced all the Angels came out of the same genetic pool, so I organized them by families into the very official and accurate Victoria's Secret Angel family tree.
Family #1: Team Tall, Dark & Handsome
I have a working theory that Adriana Lima and Alessandra Ambrosio had children, and those children are Sara Sampaio, Lily Aldridge, and Taylor Hill. Look at them. Sara has Adriana's black hair and blue eyes, and Taylor has Alessandra's hair, Adriana's eyes, and Adriana's nose. Sara's nose is kind of a mix between Alessandra's and Adriana's. Now, Lily is basically just Alessandra's direct doppelganger—she's just as tan, she has the exact same nose, she has dark eyes—but her hair is slightly darker, a gene she obviously got from Adriana.

Family #2: Team Blondes Have More Fun
Then you have Behati Prinsloo plus Elsa Hosk/Candice Swanepoel/Martha Hunt/Romee Strijd. That latter group of women are the same fucking person, and you cannot tell me otherwise. They all have blonde hair, big blue eyes, and noses so tiny they almost don't exist. They are interchangeable. They could be each other's stunt doubles in movies. One of them could walk down the VS Fashion Show runway four separate times, and I would not know the difference. Please note that Romee Strijd is not Martha Hunt's daughter, as the chart might imply; I just ran out of room and couldn't fit them all in one horizontal line. Anyway, these Angels all mixed up their genes in a test tube or some shit and came out with Josephine Skriver, who has Candice/Elsa/etc.'s face and Behati's hair. Then you've got Stella (who I would just like to note should have gone into porn because she has the best porn star name of all time), who kinda-sorta has Behati and Romee's face, with Candice et. al's hair and eye coloring. Boom.

Family #3: Team Not Actually A Family
Then we're left with Jasmine Tookes and Lais Ribiero, who don't resemble each other at all—or really any of the other Angels, for that matter—so I lumped them together by virtue of the fact that they actually look like individuals. Good job, ladies/Victoria's Secret. We got two. I didn't make a very informative infographic for it because, like I said, I don't think they're actually related in my conspiracy universe. But I tried. (They will put that on my tombstone.)

So that's it. My life's work. All I can do is pray that I never get mugged by a Victoria's Secret Angel, because I will be of no help to the police.
The Official Ranking Of The Victoria's Secret Angels
Head Pro will watch the VS Fashion Show this year, just like every year, because he's a sucker. Follow him as he makes mean jokes on Twitter at @betchesheadpro, and tell him how badly this list sucked at [email protected].
Perhaps more than anything, humans enjoy order. That's why, as surely as winter brings 2pm sunsets and misery, it also brings the Victoria's Secret Fashion Show: an institution that endures largely unchanged, persisting by only making slightly fewer alterations than Kim Kardashian's plastic surgeon. The models starve themselves. A safe, bland pop act performs. One of the models has an OMG SO CUTE "improvised" interaction with the musical act if she's fucking him. Someone stuffs their cans into a $2 million bra. The sun rises on another day.
But that's not enough! No, we demand even more order, especially when it comes to judging our fellow humans. That's why, beyond running the same hour-long porno flick for women (that's also porn for men), we're compelled to "rank" the models involved. "But Head Pro, didn't you do this last year?" you might be wondering. "Wait, that link just redirects to this page, this is the same URL, this is all a naked SEO grab, isn't it," a reasonable person might conclude. I don't have answers for that. I definitely voluntarily re-wrote my own list. I'm a Company Man, after all.
It's not especially cool to "rank" human women based on their "hotness" or "how nice their boobs look." I would never do that anyway because I respect women so much that you wouldn't have to ask me if I respect women, because I would come out and tell you I respect women before you even asked. Instead, I will rank them based on their biography responses on the VS website, from least amusing to most.
14. Jasmine Tookes
Victoria's Secret asked all of the Angels what spice they would be, and 90% of them said "cinnamon." That includes Jasmine, who had literally nothing interesting to say. Being pretty but boring is a shitty stereotype, but living up to it gets you on the bottom of the list.

13. Stella Maxwell
Most people pretty clearly identify as a morning or night person, but Stella? Oh, she's a midday person. Her profile is full of contrarian bullshit like that. Righty or lefty? "I'm actually ambidextrous." Pink or red? "I prefer blue, but I guess red if I have to choose." Unlike Jasmine, who is boring, Stella tries WAY too hard to seem cool and different.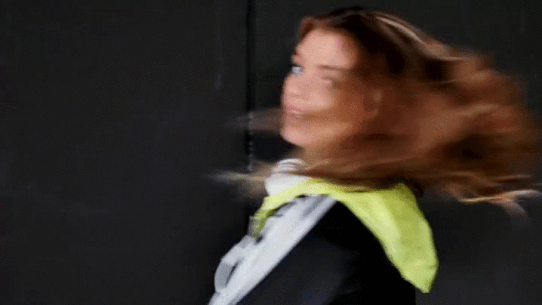 12. Lily Aldridge
Literally every model loves shooting in beautiful locations, but they all hate flying on planes. But really, that's the LEAST glamorous part of the job, not starving yourself or strutting around in your underwear in front of leering strangers? Get some fucking perspective, Lily.

11. Josephine Skriver
Josephine can't live without her phone, friends, family, sleep and food. Well, yeah. You'll die after not eating for about 30 days, and a lot sooner without sleep. Jeez, why do you always have to take things so literally, Josephine?

10. Taylor Hill
Taylor is extremely not here for this shit, and I appreciate it. The most glamorous part of working for Victoria's Secret? "Working for Victoria's Secret." She also wants to jump out of a helicopter with her snowboard, which is pretty fucking metal.

9. Candice Swanepoel
Oh sweet, sweet Candice—such an unrequited life. While most of the models wish they could see the Great Wall of China or some trivial shit, Candice casually drops that her greatest regret is that she hasn't started her "own shelter for abused animals or an environmental protection organization." Extremely same. Also like, you know you probably can start an animal shelter, right?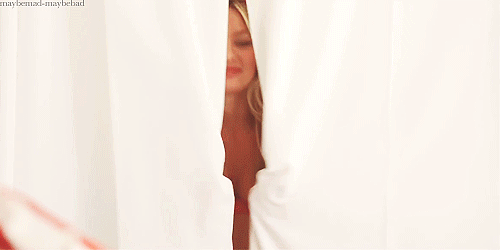 8. Romee Strijd
One thing Romee wishes she could do? Travel stateside with her family. Uhhh you might want to rethink that, girlfriend. I mean have you ever seen an episode of Cops? The U.S. is a trash fire that absolutely deserves everything we've brought upon ourselves.

7. Martha Hunt
Unlike Josephine, who sagely acknowledges that she can't live without the very essences of life, Martha is a little more… metaphorical. She can't live without her dog, purse, family, diamond earrings and favorite watch. She literally listed "dog" and "purse" ahead of family. The honesty is refreshing.

6. Sara Sampaio
Sara is a cool girl who's just like one of the guys. Wanna know how I know? Because she had pancakes for breakfast the morning of her interview, and in fact eats pancakes "all day every day." I call bullshit. She has never so much as smelled a pancake.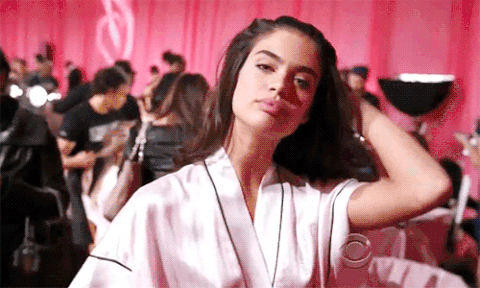 5. Adriana Lima
O.G. Adriana Lima is a simple gal. While other girls want to see the Northern Lights or start entire government agencies, all she wants to do is star in a Quentin Tarantino film. As long as she's down with having her toes sucked, I think that can happen.

4. Elsa Hosk
Does Elsa prefer chocolate or vanilla? "Neither." Goddammit, now I wanna know her deal! What's this woman's hangup with conventional ice cream flavors? Does she only eat sorbet? Is she lactose intolerant? There's nothing sexier in a woman than dessert intrigue, I always say.

3. Lais Ribeiro
What's one thing that Lais would like to accomplish? Literally nothing, because becoming a VS Angel was her only dream, and she's achieved that. Laugh all you want, but when was the last time you accomplished something with such laser focus, Mrs. I've-Been-Thinking-Of-Going-To-Law School-For-Almost-A-Decade?

2. Alessandra Ambrosio
Pink, or red? Lilac! WILDCARD, MOTHERFUCKERS!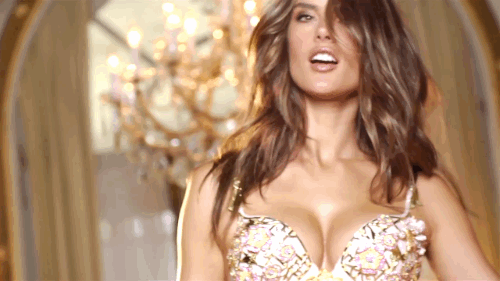 1. Behati Prinsloo
Hey did you know that African native Behati Prinsloo is from Africa, which is where Behati Prinsloo's from? Well, unlike most girls, who picked "cinnamon" as their spice, she grew up on an African seasoning called aromat, so that's what she would be. Because she's from Africa. Which, if true, why is she white?

Head Pro will watch the VS Fashion Show this year, just like every year, because he's a sucker. Follow him as he makes mean jokes on twitter at @betchesheadpro, and tell him how badly this list sucked at [email protected].
The Weird Things Beyoncé, Reese Witherspoon, & Other Celebrities Eat To Stay Skinny
I used to believe Us Weekly when they tried to convince me stars were "just like us." I mean, can you blame me? How can you look at a photo of Matthew McConaughey pushing a shopping cart and think otherwise? Needless to say, I was wrong, and I wasn't considering the fact that celebrities have homes on islands that can't be located on a map. Like, these people do cocaine to prepare for award shows and they've never swiped a debit card in their lives. They're extra. I recently enjoyed investigating/shit-talking strange things celebs do to stay healthy, and I've decided to dig even deeper into their bizarre diets. After doing some research, here are the diets worth talking about.
Something about the image of a 41-year-old woman waking up in her Santa Monica mansion and downing a jar of baby food for breakfast is just disturbing to me. In a world where you can literally hire a Michelin star chef to cook you gourmet healthy meals, you decide to crack open a jar of Gerber sweet potato mush meant for a 6-month-old. Honestly, I understand Reese is technically eating fruits and vegetables all day, but I really DGAF about how many nutrients are in these jars. You're an adult. Stop eating baby food and eat some food meant for grown-ups. Or like, just buy a Vitamix if you're that committed to eating blended produce.

We knew Megan Fox was a betch ever since she bitched out MK & Ashley in Holiday in The Sun, and her lifestyle choices since 2001 have only confirmed our convictions. Megan Fox has admitted that she literally hates dieting and exercising, so she basically eats whatever she wants and then goes on some extreme cleanse right before she has to look good for a movie. One psycho cleanse she loves is the vinegar diet, where she practically starves herself and takes shots of vinegar to flush water weight out of her body and cleanse her entire system, whatever that means. There's no way this shit was cleared by her doctor.
Before Bey and Jay started cooking vegan spaghetti for dinner, Bey was a crazy dieter, and she did this insane master cleanse diet back in the day to drop 20 pounds for Dreamgirls. Aside from liquid shakes and soups, Beyoncé literally only drank this cleanse drink, which is a mixture of water, lemon juice, maple syrup, and cayenne pepper. No solid food for 14 days. Personally, I'd die. Wouldn't everyone? I guess that's what differentiates the normal human from Queen B. Also like, her 50 Grammys and $350 billion net worth, but whatever.
It's not exactly breaking news that Victoria's Secret models starve themselves before the fashion show, but Adriana Lima's protein shake diet just confirms that fact, so please stop showing us videos of these girls boxing with a fake trainer in an XXS sports bra. Adriana admits that for a couple weeks leading up to the show, she cuts out all carbs and relies on protein shakes to survive. Oh, she also works out for two hours a day. I mean, I felt lightheaded just typing that. How is this girl still standing? Can we just hope she eats some bread after the show is over like Gigi claims to do? I'm concerned.
I used to wonder how Amanda Seyfried looked like she was glowing at all times, and I guess it's because she was eating raw celery everyday. Suddenly I'm not as jealous. A few years back, Amanda Seyfried ate an all-raw diet, which is exactly what it sounds like. She ate raw vegetables, nuts, and seeds. I seriously wouldn't even feed that shit to a bird. Like, she now admits that it was intense and awful, but seriously, what kind of results are worth that pain? I'm gagging just thinking about snacking on raw spinach. Can someone please pass me an Oreo before I vom?

Remember when you were little and your mom would yell at you for eating Play-Doh? It turns out this bullshit is now being encouraged as a "detoxification" method. Shailene Woodley straight-up eats clay, and she actually swears by it. Apparently clay helps build your immune system, balances your pH levels, and helps your body fight off diseases. I'm sorry, but don't Flintstones vitamins do the same thing?? This diet hack sounds like something your Pledge Master made you do and swear to never talk about again. This Hollywood alternative nutrition shit has officially gone too far.