3 Celebrity Diet Trends That Are Bad For You
We're all fascinated by celebrities. We study their every move: what they wear, what their skin care routine is, what they eat.
As dietitians, we know that nutrition can be overwhelming and it's easy to look to celebs for diet advice. After all, they look fabulous, and if it works for them, shouldn't it work for us? (Aside from the fact that they have a trainer, dietician, and probably an unlimited food budget, we mean.)
Unfortunately, celebrities can fall victim to diet culture just like the rest of us, and they usually aren't the best source for nutrition advice. Not to mention, they're working in an image-focused industry that prioritizes looks over health. So maybe, just maybe, we shouldn't take their diet advice after all. Need proof? Here are some trending celeb diets that may do more harm than good.
Adele's Sirtfoods Diet
First question: what are sirtuins? Silent information regulators, or SIRTs, are enzymes that regulate pathways in the body that may boost metabolism and reduce inflammation. The creators of the Sirtfood Diet claim that certain foods like blueberries, kale, and dark chocolate contain antioxidants that increase SIRT activity, thus helping you burn fat more effectively. Apparently, you can lose seven pounds in seven days by following the Sirtfood diet. 
Sound too good to be true? It is…
There is some evidence that SIRTs may benefit your metabolism, but the research on SIRTs is actually stronger when it comes to aging and longevity. More importantly, there is no research that specific foods activate the SIRT enzymes per se. Yes, some antioxidants in food stimulate SIRT activity, but it would take an exorbitant amount of those foods to make this happen—much more than you can reasonably eat in a day.
Another kicker: the first phase of the Sirtfoods diet requires a pretty extreme calorie restriction: 1,000 calories a day for three days, mostly coming from juices. No thanks.
RD verdict: Even if SIRTs help burn fat, we probably can't enhance their activity by eating normal portions of so-called "sirtfoods". Any weight loss you see on this diet is probably from limiting your calories and eating nutrient-dense foods. While the Sirtfoods diet is rich in healthy foods we love, it's basically a calorie restricted Mediterranean diet repackaged and sold with another name. Good thing the Mediterranean diet already exists, doesn't rely on intense calorie restriction, and has proven benefits.
The Kardashians' Flat Tummy Tea
The creators of Flat Tummy Tea claim that it "aids in the detoxifying and digestion process". This word "detox" is used a lot in diet culture, but what does it really mean?
Your kidneys, liver, and digestive systems metabolize and help eliminate harmful substances from your body, also known as detoxification. While some herbs may help to support these processes, your organs are pretty effective at doing them on their own, so you really don't need a tea to do what your organs were built to do.
Another important caveat: one of the main ingredients in this tea is senna leaf, a potent laxative that can actually alter your gastrointestinal motility and potentially do irreversible damage if used in the long term. Eek! That's not detox—that's diarrhea. Pass.
RD verdict: The best way to get a flat tummy, if that's one of your goals, is by eating a whole foods diet, limiting alcohol, controlling your blood sugar with regular, balanced meals, drinking lots of water, and eating foods that are rich in fiber and probiotics. While you're at it, add in 30 minutes of movement per day and voilà, a flat tummy—no harmful laxatives necessary. 
Beyoncé's Master Cleanse
The Master Cleanse, also called the Lemonade Diet, is a liquid-only diet consisting of four ingredients: water, lemons, maple syrup, and cayenne pepper. Proponents of the Master Cleanse (which also include celebs like Michelle Rodriguez and Demi Moore) claim that the specific combination of these ingredients helps detoxify the body and support weight loss. Spoiler: any diet that promotes you consume nothing but a lemonade mix for days on end is not going to be good for you, and if you need more convincing, check out this account from a brave soul who tried it.
RD verdict: While it might be true that short-term liquid fasting gives your digestive and detoxification systems a little break to work more efficiently in the future, a liquid diet usually leads to binge and overeating which taxes your detox systems even more! 
Yes, there's some evidence that spicy foods like cayenne pepper may slightly boost your metabolism, but any weight loss you see from doing this diet is likely from the severe calorie restriction from not eating. If you have enough willpower to drink this concoction, why not adopt a healthy diet and get more exercise? It's more effective and sustainable for long-term weight loss and supports overall health. 
The hard truth about celebrities is that they look fabulous because they have the money for chefs, personal trainers, and dietitians to help them eat and exercise for their personal and professional weight goals. They are not qualified to give nutrition advice, but if asked, most of them will tell you that the secret to feeling and looking great is not a fancy tea, but a healthy, balanced diet with regular exercise.
Vanessa Rissetto and Tamar Samuels are registered dietitians and co-founders of Culina Health, offering nutritional coaching and a science-based health and wellness education. Taking the complicated diets, numbers, and more out of nutrition, Vanessa and Tamar simplify healthy eating ideals and plans in order to stop stressing about food and start living life. Vanessa has over ten years of experience as a RD, and currently serves as the dietetic intern director at New York University. Tamar is a RD and National Board-Certified Health & Wellness Coach, with a unique and holistic approach that integrates functional medicine, positive psychology, and behavioral change techniques.
Images: Kathy Hutchins / Shutterstock.com
Adele And Her Husband Are Getting A Divorce
Grab your Airpods and your tissues, because we're soon going to have one of the best breakup albums of all time. I say that because news broke on Friday that Adele and her husband Simon Konecki have separated. Adele's representatives confirmed the news to the Associated Press.
"Adele and her partner have separated," the statement said. "They are committed to raising their son together lovingly. As always they ask for privacy. There will be no further comment."
First of all, big freaking ups to Adele for simply referring to Simon in the media as "her partner". That is serious BDE in action. He's the father of her child, and she didn't even refer to him by name! I stan.
Second of all, this statement is the publicist equivalent of saying we will never know what happened or why Adele and Simon separated. It makes sense, given that the couple has been very private about their relationship this entire time, but it sucks for me personally because I want to know the tea. Gosh, it's just so rude when celebrities end their relationships and don't personally tell me the reason why. So if you'll excuse me, I will be stalking Crazy Days and Nights for the next 48 hours.
Me, trying to think of theories behind Adele's divorce:

Adele and Simon were together since 2011, and Adele had their son Angelo in 2012. That's a pretty long time to be together in the celebrity-verse, even if they were only actually married for two years.
I'm sure that this is a tough time for Adele, and I am very sad for her and her son. However, I can't help but think that this timing is crazy given that Beyoncé just released the Homecoming documentary and visual album. And I can't help but wonder… if we are going to get a repeat of the 2017 Grammys in 2020.
Kidding! Adele, honey, you take all the time you need in penning a gorgeous and emotionally devastating divorce album. We'll be here patiently waiting.
Images: Shutterstock; Giphy
The 8 Most Dramatic Moments In Grammys History
The 60th Annual Grammy Awards are being presented this Sunday, and 60 years is like, a very long time. As much as we're excited to celebrate Ed Sheeran's engagement and listen to "Despacito" for the millionth time this year, we're more interested in the show's dramatic moments. Like, if there isn't at least one tragic stair fall and one mistaken award, we'll be disappointed. In honor of 60 years of sick music, we've decided to take a look back at the most dramatic moments in the history of the Grammys. I mean, we looked ALL the way back. Here's the lineup.
Adele lit the entire internet on fire by winning literally all of the awards last year, when a lot of people thought that Beyoncé deserved every award ever at least some of them. Whether she genuinely felt this way, already had too many Grammys at home, or like, feared Jay-Z pulling a less comical Kanye impression, she basically went full Cady Heron at Spring Fling and dedicated her whole career to Queen Bey. She didn't mention Emma Gerber's hairdo at all, which is either really nice or really mean depending on how you think about it.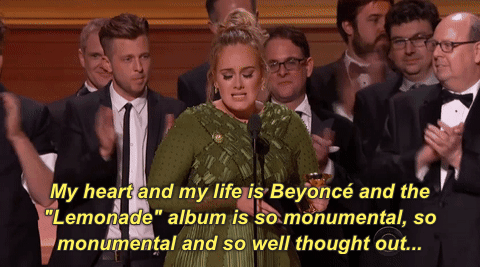 7. When Lady Gaga Showed Up In An Egg
Lady Gaga was literally carried down the red carpet in an egg in 2011, and we're still confused about it. She got out of the egg during her performance of "Born This Way" and it became *kinda* clear that it was a statement about her individuality, or something. When she was asked about it on Jay Leno, she said she spent three days before the show inside the egg. I mean, are you kidding me? Sounds like something your pledge master made you do during rush and never spoke about again. Hard pass.

6. When Jennifer Hudson Made A Surprise Appearance
It was a major dramatic moment when Jennifer Hudson showed up to the Grammys in 2009. She had just gone through a tough time in her family when she lost her mother and brother in the same year, so nobody expected her to show. She ended up doing a v emotional performance of "You Pulled Me Through" and got a major standing ovation at the end of the song. She also won the award for R&B album of the year, so it was a pretty dramatic night overall.

5. When Justin Timberlake Apologized for Nipplegate
In case you're unaware of what went down at the 2004 Super Bowl, we'll give you a little history lesson. JT was performing with Janet Jackson, and she had a major nip slip at the end of the performance. Everyone in the world saw her (covered) nipple, and although she said it was a wardrobe malfunction, both of the singers got a ton of hate from the media because they thought they planned it (which they totally did). When Justin was at the Grammy's a week later, he apologized for offending anyone by showing Janet Jackson's nipple. Fast forward to today and he's performing at the Super Bowl again, so I guess everyone's forgiven him? Still no ETA on Janet's forgiveness though.

4. When ODB Kanye-d Shawn Colvin's Acceptance Speech
Way before the Kanye/Taylor fiasco at the MTV Video Music Awards, something similar happened at the Grammys in 1998. Shawn Colvin had just won the Song of the Year award, and while she was giving her speech, Ol' Dirty Bastard from the Wu-Tang Clan literally jumped on the stage and rudely interrupted. They weren't even nominated in the same category, so no one really knew his motives. Can we assume he was high af? Yes, that's probably always a safe bet when the Wu-Tang Clan is involved.
3. When Bob Dylan's Backup Dancer Ruined Everything
Bob Dylan was mid-performance at the 1998 Grammys when one of his backup dancers ruined his live version of "Love Sick" by ripping off his shirt, displaying the words "Soy Bomb" written across his chest. He literally stood next to Bob Dylan, which is basically a cardinal sin, and danced around until security escorted him off the stage. Bob Dylan was pretty unfazed (which is super chill of him), but everyone else literally hated this guy.

2. When Milli Vanilli Got Caught For Lip- Synching
Does anyone know who Milli Vanilli are? Apparently they were a huge duo back in the day and they performed during the 1990 Grammys before winning Best New Artist. Eight months later it came out that their performance was lip-synched and they didn't even sing on their album that won the award. Their Grammy got taken away and no one cared about them ever again. Why don't teachers include this story in the cheating section of the syllabus?

1. When Will Smith Boycotted On TV
So apparently in 1989 the award for Best Rap Performance wasn't televised because it wasn't considered television material (i.e., they were racist af). Will Smith was nominated and was obv upset about it, so he skipped the Grammys and instead went on Entertainment Tonight to boycott the show. The best part is that he won the award anyway. Looks like staying at home was a good call. Just something to think about the next time you feel bad about bailing on plans.
If You Didn't See Adele On Tour, You've Missed Your Chance Forever
If crying in an arena with thousands of other people is your thing, you might have missed your prime opportunity. Adele is finishing up her world tour in London this week, and she says she might never go on tour again. That's right, you might never get another chance pay $75 to sit in traffic and scream the words to "Rolling in the Deep" at your local NBA arena.
If we're being honest, this isn't that much of a surprise. Adele has always been a homebody, and she's not a complete fame whore like Katy Perry. She also has stage fright issues, like when she had to start her song over at the Grammys this year. Her current tour has been a long haul, with 123 shows over 15 months. We're tired just thinking about it.
She's finishing her tour with four sold-out shows in London, and the special tour program book has a handwritten note from the queen herself. She says that touring "doesn't suit me particularly well," and that she only does it for the fans. She then drops the real truth bomb: "I wanted my final shows to be in London because I don't know if I'll ever tour again and so I want my last time to be at home."
Brb while we eat an entire tub of ice cream and listen to "Someone Like You" on repeat, we promise we're okay. Now we feel pretty fucking stupid for not going to her concerts when we had the chance, but we can always hope that Adele will get bored or need the money and change her mind.
Are Crystals Betchy? An Investigation
Crystals have been around for a while, but getting crystals at witchy stores like Spellbound Sky and House of Intuition are becoming as basic as adopting a rescue dog. At least the rescue dog will get you more Instagram likes. But let's take a look at why TF everyone is so into crystals and whether they're betchy or not.
Plenty of betchy celebrities are into crystals including Adele, Victoria Beckham, Katy Perry (ehh), and Miranda Kerr. I mean, if we were winning dozens of Grammys we'd probably be cool saying rocks contain magic too. Maybe Bey would have gotten the credit she deserved if only she had washed her aventurine with the salt water tears of her enemies. But at the same time, Spencer Pratt and Anne Hathaway also swear by crystals. So like, it's kind of a zero sum game.

We used to think crystals were for the goth freaks who hung out in the back building and had way too many facial piercings for a 14-year-old, but if you live in LA then you've been to Cafe Gratitude and know that good vibes are like currency here. And now I will go shoot myself for writing the most obnoxious sentence of all time. Anyway, Cafe Gratitude is like a haute couture version of Whole Foods. For one thing, crystals are expensive, which makes them inherently betchy. I mean, you can drive to Joshua Tree and literally pick up a rock for free, but if you want to buy a smaller version of that rock on a silver chain from a "healer", it'll cost you $50. And you can't just buy one crystal, so you end up spending hundreds just to line up your chakras to the moon or whatever.
There are crystals for everything from career to love to blocking negative energy. That kind of just sounds like drugs, TBH. Or drinking. Some of us drink when we're "feeling off" and some of us buy little rocks and put them in their bras for good luck. And then some of us buy crystals. Usually the types of girls who care too much about expensive rocks are the kind who are super thirsty to get married, and that's not very betchy. Though we're sure there's some connection with girls that like crystals. They def care more about their engagement ring than the man who gave it to them. I mean, both are expensive rocks that mean something to some people and mean literally nothing to everyone else. But believing in magic because the world is going well for you means you're probably living a #blessed life and that is kind of betchy too.
Because let's be real. If you believe in crystals, chances are shit was going great for you anyway. There's a reason you never see anyone working at McDonald's wearing quartz or opal. Wearing pretty jewelry to protect your soul from bad spirits is basically a plot out of a Disney princess story, and there's nothing betchier than needing to be protected because you're a princess.

On the other hand, we've learned from dating shady bros that you never want to get too into something. Caring too much is never betchy, and girls who get too into crystals are like, embarrassing. If you're washing your crystals under every full moon and laying them out at every first Tinder date you go on, you're like trying way too hard. Or you're probably ugly or fat. Either way, it's not a good look.
So in conclusion, we can get on board with a few mindful meditations that revolve around shiny stones, but only until we get bored and move on to the next expensive trend we don't need. Basically, you can get into crystals and still be betchy the way a hot girl can be crazy and still be hot. Like, it's definitely not a part of your character anyone likes, but they'll put up with it because you're hot.
And None For Metallica, Bye: The Best & Worst Grammys Moments
Another year, another nine nominations for Beyoncé. This year's Grammys show touched on everything we expected it to: the subtle Trump jokes, the Adele vs. Beyoncé debate, and America's attempt to think of what else James Corden does aside from Carpool Karaoke. In case you missed the biggest night in music (and the one time a year rappers decide to bring out their religious sides), we've recapped the night's epic moments and the tragically bad ones. Here's the lineup:
The Best
1. Beyoncé Giving No Fucks By Not Memorizing A Speech

Bey's whole Multi-Cultural / Spiritual/ The Last Supper/ Mother's Day Came Early themed performance was a bit confusing and very overwhelming, but we can't judge the queen. She literally read her acceptance speech off of a golden pamphlet and gave no fucks that you're supposed to memorize a speech. Do you think Queen Bey has time to run lines before the show?
2. The Fake Tweets Line

James Corden had a pretty minimal amount of solid jokes throughout the night, but we have to admit we were a fan of his "fake tweets" line when he started getting hate tweets from randos. We're usually not that amused by all the political undertones in every punchline, but this one was subtle enough to be clever.
3. Chance The Rapper Winning Everything

TBH we weren't that into Chance's whole "in the name of the Lord" theme going on with his acceptance speeches, but we're pretty happy about his triple win. Aside from the fact that "No Problem" is literally the pregame song of 2017, we were ready for a break from Drake and Rihanna winning every rap and hip hop award. We approve of Chance being artist of the year.
4. Carrie Underwood's Dress

We honestly weren't blown away by many of the fashion choices this year, but Carrie Underwood looked unreal in her hot red Elie Madi gown. We're obsessed with the edgy cutout and bold color, and her makeup and new highlights looked unreal on top of it all. Her performance was alright too.
5. Bruno's Performance

We've gone back and forth on our opinion on Bruno Mars. I mean, on one hand, I could throw my phone out of the car every time "Uptown Funk You Up" comes on the radio, but on the other hand, his songs are ideal for those blurry Ubers on the way to the club when you're still convinced you're in for a good night. We were hoping for "24K Magic," but his "That's What I Like" performance actually made us forget for a quick second that he's literally 5'3″.
The Worst:
1. Twenty One Pilots Dropping Their Pants

I just wish I were in the room to shut down that idea the second one of them said, "If we ever win a Grammy, we should receive it just like this." Like, Twenty One Pilots creeped me out already before this situation, so the second they dropped their pants, it just confirmed the creepiness. I mean, I get that their lesson was some "anyone can do this" bullshit, but did we need to see your scrawny hairy legs to get the message?
2. No One Knowing The "Sweet Caroline" Lyrics

That Carpool Karaoke joke actually had potential considering it literally is the one funny thing James Corden does. Why couldn't anyone sing "Sweet Caroline"? I mean, I get that it's an old song, but ask any kid at a bar mitzvah and they could belt that shit out from memory, so why couldn't a bunch of professional singers do it??
3. Adele's Tribute Fuck-Up

Adele, you're the queen and you're dramatic as fuck, but did you really need to restart the whole song that no one wanted to listen to in the first place? I guess it's kinda respectable that you wanted to get the performance perfect in George Michael's memory, but like, next time just sing better the first time around. We've seen you do it before.
4. James Corden's Parents Bit

We're not gonna deny that James Corden had some funny lines throughout the show, but the whole "parents cheating on each other" bit was cringeworthy AF. It was bad enough to see Heidi Klum on your dad's lap. We didn't need to suffer through your mom's bad acting skills with Nick Jonas. This idea probably sounded better on paper.
5. Metallica's Mic Fiasco

Lady Gaga obviously killed it at the Super Bowl last week, so it didn't really bother us that she sang with Metallica, but once James Hetfield's mic was clearly broken, we just wished she was up their solo. We're not into heavy metal or anything, but we felt kinda bad for him watching him desperately try to share Gaga's mic. I mean, it's just sad that Adele got her do-over but he didn't. Moral of the story? Sucks to be anyone that's not Adele. 
A Full List Of All The Grammy Winners
The Grammys were last night, and by now you probably know all the basics of what went down: Beyoncé got robbed (again), Chance The Rapper emerged from a cloud of joy to win a solid amount of awards, Adele dropped an F-bomb, etc. But if you're curious who won all the other, less publicized awards, look no further. Here are all the Grammy 2017 winners—bet you never knew there was a Grammys category for "Best Improvised Jazz Solo." The more you know.
Be sure to check out our Grammys recap here.
Album Of The Year
Adele, 25
Song Of The Year
Adele, "Hello"
Best Rap Album
Chance The Rapper, Coloring Book
Best Urban Contemporary Album
Beyoncé, Lemonade
Best Country Solo Performance
Maren Morris, "My Church"
Best Rock Song
David Bowie, "Blackstar"
Best Pop Duo/Group Performance
Twenty One Pilots, "Stressed Out"
Best New Artist
Chance The Rapper
Producer of the Year, Non-Classical
Greg Kurstin
Best Pop Vocal Album
Adele, 25
Best Traditional Pop Vocal Album
Willie Nelson, Summertime: Willie Nelson Sings Gershwin
Best Pop Solo Performance
Adele, "Hello"
Best Musical Theater Album
The Color Purple
Best Compilation Soundtrack For Visual Media
Miles Ahead (Miles Davis and various artists)
Best Metal Performance
Megadeth, "Dystopia"
Best Rap Song
Drake, "Hotline Bling"
Best Rap/Sung Performance
Drake, "Hotline Bling"
Best Rap Performance
Chance the Rapper, "No Problem"
Best R&B Album
​Lalah Hathaway – Lalah Hathaway Live
Best Comedy Album
Patton Oswalt, Talking for Clapping
Best Reggae Album
Ziggy Marley, Ziggy Marley
Best Regional Roots Music Album
Kalani Pe'a, E Walea
Best Folk Album
Sarah Jarosz, Undercurrent
Best Contemporary Blues Album
Fantastic Negrito, The Last Days of Oakland
Best Traditional Blues Album
Bobby Rush, Porcupine Meat
Best Bluegrass Album
O'Connor Band With Mark O'Connor, Coming Home
Best Americana Album
William Bell, This Is Where I Live
Best American Roots Song
​Vince Gill, songwriter (The Time Jumpers), "Kid Sister"
Best American Roots Performance
Sarah Jarosz, "House of Mercy"
Best Tropical Latin Album
Jose Lugo & Guasábara Combo, Donde Están?
Best Regional Mexican Music Album
Vicente Fernández – Un Azteca En El Azteca, Vol. 1 (En Vivo)
Best Latin Rock, Urban or Alternative Album
iLe, iLevitable
Best Latin Pop Album
Jesse & Joy, Un Besito Mas
Best Country Album
​Sturgill Simpson, A Sailor's Guide to Earth
Best Country Song
Lori McKenna, songwriter (Tim McGraw) – "Humble and Kind"
Best Country Duo/Group Performance
​Pentatonix – "Jolene"
Best Roots Gospel Album
Joey+Rory – Hymns
Best Latin Jazz Album
Chucho Valdés, Tribute to Irakere: Live in Marciac
Best Large Jazz Ensemble Album
Ted Nash Big Band, Presidential Suite: Eight Variations on Freedom
Best Jazz Instrumental Album
John Scofield, Country for Old Men
Best Jazz Vocal Album
Gregory Porter, Take Me to the Alley
Best Improvised Jazz Solo
John Scofield, soloist,  "I'm So Lonesome I Could Cry"
Contemporary Instrumental
Snarky Puppy, Culcha Vulcha
Best Dance Recording
The Chainsmokers, "Don't Let Me Down"
Best Classical Solo Vocal Album
Dorothea Röschmann; Mitsuko Uchida, accompanist – Schmann & Berg (tie)
Ian Bostridge; Antonio Pappano, accompanist (Michael Collins, Elizabeth Kenny, Lawrence Power & Adam Walker), Shakespeare Songs (tie)
Best Classical Compendium
Giancarlo Guerrero, conductor; Tim Handley, producer – Daugherty: Tales Of Hemingway; American Gothic; Once Upon A Castle
Best Classical Instrumental Solo
Zuill Bailey; Giancarlo Guerrero, conductor (Nashville Symphony) – Daugherty: Tales Of Hemingway
Best Chamber Music/Small Ensemble Performance
Steve Reich
Best Choral Performance
​Krzysztof Penderecki, conductor; Henryk Wojnarowski, choir director (Nikolay Didenko, Agnieszka Rehlis & Johanna Rusanen; Warsaw Philharmonic Orchestra; Warsaw Philharmonic Choir) – Penderecki Conducts Penderecki, Volume 1
Best Opera Recording
James Conlon, conductor; Joshua Guerrero, Christopher Maltman, Lucas Meachem, Patricia Racette, Lucy Schaufer & Guanqun Yu; Blanton Alspaugh, producer (LA Opera Orchestra; LA Opera Chorus) – Corigliano: The Ghosts Of Versailles
Best Orchestra Performance
Andris Nelsons, conductor (Boston Symphony Orchestra) – Shostakovich: Under Stalin's Shadow – Symphonies Nos. 5, 8 & 9
Producer of the Year, Classical
David Frost
Best Engineered Album, Classical
Mark Donahue and Fred Vogler, Corigliano: The Ghosts of Versailles
Best Music Film
The Beatles, The Beatles: Eight Days a Week the Touring Years
Best Spoken Word Album
Carol Burnett, In Such Good Company: Eleven Years of Laughter, Mayhem, and Fun in the Sandbox
Best Children's Album
Secret Agent 23 Skidoo, Infinity Plus One
Best World Music Album
Yo-Yo Ma & the Silk Road Ensemble, Sing Me Home
Best Contemporary Christian Music Album
Hillary Scott & the Scott Family, Love Remains
Best Gospel Album
Kirk Franklin, Losing My Religion
Best Contemporary Christian Music Performance/Song
Hillary Scott & the Scott Family; Bernie Herms, Hillary Scott & Emily Weisband, songwriters – "Thy Will"
Best Gospel Performance/Song
​Tamela Mann; Kirk Franklin, songwriter – "God Provides"
Best New Age Album
White Sun – White Sun II
Best Surround Sound Album
​Ludovic Morlot & Seattle Symphony, Dutilleux: Sur Le Même Accord; Les Citations; Mystère De L'instant & Timbres, Espace, Mouvement
Best Remixed Recording
André Allen Anjos, remixer (Bob Moses), "Tearing Me Up (RAC Remix)"
Best Historical Album
Steve Berkowitz & Jeff Rosen, compilation producers; Mark Wilder, mastering engineer (Bob Dylan) – The Cutting Edge 1965-1966: The Bootleg Series, Vol. 12 (Collector's Edition)
Best Album Notes
Ken Bloom & Richard Carlin, album notes writers (Eubie Blake & Noble Sissle) – Sissle and Blake Sing Shuffle Alon
Best Boxed or Special Limited Edition Package
Gérard Lo Monaco, art director (Edith Piaf) – Edith Piaf 1915-2015
Best Recording Package
Jonathan Barnbrook, art director (David Bowie), Blackstar
Best Arrangement, Instruments and Vocals
Jacob Collier, arranger (Jacob Collier), "Flintstones"
Best Arrangement, Instrumental or A Cappella
Jacob Collier, arranger (Jacob Collier), "You and I"
Best Instrumental Composition
Ted Nash, composer (Ted Nash Big Band), "Spoken at Midnight"
Best Song Written for Visual Media
Max Martin, Shellback & Justin Timberlake, songwriters (Justin Timberlake, Anna Kendrick, Gwen Stefani, James Corden, Zooey Deschanel, Walt Dohrn, Ron Funches, Caroline Hjelt, Aino Jawo, Christopher Mintz-Plasse & Kunal Nayyar), Track from: Trolls, "Can't Stop the Feeling!"
Best Score Soundtrack for Visual Media
John Williams, composer, Star Wars: the Force Awakens
Best Engineered Album, Non-Classical
David Bowie, Blackstar
Best Gospel Performance/Song
​Tamela Mann, Kirk Franklin, "God Provides"
Best Gospel Album
Kirk Franklin, Losing My Religion
Best Music Video
​Beyoncé, "Formation"
Best Dance/Electronic Album
Flume, Skin
Best Country Album
​Sturgill Simpson, A Sailor's Guide To Earth
Best R&B Performance
​Solange, "Cranes In The Sky"
Best R&B Song
Maxwell, "Lake By The Ocean"
We Just Have A Lot Of Feelings About Beyoncé Losing To Adele
Before the Grammys even happened on Sunday, most people had done the math and realized the main storyline would be Beyoncé vs. Adele. They were both up for all the big awards, and they're obviously both huge fucking stars and queens and magical unicorn women.
Both of their performances ended up as some of the most talked about, but for different reasons. While singing a tribute to George Michael, Adele had to stop the song and start over because she was out of tune. She said "fuck," which we kind of love, but also like, get your shit together. You had one job. Whatever. Beyoncé, on the other hand, made news because she literally looked like some kind of pregnant alien goddess while performing a medley of songs from Lemonade, causing viewers everywhere to wonder for the umpteenth time whether she is, in fact, human.

Both of them won smaller awards in individual genre categories, so neither was going home empty-handed, but Beyoncé came up short at the end of the show when Adele won Album of the Year. Knowing the Beyhive would annihilate her if she did literally anything else but dedicate the award to Beyoncé, she used both acceptance speeches to talk about how amazing Bey is. Adele was crying. Bey was crying. We weren't crying, you were crying!

Obviously Beyoncé deserved to win. This is not an opinion. This is not a bias. This is an indisputable, non-alternative fact.
Years from now, there will be a few moments that will stand out in history—moments you'll always remember precisely where you were and what you were doing when they happened. When Michael Jackson died. When Barack Obama won the presidential election. When Beyoncé released Lemonade.
Not content to shock us all with a surprise album, Beyoncé came out of the woodwork and did what no one other artist has ever accomplished: an hour-long visual experience that celebrated and empowered black women, forcing us to acknowledge for the first time that Beyoncé is, in fact, a black woman.
In addition to offering racial commentary and opening up about her struggles following Jay Z's (reported) infidelity, Beyoncé used Lemonade to pose important questions to the world: What's worse, being jealous or crazy? Who is Becky with the good hair?
In a situation where most would have shut down and shied away from the public, Beyoncé aired it all out for the world to see. It was healing, rather than vindictive. She did it all while bringing black culture to the forefront of pop culture, exposing it to people who would have otherwise pretended it didn't exist, only to try to take credit for it a few years down the line. She did all that, and then gave us an hour of startlingly beautiful visuals—and many Halloween costume ideas—on top of it.

The irony of Beyoncé losing to a white woman was not lost on anyone in the audience last night. After last year's #OscarsSoWhite fiasco and the current racial climate in general, you would hope that the Grammys could have been one of the first award shows to get their shit together and serve as an example for the rest of the industry of what a truly unbiased event could be. But once again, a woman of color was shoved into the background when she deserved to shine. And when that woman is Beyoncé, we will not take that lying down. Nobody puts Bey in a corner, not even the Grammys.
                                                       
It goes without saying that Adele is wildly talented. None of this is a slight on her or 25, an amazing album in its own right and absolute shoe-in any other year. But everyone in attendance knew Beyoncé should have won that award. Beyoncé knew that Beyoncé should have won. Becky, whoever she is, knew that Beyoncé should have won.
In a moment that easily could have made or broken her career, Adele used her acceptance speech to go full Cady Heron and essentially give her spring fling crown Grammy to Beyoncé.
You know what they say: when life hands you lemons, make Lemonade and then watch as it gets absolutely snubbed by the Recording Academy. Our thoughts about the entire debacle can be summed up, once again, by Adele.
To Beyoncé, to Adele, and to all the strong women in the music industry and life in general who put up with more shit than they should ever have to:

But no matter who you are, no matter who you wanted to win, just remember that nothing can ever be worse than Taylor Swift winning for 1989 last year.