Go back
Morning Announcements
Morning Announcements is a daily show brought to you by the Betches Sup, here to help you make sense of the world in the wake of 2020's chaos. Every morning, Betches co-founder and host Sami Sage gives you quick daily updates with the most important info you need to know about politics and current events.
View Promo Codes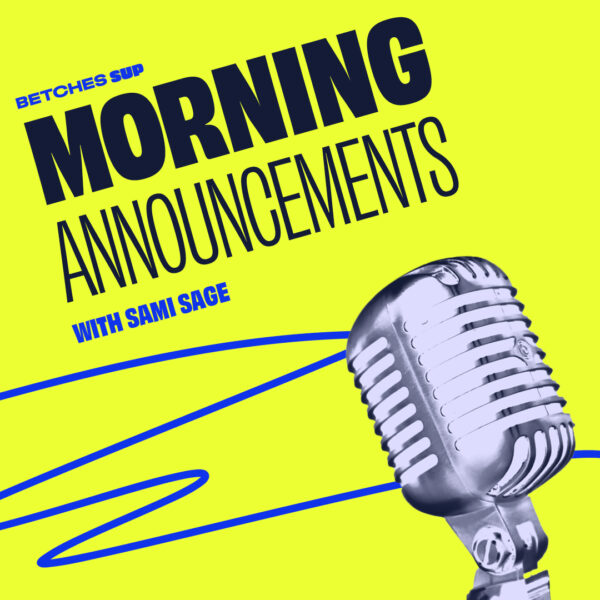 Latest Episodes
Our Hosts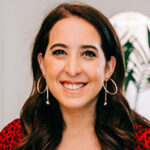 Sami Sage
Sami Sage is a cofounder and Chief Creative Officer at Betches. She's the host of the @ Betches, Betches Sup and Morning Announcements podcasts and in her spare time likes to scroll on her phone and stare at her dogs, Bruce Bader Ginsburg and Larry David.
Where to Start
Monday, August 29th, 2022
Today's headlines: a redacted version of the affidavit that provided evidence for the FBI search was released in the Trump Mar-a-Lago case. The affidavit also revealed that the original 15 boxes of documents that Trump returned to the National Archives contained classified documents casually mixed in with magazines and contain Trump's handwritten notes in the margins. The CIA has admitted to losing dozens of informants, having been captured, killed or compromised, while a Saudi Crown Prince has stated that Jared Kushner was "In his pocket." A Florida judge has issued her response to Trump's motion to appoint a "special master" to review the FBI's search, while Truth Social is in financial trouble. An appeals court in Arkansas ruled against the state's ban on gender affirming medical care for transgender minors, and a Missouri school district has adopted a policy that will allow parents to opt in to their children receiving paddling as a form of punishment. Finally, extreme flash flooding in Pakistan has led to deaths of over at least a thousand people, and California's Air Resources Board has unanimously passed a rule banning the sale of new gasoline-powered vehicles starting in 2035. Resources/Articles mentioned this episode: VOX: Reading between the lines of the Mar-a-Lago affidavit Washington Post: Mar-a-Lago affidavit says many witnesses interviewed, 184 classified files returned in January NY Times: Captured, Killed or Compromised: C.I.A. Admits to Losing Dozens of Informants NY Times: Classified Material on Human Intelligence Sources Helped Trigger Alarm Intercept: SAUDI CROWN PRINCE BOASTED THAT JARED KUSHNER WAS "IN HIS POCKET" CBS: Judge states her "preliminary intent" to appoint special master requested by Trump, but schedules hearing Axios: Appeals court: Arkansas can't ban trans youth transition treatment CNN: Missouri school district adopts opt-in corporal punishment policy BBC: Pakistan floods: Sindh province awaits more deluges and devastation CNBC: California bans the sale of new gas-powered cars by 2035
Friday, August 26th, 2022
Today's headlines: A lesser known republican mega donor named Barre Seid stealthily made one of the largest political contributions ever last year — donating 1.6 billion dollars worth of shares of his company. Texas attorney general Ken Paxton issued a legal opinion last week that could potentially lead to mass chaos in November's election, including exposing election officials to potential criminal charges and threatening ballot security. Biden has announced Kim Cheatle as the new head of the Secret Service, while his administration has also moved to formalize DACA and shield it from legal challenges. A federal judge in Idaho blocked part of the state's abortion ban, and an English teacher in Oklahoma has resigned after being placed on leave for informing her class that the Brooklyn public library has access to free e-books online, as well as QR code to find them. Finally for this week, The school board in Uvalde Texas unanimously voted to fire school district police chief Pete Arredondo, and Harvey Weinstein has been granted an appeal in his convictions of third degree rape and two counts of predatory assault in New York. Resources/Articles mentioned this episode: NY Times: An Unusual $1.6 Billion Donation Bolsters Conservatives Texas Tribune: Paxton legal opinion giving public immediate access to ballots jeopardizes election security and invites lawsuits, experts say Politico: Biden announces new head of Secret Service CBS: Biden administration moves to formalize DACA and shield it from legal challenges FOX 25: NPS teacher resigns from district after sharing QR code for library access with classroom ABC: Uvalde school board unanimously approves Police Chief Pete Arredondo's termination NBC: More than two years after his rape conviction, Harvey Weinstein is granted an appeal
Thursday, August 25th, 2022
Today's headlines: Val Demings won the democratic senate primary in Florida, while Matt Gaetz, who despite being investigated for sex trafficking, was victorious in his primary to run again for his Republican House seat. Pat Ryan has won a special congressional election for a seat in the Hudson Valley, while Jerry Nadler and Dan Goldman have won in the Upper East/West side district and the Brooklyn district. Yesterday President Biden announced that the federal government will cancel 10 thousand dollars in federal student debt for individuals who are making 125 thousand dollars or less in income. The Jan. 6 panel investigators have traveled to Copenhagen to view footage of Roger Stone's pardening, and the IRS has announced that they're launching a full security review of their facilities nationwide. Finally, Dinosaur tracks from 113 million years ago were uncovered due to severe drought conditions at Dinosaur Valley State Park. Resources/Articles mentioned this episode: PK Journal: Pat Ryan defeats Marc Molinaro in 19th Congressional special election NY Times: Five Takeaways From Tuesday's Election AP News: Student loan forgiveness could help more than 40 million Politico: Jan. 6 panel investigators traveled to Copenhagen to view Stone footage Washington Post: IRS launches safety review after right-wing threats CNN: Dinosaur tracks from 113 million years ago uncovered due to severe drought conditions at Dinosaur Valley State Park
Our Reviews
Best way to start my day!
I listen to this podcast first thing every morning and love it! It's the perfect thing to start my day with and it gives a great rundown of the news without being overly dense or hard to follow.
Easy breezy and smart
I love getting a quick hit of news each day. Sami is smart speedy and informative. So glad I can become more informed without listening to news all day.
Instantly part of my routine
Love the quick headlines, witty commentary, and upbeat music. I'm a fan of all things Betches and this latest pod really delivers. It's the perfect companion to the Sup.