Go back
Morning Announcements
Morning Announcements is a daily show brought to you by the Betches Sup, here to help you make sense of the world in the wake of 2020's chaos. Every morning, Betches co-founder and host Sami Sage gives you quick daily updates with the most important info you need to know about politics and current events.
View Promo Codes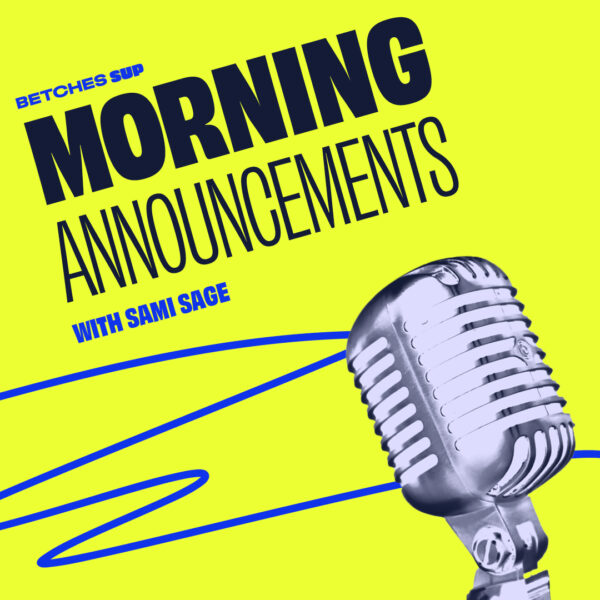 Latest Episodes
Our Hosts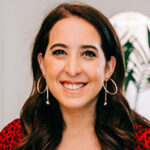 Sami Sage
Sami Sage is a cofounder and Chief Creative Officer at Betches. She's the host of the @Betches, Betches Sup, Morning Announcements, and Diet Starts Tomorrow podcasts and in her spare time likes to scroll on her phone and stare at her dogs, Bruce Bader Ginsburg and Larry David.
Where to Start
Monday, October 25th, 2021
Last week, Alec Baldwin fired a gun on the set of the movie Rust, accidentally killing cinematographer Halyna Hutchins and wounding the director Joel Souza. Next, we have an update on if we're ever getting any sort of deal on an infrastructure spending bill. We share a shady story about Johnson & Johnson, before closing with a weather report and an announcement from the White House. Resources/Articles mentioned in this episode: LA Times: "Everything we know so far about the fatal shooting of Halyna Hutchins on the 'Rust' set" CNN: "Crew member yelled 'cold gun' as he handed Alec Baldwin prop weapon, court document shows" NPR: "The fatal shooting of Halyna Hutchins is prompting calls to ban real guns from sets" AP News: "Biden, Manchin and Schumer huddle, but still no budget deal" Axios: "Pelosi expects "billionaire's tax" to pay for Biden social spending" Bloomberg: "J&J Loses a Round in Bankruptcy Spat Over Baby Powder Suits" NPR: "Powerful storm brings heavy rain, flooding and mud flows to Northern California" NPR: "White House delays the release of secret JFK assassination records, citing COVID-19"
Tuesday, October 26th, 2021
Let's start with yesterday's military coup in Sudan. Next, we have to talk about Facebook and Tesla. Lastly, we have today's edition of Democracy Watch (and this is a big one, everyone). Resources/Articles mentioned in this episode: NY Times: "Sudan's Military Seizes Power and Fires on Protesters: News Updates" AP News: "US condemns Sudan coup, suspends $700 million in aid" NPR: "The Facebook Papers: What you need to know about the trove of insider documents" AP News: "Facebook profits rise amid revelations from leaked documents" NY Times: "Tesla shares surpass $1 trillion in value" Rolling Stone: "Jan. 6 Protest Organizers Say They Participated in 'Dozens' of Planning Meetings With Members of Congress and White House Staff"
Friday, October 22nd, 2021
The House of Representatives voted to recommend prosecution under contempt charges to the Department of Justice for Steve Bannon. Yesterday in NYC, Mayor Bill DeBlasio announced that the city will require all police officers, firefighters, and other municipal workers to get COVID vaccines. Meanwhile, Paris Hilton met with members of Congress yesterday to discuss federal reforms of residential treatment centers for troubled teens. And lastly, the human remains that were found yesterday in Florida have turned out to be those of Brian Laundrie. Resources/Articles mentioned in this episode: NBC News: "New York City mandates Covid vaccine for all city workers" NBC News: "Paris Hilton pushes for bill to crack down on abusive youth facilities" Paid Leave For All: "Letter from Meghan, The Duchess of Sussex" CNN: "Dental records show remains found at Carlton Reserve are those of Brian Laundrie, FBI says"
Our Reviews
Best way to start my day!
I listen to this podcast first thing every morning and love it! It's the perfect thing to start my day with and it gives a great rundown of the news without being overly dense or hard to follow.
Easy breezy and smart
I love getting a quick hit of news each day. Sami is smart speedy and informative. So glad I can become more informed without listening to news all day.
Instantly part of my routine
Love the quick headlines, witty commentary, and upbeat music. I'm a fan of all things Betches and this latest pod really delivers. It's the perfect companion to the Sup.