Go back
Morning Announcements
Morning Announcements is a daily show brought to you by the Betches Sup, here to help you make sense of the world in the wake of 2020's chaos. Every morning, Betches co-founder and host Sami Sage gives you quick daily updates with the most important info you need to know about politics and current events.
View Promo Codes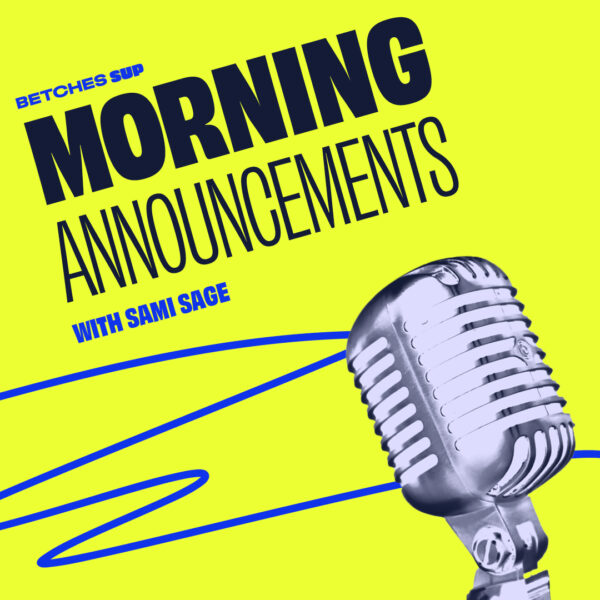 Latest Episodes
Our Hosts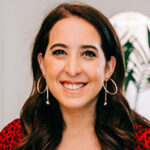 Sami Sage
Sami Sage is a cofounder and Chief Creative Officer at Betches. She's the host of the @Betches, Betches Sup, Morning Announcements, and Diet Starts Tomorrow podcasts and in her spare time likes to scroll on her phone and stare at her dogs, Bruce Bader Ginsburg and Larry David.
Where to Start
Thursday, October 14th, 2021
We start with a new study about booster vaccines from the National Institute of Health. On Tuesday, the FDA authorized the first ever e-cigarette. Meanwhile, the chair of the Senate Homeland Security, senator Gary Peters has asked TikTok to provide information on its policies surrounding violent and extremist content. Next, we move to our new and exciting segment, Democracy Watch. To close, we end with Homeland Security Secretary Alejandro Mayorkas' memo ordering U.S. Immigration and Customs Enforcement to stop mass worksite raids. Plus, we have an update on the potential strike by IATSE. Resources/Articles mentioned in this episode: CNN: "FDA to take up Moderna, J&J Covid-19 booster questions this week" AP News: "FDA authorizes first e-cigarette, cites benefit for smokers" CNN: "Senate Homeland Security chair asks TikTok for policies on extremist content" Mother Jones: "Texas Republicans Are Pulling Out All the Stops to Dilute the Voting Power of People of Color" Washington Post: "2020 Census may have undercounted Black Americans, new analyses say" Hollywood Reporter: "IATSE Sets Oct. 18 Strike Date if Contract Talks Aren't Resolved"
Wednesday, October 13th, 2021
We still have not quite settled the debt ceiling issue yet. New York City is giving every public school kindergartner $100 dollars in a college savings account, and California became the first state in the nation to adopt a law that will require large retail stores to provide gender-neutral toy sections. And in Texas, Governor Greg Abbott issued an executive order prohibiting COVID-19 vaccine mandates by any "entity," if someone objects to the vaccine for "any reason of personal conscience. " Yesterday, a Wyoming coroner issued an update in the Gabby Petito case, and today we're going to close the Morning Announcements with a brand new segment called Democracy Watch. Resources/Articles mentioned in this episode: AP News: "House returns to stave off default with debt limit vote" NY Times: "Seeding Accounts for Kindergartners and Hoping to Grow College Graduates" LA Times: "California will require large retailers to provide gender-neutral toy sections" Axios: "Texas Gov. Greg Abbott bans COVID-19 vaccine mandates by any entity" AP News: "Coroner: Gabby Petito strangled 3-4 weeks before body found" NBC News: "Jan. 6 commission threatens criminal referrals after Steve Bannon snubs subpoena"
Tuesday, October 12th, 2021
The pharmaceutical company Merck asked the FDA yesterday to grant them emergency use authorization for their new COVID antiviral pill. Also, you may have heard that Southwest Airlines has cancelled several hundred flights in recent days. Next we have a new update on the slow rolling Facebook scandal (but Facebook isn't the only threat from cyberspace). Then we move to actor William Shatner's scheduled flight on Jeff Bezos' rocket Blue Origin before closing with some unfortunate news. Resources/Articles mentioned in this episode: AP News: "Merck asks US FDA to authorize promising anti-COVID pill" AP News: "Southwest cancels hundreds more flights, denies sickout" Axios: "Facebook whistleblower to brief Facebook Oversight Board, U.K. parliament" AP News: "Cyberattacks concerning to most in US: Pearson/AP-NORC poll" NPR: "William Shatner is bound for space, but the rest of us will have to wait" BBC: "Epstein: Met to take no action after Prince Andrew review" Business Insider: "Top House Republican Steve Scalise refused to say Trump lost the election 11 months after Biden won"
Our Reviews
Best way to start my day!
I listen to this podcast first thing every morning and love it! It's the perfect thing to start my day with and it gives a great rundown of the news without being overly dense or hard to follow.
Easy breezy and smart
I love getting a quick hit of news each day. Sami is smart speedy and informative. So glad I can become more informed without listening to news all day.
Instantly part of my routine
Love the quick headlines, witty commentary, and upbeat music. I'm a fan of all things Betches and this latest pod really delivers. It's the perfect companion to the Sup.