Go back
Morning Announcements
Morning Announcements is a daily show brought to you by the Betches Sup, here to help you make sense of the world in the wake of 2020's chaos. Every morning, Betches co-founder and host Sami Sage gives you quick daily updates with the most important info you need to know about politics and current events.
View Promo Codes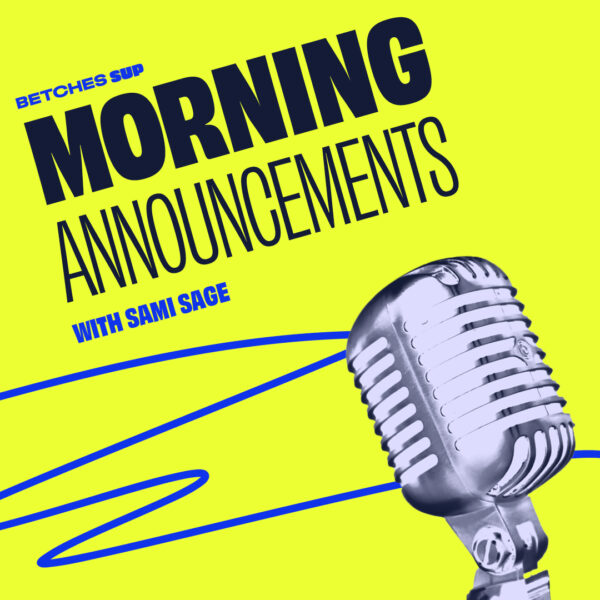 Latest Episodes
Our Hosts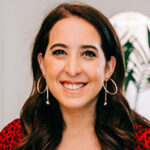 Sami Sage
Sami Sage is a cofounder and Chief Creative Officer at Betches. She's the host of the @ Betches, Betches Sup and Morning Announcements podcasts and in her spare time likes to scroll on her phone and stare at her dogs, Bruce Bader Ginsburg and Larry David.
Where to Start
Thursday, January 26th, 2023
Today's headlines: President Biden announced that the US will be providing the Ukrainians with Abrams tanks. The National Archives is considering whether they will ask all past presidents and vice presidents to review their personal records to verify that no classified materials are there. House Speaker Kevin McCarthy has made good on his promise to reject the placement of certain Democrats on congressional committees, but has yet to remove George Santos. Meta, the parent company of Facebook and Instagram, has announced that they will let Donald Trump back on their platforms in the coming week after his two year suspension. NBC News is reporting that Marjorie Taylor Greene is supposedly angling to be Trump's 2024 pick for Vice President. Finally for today, a recent study claims Long Covid is having a significant effect on America's workforce, preventing substantial numbers of people from going back to work. Resources/Articles mentioned this episode: US Department of Defense: Biden Announces Abrams Tanks to be Delivered to Ukraine Washington Post: Archives weighs asking past presidents, VPs to look for classified items NY Times: McCarthy Ejects Schiff and Swalwell From Intelligence Committee NBC: McCarthy says Santos will be removed from Congress if Ethics Committee finds he broke the law Daily Beast: George Santos Admits 500K Personal Loan to Campaign Wasn't 'Personal' META: Ending Suspension of Trump's Accounts With New Guardrails to Deter Repeat Offenses NBC: Marjorie Taylor Greene aims to be Trump's VP pick in 2024 NY Times: Long Covid Is Keeping Significant Numbers of People Out of Work, Study Finds Host: Sami Sage Morning Announcements is produced by Sami Sage alongside Amanda Duberman and Bridget Schwartz Original Music and Editing by Brandon Lee Bjornson
Wednesday, January 25th, 2023
Today's headlines: 7 people are dead after an incident in Half Moon Bay on Monday; in Oakland California, 1 person was shot dead and 7 others were injured. A lawyer for former Vice President Pence found a small number of classified documents at Pence's home in Indiana. An appearance by George Santos on a Brazilian podcast from December 2022 has surfaced, where he claims (in Portuguese), that he was the target of an "assassination attempt" the prior year. Kevin McCarthy has stated that "I will never leave that woman, I will always take care of her" in regards to Marjorie Taylor Greene. The Senate Judiciary Committee held a hearing yesterday sparked by the Taylor Swift Eras Tour ticket fiasco. Finally for today, A 30-year-old Wharton graduate named Charlie Javice is being sued by JP Morgan Chase who claimed that she engaged in an elaborate fraud scheme. Resources/Articles mentioned this episode: CBS: Update: 'Workplace violence' fueled employee's Half Moon Bay mass killing spree NBC: 1 killed and 7 injured in shooting in Oakland, California CNN: First on CNN: Classified documents found at Pence's Indiana home MSNBC: Exclusive: Rep. Santos describes assassination attempt, mugging in new video NY Times: How Kevin McCarthy Forged an Ironclad Bond With Marjorie Taylor Greene NY Times: Ticketmaster Hearing Takeaways: After Taylor Swift Debacle, Some Senators Call Live Nation a 'Monopoly' NY Times: How Charlie Javice Got JPMorgan to Pay $175 Million for … What Exactly? Host: Sami Sage Morning Announcements is produced by Sami Sage alongside Amanda Duberman and Bridget Schwartz Original Music and Editing by Brandon Lee Bjornson
Tuesday, January 24th, 2022
Today's headlines: The death toll has now risen to 11 people from Saturday night's mass shooting in Monterey Park, and law enforcement has been able to learn new details about the evening. Verdicts came down in 2 separate January 6th trials yesterday, with guilty results across the board; In a separate trial, a DC jury found the insurrectionist who sat in Nancy Pelosi's chair guilty on all 8 counts against him. Charles McGonigal was arrested on charges that he laundered money and violated sanctions against Russia, by working with a Russian oligarch. Arizona Representative Ruben Gallego announced yesterday that he plans to challenge Senator Kyrsten Sinema for her Senate seat in 2024. Finally for today, the DOJ has reportedly opened an investigation into Abbott Nutrition over operations at one of its factories that heavily contributed to the formula shortage last year. Resources/Articles mentioned this episode: NY Times: Police in California Ask: 'What Drove a Madman to Do This?' Washington Post: Four other Oath Keepers found guilty of Jan. 6 seditious conspiracy Washington Post: Man photographed in Pelosi's office on Jan. 6 convicted of 8 counts Rolling Stone: The Proud Boys Have Really Strict Rules About Jerking Off Reuters: Manafort had $10 million loan from Russian oligarch: court filing NBC: Ex-FBI official arrested for alleged money laundering, violating Russia sanctions, taking money from former foreign agent Politico: Gallego officially launches bid for Sinema's seat NY Times: Justice Department Investigating Troubled Infant Formula Plant Host: Sami Sage Morning Announcements is produced by Sami Sage alongside Amanda Duberman and Bridget Schwartz Original Music and Editing by Brandon Lee Bjornson
Our Reviews
Best way to start my day!
I listen to this podcast first thing every morning and love it! It's the perfect thing to start my day with and it gives a great rundown of the news without being overly dense or hard to follow.
Easy breezy and smart
I love getting a quick hit of news each day. Sami is smart speedy and informative. So glad I can become more informed without listening to news all day.
Instantly part of my routine
Love the quick headlines, witty commentary, and upbeat music. I'm a fan of all things Betches and this latest pod really delivers. It's the perfect companion to the Sup.