Go back
Morning Announcements
Morning Announcements is a daily show brought to you by the Betches Sup, here to help you make sense of the world in the wake of 2020's chaos. Every morning, Betches co-founder and host Sami Sage gives you quick daily updates with the most important info you need to know about politics and current events.
View Promo Codes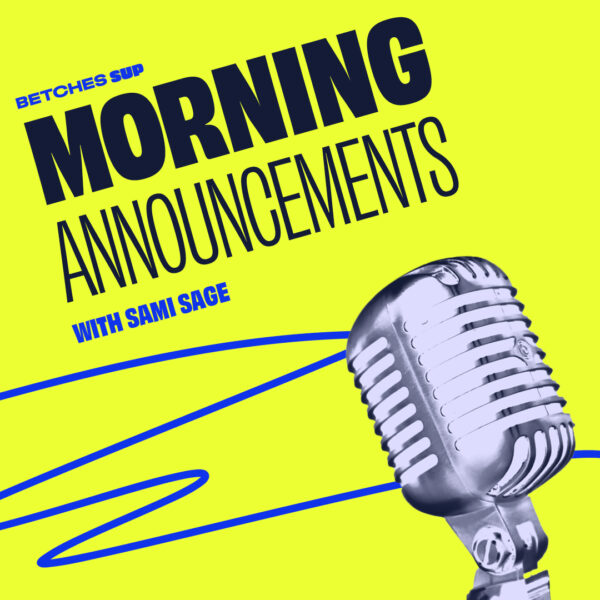 Latest Episodes
Our Hosts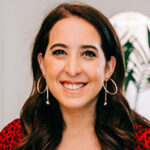 Sami Sage
Sami Sage is a cofounder and Chief Creative Officer at Betches. She's the host of the @ Betches, Betches Sup and Morning Announcements podcasts and in her spare time likes to scroll on her phone and stare at her dogs, Bruce Bader Ginsburg and Larry David.
Where to Start
Monday, October 3rd, 2022
Today's headlines: After hitting multiple islands and southwestern Florida last week, Hurricane Ian again made landfall on the coast of South Carolina over the weekend as a category 1 storm. In Cuba, where power for the entire country of 11 million people was knocked out by the storm, residents gathered to protest the lack of electricity. Russia attempted to unilaterally annex 4 regions of Ukraine, with Putin claiming that the annexations of Luhansk, Donetsk, Kherson and Zaporizhzhia this past Friday; Ukraine disagrees on the risk of Putin actually using nuclear weapons; Ukraine formally submitted its fast-tracked application for NATO membership. The Justice Department accused a couple of conspiring to provide the Russian government with medical information about U.S. soldiers and their relatives on Friday. Finally for today, Donald Trump escalated his war with none other than Mitch McConnell this weekend. Resources/Articles mentioned this episode: Washington Post: Florida begins cleanup in aftermath of Ian Reuters: Havana protests flare for second night as Cuba scrambles to turn on lights USA Today: Putin proclaims he's annexing four regions of Ukraine; U.S. slaps new sanctions on Russia: Sept. 30 recap NPR: The pope makes his strongest plea yet for an end to Russia's war on Ukraine NBC: Ukraine retakes a key city Putin claimed to have annexed. Here's why it matters. NBC: Johns Hopkins doctor and Army doctor spouse charged with conspiring to give U.S. soldiers' medical info to Russia Washington Post: Trump escalates attacks on McConnell with 'DEATH WISH' post   Host: Sami Sage Producers: Amanda Duberman and Bridget Schwartz Original Music and Editing: Brandon Lee Bjornson
Friday, September 30th, 2022
Today's headlines: More news from Hurricane Ian, which turned out to be one of the worst hurricanes in America's history, continues to pour in. After months of will she/won't she, Ginni Thomas finally voluntarily testified to the House January 6th committee yesterday. Aileen Cannon overruled the special master Raymond Dearie's request that Trump's lawyers don't have to clarify Mar-a-Lago document claims. Six Republican-led states are suing the Biden administration over his student loan plan. Finally for this week, The FDA has approved a new treatment for ALS. Resources/Articles mentioned this episode: AP News: Floods trap many in Florida as Ian heads to South Carolina Axios: Ginni Thomas cooperative in Jan. 6 committee interview Federalist: Ginni Thomas Shuts Down Misconduct Claims In Voluntary Testimony Before J6 Panel Washington Post: Judge rules Trump lawyers don't have to clarify Mar-a-Lago document claims AP News: GOP states sue Biden administration over student loan plan CNN: ALS drug gets FDA approval despite uncertainty about effectiveness   Host: Sami Sage Producers: Amanda Duberman and Bridget Schwartz Original Music and Editing: Brandon Lee Bjornson
Thursday, September 29th, 2022
Today's headlines: Hurricane Ian hit southwestern Florida as a category 4 storm near Cayo Costa, knocking out the power of over 1.8 million people and leaving people trapped in flooded homes. Universities and colleges in Idaho are warning staffers not to refer students to abortion providers or tell them how to get emergency contraception. The founder of the Oath Keepers Stewart Rhodes, along with 4 other members of the extremist group, have just begun their trial for seditious conspiracy. The US embassy in Moscow is encouraging Americans with dual citizenship to leave immediately, or else they could be drafted by Putin's mandatory military conscription order. Finally for this week, the Senate is enacting an attempt to protect the 2024 election through the Electoral Count Reform and Presidential Transition Improvement Act. Resources/Articles mentioned this episode: NY Times: Live Updates: Hurricane Ian Takes Aim at Florida After Leaving Cuba in the Dark PBS: Idaho universities disallow abortion, contraception referrals for students Washington Post: Jury selection underway in Oath Keepers seditious conspiracy trial New York Times: Latest U.S. Military Package for Ukraine Suggests Shift in Focus to Long, Open-Ended War Washington Post: The crumbling GOP opposition to electoral count reform bill Host: Sami Sage Producers: Amanda Duberman and Bridget Schwartz Original Music and Editing: Brandon Lee Bjornson
Our Reviews
Best way to start my day!
I listen to this podcast first thing every morning and love it! It's the perfect thing to start my day with and it gives a great rundown of the news without being overly dense or hard to follow.
Easy breezy and smart
I love getting a quick hit of news each day. Sami is smart speedy and informative. So glad I can become more informed without listening to news all day.
Instantly part of my routine
Love the quick headlines, witty commentary, and upbeat music. I'm a fan of all things Betches and this latest pod really delivers. It's the perfect companion to the Sup.