Go back
Morning Announcements
Morning Announcements is a daily show brought to you by the Betches Sup, here to help you make sense of the world in the wake of 2020's chaos. Every morning, Betches co-founder and host Sami Sage gives you quick daily updates with the most important info you need to know about politics and current events.
View Promo Codes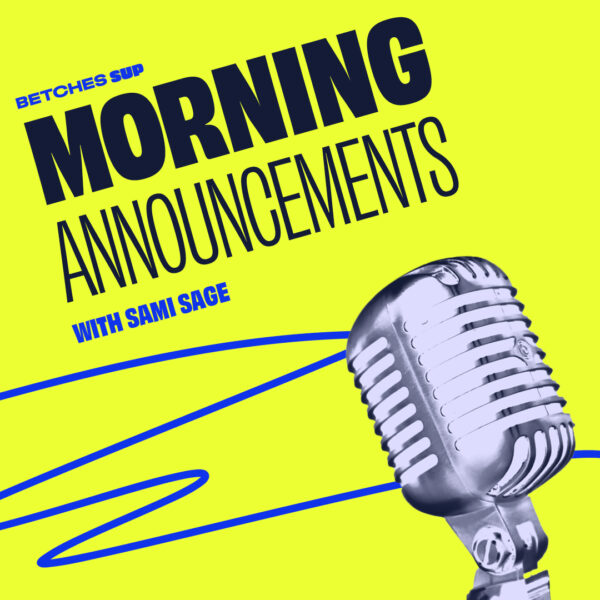 Latest Episodes
Our Hosts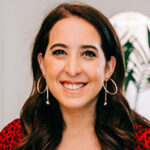 Sami Sage
Sami Sage is a cofounder and Chief Creative Officer at Betches. She's the host of the @ Betches, Betches Sup and Morning Announcements podcasts and in her spare time likes to scroll on her phone and stare at her dogs, Bruce Bader Ginsburg and Larry David.
Where to Start
Thursday, May 25th, 2023
Today's Headlines: Florida Governor Ron DeSantis announces his candidacy for the Republican presidential nomination in a glitchy Twitter space conversation with Elon Musk. An elementary school in Miami-Dade County moves the poem "The Hill We Climb" by Amanda Gorman to middle school shelves after a parent complained about its content. Target faces backlash and removes certain Pride merchandise from stores due to threats to workers' safety and damage to Pride displays. January 6th insurrectionist Richard Bigo Barnette is sentenced to 4.5 years in prison for various charges, including theft of government property. No progress on a debt ceiling deal as House Republicans push for spending cuts and reject proposals to increase revenue, risking a government funding crisis by June 1st. Resources/Articles mentioned in this episode: AP News: DeSantis launches GOP presidential campaign in Twitter announcement plagued by glitches  NY Times: Florida School Restricts Access to Amanda Gorman's Inauguration Poem  AP News: Target becomes latest company to suffer backlash for LGBTQ+ support, pulls some Pride month clothing AP News: Capitol rioter photographed propping feet on desk in Pelosi's office sentenced to over 4 years  GOP unites over brinkmanship over default, rejecting Biden compromises  Morning Announcements is produced by Sami Sage alongside Amanda Duberman and Bridget Schwartz Edited by Grace Hernandez-Johnson
Wednesday, May 24th, 2023
Today's Headlines: A 19-year-old Missouri resident was arrested for driving a U-Haul truck into security barriers near the White House, facing charges related to threats, assault, and trespassing.Surgeon General Dr. Vivek Murthy warned about the risks of social media to young people, including self-harm, eating disorders, and cyberbullying. He recommended delaying children's social media use and establishing boundaries. An Illinois attorney general's report revealed over 450 credible abusers in the Catholic Church, with many instances of sexual abuse involving priests and lay religious figures. False reports of a Pentagon explosion spread due to an AI-generated image shared on Twitter, causing a temporary stock market dip. Harlan Crow's lawyers argue against an ethics probe into his friendship with Justice Thomas, claiming Congress lacks authority.  Resources/Articles mentioned in this episode: NBC News: 19-year-old arrested on multiple charges after crashing into barriers near the White House  NY Times: Surgeon General Warns That Social Media May Harm Children and Adolescents  NY Times: Sex Abuse In Catholic Church: Over 1,900 Abused In Illinois, State Says  NPR: Fake viral images of an explosion at the Pentagon were probably created by AI  Bloomberg: Harlan Crow's Lawyers Say Congress Doesn't Have Authority to Investigate Supreme Court   Morning Announcements is produced by Sami Sage alongside Amanda Duberman and Bridget Schwartz Edited by Grace Hernandez-Johnson
Tuesday, May 23rd, 2023
Today's Headlines: E. Jean Carroll, who previously won a defamation lawsuit against Donald Trump, has filed a new lawsuit seeking additional damages due to Trump's comments about her. Trump referred to her as a "wack job" and called her story "fake and made up" on national TV. Senator Tim Scott has announced his presidential campaign, criticizing the "radical left" and emphasizing his background. TikTok has filed a lawsuit to overturn Montana's ban of the app, claiming it violates free speech. A profile on Harlan Crow, a Republican donor and friend of Justice Clarence Thomas, reveals their relationship and Crow's collection of controversial items. Russia has expanded its list of sanctioned Americans, including enemies of Donald Trump, in response to US sanctions. Resources/Articles mentioned in this episode: NY Times: E. Jean Carroll Seeks New Damages From Trump for Comments on CNN  CBS News: Tim Scott announces he is running for president in 2024: "I am America"  AP News: TikTok files lawsuit to overturn Montana's 1st-in-nation ban on the video sharing app  The Atlantic: Harlan Crow wants to stop talking about Clarence Thomas NY Times: Russia's Latest Sanctions on U.S. Officials Turn to Trump Enemies  Morning Announcements is produced by Sami Sage alongside Amanda Duberman and Bridget Schwartz Edited by Grace Hernandez-Johnson
Our Reviews
Best way to start my day!
I listen to this podcast first thing every morning and love it! It's the perfect thing to start my day with and it gives a great rundown of the news without being overly dense or hard to follow.
Easy breezy and smart
I love getting a quick hit of news each day. Sami is smart speedy and informative. So glad I can become more informed without listening to news all day.
Instantly part of my routine
Love the quick headlines, witty commentary, and upbeat music. I'm a fan of all things Betches and this latest pod really delivers. It's the perfect companion to the Sup.