Go back
Diet Starts Tomorrow
Welcome to Diet Starts Tomorrow, a podcast hosted by Remy Kassimir and Emily Lubin. In a world where wellness can make you unwell and beauty standards feel anything but standard, Betches Media presents a podcast that digs into the emotional side of well-being. Listen as we shed our former beliefs that made us feel bad about ourselves — we're looking at you, toxic diet culture — and laugh while doing it. We're here to amuse your bouche. For more DST, follow us on Instagram @dietstartstomorrow.
View Promo Codes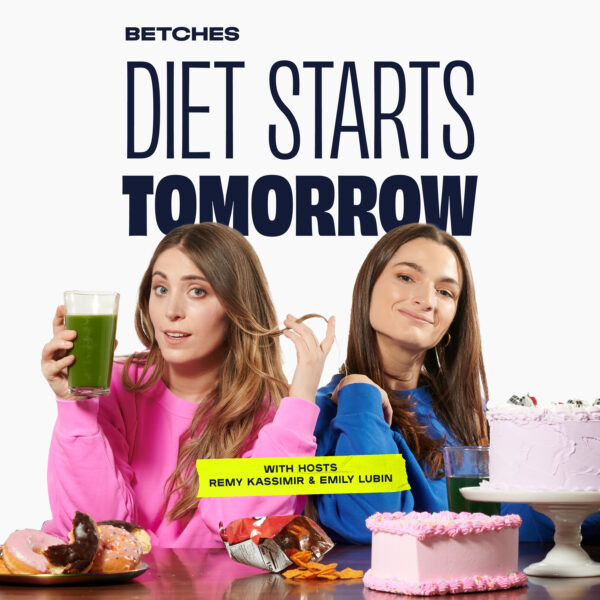 Latest Episodes
Our Hosts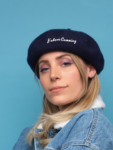 Remy Kassimir
Remy Kassimir is a stand up comedian, actor, and host of Betches Media's Diet Starts Tomorrow Podcast and the Cosmopolitan Sexcellence award winning comedy & sex podcast, "How C*m?" which she started in order to have her first orgasm (and has now inspired thousands of people globally to have their own!).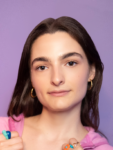 Emily Lubin
Emily Lubin is a comedian and podcaster living in New York City. She is the co-host of Diet Starts Tomorrow by Betches Media, as well as co-host of The Hot Mess Comedy Hour podcast, and host of her own podcast, RIP Diets. Emily is extremely passionate about anti-diet nutrition, body neutrality, and the fat acceptance movement.
Where to Start
Swimsuit Season Is Coming & So Is My Anxiety
Don't you just hate poster's remorse? Emily tells Remy all about her recent IG anxiety after posting a picture, and fighting that "who the f*ck do I think I am" feeling (we've all been there). They unpack the nuanced mental struggles that come with social media, before Remy shares her stresses regarding the impending swimsuit season. From the bad bathing suit memories, the horrible fitting rooms, to the brands you should check out—they talk through it all. This segues into the Scoop Du Jours: the rebrand of the famed VS Fashion Show and Megan Fox's interview opening up about body dysmorphia, before they wrap up with a round of Last Licks. Learn more about your ad choices. Visit megaphone.fm/adchoices
Yes, In Most States You Can *Legally* Be Fired For Being Fat Ft. Victoria Abraham
Did you know that up until *literally* a few days ago, there was no law in NYC prohibiting discrimination against a person's weight or height for employment, housing, and access to public accommodations? Fat activist and content creator Victoria Abraham, (aka @FatFabFeminist on socials), joins Remy and Emily to talk about her testimony for this protective bill and its v important implications. Victoria shares her background with fat activism, they unpack the capitalism of it all (re: weight loss industry), and then wrap up with a discussion about the next legislative move. Learn more about your ad choices. Visit megaphone.fm/adchoices
Does A Workout Set Make You Feel Self Confident Or Self-Conscious?
Emily is in the midst of her quitting-vaping journey, and she gives Remy the update—will she take up crochet as an alternative habit? Remy talks about her upcoming t-break too, before they read today's DSTeachable Moment all about workout sets. Do workout sets make you feel more put-together, or do they make you think about your body more when exercising? This transitions into the Class Smash or Pass, all about Barre3. They break down the format, what the "3" stands for, and how it brought Remy back to her ballet days. Check out our latest promo codes here: https://betches.com/promos Learn more about your ad choices. Visit megaphone.fm/adchoices
Our Reviews
margaretfent
Listening to Sami and Aleen is like talking with old friends. They're super relatable and discuss subjects related to diet and wellness that I've had my own thoughts/questions about… I feel like my mindset around diet culture has grown and matured with them through the years. You guys are the best!
BowieBassett
Thank you Sami and Aleen for your vulnerability in sharing on DST. Appreciate being part [of] your journey with intuitive eating. It's very relatable and helps me get in touch with my own feelings about diet culture and other anxieties that I feel. Feels like I'm talking to two good friends!
fishergurl17
I never thought I would come close to being on this journey of having a healthy relationship with food and my body- literally so thankful for what both Aleen and Sami bring to this anti-diet table!! Thank you ladies keep doing you!!