Go back
Diet Starts Tomorrow
Welcome to Diet Starts Tomorrow, a podcast hosted by Remy Kassimir and Emily Lubin. In a world where wellness can make you unwell and beauty standards feel anything but standard, Betches Media presents a podcast that digs into the emotional side of well-being. Listen as we shed our former beliefs that made us feel bad about ourselves — we're looking at you, toxic diet culture — and laugh while doing it. We're here to amuse your bouche. For more DST, follow us on Instagram @dietstartstomorrow.
View Promo Codes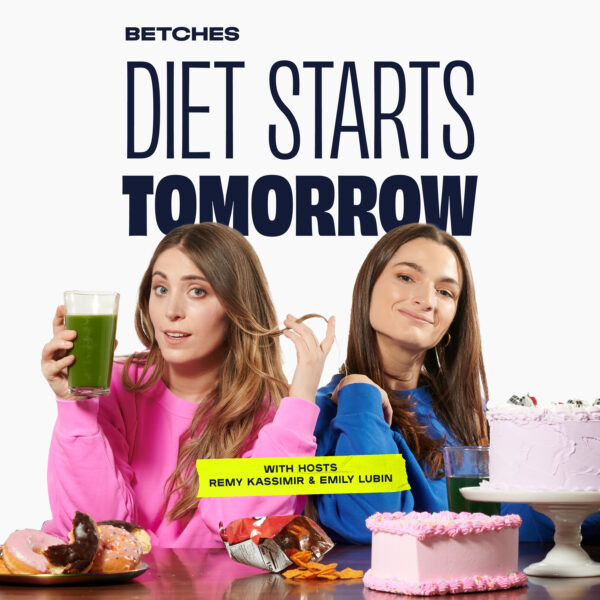 Latest Episodes
Our Hosts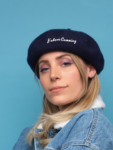 Remy Kassimir
Remy Kassimir is a stand up comedian, actor, and host of Betches Media's Diet Starts Tomorrow Podcast and the Cosmopolitan Sexcellence award winning comedy & sex podcast, "How C*m?" which she started in order to have her first orgasm (and has now inspired thousands of people globally to have their own!).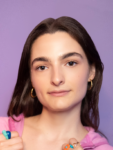 Emily Lubin
Emily Lubin is a comedian and podcaster living in New York City. She is the co-host of Diet Starts Tomorrow by Betches Media, as well as co-host of The Hot Mess Comedy Hour podcast, and host of her own podcast, RIP Diets. Emily is extremely passionate about anti-diet nutrition, body neutrality, and the fat acceptance movement.
Where to Start
It Looks Like WeightWatchers Can Now Prescribe Drugs Like Ozempic
There's nothing quite like an ice cold gua sha to the face. Emily tells Remy all about her latest gua sha face routine, during Feeling Myself. They debrief if it actually does anything or not, before Remy shares her Feeling Myself moments—meeting her first DST listener IRL (yay), and Hillary Clinton (casual). After giving us all of the details of these exciting encounters, Remy and Emily read a few listener-submitted DSTeachable Moments. Re: body inclusivity (or the lack thereof) in movies and TV, WeightWatchers' latest acquisition (yes, Ozempic is involved), and an update on those *magical* Good American jeans. Finally, Emily and Remy open up the V Files, presented by Queen V, with a question from a listener who tried bringing toys into the bedroom with her boyfriend. Thank to our presenting sponsor, Queen V. Get to know your V today and try Queen V for yourself by visiting: queenvlife.com Check out our latest promo codes here: https://betches.com/promos Learn more about your ad choices. Visit megaphone.fm/adchoices
Class Smash Or Pass: Are Sound Baths Really Worth It?
Remember *that* line from The Devil Wears Prada ("I'm one flu away from my goal weight")? Emily, (who is feeling better now), tells Remy about her recent stomach bug and the struggle of slipping into old thought patterns when you're sick. She shares how she worked through those intrusive thoughts, before Remy debriefs a recent encounter she had at a sandwich shop. Why is it that even when a stranger comments on your eating habits, it has such an impact? They discuss, before introducing an exciting new segment—Class Smash Or Pass. Remy and Emily rate the most recent wellness and workout classes they went to, re: a v relaxing sound bath and a v intense workout (Remy is still sore). They wrap up with a delicious round of Last Licks. Learn more about your ad choices. Visit megaphone.fm/adchoices
Lies And Semaglutides: Sami & Aleen's BFS Exclusive
Sami and Aleen are Back For Seconds with a full plate of topics. Sami's workout odyssey continues, and she gives an update on her recent ~intrinsic desire~ to workout. This leads into a convo about leaning into your body's natural habits, and acknowledging the impact of seasonal changes (including admiring the snow when you can). Sami and Aleen then unpack The Cut's recent spree of Ozempic-related articles. This brings up topics around the struggle with body positivity and weight loss, how external factors play a part in it all, and the impact celebrities are having on the topic. They wrap up with some actionable tips on something we all need to work on: rather than berating ourselves all of the time, laughing with ourselves instead. Learn more about your ad choices. Visit megaphone.fm/adchoices
Our Reviews
margaretfent
Listening to Sami and Aleen is like talking with old friends. They're super relatable and discuss subjects related to diet and wellness that I've had my own thoughts/questions about… I feel like my mindset around diet culture has grown and matured with them through the years. You guys are the best!
BowieBassett
Thank you Sami and Aleen for your vulnerability in sharing on DST. Appreciate being part [of] your journey with intuitive eating. It's very relatable and helps me get in touch with my own feelings about diet culture and other anxieties that I feel. Feels like I'm talking to two good friends!
fishergurl17
I never thought I would come close to being on this journey of having a healthy relationship with food and my body- literally so thankful for what both Aleen and Sami bring to this anti-diet table!! Thank you ladies keep doing you!!