Go back
Diet Starts Tomorrow
Welcome to Diet Starts Tomorrow, a podcast hosted by Remy Kassimir and Emily Lubin. In a world where wellness can make you unwell and beauty standards feel anything but standard, Betches Media presents a podcast that digs into the emotional side of well-being. Listen as we shed our former beliefs that made us feel bad about ourselves — we're looking at you, toxic diet culture — and laugh while doing it. We're here to amuse your bouche. For more DST, follow us on Instagram @dietstartstomorrow.
View Promo Codes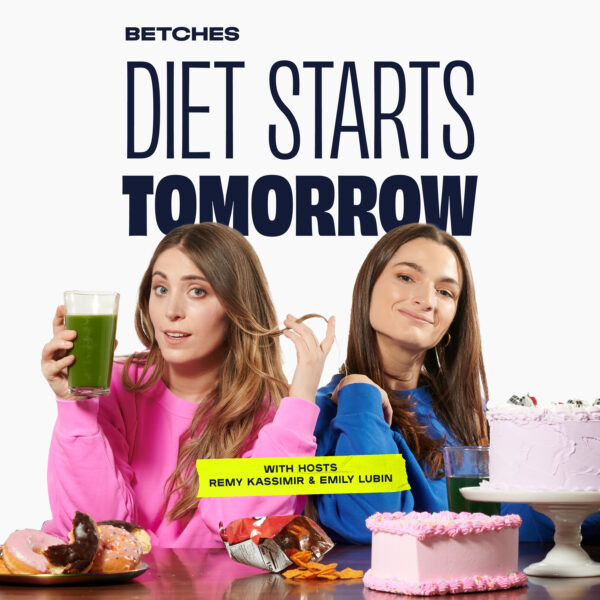 Latest Episodes
Our Hosts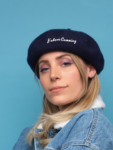 Remy Kassimir
Remy Kassimir is a stand up comedian, actor, and host of Betches Media's Diet Starts Tomorrow Podcast and the Cosmopolitan Sexcellence award winning comedy & sex podcast, "How C*m?" which she started in order to have her first orgasm (and has now inspired thousands of people globally to have their own!).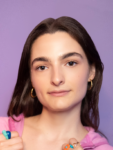 Emily Lubin
Emily Lubin is a comedian and podcaster living in New York City. She is the co-host of Diet Starts Tomorrow by Betches Media, as well as co-host of The Hot Mess Comedy Hour podcast, and host of her own podcast, RIP Diets. Emily is extremely passionate about anti-diet nutrition, body neutrality, and the fat acceptance movement.
Where to Start
How Does Hollywood Manipulate Our Beauty Standards?
You know when you watch an old TV show or movie and think, "how tf did we think this was ok?" Remy and Emily get into just that on today's episode, re: fatphobia in Hollywood. They look back on shows that were all about weight loss and looks—Biggest Loser, The Swan—and wonder, how did they even cast for shows like this? This leads into a convo about the v problematic credits used in old Sex and the City episodes, before Remy and Emily debrief some famous fat-suit characters: Fat Monica in Friends, Bruce in Matilda, Fat Bastard in Austin Powers, just to name a few. They wrap up discussing the *mass amounts* of body image-focused ads we see, before sharing a few shows that are actually getting body diversity right. Spoiler: it's a very short list, so send [email protected] your recs. Check out our latest promo codes here: https://betches.com/promos Learn more about your ad choices. Visit megaphone.fm/adchoices
What Happens When You Stop Taking Ozempic?
Oh, oh, oh the Ozempic convo continues. Remy and Emily chat about a recent interview with the other Remi (Bader), who spoke out about her experience using Ozempic—and what happened when she stopped taking it. This leads into a convo about keeping up with habits and the pressure that comes with, before Emily shares a triggering experience she had while on vacation. Re: a fatphobic point of view coming from someone Emily considers herself close to. Remy and Emily unpack the struggles of being stuck in these types of conversations and how to respond. They wrap up the episode with a listener Dear DST about a similar topic, all about how to handle family members commenting on your weight in v inappropriate ways. Is it time to start weaponizing our tears for tough convos? Check out our latest promo codes here: https://betches.com/promos Learn more about your ad choices. Visit megaphone.fm/adchoices
Don't Worry, We Have Boob Sweat & Thigh Chafing Too Ft. Katie Sturino
Back by popular demand, entrepreneur, author, body acceptance advocate, and DST regular, Katie Sturino joins Remy and Emily on the podcast *audibly says yay*. For those who aren't familiar with Katie's wide array of projects, she shares how she got started with her viral #SuperSizeTheLook series along with starting her body care company, Megababe. Re: products for problems that every body has, from thigh chafing to boob sweat. This transitions into a convo about the lack of accessibility in fashion and they unpack the struggles of shopping for size-inclusive clothes. Katie then gets into her personal journey with body acceptance and shares some tips on how to stop punishing ourselves with negative thoughts. They wrap up by answering a few listener questions, and yes, that includes a list of Katie's favorite brands. Check out our latest promo codes here: https://betches.com/promos Learn more about your ad choices. Visit megaphone.fm/adchoices
Our Reviews
margaretfent
Listening to Sami and Aleen is like talking with old friends. They're super relatable and discuss subjects related to diet and wellness that I've had my own thoughts/questions about… I feel like my mindset around diet culture has grown and matured with them through the years. You guys are the best!
BowieBassett
Thank you Sami and Aleen for your vulnerability in sharing on DST. Appreciate being part [of] your journey with intuitive eating. It's very relatable and helps me get in touch with my own feelings about diet culture and other anxieties that I feel. Feels like I'm talking to two good friends!
fishergurl17
I never thought I would come close to being on this journey of having a healthy relationship with food and my body- literally so thankful for what both Aleen and Sami bring to this anti-diet table!! Thank you ladies keep doing you!!