J.Lo & Shakira Are Performing At The Super Bowl Halftime Show
You guys, God might be real, because my prayers have never felt more answered than in this moment. For a while now, there have been rumors swirling that the 2020 Super Bowl Halftime Show would be headlined by Jennifer Lopez, AND. IT'S. HAPPENING. And that's not all! IT'S. HAPPENING. WITH. SHAKIRA. Pardon me while I take a minute for some deep breaths.
Okay, I'm back. I needed those deep breaths. There's no denying that J.Lo has had an amazing year, and this feels like the icing on the cake for her. She's proven time and time again that she's one of our longest-lasting, most electric icons, and this performance is her reward for decades of hard work and *hustling*. Sorry, I couldn't resist that one. J.Lo easily could've carried this show by herself, but Shakira is a smart addition. She brings her own set of amazing hits, incredible moves, and an energy that you can't look away from.
Aside from me individually loving both of these ladies, they're an especially perfect choice for this year's Super Bowl. The big game is in Miami this year, and J.Lo and Shakira are two badass Hispanic women who have achieved massive success with both Spanish- and English-speaking audiences. Miami, with its large Hispanic population, is the exact right place for a cultural moment like this to happen.
Seriously, I couldn't be happier about this decision, and I'm so glad that it's actually happening. The NFL is usually a total sh*tshow of crime and brain injury, but at least Pepsi can plan a decent halftime show. This will also be a refreshing departure from the last two years, when the headliners have been boring white men (sorry Justin Timberlake, but "Sexyback" was a long time ago). J.Lo and Shakira aren't a "safe" choice from a corporate perspective, but that's only because most of the corporations are still run by old white men who are afraid of anyone who doesn't look like them. But this might be the safest choice when it comes to performers who are guaranteed to put on an amazing, unforgettable show.
Personally, I'm going to spend the next four years thinking about what J.Lo will wear (spoiler: it'll be something that 99% of people couldn't pull off). This is going to be an epic show, and I might just have to watch the Super Bowl this year because of it. Sad!
Images: Shutterstock; jlo / Instagram
This Guy Who Scammed His Friends & Family Out Of $750K Is The New Billy McFarland
It's almost Super Bowl Sunday, and we all know what that means. For most of America, it's time to throw on your favorite jersey, scream at your TV, and eat your body weight in wings for a few hours. For Georgia businessman Ketan Shah, however, it's time to pull off a months-long Super Bowl scam, hustling friends and family out of $750K for Super Bowl tickets, and then skipping town. (Hmm, what's that? A well-to-do businessman taking money from people who trust him for an experience he can't deliver? Where on earth have we heard that before?)

According to WSBTV2 in Atlanta, Shah owns a digital printing shop and "sits on numerous community boards" in Gwinnett County. He had a "squeaky-clean" business reputation—as all victims of this alleged scam point out—and was generally a well-regarded, active member of the community. Back in November, Shah began collecting payments from these community members, promising them "one hundred level seating," "access to the concierge lounge and a few pre-parties," and in one case, "a chance to host an arena Super Bowl event." Mutual friends and acquaintances started sending Shah down payments, and Shah's own mother gave him $36,0000. When the time came to deliver on his promises, the victims claim Shah disappeared.
Now, at this point in a normal internet scam, McFarland Shah could've just gone dark: stopped responding to emails, blocked all calls, and done his best to make himself untraceable. But since he was literally stealing from friends and family, Shah took it a step further and just f*cking took off, leaving his poor wife, Bhavi, to deal with the consequences. (A woman cleaning up the mess a man created? Where have we heard THAT before?) According to Bhavi Shah, she had no idea her husband was selling Super Bowl tickets. As another fun surprise, Bhavi also discovered after her husband's disappearance that he had taken out a half-million dollar loan against the business. Wait—you're telling me this guy is both financially troubled AND a terrible husband? Color me shocked.
View this post on Instagram
Currently, Bhavi maintains that she has no idea where her husband is, adding that he's been "roaming all over the town." Ketan Shah's family suspects he went to Vegas "as part of a midlife crisis," but it's unclear whether he's there now. Gwinnett County investigators have said "they want to hear his side of the story," adding that "it's a very odd situation that you would take people this close to you and scam this kind of money." I mean, maybe in 2015 it was an unusual situation, but I'd say it's a growingly popular move nowadays, when 90% of old high school classmates reaching out to you via Facebook are trying to involve you in some kind of pyramid scheme.
Whenever Shah chooses to reappear, the police department seems to have plenty to go on to charge him. His victims have gone to numerous police departments, as well as the FBI, with even Shah's mother reporting her $36,000 loss to the police. (She didn't press charges—or anyway, didn't press charges YET. I'm holding out hope.) In the meantime, his friends and family will be left wondering whether any American businessmen can still be trusted (no). And hopefully, asking themselves why they were ever willing to spend upwards of $20,000 to attend a sporting event. As we dive into this Super Bowl Sunday, let's all be grateful for not having sons who rob us, and remember to do your research when putting down money for something that sounds too good to be true. In 2019, it probably is.
View this post on Instagram
Images: tenor; Giphy; girlwithnojob, sodawaterpls / Instagram
People Are Betting That Travis Will Propose To Kylie During The Super Bowl
This Sunday is Super Bowl LIII, and I've spent this week desperately searching for any reason to care. I may not know much about the teams, or the rules, or literally anything else, but of course I've managed to pinpoint the one Kardashian connection to this whole thing. If I have one talent in this life, it's spending way too much time thinking about the Kardashians. This theory could actually be bigger than Kylie announcing Stormi's birth during last year's Super Bowl, because fans think Travis Scott will propose to Kylie during this year's halftime show.
As you may know, Maroon 5 is headlining this year's Super Bowl halftime show. While my mom is very excited about this, I'm prepared to chop my ears off if I have to hear "Girls Like You" one more time. Luckily, they'll be joined by Big Boi (of Outkast fame) and Travis Scott. If I have to hear "Sugar," at least I'll also get to hear "Sicko Mode." You win some, you lose some. But in this situation, Travis Scott might be bringing more to the table than just his music.

From the second I heard he was performing, I was hoping that Kylie Jenner would show up at some Super Bowl-related events. While we don't have confirmed details of anything yet, or even proof that Kylie will be in the same state as Travis, there's a major theory gaining steam that Travis Scott will propose, and he and Kylie might get engaged during the big game. As long as they're not already married, this honestly seems very possible, and I'm prepared to tell you why *dusts off laptop, opens up Powerpoint*.
First of all, Travis Scott recently told Rolling Stone that when he proposes to Kylie, it needs to be amazing: "We'll get married soon. I just gotta sturdy up—I gotta propose in a fire way." If I were Travis, I would buy an island in the Bahamas and propose in a ~fyre~ way, but I guess he's not as into true crime documentaries as me.
Besides the Super Bowl being a massive occasion with tens of millions of people watching, it's also a day with personal significance for Travis and Kylie. Last year, after basically going into hiding for the better part of a year, Kylie chose Super Bowl Sunday as the perfect time to drop the pregnancy reveal heard 'round the world. I personally remember crying while watching this video on a Subway platform, because that's where my priorities are. Judge me all you want, I'm at peace with my life choices.
If you're like me, this is potential Super Bowl proposal is the most exciting sports news you've heard in years. Don't worry, you're not alone. People are even betting on whether the proposal will go down on Sunday. I'm no expert at gambling, but right now the odds are +180 YES, and -220 NO, according to Monster Roster, an algorithm-driven betting service. My sources tell me that this means you should bet YES, because then you'll win more if you're right. Or you can just say f*ck it and get in on your boyfriend's actual Super Bowl betting pool, because I don't really know how any of this works.
We'll be on high alert this Sunday for any proposal shenanigans, and you should be too. This year has already been stressful AF, so I really need this to happen right now. Come on Kylie, don't let us down!
Images: Shutterstock; Giphy; Kylie Jenner / YouTube
The Most Eligible Players In Super Bowl LIII
Super Bowl LIII is finally here this weekend! (That's 53 for those of you who didn't pay attention in your lesson on Roman numerals.) That means it's time for us to get drunk on beer for the first time in 2019 (calories don't count during the Super Bowl, right?) and pretend to care about who's going to win the game. We all know the real reason betches like to watch the Super Bowl. It's not about the food, or the drinks, or the commercials—it's about finding the hot players that we can pretend we have a shot with. So we found the hottest guys on both teams who are single. Time to fire up those DMs and shoot your shot.
Julian Edelman, New England Patriots Wide Receiver

I know, I started this list with a guy under 6 feet—such a faux pas! That being said, he's single, hot as hell, and getting paid 11 million for two years. Most importantly, he's an ex to Victoria's Secret model Adriana Lima, so if you landed him you're practically Angel status.
Philip Dorsett, New England Patriots Wide Receiver

After doing some serious social media stalking, I think it's safe to say that Philip Dorsett is as single as can be. Sure, he also isn't 6 feet tall, but just looking at that face makes me feel butterflies. The fact that he'll make $8 million over 4 years makes me feel butterflies too. 
Braxton Berrios, New England Patriots Wide Receiver

Some light social media stalking has led me to conclude Braxton is single. What I mean by that is I googled "Braxton Berrios girlfriend" and the only result that came up was this tweet:
S/O to my Girlfriend on #nationalgfday You're probably in a relationship with somebody else rn but we gonna handle that later. See ya soon

— Braxton Berrios (@HNYNUT_BERRIOS) August 1, 2016

So let's assume Braxton is single. He's only 5'9″, but he signed a four-year contract with the Patriots worth over $2 million, which is probably $2 million more than I will ever make in my lifetime. He was placed on the injured reserve list in September 2018, but hey, maybe you can nurse him back to health.
John Johnson III, Los Angeles Rams Safety

The fact that John Johnson III is only 23 years old is making me revisit my whole "don't date younger guys" philosophy. This stud recently dyed his dreads bleach blonde this year because it's "the easiest color to spot. Same reason why cabs in New York are yellow." Marry me now? Oh, and give me the name of your hairdresser, please—my roots look terrible. 
Jared Goff, Los Angeles Rams Quarter Back

Okay fine, Jared looks like a goofy Ryan Gosling. But he's quarterbacking a football team in the Super Bowl at 24 years old and has a 27.9 million, 4-year contract. So he's hot enough. Rumor has it he's dating some model/actress but the most credible thing on her IMDB is playing "Teenage Girl #1" on Entourage in 2006, so I think we all still have a shot.
Thanks to these eligible ballers, you now have a reason to actually watch the game—because you know the guys at your Super Bowl party are going to talk too loudly during the commercials for you to hear anything. Also, a lot of the commercials are on Youtube in advance anyway. You're welcome!
Images: Shutterstock; Getty Images (4)
7 Super Bowl Commercials That Would Never Fly Today
Apparently, the Super Bowl is something people still care about. This comes as a shock to me for many reasons, mainly that the NFL has been a literal magnet for controversy this past year, whether it be about the kneeling issue or the concussions issue.  (Which, seems to be no issue for halftime performers Maroon 5). But also, on a less important level, football is just so boring. Think of all the Netflix you could be watching, or crushes' Instagram stories you could be refreshing.
Regardless of personal opinion, the Super Bowl is very much happening this Sunday, and with that, so are its infamous commercials.One of (if not the) prime times for advertises to promote their products, slots during the game cost roughly around five million. They're usually trying to be funny — and some of them succeed, mainly when Tiffany Haddish is involved — but some them are not only unfunny, but also offensive. Let's take a look back at some that aired in the past that… would hopefully never pass a pitch meeting now.
Carl's Jr. Sexist Burger Commercial (2015)
I feel like we can all imagine the people around the conference room table who thought this was a good idea. Without a doubt, four of them were named Brad. In efforts to promote 'all natural" beef (wtf is the rest of beef? Oh yeah, chemicals) they have a woman… you guessed it, eating a burger almost-naked while being ogled by men that look like they think going to an Irish Bar in Times Square counts as a "night on the town." Of course while doing this she is erotically describing the burger — she's only human! Wait JK, women aren't human in this world.
GM's Suicidal Robot Commercial (2007)
Not a joke, General Motors truly thought it would be a good idea to put a commercial out that starred a robot who commits suicide after losing its job. Unclear how this seemed okay to air at anytime, but this would 100% not fly today. Not only does this poke fun at suicide, it also laughs off the stress and mental issues that come with someone losing their job which — read a news article, is happening at an alarming rate.
Homophobic Snickers Commercial (2007)
Because after two men kiss, they have to immediately either prove their masculinity, or drink motor oil. Or in this case, both. Not only is this commercial homophobic, it's just plain dumb. Besides, who the hell splits a Snickers? Also, hate to burst ya'lls bubble but: Snickers are pretty phallic, so I guess any hetero guy who's afraid of their sexuality, maybe just eat some kale. Let's see how that works for you.
Pro-Life Commercial (2010)
Remember when you had to deal with people randomly stopping what they were doing to 'Tebow'? No wonder we're the species that caused climate change. This advertisement for 'Focus on the Family' seems to just be like the most boring confessional in a reality show, but it faced immediate backlash for it's seemingly pro-life message. Which, checks out, because it's for a Christian conservative organization that promotes things like abstinence-only sex education and is against all things LGBTQ+. K.
Holiday Inn's Transgender Commercial (1999)
Maybe Y2K should have taken us all out after all, if this is what people were truly thinking of in '99. A commercial comparing a woman and her elective surgeries to a piece of property is awful as it is, so let's just thrown in some transphobia to be the cherry on top of the pile of shit that we are. Seriously, f this. Bob Johnson does look great though.
SalesGenie.Com Racist Commercial (2008)
Because nothing is funny than stereotypes, right? Wrong. This commercial aired in 2008 at the 42nd Super Bowl and was immediately hit with backlash for its racial insensitivity and also just being really f*cking stupid.
Deforestation Commercial For GroupOn (2011)
Pro tip: never start a sentence with "but not all deforestation is bad…," because guess what? It is all bad. This commercial completely missed the mark in terms of what metaphors should and shouldn't be used when talking about Brazilian waxes. Still love your dress made up of safety pins though, Elizabeth Hurley.
The Best Super Bowl Commercials You Missed While You Were In The Bathroom
Congratulations! If you're reading this, it means you made it through another Super Bowl Sunday, the one day of the year when it's basically a requirement that you sit down and watch sports. Even though your mind was probably on Kylie Jenner having her baby, you still had to like, be in the room while football was happening. But everyone really only watches the Super Bowl for three things: delicious junk food, the half time show, and the commercials. We can't physically send you food through your computer screen, and we're kind of sick of talking about Justin Timberlake, but let's talk shit about commercials.
This year, a 30-second ad during the Super Bowl cost about $5 million, so all these companies better fucking hope they didn't waste their coins on a lame commercial. Really, there are probably like six ad teams around the country just waiting to be fired today once their boss sees that their commercial flopped. We're looking at you, Dodge commercial that tried to use a Martin Luther King speech to sell trucks. Come on guys, not a good look. So while you were busy shoving your face with seven-layer dip and escaping to the bathroom with your girlfriends, we came up with our ranking of the best Super Bowl commercials this year. And yeah, we probably missed some, it's really not that serious.
10. Michelob Ultra
Chris Pratt is funny and adorable and also very hot when shirtless, and he brings a lot to the table in this commercial. We're not sure who actually drinks Michelob Ultra, but nevertheless Chris is very excited about it.
9. Squarespace
I can barely get the wifi in my apartment to work, so I'm a little pissed that Keanu Reeves is apparently able to seamlessly build a website in the middle of the desert, but otherwise this is amazing. Am I like, turned on by Keanu Reeves?
8. Tide
While teenagers are busy eating Tide pods, the actual people who work there were hard at work making this epic commercial. Stranger Things star David Harbour makes the case that every ad is a Tide ad, and we kind of almost believe him by the end. It's a Tide ad.
7. Winter Olympics
While we're a little disappointed that we haven't moved past the un-ironic use of "Girl on Fire," we fucking love the Olympics. This series of ads highlights some of the top Team USA athletes, so you'll know who to pay attention to.
6. Jack in the Box
I've never eaten at Jack in the Box, but when someone says the words "Martha Stewart feud" I usually appear within 10 seconds. Martha and Jack have some serious beef (or chicken, I guess) over their new sandwich, and when she takes off her earrings, you know it's serious.
5. NFL
Was being in this commercial the Giants' punishment for having one of the worst seasons ever? That's unclear, and it's also unclear why the NFL needs a commercial while 100 million people are *currently* watching an NFL game, but we're here for the dancing.
4. Groupon
Tiffany Haddish is a national treasure and she must be protected at all costs. Tiffany dismisses the haters that say using Groupon makes her cheap, because who has time for that kind of negativity? We need to go to a spa with her ASAP.
3. Pepsi
Pepsi flawlessly rebounds from last year's Kendall Jenner fiasco with a nod to its historic commercials throughout the years. We see Cindy Crawford, Michael Jackson, and our lord and savior Britney Spears, and it's all narrated by Jimmy Fallon. Four for you Pepsi, you go Pepsi.
2. Amazon Alexa
If Amazon is going to take over the world, please let it be like this. In this ad, Alexa loses her voice and is replaced by a bunch of celebrities, including Cardi B and Rebel Wilson. Fuck country music, you're listening to "Bodak Yellow" tonight.
1. Doritos & Mountain Dew
Add this to the list of things we never knew we needed. Morgan Freeman and Peter Dinklage engage in a rap battle and we are literally screaming the whole time. If you spent all of ninth grade trying to memorize the Busta Rhymes verse in "Look At Me Now," prepare to be jealous because Peter Dinklage still knows the whole thing. Brb watching this on repeat for the next seven hours.
The Super Bowl Party Foods To Avoid At All Costs & What You Should Eat Instead
As Americans who proudly DGAF about sports but still want to partake in a national tradition we'll never understand, we really have no other choice than to eat an endless amount of calories during the Super Bowl. Super Bowl parties are known to include every American high-fat culinary embarrassment from mac and cheese to spicy wings, and unless you intend on getting through the game by drinking a room-temp Corona Light and pretending to understand what's going on, you'll be eating. Making healthy choices during the Super Bowl is almost impossible, but if you're looking to host or attend a Super Bowl party without eating a month's worth of calories in one day, here are the foods to avoid and some healthier alternatives to consider:
1. Fully Loaded Nachos
Super bowl nachos are basically a death sentence, but they're also tragically amazing. Like, whoever invented these was definitely stoned and had definitely been working too many hours at Taco Bell. If  you really insist on having some, try grabbing from the corners of the bowl, where the chips aren't completely drenched in cheese and sour cream. If you're hosting your own party, bake your own zucchini chips or kale chips and season the shit out of them. They're obviously not hardcore nachos, but they're way less calories and still taste good, so don't knock it.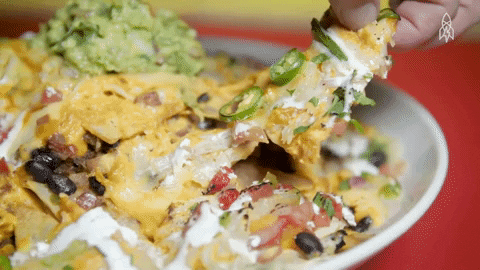 2. Buffalo Wings
Apparently Americans eat 1.33 billion chicken wings during the Super Bowl every year, and they all regret it the next morning. Wings are always a bad call if you're trying to stay somewhat healthy. Don't try to convince yourself that you need protein, because it just doesn't count. If you're making your own, try a basic recipe with no added sugars, using just tomato sauce, garlic, onion, honey, apple cider vinegar, paprika, and salt and pepper. Always bake instead of fry. If you're eating them out of a red KFC bucket, they're probably a lot worse for you than you'd think. Put down the wings.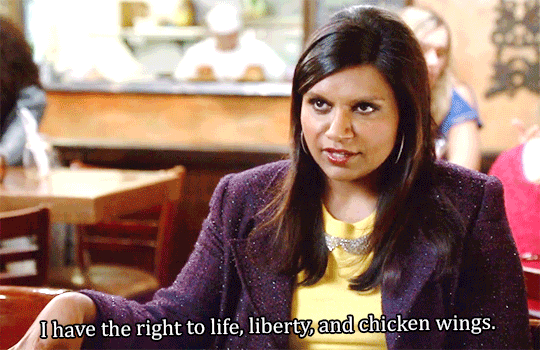 3. Pigs In A Blanket
Okay, YUM. If you didn't spend your adolescent years heating up frozen pigs in a blanket and french fries after school, I'm so sorry for you. These are addictive, but honestly unless you have the self control of a Victoria's Secret model, don't get started with these. You'd think they're so small and harmless, but eating only four of these equates to over 20 grams of fat, so be careful. You tell yourself you'll only have a few, and then suddenly you're Guy Fieri going ham at a random diner in the midwest. If you need something to snack on while refreshing Instagram watching the game, I'd stick with pita chips and hummus as a safer option.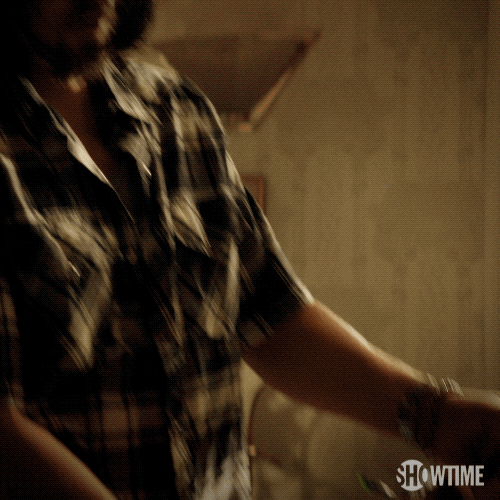 4. Queso Dip
We already spoke about cheesy nachos, but let's take a moment to discuss queso, the dip that is essentially glorified melted cheese. With some butter and milk. Maybe a sprinkle of garlic and cayenne pepper, but we all know the cheese is the real star here. This dip is a heart attack in a bowl, and honestly it's really not worth the calories if you're *basically* sober at 5pm on a Sunday. If there's guac around, go for that instead, and if you're making your own dip, find a spinach artichoke dip recipe made with Greek yogurt and light mayo. It's a fraction of the calories, it's delish, and if it means avoiding 400 grams of fat, we're here for it.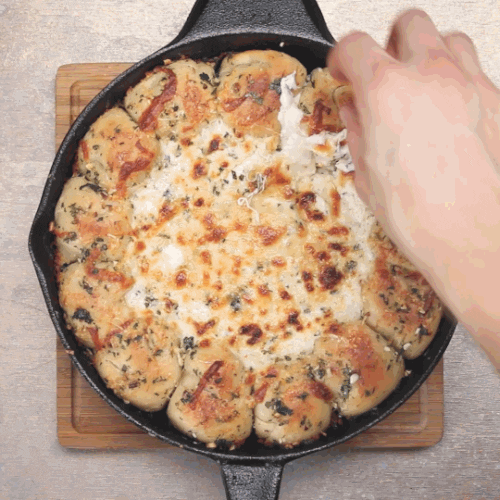 5. Chili
Chili is made in different ways so we can't say all of them are horrible for you, but usually, if you're consuming a dish made from ground beef, beer, and sour cream, we're gonna suggest you stay away. Chili is also one of those dishes where no one really has any perception of a serving size, so you just end up eating it like you're a bottomless pit who just finished a Yom Kippur fast. Instead, go for the salmon burger, the grilled chicken, or even the meatballs would be a better option. At least in that case you can count how many you've had.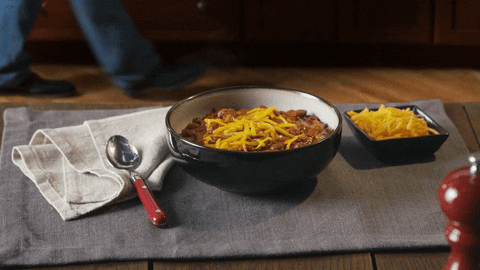 6. Soda
We've already accepted the fact that you'll be blackout by the halftime show, so let's disregard alcohol calories for a second. If you're mixing your drinks with soda, or even worse, just sipping on a Regular Sprite because you're not in the mood for water, put the cup down. You're eating enough calories at this party to feed a small village. You really don't need to drink your (non-alcoholic) calories, too. Keep your alcohol choices simple and avoid all regular sodas and sugary syrups. If you're making a mixed drink, stick with zero-calorie options like La Croix or Diet Coke instead. Straight vodka works too. It's a long game.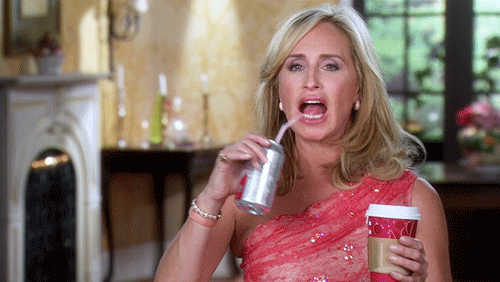 Images: Niklas Rhose / Unsplash. Giphy. 
The Head Pro's Guide To The Super Bowl
Oh, ladies. LADIES. Yes, it's once again that time of year, a time for some of our nation's absolute dumbest men to preen, posture, and smash head-first into one another while accomplashing precisely dick. No, I'm not talking about our shit-ass Congress, I'm talking about the NFL's championship game, the Super Bowl. This coming Sunday, millions of Americans will angrily realize that they forgot to come up with a reason to take Monday off gather in unity to watch two teams backed by the most absolutely wretched and disgusting fanbases compete to raise the (checks Google) Lombardi Trophy. If you're old enough to read this very adult-oriented site yet have somehow never managed to have even a passing interest in one of the biggest television events of every year, read on for what you'll need to know.

Why Should You Care?
Honestly? You probably shouldn't. Aside from this year featuring the most dreadful, least-interesting two teams possible (more on that later), the NFL itself is a shitty, morally bankrupt institution. The owners work tirelessly to funnel more and more revenue out of the players' hands and into their own, despite the people on the field having a career expectancy of roughly two weeks before they wash out with few (if any) career prospects outside of football. The league's commissioner, Roger Goodell, stands to "earn" an average of $40 million per year for the next five years, despite handling every single rule, ethical, legal, and contract violation with the grace of a newborn giraffe. Worst of all, the league has known FOR YEARS that the sport itself all but guarantees crippling, life-ruining brain injury for practically every player, and not only did they a) try to cover it up, but they've b) done NOTHING substantive to address it now that they can no longer hide the truth. There's nothing redeeming about the NFL, the quality of play has sucked as of late, and that's only going to get worse as parents guide their kids into other sports rather than risk having their brains turned into Tapioca pudding.
But on the other hand, everyone keeps watching. That's doubly true of the Super Bowl. I know I'll probably end up watching at least some of it, even though I keep telling myself I won't. Shunning the Super Bowl won't accomplish much beyond feeding into your own sense of superiority, and all your friends will probably be watching too. If you can cast aside all of the bad shit (and millions of people do, every week), it's a nice distraction from the other, WORSE shit going on in the world. Plus, sometimes, sports can be so exciting and compelling that they transcend fandom:
The Teams
Oh god, ok. Let's just get this out of the way.
The New England Patriots

Yes, the fucking Patriots are in the Super Bowl, AGAIN. As a sports fan, I really can appreiate living alongside such an impressive dynasty—I grew up a Chicago Bulls fan in the 90s, after all, and I had no problems throwing their unheard-of double-three-peats in everyone's face. But the Patriots have been so good for so long that at this point, everyone other than hardcore Patriots fans just wants them to fuck off and die already so someone else can have a turn. But the only chance of that happening this year depended on the Jacksonville Fucking Jaguars, so here we are. Their quarterback, as you probably know, is still Tom "Handsome Tom" Brady. He's still very, very good when he needs to be, and will be starting his 6th (!!) Super Bowl this Sunday. Bill Belichick is still their evil-genius coach, and fans in the future will never be able to separate Brady's greatness from Belichick's. As usual, Tom has Rob Gronkowski, a rotating cast of nameless running backs, and several short white guys at his disposal. It shouldn't work, but Brady and Belichick make it work, somehow. They play the most slogging, frustrating, irritating brand of football on the planet, slowly but inevitably andvancing the ball up the field with countless 6-yard out-passes from Brady to one of his short white guys. It's infuriating. They're going to win by 40 points.
Some Guys To Know: Tom Brady, Rob Gronkowski, Rex Burkhead, Danny Amendola, Dion Lewis, Brandon Cooks
The Philadelphia Eagles

If the Patriots have the worst fans in football (and they do), Philadelphia isn't far behind. This is a snakebitten team that's never won a Super Bowl, and faced heartbreak after heartbreak in the 2000s—and they will not fucking let you forget it. Everyone saw the mayhem that ensued after their game last Sunday, and that was a game they WON. Imagine if they shit the bed on the nation's biggest stage, again (which they will). That city (or whatever's left of it) will burn to the ground. Their terrible self-loathing is warranted due to their lack of success as a franchise, but that doesn't excuse them booing Santa Clause and pelting him with snowballs or throwing fucking batteries at their own players.
If there's one thing that guarantees the Eagles will lose on Sunday, it's because they lost their starting quarter back, Carson Wentz, to a season-ending leg injury late in the regular season. Filling in for him is Nick Foles, a journeyman who turned in a very good season as their starter, then sucked ass and bounced around the league until he ended back up on the Eagles. He was still really shitty untill he all of a sudden wasn't in the NFC championship, skeeting all over the vaunted Minnesota Vikings defense in a game pretty much everyone picked Philly to lose. Will he find the magic again to lead the Eagles to their first-ever Super Bowl? Not a fucking chance. Fairy tales aren't real in the Brady/Belichick era.
Some Guys To Know: Nick Foles, Alshon Jefferey, Jay Ajayi, LaGarette Blount, Nelson Agholor, Zach Ertz
The Commercials
Yeah, there are gonna be some long, crazy-expensive, ostensibly funny commercials airing during the game. These are why the game will be four goddamn hours long, and they'll also be released on YouTube the week before if you can't wait until then to get your #branding fix. I don't know why you would do this, but I guess they have to justify that ad spend somehow.
The Parties
Ok, first of all: You've probably made arrangements already, but if you can help it, do NOT throw your own Super Bowl party. I used to do this, because I have a big TV and I'm a fucking idiot. It's not worth it. Because everyone's a dipshit foodie now, you'll spend hours splattering your kitchen in salmonella and getting cayenne pepper under your nails for your "famous" dry-rub wings. Only about half the people you invite will come, and this will simultaneously be a) not enough people to put a dent in the six kinds of dips and entire rack of ribs you set out, and b) still more people than you have seating for. I swear, people TRIPLE in size as soon as they sit down on a couch. Oh, and no one actually Bs their O B despite clear instructions, but no one wants to get off their ass to get more, either. Let someone else be the sucker this year.
When you go to someone else's Super Bowl party, it's like any other house party except the TV will be on something you don't want to watch, there won't be any music playing, and no one will be drinking enough because they have work the next day. Depending on the host's request, I suggest bringing whatever it is you want to drink, along with a 12-pack of cheap beer for everyone else. This is a communal event, and the beer will disappear despite no one getting especially wasted. If you're asked to bring a dish, first of all get better friends, but go with something easy that travels well: chips, some kind of dip, even a tray of mac 'n cheese if you're feeling sporty. Whatever it is, the most crucial thing is that it comes in a disposable container. You are never going back for that Croc Pot, no matter how many texts and emails you exchange with the host after the fact. Plus, they don't want your leftovers. Best to leave them something they can dump down the trash chute.
I'm sure we'll have a cute post about how to navigate a Super Bowl party without getting fat, and that's fine. Otherwise, be a courteous guest and sample a little of everything, and politely have a beer or two if that's what the hosts provided. You'll be alright. I feel like I don't otherwise need to explain how to have fun at a party. A strong move is hitting multiple parties, but you have to be strategic. Obviously this is more burdensome if you plan on bringing anything to one or the other. Plus, you have to time it right because you don't want to miss…
The Halftime Show

This year's performer is… Justin Timberlake? Christ, alright. You're never gonna get someone cool like Cardi B or Kendrick Lamar or whever else you're mad about not winning a Grammy, and it could be a lot worse. The last time JT performed at a Super Bowl was in 2004, and it was the scene of the infamous TITTYGATE that rocked the nation for a solid 12 hours. Like, we didn't even really have HD back then, so chill the fuck out, grandma. It was one boob. But yeah, JT's back, and he has a new album coming out this Friday which probably explains his appearance. There's no word yet on who else might perform with them, though usually at least ONE guest performer is announced. But we do know he's been alotted 13 minutes of performance time, which means he's either going to do a medly of his past 16 or so years of hits (fine), or something godawful, like a Prince tribute. I mean don't get me wrong Prince rules, but I don't wanna hear JT squeaking his way through "Purple Rain." Anyway, this will take place halfway through the game, or roughly 8:00. You'll want to make sure you're watching so you can see the "Beyoncé did it better" Twitter takes unfold in real time.
That should do it! Enjoy the game!