Ballet Flats Are Back, And These Are So Much Better Than The Ones You Had In Middle School
Betches may receive a portion of revenue if you click a link and purchase a product or service. The links are independently placed and do not influence editorial content.
Ballet flats are making a comeback and they are more than just a pretty shoe to wear. These timeless flats are versatile, comfortable, and add a touch of elegance to any outfit. With a range of styles and colors to choose from, you can easily transition from day to night, from work to play, and everything in between. Whether you're running errands or attending a formal event, ballet flats are the perfect addition to any wardrobe. So, put those stilettos aside and step into the world of ballet flats. Your feet will thank you!

These ballet flats are a timeless and versatile addition to any wardrobe. Their classic design ensures they'll never go out of style.
Shop It: Trary Slip-On Ballet Flats, $21.99, Amazon

Make a statement with these black and beige ballet flats that offer both style and comfort. These black and white flats offer a modern twist on a classic look. They're perfect for everything from a day at the office or a night out on the town.
Shop It: Shodense Quilted Ballet Flats, $74.21, Amazon

These ballet flats are a sophisticated and stylish option for any occasion. Made with Italian leather, they're designed to last for years to come. Let's hope the trend doesn't disappear again, right?
Shop It: Everlane Italian Leather Ballet Flats, $140, Everlane

These playful and unique ballet flats are a must-have for any fashion-forward individual. Their eye-catching design and attention to detail make them the perfect accessory to elevate any outfit.
Shop It: Katy Perry Ballet Flats, $47.40, Nordstrom

Stay comfortable and stylish all day long with these boho-inspired ballet flats that feature a delicate floral pattern. Perfect for any casual occasion, their soft and comfortable design makes them a go-to choice for everyday wear.
Shop It: Free People Arissa Flats, $98, Free People

These edgy and unique ballet flats are perfect for adding a touch of personality to any outfit. Their multiple straps and unique design make them the perfect statement piece.
Shop It: Jeffrey Campbell Ballot Multi-Strap Ballet Flats, $185, Bloomingdale's

Embrace your feminine side with these blush-colored leather ballet flats that feature a delicate floral design. Perfect for a day out or a night on the town, their pretty and comfortable design makes them a versatile addition to any wardrobe.
Shop It: Steve Madden Blossoms Ballet Flats, $48.97, Steve Madden
Shopbop's Annual Spring Sale Is Here, And These Are The Pieces We Want
Since I am an underpaid peasant, most of my clothes are from Zara. Tbh I have nothing against Zara because I like looking fancy as f*ck in my crisp, cropped blazer over my tea-length flowy skirt, and knowing that I spent less than $100 on the lewk. However, as I enter my 27th year, I want to wean myself off of fast-fashion and invest in higher-quality pieces, AKA shirts that won't unravel on the gentle cycle of my washing machine. That said, I'm not about to walk into Saks and buy myself a new wardrobe because, like I said, I'm poor. The solution? Shopbop's bi-annual sale! 
Now, if you're not familiar with Shopbop, climb out of the hole you're living in and join society. Shopbop, which finally has its own storefront on Amazon, carries literally thousands of designers that are perfect for people who want to graduate from Zara but not quite reach Saks. Shopbop is affordable and that is why I love it on any given day; obviously, I love it a little more when everything is up to 25% off (with the code SPRING). If you get overwhelmed easily, allow me to share our favorite things on sale, and make sure to buy before the sale ends on March 8th!
Shoes

Rag & Bone Razor Booties, $495
I am that annoying girl who wears boots in the peak of summer and guess what, idgaf. I have no shame in my game because boots—booties, to be more specific—are stylish all damn year. Rag & Bone sells all sorts of stuff, but the brand is most-loved for its amazing leather boots. My bank account weeps every time I admit that I own three pairs, but there's a very logical reason for that! The leather is thick af, which makes me feel a little fearless when I wear them because they're basically indestructible. I will say, though, the white definitely gets dirty, so make sure you get yourself a good leather balm to keep them clean. 

Soludos Lauren Espadrille Sandals, $85
I never would have bought these because they are obviously a tad loud, but I got them in one of my Trunk Club boxes and they are literally my favorite shoes. They are so f*cking cute and they surprisingly go with everything. I've worn them with a pale blue fit-and-flare dress, I've worn them with denim cut-offs and an oversized white tee, and I've worn them with skinny jeans and a cropped denim jacket. Seriously, they're more versatile than they seem. The only tiny issue is that they are definitely not made for long strolls. They do have a rubber sole, but it's very thin, so be careful where you wear them. Other than that, they're perfect.

Schutz is the underdog of shoe brands because I always forget about it when I'm on the hunt for a specific style, but they always end up having the exact pair I'm looking for. I have a pair of kitten-heeled boots, silver ballet flats, and sky-high, strappy stilettos from Schutz (can you tell I have a shoe addiction?) and the one thing they all have in common is that they are f*cking comfortable. Like the Soludos, they aren't meant for a walk along the beach, but if you are going to a dressy event and know you'll be on your feet for most of the night, these babies are the move. 
Tops

Tbh, I can't really say why this top is speaking to me so much because I haven't worn a crop top since 2012, but there's something about this hot pink number that I absolutely love. I would probably wear it with an aggressively high-waisted skirt, but I am also loving the way the model is wearing it. Even though it's obviously a very specific look, you can pack it for a trip and wear it a few different ways. I would, however, make sure it's the highlight of the outfit because anything that would compete with a top like this wouldn't be a good look. 

Stateside Poplin Twist Front Shirt, $162
I have a weakness for white button downs. Whether they're boyfriend style or super crisp, I don't even care. I want them all—especially this one. I am absolutely loving the menswear vibe and think it would look chic af French tucked into a pair of tailored bootcut jeans. A classic white shirt is timelessly elegant, but I love that this one has a little bit of a style moment with the subtle twist on the front. Obsessed. 

Birds of Paradis Carla Blouse, $218
For the record, I would not classify my style as preppy, but I appreciate very preppy pieces when they're paired with something a little grungy. For instance, this top, which screams Blair Waldorf circa season one, would look amazing with a pair of distressed boyfriend jeans and a pair of beat up high-tops. Or, of course, you could go the more neutral route and wear it over a pair of skinny jeans and metallic flats. Either way, this top wins.
Accessories

I am a big earrings gal and I am proud to admit that I have about a million pairs. It's a rough estimate. Anyway, as you can guess, I have multiple piercings and I would probably wear these with a few studs or smaller hoops in my other holes. **Cringes** These are a nice, contemporary shift from the classic gold hoop and I'm definitely into it. They aren't the kind of earrings someone will stop you on the street to ask about, but they can be the finishing touch on any look. Next!

Botkier Cobble Hill Mini Crossbody Bag, $198
If color scares you, fear not because this very chic bag also comes in white with a tortoise shell handle.  Tbh I love the yellow because it's attention-grabbing, but not too in-your-face because it's pretty pale. Another thing I love about this bag, aside from the sharp, structured shape, is the fact that the leather is textured, as opposed to smooth. If you're wondering what the f*ck difference that makes, let me just say, it makes a huge difference because all you have to do for smooth leather to scuff and scratch is, like, breathe near it. Textured leather, however, is tough af and, in my experience, is incapable of scuffs/scratches. 

Krewe Prytania Sunglasses, $275
I lose every pair of sunglasses I come into contact with, so I never spend too much on them. These are definitely a little bit of a splurge, but they're so stylish and timeless that I will put extra effort into not losing them. Of course, these will look good or horrible depending on your face, but this oversized rounded square shape is generally pretty flattering. The tri-color detailing on the upper rims make them a serious fashion find.
Dresses

FARM Rio Mini Cashew Mini Dress, $155
Yes, this is a dress with a cashew pattern, but it's so cute that it's nuts! I hate me, too. Personally, I think all dresses with a snatched waist like this are flattering regardless of your body type. You obviously have to be pro-color if you're going to buy this dress, but one thing I love about the palette is that it's pretty muted. This is something I'd wear to dinner on a beach trip with a pair of straw wedges and a big-ass pair of sunglasses.

LOVESHACKFANCY Edie Dress, $295
I don't know how they do it, but the designers at LSF make extremely flattering and sexy peasant dresses. This is the kind of dress, though, that would only look good in white. If it were in any other color, it would look like a nightgown my grandma would love, but in white, it looks like something a Grecian goddess would show up to brunch wearing. The eyelet details and the high slit in the front make it young-person friendly, and I am excited to wear it since I fully just purchased it as I am writing this article. I'd wear this with a pair of lace-up flat leather sandals or a pair of cork wedges. I seriously cannot get enough of this dress; it better fit me.

Z Supply The Reverie Dress, $60
As you can tell, I like a good oversized piece of clothing, and this dress is no exception. I love that it's cotton because that means I can get away with wearing it as a cover-up to the beach and to dinner later that same day! It is my personal opinion that everything looks good with heels, but I actually think this dress would look pretty stupid with anything other than a sensible flat. The dress is so casual that trying to dress it up with any type of heel just wouldn't work.
Images: Jakob Owens / Unsplash; Shopbop
Betches may receive a portion of revenue if you click a link and purchase a product or service. The links are independently placed and do not influence editorial content.
7 Spring Shoe Trends For Under $50
As much as I'm not looking forward to regular $30 pedicures again, I'm definitely looking forward to sandals season. Although this winter hasn't actually been that bad in terms of cold or snow, I'd still much rather be able to display my toes without risking frostbite. But until that happens (which is usually like, Memorial Day because the East coast can't have nice things), I'll just have to make do with buying sandals rather than wearing them. If you're a person who keeps up with shoe trends, this spring and summer will bring a lot of fun styles. But if you're also a person who doesn't want to spend all their money on dramatic lace-ups that may not last until summer 2021, then read on, because I've found versions of what will be the hottest spring shoes for under $50.
1. Lace-Up Sandals

Pretty Little Thing Black Cylinder Heel Toe Ankle Tie Sandals, $45
The "cool" thing to do right now is to wear lace-up shoes all wrapped up around the bottom of your pants (as exemplified above). I know that this may be a bit bold for most people so, even if you're not ready to go full fashion blogger-level with the lace-up trend yet, you can simply start by just getting yourself a cute pair of lace-up heels that pair well with everything, like these.
2. Citrine Colors

RAID Sidney Super Strappy Mid Heeled Sandals, $48
Last spring was all about over-the-top neon colors. This spring, we're moving toward a more sophisticated but still bold color palette of citrine colors. It's like the elevated grown-up version of the neon trend, that makes a statement without that statement being "I just bought tickets to Dayglow".
3. Chain Details

Public Desire Treasure Black PU Chain Detail Heels, $49.99
Subtle everyday gold chains have become a staple among fashion bloggers all across Instagram. And now, the trend is also creeping its way into footwear for spring shoes. This trend is best done with an otherwise simple, understated outfit so you avoid looking cheap. As long as we've all agreed that we're not doing actual anklets again, then I'm down with this anklet-adjacent trend.
4. Loafers

ASOS DESIGN Simba mid-heeled loafer, $44.50
I know everyone loves to hate on the grandpa loafer trend, but it's back and bigger than ever for spring. Personally, I enjoy the trend, but I also enjoy a quality dad sneaker too. I guess I just love a chunky shoe named after typically non-stylish male family members, sue me.
5. Espadrilles

Free People Laurel Canyon Espadrille, $44.96
I'm always down for an espadrille. It's very pampered-rich-girl-goes-casual-while-vacationing-in-Turks-and-Caicos kind of vibe, which I'm always trying to project, regardless of physical location or financial status.
6. Mary Janes

Lulu's Laura Nude Suede Heels, $37
I can't take this shoe trend seriously, mostly because it reminds me of costume shoes for theatre characters. That said, with an ankle strap and thick heel, these shoes are comfortable to walk in, and I can't hate that.
7. Square Toe

Public Desire Harlow White PU Mules, $44.99
If you read my article from a few months back about Instagram trends that you can shop for less, then you're already in the loop on the square toe trend. Everyone who's anyone is wearing this style shoe and, if you failed to take my advice last article and order yourself a pair, well then, here's your chance once again. You'll just now be less of a trend-setter and more of a follower but like, not my problem.
I'm so ready to swap my UGG boots for some trendy spring shoes already. Realistically, I know I'll still be stuck wearing my UGGs for at least the next month or two but hey, here's to positive thinking.
Images: @dayinmydreams / Unsplash; Pretty Little Thing; Asos (2); Public Desire (2); Amazon; Lulu's
Shoes Under $60 That You Won't Care About Ruining
It's no secret that part of being in college means destroying a perfectly good pair of shoes on a night out. You promise yourself you won't get drunk enough to actually do any damage to your brand new booties, only to find yourself in a frat basement full of jungle juice puddles. It f*cking sucks. I get it. If you're someone who refuses to stick to one staple pair of "going out shoes," and has wrecked countless pairs, I come to you today with  shoes under $60 that will allow you to look both great and still be able to afford dinner.
I have used this article as an excuse to online shop done extensive research regarding the cheap shoe selection on the market. I can't promise these shoes will be the highest quality you'll ever own. However, I can attest to the fact that they're cute and you probably won't care when drinks or god knows what else gets spilled on them at a party. These shoes I chose are mostly all black options. Honestly, I don't think is too much of a hot take considering you step into one college bar and your white shoes will look like you just trudged through a sewer. Here are shoes under $60 that you won't care about destroying. 
 Boots
I know what you're thinking. Black booties for going out? Groundbreaking. But if you go to school in a literal arctic tundra like myself, boots are my go-to. Not only do they allow you stay a little warmer while you wait in line for a bar you can't get into, but they also can look cute with quite literally any outfit. Also, if you're on the shorter side, boots can give you a boost in height without wearing heels that make you look like you're trying too hard.

Coming in juuuuust under the $40 mark, these Zara booties are a great way to get a chunky boot look similar to Dr. Martens, but the studs and belt detailing makes them more unique than a plain pair of Chelsea boots.

The Nasty Gal booties have croc details that add layers to a going-out look and give you a good boost of height. If these boots survive a night out, they're a cute addition to an everyday outfit that'll make you look like you actually give a sh*t. Nasty Gal is also aaaaalllways having a sale (literally every day, not even exaggerating). You can easily find other affordable alternatives if these aren't your style. Win-win!

Forever21 has also been having a ton of sales as of late, so like Nasty Gal, it shouldn't be hard to find a good deal on a pair of booties. These faux patent leather ankle boots are kind of edgy and give you a height boost. They have more of a platform heel which should  be more comfortable for long-term wear. The heel also looks pretty water-resistant, which we established is key for surviving a night in a frat basement.
Sneakers
I absolutely love sneakers, but I have one golden rule: avoid white cloth/canvas sneakers like the mf PLAGUE. Normally, I tend to go for a black platforms (because I am lazy) or a white sneaker made of a material I can wipe clean. I also have friends who simply buy a pair of cheap white cloth shoes and replace them once they are too hideous to be seen because they like that style better, so your choice.

ASOS has a sh*t ton of white sneakers to choose from. These are a material you can clean off easily (like I said, my go-to) and have a cool animal print touch above the heel. The platform gives the sneakers a more trendy look, which, let's be honest, no one is looking at your shoes when you're out, but it means they'd be cute to wear in the daytime too. 
This is a more classic take on a white sneaker. Same deal: all-white material that can be easily wiped off, but this pair doesn't have a platform. Although platform sneakers aren't necessarily difficult to walk in, these are definitely a safe alternative for long-lasting comfort.

Similar to the other pair of ASOS sneakers, these black platform sneakers are a staple item that add a little flare to your outfit.
Platform Sandals/Wedges
The only "heels" I am going to include on this list are platforms and/or wedges. The concept of wearing heels out is pretty foreign to me, both because no one at my school does, and because whenever I wear heels, I look like a giant praying mantis. I also feel like the more stability, the better. The last thing you want is to be that bitch walking around outside a bar with her shoes off.

This is a pretty basic pair of black platform sandals that can easily be dressed up or down. The fact that they are leather means they'll hopefully form to your foot, be comfortable, and last a little longer than other sandals.  

If you've seen a photo of your friends or friends adjacent in a pair of strappy sandals over the summer, there's a good chance they had these on. Channel your inner basic bitch and buy these affordable cork-bottom platforms. Just read the size guide carefully because these sites can be hit or miss.

Finally, this pair of platform sandals are fairly similar to the first ASOS pair, but with a lace-up detail that could look sick with any sort of outfit. Naturally, I also saved the most affordable pair for last! You seriously can't go wrong with these sandals for only $19. They're basically free. 
Even if you didn't love a single pair of shoes on this list (whatever, your loss), the places above are great starting points if you're looking for a specific style. No one wants to be spending hundreds of dollars on shoes they know are going to be trashed by the end of the night. Go irresponsibly spend money you don't have on sh*t you're going to inevitably ruin.
Betches may receive a portion of revenue if you click a link and purchase a product or service. The links are independently placed and do not influence editorial content.
Image: Syd Wachs / Unsplash
7 Boots You Can Wear Right Now And During Fall
Most people consider Labor Day weekend to be the official marker that summer is over and fall has begun. If you're a purist, though, summer isn't over until September 23, 2019. However, just because the calendar now says September doesn't mean Mother Nature agrees that it's fall. It's still been hot outside, far from that crisp, cool, pumpkin spice weather we've been waiting for since June. So, given the major discrepancy between the actual temperature and society's consensus on what season we're in, figuring out what the hell to wear is a daily struggle. It's like, according to the weather I could get away with open-toed shoes, but at the same time, I understand it's no longer socially acceptable to wear my best summer wedges at this point. That being said, in my never-ending duty to help make your morning routine somewhat easier, I've compiled a list of the best transitional boots to get you through this weird-ass time.

These amazing snakeskin boots are an ideal transitional shoe that you can wear now, during fall, and even into winter. The color combo of these boots is total fall vibes without being too rich or dark that they'd be weird to wear now. The snakeskin print makes them on-trend, and they're the perfect mix of neutral shades to pair with everything in your closet.  I mean, snake print itself is basically a neutral these days. You heard it here first. 

The shape and style of these little black crocodile boots are the epitome of everything you need in a great transitional shoe. They'll look great now with shorts, skirts, and cropped pants. Then, as the weather really does get chillier, these boots will be awesome to wear over your skinny jeans or underneath your flares.

In case you're not already aware, white booties are a great shoe to invest in because they can legit be worn all year. They obviously make sense for summer, but they've also been the go-to booties for influencers and celebs in the fall and winter. All this to say that white is no longer a color strictly reserved for the summer, and it's even kind of edgy for every other season. If anyone dares to tell you that it's unacceptable to wear white after Labor Day, please confidently reassure them that only losers still follow those outdated and cliche fashion rules.

Woven style booties are ideal for transitioning your footwear game from summer to fall. They're breathable enough that they're comfortable when it's still hot, while still looking relatively fall-appropriate. Particularly this pair, since the deep brownish shade speaks to the upcoming season, while the style speaks to the current season. As you move into the second half of fall, pair these with a cute sock that shows about an inch above the bootie for a stylish layered look that will also help keep your feet warm.

If you're someone who can pull off a chunky Dr. Marten shoe, now is the time to do it. These are a very practical and stylish option when searching for a boot that can transition from season to season. Now, I know a lot of you probably hate the look of Dr. Marten's. Well, I'll have you know that Madison Beer was just spotted wearing hers around town. So, if Madison Beer and her v cool stylist, Maeve Reilly, support them, then you should too.

A tan suede bootie screams fall. However, this particular style is not so fall that you can't wear it now, given the style of the boot. The western look and side cut-outs make them totally acceptable to wear even before fall technically arrives, while the suede material allows you to get away with wearing them through late fall. I actually own this pair, so I can vouch that they look cute with everything from a denim mini skirt to slouchy boyfriend jeans. 

A black Chelsea boot can carry you through the majority of the year. It's simple, chic, and elevates your outfit. Wear them now with skirts and cropped jeans, and then wear them seamlessly through the rest of fall and winter with everything else. They're a staple everyone should have.
Dressing for transitional weather is annoying, and I know that. Trust me, my roommate asks me every morning if she can wear "these shoes now," so I'm sure that most other people feel that same stress while trying to get ready. However, I've now equipped you with seven different choices of boots, so you should definitely feel a little more confident regarding what's acceptable and what's not. So now, if YOU'RE the annoying roommate it's officially time to knock if off. Just order one (or all) of the aforementioned boots, and let your poor roomie live her life in peace, please.
Images: Allef Vinicius / Unsplash; South Moon Under; ASOS; Franco Sarto; Matisse; Urban Outfitters (2); Nordstrom
Betches may receive a portion of revenue if you click a link and purchase a product or service. The links are independently placed and do not influence editorial content.
Five Summer Sandal Trends For Under $100
Believe it or not, summer is pretty much here. We all know that once Memorial Day weekend hits, everyone is straight ~summer state of mind~ from there on out. That being said, it's time to go treat yo' self to a nice-ass pedicure because sandals season is here. And, if you haven't started shopping for your summer sandals yet, don't worry, I'm here to help. Of course, I'm not here to recommend you just go buy yourself a basic pair of Rainbows and call it a day. No, no, you're better than that. You've got more style, and if you don't, well then take a cue from the following list! Here are the biggest trends in summer sandals and a few must-have styles for each.
1. Barely There Minimalist Sandals
The minimalist strappy sandal trend is yet another '90s trend making a come back this season. This style has been big recently among celebs, like the Kardashian and Jenner sisters, so like, what more proof do you need? This style sandal is perfect for pairing with all your sundresses this season because it's elevated without being over-the-top (contrary to some of the other trends on this list). This style sandal also looks cute worn with denim shorts and a button-down, or ripped jeans and a tee. Basically, it's a must-have sandal because it's guaranteed to look good with all of your outfits. Can't beat that!

Jeffrey Campbell 'Kaine' Sandal, $90

Zara Strappy Mid-Heel Leather Sandals, $79.90

Urban Outfitters 'Ana' Strappy Heeled Sandal, $74

Topshop HIPPIE Flat Sandals, $40
2. Sporty Sandals
Sporty sandals are v trendy this season, something that I'm sure a lot of you will disagree with me over in the comments section. Look, I don't decide the trends, I just report on them, so take it easy on me. But anyways, these once deemed "nerdy" style sandals are all the rage right now, with all the designer brands showing them on their runways. It's a hard style to pull off, but if you're up for the challenge, I'd go for it because these sandals look comfy af.

Zara Flat Padded Athletic Sandal, $69.90


Zara Multicolored Sporty Low Heeled Sandal, $59.90

3. Animal Print Sandals
If you haven't already seen leopard and snake print EVERYWHERE this season, well then, you're blind. It's everywhere from clothes to accessories to, of course, sandals. It actually makes for a chic and wearable print for sandals because it can be styled as a neutral. They add a stylish and unexpected element to your outfit, without clashing or taking away from it. They're an easy print to mix and match into this season's wardrobe, making them an overall essential sandal to have in your arsenal.

Topshop HOP Neon Flat Sandals, $40

Zara Mid-Height Heeled Elastic Strap Sandals, $49.90

Coconuts by Matisse Leopard Pebble Sandal, $35

Chinese Laundry Montezuma Snake Sandal, $69.99
4. Neon Sandals
Again, if you don't already know that neon is a HUGE trend right now, I'm judging you. (Okay, not really because like, my ability to inform you of trends is the only reason I have a job, so thank you.) Neon is big for spring, and will continue to be big for summer as well. And tbh, this is a trend I'm here for. I mean, what looks better with your bronzed summer tan than a bright neon? Nothing. This trend was made for summer, and especially summer sandals, and I'm here for it.


ASOS DESIGN 'Fleeky' Mule Sliders, $32

ASOS DESIGN Heckle Toe Loop Barely There Block Heeled Sandals, $48

Zara Tube Strap Low Heeled Sandals, $29.90
5. Woven/Raffia Sandals
This is a sandal trend that is pretty much a given every summer. This style sandal just makes you want to take an Insta-worthy tropical vacation…or more realistically, at least hit up a rooftop happy hour on a summer Friday. They have a boho natural vibe, but are elevated enough to also dress up your outfits. This style usually comes in natural colors, so they'll match everything in your closet. Which, is a great quality when you're packing for your summer vaca since you and I both know that suitcase is easily already over 50 pounds.

UO 'Rosalie' Raffia Platform Sandal, $49

Jeffrey Campbell 'Dane' Sandal, $75

Zara Woven Platform Wedges, $69.90

Seychelles 'Everlasting' Slide, $69
So there you have it, five types of summer sandals and four options for each! Now, you have NO excuse to be wearing Rainbows this season or, dare I say, your Old Navy flip-flops. I don't care how cheap they are, you're a grown-ass woman and shouldn't be buying her summer shoes from a store that advertises via commercials with adults jumping around and singing. Understood?
Images: @jonathanborba / Unsplash; Revolve (4); Zara (6); Urban Outfitters (3); Free People; ASOS (3); South Moon Under (2); Topshop (2)
6 Sneakers To Wear At Your Wedding That Aren't Tacky
As your resident fashion expert, it may seem odd that I'm suggesting you have some stylish sneaks to wear for your wedding. Not for like, the ceremony of course, but definitely for the reception. Once you've gotten through all the ceremonial stuff, it's time to let go of your Type-A bridezilla tendencies and partayyyyy. You paid all this money for your demonstration of love, so if you don't let loose to "Yeah" by Usher afterwards, then you're not doing it right. The problem? Heels are uncomfortable, obviously. That's where wedding sneakers come in. When done right, they can be a lifesaver that adds a playful touch to your look. But that being said, I'm def not suggesting you throw on your best Nikes that you wear to Barry's Boot Camp for your big day. Your shoes need to be cute, stylish and go with your bridal look in the least tacky way possible. It's not an easy feat, but I'm here to help.

These ones are a collab between Kate Spade and Keds, and are as predictable as it gets for bridal wedding sneakers. They're sweet, cute, and basic, but unlike other options…not tacky. The platform is great for a little extra height, and the glitter makes them festive in a non JoJo Siwa-adjacent way.

These sneakers are an easy, classic option that you'll totally rewear post-nuptials. They're a great everyday sneaker that would look chic and clean with your wedding dress. They're effortlessly stylish and say "I'm not a regular bride, I'm a cool bride."

I'm obsessed with these sneakers, especially for breaking it down at your wedding reception. They're unique and less predictable than the ones offered at bridal stores. Not to mention, Air Force sneakers are the comfiest of comfy, which will be an amazing relief to put on after your hard day of being your most beautiful self. Hey, beauty is pain!

Yes, these ones are expensive, but if your soon-to-be hubby tries to give you sh*t, just remind him, "It's my f*cking wedding day!" *Said in your best Stassi Schroeder impression.* These sneakers are fashionable and cool, but don't have that dirty old sneaker look that many Golden Goose sneakers are famous for (sry). The last thing you need on your big day is having to explain to your in-laws that yes, you bought your shoes like this. And yes, you did pay for sneakers that look dirty.

I love how feminine and whimsical these slip-on sneakers are! They're perfect for the bride having her fairytale wedding, who's too girly to wear a traditional sneaker with her dress. These have the iconic Marc Jacobs daisies on them, so you know they're both feminine and street style-approved.

Okay, these ones are for the bride who prides herself on her fashionista ways. Again, they're predictably expensive cause like, they're Moschino, but if you ask me, I'd tell you they're worth it. Like, these are totally the sneakers Erika Jayne would wear at her wedding reception. And I mean, if Erika Jayne would wear them, then you should too.
Trust me, after a day full of smiling for the camera and excruciatingly beautiful heels, you're going to be happy to have a cool pair of wedding sneakers to change into. I mean like, I've never been a bride or anything, but I have gone out in heels, and was in so much pain that I HAD to change into those drugstore ballet flats that fit unnaturally into your clutch. No, I wasn't prepared enough to have had them in my purse, my friend did. But let me tell you, I was glad she did. Don't be forced to wear your friend's flats that conveniently yet inexplicably fit into her purse on your big day. Rather, maintain your dignity and prepare by getting one of these stylish pairs of sneakers instead.
Images: @sweeticecreamweddings / Unsplash; Nordstrom; Urban Outfitters (2); Revolve (2); Shopbop
Betches may receive a portion of revenue if you click a link and purchase a product or service. The links are independently placed and do not influence editorial content.
6 Winter Shoes That Are Actually Cute Enough For Going Out
I love winter. I live in LA, so by winter, I mean 65-degree weather where you don't actually wear a coat. However, I'm definitely guilty of getting into a style rut where I wear the same leggings from Amazon, sweaters that says something stupid like "I Love My Dog," and boring boots every day. But like, when it's cold af out, we have to prioritize maximum coziness. That being said, you don't actually have to sacrifice style just so you don't, like, freeze to death. Or in my case, be slightly uncomfortable. If you live somewhere with actual seasons and you're wearing a huge-ass coat everywhere anyway, the least you can do is throw on cute shoes to appear more put together. I'm aware there is, like, slush and ice, and snow, and other variations of frozenish water that you have to navigate through lest you fall on your ass. But if you're going out, skip the ratty Uggs your mom bought you in high school, and throw on these cute shoes that are also functional for the cold.
The true MVP of our fall fashion has carried over well into winter. You have to have a pair of over the knee boots, it's just not really negotiable at this point. Not only are they chic af and slimming, as the boots are kind of Spanx for your leg fat, they are warm. It's like wearing double pants and you can layer thick socks underneath too. The only downside is that these boots are def not waterproof, so this is more of a calling-a-Lyft kind of shoe instead of trekking through the snow.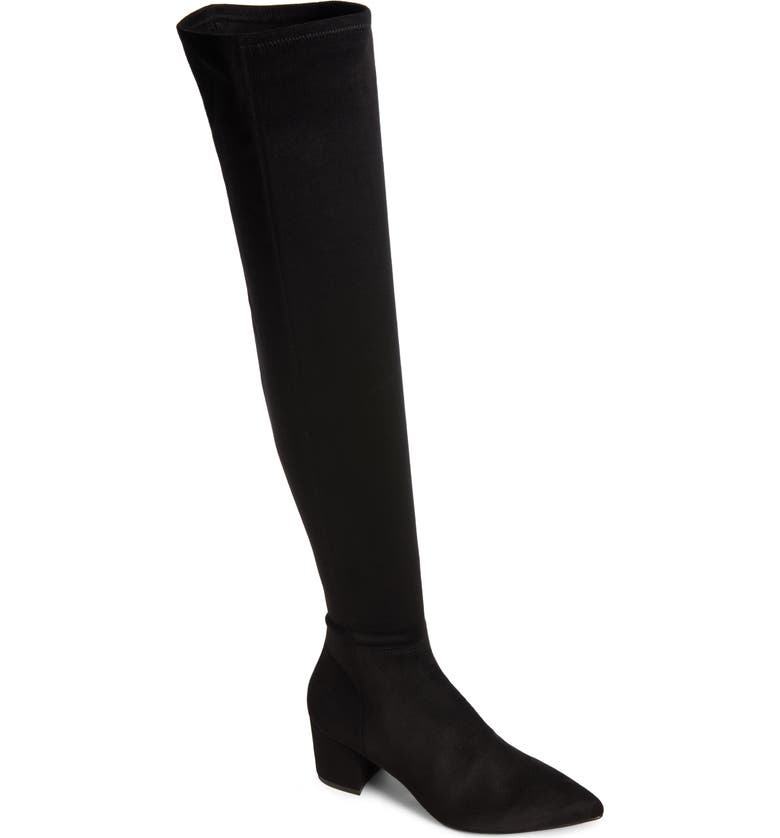 If you walk often in bad weather–which, how do you keep your hair from looking like shit?–it may be worth it to invest in super high end waterproof boots that don't look at all like actual snow boots. There are a ton of brands that have waterproof faux suede or leather styles that are actually totally okay to wear in rain and snow but also you don't look like f*cking Paddington Bear. These Ross & Snow boots are weatherproofed and are shearling lined to keep you super warm.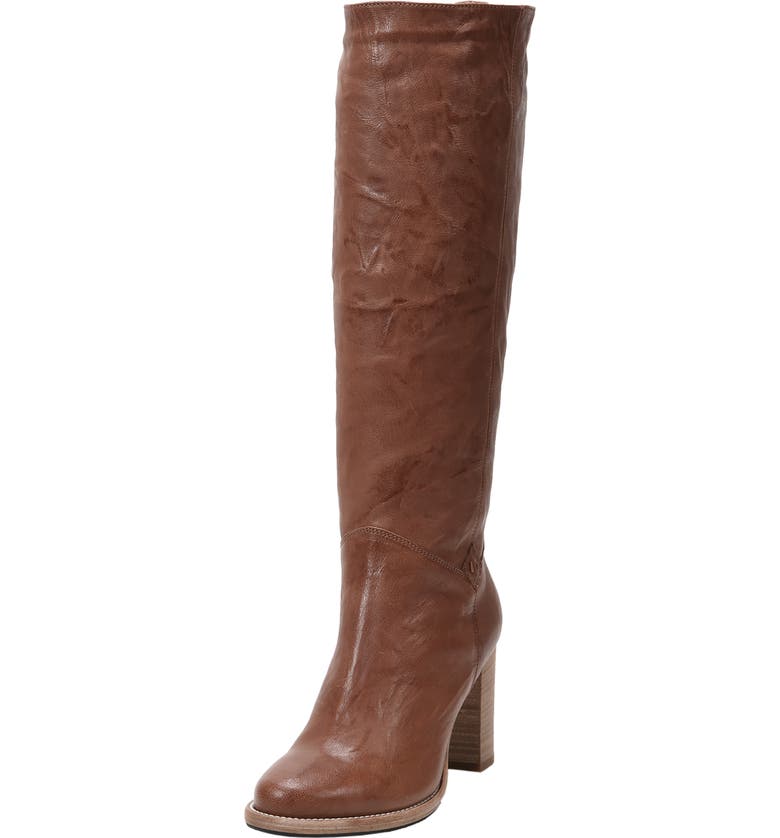 A heeled bootie with thick tread on the bottom is the secret to looking super fashionable in the snow without slipping and eating sh*t on the ice. Plus, the lace-up style is totally edgy and they're cute enough to look like you chose them on purpose and not just because you're cold. They're like an upgraded Doc Marten for adults doing adult things.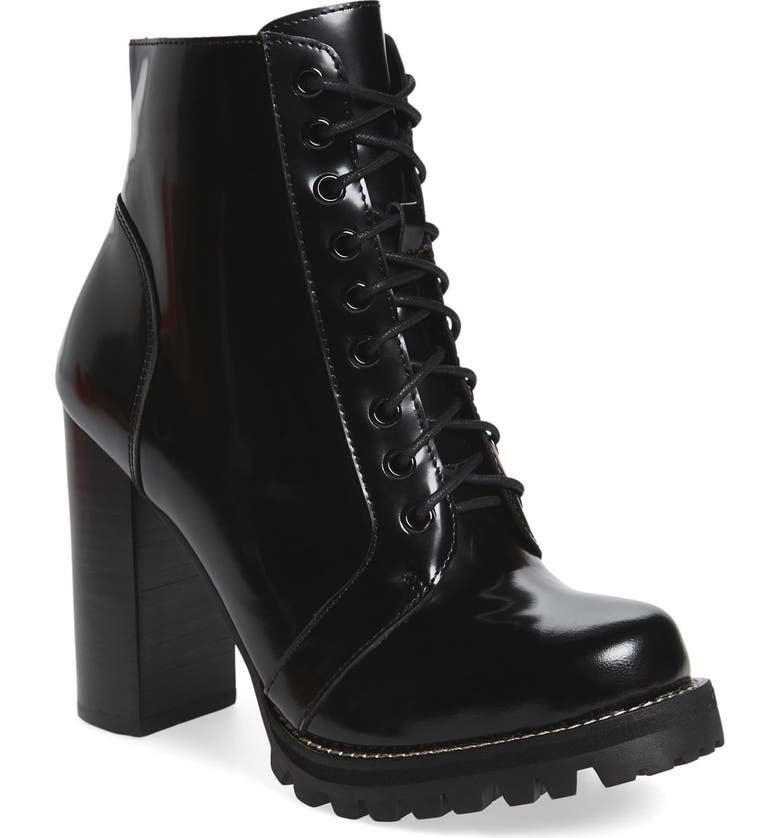 These little velvet booties are sooooooooo cute and not super functional in weather, sorry not sorry. But they are definitely winter chic with the blue tones, and will totally keep you warm on your way to your destination. I just definitely don't recommend sloshing through the rain in them. These shoes are the perfect transitional piece into spring and while they will keep you warm, the short style will also keep you from dying of heatstroke once you're at the party and the host has decided to blast the heat despite the 50 sweating bodies there. Seriously, why do people do this? It's freezing outside so we all have to swelter inside? Can I just never be happy then?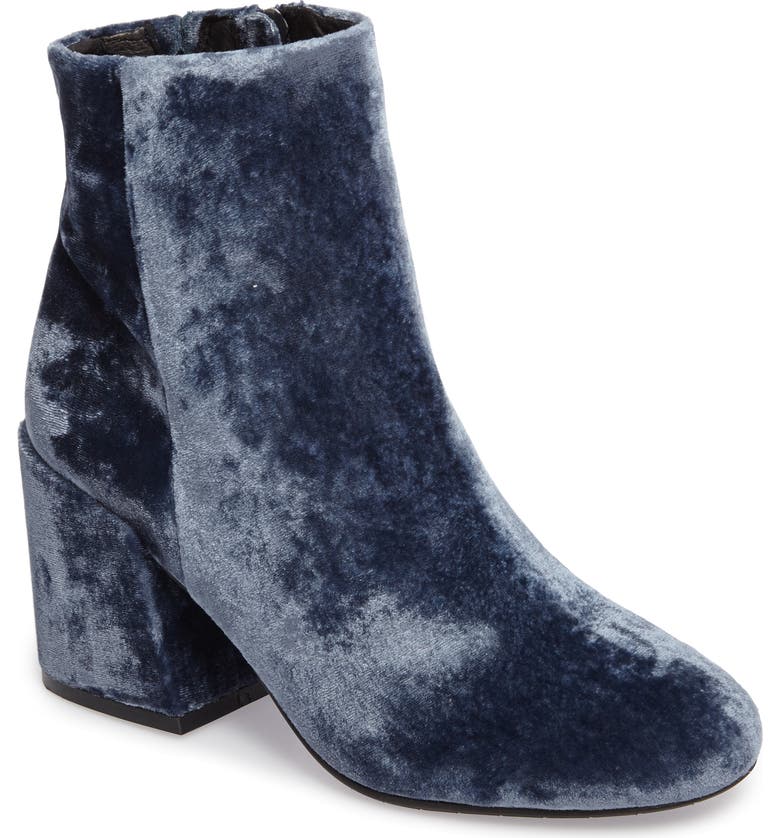 The biggest downside to the clear heels that we saw everywhere all last year is that should you sweat at all, your feet will die in these plastic-clad ovens. It's like the effect of those plastic raincoats you get at sporting events, but just for your feet. Ew. Good news is that in the winter, this will also keep your feet warm and being patent leather/plastic material means these babies are totally waterproof. If you're really worried about being too cold, you can even wear thick printed socks underneath and show them off. You'll look like an Urban Outfitters ad.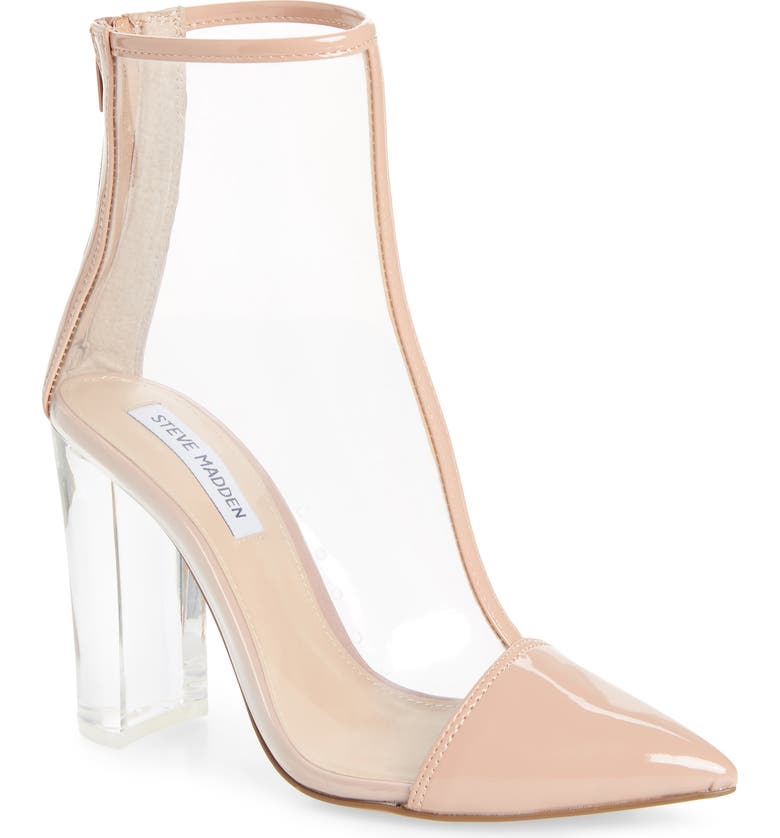 If it's really pouring and you must wear a rain boot out, I suggest getting one that is heeled, short, and really, really obnoxious. The key is to make it seem like you're wearing the booties on purpose, not like you threw them on as an afterthought because it's-duh-f*cking raining. These bright orange Jeffrey Campbell's are a total statement piece that you can build the rest of your outfit around. Plus, they're super comfortable and your feet will be dry.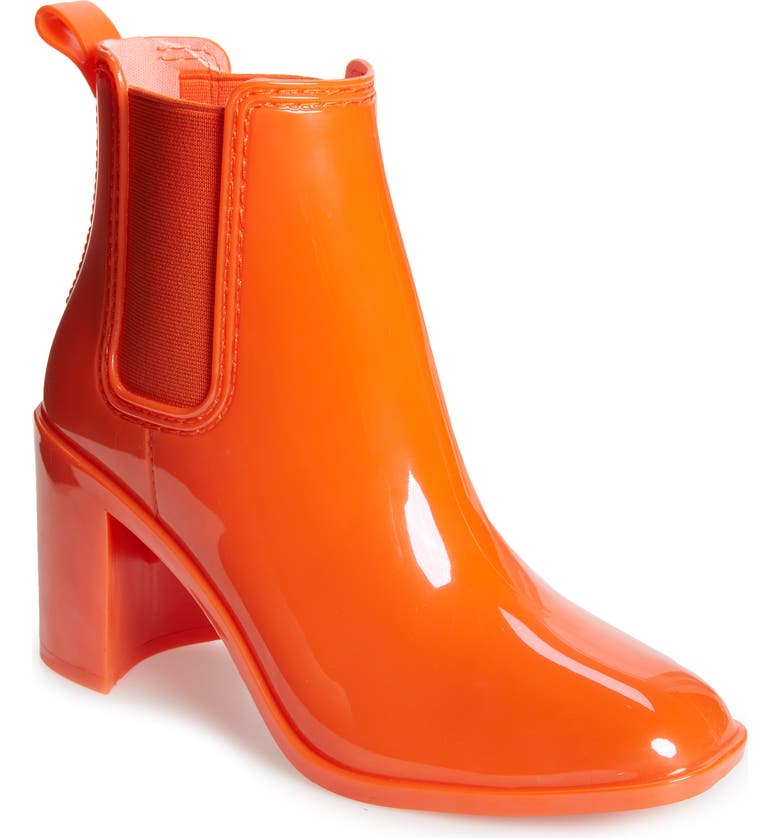 Images: Shutterstock; Nordstrom (6)