The Best & Worst Influencer Beauty Collabs Of 2019
Influencer
/ˈinflo͝oənsər/  
noun
noun: influencer; plural noun: influencers
a person or thing that influences another.
Influencer Collaboration: an influencer and brand teaming up to scheme you into buying their *must-have* products. 
Influencer collaborations are a dime a dozen nowadays, and only the strong survive. With a million and one launches being not-so-subtly shoved in our faces every time we open any form of social media, it's important to narrow down which collaborations are actually worth the purchase, and which are a major skip. 
The Successes
Jeffree Star, punk singer-turned-YouTube beauty influencer-turned-mega millionaire business owner, recently launched his cosmetics line collaboration with YouTuber Shane Dawson. A simple Instagram campaign was not enough, so the two partnered for a YEAR to put together a seven-piece docuseries about the ~BTS~ of working on a makeup line. There were smiles, there were tears, there were meltdowns… which sounds like a typical Monday in my book. 
The seven-hour long series averaged 18.7 million views per video (casual) and resulted in the duo "breaking the internet" come collection launch time. And I don't mean "break the internet" in the way Paper magazine throws it around every month now—I mean, Shopify was down for almost three full hours, with 2+ million unique users attempting to make purchases on the website at once, which was documented in full in the series finale. In the docuseries, Star calculated that Dawson himself could walk away with 10 million dollars in collection revenue. Given that the collection did in fact sell out in its entirely across all retailers, we'll assume that the duo met their goal. 

When categorizing the year's top influencer collaborations, I'll put this one as the number-one hit of 2019, given its great success, positive reviews, and sincere demand for restock. 
While on the topic of men dominating the beauty industry, we'll talk James Charles, and his collaboration with Morphe. Charles, who had a tumultuous 2019 with his involvement in "Dramageddon 2" (I can't believe I am actually referring to this term), launched "The James Charles Palette" in November of 2018, and sold out twice before hitting the 2019 mark. 
I'll divert for a moment to explain what Dramageddon is/was (judging myself, again) just because I feel like it's necessary. 
Fellow YouTuber/beauty guru, Tati Westbrook, came out with a (since-deleted) video in May titled "Bye Sister", consisting of Tati sitting down for 40+ minutes and ripping her former BFF James to shreds. The video left the internet in a frenzy, giving gossip channels content for YEARS, and allowed other beauty gurus (i.e. Jeffree Star) to weigh in and cancel James Charles. Followers/gossipers/14-year-olds who live for this sh*t called it "Dramageddon".  

Anyway, James' palette, which launched long before this weird internet moment, sold out multiple times as mentioned, and makes it to my must-have influencer collaboration list. The shadows themselves work well, it's affordable, and it covers just about every single look you'd ever have an interest in creating. If I had to take one eyeshadow palette to a deserted island (unlikely), it would be this one. 
Sidenote: James Charles x Morphe launched a "second phase" of this palette—mini sized—and I am pretty sure nobody cared. Spend the extra $13 and get the OG.
Kim and her beloved makeup artist, Mario Dedivanovic, joined forces for a mini collection including an eyeshadow palette, lipstick, lip gloss, lip liner, and blush. The palette was the star of the collection, and major influencers including Tati Westbrook and Jeffree Star (both of whom typically hate everything) had nothing but positive things to say about the duo's first collection. 
Kylie has teamed up with a majority of her fam to make mini collections, and while some were a serious fail (the internet, influencers and fans alike, happily killed the Kris Jenner collection—more details to come), Khloé found success. The collection is universal, high-quality, and pretty, to put it simply, and the reviews are convincing. 

An overall win for the industry in 2019 was the celebration of drag makeup. Drag queens are obviously pioneers in the beauty community, but don't always take the spotlight when it comes to new beauty launches. This year we had major collaborations from major brands and major queens, including…


and of course…

The collections are all equally fun and fabulous, with the spirit of all queens alike, and the inclusion of drag in everyday makeup was a major industry shift in the right direction. Winning!
The Misses
I hate to call this next collaboration a fail, so instead, I'll refer to it as ~a pretty mess~. I am just as Housewives-obsessed as the next, and when I heard that Miss Erika Jayne was doing a collaboration with Too Faced, I was thrilled. But. Too Faced has a bit of a rocky reputation in the beauty community. Most of the controversy revolves around CEO Jerrod Blandino, who had a "Rich Lives Matter" birthday cake at his most recent birthday, just to give you give you an idea of the type of person we're dealing with. On top of that, the brand itself has had its fair share of drama with influencers alike, including Jeffree Star and Nikkie Tutorials after Nikkie's Too Faced collaboration grossed $9+ million in sales, but only paid her out $50,000. BUT Erika Jayne is a queen so we had to support her endeavors. The collection featured an array of makeup, with names that only Mrs. Girardi could get away with (including DSL Lips and Pat the Puss highlighter) making this collaboration a fun fail. 

The feedback was mixed off the bat, but in the long run, the makeup ended up at TJ Maxx stores, steeply discounted (at less than half its original price), within a few months. Nonetheless, we respect this icon for making *XXPEN$IVE* moves.

Now that we've celebrated the Kardashian's successful makeup endeavors, it's only fair that we highlight the fails as well, because even the world's youngest billionaire makes mistakes.  

It turns out, the devil worked harder for this one. Kylie Cosmetics is typically known to make decent quality makeup, and we all know Kris Jenner rules the world, but people ripped this collection to shreds. YouTubers including Jaclyn Hill and Nicol Concilio explained to fans that the quality was simply not up to par, and viewers agreed. 

The packaging, cute. The products, patchy.
View this post on Instagram
Kim teamed up with model Winnie Harlow for a special moment in her collection, but it fell short. For starters, the campaign photos of Kim and Winnie are a bit, um, questionable given the fact that Kim and Winnie were edited to be almost the same skin tone, which we know they are not. And, unsurprisingly, people had something to say about it.

This is what we call a Photoshop Fail, and the internet was not thrilled. In terms of the collection itself, fans were "bored", calling the collection unoriginal and safe.
As we wrap up 2019 influencer collaborations, I can't wait to see what 2020 brings. Let me know who YOU want to see team up with a major brand and drop your predictions below.  
Images: Stefanie Keenan/Getty Images; GIPHY (2); Trendmood1, winnieharlow /Instagram; Jeffree Star Cosmetics; Kylie Cosmetics; Anastasia Beverly Hills; NYX Professional Makeup; QVC; Too Faced; Jaclyn Hill, Tati, Nicol Concilio, NikkieTutorials/Youtube
Betches may receive a portion of revenue if you click a link and purchase a product or service. The links are independently placed and do not influence editorial content.
5 Weight Loss Products That Don't Work
Everyone wants a quick fix. In the age of instant gratification, the concept of waiting for results is lost on everyone. Smh. The diet industry knows this, and over the years, they have capitalized on consumers' lack of patience. Cue late-night infomercials and IG sponsored ads for the next big thing in weight loss. Spoiler alert: none of this sh*t actually works. Real results take time—we have been through this. I know you're better than that, but I also get the temptation. Like, even if something seems too good to be true, you might think to yourself that it can't hurt to try, right? Well, it might not hurt your body, but it will hurt your wallet. Here are five fitness products that promise a quick fix, but really do not work.
1. The Shake Weight

Oh, the infamous Shake Weight. Did you know that "you can get firm and fabulous arms and shoulders in just six minutes a day" with these? At least, that's what the manufacturers want you to believe. The Shake Weight comes in two versions, weighing two-and-a-half pounds and five pounds. That's very…minimal. But the creators of the Shake Weight claim the vibration creates isometric force on the muscles to hold steady, working the muscles more than regular concentric-eccentric movements. Seems scientific sounding and therefore legit, except for the fact that you can create your own isometric force during any exercise by holding the movement at the most force-generating part of the movement. So, by holding a bicep curl halfway for 10 seconds, holding the bottom of a squat, holding a V-sit for your abs, etc. That means you don't need a Shake Weight to do it. You can also work your muscles more by using dumbbells greater than 2.5 lbs, I'm just sayin'.
2. ThighMaster

Suzanne Somers is one entrepreneurial betch. I love and respect her hustle. This vintage little tool is like the at-home version of the hip adductor machines at the gym. For the goal of this product to be thinner thighs, it does make some sense kinesthetically for this movement and product to work. However, there is no way to spot reduce just one area of your body, so this product alone won't help you achieve thin thighs. There are also plenty of superior ways to work the thighs that don't require equipment, such as squats and lunges, as well as plyometric exercises. Plus, keep in mind that when it comes to any fat reduction, diet will always play a major role.
2. Ab Belt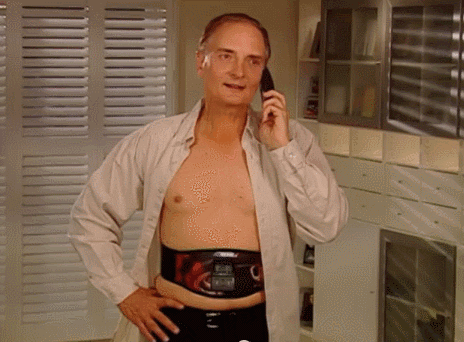 These belts send electronic stimulation to your abdominal muscles, so your muscles contract without you doing the work to contract it. As in, you don't even have to think of contracting your muscles. Who has the time and energy to consciously flex their muscles, right? But you want abs, though. Talk about lazy. Whether or not it works? Well, the Federal Trade Commission sued the makers of these belts in the early 2000s for making false claims, so that's that on that. Here's the real tea: if you can't even put in the effort to contract your own abs, then no product or person can help you. The end.
4. Weight Loss Gummies

So you've heard of the weight loss teas and lollipops that the Kardashian-Jenner clan have promoted. But now, there are also weight loss gummies for you, because diet pills are soooo 1999. This popular brand's gummies contain two steps, because that looks more legit. One gummy is basically caffeine from green coffee beans to give you energy, and the other one is supposedly an appetite suppressant made from garcina cambogia (a tamarind fruit extract). A one-month supply will cost you $49.90. Not only is packaging and marketing weight loss in a candy very ironic and a cheap juxtaposition, none of their claims have been evaluated by the FDA (no supplements on the market in USA are). These gummies could be, at best, ineffective and a waste of $49.90, or at worst, dangerous if you are allergic. On their website, they do not provide a full ingredients list for these gummies, so I would not be surprised if they contain very small amounts of these "active" ingredients. BTW, in 2014 the FTC sued a green coffee bean company for making false claims and false studies.
5. Slimming Creams/Masks

There are no products on Earth that, once applied directly onto the external surface of your body, can melt off fat, which is an internal cell INSIDE your body. Yes, because we have pores and glands on our skin, products do get absorbed. This is why it is important to use products that are clean and do not contain metals (such as aluminum in our deodorant). However, if we still haven't gotten aluminum poisoning after years of using our trusty Secret deodorant, there's no way a cream or mask can make us lose five inches in three weeks. Granted, supple and moisturized skin can appear tighter than dry, dehydrated skin (so don't skimp on your water), but if you ever see a cosmetic product claiming to "effectively burn fat," run from those scammers.
Hyped up fitness products come and go every year, but one thing has remained the same: the hunt for a magic weight loss solution. There is a reason why the diet industry is worth $72 BILLION. But just think—if weight loss was something you could purchase at a GNC, the nation as a whole would be a whole lot fitter and obesity would not as much of an issue. Not only is the hunt for overnight weight loss a waste of money, but it is also a waste of time. Can you imagine if instead, we spent that money on buying fresh produce, a gym membership, a piece of at-home gym equipment, or getting a session with a trainer to show us how to lift and work out properly? Something that breeds healthy habits and not false hope? Before you give this industry another dime, don't let the flashy commercials and edited transformation pictures fool you: there is no product that will give you maximum results for minimum effort. In fitness, just like in life, what you get is what you give.
Images: Giphy (4)
The Right Type Of Facial You Need For Your Skin Type
I am 24 years old, and up until recently, I thought I knew how to wash my face. Like, I thought the face wash I was using was AMAZING. And it was, it really was. I was obsessed. But after a lovely facial at Massage Envy, I found out from my esthetician that the face wash I was using is not right for my skin type, and it was actually making my skin really irritated. I didn't even notice. You may think you're using the right face wash, but you could be wrong. *Gretchen Wieners voice* I always knew my skin was sensitive but had no idea face wash could possibly be harmful to me. Especially because it's not like I felt it stinging or ripping my face off. So she told me exactly which type of face wash I needed. I got it, and it DOES feel so much gentler on my skin. My mind was blown, and I decided I needed to ask about the correct face washes for each skin type on behalf of y'all. You're welcome.
Do not waste any more time using a product that is making your skin worse. I asked a few simple questions for each skin type: What type of face wash you should be using, which face products you should be avoiding, other easy steps you can take to make your skin better, what you're doing that's making your skin worse, and which facial is best for your skin type. And to make sure I got an expert opinion, I consulted Diana Morrison, the lead esthetician of Massage Envy. She's the HBIC who told us 3 easy things we can do for healthier skin.
Skin Type: Well-Balanced Or 'Normal' Skin
What type of face wash should I use: Look for a middle of the road cleanser that doesn't contain harsh exfoliants or too many moisturizing ingredients. A person with normal skin should look for a gentle foamy cleanser. This will allow them to cleanse their skin and remove impurities without stripping the skin of its natural moisture. To take the skin to the next level, I recommend a hydrating toner. This will add additional nourishment and vitamins to keep the skin as healthy as possible.
What types of face products should I avoid: For normal skin, the key is to be gentle. Avoid using aggressive scrubs that will over exfoliate the skin and leave it irritated and dry. The goal is to maintain balance.
Is there anything easy I could be doing that could make my skin better?:  The ABC method is essential for people with normal skin. The A, is a vitamin A, like a retinol for use at night. This can help promote cellular rejuvenation while we sleep and keep skin youthful. The B is a broad-spectrum sunscreen. Everyone should be wearing an SPF 30 every day. Even if you are not spending a lot of time outside, it is important to protect your skin. Try to look for a sunscreen that has extra benefits like hydration, or a moisturizer that has SPF. C is for Vitamin C, which is essential for healthy skin. I recommend using a Vitamin C day serum. Vitamin C is essential for the production of collagen, which is the building block of our skin.

Anything I might be doing that could be making my skin worse?: The most important thing is to find balance in your skincare. Have fun with your regimen, but don't over do it. At home, face masks can be beneficial, but over exfoliating will leave the skin dry and flakey. It's also important to not pick at breakouts and spread bacteria. You should also avoid tanning. There are many disadvantages to tanning but what most people don't know is that the UVA and UVB rays activate enzymes that eat away at the collagen in the skin. Collagen is the building block of the skin and essential for maintaining a youthful, plump, healthy complexion.
What type of facial is best for me: Someone with normal skin should look for a vitamin-rich facial to rejuvenate, nourish, and refresh skin. At Massage Envy, our Healthy Skin Facials incorporate Murad's Multi-Vitamin Infusion Oil to give skin a dose of vitamins A-F.
Skin Type: Dry
What type of face wash should I use: Someone with dry skin should stick to a creamy cleanser. It is important to gently cleanse the skin without stripping away oils. Infusing hydration with a cleanser will also help keep the skin nourished. Micellar water can be used as an alternative cleanser for dry skin.
What types of face products should I avoid: It is best to avoid mattifying products that are meant to dry out the skin. Salicylic acid has a lot of benefits but is simply too harsh for someone with dry skin. Stay away from anything that will accentuate dryness. Even when using makeup, heavy powders will dull out the skin. For the best results, use products that add luminosity and give a healthy glow.

Is there anything easy I could be doing that could make my skin better?: Facial oils can be a lifesaver for people with dry skin. Using the right amount in the morning will allow the oil to absorb into the skin, giving a plumping and luminous glow. It is also important to moisturize often and drink a lot of water. Healthy skin can start from the inside out.
Anything I might be doing that could be making my skin worse?: Over-exfoliating is dry skin's worst nightmare. A lot of people with dry and flaky skin try to over exfoliate it to get rid of dead skin cells. But in reality, they should be moisturizing and hydrating internally and externally.
What type of facial is best for me: A healthy skin facial works best for people with dry skin. Enzyme facials yield amazing results. The enzymes act like pacman and gently digest the old, dead surface cells on the skin. This allows moisturizers to absorb better and help with an overall healthy glow.
Skin Type: Oily
What type of face wash should I use: Foam cleansers work best for people with oily skin to remove oil, makeup, and sunscreen. Look for foam cleansers with lactic acid and salicylic acid. They remove impurities and tend to be a bit more drying, which helps control oil production while leaving the skin feeling clean.
What types of face products should I avoid: When it comes to oily skin, it is all about finding a balance in oil production. Anything too occlusive will not let your skin breathe and can lead to clogged pores and acne.

Is there anything easy I could be doing that could make my skin better?: For oily skin, I recommend a corrective serum. Topical products with AHAs like glycolic acid or lactic acid work throughout the day to help dissolve buildup and impurities in the skin. Salicylic acid also has many benefits. It helps balance the skin while acting as an anti-bacterial to effectively kill breakouts.
Anything I might be doing that could be making my skin worse?: The worst thing for oily, acne prone skin is to pick at breakouts. Most of the time, our bodies detoxify the breakout internally and can clear it up on its own. However, if you do decide to manually extract a breakout, make sure the skin is soft. It is important to be as safe and clean as possible when extracting breakouts. A misconception about oily skin is that you do not need a moisturizer. However, people with oily skin need the balance of a squeaky-clean feel and moisture. I recommend a lightweight, water-based moisturizer that will leave the skin looking balanced and healthy.
What type of facial is best for me: Massage Envy's Microderm Infusion treatment is effective for people with oily skin who do not have active breakouts.
Skin Type: Combination Skin
What type of face wash should I use: For combination skin, it is important to treat the dry and oily parts of the skin differently. I recommend a double cleanse. First, use a light, foamy cleanser that is not too drying. Then, use a corrective cleanser with a benzoyl peroxide or salicylic acid to treat oily and congested areas. The cleansers are most effective when paired with a corrective toner.
What types of face products should I avoid: With combination skin, it is important to find a balance. I do not recommend using anything that is too drying or too moisturizing.

Is there anything easy I could be doing that could make my skin better?: I recommend using a corrective serum. Anything with glycolic acid AHA works well with combination skin. I would pair this with a light moisturizer that is water-based and nourishing.
Anything I might be doing that could be making my skin worse?: Using any product that treats one extreme or another can have negative results on the skin.
What type of facial is best for me: A chemical exfoliation helps yield the best results for combination skin. Massage Envy offers Healthy Skin Facials that are personalized for the client's skincare needs. Microderm Infusions also work to give a gentle exfoliation and clear the surface of dead skin cells.
About Diana Morrison (Lead Esthetician of Massage Envy):
Diana Morrison is the Lead Esthetician of Massage Envy. She has been a dual licensed massage therapist and esthetician for over 10 years. Diana has practiced in multiple modalities, including both spa and clinical treatments, such as highly experiential facial and body wrap treatments, advanced skin care such as microdermabrasion with a chemical peel, dermaplaning, high frequency.
6 Beauty Products That Will Hide Your Hangover And Make You Look Radiant
Sure, it's the new year, and sure, according to society's standards you should be giving up all that is good and holy things in this world (vodka sodas, white wine, emotionally abusing your friends and family), but unless you need actual professional help (watch an episode of Intervention and compare yourself with that if you're unclear), I say fuck that standard. What you need to do instead is be proactive, not reactive. As in, plan ahead, so you can hide your alcohol problem like you've been doing all along, but just better. How you ask? With the following hangover beauty products.

A shit ton of travel size, beauty hangover cures that are perfect to stash in your purse on the way out the door. Toning mist, eye cream, a cooling moisturizer. There's literally nothing else you'll need the morning after, except for like, an Uber so you can GTFO.

You apply these "sap sheets" to the soles of your feet at night (fucking weird, but never say never) , and apparently they get rid of toxins. No word on whether or not they extract hatred from your soul, but would be willing to start a Kickstarter for that product.

Unfortunately, this product doesn't include LSD. It is definitely X-Treme though.

Seriously, tf happened????

Put it on right before bed (which should be a fun journey, post vodka) and wake up to a not puffy face.

A primer that's said to hydrate, smooth, brighten, and erase all of last night's mistakes. Godspeed!
The Best Hair Products For When You're Too Lazy To Blow-Dry
Other than the fact that they are legitimate excuses to have your hair look terrible, heat and humidity are high-key life ruiners when it comes to your appearance. Blow drying your hair is the second worst activity with "blow" in the name that you'll ever have to do, and it's especially brutal in the summer. I'm sorry, but my 21st century attention span just cannot handle sitting still for 30 minutes unable to listen to music because a loud ass heat machine is blowing my hair beautiful. I just can't do it. Luckily, there is a way to get away with leaving home with wet hair in the morning, and it's called having the right products. Just make sure you leave early enough to stop at Starbs or something on the way to work so you don't show up with dripping wet hair and an "I literally just rolled out of bed" attitude. These sprays, oils and hair masks will leave you with naturally beach looking hair without needed to use any heat tools.

Jen Atkin, aka the HBIC responsible for the Kardashian hairstyles you screenshot to show your stylist, created the Ouai line to trick average betches into thinking they can have celeb hair, too. You'll probably never come close to the perfection level of the locks of the Kardashian/Jenner clan, but for $26, you can at least try. The wave spray works for all hair types and smells sooo delushious *Chrissy Teigen voice.*

If I was going to be stranded on a deserted island and could only bring one hair product, I'd take this. I understand that's a bullshit scenario because nobody plans to be stranded on a island and I will never understand why we're all so obsessed with asking each other what we'd take to be stranded on a fucking island, but you get my point. This cream is amazing. Besides creating really nice curls, it has UV filters to protect your hair from the sun and really helps the fact that once it's hotter than 70 degrees, your hair wants to become a giant frizzball. Quick little tip, though: make sure to use a small amount. The first time I used this, I globbed a ton in my hair and it was a little too reminiscent of the crunched hair look from middle school for my taste. Less is more, betches.

This hair mask is perfect for all of you granola betches who are crunchy AF but don't want your curls to be. You probably already spent most of your money on matcha (that guy who said we aren't buying houses and diamonds because of avocado toast obviously doesn't know the cost of a green tea latte addiction), so why not let the obsession spread to every other corner of your life? This hair mask is vegan and gluten free, which I'm sure your roommate will be thrilled to hear you talk about for hours on end.

Speaking of natural, vegan stuff, Lush's sea spray hair mist is basically like taking a dip in the ocean. Except, you're probably in a tiny bathroom in New York City instead of frolicking around some exotic island. On the plus side, it definitely smells better than actual nature does, so technically you're the true winner here.

Okay not to be gross, but as I'm typing this I'm literally leaving Moroccan oil fingerprints all over my keyboard because a) my life is a mess and b) I'm obsessed with putting this shit in my hair. If you've never tried Moroccanoil products before, you're probably like, an alien or something because any betch who has ever received a free sample bag from Sephora or a Birchbox subscription has had at least a packet of this in her possession at some point. Even though it's kiiind of basic, it really works.
Mother's Day Gift Guide: Gifts For The Regular Mom, The Cool Mom & Everyone In Between
What greater holiday is there than a day that celebrates the strong, beautiful women who raised us? Go ahead, try to think of one, I'll wait. 4th of July you say? Okay. Anyway, Mother's Day really does serve as a reminder that we should be really really nice to all the moms in our lives because we too may be mothers some day and we don't want a bitchy daughter who doesn't appreciate us.  So it's good karma to get them a gift, right?  A betch's mom is the most important lady in her life. She's given us endless words of wisdom on fuckboys, she's reluctantly allowed us to borrow steal her clothes, and she always picked us up from school when we were feeling "sick".  She's molded us into the betch we are today, and for that we are forever grateful.  To show her how much you love her, we're giving you a list of all our favorite brands/gift ideas that are perfect for every type of mom in your life. Welcome to the Betches Mother's Day Gift Guide 2017.
FOR THE MOM WHO STILL GRABS CANDY FOR HERSELF AT THE CHECKOUT COUNTER
Hats off to this mom, she still answers to her sugar cravings and DGAF. Elevate her candy standards with Sugarfina's Sweetest Mom Candy Bento Box and watch it disappear within 20 minutes of her opening it. If she's into the juicing craze like any betchy mom, feel free to gift her a bottle of Pressed Juicery x Sugarfina's green juice gummy bears. It's the perfect candy she can eat while convincing herself that she's healthy AF. These are the chicest and yummiest candies ever, and I'm sure this mom won't mind if you steal a few for yourself…maybe…
FOR THE ZEN AF MOM YOU CAN ALWAYS VENT TO
This mom is amazing because she has the patience to listen to us talk shit about irrelevant shit for hours and somehow make us feel 10 times better in the end. Philosophy is a fave brand of ours, not just because of their amazing products, but also because of their values. It's the wellness brand version of the mom who always sends you inspirational articles and makes sure you never leave the house without food in your stomach. To reward this woman for putting up with your crazy ass, give her the Moments of Grace box—the perfect set of shower, fragrance, and moisturizing products.
FOR THE MOM WHO KNOWS HOW TO MAKE A HOUSE A HOME (AND WON'T LET YOU EAT ON THE COUCH)
This mom might have come off as a little strict and slightly neurotic due to her strict house rules you lived under as a young betch, but you now understand it was all worth it for the image of a perfect home. She's classy, she's elegant, and she's not afraid to tell you to fuck off when you deserve it. Giving her a Venus Et Fleur box is not just giving her cliché flowers for Mother's Day, it's giving her a centerpiece for her precious home. These are the most beautiful flowers and they last for an entire year. There are several colors to choose from so you can def find one to match the living room couch. PS, they're having a pop-up shop at Saks specifically for Mother's Day, so go with your siblings and get her the most Instagrammable flowers ever.
FOR THE MOM WHO WANTS TO BE INA GARTEN'S BEST FRIEND
This mom spends half her life watching the Food Network and the other half begging her husband to agree to redoing the kitchen. As such, she takes great pride in all her kitchen essentials, and each time you come home there's a new blender or toaster. Although you have barely any space for a wooden spoon in your apartment's kitchen and deem it acceptable to microwave water for your tea, this mom would rather be caught dead than without at least 25 different spatula options. Cuisinart is the perfect place to find the best and newest kitchen products that this mom will die over, like the QuicKettle and the PrepExpress. If you get her any of their products, I foresee massive amounts of free food in your future.
FOR THE MOM WHO'S NOT AFRAID TO BLACK OUT AT FAMILY DINNERS
This mom is always invited to hang with you and your friends whenever she's in town. As a betch who can single-handedly create a party out of thin air, her Mother's Day gift needs to suit her hostess needs. Kim Crawford Wine is the perfect bottle to whip out on any given occasion, and with summer around the corner, it is officially rosé season. Their website has tons of amazing recipes, including frosé, so…this mom will def exploit a bottle of Kim Crawford rosé for all it's worth. If she also happens to be an Insta whore, we're sorry in advance.
FOR THE MOM WHO GIFTED YOU YOUR WITTY SENSE OF HUMOR
This mom has passed on her good genes of having no filter and always has the entire family in tears at Thanksgiving dinner (like, the good kind). We were always afraid of what kind of backhanded bitchy comment she might make at our frenemies when we were younger, but we loved her anyway and secretly enjoyed it. If she's begging you not to get her anything this year, at least get her the perfect card from Shop Betches.
FOR THE MOM WHO'S PUTTING OFF BOTOX FOR AS LONG AS POSSIBLE
This mom has had perfect skin her entire life and is now in overdrive doing everything she can to keep it that way.  Washing her face isn't just something she does a couple times a day, it's now an insane obsession. To make sure this mom is getting the most out of her incessant face cleansing, get her the Soniclear brush from Michael Todd Beauty. The antimicrobial brush stays cleaner and fresher for longer, and cleans deep into your pores.  Let's be real, you're probs going to get one for yourself as well. Also, since she's probs big into blending, you should get her the Sonicblend brush to apply her makeup flawlessly.
FOR THE MOM WHO WON'T LET YOU ANYWHERE NEAR HER KITCHEN
This mom has a panic attack whenever there's too many people in the kitchen (which for the most part means if there's anyone in there besides her). She's a firm believer in "a place for everything and everything in its place", which as a betch you can only relate to on the level of your apartment's bar cart.  Joseph Joseph has the perfect modern organizational kitchen shit that will perfectly encourage this mom's obsessive compulsive habits, but at least the kitchen will look sleek AF so who cares. We love their Nesting Bowl Sets and their super chic Worktop Savers.
FOR THE MOM WHO ALWAYS FALLS ASLEEP WITH HER IPAD ON HER FACE
This mom can't get enough of her Facebook feed and loves to send you videos of dogs at all hours of the night. She probably thinks she's squinting at all her screens because she's old, but really it's because no one's eyes should not be staring at this shit all day. Felix Gray glasses are v trendy-looking and protect your eyes from the blue light emitted from all our electronics' screens, so mom won't have to fight through the headaches to continue scrolling through Insta anymore. Our office's fan favorites are the Turing and Nash frames.
FOR THE MOM WHO JUICED BEFORE IT WAS COOL
This mom has been a juice drinking yoga freak since before you were born, and she's always looking for new ways to show the world that she's healthier and has more of her shit together than anyone else. Daily Harvest delivers fresh soups, smoothies, chia parfaits and overnight oats to your door on your schedule. This way, mom can get her fav smoothies delivered at 3pm just in time for her to consume before her 5pm spin class. If you didn't think eating healthy could be convenient, neither did we, but here we are.
FOR THE MOM WHO HAS EVERYTHING YOU NEVER KNEW YOU NEEDED
This mom may seem like a hoarder, but in reality she's just a collector of random shit that will impress people. Totally different. Also, we are not ones to talk about hoarding as evidenced by our closets. Anyway, Tovolo is the perfect place to shop for this mom because while it's super fun for us to look through all the fun kitchen gadgets they have, it will be that much more fun for her because she'll know exactly what to do with whatever you get her. "OMG, skull ice molds?! This will be perfect for Debbie's divorce party!"  We love their Clear Ice System and Stainless Steel Cocktail Shaker.
FOR THE MOM WHO ALWAYS LOSES SHIT
As a young mom, this one relied on her children to remind her of her dentist appointments or whenever she accidentally left the stove on. Though she's the most scatter-brained person you know, she's so lovable you've never (really) faulted her for it. Plus, her lack of having her shit together taught you how to be a proactive, multitasking betch. To make this mom's life a little easier as her brain is only getting worse with age (sorry but it's true), get her Tile for Mother's Day so you never have to get another phone call about her missing keys again. All she has to do is attach the little Tile to whatever it is she loses every day and connect it to her phone through Bluetooth and voilà, when she needs to find either thing she can make 'em ring (I did not do that on purpose but I apologize).
FOR THE MOM WHO REALLY WANTS TO LOSE 3 POUNDS BUT HATES THE GYM
This mom might sound very familiar because she is all of us. She would much rather spend an hour at book club talking shit than hitting the gym, but the thought of showing up to Southampton for the summer in her current state is freaking her out. Do her a favor and buy her HUM Nutrition's Skinny Bird, a natural weight loss supplement. If you're feeling really generous, they also have a "Turn Back Time" supplement that helps with skin cell protection. Time to pop some pills!
FOR THE BRAND NEW MOM
This mom has been MIA because she is now with child and a real human and also struggling to get more than 4 hours of sleep at night. Brighten up her day by getting her little Betch In Training a baby onesie from Shop Betches.
FOR THE MOM WHO IS ALWAYS ON THE GO
This mom has always been your business betch inspiration, as you've admired her for balancing her work and home life so well. Despite being super important at her company, she somehow found the time to proofread all your high school papers and prepped you for every job interview you've ever had.  Soap & Glory is the perfect cheeky and empowering cosmetic brand that this mom absolutely NEEDS in her life. Since she's always running from mandatory family breakfast to business meeting, get her some of our favorites like their Rushower Dry Shampoo and their Hand Food hydrating hand cream.
FOR THE MOM WHO ALWAYS KEEPS IT SIMPLE
This mom is a woman of few words, but always knows what to say. You can find her in the yoga studio in the morning and hosting a charity dinner party by night. She's the one who taught you that doing things for others is like, important. Not one for flashy things but a lover of the arts, this mom would love a piece from Adam Marc Jewelry. Our favorite pieces are the Kim Star Choker and the Rafaeli 14k Gold Bar Necklace. Use code BETCHES20 for 20% off—your mom will never have to know you didn't pay full price.