Affordable Items to Make Your Apartment Look Expensive
I, like many others during this time, have been itching to redecorate my apartment. Naturally, after 60-something days of staring at the same four walls, it's easy to get bored of the same decor. But, I like many others during this time, do not have money to splurge on fancy furnishings.
That being said, I did some digging, and I'm here to present you with the best items and accessories to make your apartment look expensive *Erika Jayne voice* on a budget.
Wall Art
Not only does Society 6 have the cutest wall art, it's always on sale. It's affordable and you can find some hidden gems.
Simple staples are your friend here, because a lot of the "abstract" choices on these sites are interpretations of famous artist's work. I recommend keeping it classy with a three-panel wall stack. My personal favorites from Society 6 are The New Yorker prints. Pair three classic covers with black frames and thank me later.

TheNew Yorker Art Print by Naveenart107, from $16.19
Coffee Table Books
Coffee table books are a super simple, affordable, yet impactful way to add some style to any table. Of course, my go-to here is my bffl, Target.
Whether or not you give a sh*t about fashion, I always recommend designer coffee table books because they're just about the only affordable thing with a logo.
If you've got a marble, black, or white coffee table, grab Chanel, Collections and Creations by Danièle Bott, and if you've got a wooden table or want a pop of color, grab Chanel: The Making of a Collection by Laetitia Cenac.

Chanel: The Making of a Collection by Laetitia Cenac, $24.49
Accessories
Candles and mirrors and plants, oh my!
Before anything else, a theme is the most important way to tie in accessories and make them look flattering. The more cohesive a space is, the more sense it makes. The end goal is always to have someone walk in and believe that an interior designer spent a ton of money to make your spot perfect, when in reality you are said interior designer, and all the items are affordable.
I'm currently obsessed with Jonathan Adler candles—they're cool, different, and… $90. BUT, they currently sell the candle holders for $28, and it's items like these that we call "expensive on a budget". You can even purchase the matching condiment bowl for a full ~lewk~. It will turn heads (literally).

Jonathan Adler Muse Votive Candle Holder, $28
Mirrors are hard because everyone has the same one, so you want to stand out. I found this cute mirror from Patten Wall Decor on AllModern, but it was $102 so I decided it was not going to fit into my "affordable" category. That is, until, I found the SAME mirror from Patten Wall Decor at Target for $42. My initial thoughts are wtf, but now that I'm over being mad at AllModern, I'm just happy to share it with you all. Throw this bad boy on an accent wall to double as an art piece.

Accent Mirror Gold – Patton Wall Decor, $42.49
I'm not going to mislead you with links to cute faux plants, because truth be told, they are not the same as the real deal. I DO recommend purchasing fresh plants and treating them with TLC and lots of light. I recommend a Fiddle Leaf, because they live for 25+ years when cared for properly, and that is super convenient when not wanting to spend money repetitively. You can purchase them at any local nursery, including Home Depot. Use your candles as a color guide to your pots, a subtle yet important way to tie things all together.

Kitchen/Bathroom
With a full-size home, the possibilities are endless, but my fellow city livers (whether it be NYC or not) know the kitchen and bathroom struggle. Peel and stick contact paper for your countertops and wallpaper is your best friend here, if applied properly.
For the bathroom, I recommend a busy print, because 9/10 times the appliances will be all white, allowing for some pop. I love this Speckled Dot Paper from Opalhouse™, available at Target of course.

Opalhouse Speckled Dot Peel & Stick Wallpaper, $34.00
For the kitchen, go marble for the backsplash and counters for a subtle, pretty moment. Less is more here, so I opt for a more gentle print like Brewster Carrara's Marble Peel & Stick Wallpaper.

Brewster Carrara Marble Peel & Stick Wallpaper, $35.99
Final Touches
I leave you with some final ways to accessorize and spruce your apartment that work in any space. We're getting a little fancy shmancy here, but West Elm is having a major sale, so take advantage!!!
These Agate Bookends are striking and unique, whether they live in your living room or bedroom. They look expensive AF, but are currently on sale for $40, so that's a win in my book.

Agate Bookends at West Elm, $42.70
These stackable Glass Shadow Boxes are also the perfect accessory to add in any room, whether it be jewelry and sunglasses, or statement accent pieces. They're a pretty and easy way to make a regular item look luxurious, and that's why we're here!

Floating shelves are a cute way to make handy wall decor, without having to purchase a bulky piece of furniture. I love the Shelfmate Collection at West Elm, because they are as aesthetically pleasing as they are practical.

Shelfmate Collection, from $50
Last but not least (in fact, maybe the most important) we have the ever popular bar cart. A bar cart has never been more important, because if you're like me, you've run out of room to stock the endless wine supply necessary to survive this quarantine. I love this Laurence Mid-Century Bar Cart from Wayfair, because the modern style shape and gold accent is the perfect touch of opulence but doesn't break the bank.

Laurence Mid-Century Bar Cart, $102.99
If you're scrolling through this list, there's a 50% you're thanking me, and a 50% chance you're mad at me. Either way, most of, if not all of this is currently in your cart so at least your apartment will be looking good.
As always, feel free to DM me with your favorite sales and I'll continue to provide you with mine.
Images: Cody Black / Unsplash; Society6.com; Target.com; JonathanAdler.com; AllModern.com, HomeDepot.com; Wayfair.com; WestElm.com
Betches may receive a portion of revenue if you click a link and purchase a product or service. The links are independently placed and do not influence editorial content.
The Best Home Decor Sales To Shop Right Now
Now that we are trapped at home literally all of the time, you may notice some things about your place. Like, how your bedspread is getting pretty ratty. Or how your cat really did rip your couch to shreds. Or how you're pretty sure you'll f*cking die if you have to look at the mismatched table and chair set you bought from Ikea when you got your first apartment 10 years ago for one more second. I'm not dramatic, these are facts. Being home really makes you reevaluate your space and want to live in a cleaner, less cluttered, and new environment. Lucky for you, redecorating is something that you can totally do online. (My new bed frame comes Monday.) And you don't have to spend a ton of money to do it. Businesses are throwing out sales left and right to stay afloat, so I found some great sales on home decor so you can upgrade your place and not drain your savings!
God, I love Crate & Barrel. It's normally quite a bit out of my price range so I like to online window shop (which is the saddest thing ever, FYI) and pretend like I can afford it. However, they're having sales pretty regularly. Right now they have free furniture delivery and 40% off outdoor furniture, 20% off outdoor rugs, 20% off furniture/lighting/wall decor, and 20% off clearance rugs/bedding. The nice thing about buying from here is that the stuff is definitely good quality, so now is the time to upgrade your space with investment pieces at a discount. If you're lucky enough to have a yard, please get their gorgeous outdoor sets so I can live vicariously through you while I'm trapped in my tiny LA apartment this summer.

Villa Indoor/Outdoor Aqua Basket Weave Rug, $499 $249.97

Aaro Planters with Stands, $59.95 $47.96

Lanai Orange Mesh Lounge Chair, $219.00 $131.00
CB2 is super chic and definitely where real adults shop. Since I feel like a weird, fake baby-adult, I really appreciate when they have insane sales to make it more affordable. Right now, they have 40% off gifts, 30% off planters, and 30% off outdoor furniture. It seems like everyone's getting a yard makeover before we're out of quarantine. Must. Be. Nice. Anyway, I would definitely check out their gifts section, but like, for yourself, because these super luxe pieces are totally affordable and will make your apartment seem more adult and put together.

CB2 Florence Brass And Glass Vase, $24.95 $21.21

Tack Metallic Candle Hoarders, $24.95 $14.97

Grace Bone Inlay Mirror 32″,  $249.00  $199.00
Pottery Barn is having a 50% off furniture, bedding, and more sale right now AND has code "Summer" for free shipping. Were you thinking of investing in a gorgeous made-to-last new couch? Now it is the time to do it. All I can think about with Pottery Barn is that one episode of Friends and the apothecary table. Let me tell you, if you want to buy everything in the sample image to match the catalog, no one would blame you.

Jake Upholstered Wood Base Sofa, $3,399.00  $1,399.00

Belgian Flax Linen Handcrafted Quilt & Shams – Charcoal, $69.50  $48.00

Faux Succulent Wall, $199.00  $159.00
No list would be complete without Target, the Holy Grail of… well, everything. While Target is not running any specific home decor promotions right now (probably because everything is already pretty affordable), their sale section has a ton of deals on everything from rugs to storage to wall hangings and more.

Southwest Geo Square Throw Pillow, $19.99  $16.99

Abbyson Living Lexington 4 Tier Shelf Gold, $453.99 $363.19

Plano Square Storage Ottoman Blue Stripe, $89.99  $49.49
Wayfair is my go-to for cheap furniture and a variety of styles. My friend just bought the cutest dining set from them literally last week. All of my balcony furniture is from them because I needed benches and a patio table that had storage but could still fit on my small balcony. They are having sales of up to 85% off, and they have literally every style you could imagine. Even if you have a tiny patio, I definitely recommend upgrading it with their outdoor sale and creating a cute little place to have a drink and get some fresh air.

Hallsville 3 Piece Bar Set, $309.99

4 Artificial Cactus Succulent in Basket Set, $58.99 $47.99

Marietta 3 Piece Bar Set, $414.99 $349.99
West Elm is where my new bed is from, and I cannot wait because… it has storage! My secret to living in a small studio apartment is that literally everything has secret storage. And everything is on sale at West Elm now, with 40% off furniture, 50% off home decor, 60% off rugs, and 40% off bedding. Now is the perfect time to give your bedroom an upgrade. West Elm is much like Crate & Barrel, where the quality of furniture is great and worth investing in. Also. they have tons of couches, tables, etc. all with storage! Can you tell I really like storage? Say storage again. But like, think how much better you'll feel being able to shove away all your clutter into convenient hidden spaces!

Haven Storage Bed, $1,799.00 $1,199.40


Cotton Knit Throw, $79.00 $19.99
Have you been playing Home Makeover with your space, too? Where have you found the best deals lately? What are your storage tips for living in tiny spaces?
Images: Nathan Fertig / Unsplash; West Elm (3); Target (3); Wayfair (3); Pottery Barn (3); CB2 (3); Crate and Barrel (3)
Betches may receive a portion of revenue if you click a link and purchase a product or service. The links are independently placed and do not influence editorial content. Price and availability subject to change.
How To Talk About Finances With Your Significant Other
If you've already made the big step of deciding to move in with your significant other, congratulations! I can tell you that living with your boyfriend, girlfriend, or partner is one of the best things in the entire world. Unfortunately, you probably won't be smoothly sailing into Bed Bath & Beyond together just yet. Before you move in together, you need to discuss your finances. Which, according to every advice column ever created, should be 100 percent transparent (!), easy (!), and totally NBD! Well, that's bullsh*t. Money is a big deal, and you should treat it accordingly. You don't have to make a ton of money in order to feel empowered and in control of your wallet, but you do need to be strategic. 
Moving in together, right next to getting engaged, is one of the biggest commitments you can make in your relationship. Don't do it unless you've flushed out the logistics. Super romantic? Not so much. But necessary? Absolutely. You have the most leverage and the best opportunity to set the tone for your new living situation before you move in together. Here are the best ways to go about talking about your finances with your significant other: 
Set Aside A Specific Time To Have The Conversation
it has been a few months and my boyfriend still likes to venmo me $5 every tuesday as a "girlfriend subscription"

— natalie (@natatruthh) October 16, 2019
Most people, no matter how much money they make, get a little uncomfortable discussing it. Try to coordinate a time with your partner when you know the both of you won't be as stressed out (read: avoid doing this Sunday night before the work week) so you can be entirely focused on the conversation at hand. Set aside a good 30-minute window to really review everything about your new arrangement. Make an agenda and sample expense list of what the both of you anticipate to spend month to month. Treat it just as you would a work meeting. If you don't come up with an exact cost or answer for something, be sure to follow up. 
You should also decide on who will be listed on contracts or leases as the person responsible for each expense and how/if you'll go about splitting certain costs. Will one of you cover cable while the other handles internet? Is Venmo your go-to? Or will you open a joint credit card to share expenses?
Figure out your money personalities. Is one of you more into going tit for tat? Or is one of you a Virgo and needs to split everything down the middle by the penny? Decide now and be clear with what you choose. It pays, literally, to be meticulous now versus later when one of you starts holding a grudge for being the sole purchaser of your apartment's toilet paper.
You Don't Have To Tell Your Partner Exactly What You Make Or Go Into Details About Unrelated Spending
After moving in with my boyfriend we had a talk about what money should be spent on and what it shouldn't… i just spent $300 on my hair.. let's not tell him 🙂

— Destinyyyyyyy (@LaLaDessie) November 21, 2018
Unless you two are tying the knot and have decided to share 100 percent of your finances, you actually don't need to divulge exactly how much you make or exactly how you spend your money. Realistically, you two have been together for a long enough time where you have some idea about the other's paychecks. If you're clear with what you can afford or are willing to contribute with your monthly expenses, then whatever you have left over is your business. It may seem like a great idea to be super transparent because it comes off more trustworthy or open about your relationship, but it's not required. In fact, you may even be a little relieved to have more independence over how you spend your money. Your boyfriend need not know that you accidentally spent $250 at Sephora when you were tipsy after happy hour. (Heh, sorry babe.) If you want to, that's cool too. But if you're not into that idea, don't feel like you have to.
Be Prepared To Negotiate 
The only bad part about living with my boyfriend is that I can't just spontaneously get another dog. Like I have to get approval this time? So rude tbh

— ashh (@ashh_olmsted) October 15, 2019
As any couple who lasts longer than two weeks can attest to, relationships are all about compromise. You exclusively watch reruns of Law & Order: SVU on Hulu. He needs every single sports channel known to man. All of a sudden your single girl binge watching expenses have blossomed from a cool $11.99 to $100. Find the middle ground. There will be some expenses on both sides that one of you won't want to cough up for. (I mean, do we really need 20 different channels of ESPN?) And if you can't reach an agreement for something the other person wants, then be prepared to pay for it on your own. 
What If Your Salaries Are Completely Lopsided?
Whether you make a lot more (I love living in 2019) or your partner does, I'm a big believer in paying your portion. If your partner is making a quarter of what you do, or vice versa, again, negotiate. Just because you're sharing a space does not mean you have to share expenses 50/50. There are also other factors to consider outside of just income. Is one of you more inclined to clean? Is one of you the dedicated pet parent? While some of these things aren't factorable into an Excel spreadsheet, they do matter when it comes to sharing a space. 
Bottom line, the most important thing to do when talking to your partner about sharing your living expenses is to be honest and realistic. The more you can stay in front of your finances and any additional expenses or problems that might arise, the less likely money will ever cause a problem in your relationship.
Images: Joshua Ness / Unsplash; @ashh_olmsted/Twitter;@LaLaDessie/Twitter; @natatruthh/Twitter
The Must-Have Dorm Room Decor Items That Will Save You From Looking Basic
I look forward to Back to School season for one reason, and one reason only: the shopping, obvi. IDC if it's because I'm buying markers, pens, colored pencils, and other boring shit that just collects dust. It still means I have to spend money and buy things for myself that I (debatably) need. It's the time of year where I buy another overpriced planner, simply because the design is cute and I like feeling as though I have my shit together. Oh, how a planner makes for a perfect disguise. *writes in it for syllabus week only* I then go out and buy an entire new bed set because my side of the room has to look the fucking best. You know, just in case MTV Cribs decides to come back and have a dorm special or something. Although I'm now ancient af a college alum, if there's one thing I learned, it's where to buy the hottest shit for your dorm room to make everyone 1) jealous and 2) come to you for all the pregames. Listen up, betches. Class is session.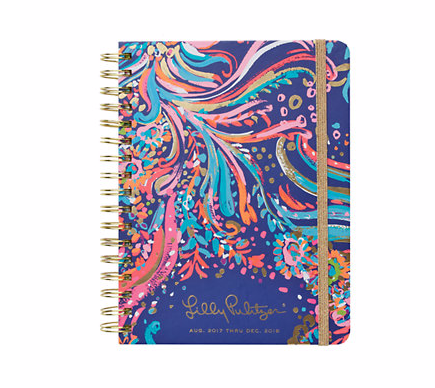 Nothing screams basic bitch or sorority girl more than owning a Lilly Pulitzer planner. The large size comes with more than enough pages and space to write down all of your parties important dates. Plus, it comes with stickers that resemble Lisa Frank but like, for adults in a festive print that's on your fave Lilly dress for this year's track season.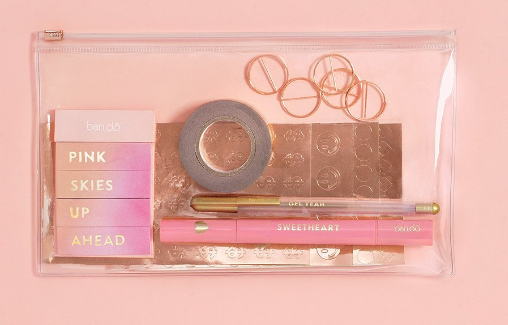 If you didn't already, you're probs getting a new big af bag to carry all your shit in to and from class. Although you'd like to look like you know wtf you're doing, all of your things def get thrown in like pocket change after the first day of school. Well, this little pouch kind of makes your life easier. According to its description, it comes with things you just "neeeed," like a marker stamp and gel pen—sounds about right. Since you lose pens like you lose bobby pins, you'll need this rose gold pouch to keep at least one aspect of your life organized.

Too much of a colorful floral comforter makes me think you're still a 5-year-old. You want one that's simple, yet classy (whatever that means) in a neutral color so your one night stands don't feel like they're sleeping in their little sister's room. For whatever reason, a white comforter says you're a sophisticated betch with a fuck ton of power because you are taking a huge risk to keep a white comforter clean. This white one has a gray floral design you can mix and match with other bed décor and still feel like a queen.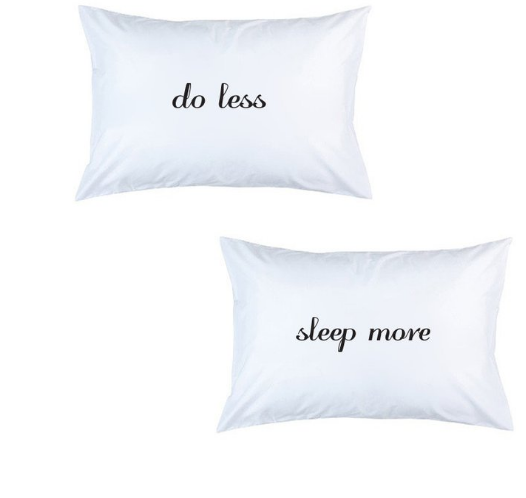 While we're on the topic of bed sets that mix and match, you'll also need pillow cases that inspire you to have sweet dreams, help you go to sleep faster, blah blah blah. It's not like these are like, therapeutic or anything, but at the end of the day you'll feel really good about rewarding yourself with a nap you don't need after barely lifting a finger. Same thing.

If you don't have a $50 UO tapestry hanging in your dorm room, do you even smoke weed dorm? This one comes in either navy or white with rose gold detailing so it'll easily go with any bedroom theme you have going on. Its artsy design will make for the perfect Insta background so all of your followers will think you're somewhere way cooler than your dorm room. Pro tip for those who aren't ready to give up the tapestry life after college: You can actually get your tapestries framed, and it will instantly take your décor from "college stoner" to "cultured intellectual who probably studied abroad in India or some shit." You're welcome.

You've seen this all over Pinterest and even though it's probs easy af to make yourself, ain't nobody got the time, patience, or attention span for that shit. So naturally we're going to buy it instead. This cute photo holder can showcase all the photos you look good in cherish in a v crafty way—one you can totally get away with telling people you made yourself.

Naturally, you're going to get white Christmas lights like every other student and their mother. But these are different and like, literally the best thing I've ever seen. These come with Bluetooth enabled speakers you can pair with your iPhone so you can host the best pregames on campus, make all of your friends jealous, and have your room still looking lit. How fucking cool.