Here's How Much Work, And Makeup, Goes Into Celebs' 'No Makeup' Looks
I'm a huge fan of a no makeup look, which usually for me consists of translucent powder and eyebrows. Maybe a cheek/lip tint. But it's mostly no makeup at all. I mean, that's literally the point of #nomakeup. Not surprisingly, that just isn't the case for our favorite celebs. A typical no makeup look for them requires falsies, grooming, dermatologists, Photoshop, and of course, a lot more makeup than you would think. Smh. But what can we say? It works! And by that I mean, it successfully convinces impressionable women (and naive men) that these women look camera-ready without a stitch of makeup or enhancements. Because we don't have enough to worry about as it is… now I have to be concerned with not looking like a model when I wake up with a debilitating hangover? Cool cool cool cool cool…
And in case you have no idea WTF I'm talking about, an example of a no makeup look is like this photo of Kylie for her Kylie Skin brand.
"If only I could look that good without makeup," you think. No. Stop it right now. How are celebrities actually achieving looks like this? Well… it's a surprising amount of work. Especially if you're like me and have no eyes without liner/mascara, and acne, so you can't just do actual no makeup and look this good. Let's break down what really goes into photos like these.
Prep
To fake a celebrity-scale no makeup look, it's easier if you don't have a lot to cover up. That means having an on-point skin care routine, a great dermatologist, and plastic surgery. Like, sorry, but if you have your lips full of fillers, you don't need as much lipstick. If you plump up your cheeks, you have more of a cheekbone. And getting eyelash extensions takes care of the need for mascara, while still leaving your lashes over-the-top and dramatic. Celebs also have their eyebrows done perfectly. Sooo yeah, it's a lot easier to look "perfect" when your face is engineered, so don't take it out on yourself. Just a little reminder that Kylie used to look like this:
Makeup
Amazingly, a no makeup look requires a lot of… makeup. For this particular picture, Kylie likely has on foundation (perfectly matched, of course), and it looks like they went back and wiped out her freckles to make them look less noticeable. Then, they probably used a glow powder—it's like a translucent powder, so it absorbs oil, but it catches more light. It's like a more subtle highlighter but it still hits in the perfect spots (especially under professional lighting), to give you a dewy look but not oily. Laura Mercier makes a great one:

LAURA MERCIER Translucent Loose Setting Powder Glow
Since Kylie already has lash extensions, there is no need for mascara. Lash extensions also are clumped darker/tighter than your real lashes, so it gives the impression of top eyeliner already, which means no liner. I think this was pushed further though, with an eyeshadow that's slightly darker than her skin tone, and then using an even darker shadow to lightly line the bottom lashes. Then they tightlipped the top lid with black (where the liner just goes right at the lash follicles and no more). It makes her eyes pop. Eyebrows are done the same as always, pencil/cream/shadow and then brushed out to blend. From there, there's definitely a light contour, blush, more highlighter (even on the lips!), and a lip tint. If you're going for natural/subtle, I'm really into Milk Makeup's lip/cheek combo sticks right now.

Photoshop
Of course, there is always a ton of editing in these photos, but especially one that's being used for an ad. It's done really well, which is why this photo hasn't made it in my Photoshop Fail series. No makeup photoshop consists of erasing blemishes, dodge/burning highlights and shadows, and making it so her face is even more contoured, and darkening around the eyes so that they don't blend in with her skintone. Also, color correction. If they are using a lighter foundation or erasing out for the freckles, they would probably have to go back and clean up any redness/uneven color that happens on real skin. Those would just be my basics.
So as you can see, it's a lot of work to pull off the casual, flawless, celeb off-duty no makeup look. It's funny because this seems like a perfect going-to-the-gym sort of face, if you really want to be that girl, but all that makeup on my skin would definitely make me break out once I start sweating. So…. not worth it. I personally don't have the energy to do this all just to look like I'm NOT wearing makeup. Go big or go home, amiright? Anyway, good luck to you. Post your own no makeup looks below, I'd love to see what your routine is!
Images: Instagram (@kyliejenner) (2); Sephora (2)
5 Beauty Products Celebrities Swear By That Actually Work
In my never-ending quest to be my most beautiful self, I am constantly buying new beauty products to try. Trust me, you don't get to Sephora VIB Rouge status by purchasing an eyeliner just here and there. I'm pretty much guaranteed VIB Rouge membership until I'm 35, that's how often I'm buying sh*t. And it definitely doesn't help that I'm so easily influenced by celebrities. Oh, Kim Kardashian uses that? *Adds to cart.* Okay, I'm not that easy…I do my research before I blindly purchase (minus the time I ordered Flat Tummy Tea while in a manic state, which was a total waste of $130). That being said, I wanted to share some of the best products that I've tried and loved based solely off of celebrity beauty recommendations.  You know, so you don't actually have to waste your precious money buying whatever beauty item the Kardashians are hawking this week. My credit card has already taken the hit for all of us, so it's cool.
Kim Kardashian

Tatcha Luminous Dewy Skin Mist, $48
Pretty much any product Kim K. has recommended, I've bought. Given that the Kardashian-Jenners are like, so rich and have access to everything, they're only using the best of the best. The Kardashians are iconic for their contour, highlight, and glowy skin. So when I saw that Kim said that she uses this particular spray to achieve her dewy skin, you know I had it in my Sephora cart faster than you could say, "Bible." And straight-up, I highly recommend it. You can use this product under your makeup, over your makeup, or just as a makeup refresher to spritz on throughout the day. I totally recommend using it all three ways. It's composed of a bunch of natural anti-aging and hydrating ingredients, aka sh*t to make your skin really glowy. It's a bit pricey, but if you can afford to add it to your regimen, I can't recommend it enough.
Chrissy Teigen

La Mer is the moisturizer of the elite because it's expensive af. But it's expensive because it works, and celebs can't get enough. I first tried the moisturizer because I saw Chrissy Teigen uses it, and Chrissy Teigen is pretty much goals for everything she does. She not only uses this on her face, but all over her body. I mean, perks of being married to someone with an EGOT—you can afford to do that. For us mere peasants, we're lucky to be able to afford the trial size option just to use it on our faces. But if you can scrape the pennies together to do so, I definitely recommend purchasing it. This moisturizer is super hydrating, and you don't need to use a lot because it's so thick. It actually will last you a while, if you can just force yourself to make the initial investment. Life hack: Go to a high-end department store and visit the La Mer counter and pretend you're interested in buying the product, but say you want to try a sample first. They'll make you a little sample size pot of it so that you can try it out before dropping the big bucks. And I mean, if you're a real broke-ass b*tch, you can just keep going around to all the La Mer counters at your local malls and never even have to buy any! But seriously, save yourself the trouble and buy it. You won't regret it.
Stassi Schroeder

Sephora Perfection Airbrush Foundation, $28
This is probably the most affordable beauty product that I've tried based on a celebrity recommendation. Stassi Schroeder swears by this foundation, and for good reason. The name says it all, and this product actually lives up to the hype. It's a thin foundation that gives a flawless airbrushed finish that doesn't scream, "I'm wearing foundation!" I recommend spraying it onto a damp beauty blender, rather than directly onto your face. If you try spraying it directly onto your face, then you'll probs end up getting it in your hair and on your clothes…which is a hard left from your "unattainable no-makeup makeup look." It sells out fast online, so you may need to try your local Sephora store to see if they have it in stock.
Kylie Jenner

NARS Radiant Creamy Concealer, $30
You know how it's super obvious when someone's wearing makeup, because they get those crevice lines under their eyes? Yeah, that's never the look you want. This concealer is light, moisturizing, easy to use, and most importantly, won't give you those ugly crevice lines that make you look like a cracked claymation figure. This was an OG Kylie Jenner recommendation, before she started making her own concealer. Idk how the Kylie Cosmetics version is, but I can definitely vouch for this one. This concealer is one of my favorites, and I highly recommend it!
Gigi Hadid

Vita Liberata pHenomenal 2-3 Week Tinted Tan Mousse, $54
If you know me, which you don't, you'd know I'm a self-tanner addict. It is simply a product I cannot live without, and trust me, I've tried them all. I decided to give this one a shot when I read online that the impeccably perfect Gigi Hadid uses it, and I fell in love. Of course, it's pricey and runs out super fast, but it's a great freaking product. The tan actually lasts, and doesn't fade all gross and splotchy. Not to mention, it uses "pHenO2 technology" (whatever the f*ck that is) to create a natural-looking tan that doesn't have that orangey spray tan look. Particularly for the self-tanning novice, this is a good one to try, because it goes on seamlessly and looks super natural. Oh, and the best part? It doesn't have that nauseating self-tanner smell to it that every other one does. It's just…amazing.
Look, I know these products aren't cheap, but did you really expect famous celebs to be using drugstore foundations? Not a chance. That's not to say that there aren't great options out there, I've just personally never read about a celebrity using one that wasn't sponsored by said brand. Look, as my mom would say, "beauty is pain." And by pain, I mean painful AF for my wallet. 
Images: @glowrepose / Unsplash; Sephora (4); Ulta
Betches may receive a portion of revenue if you click a link and purchase a product or service. The links are independently placed and do not influence editorial content.
How Do Celebs Prepare For Award Shows? Their Secrets To Looking Really Pretty
If you were watching the Oscars last night and were trying to figure out how these people show up looking fucking flawless, join the club. Celebs obviously have to be abnormally skinny and good-looking by default, but like, at what cost? I mean, don't get me wrong—Emma Stone looked pretty decent in Lala Land, but professionals are paid to edit that shit. 
What in the Steve Harvey happened last night? Read our Oscars recap!
We wanted to know what kind of prep goes on before the red carpet, so we did some research into the glamorous lives (and weird diets) of Hollywood's elite. If you thought stars were actually just like us, think again. Here's what the celebs do to get ready for the red carpet:   
1. They Get Their Faces Shaved

This is not a joke, and it's not a mistake that some 6th grade girl made because she was too scared to ask her mom for a wax. Celebs literally get their faces shaved before the red carpet and the treatment is technically called Dermaflash. Apparently, by getting rid of some excess peach fuzz and exfoliating your skin, you get that extra fresh glow that "flashing" provides. J.Lo and Jennifer Garner were both spotted getting their "flashing" done at the Beverly Hills Hot Springs and their skin is unreal, so like, we're trying not to judge. 
2. They Get Their Cheekbones Accentuated

We've been getting facials before events ever since our middle school graduations, but when it comes to award shows, celebs go to specific professionals who know how to literally manipulate your face to look better on camera. There are specific pros in LA that will only take nominees' appointments on the day of the Oscars. For example, celeb fave Joanna Vargas is known for her Oxygen Purifying Facial, which uses medical-grade oxygen to erase dull skin and create finer lines to get your cheekbones to look like they're popping out of your face. Goals, right?
3. They Get Blood Injected Into Their Faces

Botox appointments are just as regular as teeth cleanings in the celeb world, but when it comes to the Oscars, the regular injection doesn't make the cut. Celebs like Kim Kardashian swear by the "Vampire Facial Lift," which literally injects blood back into your face by using platelet rich plasma. Apparently it helps make your eyes look wider and your skin look super rejuvenated, and results are immediate. BRB, throwing up.
4. They Wrap Ice Cubes Onto Their Faces

A few days before the show, celebs are having this funky ice concoction wrapped onto their faces. Dr. Nigma Talib, an LA-based naturopathic doctor, works with stars before the Oscars through "icing" their faces. Icing is a process meant to de-puff your face, make your pores more refined, and take away any redness in your skin. She mixes together cucumber water, aloe vera juice, turmeric root, and water into a blender, and then freezes the liquid in an ice tray. Once they're frozen, she wraps the ice cubes in a washcloth onto their skin until it's all melted. Sounds pretty unpleasant and it's probably freezing AF. Aren't they cold enough from dieting all year-round?
5. They Put Jellyfish On Their Faces

This is another treatment that is super trendy right now in Hollywood, and it sounds like a high school bio experiment we decided to ditch. The jellyfish mask is made from jellyfish collagen, which is supposed to hydrate and firm your face to give you a youthful glow on camera. I don't even wanna know how much this absurd treatment costs, but you couldn't pay me to stick a jellyfish on my face. I know it makes you look good, but there are Instagram filters that do that too. We will be doing a follow-up analysis on if anybody ever has to have their face peed on if this treatment goes wrong.
6. They Cut Out Sugar, Gluten, Dairy, & Booze

Try telling a waiter that you're sugar-free, dairy-free, gluten-free, and you don't need a cocktail menu either. Celebs like Kate Bosworth, Penelope Cruz, and Sienna Miller follow this no-fun diet for weeks leading up to the Oscars, and it sounds pretty brutal. The worst part is, they probably can't even complain about it because all their famous friends are on the same fucking diet. I just hope they at least get shitfaced at the afterparty. 
The Best & Worst Beauty Looks From The Oscars
The Best & Worst Beauty Looks At The 2017 Golden Globes
The time has come to talk about one of the lesser-talked-about award ceremonies of the year: the Golden Globes, aka the Oscars' younger, drunker sister. While the Golden Globes red carpet allows stars to give less fucks be a little more casual/experimental than they would be at the Academy Awards, the 2017 lineup was lit. As in, there really weren't that many terrible beauty looks that made me want to (internally) scream/cry/cry-scream. I mean, of course there were still a few losers who missed the mark, but before we get into the fuck ups, let's talk about the shining stars who killed the game, i.e. the red carpet.
BEST:
Emily Ratajkowsfsfsdfksafsfki The Hot "Actress" From "Blurred Lines"

The monochromatic shadow and lip combo. The tousled lob. The full brow. 10/10 would bang.
Emma Stone

Though she's the palest person I've ever seen, Emma Stone usually does it right on the red carpet. Following the success of her 75th film with Ryan Gosling, Emma donned a laid back, whimsical low pony, a sheer rose lip, and a subtle cat eye.
Millie Bobby Brown

As the breakout star of Stranger Things and a former Betch of the Week, Millie murdered the red carpet. Not unlike how she murdered the Demogorgon. Only difference is this time she had soft, subtle makeup and a sleek bob.
Lily Collins

Pulling off a red lip with a pink dress and pink shadow is not easy, but somehow Lily did it just to prove that she can.
Kerry Washington

Here for Olivia Pope's sleek, buttery-highlighted hair and dark lip combo.
Olivia Culpo

The mocha smoked out eye/matte lip/low braid story Olivia's telling is my 2017 mantra. 
WORST:
SJP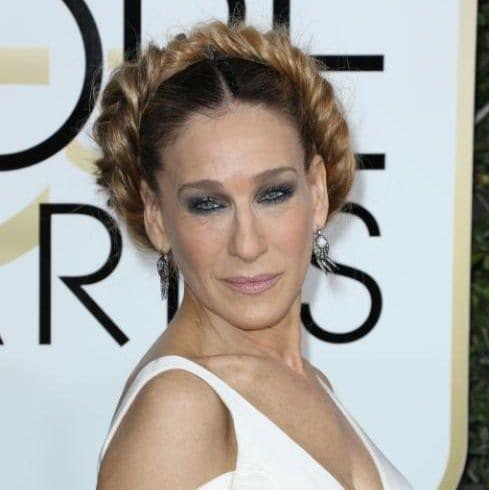 While she might have meant to honor the late and great Carrie Fisher, whatever the fuck is happening with SJP's braids makes me sad. She should have consulted Olivia. (Culpo, not Pope. Though both would probably be appropriate.) 
Milo Ventigmiglia

The poor man's Tom Selleck is now registered under Megan's Law. Seriously, go check.
Tom Hiddleston

Tbh, he looked OK on the outside (whatever), but last night we saw Tom Hiddleston be ugly on the inside. Proving that he loves himself more than he loves poorly printed tank tops, Hiddleston wanted everyone to know that he is an inspiration to UNICEF and Médecins Sans Frontières and the World Food Program.
Tom Hiddleston: Omg thanks for the award. Let me use this platform to talk about Sudan.
The audience: All ears.
Tom Hiddleston: And how I've saved it by acting in a boring show about guns with House.
The audience:

The only thing that would have made up for this is if he thanked Taylor Swift and the audience subsequently boo'd. Sigh. Maybe next year.