What His Swimsuit Says About How Big Of A Douche He Is
I learned two important lessons from my time analyzing men's underwear. 1) I'm basically the female version of Tan, and 2) there are way more bad options than good when it comes to covering men's junk. The situation is no different when we're looking at bathing suits—*remembers Speedos exist*—actually, it's worse. Ultimately, scoping out guys at your local beach/pool/YMCA (I don't judge) isn't about finding your sartorial soulmate. It's really about avoiding these common red flags. Read on for what his swimsuit says about him, and the swimsuits that should make you run far, far away.
Swim Briefs
Let's start with the worst. "Swim briefs" are Speedos, plain and simple. Calling them swim briefs is the equivalent of referring to Q-tips as "cotton swabs." So even using this term is sufficient reason to excuse yourself to the bathroom and never return. For those lucky souls who have never encountered a Speedo, I'll paint you a picture. They do bare minimum in the front, and either barely cover his ass or go full thong. In other words, if you hook up with a guy wearing a Speedo, you could plausibly mistake it for your own underwear while trying to get dressed. These are strangely popular among Europeans, so consider yourself warned before meeting your Italian Hinge match at Le Bain.

Square Leg/Square-Cut Shorts
Looks like we're going least to most coverage here! Square-cut shorts are the bathing suit equivalent of boxer briefs. This cut can be sexy when revealed under pants, but IMO it's a little aggressive as the sole thing covering your lower half. (*Thinks back to the cheeky Brazilian bikini I just ordered.* Nope, I stand by it.) I feel like Jordan from The Bachelorette definitely wears this kind of bathing suit, to give you a sense of the overall dateability conveyed by this style. It's the ultimate for guys who want to show off every inch of their bodies without committing fashion suicide. AKA every guy who cracked 1,000 followers on IG and now thinks they're too good to answer your texts. Not that I'm bitter, we were obvs growing apart anyway. But yeah, guys who wear this swimsuit are likely way more into themselves than they are you. Sorry!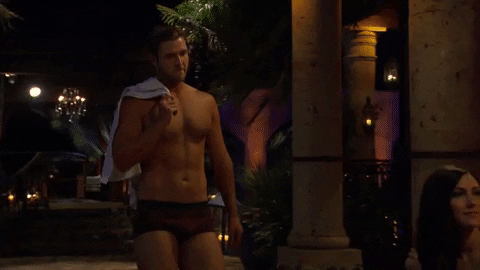 Swim Trunks
Ayyy, we've arrived at the only socially acceptable swim suit for men. Feels good. You'll recognize swim trunks from every time you've seen a male go in water without baring their full ass. They're your basic loose short, completely indistinguishable from actual male shorts to the naked eye. With swim trunks, the main thing you want to look out for is the print they choose. My personal preference is a solid that's flattering to their skin tone, or a simple print that's on-theme without being obnoxious. (E.g. *subtle* floral/Hawaiian, nautical, etc. Don't @ me, I like the tiny sailboat thing.)
If they're covered in giant flamingos, pineapples, or American flags, they're frat bros who didn't have to do anything other than breathe to get laid in college and don't intend to start now. Give them a few years of getting rejected by women like you and come back to them. Like wine, except instead of wine it's a 27-year-old man-baby. Anyone who wears plaid swim trunks is a psychopath or in middle school, and you can't convince me otherwise.

Board Shorts
Board shorts are…ok. They're really just the sloppier, oversized version of swim trunks, often worn by little kids or guys who really don't care about the fit of their clothes. Acceptable on surfers, for whom these serve a legit practical purpose. In all other scenarios, it's the sartorial equivalent of what you put on to pick up Gatorade while hungover.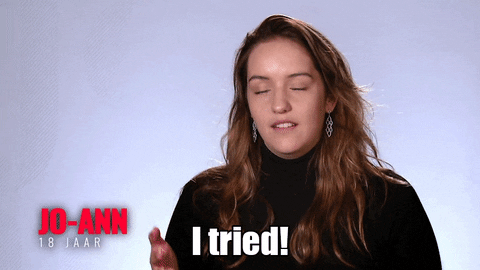 Jammers
First time hearing of jammers? Don't worry, me too. While I'd hoped this was a term for dressed-up jammies, it's actually a swimsuit specifically designed for athletic performance. AKA this bitch better be training for the Olympics. Otherwise, he's just weirdly proud of his thigh girth or trying to hide some kind of rash. Not a risk I'm interested in taking.

There you have it. If you're looking for a guy to actually date (so old-fashioned, I know), swim trunks only please. If you're already dating and looking to fine-tune his wardrobe, throw out all his obnoxious prints and board shorts. Everyone else, please feel free to hook up with the Speedo/short short/jammer wearing guys out there and report back. Don't say I didn't warn you when all they talk about is their dating app matches, muscle tone, and favorite protein powder. Wow, I'm just describing Jordan. He'll be missed.
Images: Giphy (5)
What His Underwear Says About Him
When it comes to men's underwear, I kind of thought everyone agreed: it's something you don't pay much attention to unless there's something wrong. And when you notice it for a good reason, it's typically less of a "wow, that's some breathable cotton" and more of a, "I didn't realize how good this person looks barely clothed" thing (see: Justin Bieber's Calvin Klein ad). That being said, my boyfriend approached this topic with a rabid amount of enthusiasm for someone who once held up a pair of baby-pink underwear and said "these started out navy" who's not particularly into fashion, and he quickly affirmed that what a guy's underwear says about him does matter. So, since he's been in "like, a million locker rooms," and has "seen some shit," I'll be peppering in his feedback below. Read on to find out what the underwear he wears to your hookup says about him.
Boxers
You're familiar with boxers; you saw them on every guy you hooked up with in high school, and now you probably sleep in them. As suggested by the previous sentence, guys regularly rocking boxer shorts are pretty immature and definitely haven't taken the time to upgrade their wardrobe to what an adult should be wearing. After all, boxers are too loose/bulky to be worn with pants that actually fit, so this is either a guy who wears shorts year-round or still thinks oversized jeans are "a look." Also, I'll go ahead and assume this guy isn't particularly athletic, since boxers offer exactly zero support; they're useless for exercise; and they do equally little for showing off a guy's bod. In other words, he's either not working with anything he wants to showcase or, yet again, he has no effing idea how to dress himself. Save yourself the Oedipus complex and move on.

Tighty Whities
I refuse to spend too much time on tighty whities because you, as a reader, deserve better than that. Assuming that we're working with old-school resembles-a-diaper tighty whities (which is the last time I heard anyone really use this term) and not just a white version of well-made briefs, everything that is true of boxers is true of tighty whities times one thousand. Long story short: any guy who wears this underwear knowing that he might have sex with you doesn't respect you, and his mom still buys his underwear.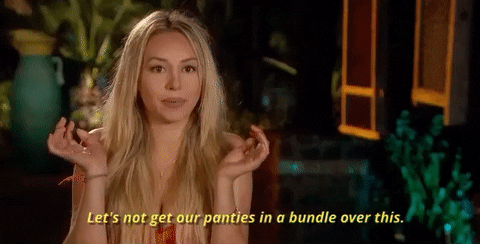 Briefs
I don't think I fully grasped the difference between briefs and boxer briefs before today, and damn. Briefs are… brief, as in the smallest possible amount of fabric while still covering someone's ass and genitals. They are also skin-tight, an underwear feature my boyfriend says is chosen for one of two reasons: "tiny dick" or "big dick." A website called "The Underwear Expert" confirms that "many are engineered to enhance the package." Whether a guy is using briefs as the equivalent of a push-up bra, or just wishes he could tattoo WELL-ENDOWED MAN on his forehead, this guy is likely vain in all the wrong ways and least likely to care if you have an orgasm. He's also the most likely to skip leg day, and spray cologne on his dick "for the ladies." Obviously, if he looks as hot in them as he thinks he does, you can let this slide.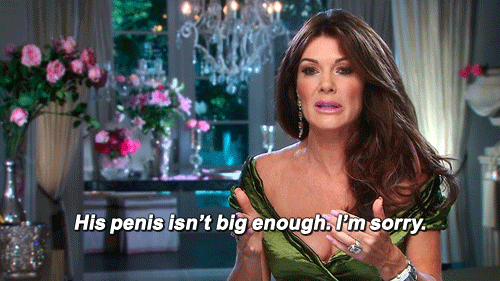 Boxer Briefs
Boxer briefs are like the buttoned-up aunt of regular briefs—they're longer (usually covering half the thigh) and a little more forgiving without any of boxers' "flowing in the wind with a giant hole in front" nonsense. TBH, guys wearing boxer briefs raise relatively few red flags: they're a grown-up alternative to boxers, they're tight enough to show off a nice ass, and they're both flattering and low-key enough to draw a nice line between "he didn't think about his underwear choice at all" and "he thought about his underwear choice way too much." Since these can err on the side of being a bit reserved/boring, boxer brief guy probably isn't the most adventurous (sexually or otherwise) and probably ordered 20 of the same boxer briefs on Amazon the same weekend that he threw out all his boxers.

Trunks
I've saved the best for last here, but fair warning for anyone getting riled by boxer brief description: if you thought I was way off, you were probably actually picturing trunks. Trunks are a hybrid between briefs and boxer briefs, meaning they cover one-third of the thigh instead of half, and I don't know how guys buy anything else once they know these exist. If guys need a foot and a half of underwear to cover them while playing sports, fine. When they're showing up for sex, they should step up and flash a little leg, which is not a huge ask given that "sexy underwear" for women covers between zero and ten percent of your ass. Trunks mean he actually tried more than one type of underwear before considering himself stocked for life, and he's decently aware of what he looks good in. Get yourself a guy who wears trunks.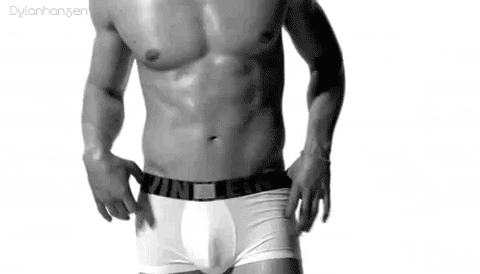 Not happy with how your fuckboy stacked up in the above assessment? Good news: Valentine's Day is coming up, and there's no better way to say "I'm only in this for the sex" than the gift of underwear. Don't believe me? You're more than welcome to check out the parade of fuckboys blowing cash at Victoria's Secret on February 13th for yourself.
Images: Shutterstock; Giphy (5)
Valentine's Day Lingerie That Isn't Ridiculously Expensive
Valentine's Day is coming up! Before you get all gushy (or grumpy) on me, let me remind you that regardless of how you feel about this holiday, it's important to remember what it's really about. Valentine's Day is a consumer holiday, so whether you're in a relationship, scared shitless to DTR or single AF, nobody else wants to hear about your feelings. They just want you to buy stuff. The great news is that if done properly, like every other gift-giving holiday, Valentine's Day is a fantastic chance to make the day all about you and buy yourself some awesome lingerie that you don't actually need. Here are some pieces you should buy and hopefully not ruin in the dryer before the end of March.

This isn't really Valentine's Day lingerie, but if you refuse to wear anything with a shitton of padding, rhinestones, or anything else reminiscent of the Victoria's Secret Bombshell bra you bought sophomore year of high school, it'll do the trick. I'm actually obsessed with this bralette because it's a simple step up from a regular one that you might wear on a daily basis. If you want to use this bralette as one half of a risqué set, Hanky Panky has a ton of "open gusset panties" options to pair it with. Just like, do us all a favor and please never actually utter the words "open gusset panties" IRL.

If you can get past the fact that this bra and undie set looks like the Valentine cards you made for your friends and taped to a fun size Hershey's Krackel in second grade, it's actually pretty cute. The bralette has a subtle underwire so you can have some support without feeling like a fraud. Plus, the racerback detail is always handy to wear with actual clothes. Just be careful with removal, because although front-clasp bras are always touted as being convenient, the truth of the matter is that it just makes it way easier to get trapped in your own bra because you have to slide it off in the most unnatural way ever. Don't like, kill the mood, ya know?

Honestly, the chick who invented babydoll lingerie should be carved into Mount Rushmore or something, because this shit is the move for when you're bloated but still want to look really good. Sidenote: I just Googled it. Her name is Sylvia Pedlar and she actually invented it as a response to fabric shortage during World War II. She totally hated the phrase "babydoll" and also designed sexy easy-to-remove togas for women to wear to bed. She kind of sounds like a bad betch, and even though I'm going to keep calling them babydolls, my bread-loving self would just like to give good old Sylv a shoutout. Anyway, here's a cute babydoll from Victoria's Secret.

We all know shopping for bodysuits can be a fucking nightmare, but this design features plenty of adjustable details that will make things way easier. It laces up the back and has adjustable straps, which is super helpful. Plus, the high leg shape looks amazing on everyone. This bodysuit is also called the Blair, which makes it a favorite in my book for obvious reasons.

If you're the kind of girl who has her shit together enough to know how to squeeze into a lace corset without even a minor injury, then like, good for you, I guess. Personally, I look for the key phrase "slips over head" when reading lingerie descriptions, but to each her own. The fishnet trend is still thriving, and this corset incorporates it in a fresh way. Even the Victoria's Secret copywriter who wrote this description was like, "garters and straps for when you want them," as in, IDK wtf you're supposed to do with those either. Anyway, this is actually pretty sick, so get it.
---
Betches may receive a portion of revenue if you click a link in this article and buy a product or service. The links are independently placed and do not influence editorial content.
5 Pieces Of Clothing That Will Make You Look 5 Pounds Lighter
It's only December, and I can already feel my winter weight creeping up on me. I'm sure it doesn't help that my job's cafeteria hosts Taco Tuesdays, either. I'd like to say I'm being proactive by running to SoulCycle or eating healthier, but by 1am, I find myself digging through a package of Oreos because salads are fucking disgusting. I can't even think about the calorie-loaded holiday dinner with the fam and how much my grandma will try to "fatten me up." I have a tight-ass dress to squeeze into shortly after for NYE. As much as I'd like to give my right arm to be skinny overnight, I'm left with no immediate option other than the dreaded but adored shapewear. It's such a buzzkill to wear sometimes, but desperate times call for desperate measures. Since it's literally never to cute to have your shapewear show underneath your dress or have visible thong lines under your leggings, here is cute af shapewear to make you look three pounds thinner.
Jewel Toned is only a few years old, but the life-changing shapewear and lingerie brand is slowly becoming a game-changer, and more people need to know about it, tbh. From mesh going-out mini skirts to this LBD we can never have too many of, the brand offers a ton of apparel pieces that can basically be worn as your next outfit. Wear this dress alone next time you're itching for vodka sodas and you won't have to worry about bloat, awkward panty lines, or feeling like you can't breathe after 30 minutes. You'll def have your next Insta flooded with, "OMG, you look sooo good." I can personally vouch for this as I've worn it after eating my weight in pasta and no one suspected a thing.

Since we're all too familiar with the struggle of having to constantly buy high-quality black leggings, these leggings are like your favorite ones, but a million times better. Not only do you not—and I repeat, *not*—have to suck in while wearing, but the purposely structured design makes your butt and legs look as though you've done squats for weeks.

Obviously, we all own a bodysuit by now, regardless of how long it took for us to give into the trend and purchase it. However, more often than not, they usually show our muffin tops and other flaws we desperately try to hide. With this contouring and all-over shaping bodysuit, you'll look v skinny with perf cleavage and can even pair it with high-waisted jeans and heels for a chic last-minute outfit.

At the end of the day, we all need camis. I mean, we can't just rely on bralettes from Victoria's Secret if we have like, professional and adult-like activities to tend to. Whether you're saving it for the summer or need an extra layer under that revealing sweater your HR passive-aggressively gave you shit for, Maidenform's style is super comfy, breathable, and specifically targets the stomach for a flatter fit. Bless.

Because we're only human, sometimes we need an extra confidence boost before jumping into bed with our next fling. With this basic-yet-totally-hot underwear, you can hide even the smallest of bloats and also make your butt look phenom and contoured. He literally won't even know it's "shapewear" (I doubt he knows what that is anyway) and will still find you sexy af.

The Best Lingerie For Your Body Type
Lingerie is low-key one of the best inventions of all time. It's like, these fun little pieces of underwear you can wear under your regular, everyday clothes without anyone knowing that you're actually living out your goddess/stripper/girl from a rap music video/whatever you want to call your personal sex fantasy goals while just walking around in society. Or, you can wear it without anything over it to seduce someone. OR you can even just wear it while you watch The Office alone in your living room with a tub of cookie dough while your roommates aren't home. That's the beauty of lingerie. You can do whatever the fuck you want with it. Here are a few ways to step up your lingerie game depending on your body type.
If You're Really Busty…
Strappy little bralettes definitely aren't going anywhere anytime soon, which kind of sucks if your boobs weigh more than a rice cake. It can be really difficult to find interesting bras for big boobs, but ASOS Curve has a few expertly engineered styles, so you can rock that trend without slicing your shoulder in half.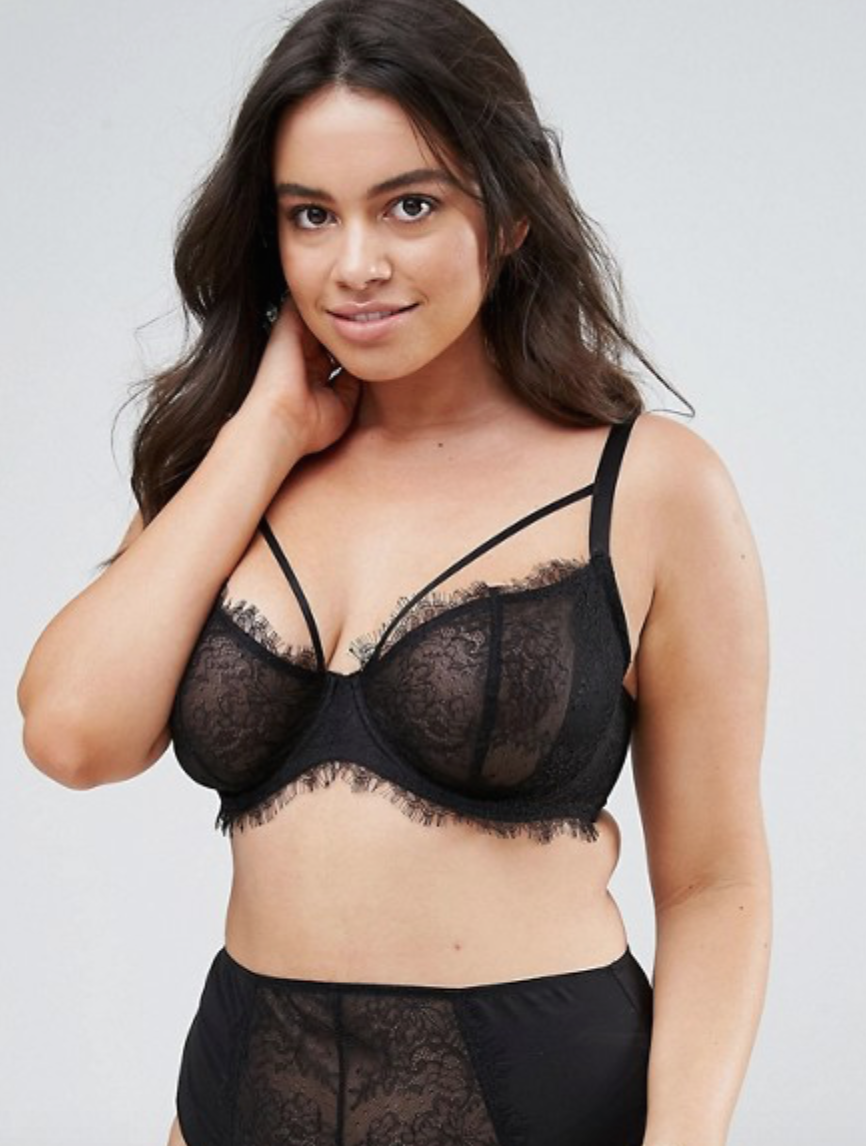 ASOS Curve Eyelash Underwire Bra
If You Want To Look A Little Slimmer…
When bodysuits and one pieces first became popular again, we were all like, "Holy shit, yes, this means we can go back to eating bread!" Then, we actually started trying that shit on and realized they have the potential to be as unflattering as your middle school field hockey warm-ups. Look for bodysuits that create subtle optical illusions, like this one that will make you look slimmer because the lace panel stretches around to the front, creating a false silhouette that is smaller than your natural waist.

If You Actually Kind Of Hate Lingerie In General…
Lingerie doesn't necessarily have to be little lacey pieces of string, so if that doesn't sound like something you want to spend your money on, there are tons of other options. Just seek out styles that are typically flattering on everyone, but in new materials. For example, literally everyone in the world looks good in a sports bra. It's just like, a thing. This grey velvet bralette is basically the sports bra you try to sneak under all of your clothes, when you know nobody's going to see it, except you'll actually want to show it off because it's really cute.

Out From Under Catalina Velvet Bralette
If You're A Proud Member Of The Itty Titty Committee…
Like I already said, strappy, delicate bralettes are literally everywhere these days, and chicks with small boobs are lucky AF, because they look good in all of them. However, if you want to pull some tricky shit to make your boobs look a little bigger, you might want to get creative. Skip heavily padded pushups with a ton of underwire, because they're super uncomfortable and the scam will be totally obvious once you take it off. Instead, opt for a high neck bralette contraption thing that has so much going on that it's just like, "Yeah, there are definitely some boobs in that mix, right?"

If You Have A Little Booty…
If I could live in a different decade, I would pick literally any era where little butts were a thing that people got excited about. Since I don't have a time machine or butt implants, I've settled for buying underwear that makes it look like I have a butt. These are my favorite things ever, because they have a wide waistband to make your stomach look flatter and ruching on the back to make your butt look fatter. They're literally amazing and I swear by them forever.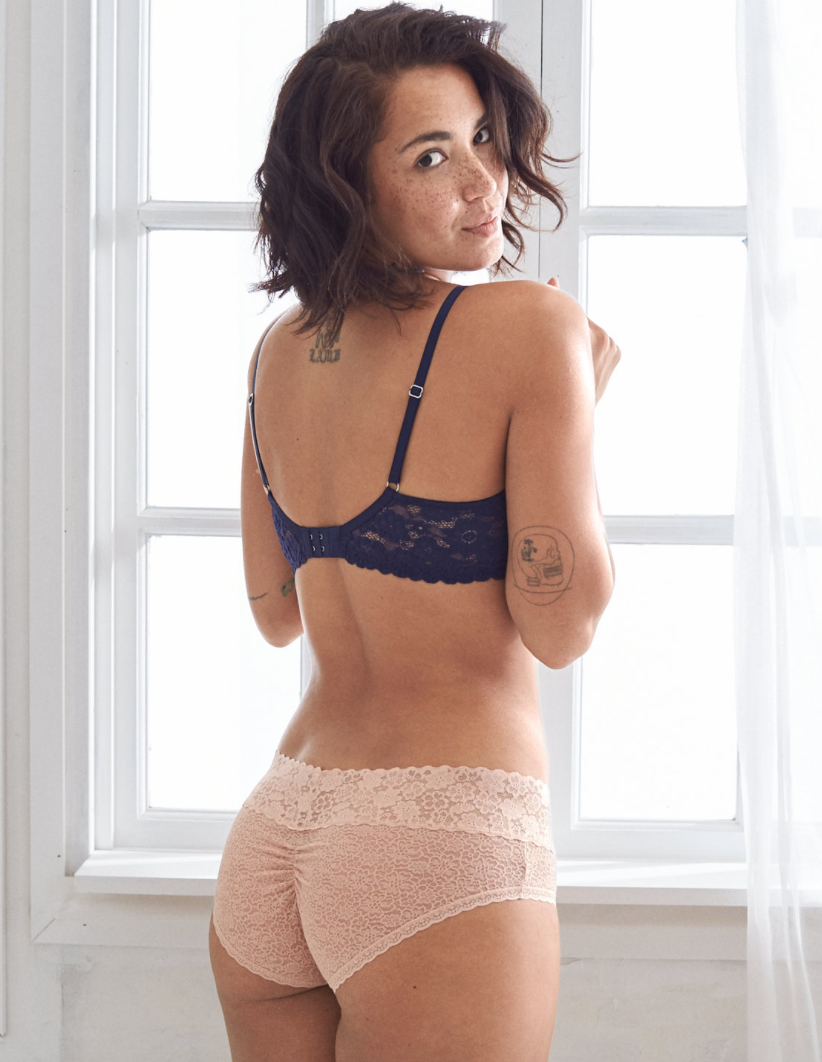 Ridiculously Hot Lingerie That Will Make You Feel Like A Victoria's Secret Angel
It's officially fall (she says while sipping an iced coffee in 71 degree weather), and that means the season of lingerie as outerwear is coming to a close. In fact, if you're kind of flat-chested looking to keep your feud with HR alive and well, the oversized sweater rotation you wear for the next six months may even be a bra-optional situation. The good news here is that your lingerie no longer has to serve any kind of functional purpose (unlike in the summer, when the lacy bralette showing through your drop-armhole tank had to somehow also offer full support and not make you sweat uncontrollably). So, now is the time to stock up on all the lingerie pieces that can't really be worn outside the house, but when's the last time you really wanted to leave anyway? Stay in and stare at how amazing your boobs look Snapchat your latest Bumble date with one of these pieces peeking out; it's basically guaranteed that he'll help make sure you don't have to leave bed.
If you're feeling nostalgic for your Lara Croft Halloween costume, and you're not quite ready to give up that level of dangerous/sexy, this is the lingerie for you. While I know this isn't exactly a budget piece, I once bought an Agent Provocateur corset and my parents rightfully froze my bank account it's honestly the most joy I've ever gotten from a single clothing purchase. If you choose to buy this bodysuit, prepare to set aside the next six hours to saunter in front of a mirror, drink champagne, apply red lipstick, and masturbate furiously whatever else you do when you're basking in the glow of your own hotness.

Warning: This is not for anyone with a cup size of over a B (sorry!). Given that it's composed of about 12 inches of floral lace and some black silk ribbon, this is the G-string of bras (except a thousand times cuter than whatever you think of when you hear the term "G-string"). Throw on your softest cashmere cardigan, unbutton half the buttons, and add some over-the-knee socks for the perfect "fell out of study hall and into your librarian porno" fall look. Or, wear it under a silk robe at home for some disingenuous "casually unwinding with a bubble bath in the background" Snap stories.

If you're looking to channel your inner Cheryl Blossom, I can't think of a better way to go than this La Perla bodysuit. You might not have her red hair or perfect red lipstick, but you know this is what Cheryl would wear if her scheming ever required elaborate seduction (please let that happen, and please let her hold some kind of terrifying prop, like throwing stars or a musket). Where the Agent Provocateur bodysuit requires more of a Hadid level of body confidence, this bodysuit offers a little more support, coverage, and overall flattering fit. Plus, the fact that it's November means everything you see is going to be Christmas themed by like, tomorrow, so this red is basically a seasonal necessity.

I couldn't help myself, I had to include more than one Agent Provocateur piece on this list. The eyelash trim, the tulle "wings," the satin bows—everything about this bra is so delightfully extra and such a necessary gift to yourself. I'm not even sure you could wear this bra under a shirt if you wanted to; it would be the up-top equivalent of the panty lines you'd get trying to wear these matching panties. So if you're in any way trying to stock up on functional, versatile pieces, this is not the look for you. This set is designed to be worn with nothing else, and is a good surprise for someone you feel romantic enough about to go for a soft navy instead of classic black.

As temperatures continue to drop, there are going to be people who tell you it's time to descend into sweatpants and fleece blankets and not come out until May. Those people are wearing cotton boyshorts from Old Navy, and you don't need that kind of negativity. Stock up on a little lace and enjoy the fact that being this hot doesn't stop on Labor Day.
The Best Sports Bras For Big Boobs So You Don't Smack Yourself In The Face
I'm about to take you on a trip (no, not an acid trip—actually, maybe) back in time to a decade called the '70s, when John Travolta wasn't brainwashed by some Scientology bullshit, cocaine was as obtainable as Usher's herpes, and shockingly enough, the first-ever sports bra was crafted from two male jockstraps sewn together, aka the most innovative decade of our time, if you ask me.
Side note: How has it only been 40 years since the first sports bra was invented? Come on America—fucking television was invented before this. Like, imagining a boob-endowed betch running down the street in nothing but a shitty cotton tank with no support actually makes me want to dig my own grave.
Anyway, thank god for betchy jogger Lisa Lindahl, who shook us to our very core and set out to create the equivalent of a male jock strap for breasts. She dubbed her new contraption the "Jock Bra" and honestly, IDK how in the actual the fuck she came to the epiphany that two nut buckets would support a woman's boobs, but it sounds like fucking strategy, if you ask me. So in honor of the sports bra's 40th b-day (seriously, wtf) and just because I truly care about the well-being of your precious double D's, I've broken down the best and most supportive bras that won't result in chronic uniboob, based on exercise aka the unlikelihood of getting tit-smacked in the face by your own boob.
**Actual footage of mine and my boyfriend's colleagues' reactions while I tried out each of these bras:

YOGA/PILATES/BARRE
Let's be real—yoga nowadays is either for people who can't afford therapy or for Instagram aesthetics/pretending like you actually got out of bed this weekend. Thus, this adorbs strappy-back bra will UP your Instagram game, AND keep steady support as you namaste on the ground for an hour. It's perfect for any low-impact workout and can even pass as its own top if you're that girl who traded egg whites for mimosas during last weekend's brunch. But probably the best part about it all is the price. You may have 99 problems (seriously, go the fuck to yoga), but another overdraft charge sure as hell won't be one.

I could've sworn I bought this exact same bra at Limited Too when I was like 12, but I like to think of this one as LTD2's older hotter sister that survived puberty and is now in demand. My favorite thing about this bra is that it fits snug with little to no squeeze, so take a fucking hike, back fat. Speaking of hikes, can you just imagine how cute the strappy crossed backing would look as you're documenting your entire 1.5-mile hike? Yeah, hi, triple digit likes.

CROSSFIT/HIIT
I swear to god, this shit is like the Miss Congeniality of bras. Like yeah, it may not look like it'd be all that fab (i.e. Sandra Bullock pre-glow up), but give it a chance, and you'll quickly realize it looks fucking amaze on, it's incredibly supportive, and its Dri-fit technology will never allow you to feel like a sopping mess at the end of a tough day. I'll wait while you tell me how many other sports bras you know that give you cleavage while withstanding any test you throw at it. Jump rope in it, bounce on a trampoline wearing it—hell, jump rope while bouncing on a trampoline. You won't be disappointed/accused of flashing areola at your spin instructor.

I, too, was personally victimized the day Victoria decided to selfishly and single-handedly sabotage her swimsuit line to focus on their activewear, like the bitch she prob is, but I'll make my peace with it due to this godsend of this contraption. It comes in like 800 different colors and the sizes range from A-DDD. This bra is especially supportive for any type of high intensity activity, and the best part of all is that it zips in the front so you won't pull a muscle attempting to force it over your DDs.

So yeah, at first glance, it may look like this is a what you'd wear as you're being discharged from the hospital, but in reality, it's so much more than that. If you're looking for more full coverage and full support as you fake your third burpee in the back of the class, this is the bra for you. It's especially great for those lucky few with a smaller band size and bigger boobs who can never find a bra that fits. So it may not be the most stylish brand on the market, but come on, if you're really gonna attempt to ditch the shirt at the gym, you're lying, and mostly just annoying. Don't be that girl.

RUNNING
I don't even know why I'm going into detail about this bra because its purpose is literally in the title: It tames the ta-tas. Sizes run all the way up to an E, and you can even choose between straight or crossed straps, therefore it's comfortable enough to get away with wearing under your work blouse. Other qualities include full support of you and your heavy baggage, giving you and your girls plenty of space, and it even does its fucking job when you're soaking wet and ready to go AKA everything your shitty ex didn't do.

You've probably never heard of this sports bra, and neither have I before I conducted thorough Google research. That's because it's an Australian brand, and clearly Aussies do everything right, mostly because they were educated enough not to elect a reality TV star as their president. Among holding the girls in place while running, sprinting, jumping, whatever, it not only looks like a normal bra, but it also ranges in sizes from a C-E. Plus, Serena Williams aka Bad Betch Supreme reps this brand, so you know it's some high-quality shit.

How To Wear Lingerie Without Looking Like You're Trying Too Hard
Wearing lingerie without looking like you're trying too hard is extremely difficult to achieve, mainly because lingerie at its core is one of the most extra inventions in history. Like, somehow, someone created an industry of getting women to pay a shit ton of money for complicated strands of lace that they wear for a couple of minutes before stripping naked. Whoever realized that they could get people to spend hundreds of dollars on tiny see-through dresses and underwear with the crotch cut out is both a psycho and a genius (funny how those two things often go together). Honestly, I'm not even convinced that lingerie turns men on, because most guys will probably tell you that trying to figure out the clasp on a regular bra is too much to handle, let alone trying to figure out how to release all the straps on a garter belt. I think the point of lingerie is probably to make you feel like Candice Swanepoel for a quick sec and make it so you begin the boning process with a heightened level of confidence. The right lingerie can make you feel yourself so hard that you'll do all sorts of wild shit in bed, like start in reverse cowgirl or actually complete a full blowjob. However, if you mess up and get the wrong lingerie, you're going to look like you rooted through J Woww's closet from the first season of Jersey Shore. The more understated, the better, so here are a few suggestions.
If Lauren Conrad offered a lingerie section on her website, I kind of feel like this would be included. It definitely falls into that whole "less is more" category by being sexy without revealing too much more than a trashy bodysuit from Charlotte Russe would show. Plus, it has a racerback, which is basically a magical design that is super comfortable but also makes your boobs look amazing.

2. Calvin Klein Black Lace Bralette
Calvin Klein's been making the best underwear essentials for like, ever, so obviously they know how to handle lingerie without being a total fucking hardo. This black lace set is basically a hotter version of the bralettes your normally wear because of its romantic lace and mesh details and discretely padded cups. You can save this one for the bedroom if you want, but honestly this piece is so cute there's no reason you couldn't also wear it under a sheer top, making it one of the only lingerie pieces that you'll absolutely wear on the reg.

3. Out From Under Exploded Fishnets
Wearing lingerie as regular clothing is definitely a trend right now because apparently we're all really extra and needed to make fishnets and slip dresses a thing again. This is pretty much made with the purpose of having some fishnets stick out over your clothes. I'm still really conflicted on this trend, but I'll prob end up wearing it in like a week anyway.

Nothing says "I'm not trying too hard" like ordering your lingerie from ASOS instead of having to get off your ass to go buy it in a store. ASOS has its own brand of Risky Business lingerie and it's all pretty low-key and not going to cost you $100 for two scraps of lace that they're calling a bra unlike SOME people (*looks at Agent Provocateur*). Plus, this bodysuit has a high-cut leg, which is soo in right now.

This is the perfect casual kind of lingerie to own, because if your sex life starts going downhill you can always repurpose it as a Halloween costume like Karen from Mean Girls. You might be single AF but you're also a mouse… duh.

What does your wedding dress style say about you? Find out here!