I Found Out Taylor Swift's Eras Tour Makeup So I Can Also Look Hot In The Pouring Rain
Betches may receive a portion of revenue if you click a link and purchase a product or service. The links are independently placed and do not influence editorial content.
If it feels like everyone and their mother's are sharing their Era's Tour outfit on your for you page, you're definitely not alone. I'm honestly predicting that this is going to be Taylor's year—not only has this tour been the only thing anyone can talk about, but people can't seem to get Taylor out of their mouths. It's gotten to a point where there's so much gossip, that I'm not even sure that Taylor and Matty Healy even know they're dating. 
Speaking (now) of gossip—a Deux Moi tipster dropped the entirety of Taylor's tour makeup on Instagram this morning—including what she was wearing during that rainy (and highly meme-able) show. Because I don't know if you noticed, but that shit didn't budge in the rain. At first, I was half expecting her to announce the launch of her own beauty line (to which I would have dropped an entire paycheck on without batting an eye) but then realized I could probably get everything today at my local mall. 
Unsurprisingly, everything is Pat McGrath. If you're a real Swiftie (and if you're reading this I'm assuming you are) you know the legendary makeup artist starred in her Bejeweled music video. What can I say? I'm an armchair detective. Now, let's get to the list so we can all run to Sephora on our lunch break before it sells out. 
It's All About The Face
Let's start with the literal foundation of it all—the face makeup. During Taylor's most recent tour stop in Nashville, it rained essentially the entire night, and she still looked fucking incredible. IDK about you, but when I take a step outside in the summer, a single drop of sweat could be the demise of my ~perfectly blended~ concealer as if I was the wicked witch of the west. So, when I saw that her face didn't even budge, I knew I would be filling an online shopping cart to the point I could ensure free shipping. Here's the rundown:
Primer

Shop it: Sublime Perfection Hydrating Primer, $46, Sephora
Foundation

Shop it: Sublime Perfection Foundation, $69, Sephora
Setting Powder

Shop it: Sublime Perfection Setting Powder, $42, Sephora
Highlighter

Shop it: Skin Fetish Highlighter & Balm Duo, $50, Sephora
Cat Eyes Sharp Enough To Kill A Man
Can someone please film a tutorial about how to get a cat eye liner as good as Taylors? Because if I'm investing in this eyeliner, your girl is going to need some help with both the liner and shadow. Plus, it's about time to upgrade the old OG Naked Palette I've had for an entire decade (earth to anyone who still owns one too, that shit expires), and I really don't think there's a better reason for doing so than this.
Eyeshadow Palette

Shop it: Mothership VII Eyeshadow Palette – Divine Rose Collection, $128, Sephora
Liquid Eye Liner

Shop it: PERMA PRECISION Liquid Eyeliner, $35, Sephora
I Think This Is Going To Be My Red (Lip) Era
If there's anything that we can depend on from Taylor it's a breakup album and a red lip. For so long I was a gloss devotee but ever since Taylor started donning a red lip, I've become a convert. There are so many different types of red too, and I've never really realized that for me, what makes Taylor's red lip color pop so much is the fact that there's a blue undertone. We finally have the answer to which one it is—you're welcome.
Matte Lipstick

Shop it: LiquiLUST™: Legendary Wear Matte Lipstick, $34, Sephora
Feature Image Credit: John Shearer/TAS23/Getty Images
You Won't Believe The Before & After Results Of This Viral Self-Tanner
Betches may receive a portion of revenue if you click a link and purchase a product or service. The links are independently placed and do not influence editorial content.
Picture this: glowy, bronze, hydrated skin minus the sun. That's exactly what you get with the Coco & Eve Sunny Honey Bali Bronzing Foam. This amazing product has been making waves on TikTok and for all the right reasons. It's the perfect self-tanner for anyone who wants a gorgeous, natural-looking tan without exposing your skin to harmful UV rays or risk turning orange and giving major Cheeto vibes.
On top of the fact that it's easy to use and has color that lasts for days, it also smells incredible (and those of us who self-tan know how stinky that can get). This bronzing mousse comes in a beautiful golden bottle, and the formula is enriched with natural ingredients such as mango, papaya, and cocoa to nourish and hydrate your skin while giving you a sun-kissed glow.
Applying the Coco & Eve Sunny Honey Bali Bronzing Foam is a breeze. Just pump some of the foam onto the included tanning mitt and apply it evenly all over your body. The foam is tinted, so you can see exactly where you have applied it, which is a lifesaver for those hard-to-reach areas. And don't worry about any streaks or patches–the formula is foolproof and guarantees a flawless finish every time.
One of the best things about this self-tanner is the incredible scent. Unlike many other self-tanning products that have a strong, unpleasant odor, the Coco & Eve Sunny Honey Bali Bronzing Foam smells like a tropical vacation in a bottle. You'll feel like you're lounging on a beach in Bali, even if you're just hanging out in your bedroom.
But what really sets this self-tanning mousse apart is the fact that it's so long-lasting. Unlike other self-tanners that start to fade after a day or two, the Coco & Eve Sunny Honey Bali Bronzing Foam can last up to a week. That means you can enjoy your gorgeous, golden tan without having to reapply every day.
And TikTok agrees. There are so many videos of content creators and self-tanning fans showing their before and after results, and the proof is right there in front of us. Everyone is left looking a few shades darker and like a glowing, radiant goddess. Don't believe us? Check it out for yourself below.
All in all, the Coco & Eve Sunny Honey Bali Bronzing Foam is a game-changer in the world of self-tanning. It's easy to use, smells amazing, and gives you a beautiful, natural-looking tan that lasts for days. So, if you're looking for the perfect self-tanner, this one's got you covered from head to toe–literally.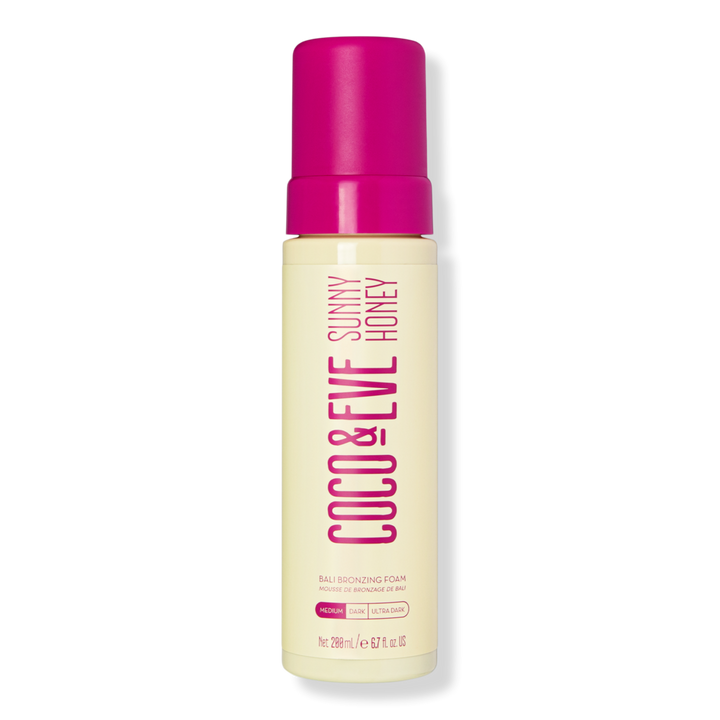 Shop It: Coco & Eve Sunny Honey Bali Bronzing Foam, $35, Ulta
4 Ways To Wear *That* Viral Headband (If GRWM Videos Aren't Your Thing)
Betches may receive a portion of revenue if you click a link and purchase a product or service. The links are independently placed and do not influence editorial content.
Are you tired of your hair getting in the way during your morning or evening skincare routine? Look no further because the latest TikTok trend has got you covered–literally. The Arrvee Spa Headband is the must-have accessory for anyone who wants to pamper themselves in style.
Yes, I'm talking about *that* viral headband. The puffy one that every GRWM video on your FYP seems to feature. The one that's become fodder for meme content all over Instagram. This headband's reputation definitely precedes this review, but I don't really care. I'm going to defend this headband. Not only is it totally functional, but it's also really f*cking cute. Made from soft, plush material, it's comfortable to wear and won't leave any marks on your forehead. Plus, the elastic band ensures a snug fit that won't slip off your head. You'll feel like a queen in your own personal spa, even if it's just your bathroom.
But let's be real, the best part about the spa headband is how it makes you look. With its adorable bubble design and pastel colors, you'll feel super Kawaii. And who doesn't need a little bit of fun added to their skincare routine…especially first thing in the morning when you're still attempting to open your eyes and make yourself presentable for the office?
Not convinced yet? Well, have I got something for you. I've compiled a list of ways you can wear your Arvee Spa Headband that have nothing to do with TikTok. Behold:
Wear it to bed and wake up with perfect hair. No more waking up with a crazy mane that takes hours to tame. It'll keep your hair in place while you sleep, so you can wake up looking like a beauty queen.
Use it as a sweatband during an at-home workout. Sure, it might not be designed for that, but who cares? The Spa Headband is versatile enough to be used for more than just skincare.
Wear it as a statement piece. Who says headbands are just for practical use? The Arvee Spa Headband is so cute that it can be worn as an actual accessory.
Step your content creation game up. Start filming some TikTok videos yourself of your own skincare or makeup routine to share it with others.
So, if you want to upgrade your at-home spa game, the Spa Headband is the way to go. It's cute, practical, and affordable. Plus, it's the perfect accessory for your next TikTok #GRWM video—you know, if that's your thing.  Don't miss out on the latest trend–shop the Arvee Spa Headband below.

Shop It: Arrvee Sponge Spa Headband, $11.99, Amazon
ICYMI: Digital Cameras Are Cool Again—Here's Our Favorite One
Betches may receive a portion of revenue if you click a link and purchase a product or service. The links are independently placed and do not influence editorial content.
Remember digital cameras!? Seems like a faint memory, but nothing beat uploading a cringey set of photos to your Facebook album after a fun night out. Shockingly, these cameras are having a major comeback and it's all thanks to TikTok. Content creator, Alix Earle, has had the Canon PowerShot G7 X Mark II in her Amazon storefront for months and fans and followers alike have sold it out on more than one occasion.
Thanks to social media and wanting to capture film-like Instagram pics, digital cameras are back in full force. Its compact size and lightweight body make it easy to take with you on the go, whether you're traveling abroad or simply exploring your city.
One of the standout features of the camera is its 20.1-megapixel CMOS sensor. It produces crisp and clear images with stunning detail, even in low-light situations. Additionally, the camera has a fast and accurate autofocus system, which makes it easy to capture even the most fleeting moments.
When it comes to video, the Canon PowerShot G7 X Mark II is a solid choice. It can shoot 1080p full HD video at 60 frames per second, which is great for capturing action-packed footage. The camera also has a range of video features, including time-lapse and slow-motion, which adds to its versatility.
Another great feature is its built-in Wi-Fi and NFC capabilities. This makes it easy to share your photos and videos with friends and family or upload them directly to social media. You can also control the camera remotely using Canon's Camera Connect app, which is available for both iOS and Android devices.
Of course, like any camera, the Canon PowerShot G7 X Mark II has a few downsides. For example, some users have reported that the camera's battery life is relatively short, which can be frustrating if you're planning to use it for an extended period. Additionally, the camera's zoom range is somewhat limited, so you may need to get closer to your subject to get the shot you want.
Overall, the Canon PowerShot G7 X Mark II is a great choice for anyone looking for a high-quality digital camera that's both compact and functional. Its impressive sensor and fast autofocus make it a great option for everyday photography, while its video features and built-in Wi-Fi make it a versatile choice for videographers and aspiring influencers. So if you're in the market for a new camera, be sure to check this one out.

Shop It: Canon PowerShot G7 X Mark II, $654,95, Amazon
8 TikTok-Approved Kitchen Essentials You Need Right Now
Betches may receive a portion of revenue if you click a link and purchase a product or service. The links are independently placed and do not influence editorial content.
I'm not ashamed to say it—I get a ton of my shopping recommendations from TikTok. My algorithm knows me far too well, and the most convenient (not to mention, chicest) items make their way onto my FYP. That's especially true for the home and kitchen departments.
I've purchased so many appliances, kitchen gadgets, and cookware that I've come across on the clock app. Whether it's a countertop device that will make my morning eggs for me in a few minutes, an investment piece like a standing mixer, or smart toaster, TikTokers do an excellent job at finding it all. And because I don't like to gatekeep, I'm sharing some of my all-time favorite kitchen essentials from TikTok with you. Here are eight items that I absolutely can't live without.
These Silicone Things That Preserve My Half-Eaten Produce

IDK about you, but I'm the type to buy produce and watch it go bad in a few days because I can't get to it all. But, these silicone food savers have the changed the game for me for good. They come in different shapes and sizes to fit everything from limes to bananas, peppers, and everything in between.
Shop It: Food Huggers, $16.99, Amazon
This Veggie Chopper The Internet Is *Obsessed* With

Next, we have the most efficient thing I've ever gotten my hands on—a veggie chopper. I'm so past the days of tearing up while cutting onions, or getting garlic clove shells all over my cutting board. This handy gadget can chop an onion in seconds, and it comes with additional attachments to spiralize foods like zucchini.
Shop It: Fullstar Vegetable Chopper, $24.99, Amazon
This Spritzer That Keeps Your Food From Getting Greasy AF

Have you ever poured way too much oil onto a pan or your food? Well, say goodbye to that. This handy sprayer can disperse just the right amount of olive oil or vegetable oil to meal prep or start cooking. It's way too easy.
Shop It: ZEREOOY Oil Sprayer, $10.99, Amazon
This Organizer That Keeps Your Cabinets From Overflowing

Have stacked pans in all of your cupboards? The horror. Get rid of the clutter and messiness and make space in your kitchen with this pan organizer. You can simply stick it in a cabinet and stack your go-to saucepans, pots, and frying pans.
Shop It: SOCONT Pot and Pan Organizer for Cabinet, $20.99, Amazon
This Smart Toaster That Truly Never Misses

Introducing the smartest toaster you'll ever meet. It not only does wonders for bread and bagels, you can get crispy waffles, English muffins, and more with customized toasting and browning settings.
Shop It: Revolution InstaGLO Smart Toaster, $349.95, Amazon
The Mini Waffle Maker That Has Upgraded My Breakfast

Breakfast for one? Make yourself a delicious morning plate with Dash's viral mini waffle maker. Simply pour in your preferred batter and warm it up until it's ready to eat. Don't forget to add some chocolate chips or blueberries while you're at it.
Shop It: Dash Mini Waffle Maker, $12.99, Amazon
The OG KitchenAid That Is Majorly Worth The Price Tag

Baking game strong. Put on your pastry chef hat and use this gorgeous standing mixer to prep your goodies. It comes equipped with aluminum non-stick bowls and will look so chic sitting on your countertop.
Shop It: KitchenAid Standing Mixer, $449.95, Amazon
This Gadget That Promises Perfect Eggs Every Time

Who has time to mess up eggs? Never worry about overcooking some yolk in the morning again thanks to this compact cooker. It can boil, poach, and scramble eggs or steam vegetables, dumplings, and seafood. Talk about an all-in-one device.
Shop It: Dash Deluxe Rapid Egg Cooker, $31.95, Amazon
This Is The Smartphone Selfie Light You Never You Knew You Needed
Betches may receive a portion of revenue if you click a link and purchase a product or service. The links are independently placed and do not influence editorial content.
Whether you're working toward that influencer life or just love capturing every moment on your iPhone, you know that good lighting is everything. I mean, how else would you catch those candid moments of the bride during an upcoming bach trip? The wrong lighting could literally ruin a photo, and even worse, a memory. Luckily, since everyone's screen time is embarrassingly long nowadays, it was only a matter of time before advanced and ~tech-savvy~ lighting hit the market for our smartphones. That's where the Newmowa Clip-On LED Light comes in.
It's a selfie light that clips right onto your smartphone, and it's nearly as bright as studio lighting. For a compact gadget, it's powerful and impressive, and TikTokers agree. For starters, its convenience makes it super appealing. All you have to do is make sure it's charged up (charger is included) and clip it onto your phone. From there, you can adjust the settings to determine how you want your photos to look.
There's 10 levels of brightness that you can adjust with buttons set at the top of the light. You can also tweak the lighting mode to be bright white, warm yellow, or a combination of both. Why so many choices? Well, it all depends on your setting for photos. If you're in a dark room, you have the option to look like you're not. If there's warm lighting in a room that you're not feeling, you can switch it up to look cooler and brighter. The customization is another thing that makes it a clear winner.
Then, comes the affordable price point. When shopping for lighting for a standard camera you can expect to flesh out hundreds, if not thousands, of dollars of your hard-earned cash. But, with the Newmowa Clip-On LED Light you won't burn a hole in your pocket thanks to its $36 price tag.
And you can actually use it for more than just smartphone photos. It can easily clip onto your laptop or monitor to add some lighting on your next Zoom call. This is especially great if you're doing some virtual interviews or team onboarding where you'd (obvi) want to look your best.
So, if you're looking to step your selfie or phone photography game up, shop this popular clip-on light to get you started. You can see it in action below, courtesy of some very happy and impressed TikTok creators. You'll want to add it to your cart ASAP though, it's sold out more than once already.

Shop It: Newmowa Clip-On LED Smartphone Light, $35.99, Amazon
Charlotte Tilbury's Contour Wand Is Always Sold Out—But We Found A Similar Product That's *Actually* In-Stock
Betches may receive a portion of revenue if you click a link and purchase a product or service. The links are independently placed and do not influence editorial content.
Let me just start by saying that I absolutely *love* Charlotte Tilbury products. That said, I don't love how quickly my favorites sell out. Sure, that only means that the world thinks they're as bomb as I do, but what's a girl to do when she needs to restock her favorite contour wand? Get a similar tube to hold her over, of course.
And, because I'm just like you, I've found myself  turning over to the same place for my product recommendations now—TikTok. The TikTok girlies are basically giving us one honest review after another (even if it means de-influencing), and when Alix Earle gave Tarte's Sculpt Tape Contour Wand her approval as a ringer for the Charlotte Tilbury Hollywood Liquid Contour Wand, I knew it'd sell out just as quick. But, thankfully, I was able to get my hands on it before that happened.
For those who aren't familiar with how these contour wands work, allow me to give you a quick breakdown. They have a fluffy sponge applicator and a dial that turns to get the pigment out. Once you squeeze about a dime-sized amount of product, you dab it in dots across your face (to contour you want to get your forehead, cheekbones, jawline, and the sides of your nose). From there, you can use a sponge, such as a Beautyblender or a contour brush to blend it out.
My favorite feature about the Charlotte Tilbury wand is how well it blends, and I was pleasantly surprised that Tarte's had similar, if not the same power. Don't believe me? See Alix's side-by-side video comparing the two formulas below.
Told you so—they're practically identical. Tarte's version is available in five different shades: warm bronze, cool bronze, soft bronze, deep bronze, and rich bronze. All are designed to work with a range of skin tones and matching undertones so that everyone can enjoy the sculpting magic. And you can save some money if you get your hands on Tarte's contour wand as well, since it's $35 compared to Charlotte Tilbury version at $42. Snag yours directly at Tarte or at Ulta, before the word gets out and it's gone. Trust us, your vanity and your newly-chiseled cheekbones and jawline will thank you.

Shop It: Tarte Sculpt Tape Contour, $35, Ulta
TikTok Is Obsessed With These $13 Makeup Pads From Amazon
Betches may receive a portion of revenue if you click a link and purchase a product or service. The links are independently placed and do not influence editorial content.

Beauty products go viral every single day of the week, but are they truly all worth the hype? The easy answer is no, but there are a gems that rise above the noise and and actually deserve all the praise they get. Over the past month, I've come across the same product over and over again on my TikTok feed: the Maitys 12-Piece Triangle Powder Puff. While the TikTok queen herself, Alix Earle, has been spotted using them in her 'Get Ready With Me' videos, it was this video I saw by creator, @MangoMoniica, that really convinced me to buy them.
In the clip, Monica's skin is clearly dewy after applying her makeup. To wrap up her look, she dips the makeup pad into some setting powder and dabs it onto the areas with a little bit of shine. The result? An airbrushed-like finish with no excess shine or oil in sight. I was sold.
My skin tends to be on the combination side, with an oilier T-Zone area and chin, but dry cheeks. I've found that throughout the day, my skin can look extra shiny—even when I use setting powder. Still, I figured I'd give these small triangular pads a go. On most days, I don't wear a full face of makeup, but on the days that I do you can expect me to dab on some liquid foundation, concealer, bronzing powder, and cream blush (outside of my brow products and mascara). I waited until I knew that I wanted to wear full glam to put these to the test. Once I wrapped up my face makeup, I dipped this little guy into some Laura Mercier setting powder, and pat it under my eyes, across my forehead, and on my chin.
This pad really allows the setting powder to seep into your skin a lot deeper than it would if you were just using a brush. So, naturally, there was an excessive amount of powder on my face that I had to brush off. After I took a fluffy brush to dust it off, I was stunned. It looked like I had a filter on my face IRL. FaceTune? Don't know her anymore.
And these aren't some super fancy makeup sponges either. A set of 12 triangular pads will only cost you around $12, so it's like you're only spending a dollar on each. Since they're available on Amazon, you can get them in just two days with Prime Shipping if you're just dying to try them already. While I have the black ones, they come in a bunch of different colors like magenta, lilac, baby blue, or a mix. And, for those of you really feeling them once you've tried them out, you can stock up on much different sizes, too. They even have some smaller ones for the teeny corners near your eyes and lips!
All in all, I love a good TikTok find and these makeup applicators certainly didn't disappoint. With some TLC you can make them last a while too, since Amazon doesn't have these available for auto-subscribing—at least not yet.

Shop It: Maitys 12-Piece Triangle Powder Puff, $11.59, Amazon