The Best 'Bachelor' Recap You'll Ever Read: I'd Like To Speak To The Manager
Well, fam, after 10 grueling weeks we're about to find out which woman won Matt's heart. We've come to know the best and the worst of these ladies. The best being a girl who carries a dildo around in her purse like it's a pack of gum and speaks entirely in email jargon (no, thank you for your feedback, Katie) and the worst being a Gangs of New York-style living situation where absolutely not one person has heard of concealer before. But at least I do know these ladies. I can't say the same for our pal Matt. In fact, his entire personality can be condensed into "guy who wears turtlenecks." He's really given us so much to root for.
Last week, Matt whittled his search for love down to two final women: a sexy, long-limbed school teacher and a girl who dressed as a sexy school girl for last year's Halloween party. I paraphrase.
MATT: There's Michelle—beautiful, smart, kind Michelle. And then there's Rachael…
MATT TRYING TO EXPLAIN HIS CONNECTION TO RACHAEL:

Hmmm… whomever will he choose?
Michelle Meets The Parents
Okay, is anybody else just tired? I know we need to go through the whole song and dance of Matt introducing the girls to the parents and having one last great date with them, but must we really? Like, just freaking pick one already, I don't need to watch you sit in a hot tub one more time. *takes one deep, calming breath* I suppose the show must go on, which means Michelle is up first!
Michelle walks into the room and Matt's mom is already weeping. She heard "school teacher" and saw she was wearing a woolen force field that covered all skin from the chin down and knew this girl would be absolutely perfect for her son. Matt's brother is also a huge Michelle fan. He's asking her all these deep questions about her family and past relationships and she's delivering clear, sincere answers without one single "like" or reference to TikTok.
Okay, yikes. Red flag that Matt's brother has never seen him in a relationship. Michelle asks him about Matt's last long-term relationship and his brother is like, "by long-term do you mean more than one date after slipping into a girl's DMs?" Christ. The man is almost 30! This is just further proof that he's not ready for an engagement at the end of all of this. If his last real relationship involved him checking "yes, I like you" on the back of some looseleaf math homework in grade school, then Matt has no business proposing in 90 minutes.
By the end of this date, it's so clear that Michelle is absolutely the right pick here. Matt himself seems shocked that a girl like this is here and interested in him. He actually asks her in stunned disbelief how she's still single after she absolutely kills it with his family. Hmmm, I don't know, Mattie. Maybe it's because men see that her TikToks involve less nudity and more fun multiplication hacks for her students and run for the hills from all that healthy, wholesome energy.
Rachael Meets The Parents
I already have a feeling Matt's family is going to hate Rachael. For one, she's daring to show her clavicle before noon. BOLD. For another, she's wearing a look of barely contained disgust at all that rouge on Patty's cheekbones. You can tell she's itching to get that woman a makeup wipe and some subtle highlighter before this date goes any further.
Rachael, of course, shows up to meet Matt's family wearing her standard muted palette of whites and blacks, and sporting that trademark middle part. Wow. Rachael is seemingly more committed to this middle part than Matt is to any relationship on this show.
Matt's brother gives Rachael the same brotherly interview he gave Michelle, but it just hits different. For one, Michelle is just so much more poised than Rachael. She's also a few years older and it shows. At one point, Matt's brother asks Rachael how many serious relationships she's been in and it's like, five years ago she was still in SAT prep courses! How many do you think she's been in??
MATT: So, mom, what do you think?
MATT'S MOM: She's… cute.
HAHA. That is something my mother says right before she verbally fillets them in the car ride home from Applebee's. In all fairness, Matt's mom seems skeptical that Matt is going to end up with either of these girls. She's like "so… you're actually going to go through with this?" He better, Patty! If I don't see an engagement at the end of this I will riot. MY GOD, THIS ISN'T A DATING SHOW. If Demi Lovato can give engagement the ol' college try, then so can Matt!
Matt's mom is like, "feelings aren't forever!" and, boy, what a pep talk to give your son a mere 24 hours before a proposal. It's cute that they think Matt has any choice here. Don't they realize his Bachelor contract was signed in blood, as are all deals with the devil?
Matt's Quarter-Life Crisis
I have never in my life seen a man spiral faster after a conversation about commitment than what I'm witnessing on my screen rn. Kidding! I have asked a guy "what are we?" before and watched the look of abject terror take hold of his face as he grabbed his pants, keys, and wallet, and backed away slowly toward the door.
MATT: My mom said feelings come and go… do you think that's true Chris?

Chris is genuinely stunned by this conversation. You can tell he's yearning for the day when contestants were jumping fences they were so in love, instead of having to placate these lukewarm feelings emanating from Matt.
CHRIS HARRISON:

View this post on Instagram
God, this is depressing. Matt's trying to moonwalk out of his engagement obligations and I'm not having it. THIS IS THE BACHELOR. You signed up to make the biggest mistake of your life for our collective enjoyment. You can't just go back on that sacred agreement because you don't feel like it!
After that bleak conversation with Chris, Matt resolves to soldier on through the rest of his Bachelor duties. I'm sure it has everything to do with his feelings for Michelle and Rachael and nothing at all to do with the fact that ABC producers have his entire family sequestered at an undisclosed location. Carry on.
Similar to how I drag out menial tasks like emptying the dishwasher or answering my boss' emails, Matt is going to drag out his Bachelor experience by taking the women on one last one-on-one date. For Matt's date with Michelle, he makes her rappel off the roof of a building to wine and dine on what appears to be an abandoned airplane tarmac. Seriously, how come Matt only offers romance if your life is challenged in the process? Did he forget what franchise he's on? This isn't Final Destination, Matthew! Why does he keep trying to kill these women? So he doesn't have to choose? "Whichever one doesn't break her neck gets to be my wife!!"
Michelle calls Matt her "teammate" and okay, yes, I am crying in the club. She is way too good for this clown. She gifts him with (probably) hand-sewn jerseys and Matt is, like, eyeing all possible exits, he's so freaked out. The more jerseys she hands him, the more massive his panic attack gets.
MATT: Michelle, I think I want a girlfriend, not a wife…
MICHELLE:

I love that Matt flees the scene crying. I'm sorry, but what did you expect from her? You just spent six weeks saying "my wife is in this room" only to take it back when it really counts. If she wanted a boyfriend she would have gone on that Zoom date with her coworker's weird cousin Alan.
In the end, the jerseys are Matt's undoing. His idea of commitment is watching your Instagram stories daily, but cropping you out of his profile picture for his Raya account. He can't keep leading Michelle on like this, so he gives her the axe.
At least Michelle got to go on a date, though. Rachael put on these hot leather pants for absolutely no reason. Matt is too distraught over his breakup with Michelle to go on a date with Rachael. Instead, he sends his errand boy Chris Harrison to deliver the blow. Chris tells Rachael Matt needs "some space." What's left unsaid is that Matt's "space" is in the Delta lounge as he books the next flight back to New York.
While Rachael falls into an abyss of despair, Matt has his own demon to face: Neil Lane. At this point, it's clear that Matt would rather singe his own eyebrows off than embark on a lifelong commitment with a human woman, but he humors Neil Lane with this ring appointment all the same. Neil hands Matt one of his bottom-shelf rings, and Matt acts like he just touched one of Voldemort's horcruxes, but instead of brushing the scraps of the soul of a genocidal sadist, he's just visibly recoiling at the feeling of all of that commitment. Perfectly normal behavior for a man in love.
The Proposal
Matt tells Rachael to "meet him at the lake for answers" and that is how every episode of My Favorite Murder starts, not the beginning of an eternal partnership between two people. But good luck with that, girl!
Also, lol at ABC trying to make us think that Matt will actually use that ring. I think Matt knows he could get away with not proposing to Rachael. Like, she's still buying gel pens to doodle in her Lilly Pulitzer planner. She would definitely be chill with just dating.
Speaking of Rachael, she shows up to the final rose ceremony dressed like the dragon Shrek fought to rescue Fiona. For someone who has dressed exactly the same for the last nine episodes, I'm shocked that this is the lewk she chose to be bold with.
Matt says rushing into marriage is what ruined his family, and it's like WELL WHY ARE YOU ON THIS MF SHOW THEN?! This is what ABC gets for signing a TikTok star to be their lead. I'm so angry I would like to take an entire jug of kerosene to his most beloved turtlenecks.
Matt's like, "I want to commit to you, but not in like any real, lasting way, you feel me?" And she does!! She signs up to be his girlfriend! This is insane! I bet she's super glad she survived that skydiving accident for this happy ending!
After The Final Rose
Even though I am full of unending rage at just having wasted the last 10 weeks of my life watching—in real time!—a man sift through his roster until he got bored, I supposed I will tolerate one more hour of this worthless f*cking show. That said, I'm not going to recap minute by minute because, frankly, I don't have it in me. So, here are the highlights:
Michelle Is Doing Just Fine
If you kids thought I was angry before, let me tell you, my rage boiled to cataclysmic levels when Michelle revealed that Matt refused to see her after dumping her. Before she left the Bachelor hotel, she asked production to ask Matt if she could have a few minutes with him to get some closure and, in classic f*ckboy fashion, he chose to ghost her instead. Now, if you'll excuse me I'm just going to take a page out of Beastly and place a witch's curse on Matt's unblemished body until he learns how to properly treat a lady.

ABC Isn't Racist, They Just Cast Racists, Okay!!
After a chill 120 minutes of finale footage and 15 minutes of Michelle updates, ABC finally, finally addresses the racism scandal. I still can't believe the first Black Bachelor picked a woman who probably doesn't understand how harmful the phrase "all lives matter" is, but here we are. Emmanuel takes over the hosting gig for the evening since Chris Harrison is currently in timeout. He gets into it with Matt about being the first Black Bachelor, and I cannot express enough how relieved I am that Matt is having this conversation with an actual person of color and not Chris' milky white ass fumbling over production's pre-written interview cards that start with: "so, my brother, how are you?"
Matt seemed genuinely hurt and upset by the Rachael scandal. One thing that stood out in particular to me was when he said his goal was to seem approachable to audiences. He wanted to normalize seeing Black bodies on TV and he was constantly aware of trying to seem nonthreatening. I'm glad he said that because, honestly, I've been pretty disappointed with Matt this season. Week after week he failed to show any emotion or personality. He seemed to gloss over any particularly heavy or dynamic conversations by pasting on a bland smile and giving the women vague, generic praise for their honesty. Now I'm wondering if that was a calculated move to seem, as he said, "less threatening." If that's the case, then I'm genuinely sad. It feels like we missed out on seeing some real, authentic conversations from people of color for the sake of placating The Bachelor's white audience.
I thought Rachael did an okay job at sitting in the hot seat. She stuck to script and took accountability for her actions, even with her entire body breaking out into stress hives. I can only imagine she hired the Olivia Pope of PR teams to get her through this only mildly unscathed.
Rachael And Matt Are No Longer Together
Matt revealed that after finding out about Rachael's past, he couldn't in good conscience continue to date her. He said she needs to do some "work" on her own. I think that's probably for the best. Though Rachael gave us some actionable items for how she'll be putting in the work to better understand racism, she thought that after three weeks she'd learned enough for Matt to take her back. That doesn't really feel like putting the work in, more like putting on a show so your S.O. will be less mad. At one point Matt says he doesn't want to be "emotionally responsible for her tears" and that's the most real thing that he's ever said on this show. It sucks that she's hurting, but it's not on him to accept her guilt and pain.
That said, I would also like Matt to work on himself. The man had no business getting engaged on this show. I don't want to see him on another Bachelor franchise until he's stopped using those turtlenecks as security blankets. If I start seeing some neck, I'll know he's emotionally ready for an actual relationship.
And The Next Bachelorette Is…
Katie and Michelle! That's right, double trouble, people! We will get not one, but TWO Bachelorettes. Katie's season will start filming immediately and will air during early summer. Michelle's season will film over the summer and air sometime in the fall. No matter that with the vaccine rollout we might actually be able to enjoy a summer spent amongst people—Mike Fleiss is having none of that. Chained to our living rooms we shall continue to be! Until then!
The Best Bachelor Recap You'll Ever Read: The Women Tell Nothing
My my my, Bachelor Nation is crumbling right before our eyes, no? Between Rachael Kirkconnell's racism scandal, Chris Harrison's racism scandal, Taylor Nolan's racism scandal, and Rachel Lindsay being bullied off Instagram because psychos are blaming her for other people's racism scandals, I just can't keep track anymore. Thankfully, I'm not here to talk about that today. I'm here to tackle what really matters: sex. Because tonight is fantasy suites, aka the episode where the microphone operators have to creep outside a bedroom until they hear a woman half-heartedly fake an orgasm. Make it quick for their sake, ladies!
Wait, what is that you tell me? They've switched up the order and tonight is The Women Tell All? I should have known that your regularly scheduled recapper Ryanne would only give up this week for one reason. Thanks pal! I'll kill you later! Looks like I will be writing about 30 (almost) adult women screaming at each other about nothing for two hours. Shall we walk the plank together?
We jump right in, and the show makes a point of letting us know that this episode was pre-recorded before Chris's disastrous interview with Rachel Lindsay. We get it, producers! Aside from the fact that you hired Chris, never once did a deep dive on any contestants' social media before casting them, and barely included people of color until 2017, this is totally not your fault!!
Right off the bat, I feel like the women are sitting way too close to each other. It's almost like ABC wants to wipe out this entire group of tattletales and bullies with a deadly virus. Hey, I hated this season too but you don't have to kill them! Though I guess that might make ratings go up…
Early Confrontations
Chris starts out by reminding the women that he blindsided them with new arrivals weeks after the season had already begun: "One of the interesting things that happened this season: five new people arrived." I love how he's acting like these women just wandered out of the forest in tacky ball gowns, walked up to the Nemacolin, and knocked on the door because they just HAD to meet a man who's addicted to turtlenecks and embarrassing TikTok dances. 
Ryan tells Chris that she was offended when she arrived because she was called a hoe. Victoria was, of course, offended that Ryan was offended. 
VICTORIA: "People made fun of my bra straps and I just laughed it off"
ALSO VICTORIA:
View this post on Instagram
So this whole interaction was to get us to look at your bra, wasn't it? I'll admit I fell for it. And I don't hate it. 
Katie vs. The Girls
As it turns out, people hate a rat more than they hate a bully. Duh. Snitches get stitches. Ever heard of Fredo Corleone? Some of you didn't grow up in an Italian-American family in New Jersey, and it shows. Pretty much all the women blamed Katie for creating the toxic situation in the house, because it got worse once she told Matt. 
MARI: Katie started the fire
KATIE:


If you know, you know. 
They also came at her for being the hardest on Sarah, and only saying that everyone should be nice to Sarah after finding out about her dad. Katie says to them, "It's called learning, it's called growing." Wow, she's already honed that standard Bachelor Nation non-apology. I dare them to find any old damning tweets of yours, girl! Did you go to any distasteful events recently? No worries! You know what you'll say! 
This is not the way I was expecting this to go. The internet loves Katie! But, the internet is not 25 women that Katie called a bully, circling her and baring their brand-new veneers at her menacingly. The better to eat you with, my dear! 
Don't worry Katie, the internet still loves you!
View this post on Instagram
Brittany In The Hot Seat
Chris Harrison calls up Brittany to the hot seat. He reminds us that she was called a "high-end escort". TBH I think it's nice of everyone to add high-end in there. Look, rumors aren't cool, but at least Anna made her sound fancy in the process of being terrible. Brittany talks about her trauma from the rumor and Chris nods along solemnly as if he didn't throw a suggestive wink every time he previewed the "most salacious accusation we've ever heard on this show." 
Anna apologizes, but does still claim she had heard that Brittany was entertaining men for money. This is a classic Real Housewives move, and I'm low-key impressed. Like, "I'm sorry I said your husband was cheating, but it's not my fault that I heard your husband is cheating." Anna also continues to claim that she got so many messages about Brittany because "Chicago's a small town." Anna! Chicago has nearly three million people in it! Just because you and your best friend once spotted someone you're pretty sure was Michelle Obama getting out of a limo at The Bean does not make it a small town! And I can tell you it wasn't her! 
Even with all those caveats, Brittany accepts Anna's apology. You're a better woman than me, Brittany. Apologies are nice and all, but if I were her I'd make Anna pay to scrub those damaging Google results. Just an idea for you, Brit! 
"Outrageous Footage"
We are 35 minutes into this episode and they are already airing unseen footage. This does not bode well for the content of the rest of the episode. It seems that all the group dates that went straight to cocktail hour on the show were actually Fear Factor-esque. Touching bugs, stuffing their faces with food, wandering around the great outdoors—idk what the editors were doing this season, but I promise those episodes were not so jam-packed that we couldn't have kept 30 seconds of Kit getting lost in the wilderness.
kit lost in the woods #thebachelor pic.twitter.com/JHDJmBY8Np

— saint sagittarius (@HoleScandal) March 2, 2021
I swear the theme of all these dates was, "watch these girls vomit and then feel them up!!" Like, I get that you have limited options this year, but I feel like attempting to cause grievous bodily harm to the women every episode wasn't totally necessary. 
Katie In The Hot Seat
Chris brings up Katie and legit says "YOU SHOWED UP WITH A MAGIC WAND." That is a vibrator, sir. And I would really not like to find out that the reason he called it a "magic wand" is because that's the name of the brand-new line of vibrators he's created to go along with his romance novels. God, I beg of you, please spare us. 
We, of course, get a 10-minute clip of Katie's story with Matt, and as they pan back to her she's crying. Do we think it's because she's sad about Matt or because she's sad she wore that parka on national TV? You're trying to get someone to want to bang you Katie, you're not going out to walk your dog at 6am when no one can see you. 
Katie wonders, "is there anyone out there for me?" I'm sure we'll see that pasted all over her Bachelorette ads soon. At least it's better than "Let's do the damn thing!"
Abigail In The Hot Seat
The second this sweet creature sits down in the hot seat I'm reminded how Matt did her dirty. 
CHRIS: What happened? You guys were so into each other, had so much chemistry, and then he dumped you. Why couldn't he love you?
ME:

Chris says that Abigail being on the show has had a massive impact on the deaf community. Oh good! Another community he can offend in an interview! You know behind the scenes the producers are just wetting themselves saying "our ratings with the deaf community have skyrocketed! Which underrepresented group can we target next!" Actually though, Abigail is an angel, and this broken franchise doesn't deserve her.
Pieper In The Hot Seat
Okay, is everyone going to get a one-on-one sit down with Chris tonight? Will our misery never end? They're really scraping the bottom of the barrel at this point. Maybe next we can get the masseuse who worked on Tyler's back up there. Or the skydiver responsible for Rachael's head contusion. Or Katie's vibrator! Just dress it up in an LBD from Revolve and prop it up on the couch. It will fit right in and I'm sure the conversation will be very stimulating.
There's really no point to this interview. Every single person that comes up to the hot seat is forced to rewatch their "love story", and then Chris says "tell daddy how much it hurts," and then he dismisses them because daddy doesn't actually care. It. Is. Boring. 
Serena P In The Hot Seat
The word "hot seat" is already giving me PTSD. If this recap ends abruptly, please look for me shaking in a corner somewhere on the west coast of Florida. 
Chris is disappointed in Serena. He thought she was the one. 
CHRIS:


ME, SNORTING INTO MY WINE: Didn't he see that awkward sex yoga date?
And now Serena is crying. Come on Serena!! You don't have to do what the other girls did! We know you didn't like him! Put that Visine back in your sleeve.  
Chris tells Serena he thinks she might regret her decision and that she might still love him. 
SERENA:


Wow. I'm starting to think Chris really never could read a room and it took Rachel Lindsay to point it all out to us. 
Matt In The Hot Seat
Matt finally shows up to his party, and it is a disappointment to say the least. WHAT IS ON HIS FACE?
View this post on Instagram
Chris and the women say they like it and sweetie, they are lying to you. That thing is like making out with a shag rug. 
Victoria immediately turns on the waterworks and tells Matt she was offended by the fact he told her she needed to "self-reflect" when she left. Who's sensitive now, Queen V? Matt tells her, "when people ask me about you I only have good things to say." I guess laughing when his friends mock her body is technically a loophole to that statement. But with all the apologizing going on tonight, he couldn't muster one up? I guess he was a wimp this whole season, why stop now?
I really don't understand the purpose of the women airing their grievances. Who cares? It's over, and it was fake. If Chris asked me if I had any last words for Matt I'd shout "wear less turtlenecks!" And then GTFO. 
Can we get real for a sec? Does anyone seriously think we need these tell all episodes anymore? They reveal nothing new—contestants have already explained their terrible actions to the point of exhaustion on social media, and half the people there barely even appeared on the season. They should be more like Bravo reunions or not exist at all. Let's accuse each other of f*cking a married ex-MLB player! Who has a drug problem?! Make it exciting! These moments may be messy, but at least they are real(ish). I feel like The Women Tell All was basically everyone reading a press release their publicist wrote for them. In the words of anyone who's ever had a job, this could have been an email. 
Chris ends the episode by saying, "trust me, you have no idea what's coming." No, Chris of February 4th, 2021, YOU have no idea what's coming. And we're out! 
Images: ABC/Craig Sjodin; Giphy (4); bachelorettewindmill, tvgoldtweets, victorialarson_/Instagram; holescandal/Twitter
The Best 'Bachelor' Recap You'll Ever Read: I Hate It Here
Well, well, well what a week it has been for Bachelor Nation. It was already hard enough that we had to say goodbye to Dildo Girl, our favorite camp counselor and sex positive queen, BUT now we gotta deal with Chris Harrison and the rest of the Bachelor franchise acting like racist trash? I'm not going to rehash the entire problematic exchange (you can read all about it here), but I will say it's almost like the franchise only chooses to support diversity when it's convenient and/or popular for them to do so, and not because they genuinely have a desire to share Black and Brown stories. But I'm sure ABC and Chris Harrison are taking all of our feedback and are using this time as an opportunity to grow. And by "time" I mean the one to two episodes Chris Harrison will be sidelined from hosting to focus on "accountability." To be fair, I'm pretty sure that's how long cancel culture works for middle-aged white dudes in the country anyway. 
Moving on to this week's episode, and to drama that doesn't make me want to set fire to everything on this earth: Heather is in the houseeeee! Last week, Heather Martin of Colton's season (and Hannah Brown's TikTok videos) decided she was so bored in quarantine that she would literally do anything for human interaction, including willingly walking into this hostage situation in progress. Of course, Matt is the hostage in this scenario. The women have completely descended into a mob rule/Lost Boys type situation here. I would not be surprised if that bloodcurdling scream Pieper let out after Heather interrupted her alone time with Matt was some sort of code for her people on the outside to call in a ransom on one of Matt's turtlenecks loved ones. 
We definitely think the producers had to feed Matt Heather's name, right? Heather says that Hannah shared with her some "stories about his heart" and it's like, I don't want to hear one more story about Matt praying before he eats a Costco free sample. Give me the dirt. Why don't these people ever share stories about their friends having one too many at half-priced wine night and throwing up in their purse in the Uber ride home. Paint a realistic picture of their future partner, I beg of you!
I'm still just so shocked that Heather had the audacity to roll up here in her minivan halfway through the process. The logic is just not there. If Matt really wanted Hannah B to pick out a girl for him, he would not have gone on The Bachelor, he would have responded to the group chat.
View this post on Instagram
I love that Heather thinks there's any chance in hell those girls are going to let her sit on that couch with them. Before she can even get out her name, the girls immediately start coming for her throat and it is BRUTAL. They're freaking vultures. *turns the volume all the way tf up*
PIEPER: Sounds like you're Bachelor hopping. 
Okay, Pieper. Like you aren't going to swap fluids in Mexico with half of Bachelor Nation once this is all over. Please. Also, PIEper is clearly taking out all her lifelong anger over having to spell her name like that into this 20-second interaction with Heather. That's the only cause for this much hostility. 
Matt also cannot believe that Heather had the audacity to roll up here in her minivan halfway through the process. He must have said the word "minivan" at least three times in the last 30 seconds. Yes, it was a real sacrifice, Matt. Her Instagram brand will definitely suffer. 
Heather keeps saying how serious she is about this process, but Matt doesn't seem to be buying it. I'm sorry, but did no one show him her quarantine footage?  She Rapunzel-ed her hair out a window for him! She practiced making out on her hand for him! How is that not commitment? 
Matt must sense that if he entertains this Heather thing for any longer, he might find that Pieper's people have destroyed the necklines to all of his favorite turtlenecks. He's got to put an end to this ASAP before anyone else gets hurt. He tells Heather goodbye and she seems way too upset about this. It's okay, sweetie. I'm sure he'll catch you on Raya in a few months when he's single again! 
Going into the rose ceremony, Matt makes a speech commending the ladies for how they handled Heather's presence this evening. I'm sorry, but what exactly is there for him to commend? They made her cry! Middle school girls locker rooms are less toxic than what just took place on my screen. 
Speaking of toxic, at the rose ceremony, we say goodbye to Chelsea and Serena C.
Matt just lost about 10 pounds of negative energy now that Serena and her eyelash extensions are gone. I could not be more thrilled. Justice for Dildo Girl has been served!!
Serena's One-On-One Date
Even though Abigail and Jessenia are the only girls who haven't received a one-on-one with Matt, he invites Serena P on the first one-on-one date of the week. Yikes. He says that he chose Serena because it's the perfect date for them as a couple. First of all, tantric yoga? Seriously? This might have been the perfect date for Dildo Girl, but not for the girl who just visibly cringed at the sight of you in cropped leggings. Second of all, who would ask for this?? Just because you say things like you believe in "chakras" doesn't mean I'm buying that a girl doing splits on your face has anything to do with your emotional growth as a couple. I'm already wishing I could pour bleach on my eyeballs.
Ooof, Serena is not into this. She says this was way outside of her comfort zone. I love that this girl says she's not into public affection but signed up for a show where the camera man is contractually obligated to zoom in on a man's fingers inches from her labia. Matthew, HANDS!!

Matt is visibly upset that Serena isn't enjoying his date, and I have a feeling Serena could be going home for this. All because she didn't like having to avoid eye contact with his chubby for the last 90 minutes. Shame.  
Well, it appears true love can conquer all, even a grown-ass man wearing Lululemon. The evening portion of the date goes way better for the two of them. Matt realizes that just because a woman doesn't want to poorly reenact the kama sutra in front of God and Ashli the tantric yoga instructor, that doesn't mean they aren't compatible as a couple. Serena gets the date rose, securing the first spot in the hometowns lineup. 
The Group Date
The group date this week is strange because there appears to be no actual activity tied to it. Instead we're dropped straight into footage from the cocktail hour, making it less of an actual date and more of just Matt making out with girls in different corners of a hotel lobby. So, basically, what he was doing before he became the Bachelor. It's sweet that he's going back to his roots this week. 
The most shocking revelations during the date come from Bri and Kit. Bri confesses that she had to quit her job in order to continue on Matt's season. I may or may not have let out a strangled gasp at that proclamation. We aren't told what exactly her job entails, but the internet is speculating that it's a big f*cking deal. I can't believe she resigned from her job during a global pandemic, when unemployment is at a historic high, for a man wearing a turtleneck and a ladies leather jacket. Bri, honey, whyyyyyyyyyy?
Kit is also full of confessions this week. She lays down some ground rules for Matt and one of those is that if he wants to get engaged then she needs to… finish school?? Okay, she is too young for this show. She just said that having kids by 25 is a long-term investment for her!! Those are words that came out of her mouth!! MY GOD, the Disney Channel has older talent on their roster! I feel like I'm taking crazy pills! 
View this post on Instagram
Kit ends up self-eliminating after the group date. She says it's because she still has doubts about their relationship, but I have a feeling her famous mother would disinherit her if she allowed an ABC production crew into their home. Not for COVID safety purposes, but just like, primetime television? In this house? Ew. 
Next up on the chopping block: Abigail. If I'm being honest, Abigail has been struggling for weeks now. She hasn't had very much alone time with Matt and even admits that they've only ever had "a few good conversations." Yikes. That's practically Bachelor code for "friend-zoned." 
She asks Matt straight up how he's feeling about her and he all but jumps at the excuse to send her home. Trash. TRASHHHHH. 
ABIGAIL: I'm the kind of girl who makes men realize they want someone else.
ME:

ARE YOU F*CKING KIDDING ME WITH THIS, MATTHEW? I WOULD GO TO WAR FOR THIS GIRL. Abigail is truly too pure for this Earth and she's got me in my feels with this exit interview. He keeps sidelining these down-to-earth, authentic women, in favor of girls whose resumes include things like "has swipe up capabilities on IG" and it's making me sick. That said, Abigail, I know this hurts, but you just dodged a bullet, girlfriend. His jacket literally squeaked when he hugged you goodbye. 
Rachael ends up getting the group date rose, but the real winner is the camera work being done here. The losers look completely crestfallen, like the producers just asked them to choose between deleting their Instagram accounts and staying on the show for one more week. They keep panning between the losers, sitting dejectedly on the sofas, and Rachael and Matt trying to swallow each other's faces in the next room. It's just so…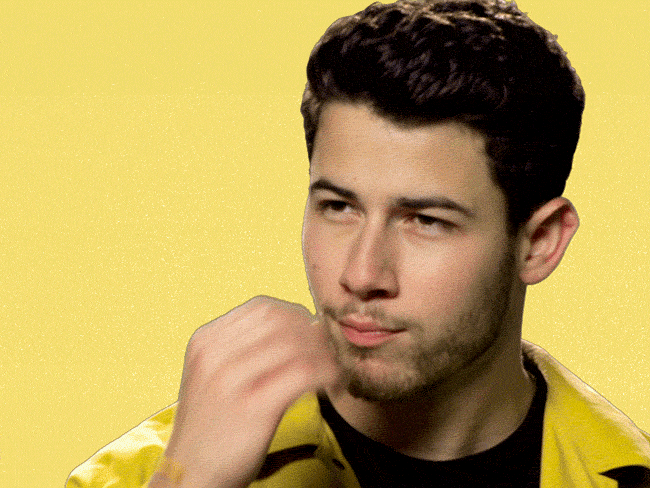 Jessenia's One-On-One Date
It's crazy that Jessenia is an actual contender for hometown dates because all I know about her is that MJ once gave her two for flinching. Like, I just learned the proper spelling of her name this week. This is a problem. 
Okay, I would hate dating Matt. He says "I'm an adrenaline junkie" with far too much chaotic energy for my liking. I'm not even on this date and I'm already about to update my life insurance policy just in case. Jessenia, on the other hand, is thrilled. She's like, "this is what life with Matt could be like!!" Yeah, a series of near-death experiences and premature aging. 

Also, does this feel like the kind of date they should be on right before hometowns? How does watching a girl wreck the sh*t out of a fancy car tell you anything about if you're ready to meet her family? It just feels super shallow and superficial to be having before such an important week. Case in point: Jessenia starts talking about her family, and you can tell Matt is super uncomfortable. He'd like to go back to the part where he had her spread over the front of that car. 
God, he loves to dangle those roses in front of their faces right before actively not giving them out. It's sick. He's like, all but caressing Jessenia's face with it and then he's like PSYCH!! YOU'RE OUTTA HERE!! Look, I'm not saying these are indicators for sociopathic behaviors but I'm not not saying that either…
Honestly, we should have known he was going to send Jessenia home when he showed up to dinner wearing a sweatshirt and not a turtleneck. Really, he couldn't have been more obvious. 
The Rose Ceremony
Going into the rose ceremony, there are only three girls up on the chopping block: Michelle, Bri, and Pieper. Personally, I would love to meet the woman who thought it would be cool to mutilate the spelling of "Piper" for an entire person's lifetime, and so, would selfishly would like Matt to choose her if only for my own entertainment. It's really what he's here for anyway. 
I guess I'm not meant to have nice things because Pieper is going home, making our final four: Michelle, Bri, Serena, and Rachael. Okay, I LOVE that Pieper says nothing to Matt on her way out, just barrels right into that limo. He's lucky this girl doesn't have access to his home address because I have a feeling he would come home to find his belongings ablaze if she did. 
And that's all she wrote, kids! Hometowns are next week, and I can't wait to see what the ABC interns are able to craft up as a representation of a hometown since traveling is still out. Here's hoping we get more "New York-style pizza" from the Sbarro's down the street and another papier-mâché carnival cobbled together with rubber cement and the crayons they found at the hotel's lost and found. Until then!
Images: ABC/Craig Sjodin; Giphy (4); @bachelornationspoilers /Instagram (1); @thebetchelor /Instagram (1) 
UPDATED: The 'Bachelor' Drama With Rachael Kirkconnell & Chris Harrison, Explained
Can you believe that just a week ago I was over here thinking that this season of The Bachelor's biggest racism problem was a few fragile white girls bullying the other contestants? I mean wow, things sure did escalate quickly, because now we have a frontrunner with a social media rap sheet of behavior that ranges from "should have known better" to "overtly racist". And if that wasn't enough, we also have a host (Chris Harrison) who went on television to defend her, in response to which there is now a change.org petition with over 10,000 signatures calling for him to be fired. Harrison has since apologized, but there is a lot to unpack here, so for those of you that don't follow Bachelor Franchise controversy like it's a toxic ex that you still have feelings for, let me break it down for you.
Rachael Kirkconnell's Problematic Social Media History Emerges
Piecing together a Bachelor contestant's personality, political beliefs, and any problematic skeletons based on their social media history is today's version of the game Clue, and I'm ready to open the envelope on Rachael displaying a history of racism. TikToker feministmama has summarized all of the evidence that's out there on the internet that ABC couldn't seem to find (or just didn't care to). I encourage you to watch the videos, but here's the TL;DR version. Among other things, Rachael:
– Liked insensitive photos on social media (such as one with a Confederate flag displayed, and people wearing culturally insensitive costumes)
– Culturally appropriated indigenous culture at multiple costume parties
– Re-shared QAnon conspiracy theories, and most notably:
– Attended an "Old South" plantation-themed ball in 2018
Look, much to my parents' disappointment, I am not a lawyer. But I think we can all agree that the evidence points to this being a very bad and pretty racist look. And these stories have been circulating for a few weeks now, so if any of it was false you'd think that Rachael would have said so by now. I know ABC has a lot of control over when contestants can speak publicly and what they can say, but if Rachael could confidently say "those pictures are Photoshopped," then I think they would have let her.
What Does Matt James Think?
I've been watching Matt as the Bachelor for over six weeks now, and I still couldn't tell you anything about him other than: he's tall, he likes to work out, and he's really into Jesus. So as a lead who hasn't had much to say all season, it's not surprising that he hasn't had much to say about this. Especially since it seems pretty likely he chooses her and maybe they're engaged? 
In response to questions about the allegations against Rachael during an interview with Entertainment Tonight on February 2, he said, "Rumors are dark and nasty and can ruin people's lives. So I would give people the benefit of the doubt, and hopefully she will have her time to speak on that."
First of all, an actual photo of her at an Old South themed event is not a rumor, second of all, this statement has "vetted and approved by Bachelor production" written all over it, and third of all, this response has big "Garrett getting exposed for liking problematic memes" energy. Judging by this response alone, it seems like Rachael goes pretty far in the show, if she doesn't end up winning.
And Now A Word From Chris Harrison
Unlike Matt, Chris Harrison (unfortunately) had a lot to say on the matter, sharing close to 15 minutes of his thoughts on Rachael, what he likes to call the "woke police" and for some reason, a bonus mention of racist games he played as a kid growing up in Texas (literally, why?), during an interview with Rachel Lindsay, the franchise's first Black lead, on ExtraTV. Although he later apologized (more on this later), his words were pretty on-brand for Harrison and Bachelor production, and by "on-brand" I mean, he made excuses for racist behavior and instead put the blame on those calling for accountability aka the aforementioned "woke police''.
During the chat, Chris Harrison basically claimed that back in 2018 (three years ago, for those of you counting) when Rachael attended the Old South ball, she couldn't possibly have known that romanticizing slavery was bad, that she deserves "grace, understanding, and compassion", and that we should give her time to reflect and wait patiently for when she is ready to speak. To me it felt like Harrison was defending Rachael like he has his own Antebellum plantation-themed wedding planned for the spring and he doesn't want to get sh*t for it. And if you, like Chris and Matt, still want to give Rachael the benefit of the doubt, here are a few things that happened prior to Rachael attending that racist-ass ball in 2018: 
– The Kappa Alpha national office (the fraternity that hosted the ball) had officially banned these events for being "culturally insensitive" in 2016
– Rachel Lindsay's 2017 season of The Bachelorette aired, where a contestant's racist tweets were kinda a big deal
– The BLM Movement was founded (2013) in response to the acquittal of Trayvon Martin's murderer and gained traction from countless other similar situations
Bachelor Nation (Sort Of) Entered The Chat
It looks like I am not alone in being infuriated by what comes out of Chris Harrison's mouth when you let him say more than "ladies, this is the final rose tonight". A petition calling for him to be fired has thousands of signatures. Bachelor alumni were also incensed, and took to social media to share their thoughts.
Former Bachelor contestant and outspoken critic of the franchise, Ashley Spivey, was vocal on her Instagram stories and shared a number of tweets criticizing the interview:
We can leave grace and space for learning while still demanding accountability. I feel like @chrisbharrison expresses more empathy for people who romanticize the confederacy than people who are harmed by white supremacy in this clip. So disappointing. https://t.co/Lw2BabkLpb

— Emma Gray (@emmaladyrose) February 10, 2021
Rachel Lindsay responded to the same thread with, "my days are numbered," perhaps alluding to the fact that this may be the final straw in her relationship with the franchise (she hosts the Bachelor Happy Hour podcast with Becca Kufrin). 
My days are numbered

— Rachel Lindsay (@TheRachLindsay) February 10, 2021
And Taylor Nolan, a contestant on Nick Vial's season of The Bachelor and season four of Bachelor in Paradise, called Harrison out on Instagram: 
View this post on Instagram
Since Chris Harrison's interview, some others in the franchise have spoken out about the controversy, but thus far, we're still waiting on any comment from Rachael or the franchise as a whole.
Followed By, An Apology From Chris Harrison
Approximately 24 hours and a million Twitter call-outs later, Chris issued an apology:
View this post on Instagram
Look, I'm glad he said something—I have to admit, I did not expect it. But is it just me, or did this apology somehow manage to sidestep any actual condemnation of racism? He ends his apology with a "promise to do better", and I can't wait to see what "better" means. 
UPDATE: 
In the 24 hours since we first published this article, many more members of Bachelor Nation shared their concern and criticism of Chris Harrison's words and support for Rachel Linsday, who has often been a lonely voice when it comes to holding the franchise to account. The women from the current season issued a joint statement:
View this post on Instagram
And ABC finally let Rachael Kirkconnell finally said something, posting this apology on her social media accounts:
View this post on Instagram
As Rachael herself mentioned in her Instagram story, this apology is not for me or anyone who isn't a person of color to accept.
This does feel like a pretty big moment for the franchise, one where a majority of its "nation" is taking a stand against racism and anyone making excuses for it. Here's to hoping this is the moment production finally decides to make a change.
Images: ABC/Craig Sjodin; emmaladyrose, therachlindsay / Twitter; taymocha, chrisbharrison / Instagram
We Have To Hold Production Accountable For The Bullying On This Season Of 'The Bachelor'
We love to see two villains get sent home in one episode. We love to see Matt confronting their bullying head on, supporting the women who were targeted by Anna and Victoria's fragile egos and harmful verbal attacks. And we absolutely love to see Katie—defender of what is right, champion of women's orgasms, the people's vote for Bachelorette—make it out of this week's drama unscathed. But what we really deserve to see is some goddamn accountability. And not just from the Karens/villains/bullies (Victoria, Anna, and MJ), but from The Bachelor producers for encouraging this type of behavior. For creating a space that promotes bullying and women that weaponize their white fragility, for amplifying the incredibly annoying voices of the Victorias and Annas of the franchise while minimizing the voices and storylines of the contestants of color.
View this post on Instagram
If I've learned anything from my time as a reluctant-yet-dedicated member of Bachelor Nation, it's that the producers have just as much, if not more, control over what happens on The Bachelor than the leads. Sure, the lead gets to choose his future ex-fiancée, but the producers are the ones moving the size zero, botoxed, Restylane-filled chess pieces around the mansion until our Bachelor is check-mated into a proposal (yes, I recently watched The Queen's Gambit, why do you ask?). I get that the final rose is in Matt's very large hands, but do we really believe that Matt voluntarily kept Victoria over *reviews full cast list* ANY of the 10+ women he sent home prior to this week's episode of reckoning? No, no we do not. 

…at least, not until the producers say so. 
So it's safe to assume that storylines, one-on-one date decisions, and the topic of today's rant discussion (bullying) are at the very least producer-sanctioned, if not producer-encouraged. Victoria doesn't get a rose without the producers telling Matt she has to stay. Anna doesn't get approximately 500 featured ITM's, and a baseless rumor about being an escort doesn't get spread and televised, without editors choosing that footage to make the final cut. To all of you screaming, "Dani this is just how the show works, big drama brings a big audience", I say: yes, I understand how ratings work, thank you. But just because I understand it doesn't mean I have to be okay with it. Just because this is how the show has worked for years, doesn't mean we shouldn't try to bring production into the 21st-post-Trump-pro-BLM century and hold them accountable for giving white women carte blanche to do and say as they please, rewarding them with more airtime as their words become more offensive. 
We can't give ABC credit for casting a Black lead and having a diverse cast if that diversity is only used as a tool to promote bullying (the targets of Victoria, Anna, and MJ's antics were almost exclusively women of color). You don't get credit for diversity if more airtime is given to Victoria and Anna's whining than to the emotional conversations Matt has had with women like Chelsea and Michelle about conforming to white beauty standards and being a Black teacher in Minnesota after George Floyd's murder. And we can't let production off the hook now because Victoria and Anna are finally gone. In fact, even after Matt was given the okay to take out the trash, production simply handed Victoria's burn book over to MJ for her to take over as head mean girl leading into next week's episode. It's rude of MJ to have such beautiful hair and such an ugly personality, and it's even more rude (and manipulative) of production to pit her against Jessenia, yet another woman of color for a "let's squeeze this in real quick" two-on-one date that literally nobody asked for. And don't even get me started on the fact that the one-on-one dates of the week went to Kit, a quieter yet adamant supporter of the OG vs. new girls movement, and Rachael, who may or may not have been a racist bully in high school…
I know that drama and hot girls fighting makes for entertaining television (I watched this week's episode with my younger brother and he simply could not get enough), and I know Matt is just  kinda boring, so the producers have to look elsewhere for content. But I also know that they can and should do better than this, and I don't think it's out of line to expect ABC to make socially responsible television. Production and editors give plenty of screen time to the friendships between male contestants on The Bachelorette, why can't we get the same support for female empowerment on The Bachelor? Magi got U.S. citizenship by winning the visa diversity lotto, why can't we learn more about her than the fact that she's not great at kayaking? 
I'm sure there is plenty of non-toxic, non-bullying, non-racially insensitive content the producers and editors could use to tell an equally entertaining yet less divisive story, they're just choosing not to. And production controls who comes back for Women Tell All, who gets invited to Bachelor in Paradise, who gets more screen time, a larger platform. They could decide that enough is enough and leave Victoria and Anna off their callback lists—but do any of us believe that they will? So how do we hold them accountable, how do we hold ABC to a higher standard? I just wrote 1,000 words about how frustrated I am with the show, but I know I will continue to watch. Maybe we aggressively tweet at Mike Fliess, maybe we boycott the Women Tell All if Victoria is there (I am very on board with this plan), or maybe we continue to have more thoughtful conversations about a show that has an undeniable impact on our culture. Whatever we do, I think it's at the very least, time to stop saying "this is just how the show works". 
Images: Craig Sjodin/ABC; Giphy; bachelordata / INstagram
What's Really Wrong With This Season's 'Bachelor' Villain
The Bachelor is the TV show equivalent of a f*ckboy. Every season I vow to stop dedicating hours of my life to an experience that gives me more aggravation than actual pleasure. But after the final rose, I delude myself into thinking that maybe, just maybe, it'll be different next time. And as sure as an unwanted appearance by Ashley I., I'm back.  It actually is different this time, but not in the way I was hoping. My issue this season has nothing to do with the fact that Matt is a less-than-compelling lead. After all, this is a show built around mediocre men. The problem is with our villain. Coming off the literal garbage heap of Peter's season where producers couldn't even successfully produce a villain, this time they're overcompensating by force-feeding us Victoria, a contestant so over-the-top, she's practically a cartoon. Unfortunately, Queen V lacks all of the qualities that make for a truly great Bachelor villain.
She Lacks Complexity
Victoria is so outlandish, it's hard to believe she's anything other than a producer plant, sent to stir up drama and provoke the other contestants. This might actually be fine if it all didn't feel so one-dimensional. Past villains like Corinne Olympios and Demi Burnett were so fun to watch because they had layers. At first glance, both women seemed like they were only there to seduce the lead and piss off the other women in the process. But as we got to know them, each woman gave us a softer side. Corinne had a sweet relationship with her former nanny, Raquel, who was a mother figure to her. Demi opened up about the struggles she faced while her own mother was in prison. Despite their villain-like qualities, each woman was vulnerable, which, despite being a comically overused term on this show, is key to not only winning the lead's heart, but also being a good villain. Maybe we'll get to see a different side to Victoria. But for now, waving around a crown and calling every person that you dislike "toxic" for no apparent reason feels more like the kind of shtick that should end in a night one elimination, especially given the targets she chooses. Which brings me to my next point.
She Chooses Unworthy Opponents
Almost immediately, Victoria gets into it with her roommate, Marylynn. She claims Marylynn is "toxic" and "psychologically disturbed", even going so far as to tell Matt that Marylynn is bullying her. However, we're given no actual proof of this being the case. On the contrary, Marylynn is sweet, docile, and seems to get along just fine with the other women. She seems genuinely shocked when confronted by Matt about the bullying accusations and tries to respectfully work things out with Victoria. Victoria, on the other hand, refuses to even hear what Marylynn has to say, steamrolling her with the "bully" narrative and finally bringing Marylynn to tears.
Targeting the mild-mannered Marylynn is like trying to kill a fly with an elephant gun. It's unnecessary and, frankly, difficult to watch. Viewers enjoy a fair fight. Had Victoria been able to successfully spar with someone like Katie, it would've been far more impressive and entertaining, but she's ill-equipped. Instead, she prefers antagonizing contestants who are unable or unwilling to fight back, which is why she then set her sights on Sarah.
Her Toxicity Has Infected The Group 
We enjoy villains not only because they're entertaining and spice things up, but also because they serve as a foil to the hero and ultimately provide a comforting vehicle for "good" to triumph over "evil". What's been remarkable about this season thus far is that it's unclear who the "good guys" actually are. Aside from the real queen Katie, the rest of the contestants went from looking visibly uncomfortable around Victoria to piling onto her takedown of Sarah. As someone who wrote under the pseudonym Betchina George, I can usually appreciate a catty moment when it's warranted, but things went way too far there. Sure, Sarah was needy, and it was wrong of her to steal the other girls' time. But for the women to not only sit silently while Victoria mocked Sarah in the midst of her apology, but then gleefully join in on the bullying by threatening to make the rest of Sarah's time in the house horrible was totally unacceptable, whether they knew about her sick father or not.
Unfortunately, even with Sarah gone, the cattiness continues. Victoria has a new henchwoman in Anna, with the two delighting in the vicious rumor that new girl Brittany is an escort and cackling like Cinderella's stepsisters after Victoria calls Catalina, who by all accounts has done nothing to Victoria, "the dumbest hoe I've ever met". Not a good look.
Victoria: I'm an empath.
America:

Her Romantic Connection With Matt is Nonexistent
What's made many past Bachelor villains believable is their connection to the lead. Krystal Nielson stuck around despite being extremely polarizing because it was clear she and Arie had actual chemistry. We even had a villain win an entire season, because Ben Flajnik was unable to hide his erection affection for Courtney Robertson. The same can't be said for the connection between Matt and Victoria this season. He looks visibly pained calling her name at the rose ceremony week after week, and when they have had one-on-one time, the conversations we've seen have been totally superficial. Matt isn't exactly shy about making out with the contestants he's into, usually by attempting to engulf their entire face with his mouth. So far, he's given Victoria the kind of half-hearted hugs I begrudgingly gave to distant relatives as a child.
Actual Footage of Matt and Victoria Interacting:

The chemistry is palpable.
It's clear that this season is hitting differently when it comes to the usual villain trope. Maybe as we become savvier as reality TV viewers and the fourth wall breaks, it's harder to suspend our disbelief and easier to spot the producer prompts and manufactured drama we glossed over in previous seasons. Or maybe we're living in a political climate where we're tired of the constant negative rhetoric and glorifying those who seem to be mean for its own sake. Whatever the reason, it's becoming increasingly difficult to root for Victoria and almost all of the other women this season. I want to believe that she'll surprise us and redeem herself in the coming weeks, but it's The Bachelor. I've been burned before.
Images: ABC/Craig Sjodin; Giphy (2)
It's Hard Being An Average-Looking Jewish Fan Of 'The Bachelor'
I've been a Bachelor fan for over seven years, and while our relationship has always been one-sided — me committing every Monday night to the show and getting nothing but broken engagements in return—I may finally be close to reaching my breaking point. While I've been getting older, the contestants have been getting younger. While I've become more convinced that no God could possibly allow *gestures broadly at the world* this, the leads have been getting more religious. While I look more and more like my great aunt Connie each day, my jawline receding like Steve Carell's hair in the early seasons of The Office, the women look more and more like the same impossibly beautiful Instagram model. Hannah B., Hannah G., Hannah Ann — shouldn't you at least try using a different first name?

I miss the days when contestants would show up to Paradise with new lips, higher and thicker brows, a fresh batch of highlights, and a growing thirst for sponsorships. Back then, we'd at least get a glimpse of their "before". But now it seems ABC will only cast women who have either completed their transformations or were gifted with unnatural beauty and a 0% body fat at birth. Has someone started a Bachelor franchise farm somewhere where women are bred with the intention of reaching an Emily Ratajkowski level of perfection? Because I spent some time in the world before the pandemic, and I'm pretty confident that the majority of humans don't look like this . Where are you finding these people????
But it's not just the entirely unrealistic and arguably destructive beauty standards that have, over the past few years, made it harder and harder for me to relate to the show, to listen to Chris Harrison talk, to believe in love. It's also that producers appear to be more afraid to show Jewish (and other non-Christian) storylines than I am to talk politics with my conservative aunt on Facebook. Sure, there have been Jewish contestants (Adam Gottschalk, Lacey Mark and Jason Tartick, to name a few), but did you know they were Jewish? And if you did, did you know that while they were on the show or because like me, you have a fun little hobby of googling "is xxx Jewish" every time someone remotely Semitic-looking appears on your television screen?
There are people who aren't Christian! There are people who aren't religious! #TheBachelor https://t.co/1gMNMDjfXY

— Brett S. Vergara (@BrettSVergara) January 5, 2021
While there are as many Jesus references and cross necklaces as there are "perfect places to fall in love", you'd be hard-pressed to find any air time spent on a belief other than Christianity. Even last season, when Tayshia broke up with one of her final three over their religious differences, the show didn't air the discussion about what those differences were. Who am I kidding, we can't even get them to acknowledge the existence of agnosticism and I'm over here hoping we'll get a hometown date with a nice Shabbat dinner.
But season after season I keep coming back. If Jesus still loves Hannah B. after she had sex with Pilot Pete four times in a windmill right before dumping him, can't The Bachelor still love me after I refuse to accept Jesus Christ as my Lord and savior?

It's not like I'm asking for a Bachelor-like love story for myself. In fact, I turn to the show for reassurance: even ridiculously good-looking people pick the wrong men, even the Tyler C.'s of the world get rejected, even a show about finding love has somehow managed to… barely ever find it. But I am asking to be able to see myself reflected in one of the many Hannahs of the franchise — it's a very popular Jewish name for God's (and Jesus') sake! And fine, maybe they have a binding contract with the Emily Ratajkowski farm and are strictly prohibited from casting an average-looking woman, but the least they could do is cast someone who doesn't have a Bible verse in their Instagram bio.
The opening scene of Matt James' season showed some promise :  a short brunette strolling up to Matt and introducing him to her vibrator. But I'm afraid the shelf life of its relatability for me lasted about as long as Peter and Hannah Ann's engagement. Because, before even getting a first impression rose, we got the first group prayer. And as Matt knelt down to pray to "Heavenly Father" on behalf of all of the women, I couldn't help but puke wonder—what the f*ck am I still doing watching this show?

Anyway, I'll be tuning in all season to see if anything changes . Because just like with any toxic relationship where I feel neglected, taken advantage of, and generally unworthy, I'd rather have that than nothing at all.
Images: ABC/Craig Sjodin; giphy (3); @BrettSVergara
A Bro's Breakdown Of Matt's 'Bachelor' Contestants
Hi, I'm Jared Freid. I'm a 35-year-old comedian who loves The Bachelor and The Bachelorette. I love these shows so much, I yell at every episode on my Instagram stories. As you can imagine, my parents are v proud. V. 
This is my preview for the season. I've been doing this preview for both shows for half a decade. I make massive assumptions about every contestant based on very little information. It's like sitting with me while wearing sweats and screaming "Yuck" at what people wore for the red carpet. Please enjoy and follow me on Instagram where I'll be making fun of these crazies every Monday night (Tayshia/Clare's season is in my highlights). And if that's not enough, I host a Bachelor post-game show called "The Rose Rehash" on my YouTube channel. Let's have a fun season.
Matt James

Usually I would've already previewed Matt James, but this season is different. Matt has never been on the show. His biggest credit before getting to know him via interviews and social media was "friends with Tyler C." That's kind of crazy. Tyler C was so hot that we all just trusted he knew good people. If a less attractive man was like, "Hey, you should meet my friend!" We'd all be like, "What's his Instagram handle?" And then spend hours scrolling back to when he was in high school to make a fully informed decision. That is not what's happened with Matt. Everyone was pretty on board from minute one. We genuinely know nothing about the guy. I've been following him on Instagram and he seems fun and motivated and like he'll have a lot of energy. But after a brief discussion with my penis, we don't think this guy is ready to settle down. You don't go from touring the country doing "boys trips" every other week to being like, "Ya, me and Stacy P are going to stay in this weekend and watch old Survivor seasons." I think a lot of women are perpetually in a "ready to grow up" mode and a lot of men are just trying to do everything they can before they have to grow up. Matt seemed to be getting it all in, and I'm not sure he's done yet. There was not one post on Matt's social media that told me Matt was ready to give up a ski trip for his fiancée's Paint and Sip night she thought "looked cute." But I guess we'll see. Let's check out the women he'll be calling "AHHHMAAAZING" after one conversation about their grandma.
Abigail, 25, Client Financial Manager

Abigail is a 25-year-old Client Financial Manager from Beaverton, Oregon who says that her favorite way to approach a guy is by "accidentally bumping into them." This is how you know you're hot. If you can literally fling yourself at attractive people and have that end up with a date and not a rap sheet, then you're hot. When I bump into people they ask if I'm playing the Rosie O'Donnell part in the remake of A League Of Their Own.
Alana, 26, Photographer

Alana is a 26-year-old photographer who calls moving to Europe instead of going to college "her greatest accomplishment." She also says, "it took her on a journey of self-discovery and exploration that really shaped her into the independent woman she is today." We absolutely CANNOT let Alana have a social media following. Did you read those quotes?!? A journey of self-discovery?! She's already unbearable. She took a trip to Europe on her parents' credit card and posted some black-and-white pictures on Instagram and now she's a "photographer" who went on a "journey of self-discovery." She's right on the doorstep of changing her name to "Alania" and asking us how to say the word "cucumber" in English.
Alicia, 24, Professional Ballerina

Alicia is a 24-year-old professional ballerina from NYC. I'm too cynical from years of reading millennial "job" titles like "entrepreneur" and "social media strategist" that are actually just people who know the right filter for their butt. I read "24-year-old professional ballerina" and I was like, "Ya, me too! I'm actually a 35-year-old professional Astronaut/Wizard." But I was wrong. After reading Alicia's bio, "professional ballerina" isn't a job you can lie about. I'm actually her biggest fan. Look at her bio: When she was only 13, she began pursuing her career as a professional ballerina. Through years of dedication and commitment to her craft, she is now proudly living her dream, dancing for the prestigious Dance Theater of Harlem.
I honestly don't know how Alicia is going to mentally survive in the house. Someone is going to be like, "Hi I'm Lauren P! I'm a professional social media entrepreneur who aspires to one day podcast about my mental journey from the hardships of an upper middle class lifestyle!! What's your name?!" And Alicia will have to respond, "When I was 15 I had to stand on my big toe for an hour so I could go to lunch." I'm cheering for you, Alicia. Godspeed!
Amber, 30, Nursing Student

Amber is a 30-year-old nursing student from Costa Mesa, California, and she is the most Amber-looking Amber to ever not be a porn star. Amber is a 30-year-old single mom to a 13-year-old son and her bio says she once had to run away from a mountain lion at Joshua Tree and mentions two different dreams (one is to take care of beluga whales). I'm sorry Amber, dreams and Joshua Tree end at 29. I'm 35 and my dream is to have a good bowel movement.
Anna, 24, Copywriter

Anna is a 24-year-old copywriter from Chicago who says she dreams of writing screenplays for Hallmark movies. Well, Anna has already gotten started by writing her own life as a Hallmark movie. Her bio literally says she's "a small-town girl, living the big city life", and "her parents nicknamed her Hollywood", and how she spent Friday nights at the local bowling alley, and how she was the high school cheerleading captain who "was meant for something bigger." I swear this is every woman who has ever moved to a major city. It doesn't matter how truly regular of a life they've lived, they'll find a way to make it sound Hallmark. You'll be like, "Hey! Where you from?!" And they'll be like, "Oh some small, single-traffic-light town where everyone knew me as 'Honey' because I was sweet as sugar!" And their name will be Lauren Greenstein from Scarsdale whose dad once said, "Hey Honey! Don't forget to tell the other Lauren Greenstein that she left her Tulane sweatshirt here last night!"
Bri, 24, Communications Manager

Bri is a 24-year-old communications manager from San Francisco who was raised by her mother and grandmother. Her bio says they "made countless sacrifices to give her a fighting shot at having a successful life." Then it goes on to say how Bri has always outworked everyone around her and some GaryVee crap about life being "earned not promised." I would love to see Bri explain to her grandma and mom that she's going on The Bachelor. Can you imagine the shock?! The questions?! You make "COUNTLESS SACRIFICES" and your daughter is like, "Hey guys, I've put my career on hold during a global pandemic to compete against seven Laurens for a guy who's friends with a guy who came in third place on The Bachelorette. Thank you for working three jobs so that I could get violin lessons. Without those lessons, I wouldn't have been able to play a classical version of 'WAP' for my limo entrance! Oh and grandma, 'WAP' stands for 'wet ass pussy' which will be EARNED AND NOT PROMISED when I'm on this show thanks to all of your life lessons and sacrifices!!!"
Carolyn, 30, Journalist

Carolyn is a 30- year-old journalist from LA who says her ultimate date is "something spontaneous that involves traveling" which just isn't possible. Women love to say stuff like this because it sounds good, but you should all try spontaneously traveling with a woman. I DARE YOU! I keep imagining how mad my girlfriend would be if I was like, "We're going to the airport! I packed your bag!" She'd be like, "Where are we going?!" And I'd be like "It's a surpri…" and then I'd look down and she'd be angrily holding up the 10 thongs I packed for her on our ski trip.
Casandra, 25, Social Worker

Casandra is a 25-year-old social worker who says, "coming on The Bachelor is the biggest risk she's ever taken for love" and I would have to disagree. This isn't a risk! ABC has vetted Matt more than any of your aunts have vetted their friend's son. Has Casandra ever been on a dating app?! That's a risk for love. Meeting a guy you have no friends in common with? A guy who has 10 pictures on Instagram of him in an array of costumes he thought were funny? That's a risk for love. Meeting him at a restaurant, believing him when he says he's looking for a relationship, getting to know him, believing him when he texts, "I miss your face," going on eight more dates, meeting his friends, convincing yourself this relationship is different, telling your friends, inviting him to the holidays, and the day before he decides that meeting your dog was too much commitment so he ends it and you have to return the Dunder Mifflin shirt you got him because he would always say, "That's what she said." I think that's a way bigger risk.
Chelsea, 28, Runway Model

Chelsea is a 28-year-old from Brooklyn who quit her job in corporate America to become a model. That has to be the hardest thing to do in the world. I quit my job to become a stand-up comedian and my mom reacted like I had come out of the closet. She was like, "How long have you known that you've been… you know… funny?!" It's got to be way worse to leave your job to be a model. Some manager being like, "I'm sorry to see you go! What's your plan?" And you're like, "I'm going to be a model!" And then the manager stares at you like a painting for a full 30 seconds and after the longest silence ever they're like, "Sure. Cool. Ok, well you're going to have to go onto COBRA for your health insurance."
Corrinne, 22, Marketing Manager

Corrinne is a 22-year-old from Connecticut who does marketing for her family's high-end Italian restaurant, which means she lives at home and posts on their Instagram from her white Mercedes SUV before going into yoga. Corrinne speaks like someone who wants to marry someone rich. It's just a vibe I'm getting. Her bio says things like she wants to experience the NYC lifestyle before having kids and, "Her dream man will support her in both her personal and professional endeavors." That sounds like something someone who had a tie-dye "company" for a month over the summer would say.
Emani, 25, Realtor

Emani is a 25-year-old realtor from Albuquerque, New Mexico who says if she could be anyone else for a day, it would be herself because she is "pretty cool." Really?! Nobody else?! Beyoncé? Jeff Bezos? One day? You don't want to go on a private jet? Someone offers you a day of being Kim Kardashian and you're like, "Nope! I'm good! I'm going to hang here in Albuquerque eating green chili while staring at the beautiful New Mexico landscape. A landscape that inspired someone to write a show about a guy dying of cancer who turns to dealing crystal meth so that he can afford the medical bills." Ok.
Illeana, 25, Health Food Developer

Illeana is a 25-year-old health food developer from NYC whose bio says she "recently co-developed her own nutritional snack called 'Funky Munky Energy.'" I went and looked up Funky Munky Energy because,, as someone who has been trying to lose 10 pounds my whole life, I'm always looking for the delicious snack that's going to help me achieve my dream. And what you find out is that Illeana is a model repped by Wilhelmina who is waiting for The Bachelor to drop off a couple hundred thousand Instagram followers so she can start pushing candy as "GMO-free, gluten-free, energy bites." And I can't have it. I just can't. She'll be posting pictures of her eating these bites as if any of us normal-bodied people who aren't repped by the most famous modeling agency in the world could ever have one after a workout to hold us over until our dinner of steamed string beans. Illeana needs to be stopped. Her bio also says she has a cat who wears a bowtie and goes to the bathroom on the toilet. This is an evil person. Anyone who has a cat that could hypothetically shame me for the classiness of my poops isn't here for my well-being, and I won't be buying her "health foods."
Jessenia, 27, Social Media Marketer

Jessenia is a 27-year-old social media marketer from San Antonio who was Miss El Paso in 2016. Her bio says "her soul mate also must love dogs because Jessenia currently has three of them!" That's one of those things that makes you realize how unfair we are to cat people. Jessenia is sitting here with three dogs and we're like, "CAYYUUTTE!" If she had three cats then we'd assume she spends the weekends wearing her old Miss El Paso sash and crown while giving acceptance speeches to her cats. Three dogs is just as bad. Isn't that someone who needs too much affection?!!? How much of her day is spent getting licked by her dogs because they smell her lunch, but she calls them kisses? I can't imagine dating Jessenia is fun. You wouldn't be able to keep up. You'd be like, "What's wrong?!?" and she'd be like, "You didn't give me my 20-minute hug today!!" I now await your "I take offense to any and all dog criticism" hate mail!!!
Kaili, 26, Hostess

Kaili is a 26-year-old hostess from Chicago who says she's never dated anyone that her family has truly been excited about. That might be tough for her ex to read, and it's also something you'll never see in the bios of the male contestants for The Bachelorette. There are rarely subtle digs at an ex in those, because men are in total fear of every woman they've ever dated. Women keep the receipts! Go look at those 40-picture-long Instagram story tributes to a friend you haven't seen in three years! We know you have a phone full of screenshots that show how stupid and gross and awful we are, so we treat exes like someone we worked with on a movie who was difficult during the production. We say stuff like, "Oh I love Kaili! We're just two different people!! The one thing about Kaili is that Kaili is going to be Kaili!! She's a great hostess!! Really knows how to put a menu on the table!!" and then we fake-laugh until you move on to the next subject.
Katie, 29, Bank Marketing Manager

Katie is a 29-year-old bank marketing manager from Renton, Washington who says she's "done wasting her time on boys who won't live up to her expectations" and that nothing turns her off more than someone who sits around playing video games or a man who tries to kiss her at the inopportune moment. That's so specific that it must describe her last boyfriend exactly. That's my biggest fear. Having an ex go on The Bachelor and reading a bio that's like, "I just want a man who can meet my standards. You know, someone who can stop doing immature things like laughing at his own farts and being from a suburb of Boston and having poop streaks on the back of his toilet and having a dad named Gerry and getting up in the middle of the night to eat cheese eight different times and then complaining the next day about how he can't understand why the workouts he's doing aren't helping a lot more! You know, immature BOYS like THAT! I need a man!!"
Khaylah, 28, Healthcare Advocate

Khaylah is a 28-year-old healthcare advocate from Durham who says her life is all about giving back and she lives for a good tailgate. That sentence could mean such a range of things based on how you give back and how you tailgate. Like, it seems as though Khaylah genuinely does a lot of good and she enjoys a tailgate. Someone reading this is thinking, "Ya, me too!" while remembering the time they drank tequila from a shoe at a tailgate where they let a homeless guy funnel a beer. We all tailgate and give back in different ways!
Kimberly, 28, Airline Recruiter

Kimberly is a 28-year-old airline recruiter from Seattle who looks like she keeps a key in her pocket that doesn't work on her house but is specifically for keying an ex's car. Kimberly's bio says she has no fears except finding out she's dating a guy with a foot fetish. To me, that's the best fetish to find out about. Constant foot rubs with essential oils and the ability to get someone off by simply scrunching your toes!? Sounds like a win. Sure, it's jarring to find out your partner likes feet, but I'd argue that any fetish is jarring to find out about. You think finding out your partner is a furry is easy?! Now you gotta dress up as a jacked rabbit to get them off?! You know how hot those costumes must be in the summer? And how expensive?! And how much closet space they take up?! People would come over and ask why the basement looked like the green room at the Six Flags Looney Tunes show. I'll take the foot fetish any day of the week.
Kit, 21, Fashion Entrepreneur

Kit is a 21-year-old fashion entrepreneur from NYC who looks like your friend's sister who got really hot in college. And now you ask about her randomly and your friend is starting to be like, "Why do you keep asking about Kit?!!?"
Kit's bio says that men in flip-flops make her mad and that she's "a true born-and-raised New Yorker." This is how rich New Yorkers avoid being viewed as privileged. They say stuff like "I'm a born-and-raised New Yorker" and let you imagine what that means so it can elevate them above the "basic losers" who moved to NYC and live in Stuy-Town with a roommate. Kit's bio goes on to say she's living with her parents in the West Village. You know, the mean streets of the most expensive part of the island with all of those "born-and-raised New Yorkers" where they have REAL problems like men's footwear! Kit is going to be annoying. She's 21 but she'll act 48 and as if she "gets it" because she went to public school even though it took auditions/testing/tutors/extreme wealth to get in.
Kristin, 27, Attorney

Kristin is a 27-year-old attorney from Virginia Beach who says she "needs someone who isn't afraid of being openly affectionate" and that she "does not share food, unless both parties have previously agreed upon it." That's a VERY confusing person. You're out one night, holding hands, rubbing the small of her back, giving her a little credit card swipe of the ass crack when nobody is looking and then all of a sudden you go to grab a french fry from her plate and she's like, "DID WE DISCUSS THE TERMS OF THE FRIES?!?" And how does she agree upon food sharing? Is there a contract?! Looking at the menu with Kristen on the first date must sound like you're two basketball GMs trying to figure out a trade: "So I'll get the burger and you'll get the pasta. I'll be giving you one quarter of my burger in exchange for seven strands of pasta with one eighth of a meatball. I can give up six fries but that'll cost you an inch of garlic bread."
Lauren, 29, Corporate Attorney

Lauren is a 29-year-old corporate attorney from Miami who says that "none of the guys she has dated in the past have truly been her best friend, and she's hoping to change that here with Matt." Whoever first said, "I'm dating my best friend" legitimately ruined a whole generation of daters. Because at some point your girlfriend will turn to you and dramatically say, "You're my best friend" and you can almost hear the music from Dawson's Creek playing in their head. It's the step that comes between "I love you" and engagement that every relationship has to go through, and it's annoying. I've never even thought of calling anyone my best friend. I have friends, family, and people who were once acquaintances whose social media I now talk sh*t about. That's really it for me, and I'm sure I'm not alone. Whenever my girlfriend says it to me, I want to fart on her and be like, "You too buddy!!" and see how it goes over.
Magi, 32, Pharmacist

Magi is 32-year-old pharmacist from Adwa, Ethiopia who came to this country by winning the Diversity Visa Lotto. I went and looked it up on Wikipedia and it said the lotto "makes available 55,000 immigrant visas annually and aims to diversify the immigrant population in the United States, by selecting applicants from countries with low numbers of immigrants in the previous five years." That's truly amazing and I hope to god that we get to see the moment another woman on the show tries to glow-up her story to sound interesting while in front of Magi. She'll be like, "My parents immigrated to Boca Raton, Florida from the mountains of Long Island." and then she'll be like, "Magi, where are you from!?" And Magi will say something along the lines of, "I saw the Hollywood sign for the first time thanks to a one-in-a-million opportunity to come to this country. But I'm sure that was embarrassing when you didn't know what a pub sub was."
Mari, 24, Marketing Director

Mari is a 24-year-old marketing director from Odenton, Maryland who looks like someone on 90 Day Fiancé who's been talking to a guy online for eight years but he still doesn't have her phone number. She's a former beauty queen who won Miss Maryland USA in 2019 and placed top 10 at Miss USA. The pageant world crosses over so much with the Bachelor world, and it has to be because The Bachelor is basically a pageant in itself. You tell your story, there's kind of an unsaid bathing suit competition, interesting hobbies always get featured. The only difference is that the final three can choose to sleep with the judge. And honestly, that would make me watch a few more pageants. I'd even watch a male pageant just to see a female judge give a Roman Emperor-style thumbs down at a good looking guy who wouldn't go down on her.
Marylynn, 28, Event Coordinator

Marylynn is a 28-year-old event coordinator from Studio City, California who says she loves Disneyland and hopes to start a nonprofit that helps the environment reduce and eventually eradicate single-use plastic. 2020/21 isn't the year to start dating Marylynn. I wouldn't have the energy for it. There's so much going on—a global pandemic, racial inequality, a growing wealth gap, and now I'd have to go to Disneyland so I can be an enabler for someone's deranged princess fantasy?! And then add in the possibility that she could get mad at me for using a straw? Nope. I'm not signing up for that. She'd be like, "IS THAT A STRAW?!" And I'd run away, take the guy dressed as Crush the turtle from Finding Nemo hostage, and throw our bodies in front of one of the teacups.
MJ, 23, Hair Stylist

MJ is a 23-year-old hairstylist from Hudson, Ohio who looks like she's going to try and sell you crystals as a skin care routine. I can tell MJ is very difficult to date. She's from a small town and her bio says, "MJ is very social and wants to find a man who will let her maintain her independence and won't add unnecessary drama to her life." That is the language of a hot woman who RUNS her small town. She's out at a dive bar in Hudson and she's laughing at some truck driver named Randy's jokes and her boyfriend (who thinks Cleveland "has too many people") is like, "Hey! What are you guys laughing about!?" And MJ is like, "Stop being so dramatic!! You hate when I'm independent!" And then MJ sits on the truck driver's lap and her boyfriend is like, "Do you want another drink?" And MJ's like, "Randy wants a Budweiser" and then she loudly whispers to Randy, "He hates how social I am."
Pieper, 23, Graduate Student

Pieper is a 23-year-old graduate student from Happy Valley, Oregon who looks like she stars in a Disney series. Pieper's bio says that she "is not into picnics because the idea of sitting on the ground and eating is not appealing to her." I've never agreed with a statement more in my life. I'm never sitting on the ground again. From this day forth I will never look like a kindergartner during snack time. I will never again be criss-cross-apple-saucing and having my balls go numb while hunching over a paper plate. I want to vote for Pieper for President. I want to create a secret police that throws people in jail for sitting on the ground while eating. I want to take this opportunity to tell people that if they ever invite me to sit on the ground for a picnic, I will pick up their sandwich, lick it, kick their picnic basket over and then never speak to them again. Thank you, Pieper, for giving me the strength to live my truth.
Rachael, 24, Graphic Designer

Rachael is a 24-year-old graphic designer from Cumming, Georgia who describes herself as a "hopeless romantic." Here's a quote from Rachael:
"At the end of the day, love is what makes your life more special than others. Life can be hard and really difficult and dark at times, but if you have someone by your side that loves you more than they love themselves, that makes it all worth it in the end."
This is why I can't stand anyone who describes themself as a "hopeless romantic." They say crap like that and you can't really question them. We all just kind of nod our heads. But, "life can be hard and really difficult and dark at times." Ummm what happened to Rachael!? Couldn't she have stopped at "difficult?" What are we getting into with Rachael? "Dark" could literally mean anything from "a guy ghosted Rachael" to "Rachael partied on a haunted burial ground in high school and now her whole family is dead."
Saneh, 25, IT Consultant

Saneh is a 25-year-old IT consultant from Denver who says she "loves any activity that puts her in the great outdoors—from hiking and kayaking to sunrise yoga at Red Rocks Amphitheater." You see stuff like this all of the time on dating apps. This "active, fit, I'm always outside, adventure person" and I've never actually met them in real life. Maybe Saneh does sunrise yoga but like, what about sleeping until 11 and having to remember where you are because you drank too much last night? It's just always all fitness and no reality. These people are like koalas—I've seen pictures but never a real one in daylight. Like, I have friends. I've dated. I have a girlfriend. She has friends. Not one of those people is ever like, "Let's get a beer next week after I come back from belaying off a rock face!" If anything, it's the opposite. Every person I know is like, "Sometimes I make nachos with American cheese slices because that's the only thing that makes me happy." Maybe all of these outdoors people are in Denver. They all march up and down mountains and discuss IPAs and the things they keep in their cargo pockets.
Sarah, 24, Broadcast Journalist

Sarah is a 24-year-old broadcast journalist from San Diego whose picture seems computer generated to show you how a perfectly symmetrical face would look. Sarah's bio says that "finding a man whose commitment to faith is as strong as hers" is very important. Why do these people come on The Bachelor? I'll never understand how someone's like, "Wait, there's a show where one man dates 30 women?! And I can apply?! Well, gosh darn it! I hope he likes going to church after he's gotten blown by all 30!!"
Serena C., 24, Flight Attendant

Serena C. is a 24-year-old flight attendant from San Francisco who says she "needs a man who wants to be professionally successful, but is also a free spirit like her with dreams of traveling the world." That quote shows you how delusional young people are about their future partner. There's no such thing as a professionally successful free spirit. You get one or the other. You either get a flip flop-wearing, Ayahuasca-drinking, back of the plane-sitting, Airbnb-staying poor person, or you get a belt-wearing, decaf coffee-drinking, first class-sitting, five star hotel-staying rich person. And if you want kids, then you get a minivan and a mediocre house with one trip to Disney that makes you want to abandon those kids at five years old. At 24, your Elon Musk is out there and as you get older you just hope your partner has no college debt.
Serena P., 22, Publicist

Serena P. is a 22-year-old publicist from Toronto who says she is "chronically hangry." That's just a coded way of saying "I'm an asshole who doesn't take responsibility for my behavior." I put describing yourself as "hangry" in the same category as saying "I'm just sarcastic" and "nobody gets my sense of humor" and "everyone's so sensitive." These are all assholes who, instead of making any changes or looking in the mirror at all, give themselves a character description and we all have to just accept it. It's always, "Sorry I was just hangry! This is what happens when you don't feed me!!" As if they're a 4-year-old who has the ability to pay rent but no strength to open the fridge for an apple. I'm going to start calling myself "Horngry" anytime I get mad and then go masturbate and come out of the bathroom and be like, "Sorry! I was just horngry! That's what happens when you don't lick my nuts!!"
Sydney, 28, Marketing Specialist

Sydney is a 28-year-old marketing specialist from Nashville who says her family would describe her as "opinionated." I love that. Your family will always describe you with very kind honesty. I can see a dad being asked about Sydney and the dad rolling his eyes while simply saying, "She's got a lot of OPINIONS." That means she doesn't hold back even when it's annoying and she probably should. It's why your uncle calls your cousin who has a lot of sex "flirty." And your mom calls your racist uncle "a drunk." This all means Sydney is about to be your next favorite person on The Bachelor. She will be the voice of the audience. I'm counting on her to ask one of the woman how they became a 21-year-old "fashion entrepreneur" and if the fashion entrepreneur company is taking any new hires soon.
Victoria, 27, Queen

Victoria's awful, but I think that's what she wants us to think. Her whole bio is basically saying that she's on the show to make a name for herself. She described her job as "Queen" and mentions a "jetsetter lifestyle" and says that spirituality plays a big role in her life and she loves that she has no filter. Like, those are all squares in the game of Douchebag Bingo. I've always dreamt of living my life the way Victoria describes hers. Walking around without that voice in her head that's just screaming, "WHAT ARE YOU DOING?! WHO DO YOU THINK YOU ARE?! YOU JUST USED THE WORD SPIRITUALITY AND IF ANYONE ASKED YOU WHAT THAT MEANT THEN YOU'D HAVE NO ANSWER!!! YOU'RE LIVING TOO FAST AND LOOSE!! YOU'RE NOT A QUEEN WHO JET-SETS!! YOU WENT TO A MEDIOCRE STATE SCHOOL AND YOU'LL BE LUCKY TO EVER RETIRE!!" So, yes, Victoria's awful but I also envy her.
Don't miss out on anything happening in Bachelor Nation. Subscribe to our weekly newsletter here. 
Images: ABC/Craig Sjodin