Why 'Bridgerton' Season 2 Was A Let-Down
Bridgerton boys are back, alright, and, obviously, prepare for spoilers. Season 1 came at exactly the right moment, when we were in the throes of our first pandemic winter, desperate for love and attention. Season 2 arrived in the springtime of our discontent, and we ate it up without pausing to savor or question its quality. Even though we enjoyed some of the same familiar gimmicks this season, we were promised a whole new spin on both the Regency genre and Bridgerton itself and, while it started strong, the storytelling got lazy midway. 
Bridgerton season 1 took the ton by storm because of the central toxic Regency couple that we couldn't help but root for. We couldn't wait for season 2 and then had to wait and wait and wait for the core couple to consummate. While the new season has been much maligned and also praised for its slow burn, season 2, while popular, is lacking not because of the dearth of sex scenes, but in the exact ways season 1 succeeded. Simply put, season 2 reuses old tricks but with less success. 
If you were to ask Netflix, season 2 worked quite well, breaking viewing records. Viewers liked it too, of course. Plot-wise, it played off the classic romance trope of "enemies to lovers," and included the always fun illicit love mixed with stubborn rich people. It ends happily. There are some butts.
The main storyline nodded to Hamilton's Schyler sisters who will never be satisfied and very much played into our nostalgia for Regency cranky boys by dunking the white-shirted viscount in a lake à la Colin Firth in the Pride and Prejudice mini-series.  
The plot most closely follows Shakespeare's Taming of the Shrew—or 10 Things I Hate About You, if you prefer—in that there is a mean older sister as the smart but headstrong lead (named Kate in all iterations) who is softened by love, and a pure younger sister, gate kept by the elder, who is the object of mens' desires. There is much fire imagery and wild, long hair blowing in the breeze from atop a horse. Good stuff, if a little on the nose for fans of Regency romance. 
Jonathan Bailey as Anthony carried the team well and Simone Ashley as Kate was as worthy a sparring partner as her shrewish Shakespearean namesake. People watched it immediately, quickly, and repeatedly. So why wasn't season 2 as well done?
My opinion? The good people at Bridgerton manipulated us gentle viewers and our need for anticipation and payoff and went too far into the land of cringe. The couple in season 1 married and therefore had significant amounts of sex by midseason, breaking the tension and allowing for a third act conflict and resolution. This season, all we had was anticipation. Season 2 took advantage of season 1's success and reused tricks both from original Recency plots where marriage is the goal and, more egregiously, from season 1's uniqueness. 
Here's the moment they used us: in season 2 episode 5, after assuring us over and over and over and over that he is a gentleman and therefore would never act on his longings, Anthony says to Kate, "Do you even know all the ways a lady can be seduced? The things I could teach you." She says, breathily, "I did not ask for this." Executed differently, this scene could be played as much more predatory. And here's the rub.
Season 1, episode 5 is the wedding and episode 6 begins sexapalooza. Season 2 draws out the foreplay another two whole episodes. But that's not the actual problem. The problem is that the conflict and resolution of season 1 banks on Daphne being innocent to the ways of sexytimes. Her character transformation goes from too pure to too powerful (let's not let her off the hook for that rape scene) and then onto an equal footing with her husband. It is satisfying as sex with the duke.  
Conversely, Anthony and Kate's love is based on the fact that Anthony, to his dismay and later delight, sees Kate as an equal. They are well-matched in competitiveness, sense of duty, and hotness. When he informs her of all the ways he can make her give it up, he shifts the power dynamic right back into that of season 1, which does a disservice to our "they're a love match because they're alike" plot. 
The next two episodes are a tortuous display of lust, not love. There's sniffing, stares, and it's implied the viscount walks around in the company of his mother and seven younger siblings with a constant semi. It's not sexy to have a secret desire that your mom knows about.
The season redeems itself a bit at the end with some high quality "acty shit," as my college acting professor calls it, from Bailey as he ushers his Anthony into a man capable of love. When the couple finally get fully naked in the penultimate scene, Kate bones her husband repeatedly, telling him with tongue and butt cheek that she's doing it because she's "dutiful." 
Taming of the Shrew is considered a "problem play" by modern standards because of the ending: once headstrong Kate gives a speech about why women should always obey their husbands. This doesn't play for comedy nowadays. 10 Things improved upon the ending, but still, the shrew is tamed and the woman becomes a dutiful partner. Season 2 wants to play with this idea and whiffs it midway only to pretend in the end they had a strong female protagonist all along.
Bridgerton has wonderful moments of love and lust and has our number in a way no other show ever has. We will, in fact, keep coming back for more. Next time, however, when Benedict takes the spotlight and we're hopefully (please oh please) not still in a pandemic panic, we may not be as forgiving if the show toys with us. Dear reader, I, for one, hope the team at Netflix heeds this warning and are up for the challenge. 
Image: Courtesy of Netflix
All Hail The Penis Pump, The Unspoken Main Character Of 'Bling Empire'
This weekend, Bling Empire, a glitzy, designer clothing-fueled reality TV show, premiered on Netflix. The show follows a group of (my brain: don't say crazy rich, don't say crazy rich, don't say crazy rich) insanely wealthy Asian friends living in Los Angeles. They attend and throw lavish parties, spend more money on jewelry than I make in a year (at least, I assume — they are so rich they don't even discuss prices), and fly on private jets. While the show actually does have plenty of heart and shows the cast going through difficult moments such as debating surrogacy, locating biological parents, and having children before marriage, Bling Empire's arguably central conflict revolves around a penis pump, and for that, it deserves an Emmy.
Before analyzing this conflict, I must first explain the cast of characters involved. First is Anna, the older sort of matriarch of the group, and Bling Empire's own Karen Huger. Though Anna would never be so gauche as to call herself the Grand Dame of Los Angeles, she's probably thought it a few times and definitely would not object if you called her that. (You can just tell by the way she showers her friends with gifts.) Then there's Kim, world-famous DJ. Not really central to the conflict but worth mentioning nonetheless is Kevin, the dopey but lovable (and supremely hot) model who is not wealthy and thinks Hermès starts with an E, much to the delight and condescension of his friends. Finally, we have Guy, who is just kind of there to help instigate.
Additionally, I must also explain what a penis pump is, because, based on the conversations I had with my straight female friends, it sounds like something that should be pretty self-explanatory, so it feels embarrassing to not actually know what it does. No shame here, because I had to look it up and then was asked why I was shopping for penis pumps when I opened up my phone to show my friend a meme. (Later on in the episode, cast member and socialite Christine Chiu feigns understanding of the mechanisms of the very same penis pump, so again, don't be embarrassed.) Anyway, according to the Mayo Clinic, a penis pump is used to help get or maintain an erection. It's a more temporary fix than, say, taking Viagra, and it cannot enlarge the penis.
So there we go! The drama starts when Anna invites the group over to her house for a spa day. We don't find out until the massages start that they are not getting regular massages, but face massages — the kind popularized by the likes of Meghan Markle. Très chic.
While half the group are getting face massages, Kim decides that she wants to go sage Anna's house. This is another subplot of the show: the supernatural. At one point, Cherie (former pop star and current baby mama to a guy who is dragging his feet about marrying her) hires Tyler Henry, the celebrity medium, to contact her mother from beyond the grave. Later on, the group meets with a Shaman over a bonfire. But for now, we start small, with Kim barging into Anna's house under the guise of saging it, when in reality, she just wants to nose around.
She and Guy make a beeline for the bathroom (because, ya know, that's where all the ghosts hang out), where Guy immediately notices Anna has a penis pump in her shower. (Guy knows because he has the same penis pump, but specifies he keeps it in his bedside drawer.) They both giggle so loudly that everyone getting massages in the yard can apparently hear. Guy and Kim laugh when they pick up the penis pump, grossed out that it's wet, even though we just established that the penis pump is, in fact, in the shower.

Kim's solution is not to do what most of us would, and put it back where it came from and pretend she never saw anything, but as she puts it, "throw it outside, that sh*t's disgusting." When Guy points out that throwing someone's belongings out the window is rude, Kim replies, "that's not rude, it's disgusting," adding, "That sh*t's illegal." Owning a penis pump is not, in fact, illegal. 
Guy, with his hand wrapped in a paper towel, picks up the penis pump (which is surprisingly big) and chucks it out the window. It lands on the lawn, and everyone immediately knows what it is, a fact that surprises me, since I would not have been able to identify that object under threat of execution.
Just as any of us would be, Anna is not pleased to see the penis pump land on the grass near her feet. She later tells the camera in an interview, "this is not a screw you situation, this is a f*ck you situation," I guess because "screw you" is slightly less scathing of an insult than its expletive counterpart? In any case, she is pissed with a capital P.
This would all be a weird, likely producer-manufactured one-off event, if Kim would have apologized for doing something so obviously rude. Instead, she refuses to acknowledge that barging into someone's bathroom and throwing their belongings out the window — even if Anna did later clarify to the LA Times that it was the guest bathroom, not hers — is objectively poor guest behavior, no matter whose house you're in. She tries to shift the blame onto Guy, telling Anna, "I'm not the one who found that thing," and insisting she's not blaming Guy as she, in the same breath, continues to blame Guy.
The drama continues later in the episode at Kelly's moon festival celebration, where Kim doubles down on her behavior. Kevin asks, "who raised you, wolves?" and Kim throws a drink on his outfit with not a single flicker of emotion crossing her face. She does it almost not as a reaction, but as an automatic response  — a pre-planned reflex that she was preparing to activate no matter what Kevin said. 

On other TV shows, throwing a drink in someone's face would immediately spark an all-out brawl (any Bravo program comes to mind). But in Bling Empire, it only results in Kevin standing up from the table, muttering to Kim about sending her the dry cleaning bill (while the rest of them hem and haw over Kevin's now-ruined outfit, which costs $100,000), and leaving the party.
And somehow, this penis pump plot that could have been quashed with one simple apology manages to pump out (pun intended) enough drama to fuel a significant portion of the show. Kim doesn't even apologize to Anna until the end of the final episode! It is really the gift that keeps giving.
None of this is to say the show is not worth watching — on the contrary, I think everyone should binge it right now (so we can talk about it). It's frivolous and fun, yet there is a lot of heaviness in the subplots (such as: Andrew's displays of emotional abuse, Kevin and Kane's decision to locate Kim's biological father without asking her first, etc.). If this were The Real Housewives and there were three fewer cast members and 14 more episodes, I'm sure we would have spent a lot more time diving deep into the darker plot lines. But we don't; we get as much designer name-dropping and sex toy squabbles as we get discussion of cultural taboos. And I'm cool with that! The show is called Bling Empire, and damn it, we get an empire of bling: attractive, shiny, not overly preoccupied with what's going on underneath.
Perhaps pumping up the penis pumper was a deliberate choice by the cast, who seem savvy enough about how reality TV show production works, to intentionally avoid substantive conflict with each other. (Personally, if someone robbed me of my moment to find out for myself what happened to my biological parent because they wanted to play detective, I wouldn't thank them, I'd have a hard time speaking to them again.) Or maybe it's because without the penis pump disagreement, most of the cast seems to get along just fine, save Anna and Christine, who feud half-heartedly over owning the same necklace. Whatever the reason, the penis pump provided conflict, it provided laughs, and it provided education. And for that, I thank it. It, more than any cast member, deserves a contract renewal for season 2.
Images: Bling Empire Production; Netflix (2)
What Spooky Movies You Should Binge Based On Your Zodiac Sign
Well, I just looked up from doomscrolling Twitter, and apparently it's fall now? WTF. March was yesterday, and also 10,000 years ago. I won't lie—there's a lot going on that's interfering with my typical unparalleled enjoyment of *spooky season*. But, despite the odds, the seasons do continue to change, even as the world (and literally the entire West Coast) burns, and I'm going to enjoy it by injecting an extremely unnecessary amount of pumpkin into everything I put into my mouth for the next month. We're all just finding joy where we can right now, okay?
Honestly, I have always loved this time of year. There's really never been a better time to attach yourself to a couch and watch something that's both terrifying and comfortingly fictional. Whether you're obsessed with the gross and gory or you prefer a horrifying mind-trip, there's plenty of content out there to satisfy or scare the hell out of you, depending on what you're into. As an air sign, it is admittedly hard to focus my attention completely on one thing, so I tend to be drawn toward psychological and romantic thrillers as well as mysteries with enough twists and turns to keep my interest piqued. I also tend to have 78 projects going at once and a tendency to talk sh*t, but that's neither here nor there. More to the point, I have a ton of obsessive TV-watching expertise, so whether your zodiac element is fire, earth, water, or air, I've got a recommendation for the best spooky season content for you.
Earth
Taurus, Virgo, Capricorn

Y'all are a logical, grounded bunch. You're used to friends coming to you for advice, and you're hands down the best at keeping a secret because you're loyal as hell. You crave stability and structure, and a gaping plot hole makes you angry for days. 
I suggest you watch Away on Netflix, a new sci-fi drama featuring Hilary Swank as an astronaut sent on the first ever expedition to Mars with her flight crew. It'll give you a new sense of gratitude that your significant other is on the same planet as you. Another suggestion for you is post-apocalyptic thriller Bird Box on Netflix. If you didn't see it already, it's a great combo of gritty, physical drama with a twist that makes it more unique than your typical scary movie. Same with A Quiet Place on Hulu; it's scary and silent, like the virus terrorizing us right now. Maybe too real?
Oldies like the classic psychological thriller Silence of the Lambs, streaming on Netflix, are also a solid choice because they're scary but you probably know what happens—so you can revisit a fav without being so terrified that you curl up in a ball and are too afraid to get up to pee in the middle of the night. If you're both brave and just dying for something new, try the horror crime drama series The Outsider on HBO Max. It's based on a Stephen King novel that I found heart-stoppingly frightening because, well, duh, it's Stephen King, but also compelling AF.
Air
Gemini, Libra, Aquarius

Air signs are all about communication. Above all, you need something entertaining, super intellectually stimulating, and that can satisfy your need to delve into the abstract while also being emotional and dramatic enough to keep your attention away from your phone. Not an easy feat. 
Just released on Netflix, supernatural horror series The Haunting of Bly Manor is a must-watch for air signs. The limited series is based on the most terrifying book I've ever read in my life, The Turn of the Screw by Henry James, and it's truly haunting because there's never a clear conclusion to the horror. and there are multiple interpretations of which perspective is the truth. It's sure to engage the part of an air sign brain that loves conceptual thinking and also enjoys bone-chilling terror on multiple psychological levels! You won't fall asleep until it's starting to get light outside, but you live for that kind of mental stimulation anyway.
Another good choice for supernatural horror is The Chilling Adventures of Sabrina on Netflix. Creepy but fascinating, and focused on female power, the whole "deciding between dark and light" dichotomy will appeal to air signs especially, who tend to see the world in shades of gray and believe there are three sides to every story. For the same reason, I also recommend the first season of crime-horror drama Evil, also streaming on Netflix. It's a show with plotlines that leave plenty of room for opinionated debate, which is your favorite workout. I also recommend something truly frightening or with some twists, but that isn't totally disgusting, since blood and gore can be a bit too in your face for an air sign. Horror-thriller movie The Invisible Man is new on HBO, starring the incomparable Elisabeth Moss. 
Fire
Aries, Leo, Sagittarius

Passionate, fiery, and driven: you guessed it; it's the fire signs. Voted most likely to hog the microphone at the bar on karaoke night, this element's signs are also prone to tantrums when they don't get their way. No judgment. This group is full of charisma and charm, and this lineup will give you all the drama you've been craving since March.
You're missing the high of being the center of attention in a crowd. Feeling the urge to go mingle with your neighbors? American Murder: The Family Next Door is a true crime documentary film streaming on Netflix that will fix that. Seriously, be careful when watching this if you're afraid of losing whatever faith you still have left in humanity. Ratched, a new psychological thriller out on Netflix now, is disturbing enough to be entertaining without making you hide in a closet if you watch it alone. Plus, there are some steamy scenes between Sarah Paulson and Miranda aka Cynthia Nixon, and you can watch those with your vibrator because who TF is going to stop you? One of the main themes besides basic terror is also revenge, which speaks to you on a deep level as one of the more aggressive elements.

American Horror Story: Coven, season three of the American Horror Story series, is on Amazon Prime Video and Netflix. So, on your own time, go watch (or re-watch) arguably the show's best season, which you're sure to enjoy because it's all about badass women who like to be in charge and men who ain't sh*t. Lastly, an especially scary recommendation for one of the bravest elements is the reality series Haunted on Netflix. Real people telling their real-life stories about the horrifying and supernatural things they've experienced, reenacted for your entertainment. Watch at your own risk.
Water
Cancer, Scorpio, Pisces

Sensitive, emotional, and naturally empathetic and nurturing, no one gives a better shoulder to cry on than a water sign. For your lineup in these stressful times, you need comfort first and foremost—and preferably some steamy romance you can watch from deep within your duvet. Water signs are also ideal scary movie-watching partners, because your borderline psychic tendencies mean you correctly pick out the twist about halfway through the movie without fail. What water signs need right now though are classics, the favorites, and honestly? I'm most jealous of this lineup. 
To start, I recommend Hocus Pocus (Disney+), one of the best Halloween movies of all time—sure to transport you to a time when things were simpler and the biggest problem we faced was the debate on candy corn. Next up on the list are movies The Nightmare Before Christmas (Disney+), or Hotel Transylvania (playing at various times on Freeform or on Hulu with live access), both great animated indulgences if you literally just need to watch a spooky cartoon for a sec, or if you have kids and need them to leave you alone. 
All five of the Twilight movies can be streamed on Hulu or Amazon Prime, for those of you who love a guilty pleasure cult-favorite. And, because we know how much you love sex and vampires, True Blood is also streaming on HBO Max, and there are plenty of scenes there to make you swoon into your glass of red wine as you bask in your "kidnapped by a fanged, shirtless angel of the undead" fantasy. If you need something new in your life, horror drama series Lovecraft Country is streaming on HBO Max and is shaping up to be a must-watch. 
If you've got any other recommendations, please leave them in the comments. Otherwise, grab your sherpa blanket and bottle(s) of wine so you can binge to your heart's content as you fill out your mail-in ballot! Spooky season has officially arrived.
Images: GIPHY (4), Ehud Neuhaus / Unsplash
10 TV Shows Premiering This Summer To Give You An Excuse To Stay Home
When it comes to new TV shows, I feel like I never know what's happening anymore. It's hard to keep up with all the streaming services (and actual TV), but now that having a social life is basically a thing of the past, it's nice to know your options. If you've burned through pretty much everything in your Netflix queue and you're sick of people tell you to watch Game of Thrones (it's just not meant to be for me), you need some new options ASAP.
Even though production on most TV shows remains shut down due to the COVID-19 pandemic, things are slowly starting to resume, and there's still lots of new stuff coming down the pipeline this summer. Whether you're in the mood for something dark and dramatic or a little less serious, here are some of the most anticipated TV shows set to premiere this summer.
'Perry Mason' – 6/21
If you're stuck at home with your parents this summer, here's a good option to watch with your dad. Perry Mason was originally a legal show that ran in the 1950s and 60s, and then they kept making TV movies until the 90s. This past weekend, HBO debuted a new reimagining of the classic character, now played by Matthew Rhys. The new version takes place in Los Angeles during the Great Depression, and it's full of dark and twisty vibes.
'Search Party' – 6/25
After a break of more than two years, Search Party is finally back for season 3, moving from TBS to HBO Max. The new season is both funnier and crazier than ever, with the entire crew swept up in a new trial, this time for murder. There are tons of fun cameos and guest appearances from your favorite comedians, so you'll probably get through the entire season in one day.
'I'll Be Gone In The Dark' – 6/28
If you haven't gotten a good true crime fix since Tiger King came out (that was years ago, right?) the wait is finally over. This six-part HBO documentary follows writer Michelle McNamara as she investigates and writes a book about the notorious Golden State Killer. No spoilers, but this story is deeply f*cked up, and the new doc looks creepy in the best way.
'Say I Do' – 7/1
Netflix's brand new show from the creators of Queer Eye features a team of three experts helping couples have the wedding day of their dreams. Judging from the trailer, this is a very similar vibe to Queer Eye, but like, wedding edition. Basically, you're def going to cry at least once an episode.
'Say Yes To The Dress' – 7/11
Honestly, I didn't even realize this show really had seasons, I thought the episodes just kind of appeared on Hulu. I guess not! The Kleinfeld team is back for another season, which is sure to feature beautiful dresses, nightmare moms, and more than a few mental breakdowns. Can't wait to watch with my mom.
'Married at First Sight'

Apparently July is wedding month, and Married at First Sight is returning with a new batch of couples. Season 11 features couples from New Orleans, so I'm sure there will be some interesting personalities. If your dating life is still on hold due to coronavirus, at least you can watch this to make up for it.
'Brave New World' – 7/15
NBC's Peacock streaming service officially launches in July, which means one more set of originals to keep track of. They're kicking off with a few new shows, but the most intriguing is Brave New World, an adaptation of Aldous Huxley's classic novel about ~the future~. According to Deadline, the story "imagines a utopian society that has achieved peace and stability through the prohibition of monogamy, privacy, money, family, and history itself," but I have a feeling the whole "peace and stability" part won't last.
'The Alienist: Angel Of Darkness' – 7/19
Originally a miniseries, The Alienist is back for a second season on TNT. The show, set in turn-of-the-century New York City, follows a criminal psychologist and incorporates real historical figures as he tries to solve a mystery. Dakota Fanning also stars, and season 2 looks like it's going to be extra mysterious.
'The Real Housewives Of Potomac' – 8/2
RHOP is one of Bravo's most underrated shows, and the ladies of Potomac are FINALLY coming back. Their season premiere was pushed back a few months due to COVID delays, but this is still on track to be one of the most dramatic seasons ever (and I don't mean that in a bullsh*t Chris Harrison way). The biggest drama this season is most likely Monique and Candiace's fight that resulted in a legal battle, but we'll have to watch to get the full story.
'Selling Sunset' – 8/7

Everyone has been loving season 2 of the show that's like The Hills meets Million Dollar Listing, and Netflix isn't making us wait long for more episodes. Along with releasing season 2 in May, they announced that season 3 is dropping in August. The entire season 2 cast is returning, so I can't wait to see what happens next in the world of high-stakes real estate drama.
Basically, there's a lot left to watch this summer, even if you feel like you're running out of options. Or, you know, you could always just watch Parks & Recreation again from the beginning—no judgment.
Images: Sophy Holland/Bravo; Netflix; Lifetime; HBO, HBO Max, Netflix, TLC, Bravo  / YouTube
Should You Get Quibi? Our Review Of The Newest Streaming Service
If you're reading this, chances are you have subscriptions to like, half a dozen TV streaming services. Okay, the Netflix subscription might be your mom's, Hulu and Disney+ are a package deal, and you got a free year of Apple TV+ when you upgraded your phone, but still, you have access to a lot of content. That being said, it might not seem like we need more streaming services… but maybe we do? Today marks the launch of Quibi, a brand new streamer that actually has a unique concept, and tons of original content. Is it worth it? Here's what you need to know to make a decision.
The Concept
It's tempting to roll your eyes at the thought of yet another streaming service, but at least Quibi is really doing something new. Unlike other services, Quibi is only meant to be watched on your phone—there's no way to watch on your computer or TV. The app looks great and is super easy to use, but I'm a little skeptical about watching so many videos on my phone. Usually, I prefer to watch on a bigger screen, so I can use my phone to mindlessly refresh Instagram every three minutes.
Thankfully, the shows on Quibi are tailored to my minuscule attention span, with all episodes clocking in at under 10 minutes. If you're super bored during your work day, you can just go to the bathroom and watch like, three episodes of a Quibi show. Quibi is a portmanteau of Quick bites, and it definitely lives up to its name.
The Content
Quibi is 100% original content, and the nice thing about the short episodes is that you can try out a lot of different shows. Quibi divides its programming into three categories: Movies in Chapters, Unscripted and Docs, and Daily Essentials.
Movies in Chapters are… exactly what they sound like. These longer programs are still split up into short episodes, but you're following one story the whole time. For these, the first three episodes are available now, with new episodes every weekday. Of the handful that have already launched, I'm most excited to start Most Dangerous Game, a thriller starring Liam Hemsworth and Christoph Waltz, and Survive, a drama starring Sophie Turner. There's also Flipped, which stars Will Forte and Kaitlin Olson as house flippers who get involved with a drug cartel. Should be fun.
The unscripted content is where a ton of big names come in. I was most excited to check out Chrissy's Court, which stars Chrissy Teigen deciding real cases, and I'm happy to report that it's delightful. I'm also very into Nicole Richie's new show Nikki Fre$h, and the reboot of Punk'd, which is now hosted by Chance the Rapper. The short episodes lend themselves perfectly to silly shows like this, and this is where Quibi's concept really shines.
The Daily Essentials shows cover up-to-date news, entertainment, and lifestyle info, and are a good alternative to reading Twitter for your news. The first episode of Around The World by BBC News made me feel very smart this morning, and I'm waiting for work to be over so I can check out sex and relationship show Sexology. 
The Cost
Okay, so obviously everyone is going to like different shows, and there are way too many of them to even get into, but we can definitely talk money. Or rather, lack of money. Quibi is offering all new subscribers a 90-day free trial. Yeah, like three full months. Considering some streaming services only give you seven days for free, this feels like a f*cking gift.
Once your lengthy trial ends, Quibi has two options for monthly plans. There's a $4.99/month plan, which is supported by ads, or you can go ad-free for $7.99/month. For reference, Apple TV+ is also $4.99/month, and Disney+ is $6.99 if you don't do the Hulu bundle. Personally, I refuse to sit through ads for something I'm paying for, so if I keep my subscription, I'll definitely be going for the ad-free option, but it's up to you.
The Verdict
In general, Quibi is a good concept, and even if the phone-only thing isn't a great fit for how I like to watch TV, I'm sure it's ideal for a lot of people. The short episodes make it easy to get sucked in, and there's enough interesting content to keep people watching. And even if you're on the fence about the new shows, or you don't think you'll use it much, the free trial makes it a no-brainer. If you've complained about being bored at all in the last three weeks, you can definitely kill an hour or two watching episodes of random Quibi shows.
Will I keep my Quibi subscription once my free trial ends? I really don't know, but with 90 days free, I don't have to decide any time soon. I set a reminder to cancel at the beginning of July, but who knows, I might end up getting addicted and keeping it. Also, I canceled my Apple TV+ subscription, so I don't feel that bad about signing up for something else.
If your mind is already reeling at the thought of signing up for another streaming service, you're in for a rough few months. NBC's Peacock service rolls out to Xfinity customers later this month (with a wide launch in July), and HBO Max is coming in May. Too bad the Friends reunion is postponed because of COVID-19, but you'll still be able to watch all the old episodes. Until then, I'll be watching Chrissy's Court from the toilet every morning!
Images: Quibi
Is Apple TV+ Worth It? Our No Bullsh*t Review
You've probably heard a lot in the last few weeks and months about the escalating streaming wars, and it's a lot to keep up with. In addition to the existing major players (Netflix, Hulu, and Amazon), other big companies are jumping into the streaming service game. HBO will launch its expanded HBO Max service next May, Disney+ arrives next week, and NBC also has its own service in the works. And last week, Apple jumped into the original content game with their new streaming service, Apple TV+.
It's been a week since Apple TV+ launched, and I've had time to figure out how it works and what it has to offer, so let's talk. I've gotten a lot of questions about what it is, how it works, and whether it's any good. Keep reading for everything you need to know about Apple TV+.
How Does It Work?
First, let me address the biggest point of confusion here: Apple TV+ has nothing to do with the little Apple TV box that you hook up to your television. If you have one of those, great, but you can still subscribe to the new service without it. You can watch Apple TV+ on your computer, phone, Roku—whatever you've got, you can probably watch Apple TV+.
A membership will set you back $4.99 a month, so like, one coffee. You get one-week free trial, but don't expect to just binge The Morning Show and cancel without ever getting charged. Most of the shows are being released one episode at a time, so you'll have to pay for at least two months to get through a whole ten-episode season. Damn it. This is clever on Apple's part, because they know that people will probably try to cancel this sh*t as soon as possible once they've seen the show they bought Apple TV+ to watch. Oh, and if you buy a new Apple device (including an iPhone), you get a year free, so like, score.
What Do You Get?
Before we talk about any of the original shows, there's one major thing you need to know. Unlike the other major streaming services, Apple TV+ has no library of existing content, for now at least. So like, imagine Netflix, but without Friends, or The Good Place, or any of the existing shows and movies that you binge when you're hibernating for the winter—it would be like if you paid for Netflix and only got the originals. Apple has invested hundreds of millions of dollars into producing original content, but because they're not rolling out everything at once, this means that right now there are only a handful of shows on Apple TV+.

There's no question that the marquee show on Apple's new service is The Morning Show. Starring Jennifer Aniston, Reese Witherspoon, and Steve Carell, this is like the Big Little Lies of Apple TV+, and they've thrown a lot of advertising behind it. Aside from that, there's See, starring Jason Momoa, Dickinson, starring Hailee Steinfeld as a young Emily Dickinson, and For All Mankind, a period drama that imagines how the world would be different if the Soviet Union had landed on the moon first. There's also an Oprah's Book Club talk show, a documentary about an elephant, and a few shows for kids.
Are The Shows Good?
Okay, so I guess this is the big question. After all this hype, does the content deliver? And really, it's kind of a mixed bag for now. I haven't watched everything, but a week has given me enough time to get a feel for what Apple TV+ has to offer.

First, The Morning Show. After seeing the insane cast and the insane level of hype, I've gotta be honest, it's a little bit of a letdown. The show isn't bad by any means, but based on the cast and the production value, it's not nearly as good as it should be. The main characters all give lots of spirited monologues about justice, and consequences, and power, but they tend to fall flat. Jennifer Aniston is great in a more dramatic role, but Reese Witherspoon's tragic brunette wig and southern accent feel a little forced. The show is offering a commentary on the #MeToo movement, but after three episodes, I'm still not sure what it's trying to say. The second and third episodes are better than the first one, so we'll see if the season keeps improving.
Moving on, let me just say that I f*cking love Dickinson. It's a historical comedy centered on Hailee Steinfeld as an angsty Emily Dickinson, whose parents don't want her to be a poet. With modern dialogue, music, and humor, the tone of the show is fresh and hilarious, and I'm very into it. If you need some hints about the vibe, Wiz Khalifa makes a cameo in the first episode, and there's a Lizzo song in episode two. Yeah, it's fun.

I haven't had a chance to check out Jason Momoa's See yet, but with a 39% on Rotten Tomatoes, my expectations are staying low. I have, however, started watching For All Mankind, and the historical twist on the Space Race is an interesting concept that critics have really been liking. I've only seen one episode, but I'm definitely going to keep watching to see what happens in this alternate timeline.
Is It Worth It?
Look, Apple TV+ is brand new, and it's definitely still a work in progress. Right now, the content offerings are pretty limited, and depending on what you're into, you might not love any of these shows. But Apple knows this, and in addition to two more shows debuting in the next few weeks, they have over 20 titles currently in development. Building a network of content from the ground up is an ambitious project, so Apple is off to a pretty solid start.
To me, the biggest selling point of Apple TV+ is the low price point. Without the benefit of a large content library, Apple knows they can't charge the same price as Hulu or Netflix, so they were smart to slide in just under $5 a month. I'm not going to pretend I'm great with money, and there's approximately zero chance that I'll notice this money coming out of my bank account every month. I should note that your account is automatically tied to your Apple ID, so it's not really practical to share a membership with your roommates/ex/friend's mom's sister. Tragic, but at least it's cheap.
I'm not going to say that Apple TV+ is perfect, but it's really not bad, either. Even Netflix's original offerings vary wildly in quality, so it's not really fair to expect perfection from Apple. For the price, it's probably worth signing up for, even if you only really want to watch The Morning Show. You can cancel any time if you're not feeling it, and like I said, you probably won't even notice that you're paying for it. Personally, I'm going to keep my subscription, because let's be honest, I don't want to miss out on anything.
Images: Shutterstock.com; Giphy (3)
WTF Is 'Euphoria' And Why Is Everyone Obsessed With It?
For those of you who haven't seen Euphoria because the trailer gave you absolutely zero insight as to what this show is actually about, you are not alone. I, too, had no idea what the f*ck this show had in store for people who miss Skins and are finally old enough to have an HBOGo account. But because I am a huge Zendaya fan and had no plans on the Sunday that Euphoria premiered, I gave it a watch. And may I just say, I am blown the f*ck away? 
Because recaps aren't really my thing and this show deserves more than that, I'm going to let you just watch it to find out what it's about, but I will sum it up in one sentence for the purpose of this explanation. Euphoria is about 17-year-old Rue (Zendaya) who spent her summer in rehab for a nearly fatal drug overdose. I spent my junior summer working at Le Pain Quotidien, but to each her own, right? Anyway, you know how in Orange Is the New Black, Piper Chapman is obv the star of the show, but each episode is, like, about a different character? Euphoria is like that, but instead of a privileged white girl running the game, it's Zendaya. *drops to knees* * bows down*
The main themes of this show are sex, drugs, etc. but not in a Gossip Girl kind of way that will make you physically ill from rolling your eyes so hard. Euphoria is actually at least somewhat relatable and 100% better in every way. Because this show has more layers than an ogre, I'm going to break each of these themes down to explain wtf this show is and why everyone with eyes is talking about it. Before diving in, though, I just want to say that, yes, this show is about a group of high school kids, which isn't a novel idea for a television show, but Euphoria delves so much deeper into issues that we either have or are currently experiencing, and to me, that is why everyone is so obsessed with it. 
Sex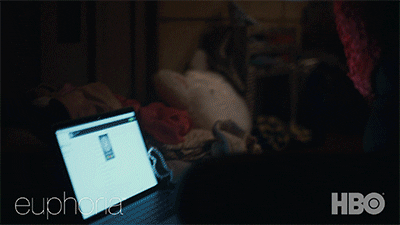 Ok, this needs to be said: I've seen more d*cks on Euphoria than I have IRL. Honestly, it's too much at times. I'd be totally happy with no d*cks at all, but I'd def cap it at two per episode. Ok so, the sex in this show isn't the kind of sex I'm used to seeing on TV, which is always missionary for exactly two seconds and then both parties finish at the exact same millisecond and are also perfectly satisfied with what just happened. Nopers, not in Euphoria! The sex in this show is mostly, like, concerningly violent and almost always involves some sort of v specific fetish. Like, Nate's dad whose version of foreplay is sticking his entire hand down his victims' partners' throat. Also, if you're wondering what his type is, it's underage twinks at sketchy motels. He also films them and stores the tapes in a color-coded file cabinet. Okay, so maybe this is less of a fetish and more of a pathology? He isn't the only one who works out his issues in the bedroom, nearly all of the characters do this and HBO literally shows it all. Another thing most shows don't do!
Drugs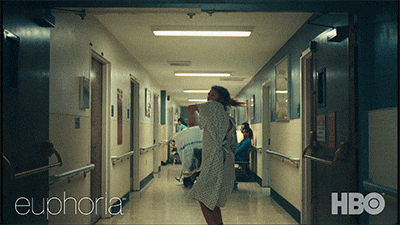 We all went through a drug phase (except me, mom…) when we thought narcotics were really cool. Right? Rue even says that drugs are pretty awesome. In fact, the only real drug-related regret she has is that horrific scene when her adorable little sister found her unconscious and covered in her own vomit (been there) after an overdose (have not been there). This is another reason why people love Euphoria. Because it shows the not-so-pretty sh*t that other shows won't! While TV dramas love drugs, most never actually give us any of the sh*t drugs do to people. It's all just, like, quietly whispered under everyone's breath because they don't want to get into the horrible, terrifying, and sickening sh*t that drugs actually inflict in the people who take them. Seriously, drugs are not pretty, y'all. Euphoria is all about realness and that's evident in, like, every scene. 
Ok, that's it from my D.A.R.E. campaign. 
Young Love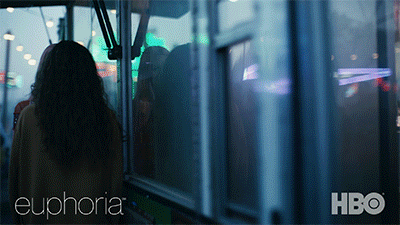 I don't entirely know how to address this because the ~love~ on this show is def not the Friday Night Lights sh*t we grew up with. It's like, very volatile and pretty toxic a lot of the time. But even though it's riddled with so much violence and just generally awful sh*t, I don't doubt that Nate really does love Maddy or that Cassie loves McKay. Like, did Nate verbally/physically attack Maddy? Yes. Are these relationships complicated af? 100%, but that's the reason why the women feel like they can't just walk away. I appreciate that this show proves adults can't and shouldn't chalk young love up to nothing serious because, at the end of the day, love is love. It doesn't matter how old you are, and it feels real when you're in it. Euphoria proves that in a really nuanced way that I def appreciate after two hours of listening to Jed's bullsh*t on The Bachelorette. 
All in all, this show is incredible because it's doing what no other show on television is doing. It's an actual reflection of the ups and downs of life when you're young. Except it actually shows the ups and downs.
Images: Giphy (3); HBO
5 Predictions We Have For 'The Handmaid's Tale' Season 3
Blessed be the fruit! The Handmaid's Tale season 3 is upon us and I, for one, am very excited to get back to traumatizing myself for an hour every Wednesday. In typical Handmaid's Tale fashion, the newly released trailer features some cryptic voiceover by our girl Offred (June if you're nasty), and some very tantalizing clues as to what may happen next season. After watching approximately 10,000 times, here are some predictions…
1. Offred Moves In With Commander Lawrence
I mean…she can't go back to the Waterfords, and his handmaid just escaped, so it's kind of perfect, no? The trailer shows multiple shots of June in with Commander Lawrence (aka Zaddy) in his house, and we know as of the season two finale that he's a good guy (despite the fact that he created the colonies) so this just makes logical sense. What doesn't make logical sense is that Offred appears to be chilling in public in both Handmaid and Martha attire with no disguise, even though she must be the most wanted woman in the whole country? Like, what is this shot of her just standing in the middle of a government building like it's NBD? Do these people not realize they are in the presence of OFFRED, the Beyoncé of Gilead? I am confused.
2. Serena Goes Full Good-Guy
What Serena Joy has lost in fingers she will make up for in good deeds this season. SJ began this transformation at the end of season two by giving June the baby, but does one measly baby-handing-over make up for the fact that to get said baby she masterminded the assault of a pregnant woman? I think not. In the trailer, we see a flash of Serena when June talks about "powerful allies," so I think it's safe to say Serena will be working for the #Resistance and trying to create some much better Karma for herself next season. The trailer ends with a shot of her and June enjoying a cig by the pool, so it looks like they're going to collab on a big project very soon (see item #5 for my guess as to what that may be…).
3. Aunt Lydia Is Alive
The biggest spoiler from the trailer is that Aunt Lydia is, apparently, alive. Unless that shot of her is from a flashback, which I think is unlikely. She seemed pretty f*cking dead last we saw her, considering Emily stabbed her, pushed her over a bannister, and kicked her down the stairs, but I've watched TV long enough to know that no character that dies in one season's finale isn't actually dead until it is confirmed in next season's premier. I predict Aunt Lydia's brush with death will end up being the thing that turns her good, and will give us more insight into how she became the Dark Doula of Gilead.
4. The Waterfords Get A Lamp
May the Lord open a goddamn window in this bitch!!!!! This is less of a prediction and more of a sincere hope, but now that the Waterfords have to rebuild their house I hope they use that opportunity to buy a goddamn lamp. People complained about the Battle of Winterfell on Game of Thrones episode being hard to see, but every scene at Chez Waterford is like a sensory deprivation tank. I'm just praying that the well-lit pool room at the end of the trailer is in the Waterfords' new house so that Serena Joy can get some much needed vitamin D on that finger nub. Please, Hulu. I want to be able to see everything when she and June finally kill Mr. Waterford.
Which brings me to my final prediction…
5. Mr. Waterford Dies
I'm sorry, but this motherf*cker has got to go. It may be wishful thinking, but I am predicting that Serena and June tag-team killing Mr. Waterford this season and resume their old job of pretending to be him in letters. Between the multiple assaults, domestic violence, letting the government cut off his wife's finger, and the fact that he revealed last season he does not know how to make tea, this character is done. I know he's a main character but if Game of Thrones could kill off Ned Stark, Handmaid's Tale can kill this gangly-ass Bible-thumping Harvey Weinstein. End of rant.
Images: Giphy (5)