The Toxic TV Relationships That Will Make You Glad You're Single
It's easy to get bummed about being single when you're watching most classic sitcoms and popular dramadies. These shows are supposed to be about doctors, or twentysomethings figuring it out, or rich people in New York City. And yet, the central theme to most television is love, love, love! Preferably a love triangle that can keep viewers hooked for at least five seasons or until they hit syndication. The will-they-won't-they dynamic is great for moving the narrative, but it's given us all some warped ideas about relationships or longing eternally for someone you can't quite have. Because we need a good season finale cliffhanger.
It's time to take a step back and see these TV couples for what they are: toxic as hell. Don't let NBC or anyone convince you that being single is worse than being in one of these horrible pairings. Instead, sit back, enjoy having a glass of wine alone,  and the freedom to binge watch your favorite show without anyone trying to take the remote. Here are some of the most toxic TV relationships to remind single people they're living the sweet life.
Emily and Gabriel


My favorite hate-watch, Emily In Paris, wants the audience to root for Emily and French chef Gabriel so badly. Sorry, no. Cheating is bad. The girl code exists for a reason. Do not give a girl a nice pan if you're cooking in someone else's kitchen. Even if Camille miraculously gives these two her blessing in some future season, it's pretty hard to build a healthy relationship when you know your boyfriend is the type to sneak around seasoning other people's iron.
Big and Carrie

This one is maybe too obvious. Carrie and Big eventually came together on a bridge in Paris, got married, and lived a few decades together before "John" got the ax in And Just Like That…, but c'mon. That ending was fan service. The real pinnacle of their relationship was the day Carrie threw a Big Mac at her horrible boyfriend's head and realized he was never going to change. Because, honey, in real life they never do.
Eve and Villanelle

A serial murderer and a detective make a passionate pairing, especially with actors as compelling as Sandra Oh and Jodie Comer. Fans of Killing Eve love watching these two dance around each other, ratcheting up the danger and desire with every episode. Personally, I don't know if the juice is worth the squeeze here. It's exciting to be obsessed with someone, but would you want to be worried about them jumping out of your closet with a knife after a long day at the office?
Issa and Nathan

Issa ends up with Lawrence, the man she began Insecure with. There is plenty of debate amongst fans about whether or not this was the right choice, but at least they both showed some growth and character development that would justify their reunification over the series. Part of Issa's journey included her time with Nathan, the elusive barber who was also a big fav with viewers. Yes, he was hot as hell, and sure, people make mistakes—but if someone ghosts you for months, please know it's not romance. It's a cry for help.
Catherine and Peter

This is the rare dysfunctional relationship on TV where the people in it know it's dysfunctional. Catherine the Great and her husband Peter are often trying to kill one another. Isn't it nice to not be in an arranged marriage with a deranged king? I'd choose going stag to a holiday party over that anytime.
Kimberly and Nico

The Sex Lives of College Girls is a parade of relationship dysfunction, probably because that is the college experience for most people. But the lies Nico tells Kimberly to make sweet love to her over and over will really make you appreciate the fact that you will never be invited to a frat party again.
Joe and Pretty Much Anybody

If there's a show out there that will convince you never to date again, it's You. Sickeningly, Penn Badgley is devastatingly attractive and it's easy to see how these women get charmed by him… at first. Before long, they're ignoring their instincts that something is not quite right with old Joe Goldberg, and by then it's too late. Even if the person you're dating isn't a psychopath, we've all experienced the ole bait and switch. Never again! Until next season!
Sookie and Bill

True Blood was the classic two-men-love-one-woman show, except the two men were undead. While no one is giving Eric Northman any awards for sanity, Sookie's first love, Vampire Bill, ends the series on the most deranged note possible, coercing his former girlfriend to put a stake through his heart inside the grave he digs for himself. Is this the ultimate expression of love? Or only something a controlling weirdo would do?
Daphne and Simon

Okay, I know Regé-Jean Page is unbelievably dreamy and that Phoebe Dynevor dated Pete Davidson, so there's a lot of loyalty to these Bridgerton characters and their (eventual) happy ending. But if you are in a relationship that involves stealing someone's sperm, it's not a healthy situation. I don't care if it's the imaginary 1800s. Communication comes before cum thievery. 
Nate and Maddy and Cassie

Pretty much all of season 2 of Euphoria is about these three having sex, not having sex, finding out about sex, screaming and crying and driving while under the influence. While I would like to kiss all their beautiful faces, you couldn't pay me enough money to be in a relationship with any one of them. Growing up and getting over histrionic drama totally rocks.
Images: Eddy Chen/HBO; Giphy (10)
And Just Like That… I Might Finally Need A Peloton Bike
Let me make one thing very clear: I fucking love to hop on a bandwagon. I spent 2020 making banana bread and posting purposely grainy-filtered photos of it. I rub Glossier products all over my face even though I know the difference of no-makeup makeup is undetectable to the naked eye. Vodka is my nemesis and I have a stomach as weak as Notes App apology, but I will order an espresso martini anytime there is one on the menu. But, there's one trend I've successfully steered clear of, and that's blowing a minimum of $1,500 on a Peloton bike. 
It hasn't been easy. At any given moment, there is Peloton propaganda clouding my peripherals. Although I'm almost certain I've never intentionally liked a meme that would joke about being "torn between looking like a snack or eating one," Peloton memes sneak their way onto my explore tab at least once every 72 hours. My friends' shaky clips depicting the motivational things Peloton instructors shout at them over Spice Girls music have officially knocked concert video Instagram Stories off of their throne. I don't remember the last time I visited a friend's apartment and didn't see a Peloton bike lurking in the shadows like the ghost of a small Victorian child haunting a hotel in a horror movie. Peer pressure has not marketed anything so successfully since Apple rolled out blue bubbles for iMessages and green ones for texts, but still, I remain a Peloton-less individual. 
For a brief moment last week, it appeared that the Peloton bubble had finally burst. (Warning: I'm about to drop a serious And Just Like That… spoiler, but I'm sure you've already seen it because as we've discussed, the Peloton girlies simply cannot keep quiet on social media.) In the first episode of the latest iteration of Sex and the City, Carrie Bradshaw lost her dear husband Mr. Big after he suffered a fatal heart attack following a ride on a Peloton bike. Had Big perished at the hands of a more inconspicuous fitness regimen, such as the P.Volve P.3 Trainer or the Mirror Home Workout System, the internet would be much more focused on the true issue at hand: trying to figure out why the hell Carrie didn't call 911 as soon as she realized Big was dying. Instead, HBO Max handed Peloton users yet another reason to talk about their bikes. 
Luckily, Peloton has a genius marketing and PR team who have been training for this kind of a crisis ever since their Criminal Minds episode of a 2019 holiday commercial. According to a statement a Peloton spokesperson made to the Los Angeles Times, it took the company only 48 hours to pull together a clapback commercial featuring Chris Noth (the actor who plays Big), Jess King (the Peloton instructor who made a cameo in the show), and Ryan Reynolds (who famously roasted Peloton for their festive snafu two years ago). The video features Jess and a shockingly-still-alive Big chilling by the fire with a disclaimer that no, riding a Peloton will not kill you (might want to get a pulse check on your bank account and your living room's feng shui, though). 
View this post on Instagram
At the time of publication of this article, Peloton's video has been up for two days and already has 2.5 million views. The internet went absolutely bonkers over it. Like, I have truly not seen people harmoniously agree on something so quickly and so passionately since we all ripped Gal Gadot a new asshole for getting her famous friends to sing "Imagine" a mere seven days after the World Health Organization declared Covid-19 a global pandemic. There's no denying that Peloton's response was impeccable, but the whole ordeal has me feeling a little cynical. On one hand, it smells like a cult when hundreds of thousands of people are sharing an advertisement to their personal social media accounts (for legal reasons, that's a joke), but on the other hand… there's never been a lonelier time to be a girl without a Peloton. I haven't felt this left out since all my friends were getting sleek little Motorola Razrs and I had to stick with a clunky off-brand Sidekick because I had Virgin Mobile. As I clicked through at least a dozen Stories of people reposting the video with "genius" and "well played" captions, I couldn't help but wonder: if life really is about the journey and not the destination… would I be happier if I spent all day riding a little bike to nowhere in my own living room? 
Images: HBO Max; onepeloton / Instagram
What's 'Sex And The City' Without The Woman Who Brought All The Sex?
And just like that, another TV show reboot that we probably don't need is announced. On Sunday, Sarah Jessica Parker, Cynthia Nixon, and Kristin Davis graced our Instagram feeds with a short trailer alluding to the fact that the iconic 1998 show, Sex and the City, was coming back to life. I was fully prepared to leave this franchise behind me after their failed attempt at a third movie, but this revival has left me quite intrigued. As I watched the And Just Like That teaser three different times on each of the stars' accounts, I (say it with me now) couldn't help but wonder, where was Kim Cattrall? Surely, we couldn't have Sex and the City without the woman who brought all the sex?!
As bummed as I am, it shouldn't be a surprise that Samantha Jones would not return in a SATC reboot. Kim Cattrall mentioned in several interviews that she would not partake in another iteration of the iconic show. I mean, who can blame her? The off-screen drama with SJP and other members of the cast was even more dramatic than the scripted fights they got into. (In 2018, following the passing of Cattrall's brother, she dragged SJP on Instagram, writing, "You are not my family. You are not my friend. So I'm writing to tell you one last time to stop exploiting our tragedy in order to restore your 'nice girl' persona.") Kim perfectly put it when she said, I don't want to be in a situation for even an hour where I'm not enjoying myself."
Since we won't get an appearance from Samantha Jones, I'm having trouble figuring out who is going to bring all the entertainment, iconic one-liners, and even an ounce of flavor that this show lacked from its cis, hetero, all-white cast. (Though perhaps HBO will take this moment to shake up said cis, hetero, all-white cast.) Who will be the voice of reason when Carrie is full of sh*t? Who's going to remind Charlotte that she shouldn't be so uptight and stuck in her ways? Is there going to be a fourth character who is equally as successful and ambitious as Miranda, but not an absolute buzzkill? 
If the show "must go on", then I suppose all we have left is to reminisce on the hilarious and completely out-of-pocket moments that Samantha Jones brought to our televisions for six seasons and two feature films. Join me as I pour one out for the unapologetic, pleasure-chasing publicist, and look back at some of her best moments.
Season 1, Episode 1 "Sex and the City"

From the very first episode, Samantha was serving realness to her delusional dater friends. I actually love that the pilot is basically about Carrie deciding to live the way Samantha has always been living and turning this into a revelation all about herself. Kind of telling, if you ask me…
Season 1, Episode 10 "The Baby Shower"

Another moment where Samantha was anything but subtle! While there is absolutely no shame in those who choose to be mothers, it was hilarious (and empowering) to see her not fall to the pressures of society and live exactly the way she wanted. Tbh, I might throw an "I don't have a baby" shower for the gifts — and the Instagrams.
Season 2, Episode 6 "The Cheating Curve"

Okay so this was definitely one of the more problematic episodes. When Charlotte decides to hang out with lesbians because she got cheated on, Carrie gets back with Big, and the whole gang debates the definition of cheating. Even with her dumb views about what constitutes infidelity, Samantha manages to give this nugget of, dare I say, good advice, that is eerily reminiscent of what my therapist has been trying to tell me for years. Who knew I could have just watched Sex and the City and saved myself the copay.
Season 2, Episode 7 "Chicken Dance"

In this episode, Samantha realizes the guy she just slept with, she'd actually already slept with 15 years prior, and it feels like a bleak look into my future. Also, they all attend a wedding where Carrie is reading a poem, which is where Samantha delivers this one-liner that my mid-20s self can relate to all too well. Ok, who am I kidding, this quote is timeless regardless of my age.
Season 4, Episode 10 "Belles of the Balls"


I'm sorry, but does she or does she not spit the absolute truth? One thing about Samantha was that she played like a man living in a man's world (again, as discussed vis-à-vis the pilot episode and overall premise of the show), and did it well.
Season 5, Episode 4 "Cover Girl"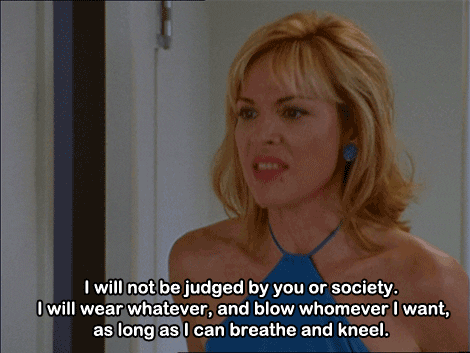 And just like that, we go from profound commentary on sexist double standards to a sexually explicit quote. Gotta love the woman's range. Even from her own best friends, Samantha had to defend herself from being slut-shamed, much like in this episode when Carrie judged her hooking up with a delivery guy. First of all, I would love to see that high-and-mighty attitude amidst the pandemic, when the delivery guy is the only person of the opposite sex with whom I regularly interact. Tbh if any of my friends did this, I'd be applauding them for (hopefully) getting a friends and family discount on Seamless.
Season 5, Episode 6 "Critical Condition"

Kind of conceited to think that any given person in New York City knows who you are, but I'll give her this one. I'll surely miss how unapologetic Samantha is, and how she does and says whatever she wants without worrying about how others will react.
Season 6, Episode 2 "Great Sexpectations"


Where would we be without that one friend who gives top-tier sex advice? Definitely not having as much sex as Samantha was, that's for sure. Thank God Carrie, Miranda and Charlotte had Samantha to remind them to not just have more sex, but good sex. Not sure they ever truly took her advice, anyway.
Images: HBO; Giphy
Recap Of The 'Sex And The City' Pilot From Someone Who's Never Seen It
Yes, what you just read is true. I, a living, breathing woman between the ages of 25-35, have never seen Sex and the City before. Why, you may ask? The answer is simple, honestly: my parents would have rather chopped off their own feet and cooked it up for dinner than let me watch a show that had "sex" in the title as a kid. (When girls in my grade made their bat mitzvah themes things like "Lex and the City", my mother was positively scandalized.) And yet in my house, we grew up watching Law & Order: Criminal Intent as a family, so what does that say about me? 
Anyway! Once I got older I really had no interest in watching Sex and the City, an opinion that has been reaffirmed by the countless articles pointing out just how cringeworthy and problematic it was. I thought that, coming upon my third decade of life, my complete ignorance of this cultural phenomenon would become irrelevant, much like the show's fashions. But now that a reunion has been confirmed, I feel the need to finally try to understand what everyone was talking about 20 years ago. I think I know the gist: Carrie is the annoying one, Samantha is the slutty one, Charlotte is the prude one, and Miranda is just kind of there. At least, that's what the memes tell me. We all are sooo one of these characters. We all want to be the Carrie (for reasons that elude me) and yet are probably all the Miranda. 
So, in an effort to finally be able to relate to people and not have to pretend-laugh at Sex and the City references, I decided to fire up my friend's HBO Max account and see what the fuss was all about. Here's my honest recap of the Sex and the City pilot.
The eponymous pilot opens with our narrator Carrie typing, "Once upon a time, an English journalist came to New York. Elizabeth was attractive and bright, and right away she hooked up with one of the city's typical eligible bachelors." I'm not going to retype this whole monologue, but the gist is, Elizabeth made the classic New York mistake of hooking up with a finance bro. And just in case you aren't from the city, Carrie makes sure to hit you over the head with how "quintessentially" New York the whole encounter is, by saying "in typical New York fashion" at least six times throughout this whole love story. If you don't live in New York, let me just say, that yes, it is in typical New York fashion to have a guy blow smoke up your ass and then completely stop speaking to you after he stands you up for plans that he proposed in the first place!! Sorry, I'm fine. It's fine.
Elizabeth's love story is much like my own, in that Elizabeth and our finance bro "dated" for two weeks until he ghosted her. The only difference is that at least Elizabeth got dinner out of it, when all I get are drinks and a vague promise to order a pizza if I were to come over to "watch Netflix". Or, at my lowest point, one 99-cent can of Arizona iced tea. So, I know this show premiered in 1998, but to me, the fact that this is a story worthy of an investigative-type piece in a literal newspaper is alarming. I wonder if I could get a job at the NY Post using my diary entries as writing samples at this rate?
Further underscoring my point that Carrie should not be a professional writer is this little gem of hers: "Cupid has flown the co-op," she says, with a self-satisfied smile. I hate it with every fiber of my being, and it's kind of sad to me that straight women in the late 90s apparently were getting treated like sh*t by men in the same way that we are now, but apparently nobody was talking about it? The only thing worse than getting ghosted left and right is thinking you're the only one who is getting ghosted left and right. I suppose if we can't get better treatment, at least we have the memes.
Cut to a montage that feels reminiscent of Hitch (don't come for me, I'm very aware of who must have inspired whom in this scenario) of random dudebros giving their takes on why so many amazing women are single. Oh boy, I feel a rage blackout coming on. One guy, in between chest presses at the gym, says that it's because in their 20s, guys are controlled in relationships by women. By their 30s, they're "devoured by women". He says that like it's a bad thing, but I feel like any straight man would be thrilled to be devoured by women. What do you all want!

Another dudebro doing bicep curls says, "you don't want to do it with someone over 35, because you have to have kids right away." He advises women over 35, "forget about marriage and just focus on having a good time". I almost shut the show off at this point, but decided to persevere at the expense of my blood pressure and general well-being.
Cue more sexist and ageist nonsense: older women don't want to settle, what women really want is Alec Baldwin (no thanks, if I wanted to get screamed at for no reason, I'd do more SoulCycle classes); women are too picky and turn down guys left and right for being too short, fat, or poor. Enter: Miranda with some sanity, to say that even the short, fat, and "poor" guys are still assholes. (It's almost as if you can't tell if someone's a good person by their height, weight, or bank account.) Gotta be honest — I did not come here to affirm how timeless this show is, but the degree to which I feel attacked is proving otherwise. 
At Miranda's 30-something birthday dinner — that was not me being lazy, they only specify it's a birthday in her 30s because, you know, women aren't allowed to age — Samantha comes prepared with some wisdom. She says, you can either bang your head against the wall and try and find a relationship or you can say "screw it" and just go out and have sex like a man. 
Charlotte: You mean, with dildos?
I mean, she's not wrong.
Miranda says that guys in New York don't want to be in a relationship with you, but they also don't like it when you only want them for sex. "All of a sudden, they can't perform the way they're supposed to," she says. I know this is not ~the point~ but Miranda saying that a man's only purpose is to provide sexual pleasure is kind of iconic. Am I too jaded to properly critique this show?
Carrie: Oh come on ladies, are we really that cynical?
Speaking for every single woman in New York:

I've decided that I'm definitely a Miranda because of this part where she's like, "this guy took me to dinner and read me a poem. What a serial killer, can you imagine?" *Scrolls up to earlier musing about how I don't even get taken to dinner* Interesting.
Carrie's like, "So you really think it's possible for women to pull off the whole 'having sex like men' thing?"
I will say that I do kind of resent that the premise of the entire show is built on this toxic double-standard where only men can have unattached sex. Do the women really have to be having sex "like men" or could they simply be having casual sex? The whole thesis is basically, "Women be catchin' feelings, am I right?" And look, I know this was 1998 and maybe that's the only lexicon they had at the time, but now it feels incredibly lame to have a writer's room that's like, "what if we have women… who date… now hear me out…. like men! Enjoying sex and everything! Genius, isn't it!!"
And just when I thought SATC might be somewhat timeless in its accurate portrayal of dating in New York, while at lunch with Carrie, Stanford hits us with this dumbass quote: it's straight love that has become closeted. Right, because I'm afraid to walk down the streets of New York holding the hand of my boyfriend for fear of vitriol or attacks. I bet the writer who came up with that one was real proud of themselves.
But they're back to realistic portrayals by giving Carrie a "loathe of my life" named Kurt Harrington (tracks) with whom Carrie kept hooking up throughout her 20s despite Kurt being a walking piece of trash (tracks again). I feel… reluctantly seen. However, Kurt was good in bed, and Carrie decides he'll be her guinea pig in the experiment of "can women indeed have sex without getting attached?" 
Carrie's big pickup line? "So, how's life?" Genius. I can see why they gave her a writing column. These two are practically gyrating against each other in what appears to be a crowded restaurant in the middle of the day. 
Me watching this: 

They make a booty call for 3 O'CLOCK IN THE MIDDLE OF THE AFTERNOON. Ok whatever, spoken as if I haven't done that exact thing after brunch. Ok, you're right, during brunch. 
So they bang at 3pm as indicated — or, actually, context clues lead me to believe Kurt just went down on Carrie, which is hilarious because you know Kurt is the type of guy whose face has never gone near a set of labia because he "doesn't like the smell" (you can tell by his teeth). When Kurt asks Carrie to return the favor, she says, "oh sorry I have to go back to work." Ma'am? I understand that you write a sex column, but I am pretty sure the newspaper would not count this as "necessary research" that needs to be conducted on company time.
After bouncing, Carrie is like, "I did it. I had sex like a man. I felt powerful, potent, and incredibly alive." And look, I'm all for being sex positive, but Carrie, the reason you feel powerful isn't because you had sex without immediately catching feelings (which take a minute to develop anyway—they're like Polaroids in that way). It's because you left a guy hanging. And truly, there is no feeling more powerful than that, and I support you, but let's not get ahead of ourselves. 
And it is while she's riding this high when Carrie literally bumps into the character who will be known as Mr. Big (it's amazing how much info you can glean from memes these days — maybe this is why people are so stupid). 
And there it is, the insensitivity I've been hearing so much about: When Skipper is complaining about how he hasn't gotten laid in a year because he… pause for collective gasp… respects women… Carrie says, "are you sure you're not gay?" I don't have the time or energy to explain all the ways in which this is wrong, and not a thing one person should ever say to another person. So let's just flag that and add it to the tab.
All the girls are spending the night at a club called Chaos (minus Charlotte, who's on a date with some rich guy and determined not to put out). I stopped going to clubs pretty much the second I stepped foot in Marquee, but I'm supposed to believe these 30-something-year-olds are willingly clubbing on a work night? No. 
Carrie is trying to set Miranda up with Skipper, but the problem is that Miranda will think Skipper is mocking her when he's actually just being sweet and direct. Me again. 
And I can see why Miranda is single, because she just used the phrase "ipso facto" in actual conversation. None of my lawyer friends have ever spoken this way, and neither has any real human. 
Who else happens to be at the club? None other than Mr. Big. Samantha spots him, and here comes the unintentional best line in the entire episode.
Samantha: You see that guy? He's like the next Donald Trump, only younger and much better looking. 
That line, and I sh*t you not, is followed by Carrie saying of Samantha: Samantha had the kind of deluded self-confidence that caused men like Ross Perot to run for President.
Or men like… Donald Trump. Wow, maybe we do need a reboot of this show.
Meanwhile, after Charlotte's date that apparently was at the f*cking Met Gala because she and Capote (who tf is named Capote) emerge wearing a tux and a ballgown, Char falls for the classic ruse of "want to come back to my place to check out my painting?" Except in my case, it's usually more like, "want to come up and see my roof?" when his roof is just his window and his window looks out over an air shaft.
Oh, Charlotte. Charlotte, Charlotte, Charlotte. You have fallen for the oldest trick in the book and still think you have the upper hand. The way this bitch is sighing and smiling to herself, she thinks she's some master pickup artist when she's clearly about to get ghosted.
I lied, it's even worse: Capote gets in the cab with her to go to the club! Lmaoooo is this how men acted before dating apps? Maybe millennials didn't kill dating after all. 
Speaking of the club, Samantha is over in the corner trying to fellate a cigar, and I am so uncomfortable I want to jump out of my skin. She shoots her shot, which I completely respect, although her methods are a little aggressive for my taste: inviting Mr. Big to the room downstairs. He doesn't take the bait, because we are supposed to believe he is ~evolved~ and ~sensitive~ when in reality he probably just likes being the pursuer and is turned off by a woman with confidence. Yeah, I'll say it!
In the end, Miranda and Skipper hook up and Capote takes Samantha home. And this is what we in the biz call a pretty successful night, we've got half the girls getting it in. Not bad for a club called Chaos, because if this stayed true to the name, there would have been a lot more vomit at the end of the night.
Carrie starts to walk home and then sees Mr. Big and just… gets in his car?? Is this the 1990s or the 1970s? This could easily be the intro to a Criminal Minds episode.
Carrie's bullsh*tting ability is somewhat respectable, though. When Mr. Big asks what she does for work, she calls herself a "sexual anthropologist" and says, "right now I'm researching this article on women who have sex like men." Like, you have a freelance writing assignment and you are talking to your friends about their dating lives. I do that all the time, should I be updating my resume?
Big: But you're not like that.
Carrie: Well, aren't you?
Big: Not a drop. Not even half a drop.
You can all but see the puddle that's forming in Carrie's underwear at this admission BLATANT LIE. Yeah, I'm beginning to see why people hate Carrie (aside from the terrible "cupid flew the co-op" puns). From what I've gathered (again, from the memes and a few headlines), Carrie will spend the next six seasons of this show on and off — and possibly a movie or two — doing Olympic-level mental gymnastics to justify this one statement made by Big in the back of a cab when almost everything else he does proves the exact opposite. And this is why you don't let the resident delusional dater give dating advice to the masses of New York City! Who knows how many generations of women she's led astray with her misguided musings? Okay, none, because this is a fictional show, BUT STILL. 
Carrie asks Big if he's ever been in love and he says "abso-f*cking-lutely". And that's supposed to be some groundbreaking admission? Lol, even the most twisted f*ckboys I know would admit they've been in love, but that's usually the problem: "one girl mildly hurt my feelings 16 years ago and that's why I will only lead people on from here on out." The 90s were whack. I think I've said all I needed to say on this pilot. They got the cynicism and general sense of uselessness with dating right; the rest was a lot of cringe. Samantha and Miranda are the only redeeming characters thus far. We didn't really need this reboot, and we definitely don't need it without Samantha or some sort of Samantha stand-in. 
Images: HBO; Giphy (3)
What The Reboot Would Look Like If 'Sex And The City' Actually Happened In 2021
On Sunday evening, after weeks of rumors, a Sex and the City revival series was officially confirmed. Carrie, Charlotte, and Miranda will be returning for And Just Like That…, a 10-episode limited series on HBO Max, which is expected to begin production in the first half of this year. The new show, which was announced with a vague teaser video on Instagram, features Sarah Jessica Parker, Kristin Davis, and Cynthia Nixon, but as suspected, Kim Cattrall will not be reprising her iconic role of Samantha Jones.
Reactions to the reboot news have been mixed. Of course, many fans of the original show are thrilled to get another glimpse of their favorite characters, but not everyone is as enthusiastic. Samantha is arguably a huge loss for the show, and fans are wondering how the writers will address her absence. But besides the fate of any specific character, I *say it with me* couldn't help but wonder, do we really need this in 2021? Sex and the City's depictions of sex and relationships may have been groundbreaking at the time it premiered in 1998, but the show has always been unrealistic, unrepresentative, and at times, highly problematic. While I expect the reboot's writers to steer clear of some of the outright racism and transphobia displayed in the original (I hope), I have less faith that the new limited series will reflect the actual reality of 2021. Here are some ideas for the storylines that could happen on SATC if it was taking place in the real world of today.
Mr. Big Moved Out After Six Days Of Quarantine

Despite the second movie ending with Big's romantic gesture of giving Carrie a black diamond ring, there's no way their toxic relationship would actually last forever. I'm giving them some credit and saying that their relationship made it to 2020, despite some infidelity on Big's part that Carrie chose to ignore. But they had already been drifting apart, and being forced to spend 24/7 together once the COVID pandemic hit New York was just too much. Well, actually 24/6, because he left before the first week even ended. Carrie hasn't heard from Big since, other than receiving divorce papers in the mail (she hasn't signed yet), but she heard from a friend of a friend that he was at the Hamptons party where Kimberly Guilfoyle got COVID.
Carrie Is Forced To Navigate The New Media Landscape

From the jump, Carrie's lifestyle of designer clothes and fancy nights out never made sense with her theoretical salary, but in 2021, it's even more difficult to suspend our disbelief. Other than writing an op-ed here and there, Carrie hasn't worked in years, but with Big and his money gone, she no longer has the luxury of doing nothing. After prepping her resume—complete with a spritz of perfume—and sending it off to every major magazine and newspaper, she was dismayed to learn that the media landscape has changed a lot since the '90s. She's now trying to revive the Sex and the City brand with a podcast and newsletter, but with most of her OG readers in their 50s and settled down with kids, the new platforms weren't the overnight success she was counting on. She's currently trying to figure out how Poshmark works so she can sell some of her Manolos, but let's be real, she's never going to actually let any of those shoes go.
Miranda Adopts A Baby & Runs For Governor Of New York

Just like Cynthia Nixon in real life, Miranda has spent the last decade going through a big transformation. Bored with her law career and craving something more, she decides to adopt a baby. Brady is headed off to college in the fall, and all of a sudden, Miranda and Steve have their hands full with another baby. And on top of all of that, Miranda has decided to throw her hat in the ring for next year's gubernatorial election. With a new baby and a new political career, what could go wrong? Literally everything, but somehow she'll still end up winning. And despite being on the brink of financial ruin, yes, Carrie will be attending her inauguration in a brand-new designer outfit.
Charlotte Is A Closet Trump Voter

Charlotte is still happily married to Harry and busy raising her two daughters, but the current political situation in America is the main source of tension in her life. Charlotte has always been the most conservative of the group (she was in College Republicans, after all), but because Trump is a pig, she's made the controversial choice to not vote for the last four years out of protest. Or at least, that's what she told all her friends. But she actually secretly voted for Trump in both elections, and with her BFF Miranda running for governor on a progressive platform, her political secret is about to explode.
Samantha Died Having An Orgasm

There was never anything subtle about Sex and the City, so what better way to write off such an iconically sex-obsessed character? Maybe the first episode of the reboot will start with Samantha's funeral—each of the ladies looking down at her grave, fondly remembering one of her more salacious sex-capades. Whichever boy-toy Samantha was with when she passed away will be trying to hide in the back row of the funeral, but the women will corner him and demand all the dirty details. At least Samantha died doing what she loved.
Images:  New York Daily News Archive / ContributorNew York Daily News Archive / Contributor
I Tried Vogue's Wine & Egg Diet From The 70s, & It's Just As Wild As It Sounds
Welcome back to the Fad Diet Diaries, a series in which I knowingly decide to try out horrible diets and then am still shocked when I have a bad time. It's been a while since our last venture, because it turns out that your body can only take so much abuse before it straight-up decides to stop cooperating with your editorial schedule. But we're back, stronger than ever and ready to make more terrible decisions when it comes to our metabolism. Shall we?
About two years ago, in my fad diet heyday, a tweet about a "wack ass" Vogue diet from the 70's went viral. It had all the makings of one of my next experiments: it was funny, it was dumb, I would likely suffer for it, etc. But I passed at the time, not because of any of the several, valid objections to the diet itself, but because the thought of learning how to cook a steak felt too cumbersome.
Now, two years wiser, in the midst of a pandemic, and in the possession of a real kitchen, it felt like the stars had finally aligned. When the same diet went viral for a second time, now being advertised as the ideal quarantine diet, I knew that it was time for me to step up. Have other people already tried this? Yes. Did anyone actually ask me to do it? No. Did either of those things matter? They never do.
quar seems like the perfect time to finally try this diet from 70s vogue pic.twitter.com/p176EdsXC1

— crissy (@crissymilazzo) August 2, 2020
It wasn't until halfway through my first "breakfast" that I thought do any actual research about this diet beyond the confines of the initial tweet because I am, before all else, a very serious journalist. Much like any other time in my life that I've tried to learn something that I probably should have already known, Wikipedia was there for me.
According to the Egg and Wine Diet page, this abomination was in fact published in Vogue in 1977, but it first gained notoriety after being printed in Helen Gurley Brown's book Sex and the Single Girl: The Unmarried Woman's Guide to Men in 1962. As a single woman in 2020 who was under the impression that the last way to attract a man was to smell vaguely of white wine and hardboiled eggs, I was intrigued, to say the least.
Helen Gurley Brown was an American author and businesswoman whose work, according to my best friend Wikipedia, played a part in the sexual revolution that took place from the 1960s–1980s. Most notably, Brown was the Editor-in-Chief of Cosmopolitan from 1965–1997, during which time she transformed what was once a female-focused literary magazine written entirely by men into the Cosmo we know, love, and sometimes make fun of today.
Say what you will about present-day Cosmo, but under Gurley's tutelage it became one of the first American publications to recognize the very outrageous notion that women like sex. Gurley built the archetype for the "Cosmo Girl"—the glamorous, career-focused, party girl that shaped the representation of single women in pop culture for decades to come. Her feminism, while seemingly outdated and at times offensive today, was revolutionary in the 60s Mad Men era that she came up in. She paved the way for the Samantha Joneses and Carrie Bradshaws, who went on to pave the way for the Hannah Horvaths and Ilana Wexlers, and so on and so on. Basically, any show about white women living and having sex in New York? That was, in part, Helen Gurley Brown's influence.

The success of Sex and the Single Girl: The Unmarried Woman's Guide to Men was what put Brown on the path to Cosmo, serving as an introduction to the culture and discourse that she would go on to instill at the magazine. It's a how-to guide for the (then-) modern single woman, covering everything from relationships, sex, and affairs to careers, dieting, and throwing the perfect dinner party. It sold two million copies in three weeks during its initial publication in 1962 and was re-released in 2003 with an endorsement from none other than Kim Cattrall. This is appropriate, given that it's basically the prequel to Sex and the City.
I had every intention of reading the entirety of Sex and the Single Girl: The Unmarried Woman's Guide to Men this weekend, but it turns out that it's really difficult to do so when you're wine drunk and malnourished for three straight days. In fact, it's difficult to do anything but lay in bed and start a re-watch of The Vampire Diaries for reasons that still escape you in the cold, sober light of Monday morning.
From what I've gathered through research, reviews, and light skimming, Sex and the Single Girl reads like a toned down, non-satirical Babe Walker from the 1960s. Tonally, it reminds me of an old magnet that my great-grandmother had on her fridge of a joyful, pudgy cartoon pig holding a measuring tape over the words "Taste Makes Waist." Having not read it fully, I am hesitant to speak to the book as a whole, but I think it could be described as well-meaning but problematic. Gurley seems like a woman I would love to get drunk with, but probably wouldn't want managing the HR department of my office.
I did, in an egg and wine haze after my third and final dinner, manage to read the chapter that the diet was featured in, titled "The Shape You're In." The diet itself is presented as an admittedly insane crash course for losing six pounds in two days rather than a sustainable or rational way to live, so at least we know Brown wasn't quite as unhinged as I initially believed her to be. In fact, had I followed her advice rather than Vogue's, I probably would have been better off.
Here is the screenshot from Vogue that started this whole mess.

And here is what Gurley wrote in Sex and the Single Girl.

To the naked eye, these may seem to be very similar diets. To someone who would have murdered a man for an egg that wasn't boiled come breakfast the third day, they are very different.
Please note that Helen does not place limitations on the size of your daily steak. She also doesn't purposely tell you to cook it with pepper and lemon juice but neglect to mention salt. She does not suggest you drink three cups of highly acidic black coffee per day on an almost entirely empty stomach. She does not dictate Chablis as the wine of choice, sending you to multiple shops around town until you're able to locate a bottle of white wine that went out of style decades ago. Most importantly, she recommends two days of this unreasonable diet rather than three, all of which means that someone who worked at Vogue 50 years ago owes me 24 hours of suffering and one potential ulcer. Anna Wintour, I'll be awaiting your response.
Once I got past the realization that I had been making things harder for myself than I actually had to, this single chapter of the book was one of the most entertaining things I've read in months. Reading a wellness guide from the 60s is wild because there are nuggets of what we now know to be absolute truths but are presented as radical notions, mixed in right alongside absurd suggestions that sound like they came directly from the mouth of a drunk Kitty Forman.
Hindsight makes fools of us all, and I'm sure 50 years from now people will look back on the wellness trends we all abide by today as archaic and, frankly, entirely unsubstantiated (I'm looking at you, Oat Milk*) but it's still vaguely comforting to know that, even at my lowest, I never thought cooking with powered skim milk in lieu of regular bottled milk made for clean living.
*Authors note: Please put down your pitchforks, I love Oat Milk. But let's stop pretending it's healthy.
According to HGB, single girls require a very special diet that will ensure we stay "sexy, vibrant, and unmorose about being single." And guess what—this one is not it! Suffice to say, I've never felt less sexy, vibrant, or unmorose in my life than after three days of nothing but hardboiled eggs, wine, black coffee, and over-cooked steak.
First, let's talk about the diet prep. There is, admittedly, not a ton to do here, but what there is I still managed to f*ck up.
The Eggs
In front of God, the internet, and you, dear reader, I am ready to announce a deep shame: I had never hard-boiled an egg before this event. I didn't think that this was all that big of a deal, considering hard-boiled eggs are not a typical staple in my diet outside the rogue salad bar and also you can buy them pre-boiled at Trader Joe's, but apparently, I was wrong about both of those things. Sue me! I love convenience! Moving on.
But now an entire ocean away from Trader Joe's, I figured it was time to grow up and drop an egg into some boiling water. Turns out there's more to it than that, which I found out at breakfast on day one when I bit into what I can only describe as the saddest, sandiest egg yolk of all time.
Luckily, Chrissy Teigen was there for me in my time of need, with a full proof hard-boiled egg recipe. "But boiling eggs is, in itself, a foolproof task," you are likely thinking to yourself. Congrats on your culinary training.

The Coffee
There are few things in life I despise as much as black coffee. There are few things in life I love as much as an incredibly milky coffee. You can imagine how this went for me.
To add to that, I learned that drip coffee is not nearly as prevalent in Amsterdam as it is in America, which meant I was either going to be drinking Americanos three times a day and potentially having a heart attack, or I was going to have to do some investigating.
I ended up finding a café that sells bottled cold brew, but in quantities that wouldn't kill me. This was a welcome reprieve from the cold brew at home that allows you to peek into a new dimension if you drink even one tablespoon over the prescribed amount.
The Steak
If you're someone like me who doesn't have any kind of concept of measurements (metric or otherwise), you probably didn't realize that 5 oz. is not a lot of steak. It's certainly less than you would like it to be after only consuming three eggs and three glasses of wine.
It's small enough that you need to go to a butcher to specifically ask them to cut a piece of meat for you that size, and small enough that they'll tell you no. But then you'll ask again with a look in your eye that's probably a little bit concerning considering you're already three eggs and three glasses of wine into your day, so they'll relent.
It's small enough that you'll find it incredibly difficult to not overcook, even after you send your mom a "you up?" text at 7:30am her time and ask her to FaceTime so she can walk you step by step through the process.
It's small enough that you are definitely drunk after pairing it with one (1) cold brew and at least two thirds of a bottle of wine.
But then you'll be kind of glad it's that small, because you've also never had steak without salt and you'll never really want to again.
The Wine
It will be no surprise when I tell you that this was the most enjoyable part of the entire experience. Given how few rules there actually were here, I tried to strictly to adhere to the limits that were offered, meaning I drank only Chablis. I'd never actually had it before but was pleasantly surprised to find that it was like a more mellow Chardonnay, without any of the oaky flavor that I truly dislike.
My strategy was to make my breakfast and lunch wines as socially acceptable pours as possible, leaving the bulk of wine for dinner and socializing. While I think this worked a bit, there's no arguing with the fact that I spent most of these three days in a light daze—a fun combination borne of starvation, alcohol, and caffeine. So basically, like college but with a significant improvement in the quality of ingredients. You know what they call that? Growth.
Kind of like anything else that you think will be fun, it turns out drinking a bottle of wine per day for three days isn't all it's cracked up to be. I recognize that the recipe says, "up to one bottle of wine," but chose to ignore that. We're an all or nothing household.
Me to my bottle of Chablis on the third day:

Day One
As is the case with any of these diets, the first day was a bit of a novelty and therefore as close to enjoyable as you can get in this kind of situation. There were a couple minor obstacles, like the nearly inedible egg yolk and the severe oil burns I got from drunkenly attempting to cook a steak, but all in all things were looking positive.
I started out with a very strategic regimen for each meal, trying to sandwich the wine between enough egg and coffee to offset as much of a buzz as possible, but I can't say that it was all that effective. Also, that strategy fell to the wayside as soon as I got to lunch because I was too hungry to actually moderate anything.
It wasn't until I was on my way to a dinner with friends (them: nachos and sweet potato fries, me: cold brew and a hydro flask full of Chablis) that I began to worry what drinking coffee this late in the day would do to my sleep schedule. It turns out that it didn't matter, because starvation trumps caffeine. I took two Melatonin that night just in case, but was asleep before my head hit the pillow, The Vampire Diaries playing in the background for only my cat to watch.
Day Two
Any kind of optimism was abandoned the minute I woke up on the second day, starving, irritable, and still exhausted despite the fact that I'd just slept for nine hours. I had, foolishly, decided to buy ingredients on a day-by-day basis instead of stocking up on everything beforehand, which meant I had to actually get up and get out of the house if I was going to consume anything. The plan had been to go buy more eggs and try and redeem my first attempt at cooking them, but after it took me fifteen minutes to get from my bed to the bathroom to the kitchen, I gave up and settled for another sandy abomination.
Although this is not the first time I've had to navigate a somewhat functional lifestyle while doing one of these diets, it was my first time doing so since moving to the Netherlands. Living in Amsterdam means two things: biking wherever you need to go, and then inevitably climbing a lot of stairs once you get there. I did not take any kind of physical exertion into account when planning for this, which meant my shuffle from my apartment, to an eyebrow appointment, to the café, to the wine store was the slowest recorded movement on a bike in Dutch history. Tourists on foot were lapping me. There is a maximum two-foot elevation change across this entire city, and it was still too much.
By the time I had gotten home from my Odyssey-caliber journey, it was lunch time, which meant I had to drink my breakfast and lunch wine back to back. This, plus the successful second attempt at the hard-boiled egg, had me feeling so nice that I decided to reward my efforts with an afternoon nap. This felt like a good idea at the time (working title of my memoir), until I remembered that on a regular day with a normal amount of food, I tend to wake up from naps ravenous and disoriented. So needless to say, I got up around 5pm resembling a wet gremlin more than anything else.
That night I took my slightly less overdone steak and remaining wine to a park to picnic with friends, which led us to a bar, which led me to a couple more glasses of wine than my allotted bottle per day. Something tells me that Helen Gurley Brown would approve. You know what did not approve? The rest of my body.
Day Three
I woke up at 6:30am on the third day, with what I can only describe as a stomach full of battery acid and hot flashes that make me truly fear menopause. In my half-asleep stupor I reached for a bottle of (carbonated) water on my bedside table carbonated and immediately chugged half of it, which only exacerbated the situation. It felt like the visual equivalent of pouring Sprite into a middle school science fair volcano. Unsure of how to handle the situation, I did what any self-respecting adult would do, and laid on the floor until the feeling passed.
Around 9am I managed to crawl out to my kitchen, where upon opening the fridge I was greeted with what felt like a solid wall of hard-boiled egg odor. Nothing another 20 minutes on the ground couldn't solve.
Breakfast was a bleak affair, edging closer to brunch hours at the rate I was moving around. I ate my egg in one bite and washed it down with a Chablis spritzer that was 70% sparkling water. I managed to bike my way to a lunch with friends, which I think I only managed to navigate to because it was downhill from my apartment. My judgment was impaired enough to put on a full sweater vest in a heat wave in August, to give you an indication of where I was at mentally.

I had the wherewithal to go to the grocery store on the way home so that I could be sure there would be food when I woke up the next morning, but was unprepared for how emotional standing in a room full of food would make me. An unreliable shopper at the best of times, I truly outdid myself by leaving with a cart of black beans, a single red onion, kettle corn, sliced cheese and raw salmon.
I abandoned half of my lunch, opting to starve rather than look at one more perfectly boiled egg (a six on the Chrissy Teigen scale). After choking that down I retreated to my room for an undetermined number of episodes of The Vampire Diaries, before emerging for the last of the cold brew, Chablis, and steak. These were all consumed, cold, in my bed.
As I lay there that night, willing myself to the sweet release of sleep, the immortal words of Helen Gurley Brown came to me as if she was floating in the corner of my ceiling like Toni Collette in Hereditary: "Single girls need lecturing. You are the world's dumbest about nutrition."
In the end, I lost 4.5 lbs, which puts me just shy of what both Vogue and Sex and the Single Girl promised. Not that it matters anyway, because as I sit here, 12 hours after my final weigh-in, I have already gained all of it back. Spoiler alert: that's how crash diets tend to end.
Was this worthwhile? Absolutely not. I know far less insane ways to lose a few pounds in a short period of time, and none of them involve hardboiled eggs. But I'm sure Helen Gurley Brown is looking down from above, smiling fondly, and lamenting the fact that I went out first thing and ate what was effectively cake for breakfast. All things in moderation.
Images: adnanroesdi / Shutterstock.com; Giphy (4); crissymilazzo/ Twitter
16 Amazon Prime Shows To Watch During Quarantine
Did anyone else think quarantine was going to be right up their alley for the first few weeks, but now they've finished all of Netflix* and there's nothing to do except alternate between staring hopelessly at the ceiling for hours on end and watching TikTok compilations? No one else? Just me?
Well, fear not either way, because even as you reach your final episode on your final show on Netflix, there are still half a dozen other streaming platforms out there waiting for you to give them a whirl. And why not! There are so many hours in the day in quarantine. You are never required to wear pants. You can be on Slack and watch TV in the background. The only rule of quarantine is to never leave your house. The real world has become a place of madness and fiction, and the only solace we can now find is going to be in the fabricated stress of television. 
So, without further ado, here are the best shows available on Amazon Prime during this quarantine. Disclaimer: I haven't spent as many hours on Amazon Prime as Netflix, mostly because it makes me weirdly uneasy to see my recent orders for lamps and cleaning supplies while I also browse for shows, so it goes without saying that I have probably missed a few of them. 
*By all of Netflix, I mean the shows worth watching. 
'Hunters'

The first season of Hunters recently started airing on Prime, and because I'm trying to avoid high-stress situations, I haven't started it. However, executive producer Jordan Peele (Get Out, Us) is an absolute genius storyteller, so it's gotta be super good. It also stars Al Pacino and Logan Lerman from the Percy Jackson movies, whom I completely forgot about, and now I need to watch. The show is set in New York City in 1977 and follows a group of Nazi hunters as they try to dismantle a secret group of Nazi officers that are trying to implement a fourth Reich in America.
'The Marvelous Mrs. Maisel'

If you've ever thought to yourself that maybe you were meant to live a different life and that life is specifically to be a Jewish mother living on the Upper West Side in the 1950s with an undiscovered talent for stand-up comedy, then this show is for you. Created by Amy Sherman-Palladino, of Gilmore Girls fame, The Marvelous Mrs. Maisel follows Midge Maisel's journey through the New York stand-up scene after her husband leaves her for his secretary (schmuck). Would Midge have worked for Betches if it was around back then? Almost certainly, and that's all you need to know.
'Girls'

Didn't we all already watch Girls? Personally, I stopped around Season 5 because every character became as annoying as humanly possible and I couldn't watch Hannah make another terrible decision or listen to Marnie try to launch her singing career for another second. That being said, I did like some of the characters and the incredibly dysfunctional family they created. At least Girls is a really easy binge because the episodes are short and the storylines are engaging and easy to follow. Just don't watch too much in a row, or you will go through what I did and never finish (but that's okay, too). 
'Fleabag'

I haven't watched Fleabag yet, but it won like, all the awards, and I see it everywhere on TL so I think I might just have to start. Phoebe Waller-Bridge writes the show and stars as the titular character, Fleabag. From the season 1 trailer, it seems kind of like a British and more updated version of Girls? As in, the main character kind of self-sabotages everything for herself but you still keep watching to see if maybe she'll turn it around one day. What seems more unique and interesting about it, though, is that Fleabag breaks the fourth wall often to explain to her viewers what's going through her brain, so maybe we have some more perspective and empathy for her questionable choices.
'Modern Love'

Modern Love is a miniseries that brings the New York Times essay column of the same name to life. Whoever was the casting agent really knew what they were doing. They've got Tina Fey, Anne Hathaway, and Dev Patel in their own 30-minute episodes, appearing casually as if they were normal people. The first episode made me cry, and the rest were definitely worth watching. With only eight episodes, this is a great show to watch if you don't want to commit to a whole series. And then you will become addicted to the stories and read 20 essays in one night and convince yourself you can write your own about the guy that has been delivering your groceries for the last week, if only you could come up with a catchy title.
'Sex and the City'

Since we have nothing else to do in quarantine, let's all sit around the kitchen table and discuss with our fellow quarantine inmates which character every person in our friend group most identifies with. Luckily, Sex and the City is on Prime to help you out. The one who is still making you do her Ship matches, just to f*ck with the guys? Samantha. The one who began planning a Zoom wedding immediately and already had a stockpile of hand sanitizer? Charlotte. The one who actually knows the facts of what's going on, but is over talking about it? Miranda. The one who thinks the pandemic is the just the thing to spice up her forthcoming-but-still-unwritten memoir? Carrie.
'Psych'

Psych is a detective sitcom that is the exact show to watch if you want to get really invested in/binge something for like, a minute, but don't want to be thinking about 24/7. Shawn Spencer is a police crime consultant who has convinced the police that he solves cases using psychic abilities, but was really just trained as a child by his dad to have heightened awareness and photographic memory, which is shown in flashbacks. Shawn works with his friend and partner Gus, at his psychic detective agency, Psych.
'The Sopranos'

The world will never get enough American-Italian mobster drama (@The Irishman), and that's all there is to say about that. The Sopranos is regarded as one of the greatest television series of all time, and luckily it's on Prime for you to decide for yourself (although I'm sure everyone has seen at least one episode at some point or another). Tony Soprano is the show's protagonist (if you will), who must balance his family life and role as crime boss of his New Jersey-based crime family—he delves into this narrative through talking to his therapist, Dr. Melfi.
'30 Rock'

Some of us think we are quirky and talented enough to be writing for Saturday Night Live, but just haven't had our big break yet. While we wait for that dream to manifest itself, we can watch 30 Rock. The popular sitcom, created by and starring Tina Fey, is available on Prime, and is based loosely her days as a head writer at SNL (although the live-sketch show depicted in 30 Rock is fictional). 30 Rock is right up there with The Office and Parks and Rec; it's just a super easy sitcom that you can throw on at any time of day and for whatever mood you're in. 
'Downton Abbey'

Downton Abbey is one of my favorite shows ever, and I'm so glad it's on Prime. Downton Abbey takes place in England and follows the lives of the aristocratic Crawley family and their servants from 1912-1926. There is so much drama both upstairs and downstairs, and while there are some people that try to cause tension, mostly everyone gets along and has adorable British accents. It's so easy to watch and get obsessed with, and I promise it's worth it.
'Dance Moms'

Honestly, who let Dance Moms air in the first place? Every Tuesday night in middle school for me featured a Dance Moms and Pretty Little Liars marathon, and looking back, that lineup feels like a bizarre fever dream. The antics of Miss Abby Lee Miller honestly haunt me, and the fact that she went to jail for a minute really doesn't help the whole situation. How did she choreograph those dances every single week? What is the rival studio, the inglorious Candy Apples, up to now? Will Maddie ever not be at the top of the pyramid? 
'Suits'

Mostly just putting this on the list because I think it might be fun to watch Meghan, Duchess of Sussex (wait do we still call her that, or no?) during her life before Harry. Suits is set at a New York City law firm, opening when Harvey Specter hires Mike Ross, a genius college dropout, to help him solve and close cases, despite Mike never attending or graduating from law school at all. 
'Curb Your Enthusiasm'

Larry David, the creator of Seinfeld and hilarious Bernie impersonator on SNL, plays a version of himself in Curb Your Enthusiasm. The 10th season just started, and luckily Prime has all the prior seasons so you can catch up. In the show, David faces the many annoyances of daily life, and basically just calls everyone out on their bullsh*t. TBH the show stresses me out because I am not a confrontational person at all, but it's really funny. I would love to see an episode of David coughing on someone and/or being coughed on during this pandemic. Maybe they're already working on it.
'Law & Order: SVU'

Over the last 20 years, Law & Order: SVU has seemingly gotten away with any and every plotline they could ever think up. My jaw immediately hits the floor every time I watch this show, and it stays there the whole episode. I love how they only seem to get the perp like half the time and then the rest of the time it's a therapy session. I love how they make up mid-season storylines for the main characters, and when you question them, diehard fans comment, "oh yeah, they mentioned that offhandedly 10 seasons ago," as if you should've remembered. I love how Finn seems to improvise all of his lines and no one ever reacts to them. This show is a great watch because you really don't need to watch it any particular order, and after one episode you'll be done with TV for a while.
'American Horror Story'

Eight seasons of AHS are on Prime, and I know everyone has a personal favorite. I only tried to watch this show once, when I was in ninth grade. I remember it so clearly, sitting in my friend's basement in the dark. It was season four: Freak Show. She didn't warn me at all. Enter: the scariest clown I have ever seen. Cue: me not sleeping for a week. That was the last time I ever even thought about watching this show. However, I'm older now, and wiser, and the world is as scary as it's going to get, so I'm considering giving it another try. I'll let you know how it goes. 
'Veep'

Let me be the first to say I would GLADLY elect Julia Louis-Dreyfus as Vice President and/or President of the United States right now, which is her role as the protagonist in Veep. Veep is about the personal and political careers of Selina Meyer, the Vice President, and her wacky but reliable staff as they try to make their mark and advance themselves politically. Does it seem like something like this will ever be allowed to happen in our country? Maybe not, but it's still fun to watch nonetheless.
Hopefully, by this point, you have found some sort of routine for your quarantine, and are not just watching TV for 9 hours a day as you maybe did at the beginning. (And if you are doing that, literally no shame at all.) However, we're in it for the long haul, and we'll need some entertainment to help us through it. If you can't stand staring at the screen any longer, try an audiobook. One show at a time, this quarantine is going to get a little more bearable.
Images: Jose Perez/Bauer-Griffin/GC Images, Amazon (16)
The 10 Worst Outfits From 'Sex And The City'
One good thing to come of this shelter-in-place situation is the much-needed excuse to catch up with my favorite and insane group of women. That's right, the iconic foursome otherwise known as "omg, which one are you?" is back in my life after more than a decade and, now that I am old enough to understand what's going on, better than ever! Sex and the City was the Gossip Girl of the nineties, which makes sense considering both shows have ridiculous plot lines that make no sense, absurd apartments that I'm pretty sure don't exist in New York and, of course, superb fashion, which we can blame on none other than Eric Damon, costume designer of both SATC and GG. 
Look, before I get into it, I just want to say that after wearing nothing but leggings and sweatshirts for the past three weeks, I admire the bold choices our boy Eric has made. However, after binging the whole series in an embarrassingly short period, I have seen… a lot. I can't unsee some of these outfits and I feel the need to share them with you. Full disclosure, lot of the train wrecks are Carrie's, which is to be expected, but that's not to say the other characters' wardrobes are much better. Here we go!
Guys!! What in the actual f*ck is this? If I had to write this article from memory (and not with the help of the amazing Instagram account @everyoutfitonsatc), I would still very much include this horrible look. There's so much going on with this offensively busy jumpsuit that I don't even know where to start. I admire the confidence it must take to wear this, but, like, no. She looks like a Bratz doll that never made it into stores because she's just too much and the manufacturers were at a loss on how to tone her down.
This is another outfit I would have included from memory. Tbh, I loved this midi skirt when I first saw it in 2002 and I still love it almost two decades later. The rest of this outfit, though, is an actual mess. First, what are the mechanics involved in tucking a button-down into itself without it being bulky af, and how did she manage to do the same tuck of the white tank under it? What purpose is this belt serving aside from assaulting my eyes?  I need answers, Eric! Aside from this skirt, the only good thing about this look are SJP's abs.
I swear I wore this exact same dress when I went as a Sexy Wench for Halloween 2009. Tbh, the dress isn't horrible (I'm biased, whatever), but the tragic accessories are really bringing it down. I mean, the boutonniere, chain, and silk scarf are too much. Spe
aking of which, could no one be bothered to tuck the corner of her stupid scarf in? I wish she'd swap all of the stupid accessories for a simple tennis necklace and call it a day. As Heidi Klum would say, "auf wiedersehen," honey.
Before anyone tries to drag me in the comments, let me just say that I love menswear-inspired looks on women. This unflattering disaster, however, isn't inspired by men's suiting because it is men's suiting. This would look hot af if Miranda undid a few buttons (at least enough for her to breathe) and invested some of her "I went to Harvard" money on a tailored blazer. Her only appealing accessory is the martini.
My friend got me one of these dresses as a joke when we went to Oktoberfest in Munich a few years ago and even then, I wouldn't wear it because it just looked too stupid. Why the hell, then, is Carrie wearing an actual dirndl in Central Park? The pigtails aren't helping the situation. I literally can't think of anything that would make this outfit better, so let's all agree that it's awful and move on.
Even though this chiffon top is allegedly Chanel, it's heinous, just like the rest of the outfit. Each piece is ugly in its own right and together, they make for one really unfortunate look. Eric, explain yourself! The only thing I can focus on are the little chode designs on the top. Am I a 12-year-old boy or are those tiny penises that are wider than they are long? Seriously, tell me I'm wrong.
I like to think of myself as a progressive and open-minded fashion-lover, but I've always hated overalls. These, however, are especially abominable because they look like they'd even be a little loose on the Michelin Man. I remember this episode: Miranda is on a really unfortunate dry spell and, with each passing and sexless day, gets more and more restless. Miranda, honey, this enormous overalls-puffer combination isn't helping your cause. For the love of God, put on literally anything else in your closet.
On a somber note, my dad recently battled (and won!) a tough war against cancer and watching him lose his hair was tough for everyone, so I get Samantha wanting to express at least some semblance of her glamorous self via wigs. An afro, though? Sam has been known to culturally appropriate on more than one occasion, so I'm not surprised that she actually wore this wig out of the house, but that doesn't make it okay! There are so many options, so why must you go with the most problematic?
Can someone have a bandana fetish? Is that a thing? These are not articles of clothing, Carrie! I hate to admit that the bandana-top crossover isn't even the worst part of this outfit. It's either the fishing net she's wearing as a sweater or the cowboy hat that, surprise surprise, also doesn't work. I remember she was on her way to the Hamptons in this episode, and something tells me she won't be well-received by the Serenas and Blairs out there.
If I had a body like Carrie's, I would literally wear a bathing suit every damn day. So why, god why, is she taking attention away from her amazing body and making us look at this foul bikini top with…are those men's board shorts? This is the second Hamptons-inappropriate outfit we've seen from Carrie, and I cannot handle a third.
There you have it, the 10 most offensive outfits from SATC. I know what you're thinking: where's Charlotte? Tbh, Charlotte has incredible style and is too good for this list. She's always tasteful and wears clothes that both fit and flatter her body. If you can find a pic of my Park Avenue princess in a gross outfit, lmk in the comments. Until then, I stand by my love for the Jewish Episcopalian. That's all.
Images: New York Daily News Archive / Contributor / Getty Images; everyoutfitonsatc / Instagram