The Most Unbelievable Claims Celebs Have Made About How Their Skin Looks So Good
In my free time, I like to overthink all of the potentially embarrassing things I've ever done or said in front of other human beings. On the off chance that I have run out of things to cringe over, I give my nerves a break from roasting myself and instead put the heat on a topic that's been hammered into my little noggin since I first developed spatial awareness: why do celebrities look so good, and how can I do it, too?!
Although I could be reasonable and focus on the facts (entire teams of people are paid to primp them and they generally have incredible genetics), there are a few incredibly cursed claims that I simply cannot unhear. If my brain sounds like a horror movie, that's because it is. Except, instead of a bloody figure popping up in the mirror while I'm winding down for bed, it's the ghost of a celebrity sponcon post touting a holy grail beauty product and a discount code that will essentially shave $1 off the retail price. Here are a few unrealistic things celebs have said about how they look so good. These tend to pop into my head usually when I'm perusing CVS for a product that will drastically change my appearance (without breaking the bank), or when I'm simply in a phase of blissful self-confidence, during which I'm convinced simply drinking enough water is making me objectively stunning.
Don't Let Your Body Tell People How Old You Are
Do you have at least five Kardashian-Jenner quotes floating around your head at all times of the day, or are you normal? (I am truly just a girl caught between "phone eats first," and Kim's deranged mantra: "Instagramming photos of food isn't sexy.") Ever since Khloé shared her "new mom beauty routine" with Vogue, I've been unable to shake the sound of her voice from my subconscious when I get ready each morning. After toning, Khloé says she lathers SPF 46 on her face, hands, neck, and chest, "because this is where we all show our age." Sorry, but that's essentially my entire body? You mean to tell me that my entire body… shows my age? Damn. It really do be like that. Now, when I moisturize and apply sunscreen, I make sure to work the product all the way down to my toenail cuticles, lest anyone do the math and find out when I graduated college. Next, I cycle through five different photo editing apps and gaslight anyone with access to photos I haven't doctored first. (But trust: I owe it all to the SPF.) 
Stop Being A Potato
You know what will totally save you after a long night out? Potatoes. Unfortunately, you will not be eating hash browns, but you will be rubbing them on your face if you subscribe to the ways of Lauren Conrad, who once suggested, "to reduce puffiness, slice up a few refrigerated potatoes, soak them in water for a moment or two, and then place them over your lids for 15 minutes. Works like a charm." Although, I have to wonder: if I am the kind of person who is whimsical enough to calmly sit with chilled potatoes on my face, what lifestyle mistakes am I making to suffer from puffiness in the first place? There must be some other habit I can eliminate. LC, LMK. 
Enough With the "I'm Practically A Vegan!" Charade
During a chat with Extra, Halle Berry revealed that if you want to glow, you simply cannot be vegan. Relax, vegans, she did not call it out like that, but if you want to be beautiful, you'll have to be able to stomach potentially seeing an animal carcass. Her skin care secret is simple: homemade bone broth. "You can go to the butcher and get all the bones they're going to throw away and he'll give them to you for free. Take the bones, boil them up for 24 hours… and you drink the broth. It's so full of collagen that it's crazy." You heard it here, folks. It is officially free to look like Halle Berry. 
Beauty Is Pain
Oh, the $28 Glossier serum you use to decrease inflammation isn't working wonders? You should probably trash it immediately and opt for nature's fix: letting a bunch of bees sting you. If you're feeling skeptical, let Gwyneth Goop Paltrow calm your nerves: "I'm open to anything. I've been stung by bees. It's a thousands of years old treatment called apitherapy," she told the New York Times. "People use it to get rid of inflammation and scarring. It's actually pretty incredible if you research it. But, man, it's painful." Perhaps the best part of Gwyneth's suggestion is that even she doesn't sound sold on it… which somehow makes me want to try it even more? It's like when you meet a friend for a Starbucks run, and when she takes one sip of the $11 unnaturally colored drink and says, "This tastes like shit," your first instinct is to grab it and try it for yourself. 
But Also, Don't Worry Because Everything Is Optional!
Bella Thorne has done a lot of things that made the internet collectively scream, "Oh no!" so it's understandable if you missed the day everyone was spiraling over her beauty routine. The former Disney star revealed, "I don't use moisturizer or anything," which is simultaneously the most reassuring and troubling statement I've ever heard in my life. When a casual happy hour turns into all-night karaoke, the one thing I can typically manage to do when I get home is slap some kind of hydrating concoction over at least a portion of my face. If I lose sight of the most foundational skin care rule, I'm not really sure where I'll end up next. But on the other hand, I know that even if I finally pull the trigger on the $70 Drunk Elephant moisturizer that's been sitting in an online cart for a week, I'm still going to wake up and reenact Mia Thermopolis' "This is as good as it's going to get" scene from The Princess Diaries every day for the rest of my life. 
Images: Alexander Tamargo/Getty Images for Good American
Halle Berry's Esthetician Shares Tips To Get Her Glowing Skin
The typical quarantine routine consists of overeating, sleeping, and skin care. I don't know about you, but I've mastered the overeating and sleeping segments and am now ready to take on skin care. Since spa getaways are a no-go these days, the assumption is that we have to forgo certain luxuries, like facials. Luckily, that doesn't have to be the case. Take it from Halle Berry—she's doing the quarantine life just like the rest of us and hasn't sacrificed a second of her skin care. Seriously, her glowing skin is what dreams are made of. (Just look at her.) But how does she do it? 
Turns out she gets by with a little help from her esthetician. Berry recently treated us all to a special self-care Sunday with an inside look at her at-home facial routine. The 15-minute tutorial features a fresh-faced Berry applying face masks to her already flawless skin, guided by her go-to skin guru. Since we haven't all become master estheticians in quarantine yet, I figured it was time to turn to a specialist—specifically, Halle Berry's skin specialist—to get the insider secrets on everything skin care.
Glow Up
The woman behind Berry's glowing complexion is celebrity esthetician Olga Lorencin. Olga, aka The Acid Queen, breaks down Berry's skin care regimen, telling Betches, "Her standard routine is very simple, but it's consistent." If I've learned anything in all my years, it's that simplicity is key in all aspects of life, especially when it comes to your skin. So is consistency (things I whisper in the mirror to force myself to wash off my makeup after a night out). Lorencin says, "She uses a rehydrating cleanser morning and night along with a rebalancing toner and a lactic acid hydrating serum." She also adds that Berry is "very in tune with her skin", something I hope to say about myself one day.
While having a crazy amount of skin envy over celebrities is fine, it's important to focus on and figure out your own skin needs. However, that's often easier said than done, and according to Lorencin, figuring out what your skin needs is the most difficult part for most people. It can be especially tricky to nail down what your skin needs if you don't have any particularly concerning issues. But whether you have clear skin or not, nobody is immune to the frustrations of establishing a successful skin care routine. So, like all those brand marketing emails we received in April, we're all in this together! The Acid Queen recommends, "If the products that you are using are working, stick with it. However, if you have a skin condition or concern, see an esthetician so they can figure out what you need." When in doubt, always seek out a specialist. 
Routine Rundown 
And the secret to flawless skin care is—drumroll please—it depends. (Sorry, that probably wasn't worth a drumroll, but it was fun, wasn't it?) On anti-aging, Lorencin says, "It can vary vastly from person to person, but de-aging ingredients are universally the same. It just depends on how we use them and in what combination." 
When it comes to how many products we should be stocking up on, Lorencin advises, "As little products as possible, anywhere from 4-10. Don't overdo it! Layers upon layers will just cancel each other out or cause your skin to be confused." Lorencin continues, "Buying random skin care products produces random results." This probably means that the bucket of youth promising serums under my bathroom sink isn't quite as effective as I had initially hoped. 
Lorencin also breaks down the different products that we should be using in the morning versus at night. "At night, it's a good time to use retinols and exfoliating products that contain AHA (alpha hydroxy acid) and BHA (beta hydroxy acid). In the morning, it's a good time to use antioxidants like Vitamin C, whereas hydrating and collagen building products can be used both day and night, such as peptides, ceramides, and hyaluronic acids, etc." 
In addition to applying the proper blend of serums and lotions, your face can also benefit from an occasional massage. Facial massages are an effective measure for pampering yourself with some much needed TLC. Lorencin explains that, when done properly, facial massages can reduce puffiness and help prevent wrinkles. 
Facial Features
Move over, cucumbers—the at-home facial has received a serious upgrade. From professional kits to DIY recipes, there are endless possibilities to soothe your skin and turn any day into a self-care day. According to Lorencin, step one of doing a facial at home is "making sure you are using facial masks on exfoliated skin, or they won't do very much." Help yourself get the best results by allowing the mask to easily find its way to your clean skin. Once your skin is prepped, you can then opt for either a homemade or professional facial mix, depending on your budget. 
Weighing the pros and cons of each method, Lorencin says, "Homemade masks are nice and won't cause side effects, but they also most likely won't produce very transformational results." For more noticeable results, you may want to consider investing in a professional facial kit. It may be more pricey, but getting skin like Halle Berry? Priceless. (Actually, it's more like $98, but you get the idea.)
While Lorencin has created facial kits for Halle Berry-level results, she also favors an easy and delicious at-home recipe that you can make with ingredients found in your kitchen (or borrowed from your hot neighbor). All you need is 1 teaspoon of full-fat Greek yogurt (substitute coconut yogurt for a vegan option), and 1 teaspoon of honey. If you're feeling really fancy, you can also add in a slice of avocado and a few drops of avocado oil to soothe dry skin or a dash of powdered charcoal for acneic skin. According to Berry and Lorencin's IGTV video, adding a few drops of chlorophyll to either mix can help fight breakouts and reduce inflammation. The next step is to apply the mask (obvi) to your face and neck—don't neglect your neck!—and leave on for the standard 15 to 20 minutes. Lorencin also advises limiting homestyle facials to once or twice a week. Treat yourself, but don't overdo it. Balance, baby. 
Honestly, when it comes to skin care, just do whatever Halle Berry does. 
Images: Kathy Hutchins / Shutterstock.com; halleberry / Instagram
Why Reading The News Nonstop Is Bad For You—And How To Stop The Cycle
These days, my typical morning routine includes Googling whether it's safe to venture outside today and if there are COVID-19 cases on the rise, followed by how much closer we are to discovering if we've found a vaccine, and finally, scouring articles to figure out if there are any long-term consequences of using so much hand sanitizer. And then before I know it, I'm seeking out more of this depressing and potentially negative info, even though I know it's not helping with my sanity. Apparently, there's even a term to describe this kind of behavior: doomscrolling. Merriam-Webster defines doomscrolling as "the tendency to continue to surf or scroll through bad news, even though that news is saddening, disheartening, or depressing." While I truly believe that knowledge is power, too much of anything can be detrimental to one's health. In fact, going overboard with this kind of activity can have negative consequences on one's mental and physical well-being, especially in these scary times.
As tempting as it may be to constantly hit refresh, we don't have to stay stuck in this endless cycle of terror and misery. There is a way out, and that's to cultivate an awareness of this type of toxic behavior and make a conscious decision to press the pause button on all the craziness that surrounds us. Betches spoke with Dr. Eudene Harry, Medical Director for Oasis Wellness and Rejuvenation Center, and Dr. Braulio Mariano Mejia, Medical Director of The Palm Beach Institute, specializing in Addiction Medicine for insight into what's going on with our minds and bodies. They shined some light on what to do when the line between staying informed and ruining your mental health becomes blurred and offered us some tactics on how to set healthy boundaries between us and the news.
How To Recognize When The News Is Making Us Feel Bad
It can be difficult to attribute our emotions directly to the news—oftentimes we'll think our negative feelings are caused by another trigger. While some types of news can conjure obvious and overt reactions, other times, the feelings can be subtle, like a slow and steady burn. Dr. Harry says that it's important to check in with yourself frequently. She says, "ask yourself if you felt bad after watching the news. Did you feel motivated to act or did it leave you feeling drained and paralyzed? Are you feeling depressed, anxious, overwhelmed, helpless or apathetic? Is your heart racing? Does breathing feel shallow, fast and not enough?" These are the sorts of physiological cues she says you should pay attention to.
Additionally, Dr. Mariano Mejia says that there are behavioral and physical attributes that could be indicative of your emotional upheaval: "ask yourself, 'have I been alienating my loved ones?' 'Have I been isolating from those I care about?' 'Have I been neglecting my family?' 'Have I been slacking at work?' 'Have I been having difficulty sleeping?' 'Has there been a change in my libido/sexual interest?' Have there been any recent weight fluctuations?'" All of this matters and it's important to take time for yourself to answer these questions honestly. It's like going through your own personal mental checklist (it may also help to run through this aloud or write it down). If you're answering yes to any of these questions, both doctors advise that you should regroup and recharge, stat.
Actually, It's About Introspection
Dr. Mariano Mejia says that the first thing to understand about doomscrolling is that it speaks to our human nature more than anything else. "This phenomenon is more about the need to have some introspection. It's about recognizing the need to stop for a second and ask yourself if repetitive news (fake or not) is necessary to get you emotionally or professionally where you want to be."
The most important thing here is to determine whether this information will make a difference in the comfort of your professional and personal life. If not, you can do without this unhelpful stimuli. Dr. Mariano Mejia points out that we as humans have a tendency to obsess over minute things in our lives and that "in order to reduce our anxiety we act on these obsessions, which is a compulsion. In this instance, this compulsive behavior to turn to the media/news evolves into a negative pattern, thus creating a temporary relief." However, if this tendency is left unaddressed, he says that it could lead to negative consequences.
The good news is that conversely, with this same ability, you can train your brain to be a more healthy and balanced one, simply by actively recognizing that you have the power and opportunity to step away from anything you deem to be detrimental to your health. "Introspection is more than simply taking a break. It requires you to stop, evaluate your conscious thoughts and feelings," Dr. Mariano Mejia remarks. "This process allows you to look at yourself in order to determine what is most important in your life." In a nutshell, think of it as an empowered  "you do you" sentiment.
Why You Have All Of These Feels

Dr. Harry says, "your body and mind are being overwhelmed, and as a result, it is constantly activating the stress response system over and over again, continuously flooding the mind and the body with stress hormones." She references clinical studies from Harvard and the National Library of Medicine in which voluntary participants were shown stress-inducing/upsetting pictures and videos. Though they were not actually subjected to the turmoil itself, ultimately, viewing upsetting material resulted in the body exhibiting the same level of heightened stress and trauma. She surmised from these studies that if these feelings are left to fester, it can result in an increased risk of developing psychological trauma, anxiety disorders, depression and other psychological conditions—as well as physical ailments such as heart disease and diabetes.
Ok, So I Feel Like Sh*t—How Do I Make It Better?
Say it with me: SELF-CARE. It's not just some buzzword we see hashtagged to death on Instagram, but a real and positive force that can truly help with our health and wellness if we embrace it.
sometimes self care is an everything bagel

— KATY PERRY (@katyperry) May 16, 2020
Create A Routine That Works For You
Dr. Mariano Mejia says that this can include proper hygiene, good nutrition, regular exercise, and healthy social interactions. Examples of healthy social interactions include interactions that limit exposure to negative people, maintaining positive conversations, and setting boundaries with your peers.
Quality Over Quantity
Dr. Harry says to rely on a trusted news source and consume it for 10 to 20 minutes a day to gather the highlights. Additionally, Dr. Mariano Mejia says that when you do seek out information, stick to factual content rather than opinion-based or emotionally biased stories. "A reliable source such as the CDC (Centers for Disease Control and Prevention) would be recommended, but on a limited basis," he explains. "Official information as it changes and advances on the studies of the novel coronavirus will not take place minute to minute or even hourly," so there's no need to obsessively hit that refresh button. He says you can also control how you remain informed by simply consulting your medical professional/family physician. Additionally, you can consider using free resources, such as Nurses On-Call. 
Timing Matters
Dr. Harry advises against starting and ending the day with your news (lol, I suppose I'm doing this wrong then). She says, "you want to set (an optimistic) tone for your day. Starting it with potentially startling content gives you no time to prepare how to approach your day. As a result, you have immediately engaged your stress and vigilance systems that can leave you feeling edgy, jumpy, and anxious all day."
Get Your Beauty Rest
This is related to timing and is why we shouldn't be inundating our brains with news before going to bed at night or when we get up in the morning. "Sleep is incredibly important; however, it will be difficult to get sound slumber if you've just flooded your brain with potentially traumatizing information and events," says Dr. Harry. It can be a lot to process and can leave you tossing and turning all night. She adds, "it's also another sure-fire way to increase your risk of inflammation and illness."
Unplug And Shut Down All The Things
The world can be a Debbie Downer sometimes, so if you want to chill out for the day and decompress, absolutely go for it. "That's completely okay—take even a few days and go offline from all media to regain your equilibrium. No one knows how you are feeling but you. So find out what works for you," offers Dr. Harry.
You Are Not Alone
Through these challenging times, it's understandable to seek out answers and information to decrease feelings of anxiety and to feel more comforted. However, you don't have to go it alone: "don't hesitate to seek out support. If you are still having difficulties and can't seem to break free or reduce the negative impact on your own, you may benefit from seeking the assistance of a trained and qualified mental health professional," says Dr. Mariano Mejia.
Peace And Pleasure
Yeah, we've all been baking to reduce the stress, but it keeps us cooped up inside. Dr. Harry says that as an alternative, why not consider simply getting outside (safely) for an easy means of decompression? "This may be a nature walk, time with friends via a social distancing/park gathering, meditating, yoga/breathing deeply, and art (painting/pottery), etc." It's about actively distancing yourself from the negative cycle and instead, doing something that brings you peace and a sense of calmness. "More importantly, these activities give your body the chance to recover and reset," she explains.
Doomscrolling may sound like some apocalyptic reckoning, but just remember that ultimately, you have the power to wield control over your thoughts and feelings. We may all be susceptible to this zombie-like trance of doomscrolling, but all it takes is a gentle reminder to pull ourselves out of this rut, turn off our smart devices and the news, and reconnect with elements of our humanity that fill us with joy. We got this.
Images: Bongkarn Thanyakij / Pexels; Chrishell Stause / Instagram; Diet Starts Tomorrow / Instagram (2); Tenor; Katy Perry / Twitter
2 Tricks To Help You Actually Keep A Work/Life Balance While WFH
I have internet, so I'm aware that there are countless articles with tips and tricks to maintaining a healthy work/life balance while working from home during a pandemic. To be fair, I'm not adding anything particularly innovative to this conversation when I suggest you simply do the following: (1) Declutter your space in order to calm your mind. (2) Embrace the storm of this uncharted territory. Where I believe I can help is in the execution.
When your email inbox seems to be mercilessly replenishing, while your phone is ringing off the hook, and you've had to cancel yet another socially distanced Bumble "date" (read: sweaty walk on the Westside Highway) because your boss just asked you to get her something "ASAP," take a deep breath. Fight the impulse to take a nap, and instead, clean out a closet. I'm not suggesting you organize your entire home by category, à la Marie Kondo. Only one little closet.
Take the Amazon packages from three years ago that you meant to return, the old puffy jackets with the stuffing bubbling out of the frayed seams, the enormous air purifier you actually love but never remember to buy replacement filters for, and donate them if they're salvageable. Throw them away if they're not. That's it! But most articles fail to delineate exactly why having a well-organized closet will center you, and it wasn't always abundantly clear to me either until I found myself working from home. 
The next time your emails flood in quickly enough to drown you, or you've forgotten what it sounds like when your phone is not ringing, or your toddler vandalizes your home and calls it an "art project," roll out your neck, stretch your hamstrings (pro tip: don't skip this step), walk over to your newly decluttered closet, twist the knob, step inside, and shut the door behind you. Enjoy the dark. Savor the scurrying footsteps and slightly panicked calls outside the door as your boyfriend or children search for you, never suspecting the "junk closet" has enough space for you in it. You have found peace, and all you had to do was take a moment to organize your closet. Namaste. 
Me: WFH is gonna be amazing
*2 days later*
Working from home is a SCAM all our bosses know we have LITERALLY NOWHERE TO BE so they can bother us at ANY TIME

— Betches (@betchesluvthis) March 18, 2020
Thanks to Instagram's #inspirationalquotes, we all know that storms in life are merely tests. But we are never told how to pass!  
The next time you're pretty sure your camera angle just showed your whole team that you weren't wearing pants during your Zoom, open yourself up to the storm. Literally. Open weather.com, scroll down below the "daily forecast" to the "breaking news" segment and take note of where those gale force winds are growing stronger. Then unplug. Take a few hours in front of the TV, cook some dinner, read to your kids, walk your dog, or make love to your quarantine boyfriend whom you'd only be casually seeing were it not a pandemic. When you're feeling ready to work again, simply respond to the slew of angry emails by explaining that the storm knocked out your WiFi, apologize profusely for the delay, and get on with your day. Nobody knows where you're working from anyway! Pro-tip: Refer to a tropical storm or hurricane by its proper human name to really sell the story. The storm is your friend. Embrace it.
Working from home during a global pandemic is really just as simple as organizing and embracing. I know the countless articles on this topic are written by MDs and PhDs, and that I am neither of these things. But I did have three really productive days while working from home back in June, so in the national spirit of throwing medical advice and empirical data to the wind, this should be the new authoritative article on the subject.
In all seriousness, I don't presume to know what each of you is going through at work or at home—especially when the two are combined—on any particular day. What I do know is that we all want to hide or unplug sometimes. My only real piece of advice is to try to be gentle with yourself, and every so often, indulge the desire to disappear for a while.
Images: XPS / Unsplash; @betchesluvthis / Twitter
7 Common Skin Care Myths & What The Truth Is
In a world where beauty bloggers act like they have a medical degree and influencers promote facial cleansing brushes on their Insta stories, basically anyone can call themselves a skin care expert. While it's great that we can learn everything we need to know about toners and exfoliators from just a quick Google search, it also means that a lot of us have based our skin care routine on information that might not be accurate. Don't panic and throw out all of your favorite beauty products just yet, though! Take a look at these busted skin care myths to get all of the facts on how to achieve the glowing skin you've always dreamed of.
Myth #1: Anti-Aging Products Are Only For People With Wrinkles
You might think that anti-aging products are for "older" people who have wrinkled skin. What many of those people will tell you is that they've had no luck getting their skin to look baby-smooth again like it once did. The truth is, once your skin has wrinkles, there's no magic cream that can take them away permanently. The most effective way to be wrinkle-free is to start taking preventative measures when you're young (in your 20s and 30s). That means using moisturizer and sunscreen or another SPF face lotion every day to prevent the development of dark spots and/or other signs of premature aging.
Myth #2: You Only Need Sunscreen If You're Going To Be In Direct Sunlight
This brings us to our next point: it seems that the only time most of us remember to put on sunscreen is when we are going to the beach, or doing some kind of outdoor activity in the sunny summer months. While it is incredibly important that you use sun protection regularly when you plan to go out in direct sunlight, it's equally as important to wear sunscreen on a daily basis, regardless of how sunny or cloudy it may seem.  Especially when it comes to preserving and protecting your complexion, a daily broad-spectrum SPF is essential. Whether you realize it or not, even the smallest amount of sun exposure—whether that be through a window, sitting outside, or even through cloud cover—puts your skin at risk for negative effects from sun exposure. We know that getting a sunburn is very bad for your skin, but the sun can also penetrate the layers of your skin and cause damage deeper down, potentially leading to skin cancer, the most common cancer in the United States.
Myth #3: A Set Skin Care Routine Will Work For Everyone
You may be thinking, "everyone with perfect skin is following the same skin care routine, and I need to use exactly what they use if I want to have great skin too." Yeah, that just isn't the case. Each person has unique skin needs based on their skin type. A person with oily skin will need to use different products to cater to their needs as opposed to someone with dry skin. The same goes for people with mature skin, or sensitive skin, and so on. Just because one product worked amazingly for one person, doesn't mean it will have the same effects for you. Take the time to research your skin type, or visit a dermatologist to find out what your skin type is, and the best way to care for it. The good news is there are so many products available that you're bound to find the right ones for you.
Myth #4: Once Your Skin Reaches Maturity You'll No Longer Break Out
You'd think that once you make it past your teens, you'll never have to deal with acne again. Sorry, but we have some bad news. As it turns out, acne doesn't seem to magically remove itself from your existence once you turn 20. Actually, your skin doesn't fully mature until you're about 30 to 35 years old, and even once you've reached that age range, you may still find yourself dealing with those pesky zits. But why? The most probable cause of your adult acne is your hormones. Your hormones change a lot over the course of your life, but factors like birth control, menopause, and even just your menstrual cycle can cause your hormones to fluctuate and create acne on your skin. Ughhh, we can't have any nice things.
Myth #5: A Skin Care Routine Is Only For Your Face
Finally, you've perfected your skin care routine and your complexion looks the best it ever has. While achieving that sought-after facial glow does qualify for a well-deserved pat on the back, you may be forgetting about the big picture: the rest of the skin on your body! 
You can't forget to invest just as much time and energy into the skin on your body as you do for your face. Though your routine won't be the same—our body skin is much thicker, which is why you wouldn't use the same products on your face that you would on your body (and vice versa). TG, because facial products are expensive. 
When it comes to skin care on your body, keep it simple. Wash your skin well with a soap or shower gel to remove the daily dirt, sweat, and other sh*t that collect on your skin. Next, exfoliate your clean skin. Whether you use a dry brush or a scrub to exfoliate while in the shower, it's important to remove dead skin cells from your body to reveal the healthy skin underneath. Finally, moisturize. Once you've finished cleansing and exfoliating your skin, finishing off with a moisturizer is arguably one of the most important steps, as moisturizing serves to replenish your skin barrier, helping to improve its overall tone and texture.
Myth #6: A Skin Care Routine Is Only Effective If You Use A Multitude Of Targeted Products
With the thousands of skin care products available on the market, you may think that your routine will need to consist of 10 products minimum. The good news is, it doesn't have to be that complicated (or expensive). If you want to create a perfectly effective skin care regimen, keep it limited to these three steps: cleanse, exfoliate, and moisturize. Cleaning your skin of makeup and dirt, exfoliating off the dead skin cells built up on your face, and moisturizing the new and healthy skin underneath is the simplest way to care for your skin on a daily basis and maintain a clean, clear, and healthy complexion. 
However, if you have any unique skin concerns—like acne, for example—you may want to consider incorporating a specialized treatment product into your skin care regimen, as this will work to effectively target and address these areas. An acne cream containing tretinoin, for instance, is great for increasing skin cell renewal, which helps to prevent acne from the inside-out. On the other hand, if you're concerned about dryness or wrinkles, applying a serum for overnight recovery can help penetrate the skin at a deeper level for better results. 
At the most basic level, keep your skin care routine short and simple, and only incorporate more targeted treatments if and when necessary. Make sure to apply these treatments only to the particular areas of your skin that need some additional TLC.
Myth #7: "A Little Dab Will Do Ya"
Most skin care products will say to only apply a pea-sized amount of the product to your face, and this is true when using a product like an eye cream, where a little can go a long way. In reality, however, the suggested amount of product for proper use with most skin care products isn't enough to give complete results for your skin. If you're going to cleanse, exfoliate, or moisturize, don't be afraid to apply a little bit extra. The lighter products like a cleanser or moisturizer can't really hurt your skin, so if you want to get your complexion extra clean and smooth, you can add a little more than the bottle suggests. 
If you do choose to use more of a product than suggested, keep your skin type in mind. For instance, those with dry skin shouldn't over-cleanse, as their skin will dry out easily, and for those with oily skin, there's no need to go overboard on the moisturizer or facial oils. 
For products like a serum, a chemical exfoliator, or a targeted treatment, you'll want to stick to the directions on the label, as these products are stronger and can cause damage to your skin if not used improperly or too frequently. 
Images: Retha Ferguson / Pexels
Why You're Breaking Out Like Crazy In Quarantine & What To Do About It
As we approach week 9 (58? 102??) of quarantine, many of us are noticing that our skin is reverting back to its acne-riddled high school days. Seriously, what the hell? We're not spending much time outside getting attacked by free radicals and pollutants, and we have more time than ever to do our involved skin care routines. So, what gives? Dr. Shari Marchbein, a New York-based dermatologist and Clinical Assistant Professor of Dermatology at the NYU Grossman School of Medicine, spoke with us about why our skin is still not behaving even when we're in quarantine, and what we can do about it.
Why Quarantine is Causing You to Break Out

According to Dr. Marchbein, hormones are a crucial reason our skin is breaking out rn. There's no way to pinpoint just one culprit, she says, since our sleep, work, and skin care routines are all out of whack from sheltering in place. The key ingredient in all of these, she says, is stress. 
When we think about hormones, our minds typically wander to testosterone, progesterone, and like, things that relate to the pill or middle school health class. However, Dr. Marchbein explains, the hormone causing our current skin woes is cortisol, "which increases in the blood at times of stress or with lack of sleep and can trigger acne breakouts by stimulating sebaceous glands to make more oil." Increased cortisol, she says, "can worsen other skin conditions such as eczema, acne and psoriasis, as well as cause an increased breakdown of collagen and hyaluronic acid, which is the good stuff that gives skin its glow and plumpness." Yeah, no thanks.
How to Prevent Stress-Related Flare-Ups
To avoid flare-ups in the first place, Dr. Marchbein recommends several ways to de-stress. "First and foremost, get plenty of sleep," she says. When our body is sleep-deprived, it makes more cortisol, causing inflammation and bodily stress. Staying active is also important, according to Dr. Marchbein. Her go-to ways to de-stress are meditating and taking a yoga class. To help reduce your cortisol and stress levels, you can also go for a socially distanced walk, if possible. 
And just like your mom's been telling you for years, "maintaining a healthy, well-balanced diet and drinking plenty of water are key." By following this advice, which tbh you should be doing anyway for your general health, you can be like that meme that's like, "my skin is clear, my crops are flourishing, my depression is gone" (but like, with actual, non-sarcastically clear skin).
How to Treat Acne Flare-Ups

If you've got a particularly aggressive breakout, don't freak out, because here are a number of treatment methods to try. Under normal circumstances (lol what are those), Dr. Marchbein would advise visiting your dermatologist for a steroid injection. These injections "reduce the pain and inflammation of cystic breakouts," she says, but at this point, "most medical visits are being done by telemedicine, and in-person visits should be for true emergencies only." So that's out.
Then what to do about the acne glaring back at you in your reflection? For starters, Dr. Marchbein recommends certain over-the-counter products to treat existing flare-ups. Retinoids are one useful treatment for acne breakouts—Differin 0.1% gel is the strongest non-prescription one available, she notes. Salicylic acid, a type of acid that can unclog pores, is also helpful. 
"I like St. Ives Blackhead Clearing Scrub with salicylic acid and green tea as a gentle scrub, and I use a St. Ives salicylic acid gel cleanser once daily," Dr. Marchbein says. She also recommends stronger 1-2% salicylic acid gel for spot treatment. Products with benzoyl peroxide, which is anti-inflammatory and anti-bacterial, can help calm irritated skin too. Dr. Marchbein likes 10% Panoxyl wash and 4% CeraVe wash. 
Finally, acne patches deliver active ingredients to a pimple. "By occluding the pimple, these active ingredients are able to penetrate the skin more deeply allowing them to potentially work better," she explains. Watch out if you have sensitive skin, though—acne patches might be too harsh for you and could make the situation worse. 
"Most importantly," Dr Marchbein warns, "do not pop or squeeze a pimple, as this will cause even more inflammation and can make a potentially bad situation even worse." I know Dr. Pimple Popper videos can be satisfying, but seriously, don't do this to yourself.
Skin Care Advice in the Time of Public Face Masks

As much as we've been staying indoors these days, we occasionally have to venture out into the real world to stock up on supplies or grab our curbside pick-up order of pad thai. For those of us responsibly following the CDC's recommendation to wear cloth face masks in public, our skin might be suffering. Dr. Rajani Katta, a dermatologist and clinical assistant professor at Baylor University, warns against using masks made of irritating materials like polyester that trap sweat, in a blog post for the Baylor College Of Medicine. She suggests masks made of absorbent materials like cotton, which can help absorb sweat and prevent breakouts. 
If you've got dry skin, Dr. Katta advises moisturizing before putting on your mask, but if you're particularly acne-prone, she recommends skipping greasy products like foundation. "These products can get trapped under the mask and possibly cause more skin issues," she explains. For healthcare workers on the front lines, Dr. Marchbein recommends avoiding retinoids and exfoliants. Wearing abrasive N95 masks daily, she says, "could cause further irritation and shearing of the skin."
If your quarantine = breakout central, all hope is not lost. There are plenty of products and habits that can help repair your skin and prevent further flare-ups. Plus, it's not like many people are seeing you these days. If you've got a particularly nasty zit, just turn off your video on Zoom.
Images: Andrea Piacquadio / Unsplash; Vera Davidova / Unsplash; Breakingpic / Pexels
Skincare You Can Do With Your BF Who Washes His Face With Bar Soap
Hey all you cool cats and kittens. If you're quarantined with your significant other, this one's for you.
I personally am trapped in the small NYC apartment I call home with my boyfriend who thinks it's ok to wash his face with the same bar soap he uses on his feet, and that's a battle I have not yet given up on. Especially now that I have the time to wage the war against his so-called skincare routine.
My boyfriend is aware that my daily self-care regimen can be a 10-step process, and in the past few weeks we've gone from #coupletrolls to #couplegoals (sorry, I hate myself for that one too). But, let's face it, if we're going to come out of the quarantine 15-pounds heavier, at least we'll come out glowing. 
Here are my favorite self-care remedies, all made more fun with a partner: 
The Basics

I personally can't bear to waste my expensive cleansers on my boyfriend (I swear I don't hate him, I'm just cheap), but I also don't want to put my skin in jeopardy by resorting to washing my face with a bar of soap. *Shudders* The solution: Cetaphil Daily Facial Cleanser is super gentle, boyfriend and girlfriend approved, and extremely affordable ($6, can I get an amen?).
Post-cleanser, we tone with Dickinson's Enhanced Witch Hazel Alcohol Free Hydrating Toner (whoever named this is dramatic), which comes in a bottle that will last you ten quarantines. If we're not masking, we finish with Unscented Neutrogena Hydro Boost Hyaluronic Acid Gel Face Moisturizer (again, DRAMATIC), because it's the only drugstore moisturizer I trust. I myself have a much more intense skincare routine, but this is our morning couples' drill and so far, so good. 
Masks
I am not afraid to walk around the house with a sheet mask on. In fact, I'll even share this mildly terrifying look on social media if it means getting a few laughs. My boyfriend has a beard, so he typically is uninterested in participating in my masking routine. BUT, I am stubborn, so after doing some research I stumbled upon HETIME, a beard-proof mask designed for men. It is Dax Shepard approved, and the perfect option to present to your man when throwing your own sheet mask on. My boyfriend went through his first four-pack in 10 days, so it's safe to say we'll be purchasing more. Happy masking!
Cleansing The Pores

Bioré The Original Deep Cleansing Nose Strips
IDK about you, but to me there is nothing more satisfying than unclogging pores with cleansing strips. Bioré is well aware of this, because they literally put out an #oddlysatisfying commercial to highlight just how gratifying the process is. We ALL have clogged pores/blackheads (except for the one girl reading this internally bragging that she has perfect skin), so this is another fun (and kind of gross) step in the couples skincare bible (written by me, in this moment). Always wash your face prior to using the strips, as oily residue can disturb the process. Also, to clarify, I'm sure there are plenty of brands that offer this type of product, but Bioré is at Target, and Target trumps all. Thank you and goodnight. 
Scalp

I think we often forget that our scalp still counts as skincare, and it's important to treat that and the hair on your head with kindness. My boyfriend will not sit for long periods of time with a hair mask in (unless I casually lathered it in while he was playing video games), but we do use Garnier Fructis' Hydrating Treat with Aloe Extracts. It's literally a one-minute treatment, so even my cats would have enough patience to participate (no, I do not put any products on my animals, I'm just proving a point). I like this product because there is no weighing down or greasiness, and my boyfriend likes it because it helps moisturize his dry scalp/hair. An across-the-board win if ya ask me!
Teeth Whitening

We can't change the fact that the world is ending, but we can change the color of our teeth. My diet mostly consists of coffee and ramen nowadays, so I fear my teeth will turn yellow by the end of this all. You can get some Crest 3D White Strips, and for 30 minutes a day, you just might be able to undo the damage from all that red wine you've been guzzling. If we're going to have to fake-smile at each other after this two-month quarantine, our smiles might as well look blindingly white. 
Body + Soul

Moonergy Moon Ritual Bath Bomb Kit
If you are stressed the f*ck out and your body is suffering, a bath always helps me relax. I will keep it really real with you all, I'm six feet tall, my boyfriend is 6'1″, and we do not fit in our apartment bathtub. BUT, if you are blessed with a home that has a bathtub for two (or you are solo but have made it this far), Moonergy's bath bombs and teas are amazing. I include these because a lot of bath bombs aren't as gentle on the skin as they should be, but my skin always feels soft and nourished post-bath using both of these options. You can throw either in a full tub of warm water, and the calming aromas are an extra bonus. This is a good couples activity for reasons I need not explain, but it's also nice to practice self-care and treat your skin right head to toe (and support smaller businesses). 
And there you have it. Couples skincare, quarantine edition. No TikToks were made in the process of this routine, I promise. 
Images: Dean Drobot / Shutterstock.com; Target; Garnier Fructis; Walmart; Moonergy; kristenanniebell / Instagram
Betches may receive a portion of revenue if you click a link and purchase a product or service. The links are independently placed and do not influence editorial content.
It's Okay To Be Worried About Your Weight During Quarantine
Content Warning: This content may be triggering to those struggling with eating disorders
Like any anxiety-riddled modern bitch, I experienced a nauseating thought-spiral upon hearing that I would be required to stay in my home for the foreseeable future. One of the first thoughts I had was, "Oh no, does this mean I'm going to gain weight?" quickly followed by, "Omg wtf is wrong with me? People are dying and I'm worried about getting stretch marks." Then the spiral stopped right there, and I decided to be happy, carefree, and at peace.
Lmao, obviously joking. I swan dove into a whirlpool of panic about my morals, self worth, thigh gap, and death. But once I was able to take a step back, take my meds, and talk to my therapist, I was able to see that worrying about my body image during this crisis doesn't make me a bad, superficial person who doesn't care that people are dying. In fact, as someone who has struggled with eating disorders since the age of 12, my reaction makes a lot of sense.
I first stumbled upon anorexia when I gave up sweets for Lent in the sixth grade and every teacher, classmate, and their WASP mother at my small town Catholic school commented about how much weight I had lost. The attention felt good, like I had accomplished something. But with that high came what never leaves you after struggling with an ED: the fear that you will lose the control you currently have over your weight. What would people say—or worse, think—then? Being thin was *my thing* now, and being in control of that was my number one priority.
Fast forward to now. What to do you know, it's Lent season again and I'm obsessing over my body. Life comes full circle.

Since 6th grade, I've always had anorexia in my back pocket, at the ready for when I'm in a bad place and need something to fixate on to distract myself from other emotional trauma (lol). I've made people worry about me, obsessed over making sure certain bones stay jutting out, and at most times become unable to recognize what my body actually looks like because all I see is "too big" or "gross." Body dysmorphia is a real bitch. I've dabbled in bulimia but have never stuck with that one for long because I'm not very good at throwing up (brag), and at one point was doing this thing where I'd chew food for the taste and then spit it out, but I'm not really sure what to even call that. But no matter what tactic I'm using, and even at times when I can recognize that my weight is healthy or I even feel good about my body, one thing remains the same: I'm absolutely stressed the f*ck out over the idea of gaining weight.
Years of therapy has taught me that everything I do—even the destructive, irrational sh*t—I do for a reason. And while eating disorders ultimately make me miserable, they also bring me temporary solace. They make me feel like I'm in control. I mean, ironically, they are in control of me and my happiness, but they make me feel like there is a small portion of my daily life where I am calling the shots. I am in charge of the amount of calories that I take in, the amount that I burn through exercise, the amount I release by vomiting. And so, it's no coincidence that my eating disorders are at their worst when I feel out of control in other aspects of my life.
Being confined to your home with no real end in sight is overwhelming. Knowing you can't go about your daily routine is stressful and anxiety-inducing. Not having access to your usual workouts and being stuck inside where you're likely to eat and drink out of boredom is scary, especially if you struggle with an eating disorder, or any type of body image issues. These reactions are normal. Unusual circumstances are going to trigger the ways in which stress manifests for you, and that's okay.
Also, hear me out, it is possible to be upset and worried about two things at once. You can be anxious about your weight and disturbed by death at the same time. I would argue that many of us worry about both of those things at once on the regular. So, during a pandemic, it's reasonable for both of those concerns to intensify.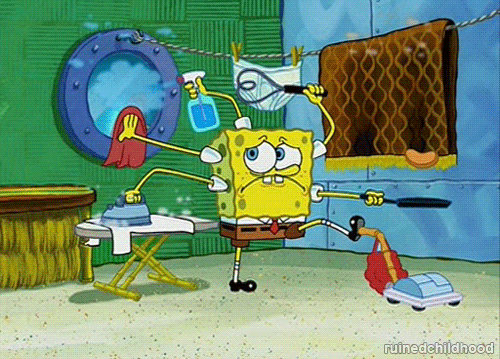 Live footage of me finding multiple things to be anxious about at once.
It's also important to note that the obsession with body image isn't something *you* came up with. A little bitch I like to call society can be blamed for this one. I don't think I need to launch into an entire TED Talk about how society has brainwashed us into valuing our looks and a certain standard of beauty, as we're all pretty familiar with that concept and Jameela Jamil has me covered there. So, being concerned about your looks during a pandemic is also just a reaction that you have learned to prioritize.
Being triggered by stress doesn't make you shallow. Wanting to have control over something while the world as you know it collapses around you doesn't make you a self-centered bimbo. And having an eating disorder certainly doesn't make you weak or materialistic. It all makes you a human living in this dumb world, reacting to things like anyone else.
If you're struggling with an eating disorder, call the National Eating Disorder Association hotline at 1-800-931-2237.
Images: Giphy (2); i yunmai / Unsplash