The 6 Biggest Questions 'The Undoing' Didn't Answer
After six long weeks, The Undoing, the latest installment in HBO's Rich White People Doing Crimes Cinematic Universe, has come to a close. For the first few weeks of the show, it didn't feel like many people were watching, but by the time the finale rolled around, memes about Nicole Kidman's luxurious coats and Donald Sutherland's weird "cocksucker" monologue were basically all I was seeing on social media. I'm not sure if we actually liked this show, or if we all just desperately needed something to look forward to, but either way, last night's finale felt like one of the most anticipated events of the year. Major spoilers ahead, so if you haven't watched the finale yet, turn back now.
So did the finale deliver? Honestly, I liked it! While most of us were focusing our energy on puzzling out which seemingly innocent side character could have conceivably killed Elena, the show went a different direction. Ultimately, Jonathan was the most obvious choice, but with that nail-biting chase sequence (and those chic AF helicopters), the writers found a way to raise the stakes without adding a forced plot twist. But just because I was mostly okay with the ending doesn't mean I don't have a million questions that went unanswered.

The Undoing was billed as a limited series, and given the way it ended, the chances of a surprise second season seem slim, which is probably a good thing (though I do have some great ideas for Part 2: The Redoing if HBO wants to cut me a check). But since we won't be seeing any more of Nicole in that wig (one of her best wigs, tbh), here are some issues that I would've liked to see resolved in the finale.
The Hammer
At the end of the penultimate episode, Grace found the hammer (aka the murder weapon) in Henry's violin case, and it was a truly shocking moment that threw a wrench into everyone's final predictions about who killed Elena. In the finale, we got more clarity about the hammer—mainly that Henry found it after the fact, and wasn't the killer—but I'm left with one specific question that I can't figure out. When discussing the discovery with his family and his attorney, Jonathan seemed excited at the prospect of DNA testing the hammer, as if it would magically exonerate him. Likewise, he seemed as annoyed as everyone else when Henry told them he'd run the hammer through the dishwasher twice.
But like… now that we know Jonathan did it, why the f*ck would he want the hammer to be DNA tested? Wouldn't that be the last thing he wanted? And wouldn't he be relieved to find out his son had flushed away any possibility of the murder weapon holding up in court? Obviously Jonathan made a lot of questionable decisions, but his whole reaction to the discovery of the murder weapon was confusing.
Sylvia
I love Lily Rabe, but throughout the show, it seemed a little odd how much time we were spending with Grace's best friend Sylvia, who also happened to be an attorney. For the most part, the show stayed laser-focused on the murder and the surrounding fallout, so Sylvia's scenes always felt a little random. For this reason, I noticed a decent amount of speculation that she could have been somehow involved in the murder. This always seemed a little far-fetched to me, and clearly it didn't end up happening, so why did we spend so much time with Sylvia?

In the finale, she played a key role in Grace's masterful takedown of Jonathan by slipping some key info to the prosecutor, but I still thought her scenes were building up to a bigger final moment. If there's any kind of spinoff I'd like to see from this show, it would be centered on Sylvia, because I have a feeling she also has some secrets up her sleeve.
The Family Sister
One of the more shocking revelations earlier in the series was that when he was a teenager, Jonathan's little sister died while he was supposed to be watching her. Jonathan's admission that he "killed the family sister" felt off-putting from the start, and I still don't feel like I got enough closure in terms of his mental state. Of course, Grace's creepy phone call with her mother-in-law ended up being key to her testimony, but the idea that Jonathan was a sociopath, or had narcissistic personality disorder, seemed to come up only when it was helpful in advancing the plot. By all accounts, Jonathan actually loved Elena, and it seems like his relationships with Grace and Henry were pretty solid before all of this mess started. If Grace, a clinical psychologist, was married to this man for 15 years, wouldn't some alarm bells have gone off before he was on trial for murder?
The Helicopter
Okay, so this is more of a petty thing that just felt off to me. In the climactic final scene, Grace and her father join the chase for Jonathan and Henry via helicopter, just in case you forgot how rich they are. Ultimately, they land the chopper in the middle of the bridge, which I just can't imagine is actually allowed. I'm not an expert on helicopter regulations, but I feel like one of the many police officers in the vicinity would have at least written them a ticket. And then, after Grace rescues Henry, they just immediately hop back in the 'copter and fly away. I'm sorry, but the police 100% would've made Henry stay there and at least answer some questions. I don't know how being rich works, but there's no way you could get kidnapped by your fugitive father, and then almost get killed by a truck, and then almost fall off a bridge, and the cops don't even detain you for a quick chat. But on a less nitpicky note, I absolutely want to rent a Blade so I can reenact this scene.
Elena's Locker Room Scene

After watching the first episode of The Undoing, I was really unsure of whether I liked it, mostly because I found Elena's energy kind of unpleasant. As we know, she didn't last long, and honestly I started enjoying the show more once she was gone. But I still want more answers about her behavior in those last couple days before she died. In the finale, we saw a flashback of her telling Jonathan about how she was getting closer to Grace, which he clearly didn't like. But while attending committee meetings together and talking at parties is one thing, I really need to know what the f*ck was up with that scene at the locker room, where Elena was fully naked while talking to Grace for like, five minutes. Grace was clearly uncomfortable (same), and for a while, I thought the show was going to be more focused on Elena being a creepy stalker. That never materialized (probably because Jonathan smashed her face with a hammer), but looking back, that first episode feels weirdly disconnected from the rest of the show.
Grace's Walk
Amid all the plot twists later in the season, I almost forgot about one of The Undoing's biggest red herrings: Grace's late-night walk right past Elena's studio. The security camera footage of her right by the crime scene cast doubt on Jonathan's guilt, and was really the only reason it ever seemed like Grace could've been the killer. But this line of thinking never went anywhere, and Grace's "I just went for a walk" explanation feels like a weak resolution for a plot twist that was so clearly contrived to make us think she was involved.
Overall, I enjoyed The Undoing, but I think they maybe tried to do a little too much in six episodes, and we were left with a lot of loose threads that never got tied up. But if anyone at HBO is reading this, that doesn't mean we need a second season—some things are better off being left alone.
Don't miss out on any pop culture or entertainment news. Subscribe to our weekly newsletter here. 
Images: HBO; Giphy
The Best & Worst-Dressed From The 2020 Golden Globes
Last night, we all begrudgingly watched the 77th Golden Globes, officially kicking off the two-month long headache that is awards season. As always, the show was… whatever, with lots of shows and movies that you probably haven't seen winning the awards. Don't worry, we'll do a full recap on all the highlights and lowlights in a bit, but for now it's time to focus on what's important: the red carpet. This year, Hollywood's biggest stars paraded around in looks that ranged from stunning to stunningly bad. This red carpet really had it all: feathers, rhinestones, and Gwyneth Paltrow in a fully see-through Victorian gown. Yeah, idk either.
Here's our breakdown of the best and worst looks from the 2020 Golden Globes red carpet, and if you disagree, I'll see you in the comments. Drag me!
Worst: Jennifer Lopez

Jennifer Lopez has spent 20 years breaking the internet in gorgeous gowns, so I guess it was only a matter of time til she, well, f*cked it up, and I may be the only person brave enough to say it. Her dress looks like the Christmas poinsettia that my mom probably still hasn't thrown away. Honestly, if J.Lo ever doesn't know what to wear to one of these events, she should just throw on the jungle dress again. No one would complain!!
Best: Billy Porter

As has become tradition at every event he attends, Billy Porter said "f*ck gender norms" and shut down the red carpet. His sparkly white jacket with a full feather train is the exact amount of extra that I'm trying to bring in 2020. If you're getting married this year, sorry, but I'm going to wear this and look better than you.
Worst: Taylor Swift

Taylor's hair and makeup look great, and this is a pretty dress, but it looks like something I'd wear to a bridal shower, not the f*cking Golden Globes. However, the biggest joke of all was that Taylor Swift was at the Golden Globes not as Joe Alwyn's plus-one, but because she was actually nominated… for Best Original Song from CATS.
Best: Ana de Armas

Ana de Armas was nominated for playing a woman who can't stop puking in Knives Out, so I was hoping her look wouldn't make me want to vom. She f*cking turned it out in this sparkly navy gown, so good for her. She has like five movies coming out this year, so she's definitely one to watch.
Worst: Charlize Theron

To put it simply, Charlize Theron's dress looks like it was inspired by the slime at the Kids Choice Awards. (I'm also getting slutty Jim Carrey in The Mask vibes.) Honestly, this dress would've been painful in any color (an exposed corset? Is this an unfinished Project Runway look?), but the choice to go with lime green is puzzling. Also, can we please, PLEASE not do capes on the red carpet anymore?
Best: Saoirse Ronan

Of all the people who showed up in dance recital rhinestones, Saoirse pulled it off the best. She looked classical and effortlessly beautiful, and she looks like she's wearing a swipe of mascara and that's it. The bitch.
Worst: Sofia Carson

We love Sofia, which makes this look all the more painful. This is gonna hurt me more than it hurts her: she took the top half of Ariana Grande's fluffy pink top in the "Thank u, next" video (the one where she's Elle Woods doing the Bend and Snap) and the bottom of a shower loofah. Really, loofah dresses should have never started, but since I can't invent a time machine, they should have stopped last year. The hair didn't help either… this reminds me of New Year's Eve, when I tried to pin my hair up in a fake bob to look like a flapper, and it started falling out after one tequila shot.
Best: Kerry Washington

Olivia Pope don't need no shirt! Minus the jewels that probably cost more than my parents' house, this is the exact outfit I wore to every CEOs and corporate hoes mixer in college. I'm not mad about it.
Worst: Joey King

Joey King showed up in a couture look that's like an optical illusion, but it didn't quite trick us into liking it. Honestly, if she had just shown up dressed as Gypsy Rose Blanchard, I would've put her on the best-dressed list. Shame!
Best: Nicole Kidman

It feels like Nicole Kidman is nominated every single year, but she always looks great on the red carpet. Nicole is one of those people who can basically pull anything off, and she didn't disappoint in this simple but stunning red gown.
Worst: Dakota Fanning

Dakota is one of the most beloved child stars, but I think she missed the memo that she's no longer a child. This dress is pretty, but it looks like what the little girl wears to the fancy family Christmas party. I'm glad Dakota hasn't become a mess like some other child stars, but she could stand to edge it up a little.
Stay tuned for our full Golden Globes 2020 recap, and like I said earlier, drag me in the comments.
Images: Getty Images (11)
Photoshop Fail Of The Week: Many, Many Limbs
There are so many different kinds of Photoshop abuse. We show you a lot of celebrities' toxic relationship with Facetune, photoshoots gone wrong, and occasionally missing/messed up body parts. But the one I'm gonna show you today you'll probably remember because it was so hilariously bad. I mean, it wasn't just a run-of-the-mill nose amputation that we usually see. This photo retoucher failed spectacularly. Which also makes me angry because this is a huge magazine, and how did you possibly get this job if you're so lazy you can't even do this correctly? How much did they pay you for this, sir? However, this image is an example of what magazines do all the time, they just usually remember to fix it first so you can't tell. I'm speaking, of course, about the time Vanity Fair decided Reese Witherspoon and Oprah didn't pose well enough for the probably 1000 photos they shot. So they fixed it. And made it a lot worse.
Here is the cover:

Come on children! What's wrong with this picture? Whoever edited these photos seems to use the same ~*dangerous*~ editing method over and over: do whatever first and clean up later. And if you don't pay attention to detail, it's risky. Because:


So, I consider myself an expert on Reese's work, mostly because I've seen Legally Blonde probably 50 times. And guys, I have to tell you, I always thought she had two legs? Vanity Fair then attempted to defend themselves, saying that what we're seeing is actually just the lining of Reese's dress.
While we would have loved the exclusive on @RWitherspoon's three legs, unfortunately it's just the lining of her dress. https://t.co/HJjvbc037S

— VANITY FAIR (@VanityFair) January 25, 2018
However, you can clearly see the top of Reese's thigh, and the straight leg match perfectly. The dress lining even has what looks like a knee and a calf? It doesn't look anything like dress lining!

Like no sorry, you done f*cked up. But here's where it gets really good. Although VF tried to play off that the cover was not a mistake, they obviously used the same retoucher for all the other photos. Why you ask? Because this candid gem was later in the issue: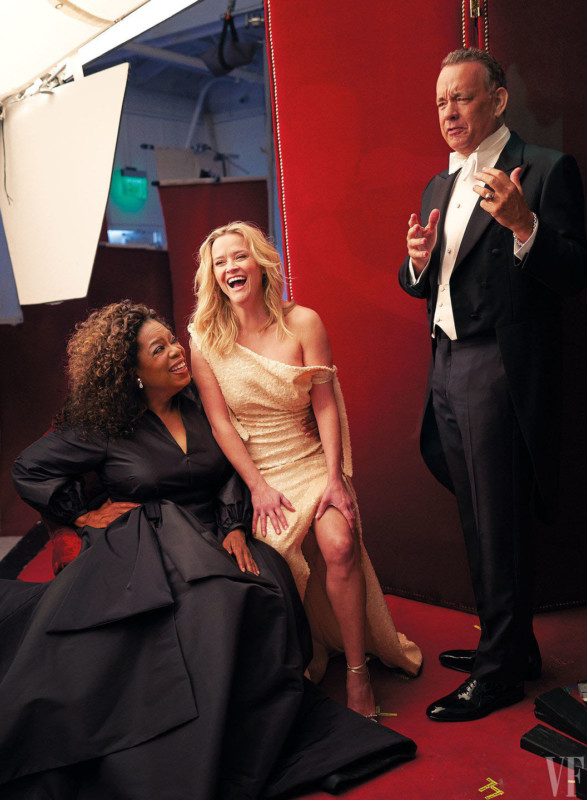 Again I ask you, what's wrong with this picture?

So you're telling me that while this retoucher did not give Reese three legs (although the inseam has its own knee, so sure Jan), he definitely gave Oprah three f*cking hands. It seems like his editing technique just sucks. Vanity Fair at least copped to this one:
As for @Oprah, how can we expect her to juggle it all with just two hands?
¯_(ツ)_/¯_/¯ (We are correcting this error​ online​.) https://t.co/QNd74YtSTz

— VANITY FAIR (@VanityFair) January 25, 2018
The retoucher obviously just really enjoys giving everyone extra body parts. But in actuality, this happens very frequently in photo editing, it's just normally cleaned up so you can't tell. I mean, that's like, what a professional does. And YES OFFENSE, Retoucher, because you probably made an insane amount of money for this catastrophic cover.  So basically, here's what happens. A photographer takes a ton of photos all in different poses. Especially with a big group, it's hard to get everyone to look their best. So then they splice up each person for their most flattering pose between all of the images. I don't even mind that they do this to some extent—like, if Reese is blinking in Oprah's best shot, for example, swap Reese's best face shot with the blinking one, and now it's the best picture of both of them. That doesn't even bother me, because it's still her real face.
But what happened here is the retoucher seems to have this strange work flow where he piles on every option of arm, leg, etc, on different layers, and then chooses what one looks best. However, he forgot more than once to recheck his work, which is how he ended up making Reese a tri-ped and Oprah into an octopus.  Check *clap* your *clap* work *clap*.
Also? What is Nicole Kidman leaning on? Does this not look super weird to you?

This practice, while super common, is also one of the many ways retouchers and magazines try to f*ck with us about what reality looks like. They rearrange everyone's anatomy to make it look like perfect proportions, perfect angles, and perfect pose. The second photo, with Oprah's three hands, looks like it's supposed to be candid, and yet was edited so much so that they couldn't even casually sit together without being dissected. It's a room full of some of the most beautiful, strong, influential people in the world—why can't they just take a photo with perfect lighting, perfect makeup, perfect staging, perfect outfits, and leave it as is? It still needs to be ripped apart limb by limb to be acceptable to us?
Are triple limbs now the unattainable beauty standard? What do you think of this practice? Why do magazines in particular edit already-beautiful people so hard? Who was this retoucher and how did they get this job? Did you know magazines edited their subjects so severely? LMK!
And guys, pleaseeeee send me your Photoshop Fails. See you next week!
Images: Vanity Fair; vanityfair (2) / Twitter
The Most Random Celebrity Couples You Forgot Were Married
If you've been having a great week so far, I'm about to ruin it with a depressing statistic from the American Psychology Association's website: "About 40 to 50 percent of married couples in the United States divorce. The divorce rate for subsequent marriages is even higher." Call me crazy (just kidding, I'm very sensitive), but I feel like the not-at-all-compatible celebrities who think getting married sounds like a fun thing to do between projects are at least partially responsible for this wildly depressing number of failed marriages. I mean, did Angelina Jolie and Billy Bob Thornton really place a vial of their blood around the other's neck and think, "Yep, this is my forever!" I wonder what they did with the blood necklaces after they called it quits. Can they just throw them in the trash or is that, like, an unsafe disposal of bodily fluids? Anyway, I shouldn't be singling out Angie and Billy Bob for getting married when they should've broken up, since they are just one of many celebrity couples who did the same thing. Don't believe me? Keep reading for this list of celebrities you forgot were married.
Nicole Kidman & Tom Cruise

We obviously all knew about this legally binding f*ck up, but it's still shocking. Honestly, good for Tom for scoring such a dime, but Nicole, what the hell were you doing? Maybe Tom Cruise was not as horrible-seeming then as he is now, but I will never understand this relationship, especially since two adopted children came out of it. What's more, neither Nicole nor the children (who are actually adults now) acknowledge each other. That sounds really sad. Like, if Nicole Kidman was my mom (Nicole, if you're reading this, I'm available for adoption), I would definitely make sure that everyone I've ever met knew that. 
Even though all parties alleged that their differing views on Scientology (the kids are believers and Nicole is not) did not influence their unfortunate familial situation, I think we all know that it's probably got to do with the reason they don't talk. Not that I'm a relationship expert, but I feel like before they got married and adopted kids together, Tom and Nicole should have discussed how they felt about being in a cult highly publicized and controlling church.
Jennifer Garner & Scott Foley

I don't remember this genetically blessed mess because I was 10 years old when they got married, but I am kind of into it. They met in 1998 and separated in 2003, which is pretty good considering I've never been with someone for more than like, two years. Whatever, I'm not bitter. Unlike celebrities today **ahem, Pete Davidson and Ariana Grande** they kept their relationship and breakup pretty private, so no one really knows why they ended, but I think it's safe to say that it's because Jen got very famous and Scott did not. In any case, Jen leveled up with Ben Affleck, but in classic celeb fashion, they got divorced too. Too bad, so sad. We were all rooting for you!
Elisabeth Moss & Fred Armisen

Not to blame the failure of another celebrity marriage on Scientology, but there's a reason these two ended it, and I have a feeling it's because one of them **cough Offred cough** is a Scientologist. Moss once told the L.A. Times, "Looking back, I feel like I was really young, and at the time I didn't think that I was that young. It was extremely traumatic and awful and horrible. At the same time, it turned out for the best." Yep, it's usually considered a good thing when something you look at as extremely traumatic and awful and horrible comes to an end. 
They met when her Mad Men costar, Jon Hamm, hosted SNL (Fred Armisen was a cast member) in 2009 and she was in the audience supporting him. They got married a year later. I feel like it's just never a good idea to get married after only a year of meeting each other. What is with celebrities and rushing into marriage? I didn't even want to meet my ex boyfriend's family a year after we had been together because I thought it was too soon, and I'm glad, because we ended up breaking up like six months later! Anyway, I guess it was an awful marriage considering she has no problem airing their dirty laundry to a national newspaper, so it's probably a good thing these two called it quits.
Wiz Khalifa & Amber Rose

I am still sad they are no longer married. They were so good together and they're still very good friends. Why couldn't they just make it work? "Things happen and sometimes as much as you love each other, you're better off as friends," Rose told PEOPLE after the pair split in 2016. "I feel like we can be the best of friends but we just can't be in a marriage together. And that's okay, because as long as Bash is happy, and we're able to co-parent, that's the most important thing." I mean, that's a beyond mature way to look at it and I wish I could do the same thing for my failed relationships. Personally, I just pretend that all my exes died after things didn't work out, but maybe I'll give this "friends" thing a try. Even though they are no longer together, I will always think fondly of Wiz and Amber as the cutest couple since they always looked genuinely smitten with each other. 
Angelina Jolie & Billy Bob Thornton

Like our friends June Osborne and Fred Armisen, these two thought getting married after a year of knowing each other sounded like a swell idea. I think it makes a little bit more sense for these two, though, since they were both rebellious wildcards in the late '90s. One good thing came out of this super bizarre pairing: Maddox, their adorable adopted son, who can now vote in this year's election. F*ck, I feel old. The two blamed their split on their vastly different lifestyles: hers a little more global and his a tad more…agoraphobic. That's probably something you'd find out had you waited longer than two seconds before agreeing to marry each other, just saying. Not that it matters, but he was also 20 years older than she was, and considering she was only 24 at the time, it's not that shocking that they broke up pretty quickly.
Alanis Morissette & Ryan Reynolds 

This one is the most random in my opinion. She's a 90s icon and he's a current icon, but they're only two years apart. Hmmm. Also an important thing to note is that they did not make it to the altar—but they were engaged, so I'm counting it. More on that, Morissette one said that her breakup with Reynolds was her "rock bottom." I get that. Breaking up with Ryan Reynolds would definitely be my forever lowest point. We'll never know why they broke up, because a source close to the couple said shortly after the breakup, "They ask that their privacy be respected surrounding this personal matter," which is honestly rude to all of the people who became as invested in their relationship as they were and need to know the details so that they (I) could move on, too. 
And there you have it: the most random celebrity marriages. Are there any that I missed? Probably. Let me know in the comments!
Images: Getty Images (2); Shutterstock.com
Has Nicole Kidman Gotten Work Done? An Expert Weighs In
If you were watching Big Little Lies this season, then you may have noticed that something looked well… different. And no, I'm not referring to Shailene Woodley's wack-ass hair or Meryl's terrible wig. Rather, I'm referring to Nicole Kidman's face. Now, she's always been beautiful, and that will never change, but I couldn't help but notice that something looked a little off. At first, I really couldn't pinpoint what exactly it was. I asked around, and one of my friends thought something was off with her jaw, commenting that it looked "uneven". Another avid BLL fan noted that her face was "very sharp-looking", specifically pointing out her nose and chin. 
For reference, here's a picture of Nicole at the 2018 Oscars. I know it seems like a million years ago, but it was objectively not that long ago.

And for contrast, here are some screenshots from Big Little Lies this past season.


And just to clarify, I by no means am throwing shade at Nicole, or anyone, for possibly getting something done. Look, I got Botox for my jaw, and I'm not going to sit here and pretend like I didn't ask for an extra shot or two in my forehead as well since I was already there. (Just don't tell my insurance that.) I'm trying to say is that I'm down for whatever makes anyone feel more beautiful, and I know from experience that Botox for my jaw and forehead have definitely made me feel more beautiful and confident.
So while I'm not shaming anyone for getting a little extra *ahem* enhancement, I'm pro being up front about it. Like, it's not enough that celebrities are using Photoshop, Facetune, and contouring to (appear to) look the way they do—they're also getting injections and surgery on top of it and acting like their faces are all natural. It doesn't benefit any of us for celebrities (or anyone, really) to pretend their perfectly engineered faces are just due to a little puberty, and in fact, putting forth this false narrative is harmful to all of us, who didn't magically gain pouty lips and a new nose during puberty (because that's not at all how that works).
With that being said, a girl can wonder if the face she's viewing every Sunday night has had a little extra help. To get to the actual truth of whether Nicole Kidman had something done or not, I consulted with Dr. Manish Shah, Board Certified Plastic Surgeon in Denver, Colarado.
Dr. Shah says, "I'm a firm believer in the idea that Nicole has probably had a facelift and brow lift." Which gives me hope because it means Nicole Kidman isn't just some mutant human who magically doesn't age. According to Dr. Shah, as we age, we lose bone support in our faces. He says, "When you have a facelift, you are tightening the loose skin that develops with this bone loss." He assures me that we all have natural asymmetries in our face that can be hidden by the loose skin. Therefore, when the skin tightens, the asymmetries are more easily seen. And, he points out, this is more likely in slim women, like Nicole, who doesn't have extra fat to hide bone loss.
So like, are these asymmetries the sign of something gone wrong? Dr. Shah insists, "Not at all. It is entirely normal and expected in 100% of people getting facial plastic surgery." I don't know how comforting a response this is, though—like, if I'm trying to tighten my skin, it's because I'm trying to look better. So tightening the skin just to look less even doesn't necessarily sound like a win to me. Dare I say, I may just have to age naturally?
If you do decide to get a brow lift or facelift sometime far off in the future, how can you make sure that you won't have asymmetries? Dr. Shah says, "When patients have large asymmetries, it is important for the plastic surgeon to try and reduce the amount of difference," which often requires the use of filler, fat, or facial implants. Or, you could just not stress too much about it. In general, Dr. Shah says, "Our eyes can overlook minor asymmetries—large asymmetries are hard for our brains to ignore." If it's a minor asymmetry, chances are nobody will notice.
When it comes to facelifts, there are a few things to keep in mind. Number one, Dr. Shah says people should not have a facelift too prematurely. He says, "There is so much that can be done with fillers nowadays with what is known as a liquid facelift. There are times when a woman has a facelift too early (such as early 50s) and this can actually serve to age her if her face is pulled too taut and some of the natural fullness is taken away." We've all seen a bad facelift, right? Good, so I don't need to explain to you what it looks like. Somebody tell Kylie Jenner that getting plastic surgery too early in life can actually make you look older…
For brow lifts, Dr. Shah expresses that the same rules apply. "We've all seen women who have that perpetually surprised look because the brow has been raised to an unnaturally high position." (See every Real Housewife, for example.) He urges those considering a brow lift to find a skilled plastic surgeon who knows just the right place to inject Botox in order to give the brows the right amount of natural lift. Also, according to Dr. Shah, there are techniques women can do with brow shaping to achieve youthful, nicely arched eyebrows without injections. So maybe I do need to find my way around a brow pencil after all…
All in all, it's not shocking that celebrities are using things other than expensive face creams to slow down the aging process. We just wish they'd be more open about it.
What other celebs are you positive have had work done, but they won't admit it? Let us know in the comments and we will get to the bottom of it.
Images: Shutterstock; HBO; thefacesurgeon / Instagram
'Big Little Lies' Recap: Be Cool, Don't Be All Uncool, Monterey Court System
Sponsored by SkinnyPop
The show is starting, and Jane is giving us Worst Uber Driver Energy blasting music. Ah, it's her "I might kill a man" playlist—a much needed one for 2019. Turns out, her 17-year-old lover was brought into questioning about Perry's death. Apparently it's now like Mean Girls, where the first one who cracks gets a deal and everyone else is f*cked. Now I guess she's on crack.

 Ah, a flashback to season one Celeste in this cop interview, back when she didn't annoy me constantly. Looks like Mary Louise is watching these old tapes with the detective because I guess there's nothing fun on local Monterey TV. 
Wait, I thought her mom was killed last episode? I can't hear her dad whispering because he's truly talking under his breath in a way that would make me afraid to sit next to him on a subway, but I'm assuming it was something about him being awful.
Ed and Madeline are drinking wine and having cheese and crackers which seems like a normal, good step for them—the important part of any healing in a relationship is to be drunk, at least that's what I think before getting dumped. Meanwhile, across the multi-million-dollar streets, Celeste is watching the ocean with her kids.
Madeline is thinking of telling Ed about the drama, for which Renata emotionally tried to slap some sense into her. I personally feel like Madeline is just ready to try and Olivia Pope her own life and save herself. Endorphins make people happy—and happy people don't want to go to jail. 
Speaking of endorphins, it seems like they're not working for Bonnie because she is miserable. Ah, so she TRIED to kill her mom but didn't work. Lifetime, where you at?

It's the court hearing and The Good Wife fan in me is jumping out. I'm drinking pinot noir so I'm ready to object at any time. Wait, Celeste's lawyer is not wearing her jacket. What's happening!? She asked a question and immediately got shut down, which is very on brand for this lawyer. But yikes—Celeste is testifying and now it's fair game to ask her anything. Nicole Kidman, do you think my hair looks sexy pushed back?
Bonnie asking her doctor if it's okay to kill her mom is peak Season 2 of Big Little Lies. Renata is pensively angry in half a ball gown while firing her nanny/maid, which feels like super California. Juliet, we hardly knew ye. 
Since when do you wear a wet suit… with gloves… to bodyboard? I guess they go great with her wet bangs. 
Madeline is apologizing to Bonnie and Bonnie is still serving her hungover stare realness. I love that everyone is going to watch her testify—it's basically like her one-woman show, but they all could wind up in jail. Feels like Chicago! F*ck this lawyer for mocking her abuse. And then getting her one night stand broadcasted in front of everyone. If I had to testify for every time I slept with someone whose name I didn't know, I'd have a full on grand jury appearance. This was hard to watch. FULL GEOMETRY COMING IN WITH THESE STIMULATIONS OF PERRY'S DEATH. WHERE IS MS. MADEWELL JACKET TO OBJECT MORE THAN ONCE?
It's insane that Celeste's every move has been watched — like, what's next, the detective is going to know what bike she was on at SoulCycle? I like get that it's this private investigator's job to do this, but honestly she is such a bitch. LET MY PRETTY RICH FRIENDS LIVE. 
Ed meeting with Jess/Jenn/Josie and the Pussycats on a Starbucks date is one of the most depressing things I've ever seen. All of this is done over oat milk lattes and rent-a-shrink diagnosis about what cheating on your spouse who cheated on you can do. You so know this woman went to her manicurist and asked for red gels being like, "I need a dark color to try and steal a husband". His standing desk infuriates me also for some reason. I think I'm 100% at a Big Little Lies boiling point. 
Jane goes to Mary Louise and is ready to attack. This is why older woman should take up knitting or go to a communal home, they have too much free time on their hands. 
I KNOW SHE'S NOT BUT I REALLY THOUGHT CELESTE WAS DRINKING SKINNY GIRL MARGARITA FOR A SECOND. GIVE US THE CROSSOVER. Yikes, it's a drinking-from-the-bottle kind of night, aka a night you definitely shouldn't have after being attacked at trial all day. 
Looks like everyone is falling apart because Madeline is full-on dancing in a wedding dress. Ed telling Madeline she can't wave a wand and fix things is kind of hysterical because exclusively Reese Witherspoon can wave me to do anything she'd like me to do. 
Calling it now: Bonnie killes herself with a suicide note that fesses up to everything and leaves the other girls off the hook. 
We're going back to court, but before that, Celeste is filming a makeup tutorial. Hey guyz, I know a lot of you have been asking about my Chic Court Look. 
This judge doesn't know the difference between a sexual addiction and being horny, cause I see nothing wrong with Celeste. Be cool, don't be all uncool. Class with the Countess Celeste. Luckily Celeste was able to take better control of the court questioning this time around with only 5% help from her lawyer.

Bonnie confesses to her mom… but not about Perry. She opens up about the awful childhood she had—it starts very Ten Things I Hate About You but turns into an awful, dark look into Bonnie's life and how unhappy she is and then she finally confessed about killing him… in a public space. Like, where is the night nurse that is like "what the fuck did I just hear?"
UH, I SPOKE TOO SOON. JULIET IS BACK IN A BIG WAY. Turns out, she was sleeping with Renata's husband and she's getting $160,000 from it. Wow, I need to start sleeping with better people. Give Laura Dern THE GOD DAMN EMMY PLEASE. 
Sidenote, can I make people rise for me when I enter into a room? Turns out Celeste is calling the SHOTS cause Ms. Madewell didn't think of anything and she's going full Ted Bundy going to court. DAMN THIS CLIFFHANGER. And yet again, we're hooked. 
Images: Giphy (3)
'Big Little Lies' Recap: Where The Hell Was The Ice Cream Throw?
Another day, another flashback to start things off. Honestly, I'm loving this season so far—but you can't tell me that it doesn't give you Pretty Little Liars energy. Everyone is waking up and pondering things while looking at the water, because apparently what else do you do in Monterey besides look into the ocean and kill people?
We're kicking things off with a husband-on-husband scene, and not in the PornHub way. Ed and Nathan talk it out while they're working out in the morning—another reason why I never jog. Nathan has gotten so annoying, no wonder Bonnie is checked out. 
The child custody hearing is off, and Mary Louise is giving her best Iron Lady while also acting like every girl at brunch who wants to sh*t talk their friend who is not there. "No she's like, literally crazy."
Celeste hired a lawyer who, while she may not be doing her job, is doing a damn good job at pulling off that jacket. Rent the Runway unlimited, I'm sure. 
WHY IS EVERYONE JOGGING? Okay nevermind, Bonnie was just dream jogging—my favorite form of working out. Weird that I still only fit in jeggings. She's still at the hospital staying with her mom while her dad basically just gives her death glares 24/7. Weird, how did HBO get this tape of my Thanksgiving from last year?
Madeline, desperate for a storyline, is taking Ed on a retreat to bond their relationship that may involve bondage. I can so f*ck with a Carole King sing-along, though.
Celeste is a lawyer, a fact that I'm pretty sure we all forgot about (including Celeste herself), and she went to see Renata to trash talk her lawyer. Dreams. This is the first time Renata has been working all season though, right? I guess the Women In Power article caught on to that, because they pulled her from the article, which actually made me genuinely upset but genuinely not surprised. 

Some weird kid came to bully Ziggy and the twins came to his defense—but unfortunately, that defense came with an extreme offense. Both Jane and Celeste's kids are suspended for three days, so at least they'll have more time to stare into the water. 
Wait, is Bonnie psychic? She's basically like the Long Island Medium, except not Italian. And not in Long Island."
Yup, that was definitely a sex cult, but at least it go them to communicate (and communicating in California is just shouting in a car). Ed dragged Madeline (as the kids say) and damn, I do try so hard to feel bad for him in all of their scenes. But, is it just me, or is it impossible to ever blame Reese Witherspoon for anything ever? Let her screw all the theater directors she wants! Every month is Pride!
Renata's "spent her entire life with a bullseye on her back," which is a C-minus in terms of all of the lines she's said this season. She met Mary Louise for tea, in every way that word is used. Mary Louise is shocked this isn't just a "tea party," which, no sh*t—that's like when I invite someone to a workout that winds up just being a brunch. No one drinks tea and no one JOGS IN THE DAMN MORNING. 
Celeste is parenting her kids in the best way she can, which is by screaming and crying while also whispering with her whispy bangs. It's kind of weird that in an alternate universe, her kids would be played by Dylan and Cole Sprouse. Shout-out to Dylan Sprouse's meadery in Brooklyn.
Ed has a sweet but heartbreaking moment with Chloe that is 100% ruined by Bonnie leading an adult Kidz Bop lesson that's mixed with an overpriced Brooklyn barre class. "Singing for Sleep Apnea" is definitely a charity party from The Hills. Yikes, looks like Bonnie's dad is a beyond confirmed piece of sh*t. 
Celeste's lawyer is doing nothing but wearing a coat, round two. After Celeste breaks down at a custody hearing, she sends a group chat to her girls to meet her at the beach (it's going down). Turns out she'll have to testify during her settlement, and when she's on the stand she's fair game to ask about anything aka the murder. Basically, the lawyer could be like you when you're in a fight with a friend and try to bring it up casually but you have no chill:
Me: How was your day?
Me: What the f*ck did you say about me in the group chat the other day?
MAJOR shout out to this A+ line from Renata, maybe one of the contenders for best line of the series. "That's perjury, babe."
Ed and Chloe, Bonnie and her dad… this is a huge Father's Day card of emotions going down. He talks to her about how he wanted to keep the peace between all of them, which is what I say to everyone every time I'm in an Uber Pool. Yup, the mom is magic and she can sometimes see things that are right—very That's Kinda Raven. 
Cool, we were all fully weeping when Celeste and her boys were talking, right? Meanwhile, Renata forced Ammabella to play hooky with her, because she's not a regular mom, she's a cool mom. 
THE ICE CREAM SCENE THE ICE CREAM SCENE THE ICE CREAM SCENE. The moment we saw GIF'd and meme'd since Meryl was first announced as a cast member. AND IT DIDN'T EVEN HAPPEN. Instead we got left with Jane slow dancing with her 15-year-old coworker AGAIN. I'm sorry, but why is HBO doing this to us? If I wanted to see someone awkwardly kiss on a couch with blunt bangs, I'd log back into MySpace.

Jane is still struggling to connect sexually with her trauma, and fine, the 15-year-old has grown on me by being so nice with Ziggy. I did realize that Nicole Kidman in a baseball cap is my sexual orientation, though.
Okay, did I just get high, because so much is happening at once? It's like a dressing room montage, but with kayaks and wine and… assisted suicide? AND TORI FROM THE FIRST EPISODE OF THIS SEASON? Fine, I remember her from there, but in no way shape or form was she in any episode in season one. The bartender gave them shots, and I guess when you're over 30 that is code for we gon' bang. 
So this episode ends with Jane's man leaving the police department, Bonnie walking to the police department after probably killing her mom, Madeline's husband about to have a … threesome… with TORI, and Celeste's lawyer prob at Marshall's finding a new jacket. Big Little Lies, what are you on?
Images: HBO; Giphy
'Big Little Lies' Recap: The Slap Heard 'Round Monterey
We're driving back up the PCH to Monterey tonight—let's get into it. This recap was a day late mainly because I spent all of Sunday drinking $5 Cosmopolitans for pride, which means I spent all of Monday asking myself why did you do that do that do that to me?
Jack-O-Lantern
It's Madeline's turn to have a nightmare, which I guess makes sense cause a) murder and b) it's apparently Halloween! I forgot that weather isn't a thing in Monterey. She's also now smoking, serving us big end of Grease Sandy Energy. On top of that, Renata is simultaneously planning her bankruptcy court hearing and also her daughter's birthday. ¿Por qué no los dos?
Naturally, Mary Louise arrives with a cake and her chompers—in no way are those her real teeth, right? Uh oh, Mary Tyler Moore has a new Rhoda in town, and it's M.L. who is moving into Jane's building. Survey says she's doing that to be closer to Ziggy and not cause it's the only property in Monterey. Kind of like when Taylor Swift bought a house in Rhode Island to be closer to the Kennedys. Throwback! 
Giving Madeline a break, Celeste is now verbally sparring with Mary Louse until IT BECOMES PHYSICAL SPARRING WHAT IS HAPPENING. Celeste hits with a slap heard 'round the world after Mary Louise says she feels Jane wasn't raped and Perry just was looking for anyone outside of their marriage. 

This scene of course ends with Madeline in her gorgeous kitchen, complaining to Ed about how people should be more considerate when planning parties ("we all have calendar apps on our f*cking phone") and can I just say, preach?
Longing Looks At the Water: 2
In between scenes, we see Bonnie also staring at the water and Jane inviting her school yard crush to the disco party, an era he 1000% learned about during AP U.S. History last year. 
Celeste, Bonnie, Madeline, and Renata all have the same calendar. pic.twitter.com/s4igIkd7Jm

— bobby finger (@bobbyfinger) July 1, 2019
All The Tense Coffee Dates
Mary Louise meets with Celeste and calls her unwell, expressing concerns about her grandchildren. I'm sorry, but is Celeste's style inspiration Taylor Swift's Red era with these whispy framed-bangs and coat? Mary Louise brings up that her husband left her and she had to learn how to cope—a fact that hmm…I'm not that sold on. 
Over at Madeline's, she tries to plan a couple's workshop while Ed is still giving us Sulking Kid Who's Grounded. Chloe, still being a 28-year-old social media manager in a child's body, makes an 'opposites' project for school where she says her mom is the opposite of a door because she's unhinged. Snaps for Chloe and her future career on Thought Catalog. 

Bankruptcy Is So In Right Now
The assets are being drawn up to get put on the line. Renata is still giving us all the lines that would end up on T-Shirts for the Women's March: "I'm self-made." She then gets judged for getting botox, which, hey, not fair. On top of that, she needs to give up her Rolex and wedding ring right on the table — which I guess shows the practicality of belly rings in times like this. Impossible to see! And now their Tesla is traded for a taxi outside of the court house. Ouch.
Who Is This Theme Party For?

Amabella's party is here and it's disco themed, which I can't imagine she picked. The moms have gone all out for this party, because when you're 40 all you want to do is get ready for a theme party, apparently? While Renata is serving a disco bash, Mary Louise is planning on filing for guardianship of her grandkids—and making sure Celeste doesn't have a lawyer to choose from to get her back. Back at Studio 54, Celeste and Bonnie are regretting the lie and saying Madeline is to blame for starting it. Very happy my major lies only including eating the rest of my roommate's hummus and saying, "hmm no clue where it went."
While they fight over gorgeous champagne flutes, we see Ammabella having a slow dance and her dress is… literally the same as Renata's. This is truly some Gypsy Rose Lee sh*t up in here, but I guess the Roman Empire was having a BOGO deal. Ugh, it's hard to see Renata addressing how all of this will affect her daughter—and can I just say F*CK GORDON. 
Jane is dancing with her date, which is kind of weird because the dance floor is like, only the kids—but then again, he prob is in the same history class as most of them. She's happy, but then the second they get a little closer, she gets a flashback to the night of her attack. 
Bonnie gets #ConfrontedOnTheDanceFloor by her mom, with her mom saying she doesn't like the energy around her. Raise your hand if you have gone up to one of your friends at 2:30 AM after a vodka Redbull and said the exact same thing. 
Nathan and Ed then do what any man would, which is fight in '70s costumes at a child's birthday party. THIS IS ABOUT HAPPINESS!! Coincidentally, that's exactly what I shout at my brunch waiter when they say the two hours of the unlimited option is over. 
No eight-year-old's birthday party is complete without a disco dance show by who I can only imagine is Boyz II Monterey. They're setting the mood for Bonnie and Ed, though. 
Jane opens up to her boy about her past trauma, and he is super supportive of her…which only makes me feel like he can't be trusted, because this is Big Little Lies. 
Alexa, Play 'Fallingwater'
Bonnie's mom has flashes of water visions and then faints. We're at the hospital, and it turns out Elizabeth had a stroke, and we find out that the last thing she saw before were flashes of water. 
Madeline and Ed are home, and he's drinking the classic Sad Boi Night Cap: an IPA. Jane and Celeste are now out at a bar, and I do love how their bond has been strengthened. Celeste stays for another drink alone, cause she's a girl after my own heart. 
Back at the hospital, Bonnie is looking over her mother as her dad asks if she said anything to her mom to induce her stroke—nice dad! 
Mary Louise is now eating stretchy cheese pizza that straight up looks like it's from Chuck-E-Cheese—a place that Meryl Streep 200% doesn't know exists. Honestly, she looks like a mess right now too. Why did the wardrobe department decide to give her a J.Jill cardigan, but then a men's Old Navy top?
Jane goes to meet Bonnie at the hospital, which is perfect because she caught her just as she was about to rip into the detective on their case. Does this detective have anything else to do but walk around Monterey drinking coffee? Dream job TBH. 
Ambien Cool, Not All Uncool
Mary Louise brings the kids home first thing in the AM and Celeste seems…off. At first you can't tell if she's high, drunk, or sick (I can relate to that every Sunday morning), until you realize that she definitely took another Ambien. She's being very Countess LuAnn, owning it! I'm happy Heather Thomson wasn't in their house because OH YEAH, CELESTE TOOK THE BARTENDER HOME. Wow that might have been one of the most awkward scenes in history, mixed in with a hot af flashbacks of them hooking up. 
She confesses to Madeline that she did in fact take Ambien and didn't remember he was in the house, which is so scary. Celeste, just try melatonin or chamomile tea, please. Madeline is the true MVP of friends because her first response was "she shouldn't have dropped the kids off that early, you have your own life." And just like clockwork, Mary Louise reappears. 
She confronts Celeste about how she feels she is a mess and shouldn't be watching over the kids. This is going to get messy. Yeah, they're at risk with Celeste, but were totally just fine with their abusive father. 
Renata's Sweater Is Off The Deep End

What would happen if Ann Taylor had a one-night stand with Hot Topic and then found its way to California? The answer is Renata's sweater. What is happening here? I guess when she tried to give this one to the bankruptcy court they were like… actually you can keep that. They're sharing avocado toast (who shares toast?) and catching up about Celeste when, you guessed it! Our detective is back, drinking coffee, and just…theorizing! Nancy Drew could never be this caffeinated. 
Jane then goes to see Mary Louise because she's worried that she's just being a Pokémon Grandma, catching them all. She calms her down by voicing concerns about Celeste, which Jane pauses to consider. Instead of borrowing sugar from your neighbor in Monterey, you borrow theories about your friends. Kinda into it. 
THE THERAPIST IS HERE!! And she's assuring Celeste that she has doctor-patient confidentiality. Of course the true star of this show would have her back. 
Elizabeth finally wakes up and we see that she has a vision of Bonnie killing herself in the ocean, which, sadly,  could definitely be where this season is headed. Hopefully she'll be able to help her and they can all go to another yoga retreat. Until next week! 
Images: HBO; Giphy (4); bobbyfinger / Twitter