The Case For Getting Engaged With A Hideous Manicure
Great news! It's no longer necessary to keep up with the time-honored tradition of hoping your best friends break their backs to get you into a nail salon for a totally inconspicuous manicure before you get engaged. And no, it's not because the planet is literally on fire and we're probably just a few short years away from never having to worry about Instagram ever again. It's because I just accidentally stumbled upon the greatest life hack of all time, and am pleased to report that getting engaged with an ugly manicure is the best thing you can do for your relationship and your personal brand. 
Now, I know that every little girl dreams of the day she'll be able to post a photo of an engagement ring on her hand, writing "I said yes!" as the caption, leaving her loved ones (read: group chats of sorority sisters she no longer speaks to) wondering how she knew to get her claws perfectly groomed for the surprise occasion. But after recently getting engaged with a manicure that was the exact same color as Shrek, I'm here to challenge that standard. If the nail technician isn't palpably disturbed by the color chip you've presented upon sitting in the chair, you're not doing enough. Hear me out.
You'll Immediately Have A Unique Instagram Caption
Second only to which engagement ring style you will choose to send your significant other subliminal messages about until they're finally forced into popping the question, the most important decision you can make as a future bride is the caption you will choose to announce the fact that it's time for your followers to buckle down for your official shift to wedding content. If you're hard-pressed to think of something smarter than "Today, I said yes to forever with my best friend," let your ugly manicure do the heavy lifting. For example, I went with: Do you think there's anything on Etsy that says "she said, 'OH MY GOD MY NAILS ARE GREEN, BUT YES!'" 
There's An Easy Answer To The Dreaded 'Were You Surprised?' Question
If there's one thing I've quickly learned as a newly-engaged person, it's that people ask a lot of the same ridiculous questions, one of which being, "Did you know?" While everyone sporting a rock on their left ring finger probably had some inkling that the day would come eventually, it would be truly unhinged to expect your partner to drop down on one knee every time you enter a remotely photo-worthy space. Although I did not wake up thinking, "Might f*ck around and get engaged today," convincing nosy people that this particular life event caught me by surprise has proven to be difficult. 
Luckily, if you have unsightly nails when it happens, you won't ever have to waste your breath explaining why you just so happened to be having an incredible hair day and wearing an actual bra when you said yes. You can simply point to the messy heap of slime green SNS powder that was slopped upon your nail beds and quip, "Did you see my nails? I obviously wasn't expecting it." 
You'll Seem Like A Quirky Risk-Taker
Nothing signals that you are the antithesis of cheugy quite like a bold manicure. Sure, the words "dog mom" are in your IG bio and you've purchased Tory Burch Miller sandals as recently as last month, but a calculated shellac color choice can really cancel that out if you play your cards right. This will also dupe people into thinking that you'll be making some similarly wild decisions for your wedding, motivating your followers to prioritize watching your Stories every time they open the app. Not to mention, a scared bridesmaid is a loyal bridesmaid. If your girls can be tricked into thinking you're reckless enough to select a heinous color for your wedding, they'll be so relieved when you tell them they're wearing blush dresses, that they'll hardly bat an eyelash when you reveal how much they're expected to cough up for hair and makeup. 
It's An Excuse To Post At Least One More Ring Photo
Engagement rings beg to be photographed, but the last thing you want to do is clog the timeline with too many photos from the same occasion. (Although this used to fly… you can thank photo dumps for destroying your right to double post.) The simple fix for this, of course, is to get a redemption manicure, which would technically qualify as a separate posting event from the proposal. "Don't worry guys, I have a pretty manicure now!" just might be the new "So a lot of you have been asking about my skincare routine…" in the sense that both statements require the speaker to hold quite a bit of naivety in regards to how much other people actually care. 
Next time a friend invites you on a trip to the salon or you find yourself torn between two manicure options, my advice for you is: choose the worst option. Reach for that weird yellow bottle of polish that looks like it's never been opened. Say yes to the nude that clashes most with your skin tone. Visit the spa with over a dozen horrible Yelp reviews. It's the number one best thing you can do for your engagement. (Your Instagram engagement, by the way. Not your relationship status.) 
Images: Lyuba Burakova /Stocksy.com
The Best & Worst 2000s Trends Making A Comeback
2020 fashion seems to be one big mashup of years past, and I mean, who can really blame us? This year is nightmare fuel, to put it nicely, and I for one am here for the return of most of the 2000s trends that have come creeping back into our lives. The 2000s were an easier time, you know? Where your biggest stress was which CD you were going to purchase from FYE (My Chemical Romance for me, always) or if the cute salesperson model in front of Abercrombie was going to notice you. Like I said, easier times.
So let me take you down memory lane, 2020 reboot style, with the best and worst 2000s trends to return this year.
The Best
Velour
I'm just going to start here with velour, because it feels really relevant to current times, and I am absolutely on board with this comeback. Obviously, we're in a time where comfy clothes have never been more relevant, and it feels like the perfect opportunity for velour tracksuits to be a thing again. If you haven't been on social media in the past few weeks, Kim Kardashian's SKIMS dropped a collaboration with the president of velour sets, none other than Paris Hilton. That's hot. I'm going to be honest, I bought a set myself after telling everyone around me how I couldn't wait for the affordable Target knock-off to launch. I simply had no self control, and I am not even sure why. Let us pray that $80 sweatpants are in fact worth it.

Juicy Couture's Limited-Edition 25th Anniversary Collection in partnership with New York City Alliance
On the topic of overpriced velour sets, we also have the comeback of the absolute OG velour sweatsuit brand, Juicy Couture. Personally, I am not ready to see "JUICY" slapped across the behind of my peers, but like, I'm still glad the brand is back and thriving. The brand is actually now celebrating its 25th year, to make you feel super f*cking old, and announced a bunch of new collabs, so it's going to feel like middle school all over again with everyone you know sporting a Juicy tracksuit. That being said, Juicy obviously has a place in the best comebacks category, because I dare not disrespect a brand that influenced a generation of fabulous middle schoolers.
Tie-Dye
View this post on Instagram
At this point, there's not much to say about tie-dye, except that it was the biggest trend of 2020. It was like a summer camp in every person on the planet's living room, tie-dying anything we could get our hands on. Eventually we all gave up and brands like BrownDyedGirl (who I found from Hannah B. Who even am I anymore?) came to our rescue bringing tie-dye sets to our doorsteps without the hassle of actually hand-dying pieces. I'm putting this in the best category for a few reasons. It hits all the Cs: cute, comfortable, cozy, casual, classic. If I'm being real, I'm not sure how long this trend will actually last, but for 2020 it has served its purpose.
Color-Tinted Sunglasses

Everyone who was someone rocked color-tinted sunglasses in the 2000s, and when they came back to life I was all in. Now, disclaimer, I literally look like Mrs. Potato Head in ALL sunglasses, but that simply did not stop me from hopping on the bandwagon. The pastel colors hit different and make me feel like a pop star. I shamelessly bought a pair from Vogue Eyewear (taking Watermelon Sugar to new levels here). I hope to see this trend live on for a few years, but if not, I'm glad it had its comeback moment.
Press-On Nails

I mean… come on. These things are so convenient. When I was younger I freakin' LOVED press-on nails and my mom thought I was pure trash. Now we've upgraded from the CVS claws to brands that actually are custom printed to fit your nail, and I really think this is the hack that we all need. I personally have been using ManiMe as my go-to, but there are multiple brands with similar concepts that are doing it right. This is great for my people who are feeling lazy, and also great for those not comfortable and ready to go back to a nail salon.
Glasses Chains
In 2020, glasses chains DID make a comeback, and it was a chic one at that. Early 2000s glasses chains were strictly for grandmothers who lost their reading glasses if they weren't literally tied around their neck, but 2020 glasses chains were a cute accessory just because. It also influenced a much bigger and more important trend, the mask chain. The first time I saw a mask chain was on Lara Eurdolian's Instagram (@prettyconnected), and then I blinked and everyone had one. They're convenient for the same reason a glasses chain would be, but also spruce up your mask in the most needed way. If you told me in January that this would be the best accessory of 2020 I'd laugh, but here we are… and that's on pandemic fashion.
Vests

ASOS Neon Rose relaxed sweater vest in marble knit
2000s vest fashion consisted of diamond checkered sweater vests that could only be rocked by Avril Lavigne. If said vests returned in the same style, this would be at the top of my "worst" list, but now they've come back in a cute and fun way, and I'm obsessed. The oversized sweater vest and button-up shirt dress combo is currently the vibe I'm enjoying, and if there wasn't a pandemic, you bet I'd be seeking fall activities weekly to rock this look. Instead, I'll be ordering this outfit and asking my mom to snap a pic of me in the yard, because that's 2020 in a nutshell.
Flavored Lip Balm

If you didn't have EVERY flavored Lip Smacker balm, were you even alive in the 2000s? I don't even recall if these actually hydrated your lips or just made them more chapped, but I do know that the sweeter the smell, the happier I was. While I would not opt for an actual Lip Smacker in 2020, I have noticed the rise of candy flavored lip products returning. My personal favorite is the Laneige Lip Mask, because it makes my lips feel super hydrated for long periods of time and the flavors are real good. Sweet Candy, Gummy Bear, and Vanilla are my top three, but really they're all delicious. As someone whose lips are literally always chapped (no amount of water can save me, I've tried), this is a trend I am here for today and every day.
Furry Sweaters

Tobi Dream of Me Fuzzy Lavender Sweater
#WinterIsComing and as someone who is ALWAYS cold, this is the type of sweater that never left my closet. That being said, I am well aware that a furry fluffy sweater hasn't always remained on trend, but this year, they're back. I picture a young Mary-Kate and/or Ashley rocking this with some pigtails, and that is the energy I am trying to bring back this winter. This sweater in particular is from Tobi (calling all my sorority girls), but it's safe to assume you can find this staple at any store.
G-Shock

Honorable Mention goes to G-Shock. I NEVER saw this comeback coming, but given the fact that these watches fashionable now must be acknowledged. What's next, Etnies?
The Worst
Visible G String
I don't think I have to go too deep into an explanation as to why this trend is falling under my worst comebacks. The first time this trend existed, I was seven years old, so I didn't really understand it. Now, I am 27 years old and still don't really understand it. The wedgie-but-make-it-fashion look is not for me, and while it might be done tastefully by Hailey Bieber and Kim Kardashian, it most certainly does not suit the average human.
Butterfly Clips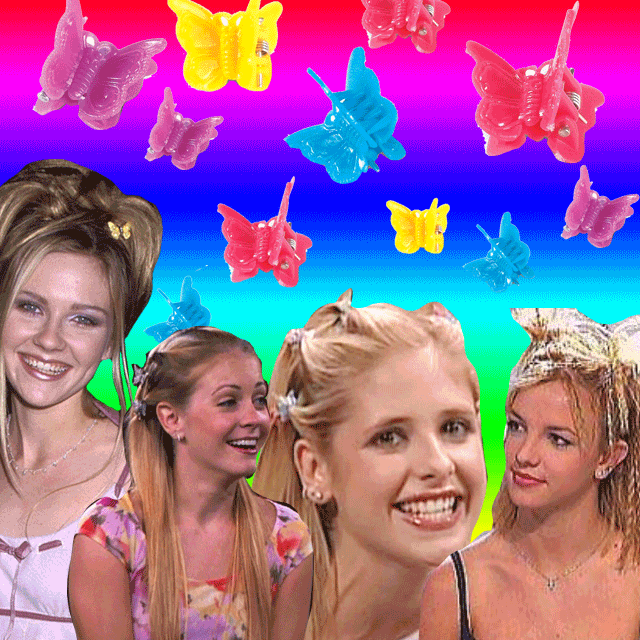 I'm kind of torn on this one, so don't hate me for putting it in the worst comeback category. That being said, I need to be a little realistic here. Butterfly clips were cute AF when we were young, but they were never practical. They never actually held my hair back (granted I have frizzy, curly hair that pre-heat iron days could literally not be tamed) but even worse, the fancy ones would get tangled and lost in my lion's mane and hurt. Now, seeing adults wear them in 2020, I am just wondering… why? Is it for the looks? Is it to test your detangling skills? Again, I see this trend fizzling out quickly, but if you can rock it and make them look as chic as above—all the power to you.
Low Rise Jeans
View this post on Instagram
Not much to say here. I thought low rise jeans were dead and gone, and I was happy about that. Low rise jeans flatter no one, and I thought we all accepted that we just don't need our jeans to expose our pubic bones? I'm just not here for it. So yeah, let's keep these bad boys in the past, please and thank you.
Money Piece
View this post on Instagram
So let me start this bit by saying I myself currently am rocking a money piece, and a thick one at that. But, I am well aware that this trend will be over in no time, and I'll look back and wonder wtf I was thinking. I have physical reactions to how strongly I dislike chunky highlights, so I assume my views will be similar in a few months. I do think they are cute and fun at the moment (when done correctly), but the upkeep sucks, and when the roots start creeping in it goes from funky to disaster real quick. Let's mark this under "worst comebacks that I am currently enjoying but can still acknowledge are the worst."
And there you have it sk8er bois and girls. 2020 has been a fun blast from the past (even the roaring 20s are making an appearance!!!) but the trends remain sharper than ever.
Betches may receive a portion of revenue if you click a link and purchase a product or service. The links are independently placed and do not influence editorial content. 
Images: Jun Sato/ WireImage; Provided by Tobi; GIPHY; SKIMS, Juicy Couture, BrownDyedGirl, DoYouLoveThe2000s, ManiMe.Co, PrettyConnected, TheFrankieShop, Laneige, G Shock, NewBalanceLifestyle, Bella Hadid, Brittany Xavier / Instagram
Foods That Will Make Your Nails And Hair Grow
We already know that you can add collagen supplements to your fave shakes and smoothies to get your hair and nails to grow (in addition to giving you supple skin, of course). But what you may not know is that there are plenty of other foods for healthy hair and nails that will give you nail beds like baby Stormi Webster's and locks as long as her mom's (weaves). Because honestly, if you're consuming calories you may as well make them worth your while and eat your way to enhancing your beauty.
So if you're in the market for naturally long hair that doesn't look like Shawana's cheap K-Mart polyester hair extensions, include these foods in your diet for longer hair and nails.

1. Avocado
Lucky for all the basic betches, avocado toast has another purpose beyond providing weekend brunch content for Instagram. Avocados are high in Vitamins B and E which work at the cellular level to protect, strengthen, repair and stimulate hair growth. So go ahead, pay extra for guac at Chipotle and feel no remorse. What you're spending on mashed up avocados, you're saving on hair extensions.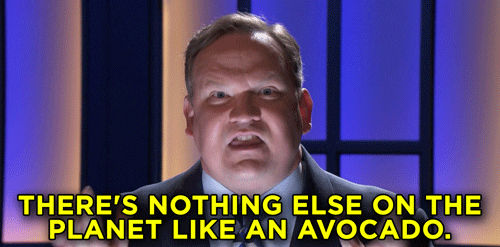 2. Almonds
A major reason to justify paying like, a million dollars for a bag of almonds? The healthy nuts are a great source of biotin, which is a water-soluble B vitamin that stimulates hair growth and turns weak, brittle nails into strong talons like Cardi B's.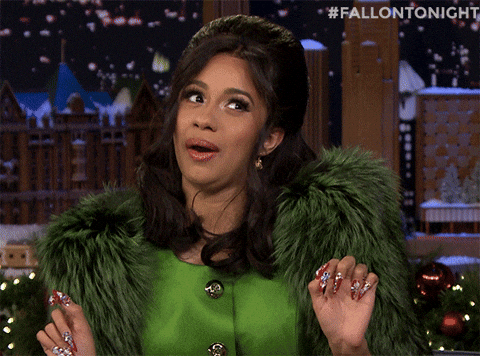 3. Carrots
Am I the only one whose grandmother used to tell her that eating carrots made your eyes pretty as a way to convince her to eat them? I passed on the carrots, because I knew at a young age that carrots weren't going to turn my shit brown eyes into baby blues. But had I known that the veggies would make my hair grow long like Rapunzel's (I exaggerate, slightly), I probably would have chowed down. Missed opportunity, grandma. Carrots are filled with almost every vitamin in the alphabet (A, K, C, B6, B1, B3, B2) in addition to fiber and potassium. When combined, these nutrients provide a shit ton of benefits for your hair—including strengthening, stimulating growth, and providing a lustrous, silky-smooth texture.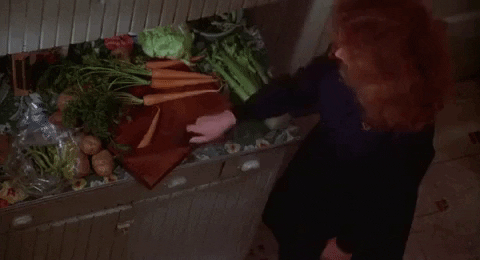 4. Pineapple
Thanks to that one episode of Kourtney & Kim Take Miami, you're probably well aware of the benefits that pineapple can have on oral sex. But what you may not know is that the sweet tasting fruit can also benefit your nails. Eating chunks of pineapple helps your body to use protein more effectively and supports collagen production, which help your nails grow longer and stronger.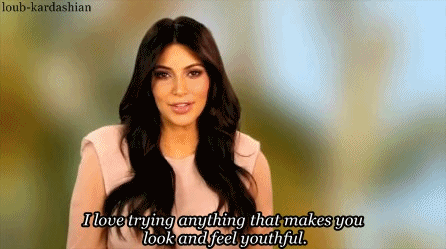 5. Chickpeas
Your questionable obsession with eating an entire container of Sabra hummus is now deemed completely healthy. Chickpeas are loaded with protein, zinc, and B vitamins, which are critical for strong hair, nails, and even clear skin.

6. Pumpkin Seeds
Another reason for basic white girls to love pumpkins: eating pumpkin seeds can make your nails grow. The seeds are a major source of zinc, which is a mineral that supports connective tissue in the body, and ultimately stronger hair and nails. Now we wait for Starbucks to start garnishing PSLs with PSs (pumpkin seeds, duh).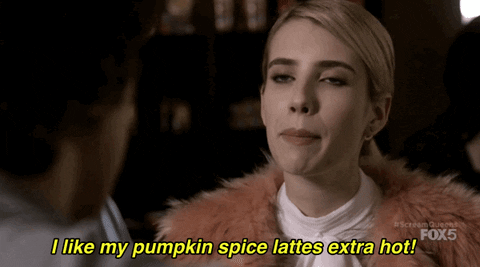 7. Spinach
You've probably heard the term "superfood" before, which basically means a food has like a million different benefits. Exhibit A: spinach. The leafy vegetable contains vitamins B, C, and E and a shit ton of iron. Those all help your red blood cells carry oxygen to hair follicles, which is essential for healthy hair growth and stronger strands. So alas, those green juices do more for your looks then just making you look healthier by holding them.

Images: Valerie Elash / Unsplash; Giphy (7)
The Prettiest Spring Nail Trends You'll Want To Try Right Now
The last few weeks of winter have been v dreary, dark, and like, seriously fucking depressing. It doesn't help that it only matches my daily mood, chronic RBF, and go-to outfit of black leggings with a dark oversize sweater. To help fast forward to spring and brighten up my boring-ass life, I've decided to treat myself (as per usual) to a much-needed manicure that resembles a cheery spring. Prepare to think twice before grabbing your usual black polish, because these are the spring nail trends and colors you'll want to try right now.
1. Metallic
Chrome is like, super trendy rn, so in addition to a flashy phone case, metallic colors will look just as cute on your nails. Rose gold is def the best metal to choose (fucking duh), so feel free to contrast an accent finger with a millennial pink or rosy mauve.
2. Iridescent
I'm not one for having my nails look like an acid trip, but a simple iridescent or pearlescent top coat can be just the right extra touch if you're looking to add a little more to a basic mani. Stick to light shades like summer white or pale pink for a shiny au naturale set you can match with everything.
3. Pastels
Pastels for spring are nothing special. Surprise, sur-fucking-prise. The pastel version of literally any color will be a good option for bright, cheery nails that basically make you look somehow tanner and all-around a better person. The most popular spring nail trends will def be baby blue, bright orange, pale pink, and mint green. You're welcs.
4. Soft Yellow
Yellow nails are typically thought of as the equivalent to brown leggings. Just a downright, flat-out, hard no. Both are disgusting and totally unflattering. But IDK, this is 2018 and things are changing pretty fast, so honestly, a soft pale yellow is considered kinda cute on your nails now. I guess it doesn't hurt to spice up your Snapchat nailfies for warmer weather to come.
5. Black AF
Just because it's day drinking season pretty soon, doesn't mean our devotion to black is going away anytime soon. Break up an all black manicure with nude or neutral nail art to add some ~pizzazz~ and contrast to your nails with a color block. Stick to changing up at least one accent finger, so you don't look like a goth freak in 70 degree weather.
Images: Alehandra13 / Pixabay; Instagram (5)
The Winter Nail Art Trends That Will Be All Over Instagram In 2018
For the most part, nail trends are pretty predictable: red for fall, black for winter, florals for spring, and white for summer. However, each year seems to bring at least one surprising trend we couldn't have possibly seen coming, such as 2017's half-painted nails or pierced nails. Yeah, 2017 was a pretty shitty year for all of us, and maybe it's just my lame attempt to be positive, but I'm just going to go out on a whim and say with 2018 right around the corner (no, literally, it's like, in 6 days), we can only go up from here. I mean that in every way possible—by upgrading our definition of music (mumbling "Gucci Gang" over a beat does not count), getting a new president (plz), and bringing new nail trends that aren't cringeworthy for once. Here are five nail trends we're all about to want as soon as the new year begins.
1. Marble Nails
We couldn't let our new iPhone X be the only one looking cute in its marble case from Shop Betches. The design looks just as good on nails as you'd think. Accent the ring finger (or multiple fingers) with a solid color.

2. Holiday-Inspired Nails All Year Round
The holiday season calls for everything to look as though glitter just vommed everywhere. Despite how much of a bitch it is to get off, holiday-inspired glitter nails are surprisingly a thing, snow or no snow. Feel free to keep your glitter polish on long after the New Year's Eve celebrations.

3. Contrasting Shades Of The Same Color
For those who are the most indecisive and torn between two or even three shades of the same nude, luckily for you, it's not tacky to choose all three. Whether it's with different shades of blues, pinks, or grays, create your own ombre effect across your nails.

4. Simple Strokes
Simplicity is key when it comes to nail art, because despite contrary belief, we are really not in the '90s anymore. Opt for random lines, an array of small dots, or zig-zags on select fingers for a sophisticated design that looks harder than it probably really was.

5. Black-Tie Nails
Obviously, black will never, ever, ever (say ever again) go out of style, so long as I'm living. However, even the biggest fan of black will eventually grow bored it, so to glam up your basic manicure, incorporate a black and white theme that's incredibly simple, but oh-so-classy—two words I probably would not use to describe my personality, but whatever.

5 Holiday Nail Art Ideas That Will Have You Feeling Festive AF
It's actually December, and the tree at Rockefeller Center is lit af. It's basically Christmas already, guys. Unless you're a normal human grinch, Christmas is the one holiday where everyone acts extremely extra, and quite honestly, the festive cheer is encouraged. I may be the wrong person to talk to about this, because I literally have been listening to Mariah Carey's Merry Christmas album since October, and I may or may not have two Christmas trees in my apartment rn, but THAT'S BESIDES THE POINT. My point is, #HolidaySZN makes for the perfect excuse to deck yourself and everything around you in all the sparkles and lights you want. The new month comes bearing holiday parties, themed outfits, and NYE preparations, so to complete your snazzy dress, here are five designs for the holiday nail inspo you never knew you needed.
1. Toffee
Bright colors aren't my thing, either. Obviously the only color I ever want for anything is black. For a warmer neutral that isn't over the top and obnoxious, a warm toffee makes for a classy holiday shade. It can be your new fave nude, and if you feel your mani is still lacking some cheer, add gold flake accents.

2. Sparkly/Chrome Tips
'Tis the season for all glitter everything. Instead of making a complete mess, only get your tips dipped in Insta-worthy glitter for a twist on this trend. If you're looking for something that isn't a bitch to take off with nail polish remover, opt for chrome tips in your favorite metal and a simple neutral.

3. Two-Toned
Whether it's with red and green, black and white, or sweater-weather darks, keep your manicure game interesting by mixing a couple of colors together. Change things up a bit with different geometric shapes, matte accents, or contrasting color blocks.

4. Glittery Shit
Literally anything with a shit ton of sparkles is fair game. If you want to be festive AF and get a million likes with your next nailfie on Instagram, consider a design with glitter every-fucking-where. Deck each nail with a solid glitter shade, choose an ombre style, or ya know, you could always do just the tip.

5. Holiday Art That Isn't Basic
I'm always impressed with people who have the time to paint their own nails, or sit through a hella long nail appointment while they receive hand-painted nail art. I barely have time to breathe, let alone draw a fucking snowman with a toothpick on my ring finger. If you were blessed with artistic abilities or have a really patient manicurist, go for holiday-inspired nail art. Try plaid, chic snowflakes, or some kind of stylish wrapping paper look. Really, as long as you don't have an entire nativity scene painted across your nails.

The Best Nail Art Trends To Try This Winter When You're Bored AF
There's a lot to be said about the winter season. Sure, your skin falls off and you won't see sunshine again for at least six months, but at least you get to act like the lazy, self-indulgent asshole you were always meant to be. There's also the fact that you get to spend some much-needed quality time with family your favorite Netflix shows and no one can say dick about it, because it's too cold outside to actually do anything else. So blessed, so moved, so grateful. Can't believe this is my life. That said, November through March—or, in New York's case, November through June (kill us now)—can sometimes be…kind of…boring. There, I said it! Sometimes sitting on your ass, re-watching old episodes of Friends, and drinking your weight in Chardonnay isn't all it's cracked up to be. Sometimes you kind of want to brave the cold to drink your weight in Chardonnay in public. I know, it's like I'm taking crazy pills or something. But since we can't always have the things we want in life, sometimes we have to get creative with how we spend our time. And what better way to combat boredom than by trying nail art trends as seen on Instagram that you've been talking shit about for months now (but secretly love)? So here are the six winter nail art trends for you to try when there's literally nothing else to do. You're so welcome.
1. Metallic Accents
Metallic accents were huge this year and, in my opinion, they'll continue to be one of the few nail art trends that don't seem like a cry for help extra. The accents pair perfectly with dark winter nail polishes and will take your holiday look from basic to glamorous in less time than it takes you to get drunk and embarrass yourself at the Thanksgiving dinner table.

2. Spacey AF
Negative space nails are about to be every-fucking-where, I'm calling it now. These manicures are chic and modern AF, plus it's an excellent way to make it look like you regularly visit the salon, when in reality, the last time you got your nails touched up it was still warm enough to wear shorts. Gotta love millennials. Leave it to them to turn shitty, grown-out gels into a nail art trend. #BlessUp.

3. Foil Nails
Similar to the metallic accents trend, foil nails are one of the best ways to elevate your look this winter. We suggest pulling this one out around New Year's Eve, unless you actually want to look like you actually give a fuck at your company holiday party seem thirsty. These little strips of metallic foil, cut and placed mosaic-style on your nail beds, make for an artsy, yet chic look.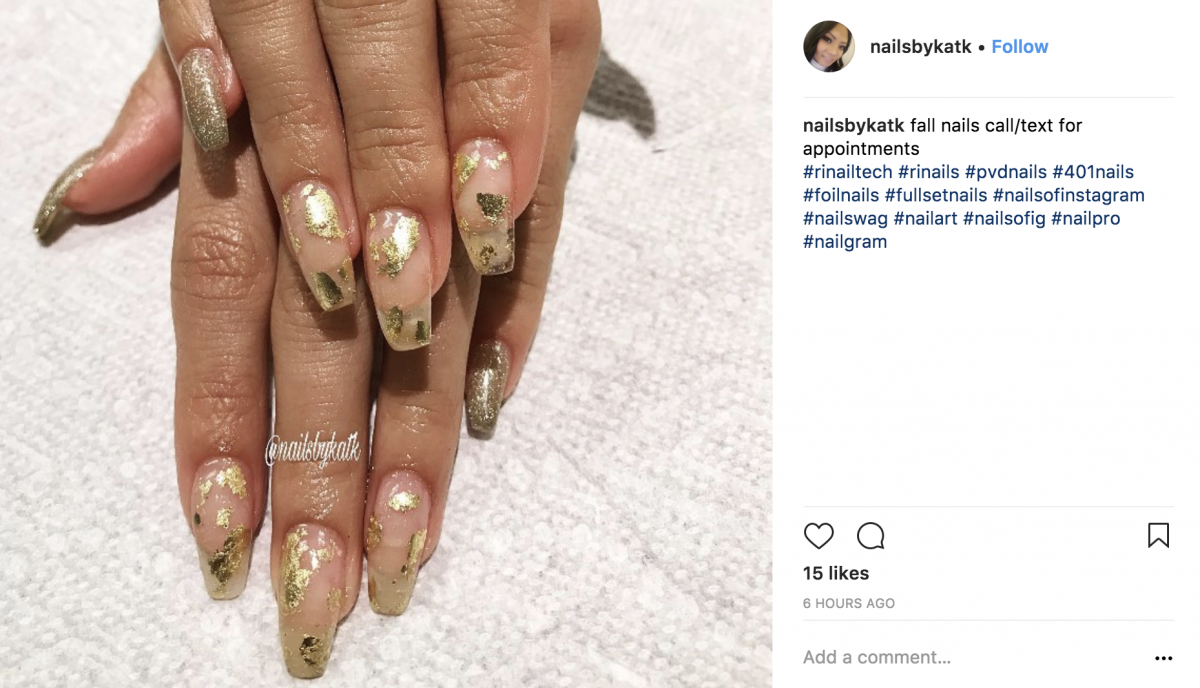 4. Phrase Nails
Finally a trend I can get behind: blatantly talking shit. I mean, I've been doing this on my own for years, but it's nice to know that the beauty community is finally standing by me in support. Phrase nails have been huge this year, and it's like people suddenly have a bunch of shit to say about the state of our world? Honestly, I have no idea why…

5. Minimalist
One of my favorite things to do is to pretend like I have my shit together, and nothing says "I don't spend 3-5 days a week sabotaging my life at happy hour" like minimalist nails. Add a thin graphic lines in a contrasting color for a simple yet dynamic look.

6. Statement Nails
When in doubt, go with a basic statement nail color, like bold red. There is a reason you see this color around the holidays more than your ex texts you, knowing you're home for the long weekend: because it's classy AF. If you're feeling more basic than bold, stick with a traditional holiday color and let the nails speak for themselves.

Images: Allef Vinicius / Unsplash; anniesjamminnails, sarasa.nails, nailsbykatk, sonyameesh, jessicasturch, natalii.es / Instagram
7 Dark Nail Polish Colors You'll Be Obsessed With This Winter
Hello darkness, my old friend. We meet again this evening at 4pm, which is a sure sign winter is most definitely coming. FML. Obviously, living my best life as a recluse sounds amazing, but I hate the cold in every sense of the word. I hate having to risk my fashion rep come December 1st to brace myself for hypothermia so winter doesn't fuck up my entire life. By life, I mean my hair, skin, and hands, so I don't look like a corpse, thank you very much. If you can't find me warming up in the nearest Starbucks with the biggest coffee, you will most def find me at the nearest nail salon making sure my frozen hands don't look ratchet af. Regardless of the temperature outside, having your nails painted at all times is a priority. Obviously. Here are the coolest (pun intended) nail polish colors to get right now, so your nails look on point all winter long.
A festive emerald green is a fab vibrant color that's subtle but sure to make a difference to any lame outfit. With winter bringing in several over-the-top and over-hyped holidays, the color is very fitting for celebrating the holiday cheer and drinking spiked eggnog.

Deep purple is essentially just an upgraded version of black that makes you feel like a total queen with its sexy, mysterious shade. The vampy, dark contrasting color looks great with everyone's skin tone, so rest assured that this will look amazing with the perf accompanying vampy lipstick, too.

Red is just about as timeless as "All I Want For Christmas Is You." We may be tired of them, but both are never getting old, nor are they going anywhere anytime soon. The true red is classy, elegant, and sure to bring cheer wherever you go, even if your chronic RBF says otherwise.

Dark navy is cool, I guess, but there are only so many times you can wear it on your nails. For a preppy twist on the dark blue, try a brighter teal that says you're fun, full of surprises, and into keeping people on their (mistle)toes.

It's the unofficial official color of winter. Gray is the neutral we can never really live without—after black, of course. The dark gray is always a bit comforting, versatile, and a safe go-to if you always have a mini panic attack when you're asked to pick a color.

I think I had you with the eye-catching glitter before you even glanced at this paragraph. For starters, I find the name of this color to be very fitting for my daily personality as of late. The holiday gold is the perfect disguise from showing the general public just how shattered your soul exactly is with its irresistible shine and mesmerizing sparkle. Bring it to this year's company holiday party and NYE shit show. New year, same me.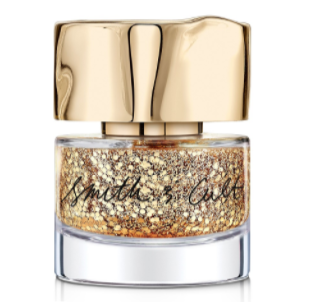 Obviously, I saved the best for last. The Alexa Chung and Nails Inc collaboration is just as amazing and chic as you'd expect from a praised fashion designer. Our favorite soulless color is featured in this collection with a sophisticated twist. The black we know and love comes with pearlescent tones and a satiny finish to make your nails look sleek, fierce, and incredibly betchy.