Chrissy Teigen & Donald Trump's #FilthyMouthedWife Twitter Feud, Explained
Need the news explained, but like, in a hilarious way you can relate to? Subscribe to The 'Sup and get our 5x/weekly newsletter straight to your inbox.
I love a good Twitter feud, and the more random the better. Today's feud certainly delivers, pitting MVP Twitter troll Chrissy Teigen against our President, Donald Trump. Both super famous, both prolific tweeters, but how did this come about? Here's what you need to know about this spectacularly random feud, and how #PresidentPussyAssBitch came to be a thing.
On Sunday, MSNBC hosted a town hall about criminal justice reform. The town hall was hosted by Lester Holt, and featured John Legend speaking to prison inmates about the impact their incarceration has had on their lives and families. During the event, they did not mention a bipartisan criminal justice reform bill signed into law by Trump last year, and he quickly noticed. He took to Twitter late Sunday night to complain about the lack of credit he was given, and the tweets were typically whiney and unhinged.
But in addition to complaining about the specific town hall, he also dragged Chrissy Teigen into the narrative.
Big mistake. Huge.
….musician @johnlegend, and his filthy mouthed wife, are talking now about how great it is – but I didn't see them around when we needed help getting it passed. "Anchor"@LesterHoltNBC doesn't even bring up the subject of President Trump or the Republicans when talking about….

— Donald J. Trump (@realDonaldTrump) September 9, 2019
Not only is Chrissy Teigen the only person mentioned in his rant that he didn't tag, but he couldn't even be bothered to use her actual name. Much like the infamous "nasty woman" phrase he used to describe Hillary Clinton, people have already taken ownership of "filthy mouthed wife," and are using it to declare their opposition to Trump.
Of course, once Chrissy Teigen got mentioned in this whole mess, it didn't take long for her to make her opinion known. And in that moment, something instantly iconic was born.
lol what a pussy ass bitch. tagged everyone but me. an honor, mister president.

— christine teigen (@chrissyteigen) September 9, 2019
PUSSY. ASS. BITCH. Really, this is a flawless insult, and you know Donald Trump must have been so angry when he saw it. Over the last couple years, Chrissy Teigen has perfected her brand of shade on social media, and she knows exactly how to turn the knife without trying too hard. She seems completely unbothered, but is totally ruthless at the same time.
She followed up the pussy ass bitch tweet with another important point—there was no reason for Trump to even mention her in the first place. She wasn't even at the MSNBC town hall, so why include her at all? And if you're going to come for Queen Christine, at least have the balls to say her name.
the absolute best part of his tweet is I literally didn't speak in the special, nor was I mentioned. I'm cackling at the pointless addition of me because he cannot not be a bitch pic.twitter.com/9ZkV7bh4FA

— christine teigen (@chrissyteigen) September 9, 2019
"He cannot not be a bitch" is an accurate description of at least 60% of the men in my life, so I can relate. While the word "bitch" can mean many things, it really is the perfect description of Donald Trump. He's shown us time and time again that he has one of the world's most fragile egos, which is 100% crazy considering that he literally got elected President. But in this case, he wasn't even being criticized! He was so bothered by the fact that John Legend and Lester Holt weren't talking about him that he had to act a fool on Twitter. It'd be funny if it wasn't so pathetic and he weren't running our country.
While Chrissy didn't have much more to say about Trump (and why should she?), she literally quoted herself an hour later after getting pasta on her new couch. I am Chrissy, Chrissy is me.
fuuuuuuck I got pasta on my couch. karma is a pussy ass bitch

— christine teigen (@chrissyteigen) September 9, 2019
The initial Twitter exchange was good enough, but then Twitter worked its magic and came up with some really excellent jokes about the whole debacle. Here are some of my favorite takes on #filthymouthedwife-gate, which only started 12 hours ago. I feel old.
attacking Chrissy Teigen is the closest twitter equivalent to invading Russia in winter

— maura quint (@behindyourback) September 9, 2019
Honestly, why does anyone in 2019 think it's a good idea to come for Chrissy Teigen? She's basically the Princess of Twitter, and her clap-back game is nearly unmatched. It just doesn't end well if you don't come correct. I don't expect Donald Trump to understand this, but he looks like an assclown.
Can I still be a #filthymouthedwife if I'm single? Like I'm probably gonna die an old maid but still

— Carly Booth (@carly_booth8) September 9, 2019
Deep down, we are all filthy mouthed wives. It's a badge of honor, whether you're an actual wife or not. Chrissy would want it this way.
waking up to see that chrissy teigen called president fuck face a 'pussy ass bitch' is so calming to me https://t.co/zOfJ58WHUl

— lee??‍♀️ (@saltzmantwins) September 9, 2019
Ah yes, there's nothing more soothing in the morning than lighting some candles, doing a quick meditation sesh, and seeing that Chrissy Teigen is clowning the President on Twitter. Namaste!!
Imagine being president of a whole country and spending your Sunday night hate-watching MSNBC hoping somebody–ANYBODY–will praise you. Melania, please praise this man. He needs you.

— John Legend (@johnlegend) September 9, 2019
Of course, John Legend had to jump in on this too, and he makes the most important point here—why is Donald Trump even watching this sh*t? And either way, why does he care? Bro, you are literally the PRESIDENT. Get a f*cking hobby. Or, here's a crazy idea, do your job??? I don't think Melania can save us at this point, but whatever.
And in one of the funnier twists in this feud, #PresidentPussyAssBitch is not trending on twitter, because it's too profane to feature in the trending topics. But of course, it's still trending on Twitter, because literally everyone is saying it. Naturally, people started to troll both President Trump and the Twitter rules by sarcastically begging for it not to trend.
I'm very, very serious.

Very serious.

Do NOT allow #PresidentPussyAssBitch to trend.

I'm begging you.

Begging. #PresidentPussyAssBitch

— andy lassner (@andylassner) September 9, 2019
Hopping on the trend, Chrissy even put out a plea, asking us to all stay out of her deeply intimate fight with the President. Hopefully it doesn't trend, because Chrissy and Donald really deserve their privacy during this time!
no guys no please do not make this trend, for it is my fight with #PresidentPussyAssBitch, not yours!!!!!! https://t.co/hSJ0UxjbaO

— christine teigen (@chrissyteigen) September 9, 2019
Luckily, Twitter is a deeply respectful place, and we would literally never let something so personal trend.
We're all in this fight together, Chrissy. That being said, I'll respect your wishes and do my darndest to help make sure #PresidentPussyAssBitch doesn't trend!!!

— Jon Cooper (@joncoopertweets) September 9, 2019
Are you #TeamChrissy in this feud? I hope so, or else you probably wouldn't have read this far. I can't wait to see if Donald Trump comes for her again, but I have a feeling this isn't quite over yet.
In the mean time, you can show your true colors as a filthy mouthed wife with our brand new Shop Betches mug. You need it, don't even pretend you don't.

Need the news explained, but like, in a hilarious way you can relate to? Subscribe to The 'Sup and get our 5x/weekly newsletter straight to your inbox.
Images: realdonaldtrump, chrissyteigen (3), behindyourback, carly_booth8, saltzmantwins, johnlegend / Twitter
Which Celebrity Has The Most Ridiculous Postmates Orders?
Of all the modern technology that improves our lives on a daily basis, I think my favorite category of invention is the food delivery app. Services like Postmates, Uber Eats, and Seamless combine all of my favorite activities: food, being lazy, and spending too much time on my phone. Other than the fact that the delivery fees drain my bank account, what's not to love? While having unlimited funds for my Postmates habit is basically my dream, it's a reality for some of our favorite celebrities. Who has the craziest Postmates orders? Let's find out.
Cara Delevingne
Postmates has a series called "The Receipt," where they profile a famous person and their ordering habits. The latest subject is Cara Delevingne, who is an icon of thick eyebrows, and also apparently of ordering food. She placed her first Postmates order on Halloween in 2014 (for a bottle of Jack Daniels), and since then she's spent more than $25,000 on the app.
Among Cara's top ten spots to order from are Taco Bell, Domino's and…Sephora? Interesting choice, considering makeup companies probably send her free sh*t left and right, but I guess even supermodels have to buy their own Fenty Beauty products. Just to prove that she's rich, she also had AirPods delivered last week. Props to Cara for figuring out a way to avoid spending seven hours at the Apple Store. The most expensive thing she's ever ordered was a $326 vacuum cleaner, which I hate to admit that I'm jealous of.
$25,000 obviously sounds like a lot of money, but if you do the math, that's like $15 a day since October 2014. I feel confident that Cara can afford that, and I'm seriously tempted to commit to that lifestyle myself. Am I going to end up with a mountain of debt? Maybe.
Kylie Jenner
At the end of 2018, Postmates published an article about all of Kylie Jenner's orders, and I really learned a lot. They revealed that Kylie spent $10,000 on deliveries last year, which sounds like a lot, but isn't all that shocking, given that $10,000 probably means to her what $100 means to me, and that I've spent way more than $100 on Postmates in the past year. Kylie's most-ordered item was a cream cheese bagel, because apparently carbs and dairy have no affect on her. I'm not jealous.

My favorite stat about Kylie's ordering is that she once ordered four times within 10 minutes:
2:07 PM, 6-pack macaron ice cream sandwiches from Milk
2:11 PM, penne Bolognese from Mauro's Café at Fred Segal
2:13 PM, taquitos, Mexican rice, enchiladas and a tostada salad from Casita del Campo
2:17 PM, truffle "Impossible Burger" from Umami Burger
I know she was getting food at the set of a photo shoot, but it still sounds ridiculous. Her Postmates total will probably be a lot lower this year, considering that she'll no longer be ordering food for Jordyn Woods all the time.
John Legend
Postmates also did a post about John Legend's ordering habits, but I'm a little disappointed that they didn't tell us how much he's spent overall. It's probably more than I make in a year, considering that he's ordered over 600 times. He's also ordered in 27 different cities, as opposed to Kylie Jenner, who barely leaves her mansion in Calabasas. I now know for sure that John is the man of my dreams, because he once ordered $700 of sushi from Nobu. Why isn't this my life?
It looks like Chrissy Teigen and John Legend actually share an account, so some of the more bizarre orders on the account are definitely from Chrissy. For example, she once accidentally ordered 25 bottles of A1 steak sauce, so that's relatable. Honestly, I might move to LA and become a Postmates driver just so I have a chance of meeting Chrissy Teigen.
apparently if u put in "5" under quantity on Postmates AND say "5 bottles!" in the description, they…get you 25. I thought FIVE was a lot pic.twitter.com/ASW44SBQOH

— christine teigen (@chrissyteigen) September 22, 2017
Post Malone
Say what you will about Post Malone, but he's definitely way richer than all of us. Back in October, TMZ reported that Post had spent over $40,000 on Postmates in the past year, which is…truly wild. I've always suspected Post Malone and I had something and common, and I finally figured it out: most of his delivery orders were from fast food restaurants like Popeyes, KFC, and Burger King. On one occasion, he specifically asked Chick-Fil-A to send "the largest nugget tray they had." A man after my own heart, truly. After all that drunk food, Post Malone also used Postmates to prepare for the ensuing hangover, once ordering three bottles of grape Pedialyte. Respect.
Post Malone, and also me:


So the moral of the story is that all of these celebrities are rich and can order whatever the f*ck they want on Postmates. Must be nice. My initial plan was to totally roast Post Malone and co. for their ordering habits, but I would definitely do the same thing if I had that kind of money. But also, who am I kidding, I've ordered food three times in the last week. RIP my bank account, it's been real.
Images: Giphy (2); @chrissyteigen / Twitter
John Legend Hopped In On The Kanye West Twitter Drama
Kanye West has lost his fucking mind in the last few days. Okay, to be fair, he may have lost his mind long ago, but this week's Trump-loving Twitter rampage has made it apparently clear that our favorite genius is problematic and unstable. We've already gotten Kim Kardashian's take on her husband's tweets, but we're still waiting to hear from lots of Kanye's famous friends. Luckily, John Legend stepped up to the plate, and there's a lot to unpack here.
Starting on Wednesday, John Legend started tweeting about his friend Kanye's trash political views, but in a tasteful way that didn't come across like a straight up drag. John went for my personal favorite internet format: the thought-provoking tweet thread. Without ever mentioning Kanye by name, he wrote about how people with privilege can't just ignore racism and injustice and hope it goes away.
I imagine there's some comfort in imagining a future without racism and projecting that onto the present. Thinking if we just deny the truth, it doesn't exist. If history is erased, we don't have to deal with its consequences. However…

— John Legend (@johnlegend) April 25, 2018
John Legend also added after his masterful thread that you can't really just say you like Trump but aren't into racism. "The defining trait of Trump's campaign and political profile was his embrace of white supremacy. He made it clear every time he spoke. Some serious cognitive dissonance to ignore that for the other x% you might find appealing. I guess I agree with >1% of anyone's thoughts though." This is so accurate on every level. Like, there are a lot of shitty people who like bottomless brunch just as much as I do, but that doesn't mean I actually want to go to brunch with them. No racists allowed at my brunch reservation!
Because John Legend is obviously a solid friend, he reached out to Kanye about his views. And, because Kanye is in the sunken place the mood to tweet literally anything, we have the screenshots.
— KANYE WEST (@kanyewest) April 26, 2018
Okay, first of all, John Legend is being literally so nice. He fully just called Kanye "the greatest artist of our generation," and he is also an artist who would probably like to be the greatest. Meanwhile, Kanye sounds like a doomsday prepper who's probably hours away from building a Kimmy Schidt-style underground bunker. Seriously, what is going on in this man's mind?
— KANYE WEST (@kanyewest) April 26, 2018
Again, look at John Legend being an actual angel and bringing up good old fashioned concepts like empathy. And then, showing that he's truly learned something from being married to Twitter queen Chrissy Teigen, he spots a golden opportunity to plug his latest single. Solid move, especially considering that I had no clue there was a new John Legend song *saves on Spotify*. Kanye seems very much not in the mood to accept advice from anyone, but maybe the wisdom of John Legend will embed somewhere deep in his brain. It might be our only hope at this point.
Heads up, you need to keep up with the news. It's not cute anymore. That's why we've created a 5x weekly newsletter called The 'Sup that will explain all the news of the week in a hilarious af way. Because if we weren't laughing, we'd be crying. Sign up for The 'Sup now!
Images: @johnlegend / Twitter; @kanyewest / Twitter (2)
Chrissy Teigen Revealed The Gender Of Her Baby In The Most Subtle Way Possible
Chrissy Teigen, who can do no wrong, walked the red carpet last night and SLAYED in a silver Yanina Couture dress for the Grammys which showed off her oh-so-perf baby bump. Though we're quite sure Giuliana was foaming at the mouth to get the gender reveal deets before anyone else and probably was ready to literally fight Seacrest for the announcement (tbh would pay to see that shit), Teigen kept it chill and quiet until she decided to reveal her baby's gender on Insta DURING THE AWARDS.
The post, which says "Mama and her baby boy" with a photo of Teigen in her Grammys dress, hand on belly, is subtle, presh, and so low-key—way better than your cousin Catherine dragging you to her gender reveal party just so you could watch her cut into a cake filled with blue M&Ms. Teigen and hubs John Legend left the awards early in true betch fashion, probably so they could shit on performers and presenters from the comfort of their own home and see how many likes Chrissy's post could get. These people are my literal spirit animals—I just don't get why they still have yet to respond to my requests to hang out.
The baby is the second for these two. In case you missed it, they birthed the literally perfect Luna almost two years ago (throwback to her hot dog Halloween costume) and allowed her to announce the second pregnancy in the first place.
Start taking bets now on what the name for this future trust fund baby will be. We're guessing something astrological in keeping with Luna's theme … maybe Starshine, Eclipse, or Moonbeam Legend. Bless.
7 Times Chrissy Teigen Was All Of Us In Honor Of Her Birthday
Hear ye, hear ye. It is a holy day in betchy history: Chrissy Teigen's 32nd birthday. When Chrissy Teigen first became famous, initially we all thought she was just another hot swimsuit model. Which, to be clear, is admirable in and of itself. But then we noticed that not only is Chrissy beautiful, but she's also funny af. She criticizes Trump on Twitter (before getting blocked), she pokes fun at herself and her husband, she eats chicken nuggets, she's an amazing cook… basically, Chrissy Teigen is all of us (minus the cooking part). So in honor of her 32nd birthday, here are all the times she was literally the most relatable person on the planet.
1. When She Made This Face At The Golden Globes

Anyone who's even watched The Golden Globes (anyone?) in their pajamas in the comfort of their own home can relate to this feeling, let alone having to dress up and not eat throughout the whole thing. So I can understand this general sentiment. Chrissy made this face when her husband John Legend won an award for his song in Selma, which is kind of perplexing given the context. What's not perplexing, however, it that this is an extremely relatable face for many occasions, like when my boss asks me to do anything or when I sexted a guy because I was bored and now he really expects me to do the things I told him I wanted to do.
2. When She Made This Other Face At The Oscars

Chrissy made this face in response to Chris Rock bringing Stacey Dash up for a Black History Month cameo. I understand if you repressed that moment from your conscious memory, because it was extremely awkward for all involved. This is me viewing my drunken Snap stories from the night before. It's me when I look at the calorie count of one slice of avocado toast. It's me when a guy matches me and his profile says he's under 5'7″. It's me at most times, tbh.
3. When She DGAF About The Kids

Yeah, MIKE. Go Chrissy for not giving a shit about random-ass internet fools who take every single thing a person they've never even met does personally.
4. When She Offered This Very Astute Television Commentary

Yes. Anyone who acts superior to people who love reality TV can fight me. So, my dad can fight me.
5. When She Fell Asleep At The Oscars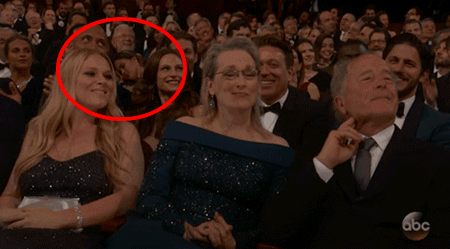 Do I even need to explain the importance of this? No. No, I do not.
6. When She Tweeted This

If you've never said this but not about selfies, you're either boring or we would not have fun together.
7. When She Wouldn't Let John Legend Break Up With Her

Again, this is fucking iconic and an inspiration. Do you hear that, ladies? Breaking up isn't a decision. It's an option, and you can always say no.
Thank you Chrissy, for your contributions to humanity. We love you. Never change.
Chrissy Teigen Is Pregnant Again, And The Way She Announced It Is Everything
In the dumpster fire that is 2017, finally we have some good news. Chrissy Teigen is pregnant with her second child, and I for one am just glad it wasn't another Kardashian. Seriously, Kris, there's only so much the world can take. But a Legend-Teigen baby? I am on board. (Which is really what's important here, not the wishes of the people actually having the baby.)
Chrissy broke the news in an Instagram video where Chrissy is showing Luna her belly and asks, "Luna, what's this?" Luna says what I presume is "baby" in her adorable baby voice. I mean, Luna is a year old so she can't really talk yet (can 1-year-olds talk?), but it's pretty obvious that's what she's getting at. Luna is TRYING, okay?! Anyway, Chrissy posted the video with the caption, "it's John's!" So that confirms that Chrissy Teigen and John Legend are having another baby.
I know I'm like, the resident ruiner of happiness here at Betches (deep-seated problems? What deep-seated problems?), but I literally cannot come up with one bad thing to say about this news. Chrissy Teigen is an amazing mom, cook, and all-around human. John Legend, while perhaps the human incarnation of Arthur Read, is a great dad, singer, and husband. They're just great people (I say this as a close personal friend of the Teigen-Legends). They also own three bulldogs, one of whom is a puppy. Ugh. I just can't, you guys. I just love them so much. I love them more than my own family.
I mean, even the way Chrissy announced her pregnancy was everything. She didn't leak some half-baked rumors to the press and then make us wait nine months to watch the news we've known for months to air on her reality TV show. She didn't announce it at anyone's wedding (unlike SOME people I know, *cough cough* cousin Margaret). She just kept it classy and low-key and then sat back and watched while we all ran around like chickens with our heads cut off. To quote Leslie Knope, I'm literally having so many thoughts and feelings that I'm paralyzed right now, but it's fine.
So congrats to Chrissy and John, may you guys stay together forever because if you two don't make it, I'll know love does not exist. No pressure or anything.
The World Is Divided Over What Chrissy Teigen Should Name Her New Puppy
Because I had no friends as a child I'm cool and literary, I've sadly had more than one conversation about the word "ambivalent." For those of you fortunate enough to not be friends with me, here's the problem with that word—much like self-tanner or sexting, the people using this word with the most confidence are really the least likely to be doing it correctly. If you say you're "ambivalent" about something, it does NOT mean that you don't give a shit (that word is "indifferent," look it up): it means you have strong, contradictory feelings and you can't pick a side. I could go more into why it makes total sense that this is what ambivalent means but I'd rather not get fired it's not even slightly the point of this article so I'll stop.
The ACTUAL POINT here is that I found something out that I'm really, truly ambivalent about: Chrissy Teigen has a new bulldog puppy (her fourth dog FYI), and it is considered actual, publishable news that she cannot decide whether to name him Paul or Pablo. Let's break down my emotional timeline here.

Phase One: Chrissy Teigen's Instagram Photo Announcing This Dilemma
Three days ago, Chrissy Teigen posts a photo of herself, a beautiful Sports Illustrated model, holding Paul/Pablo, a beautiful little velvet-faced bulldog puppy (note: I am not here for your treatise on the genealogical background of bulldogs. On the overall spectrum of ethical concerns I choose not to have, this falls way below things like my occasional shoplifting sprees laissez-faire recycling habits.) This photo pretty much sums up all my tortured, clashing emotions, because HELLO DOG SOULMATE, but also HELLO unattainable #hairskinfacegoals that I will never achieve because I enjoy doing things like eating 1,200 calories worth of peanut butter cups in my free time. Thanks for the reminder Chrissy—and you KNOW I've always wanted a puppy exactly like that, so this is clearly pointed AF.

Phase Two: Chrissy Teigen's Instagram Caption Announcing This Dilemma
For those of you who are lazy to the point of site-specific illiteracy, here's the caption accompanying that photo: "Super secret shooting with Paul. Or Pablo. We can't decide. Both mom and Luna cannot pronounce Pablo. John won't call him Paul. This freaking house, let me tell you." Here, my ambivalence continues because this is a goddamn perfect caption without even being particularly clever or funny. It's literally just a description of a current situation in her household, plus a half-sentence of the kind of rueful, effortless sass that can only be pulled off by people who are so deeply happy and at peace with themselves that even their sarcasm radiates the same general energy as tacking on "#blessed." So, she's somehow pulled off a caption that simultaneously convinces me that she's better and happier than me, but not in a way that's turned her into one of those joyful, irritating pod people currently spamming your Insta feed with flannel and pumpkins. Seriously. It's like the five seconds of genuine joy you have for your perpetually single friend who FINALLY kills it this cuffing season, before you remember that friends with boyfriends are annoying AF and you yourself are still sad and alone.

Chrissy Teigen is those five seconds of joy, spun out into eternal purgatory where you don't know if you want to murder her and wear her skin you want her to gain 50 pounds or be your maid of honor.
Phase Three: Chrissy Teigen's Actual Dilemma Here
Finally, the problem itself, and it is truly one for the ages, unlike the new "What color are these sneakers?" bullshit. Should she name this adorable bulldog puppy Paul or Pablo???? Honestly, as much as it burns my soul that she has such a disgustingly wonderful life, I encourage everyone to bask in the glow of imagining this to be your largest problem. Is there a secret Kim/Taylor undercurrent, where "Paul" refers to Paul Ryan trying to make a Taylor Swift meme about healthcare, and also the general whiteness of the name Paul, and "Pablo" refers to Life of Pablo? 7000% no, but hey, wouldn't it be absolutely psychotic more fun if there was? If you add up the syllables in this caption, is there a coded message about the secret political resistance being organized by the Teigen-Legends? Again, certainly not, but let the theories fly! Ask your friends! Ask your mom! Post a poll in your Instagram story! Let's all live today like we're Chrissy Teigen, faced with the eternal question of which P-name you should use on your baby bulldog for approximately one day, before calling him variations of "puppy" for the rest of his life.

Chrissy Teigen And John Legend Just Added The Cutest New Member To Their Family
With the news getting shittier and shittier by the day, it is time to focus on something positive: Chrissy Teigen and John Legend got a new puppy. Yep, that's right, the Teigen-Legend household has welcomed a new member the family, and she is an English bulldog named Pepper. As if this family could not get any cuter.
Pepper will be joined by the family's other dogs, Penny, Pippa, and Puddy, further proving that this is the cutest family in America. Chrissy spent the weekend healing America sharing adorable Pepper videos with her Insta audience and we gotta say: We're in love. Just look at her:
She has the perfect amount of little French bulldog rolls! Not to mention the fact that any photo containing baby Luna in her diaper is a literal ovary melter.
Omg stoooopppp. Listen to her trying to bark! This is why I've always said I need the Legends to adopt me ASAP. Look at all the sweet little puppers! Seriously, are they looking for a dog sitter or anything? I will literally leave my job. They don't have to pay me. I'll live in the basement. IDGAF.