I Am A Black Woman. The System Has Not Served Me. Here's Why I'm Voting Anyway.
The matriarchs of my family have always treated voting as a sacred ritual. Not a single election went by during my childhood that my mother did not bring me to the polls to watch her vote. Whether that meant waking up before the sun to drive to our nearest polling place so she could cast her vote before she dropped me off for school, or being among the last voters in line, exhausted after a long day's work, quelling an inconsolable tween whose primary concern was whether we'd be going to Burger King after, my mother always upheld her civic duty to vote. And she always made sure that I, her only daughter, was present to watch. 
See, to my mom, a child of the civil rights movement, born in the 1950s, voting was a privilege. It was the be-all and end-all. It was a right that had been legally and systematically withheld from Black people—Black women—for so long, she felt it would be nothing short of a slap in the face to her ancestors to voluntarily deny that privilege. My grandmother, born in the 1920s, felt the same. After all, her great-grandparents had been slaves, hardly able to visualize the prospect of freedom, let alone the ability to exercise the right to vote—a power that was historically reserved for white male property owners. It simply was not an option for my mother or grandmother to choose to forfeit their voting rights given the historical gravity and laborious terms surrounding the acquisition of universal suffrage. 
Our family's voting ritual culminated in 2008, when my grandmother, mother, and I went to the small church two blocks away from my grandmother's house, which doubled as a polling station, to cast their votes for Barack Obama. The act was monumental at the baseline because two Black women were exercising their rights to vote, a radical act that the founders of the Constitution never intended. But that day was made infinitely more significant because two Black women were voting for a Black man, who would, of course, become the 44th President of the United States. (The day was significant for me because I got to go to Burger King after.)
The generations that preceded me rightly held voting to such a high standard because they directly had ties to a world where Black enfranchisement wasn't the norm. My generation, on the other hand, is significantly more disillusioned. While we are keenly aware of our history and the struggle endured to acquire the universal right to vote, we also are able to see the cracks beneath the surface. The radical injustices associated with a system that proclaims itself as just. If my mother and grandmother's generations saw the right to vote as the be-all and end-all, the almighty Oz, my generation's unique gaze beholds Oz as just a man—and he's white, self-interested, and a master puppeteer. 
It's no secret that the relationship between voting and Black America is a long, complicated one. From its inception and for almost the first 100 years of American history, Black people were denied the right to vote—simply because they were not white, not property owners, and not regarded legally as a full person. The 15th Amendment, ratified in 1870, technically granted Black (men) the right to vote, however many southern states utilized a plethora of tactics to prevent them from actually being able to do so. Literacy tests, poll taxes, gerrymandering, and grandfather clauses were among the many strategies employed to promote Black disenfranchisement. The Voting Rights Act of 1965 sought to rectify these unjust practices, as it was the first piece of legislation to formally prohibit racial discrimination in voting. But still, racist officials and lawmakers found loopholes within the system to prevent Black people from exercising their voting rights. The creation of voter ID laws, the illegitimate closing of polling places, and the reduction of early voting rights are all ways in which voter suppression still, to this day, plagues the Black community. So while the triumphs of acquiring Black enfranchisement were at the top of mind for my mother and grandmother's generations, the somber realities of discriminatory disenfranchisement practices are jarring truths that mar my generation's outlook on the subject of the vote.
I want to be very clear: I am a Black woman and I will be voting in November. And, at the risk of sounding like an episode of Schoolhouse Rock, you absolutely should too. Maybe it's naïveté, or maybe my mother and grandmother's voting had tremendous lasting power, but I am of the unwavering opinion that if you can vote, you must. And if you are Black, I mean this tenfold. No, not because our ancestors fought for this right (I do not believe in guilting people to vote), but because far too much is at stake to deny ourselves this right. In the words of Aubrey Stone, President of the Black Chamber of Commerce, "We cannot expect to win with every vote, but if we don't vote, we can certainly expect to lose." 
I'll admit, it is exhausting to vote in a political system where your community is not only underserved, but systemically under attack. Almost 50 years after the Civil Rights Act, the racial wealth gap suggests Black men still earn 87 cents for every dollar earned by white men. Almost 66 years after Brown v. Board of Education, racial inequality in our education system still persists as Black students graduate at drastically lower rates than white students, and are more likely to be expelled, less likely to be invited into gifted student programs, and more likely to be overlooked by teachers. According to the Bureau of Justice, 1 in every 4 Black men is likely to go to prison, whereas 1 in every 23 white men is projected to serve time in prison. Black women who give birth in hospitals that primarily serve Black communities are far more likely to have serious health complications than women who give birth in "white-serving" communities. And as we all were reminded this year after the deaths of Breonna Taylor and George Floyd, even though Black people account for less than 13% of the American population, they are still twice as likely to be shot and killed by the police. The system is downright abhorrent for Black Americans. But the answer isn't for us to not vote. The answer isn't to self-serve defeat because defeat is expected. I can't recall any victorious historical movement that was achieved through the passive act of surrender. 
The truth is, while suffrage isn't the all-powerful Oz that my mother and grandmother once proclaimed it to be, voting is a tool that has considerable power and influence in drastically improving our daily living standards. In the upcoming November election, specifically, we're voting in the hopes of increasing the federal minimum wage, ending the cash bail system, restoring the Voting Rights Act (which was compromised by the Supreme Court in Shelby County v. Holder in 2013), and increasing federal funding for public schools. For minorities, in particular, we're voting to reinstate DACA, advance the enactment of the LGBTQIA Equality Act, rescind the Muslim-targeted travel ban, and decriminalize marijuana. Access to affordable healthcare, tuition free college, and investment in climate change programs are also all among the many political initiatives that will ultimately be decided by your vote.  
And yes, I do specifically mean your vote. I'm cringing at the children's television-level soapbox I've unintentionally found myself standing on, but your vote sincerely does matter. Every vote does. Overwhelming data shows just how many elections have been decided by a mere handful of voters. In 1991, a House seat in Virginia was determined by one single vote. In 2002, a GOP House primary in the state of Washington was decided by just one vote. George W. Bush infamously won the deciding state of Florida in the 2000 presidential election by roughly 500 votes. And, of course, in 2016, Donald Trump secured the presidency by winning just enough votes to secure the Electoral College. Roughly 43% of eligible voters did not turnout to the polls in 2016. And for that, we are paying dearly. 
The presidential election next month is one of momentous importance because we are quite literally voting for our lives. And again, if you are Black, I mean this tenfold. A considerable amount of voter apathy comes from the erroneous and, quite frankly, dangerous idea that a Biden Presidency would be just as bad as a Trump Presidency. And while it is absolutely correct that Biden's political record is not squeaky clean when it comes to his previous political platforms that affected the Black community (i.e. The 1994 Crime Bill and his former anti-busing stance), it is paramount to affirm that re-electing Trump for a second term (either actively by voting for him or passively by choosing not to vote) would be far more damning to Black America than electing Biden. Neither candidate provides the prospect for a perfect presidency, but one candidate refuses to denounce white supremacy, which freely and directly puts Black America under siege. If the leader of the free world cannot merely condemn the malignant threat and oldest form of racism that has plagued our nation, the floodgates of unbridled bigotry will be jolted open and a second-term presidency would terrorize our worlds in unfathomable ways. As Sonya Renee Taylor so poignantly directs, "vote like you are picking the enemy you want to fight." Be clear that we would all be better off fighting the enemy whose political record is considerably tainted, than the enemy who wholly rejects the validity of our existence. 
No, voting is not the ultimate answer to all of the injustices that plague the Black community. Only a complete and total societal reckoning can even begin to tackle that monumental feat. But voting is an essential step that can be utilized to affect necessary and transformative change. Your vote has tremendous power; you simply must use it forcefully and strategically. But we mustn't stop our work after we've cast our votes at the polls. My mother and grandmother were correct that voting is paramount, but they were wrong about it being the be-all and end-all. We must vote in November, and continue our civic engagement in other proactive ways. We must vote in November, and continue to protest—since the protests that ensued after George Floyd's death, Minneapolis, D.C., Chicago, and Denver have banned the use of chokeholds and many city governments have removed public sightings of Confederate monuments. We must vote in November, and hold our representatives accountable—in 2006 an immigration reform bill that would increase fines and prison sentences for undocumented immigrants was not enacted because of a successful citizen uprising in the Latinx community. We must vote in November, and continue to act. Voting is merely a single action item, on the thousand-page to-do list of "how to fix America." But it's a critical step, nonetheless.
Image: Element5 Digital / Unsplash
We Have To Talk About Trump's Antisemitism
My Jewish identity has been a huge part of my life since I was born. I was lucky enough to grow up somewhere with a large Jewish community. I went to a Jewish summer camp, participated in youth groups, and now go to a college with a relatively large Jewish population. So, while I grew up aware of antisemitism, I'm privileged in that my own experiences of it have been pretty limited. 
Unfortunately, this is not super common for American Jews. As the Anti-Defamation Leauge (ADL) reported, antisemitic attacks are only becoming more frequent across the United States. In 2019, a recorded 2,107 anti-semitic incidents took place across the country. This was a 12 percent rise from the year before and the highest number since the ADL began recording.
Antisemitism is widespread across both major parties in the United States. Sometimes, it seems like attacks on Jewish people are coming from all sides. While we would expect a normal president to denounce all types of hate, including antisemitism, this isn't the case with Trump. Instead, he covers up his antisemitic policies and behaviors with pro-Israel policy. 
For his entire presidency, Donald Trump has leaned on being "good for American Jews" because he is "good for Israel." This week alone, during an annual pre-Rosh Hashanah (the Jewish New Year) call with Jewish leaders, Trump said, "We really appreciate you… we love your country also." 
I'm American. https://t.co/bWUCJBDSKR

— Sam Vinograd (@sam_vinograd) September 16, 2020
This isn't the first time he has said something like this. Over the last several years, Trump has repeatedly implied that Jewish Americans should be grateful for his actions in the Middle East and his strengthened ties with the current Israeli Prime Minister. And, peace is a great thing, no matter who the President is, part of their job is helping further peace plans whenever possible. My problem isn't with that, and honestly, I'm not even here to write about conflicts in the Middle East. 
My problem is that when Trump views Jewish Americans' electoral support as tied to Israel, he is perpetuating the idea of 'dual loyalty.' The concept of dual loyalty is an antisemitic dog whistle that implies that Jewish people are inherently disloyal and place the global Jewish community over the countries in which they live. In the United States, it is used to imply that American Jews can't be 100% loyal to America because some of their loyalty is owed to Israel or the international Jewish community. 
Trump's attempts to win Jewish people's electoral support are all based on the extremely reductive assumption that American Jews' top policy concern is Israel. While it may be the case for some members of the Jewish community, it certainly isn't true for everyone. By only attempting to appeal to Jewish voters through Middle Eastern policy, the Trump administration actively ignores dangerous forms of antisemitism in America. 
White supremacy and antisemitism are inextricable from each other. We all remember what Donald Trump said after the Unite The Right rally in 2017: "you also had people that were very fine people, on both sides." Many of the "very fine people" that Trump was talking about were carrying Nazi flags and shouting, "Jews will not replace us."
Throughout his presidency, Trump has clung to white supremacists' support, endorsed their actions, and continuously given them platforms. The most recent example of this is Trump's embracing of the QAnon conspiracy theory, which has blatantly anti-semitic roots. The theory pushes the narrative that the Rothschild family holds control of every bank in America and alleges that a secret 'elite' class dominates other important industries such as the media. 
A few weeks ago, when asked about the conspiracy group, Trump said, "I don't know much about the movement other than I understand they like me very much, which I appreciate." This is just another case of Trump not only dismissing dangerous antisemitism, but giving it a platform. 
American Jews are not a monolithic group, and we care about a lot of things. Like I said, the top priority for some Jewish people may be the state of Israel, and that's ok. However, it is neither mine nor many of the Jewish voters I talk to. In fact, around 75% of Jewish voters supported Hillary Clinton in the last election, and Jewish voters consistently make up a large Democratic party base. 
This baffles Trump, who, despite his claims of being a great ally to the Jewish community, said that he thinks that if "any Jewish people that vote for a Democrat — it shows either a total lack of knowledge or great disloyalty."
If the President actually cared about Jewish voters, he would stop perpetuating the incredibly dangerous narrative of dual loyalty and denounce white supremacy. But, I'm not really holding my breath. 
Joe Biden Chooses Kamala Harris As Vice Presidential Pick
On Tuesday, August 11, Sen. Kamala Harris became the first Black woman to be nominated as a running mate on a major party ticket and the first person of Indian descent to be nominated as a running mate on a major party ticket. 
It's a fitting accomplishment for a woman who has been a trailblazer in almost every aspect of her career. 
A child of immigrants from India and Jamaica, Harris was the first Black female Attorney General for the state of California and is currently the second Black woman and first South-Asian American to hold a seat in the United States Senate. She would also be the first woman Vice President. 
Born and raised in California, she started kindergarten during the second year of  Berkeley's desegregation bussing programs. Harris went to Howard University for her undergraduate degree before attending University of California, Hastings College of The Law. After graduating law school, Harris devoted her law career to public service. 
Harris' younger sister, Maya Harris, is an established lawyer and public policy advocate who served as a senior policy advisor for Hillary Clinton's 2016 campaign. Her niece, Meena, is a Harvard-educated lawyer who founded  Phenomenal and Phenomenal Media, a platform elevating and celebrating women of color. All of this is just to say: the level of Harris women brainpower about to descend on the Eisenhower building in D.C. is truly more than we deserve.
Kamala Harris has a strong background in criminal justice issues. As San Francisco's District Attorney, she was a vocal opponent of the death penalty and started a program called "Back on Track." This initiative, launched in 2005, allowed first-time drug offenders to opt to get a high school diploma and job instead of prison time. 
After serving as DA, Harris was elected in 2011 to be California's Attorney General. In this position, she expanded her "Back on Track" program, mandated training to address racial bias, and, under her, the California Department of Justice became the first statewide agency to require body cameras. Additionally, she launched a program called OpenJustice, a data bank that highlights criminal justice initiatives and gave the public the ability to track police killings. 
In the Senate, Kamala Harris serves on the Judiciary Committee, where she has famously roasted all manner of mediocre white men, from Attorney General Bill Barr to Justice Brett Kavanaugh. She's a member of. the Congressional Black Caucus, the Congressional Asian Pacific American Caucus, and the Congressional Caucus for Women's Issues. She sponsored the Justice for Victims of Lynching Act, which passed the Senate but remains in the House.
In the wake of ongoing anti-racist protests around the country, Harris' history of criminal justice policy is especially important to the ticket. Though Harris' prosecutorial record raises alarms for those who want to reform the criminal justice system she helped oversee, Biden choosing Harris as a running mate hopefully is a sign of his understanding of the importance of Black and female voices in his administration. She also has a strong prosecutorial background which was made evident in several confirmation hearings during her term – including Brett Kavanaugh's. 
I, for one, literally cannot wait to cast my vote for Biden and Harris. In the meantime, I'll be tuning in to watch her take on Pence in the Vice Presidential Debate on October 7.
Here's What We Know About The Sexual Assault Allegations Against Joe Biden
Trigger Warning: This article contains descriptions of sexual assault. 
We previously penned an article with the headline We Need to Talk About These Assault Allegations Against Joe Biden. One month later, here we finally are. Yay?
In recent weeks, woman named Tara Reade, who worked for Joe Biden when he was a senator in 1993, has come forward accusing the presumptive Democratic nominee of sexual assault, expanding on a previous claim that Biden had touched her inappropriately to allege he also pushed her against a wall and sexually assaulted her.
After remaining silent about the allegations for many weeks, Joe Biden this morning made a statement denying them.
In a written statement, Biden says that this incident "never happened." The former Vice President and presumptive Democratic nominee also attempts to advocate for survivors of sexual assault, saying, "While the details of these allegations of sexual harassment and sexual assault are complicated, two things are not complicated. One is that women deserve to be treated with dignity and respect, and when they step forward they should be heard, not silenced. The second is that their stories should be subject to appropriate inquiry and scrutiny."
Biden echoed the sentiments of the written statement in an interview on MSNBC, where he reiterated, "I'm saying unequivocally it never, never happened." He also urged the National Archives to search through his Senate records to identify any complaint of misconduct, which Reade says she filed with the Senate in 1993.
Other Biden staffers at the time say they do not recall a complaint or ever discussing an issue like this with Reade. Reade's motivations  have been questioned because of past praise of Vladimir Putin.
So, Biden has graduated from ignoring the allegations to denying them. A bit derivative, but I'm glad he is addressing them now, as they are bound to come up in November. We all know Trump will bring this sh*t up, and Biden needs to be prepared for that. *Thinks about the inevitable moment when these two men go back and forth about their sexual assault allegations on the debate stage and voluntarily dissociates until 2021*
To recap, Tara Reade came forward with allegations of inappropriate touching from Biden back in 2019 when several women did the same. She spoke of incidents when Biden touched her neck and shoulders and made her uncomfortable. Reade has since elaborated on her story, and says Biden shoved her against a wall and penetrated her with his fingers without her consent.
Unfortunately, her story wasn't met with much of the "believe women" and "all women should be heard" sentiment that the world claimed to adopt in the post #MeToo era. Not many major news outlets covered the story, people accused Reade of being politically motivated, and Biden himself remained silent while women like Nancy Pelosi and Stacey Abrams had to speak on the issue for him.
Not our best work as the party who claims to be champions of survivors, I'll say that.
Perhaps the reason we finally saw some acknowledgment of these allegations this week are because of a) pressure from women's rights groups pleading with the former vice president to make a statement before they had to publicly ask him to, and b), evolving reporting that suggests there is more evidence that can be investigated.
Originally, Reade's brother and a friend who asked to remain anonymous were able to confirm that she told them about the assault after it happened. This week, two more people came forward to say Reade discussed the incident with them.
A former neighbor of Reade's, Lynda LaCasse, told Business Insider, "This happened, and I know it did because I remember talking about it."
Another source, Lorraine Sanchez, a former coworker of Reade's, says she recalls Reade complaining at the time that her former boss in Washington, DC, had sexually harassed her.
Reade had also previously said that she had talked to her mother, who has since passed, about the assault. A newly surfaced video from 1993 shows a woman calling into "Larry King Live" to seek advice for her daughter who was having "problems" working for a prominent senator.
"My daughter has just left there after working for a prominent senator, and could not get through with her problems at all," the woman says. "And the only thing she could have done was go to the press, and she chose not to do it out of respect for him."
Reade told CNN that she is confident the voice in this video is her mother's.
In his official statement, Biden called on the National Archives to release any existing complaint related to Reade's employment, even as he continued to oppose requests to release other documents related to his years in the Senate, which are housed at the University of Delaware and not scheduled for public release until two years after he leaves public life.
When pressed by MSNBC's Mika Brzezinski about why he wouldn't allow a search for any documents related to Ms. Reade at the University of Delaware, Biden — seemingly annoyed by the question — claimed that there wouldn't be anything to find there. He also suggested that releasing the papers could result in the release of private, confidential conversations with officials that his political opponents could use to undermine his 2020 chances. Who, Donald Trump?! He would never!
So, as it stands, Biden denies the allegation, there are several people able to corroborate Reade's story, but there isn't any evidence being released that could verify her official complaint against Biden. Hopefully, we can move forward with this information and do a thorough investigation, as women and all survivors do deserve to be heard.
Don't miss an update on this story — subscribe to the Betches Sup newsletter for the only daily news rundown you need. 
Could One Of These Women Be The Next Vice President?
Welp, after a truly wild primary season that started with approx. 666 thousand candidates of various backgrounds in the running, we have narrowed our option down to the old, white, Christian dude. What a breath of fresh air!
No matter your opinion on the man, Joe Biden is very likely to be the Democratic nominee for the 2020 presidential race, and humanity will be in much better shape if he beats Donald Trump. The good news is, Biden still has the opportunity to pick an exciting running mate.

Biden has already promised that he would be picking a woman as is vice-presidential nominee, both as a concession to disappointed progressives and to balance out his relentless straight-white–cis-maleness. Picks are typically announced around late June or July in the run-up to the Democratic National Convention (postponed to August this year), but given the extraordinary times and a campaign that could use a real shot of enthusiasm, we wouldn't be surprised if the second name on the ticket drops sooner than expected.
Here are some amazing women on the shortlist: 
Kamala Harris

Harris and Biden may have butted heads during the primary debates, but that's all in the past. Harris was quick to endorse Biden early on,  sparking early theories that she may top his VP shortlist. The California senator and former attorney general has name recognition, experience, and brings diversity to the table.
Plus, while she's seen as a somewhat progressive pick, a lot of her politics are actually pretty moderate. For Biden, she could be the best of both worlds. Biden ran on being able to secure the Black vote during the primary, and having Harris as his VP could help him solidify that same strategy in the general election. Plus, Harris had a close friendship with Biden's late son Beau — the two worked together frequently as attorneys. general.
And let's be real, she'd add a much needed ~cool~ factor to Biden's, uh, pretty straight edge image.
Elizabeth Warren

Liz! Liz! Liz! Warren and Biden certainly disagree on some things, but this could actually work in their favor. Warren is seen as a progressive, and Biden is seen as a moderate/centrist. If Biden wants to bring in Dems who are further on the Left, picking Warren as his VP could be a smart move. Plus, she has a plan for everything, and could be a very effective VP. Also, after endorsing Biden with a video, Warren told Rachel Maddow that she would say "yes," to the question of whether or not she would accept the role of VP from Biden.
Judging by the complete lack of hesitation in her answer, it seems like something maybe she had already thought about. Makes ya think…
Stacey Abrams

Abrams gained national attention in 2018 when she ran against Brian Kemp for the seat of governor in Georgia. The election was pretty controversial, since Kemp was Secretary of State at the time, meaning he got to oversee an election he was running in, something one could call a conflict of interest. Kemp ended up winning by a small number of votes, but that's a whole other story. Abrams caught the attention of many Americans as she came close defeating Kemp in the red state of Georgia. She's a captivating candidate, and she is a woman of color, which would, again, help with Biden's saltine cracker image.
Amy Klobuchar

Klobuchar was quick to drop out of the race and endorse Biden back when Bernie was the frontrunner, making us wonder if she is working to get that VP spot. She and Biden also make sense as a team. They're both moderates, yet they appeal to different demographics. Klobuchar has that Midwest vibe that does well with…Midwesterners, and liberal women across the country. She's got a real moderate feminist energy, which appeals to white moms, AKA a big part of the voting pool. She's well-liked amongst Dems, and people seem to enjoy her performances at debates. Especially her one liners that I am convinced she learned how to formulate at a $400 week long stand up comedy class at Caroline's on Broadway.
Gretchen Whitmer

Who? You may not recognize Whitmer's name right away, but she has been in the news a lot lately. As the current governor of Michigan, she is receiving some criticism for her very strict measures for combatting COVID-19. People are pissed tf off about it, but as the saying goes…all press is good press. Plus, the main people she is pissing off are Republicans, so it could potentially gaining her some brownie points with Dems. She is def establishing herself as a woman in power who stands her ground, and there's something to be said for that.
WILDCARD: Michelle Obama 

Truly the only thing that could save 2020. And it's not just pundits and stans fantasizing over a Michelle Obama vice presidency — the Bidens can't resist the idea either.
"I'd love it if Michelle [Obama] would agree to it. I think she's had it with politics. She's so good at everything she does. That would be wonderful," @DrBiden says when asked if the former first lady would consider being Joe Biden's running mate. https://t.co/tAOTzVqh4T pic.twitter.com/DShgiFmj9D

— New Day (@NewDay) April 24, 2020
Jill Biden, wife of the presumptive Democratic nominee, said she would "love to see" former First Lady Michelle Obama join her husband's ticket if she would agree to it. The former Vice President himself said he'd appoint Obama "in a heartbeat" but that he doesn't "think she has any desire to live near the White House again."
Well if Joe Biden doesn't pick a woman, after all, it's safe to say I have no desire to live near America again.
Images: Getty; Giphy
We Need To Talk About These Assault Allegations Against Joe Biden
Trigger Warning: Sexual assault
We interrupt our regularly scheduled programming of bad news (coronavirus) to bring you some other bad news. Sorry, I don't make the rules. The year 2020 does and she is one brutal bitch.
As you or may not have heard, there are new sexual assault allegations against Joe Biden. You may not have heard of this because it's not being widely covered by most major news networks. Well, we're not most major news networks, so we're going to breakdown what we know.
The woman who has come forward with these allegations is Tara Reade, a former staffer for Biden when he was a senator in 1993. Reade was one of the several women who came forward with allegations of inappropriate touching (read: sexual harassment) after Lucy Flores wrote about an incident when Biden came up from behind her, put his hands on her shoulders, sniffed her hair, and then slowly kissed the back of her head backstage at her campaign rally.
Flores' piece ran in The Cut in March 2019, right before Biden announced his run for president. Many wondered if it would affect his ability to gain Democratic support for the nomination. Well, I guess we got our answer, as he is currently the frontrunner.
Reade's original allegation was that Biden used to put his hand on her shoulder and then run his finger up her neck when she worked for his Senate office. Not what you want from your literal boss, or any person who you have not given permission to touch you, for that matter. Creepy thing to do! Anyway, now Reade has come forward saying there is more to her story.
Warning: this next part is graphic and upsetting. Please read with caution, and be kind to yourself. 
Reade told her full story to Katie Halper on her podcast. In the interview, Reade recounts a time when Biden pushed her against a wall, stuck his hands up her skirt, and then penetrated her with his fingers, all without her consent. She also says when she tried to pull away he said something along the lines of, "I thought you liked me."
Of course, since people still don't seem to fully grasp that coming forward about sexual assault isn't an easy and fun thing to do, the question of why Reade waited to share this part of the story has come up. Reade's answer is two-fold.
First, she only shared part of her story because she figured that part would more likely be believed, as it matched what Lucy Flores experienced. And she wanted to stand with Flores, as she saw talk shows like The View defending Biden. Plus, she had witnesses and a filed contemporaneous complaint for those accusations. But still, after she came forward with the original accusations of sexual harassment from Biden, she received backlash online. People accused her of making it up and being politically motivated, pointing to a since deleted Medium post that Reade had written that praised Russia and Vladmir Putin.
Reade's 2018 Medium piece said, "What if I told you that everything you learned about Russia was wrong? President Putin scares the power elite in America because he is a compassionate, caring, visionary leader. … To President Putin, I say keep your eyes to the beautiful future and maybe, just maybe America will come to see Russia as I do, with eyes of love. To all my Russian friends, happy holiday and Happy New Year."
Reade is currently writing a novel based in Russia, and in the process had learned about Russia through a Russian friend. At the time, she says, she wrote the post in the spirit of world peace and solidarity with her friend. She has also pointed out that her writing shouldn't make her unable to be the victim of sexual assault.
Nonetheless, after dealing with online harassment and disbelief from people, she decided to go silent. Until now.
Reade attempted to take her case to TimesUp, but was ultimately turned away and told that the organization could lose its nonprofit status for going after a presidential candidate (whether or not this is true is up for debate). Reade is trudging on without their help, but not a lot of news outlets are having her on. She did an interview with Krystal Ball on her left-leaning online talk show, "Rising," which is worth listening to. But for the most part, this story isn't getting a lot of traction.
A lot of the information comes from the coverage written by Ryan Grim for The Intercept, a publication that has been accused of attacking the establishment, particularly the Democratic establishment. Some people think this means we should take this story with a grain of salt. But even with that, this story deserves further investigation.
Joe Biden is the frontrunner for the Democratic presidential candidate. If these accusations of sexual assault are credible, the American people need to know. We need a fully covered, thorough investigation.
Reade said in her interview with Katie Halper that at the time of the incident, she told a friend, her mother and her brother. Her mother has since passed, but both the friend and brother confirmed to The Intercept that she came to them when it happened. There are ways to investigate here.
If time really is up, we should be eagerly searching for the truth, not ignoring it.
How To Vote Without Spreading Infectious Diseases
Casual reminder that despite the global pandemic, there is still a primary election going on. Last week, elections were held in Arizona, Florida, and Illinois despite warnings from the CDC against gatherings of 50 or more. A number of other states have opted to postpone their elections, like so many #coronabrides, while our government attempts to get a handle on the crisis. 
With another big round of primaries at the end of April, and some coronavirus projections saying social distancing could impact our way of life for 18 months, what are those of us who both want to vote and stop the spread infectious disease to do? Here are some remote voting options that states have instituted, or could institute, to better allow us to vote during a pandemic. 
Your state not offering any of these options? The number for the Capitol switchboard is (202) 224-3121. 
Early Voting
Early voting is kind of exactly what it sounds like. It's a process that allows voters to start casting ballots before Election Day, allowing voters more time to get to the polls when it's convenient for them and helping to cut down on long lines and crowding at polling places in general. Thirty eight states have early voting laws on the books, so chances are this rule could apply to you. Rules can vary from state to state, so be sure to check your state's rules before voting. For example, New York's early voting law allows voting to begin 10 days before the election, but that number can go up to forty-five. 
If your state is one of the few that doesn't allow early voting or have vote by mail, (*cough* PA, MS, AL, WY, SC, KY, WV, NH *cough*) here's that number for the capitol switchboard again: (202) 224-3121.
Vote By Mail and All Mail Voting 
Vote by mail, aka the thing we should all have, is a term for when voting is conducted – say it with me – by mail. Groundbreaking. States with a vote by mail option allow voters to receive a ballot and mail back their vote without ever having to step foot in a polling place. In California, for example, primary voters could request a ballot for any reason from their county elections official either electronically or in print between 29 and 7 days before the election. They were then mailed a ballot with instructions on how to fill it out and a special envelope, which they were allowed to either return via mail or at any polling place on election day. 
According to the National Conference of State Legislatures, Colorado, Hawaii, Oregon, Washington, and Utah conduct all-mail elections.
In those states that have instituted all-mail voting, ballots are automatically mailed to every eligible voter. They return them via mail and voilá, voting has occurred. Can you even imagine something that simple?
Given the global pandemic keeping us all in our homes, voting by mail has gotten a bit of a glow-up lately. Last week, Federal Election Commissioner Ellen Weintraub said that coronavirus pandemic has demonstrated how "necessary and urgent" voting by mail has become.
"As Congress and the White House race to save American lives and preserve America's economy, they must also act swiftly to protect America's democracy," she said. "No one should have to risk their life — or the lives of their loved ones — to cast their vote."
Voting rights advocates and election experts across the country are calling on states to consider implementing an all-mail voting system by the November election. Given that health experts say the coronavirus could impact our way of life for up to 18 months, seems like we should get TF on that.
Meanwhile, a group called RepresentUs is urging states to implement no-excuse absentee vote by mail options en masse in light of the COVID-19 outbreak.

No-Excuse Absentee Voting 
No-Excuse Absentee Voting is vote by mail and early voting's unnecessarily complicated cousin. Most people vote absentee if they are out of town and unable to get to the polls on election day, but technically anyone is allowed to vote absentee if they are "unwilling or unable" to get to their polling place. Which like, in the case of a global pandemic, is all of us. 
Absentee voting is technically a thing in all 50 states, but some states require you to provide an "excuse" in order to qualify. In 28 states and D.C., however, you're allowed to request a ballot and vote absentee with no excuse. If you're in one of those states, check out your state's absentee ballot rules (Warning: they can get tricky) and request a ballot which you can then send in by mail. 
If you're in one of the 19 states that require an excuse (AL, AK, CT, DE, IN, KY, LA, MA, MS, MI, NH, NY, PA, RI, SC,TN, TX, VA, WV – what's good?), now has never been a better time to deploy the fake cough you learned in high school. 
How Do We Support These Options? 
Pressure Washington to act! Since the pandemic outbreak, a new bill has been introduced by Senators Ron Wyden of Oregon and Amy Klobuchar (#TBT) of Minnesota that would require all mail-in or drop-off paper ballots if at least 25% of the states in the U.S. have declared a state of emergency. Sounds reasonable. It would also require that requests for ballots be made electronically. Call your representatives in Congress (that number again is 202-224-3121) and let them know you support expanding voting access in all situations, but especially in a global f*cking pandemic. 
To hear more on this topic, check out the end of this episode of the Betches Sup Podcast, where Sup content manager Amanda Duberman interviews the ACLU's Molly McGrath about voting access in the age of corona. 
Want more stories like this? Subscribe to the Betches Sup newsletter for a lunchtime briefing to make you laugh, instead of cry, about the news.
Here's How Politicians Would Spend Their Quarantines
Hey girl, wanna quarantine & chill? Welp, hope so, because you don't have much choice. Trump has urged Americans to limit gatherings to 10 people or less. Quarantining ourselves will help keep COVID-19 from spreading, and it's especially important for young people to take on this responsibility, as we are often carriers who can spread the virus unknowingly to elders or people with other health conditions, who are more likely to experience serious effects from the disease.
While some of us are working from home, and many of us are stuck without work or paid time off (send love and cash to any service workers/independent contractors you can!), most politicians are still out in these streets. I guess they have a duty to fulfill in these dark times…let's see if they can rise to the occasion.
But since we're home, we've decided to spend some time coming up with how some of our most beloved and most despised politicians would spend their quarantine & chill time. Let the games begin!
Bernie Sanders
Bernie is going to take this time to get set up on the Youtube so he can continue making videos once again asking for us for our financial support. His wife, Jane, will be his videographer, and they will go widely unseen since Bernie doesn't realize it's all about the TikTok at this point. He will ignore Hulu's repeated recommendation that he stream "Hillary."
Bernie will also, of course, take this time to really lean into his bedhead and socially distance himself from any type of hairbrush or comb. Jane supports him in this journey because their love is pure.

Elizabeth Warren
Liz will be damned if this quarantine stops her from being productive. She's color-coding her closet, reorganizing the food pantry, doing her friend's taxes, and making spreadsheets simply for the fun of it.
If she, her husband, and Bailey want to watch a movie? You bet your sweet ass Liz has made a PowerPoint presentation breaking down which options are best and why.
Liz will, of course, continue coming up with bulletproof political plans that will go underappreciated by the American public.
Mike Pence
Things are finally as God intended: Pence is at home with Mother, away from any other nasty woman's presence.
Here, Mother can provide Pence with the 8 glasses of warm, whole milk he requires per day, while she reads him the Hyde Amendment (the legislative provision barring the use of federal funds to pay for abortion) out loud to soothe him. All is well.

Mitch McConnell
Mitch McConnell will treat social distancing the same way he treats his time on Capitol hill: by ignoring the many bills currently on his desk that could literally save lives. He and his wife, Transportation Secretary Elaine Chao, will further map their path to corrupt the federal entire government until McConnell is exposed to the virus, after which he will retreat back into his shell to self-quarantine for 14 days.
Joe Biden
Tbh who fucking knows, but I can confidently predict he would go on live TV and say something like, "I spent my quarantine time like I did every Christmas as a kid: riding my tractor down to the graveyard to have chicken fights with Ol' Man Popsicle Stick, who, have you me, under many things, as they say, would not, on account of, you know, the thing."

AOC
No amount of social distancing can stop this content queen from setting Twitter ablaze with her hot takes. Anyone with a bad take is getting retweeted WITH comment and dragged to clap back hell.
No internet troll is safe. No conservative commentator can hide. She's coming for you.
Susan Collins
Hopefully sitting in a corner and thinking about what she's done. And then regretting it.
That's all I'll say on that.
Brett Kavanaugh
Speaking of Susan Collins…
You just KNOW Brett is the guy who is going out to crowded bars and getting blackout, even after we've been told to socially distance ourselves.
Nothing can stop him from going out with his boys Tobin, Squi, and P.J.!!! Time to chug some beers and FSU because this is AMERICA and no one can tell him no (and if they do it will not compute).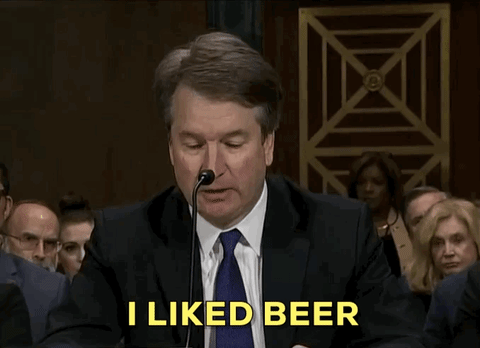 RBG
A GoFundMe has been put together to provide RBG with a glass box, a la the one Joe locks his victims in in You, but obviously less creepy and fully equipped with everything Ruth needs for her daily workouts.
Food and water will be brought to RBG by a person in a hazmat suit, who will deliver it through a small opening in the box. Again, much like Joe from You, but with the intent to keep this woman tf alive, not to kill her. She is routinely let out so she can be measured for the top-secret, Bloomberg-funded RBG clone that we are definitely not making.
Cory Booker
Cory Booker gets to spend his quarantine time the way we all wish we could spend ours: with Rosario Dawson. The two are finally together without the distractions of his busy political life and her busy celebrity/being a perfect person life.
With this extra free time, Cory will of course continue to pursue his passion of tweeting out bad jokes about coffee. Fuck it, he might just turn it into a passion project and make a coffee table book full of lame coffee jokes. The perfect present for all of our dads.
"Sleep" and I broke up a few nights ago. I'm dating "Coffee" now. She's Hot!

— Cory Booker (@CoryBooker) May 29, 2009
Maxine Waters
Maxine Walters will be reclaiming her time, tyvm.
Donald Trump
Social distancing as president is what Trump had always thought this job would be like. He's locking himself in his room, ordering all the McDonald's fish fillets in the greater D.C. area, stockpiling Diet Coke, and watching Fox News.
Melania is pretending to have COVID-19 as an excuse to not be near him.
At long last, peace, quiet, and a lack of total responsibility. America is finally great again.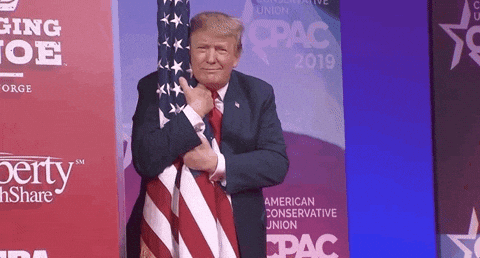 Want more stories like this? Subscribe to the Betches Sup newsletter for a lunchtime briefing to make you laugh, instead of cry, about the news.
Images: Giphy (5)